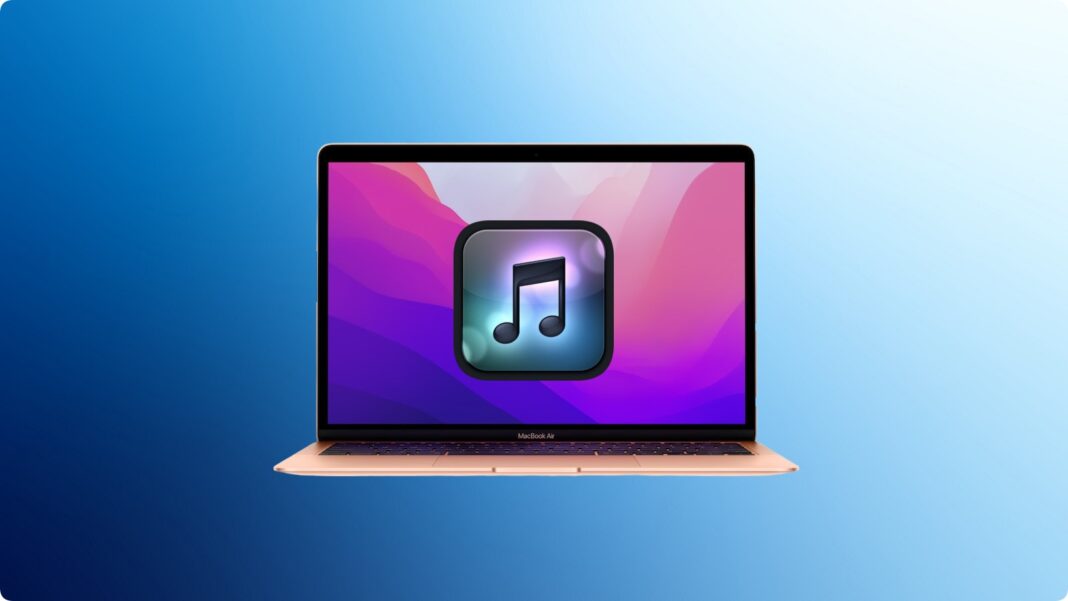 Not all music apps for Mac are created equal. If you're looking for a player with broad support for audio files and high-quality playback, we've created a list of the best music players for Mac users, both free and paid. You can enjoy any format in your music collection, from MP3 to FLAC and AC3. Explore each solution's strengths and features to find the best fit.
Our list begins with what we consider the best audio player Mac users should explore – Elmedia Player. Its ability to play any music files to the highest standards of audio playback makes it very versatile. From the popular MP3, M4A, AC3, AAC, or WMA, to lossless formats like FLAC, ALAC, and WAV, Elmedia Player can handle your entire audio library, organized in custom playlists.
It features a 10-band audio equalizer for a personalized listening experience. You can either manually tweak it or select one of the pre-defined presets. You can also set up passthrough for hardware decoders like AC3 or DTS for surround sound. The built-in audio visualizer will complement your music with added graphics. Despite all the available features, Elmedia Player remains easy to use. The interface is clean and intuitive, suited for both novice and advanced users.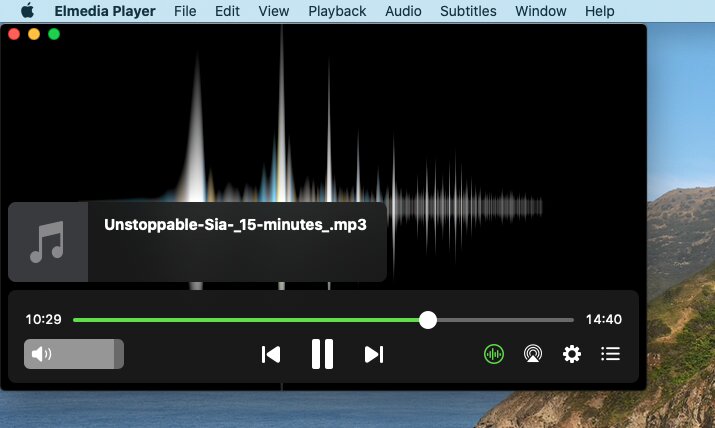 Pros:
Wide range of supported formats
Easily create playlists for smooth playback without interruptions
User-friendly interface
Audio equalizer with multiple presets and manual adjustments as well.
Cons:
The more advanced features of Elmedia Player are only available in the PRO version and that's not free.
Supported Formats: MP3, FLAC, APE, OGG, AC3, M4A, AAC, WMA, WAV, and many more.
Supported OS: macOS
Price: free to use, PRO upgrade costs $19.95
Another great audio player for Mac is JustPlay. This lightweight app will surprise you with its power and selection of essential features. Apart from MP3, it serves as a great WAV and FLAC player for Mac as well. You can customize the playback to your liking using a built-in 10-band audio equalizer. JustPlay also comes with standalone volume control that's independent of your Mac's system sound settings. With its easy connection to a range of external audio devices, you can enjoy quality music anywhere – on a simple set of headphones or a complex home theater system.
This small and powerful player is easy to navigate, with a clutter-free interface that blends in with macOS. It also has Mac-specific controls, such as Touch Bar and media keys, and supports M1 and M2 Apple silicon.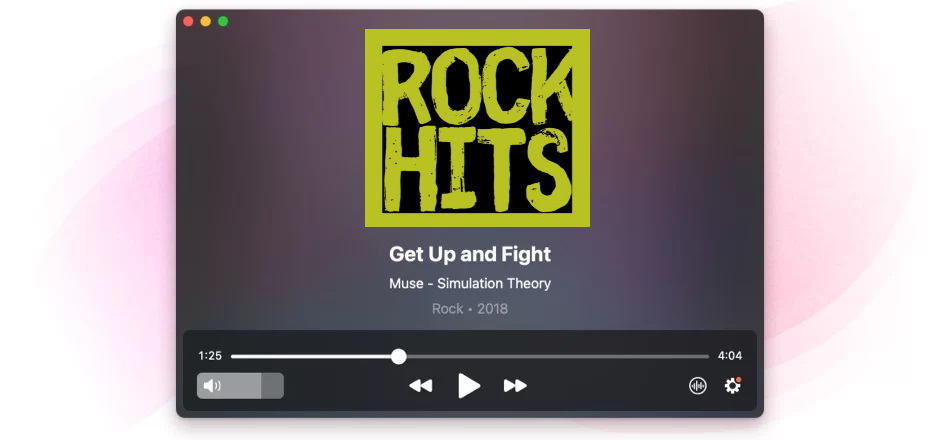 Pros:
A lightweight app that doesn't need too many resources to run smoothly
Full playback control
Doubles as a video player as well
Touch bar support.
Cons:
The app is offered in only six languages besides English.
Supported Formats: MP4, AVI, MOV, SWF, DAT, MKV, MP3, FLAC, M4V, FLV, etc.
Supported OS: macOS
Price: $4.99
According to its creators, this next Mac music player is designed for Hi-Res music. Supporting audio with up to 24bit/192kHz, it can play FLAC, MP3, CUE, APE, M4A, and more. It offers integration with iTunes and SoundCloud, so you can access them directly through the VOX interface.
In addition to that, it grants access to over 30,000 online radio stations categorized by country and genre, and it allows you to stream YouTube videos. VOX offers a good selection of settings, although the more advanced features are reserved for VOX Premium.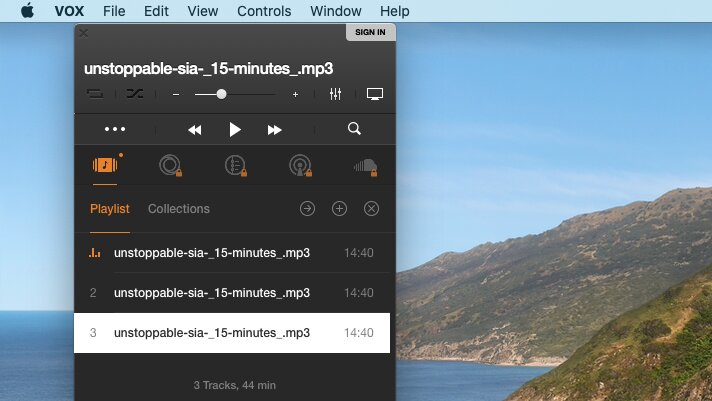 Pros:
Built-in equalizer with 30 presets
Queued tracks playback without any gaps
Native audio engine for exceptional sound quality.
Cons:
The iTunes and SoundCloud integration is only available in VOX Premium
The online radio stations include ads in the free version.
Supported Formats: FLAC, DSD, M4A, PCM, APE, MP3.
Supported OS: macOS
Price: free, Premium version starts from $4.99/month
Contrary to what its name suggests, 5KPlayer is not only a video player but a free music player for Mac as well. It supports MP3, AAC, OGG, AC3, WMA, FLAC, and ALAC, among others, automatically detecting and playing Dolbys, RStereo, and DTS multi-channel surround sound.
The audio player comes with a built-in radio to enjoy a number of satellite radio stations, as well as the ability to create your own playlists. Navigating the interface feels easy and natural. However, user reviews on Trustpilot describe the app as difficult to uninstall, full of ads, and heavy on the CPU.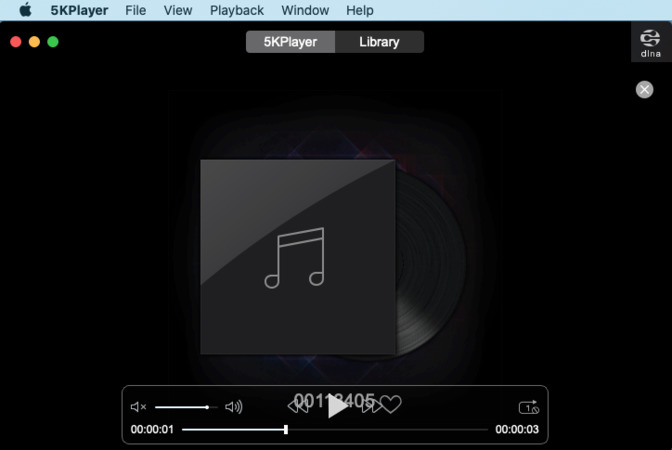 Pros:
It doubles as a YouTube audio downloader
Support for home theater systems
Free to use.
Cons:
A limited range of sound settings users have access to.
Supported Formats: MP3, WMA, FLAC, AAC, AC3, OGG.
Supported OS: macOS, Windows
Price: freeware
IINA is an open-source media player that looks and feels modern. Specifically designed for macOS, the interface is minimalistic and very smooth. The app has integration with a range of Apple features, such as touch bar controls, gesture controls, and even dark mode.
It works for playing your local files, online streams, and YouTube playlists alike. The browser integration feature is another advantage of IINA that's worth pointing out. All in all, it might be one of the best free music players for Mac if you're looking for power and simplicity.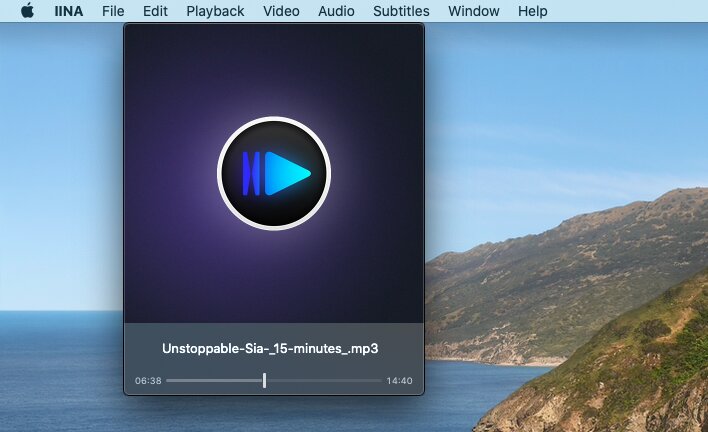 Pros:
Free to use since it's an open-source app
Great user interface with support for macOS gesture and touch bar controls
Picture-in-picture mode.
Cons:
The minimalistic approach may seem basic to advanced users.
Supported Formats: M4A, MP3, AAC, M4A etc.
Supported OS: macOS
Price: free
When thinking about music players for Mac there's a good chance to dismiss VLC because of its predominant video player function. However, you'd be missing out on an excellent free music player for Mac. It handles audio playback with the same proficiency and meticulosity as the video function and supports lots of formats without the need for codecs or plugins.
Furthermore, it's available for macOS and iOS so you can add it on your iPhone or iPad as well to enjoy the same top-quality audio playback. The total absence of ads, spyware, or user tracking is another plus for VLC.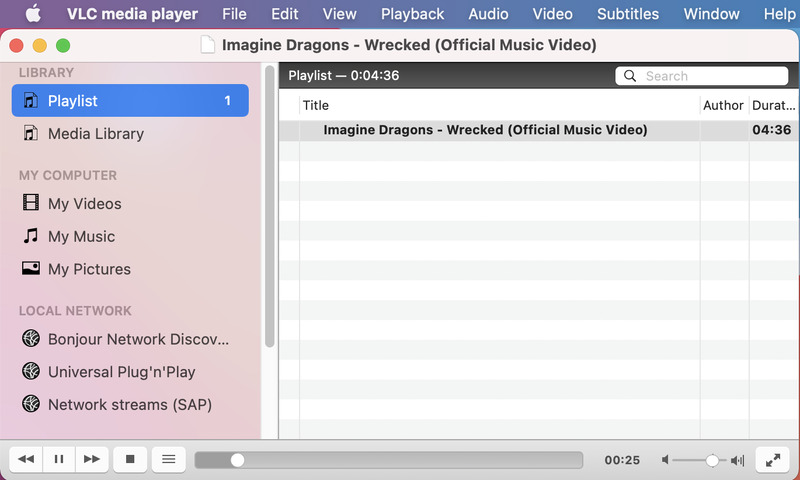 Pros:
Multiple customization possibilities
Advanced audio settings and control
Completely free
Available for the most popular operating systems.
Supported Formats: MP3, AAC, Vorbis, AC3, WMA, FLAC, ALAC etc.
Supported OS: macOS, Windows, Linux, iOS, Android
Price: free
Swinsian is the next music player on the list that packs an interesting set of features. It's a powerful Flac, MP3, AAC, ALAC, WAV, Opus, AC3, AIFF, DSF, APE, and WMA player for Mac. To view and navigate your music in the most convenient way, you can choose between an art grid, column browser, or track inspector, or hide them altogether.
Swinsian also comes with an advanced tagging system, so you can manage your music files by quickly editing tags, finding duplicates, and more. The app offers a mini window, as well as a desktop widget that discretely shows what track is currently being played.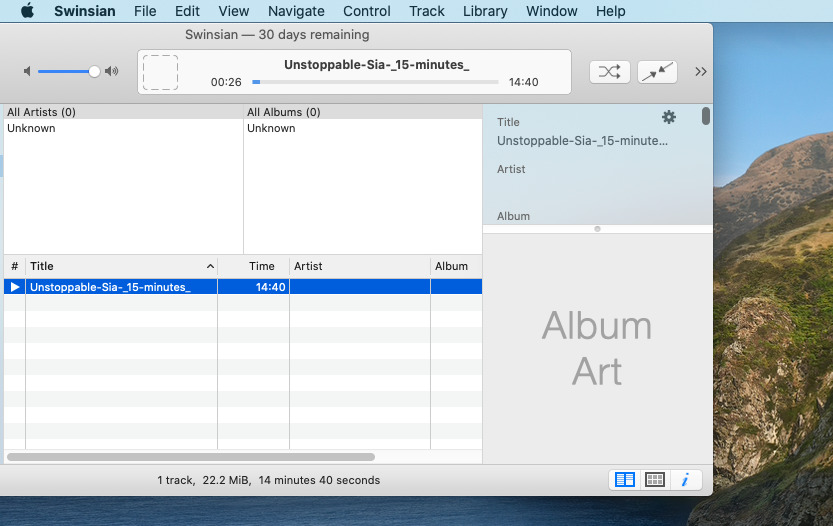 Pros:
Support for importing iTunes libraries
Can download album art
Identifies duplicate tracks
Offers advanced tagging.
Cons:
Except for the basic playback functions, you need to upgrade to the paid version to unleash it's full power.
Supported Formats: FLAC, AAC, MP3, OGG, WMA, ALAC, WAV, AC3 etc.
Supported OS: macOS
Price: free trial, the price is $24.95
Fidelia is one of the music players for Mac definitely worth mentioning due to its commitment to high fidelity. Created with music lovers in mind, it focuses exclusively on audio playback. Its cool design stands out from the crowd. You can import your iTunes library or build new custom playlists regardless of the format.
The app supports the 64-bit audio unit plug-ins and access to AUGraphicEQ for fine-tuning. You can use AirPlay to stream wirelessly to an output device or download Fidelia's iOS app to use your iPhone as a remote.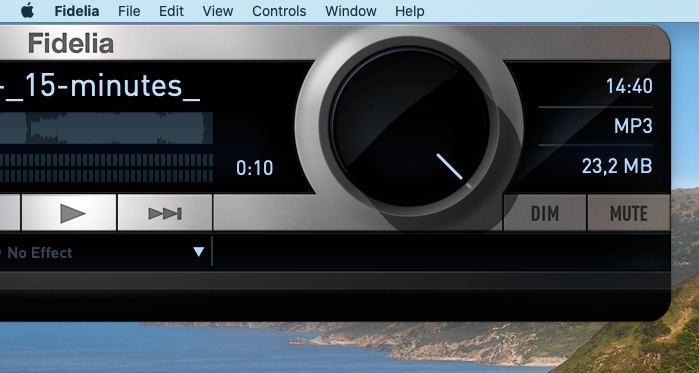 Pros:
Premium user interface
Available for iOS as well
You can control Fidelia music player from a mobile device.
Cons:
Only available for macOS 10.13 and later.
Supported Formats: Apple Lossless, FLAC, MP3, WAV, AAC, Vorbis, CAF.
Supported OS: macOS
Price: free trial, the app costs $29.99
Colibri's creators have dubbed it a native lossless macOS audio player for audiophiles. And with its crystal-clear bit-perfect gapless playback, it's very much so. At the same time, the app uses very little computing power, thus saving on battery.
It plays a wide range of lossless and lossy audio formats. Gapless playback requires no extra RAM or CPU. Its 10-band peaking equalizer, full support for cue sheets and metadata types, and BS2B support to reduce the "stereo fatigue" only add to the customization and enjoyment.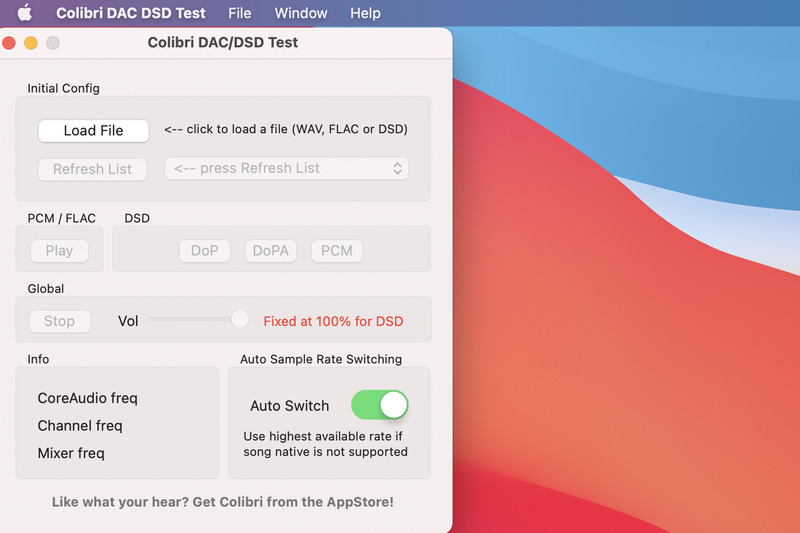 Pros:
Plenty of features for a lightweight app
Advanced RAM disk support
Offers Finder integration and lots of hotkeys.
Cons:
Most of the advanced features that make the difference are only available after you purchase the app.
Supported Formats: FLAC, WAV, ALAC, APE, AIFF, TTA etc.
Supported OS: macOS
Price: free, PRO version costs $9.99
Pine Player is another one of the music apps for Mac on this list that is solely used for audio. It serves as an MP3, FLAC, APE, AAC, WAV, AIFF, OGG, WMA, DSD, OPUS, and M4A player, working with 16 to 32-bit sources and up to 768kHz. Pine Player has an Audio Queue for real-time converting which prevents damage to sound quality but takes up more memory.
The app offers cross-fade, gapless playback, and text decoding. It also automatically isolates damaged sound sources by taking them to the so-called Vault file. Although not fully integrated with Mac's media keys, it's still a pretty good option.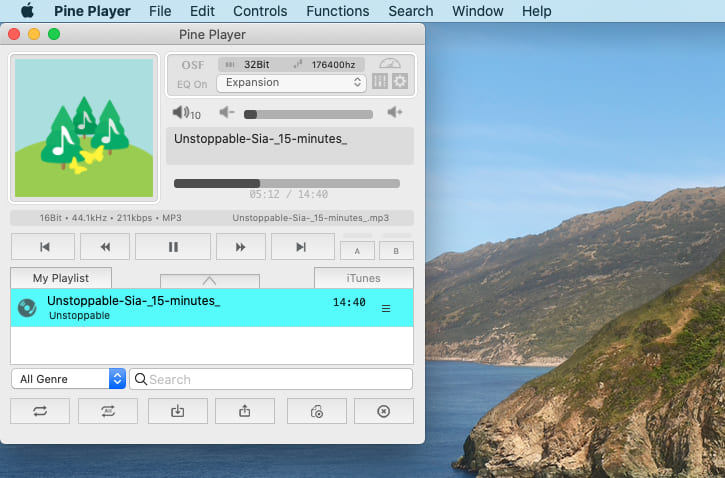 Pros:
Support for mass storage queues
Automatically isolated damaged sound sources for smooth playback
No ads despite being 100% free.
Cons:
The user interface can feel a bit too complicated for inexperienced users.
Supported Formats: FLAC, MP3, M4A, APE, AAC, WAV, OGG, AIFF etc.
Supported OS: macOS
Price: free
Amarra Luxe is a music player for high-resolution playback. It supports MQA, AAC, AIFF, ALAC, MP3, FLAC, and WAV files, among others. It also offers DSD to PCM conversion. It features an MQA decoder, capable of playing original master recordings, while also maintaining a small MQA file size.
Amarra Luxe also allows music streaming by exploring the catalogs of nugs.net, Qobuz, and TIDAL. Some other noteworthy features include unsampling, surround sound, equalizer presets, and artwork support.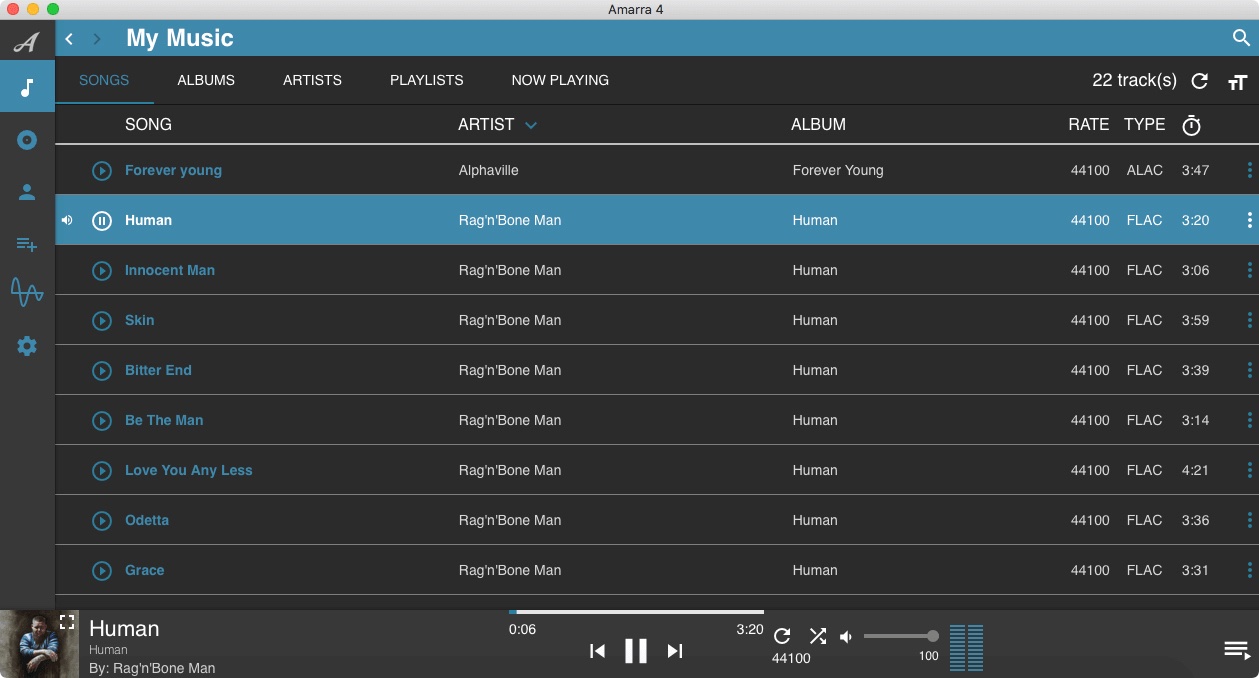 Pros:
Great quality and sound comfort
Integrated with several online streaming services
Offers MQA-enabled DAC.
Cons:
Costly license compared to other alternatives.
Supported Formats: DSD/DSF, PCM, MQA, WAV, AAC, AAC, AAC, AAC MP3, FLAC, etc.
Supported OS: macOS, Windows
Price: free trial, PRO version costs $99
Audirvana Studio is focused on pristine audio quality. It minimizes processor activity to prioritize music playback, always following the shortest possible software path to the audio output. Its exclusive toolset lets you monitor and fine-tune your system with features such as: Active Settings Dashboard, Audio Scan, and Device-Specific Settings.
In addition, you can enjoy over 65,000 internet radio stations, 55,000+ podcasts, and music from integrated partners Tidal, Qobuz, and High Res Audio. Audirvana also offers a free remote control app for iOS and Android.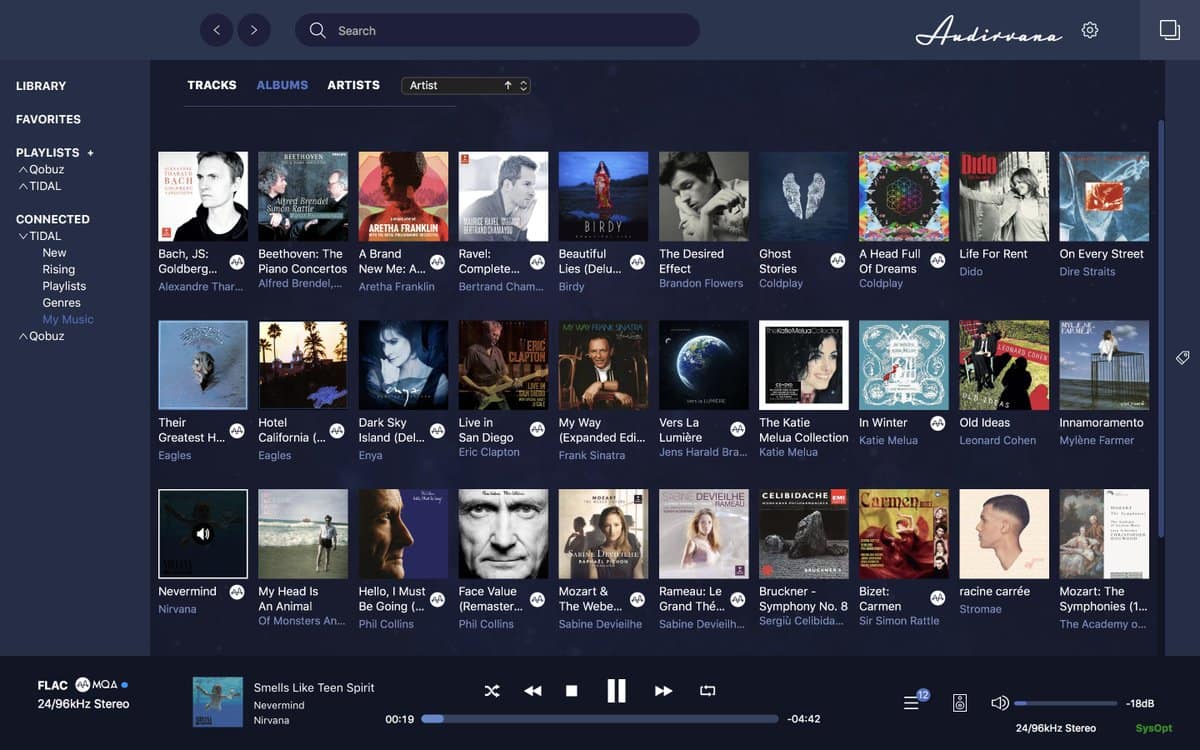 Pros:
Excellent playback quality
Improved dashboard with all available audio settings, audio track analysis, etc.
Well-establised app with 10+ years of history.
Cons:
Audirvana Studio only offers a monthly/annual subscription. One-time license purchase is available for Audirvana Origin.
Supported Formats: AIFF, WAVE, AAC, MP3, FLAC, Monkey Audio APE, WavPack, Apple Lossless, DSD, etc.
Supported OS: macOS, Windows
Price: free trial, $69.99
How We Chose These 12 Audio Players
In case you want to learn more about our process when building this list of best music player for Mac recommendations, we're sharing the criteria applied during the selection.
Supported Formats

– the first thing we checked at any music player for Mac listed was the range of formats it supports. It's vital that you can play a wide range of formats without needing extra codecs or plugins.

Compatibility

– we made sure that all the players are compatible with the latest macOS versions and get constant updates from developers.

UI/UX

– an excellent audio player with lots of features and options is nothing without a good user interface and experience. That's why we tested to make sure all users can easily navigate and operate these apps.

Features

– complete playback control, playlist support, gapless playback, or the possibility to tag and remove duplicates are some of the features we checked for the suggested music players for Mac.
Discover the Best Music Player for Mac (2023)
The article lists some great players we've come across. Take a look at the best music players for Mac, and choose what's right for you!
| | | | | | | | | | | | | |
| --- | --- | --- | --- | --- | --- | --- | --- | --- | --- | --- | --- | --- |
| | Elmedia | JustPlay | VOX | 5KPlayer | IINA | VLC | Swinsian | Fidelia | Colibri | Pine | Amarra | Audirvana |
| Audio Equalizer | ✅ | ✅ | ✅ | ❌ | ✅ | ✅ | ✅ | ✅ | ✅ | ✅ | ✅ | ✅ |
| Supports local file streaming to TV | ✅ (PRO) | ❌ | ❌ | ✅ | ❌ | ❌ | ✅ | ❌ | ✅ | ❌ | ✅ | ✅ |
| Playlist Creation and Editing | ✅ | ✅ | ✅ | ✅ | ✅ | ✅ | ✅ | ✅ | ✅ | ✅ | ✅ | ✅ |
| Subtitle support | ✅ | ✅ | ❌ | ✅ | ✅ | ✅ | ❌ | ❌ | ❌ | ❌ | ❌ | ❌ |
| Trial Version | ✅ | ❌ | ✅ | ✅ | ✅ | ✅ | ✅ | ✅ | ✅ | ✅ | ✅ | ✅ |
Conclusion
We hope you've enjoyed the recommendations above. From lightweight apps, through audio-only players, to software that also doubles as a video player for Mac, there is a solution to everyone's specific needs and preferences. Devoted audiophiles will enjoy the advanced features of some of these players, while casual music listeners will appreciate the simplicity of others. Whichever the case, you're sure to find your next favorite music player for Mac.
FAQ