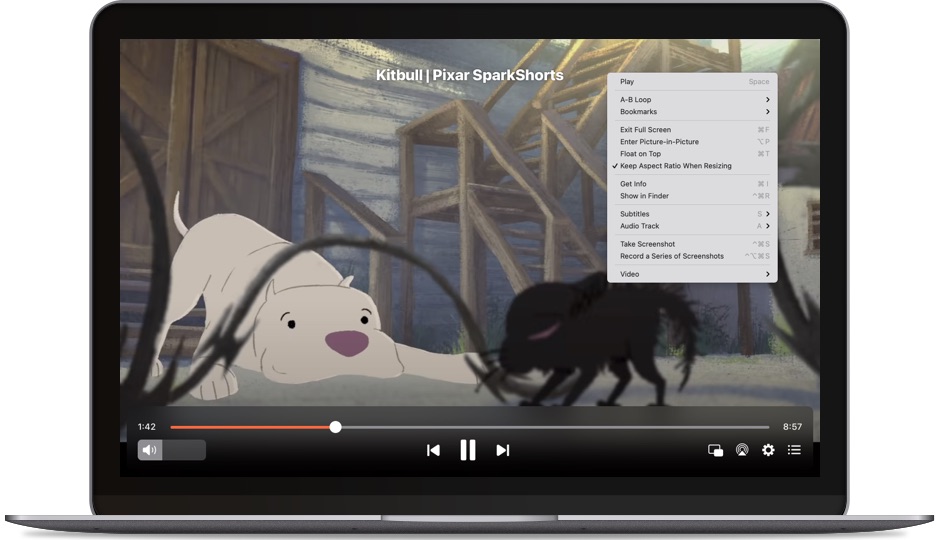 Playing thousands of different formats is difficult on macOS, especially since most players offer limited compatibility. This article includes the most functional and accessible Mac movie players we could find on the web. We've got App Store applications, standalone installers, and even the default macOS player – QuickTime. Any app in the list has something to show – a great interface, plentiful features, or plain old reliability. And some of them can play the full spectrum of media files.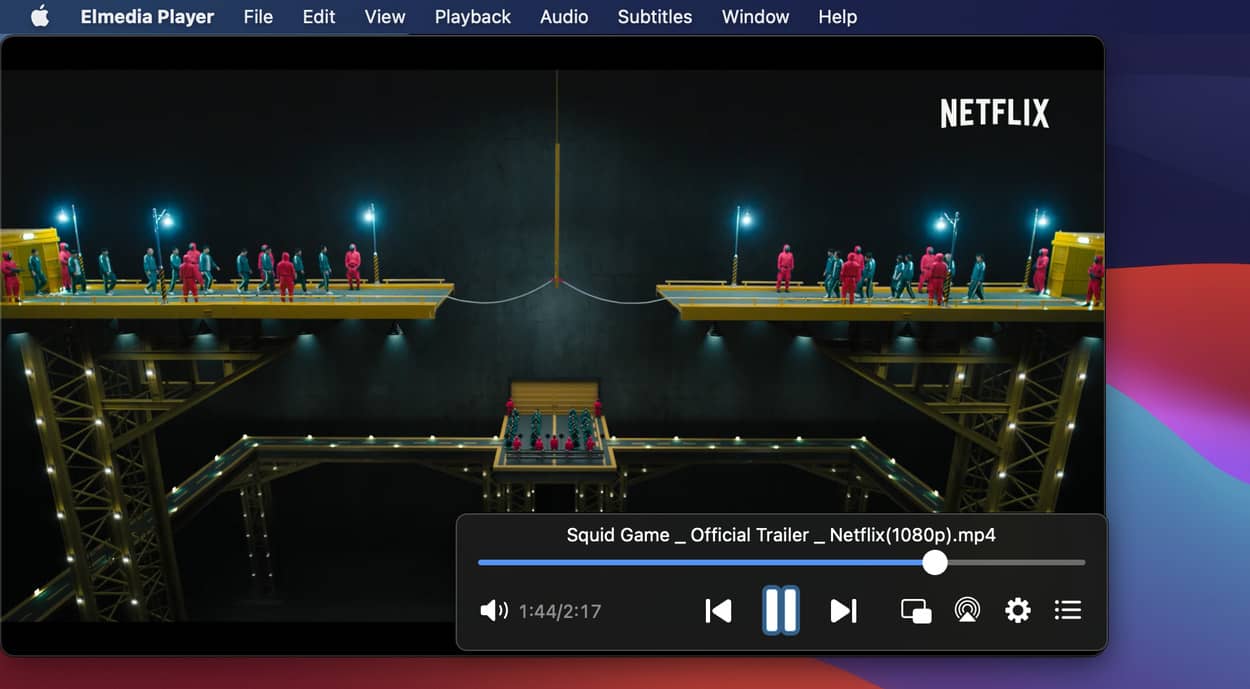 Elmedia includes the most useful features you'll find in a video player for macOS devices. It's very likely that this is the best video player for Mac. And there are hardly any formats out there that Elmedia Player won't open.
The functionality includes audio equalization, video tuning, subtitle adjustments, playback speed, bookmarks, playlist saving, and even one-click streaming over AirPlay 2 and DLNA. You can find more in the Preferences – from startup options to compatibility settings, which will come in handy when streaming. External audio and subtitles can be added and synchronized with the video track. And you can even search for subtitles online with a built-in function.
Some of the aforementioned features will require you to activate the Pro version of Elmedia Player. A personal license costs $19.95 on the official website, and it's a one-time purchase – no subscriptions required.
Pros:
Can load almost any media file
Streaming is both advanced and easy
Settings allow for complete customization
Regular updates and patches
Cons:
Some features are only unlocked in Elmedia Pro
Exclusively available on Mac; no Windows version
Supported Formats: .rm, .rv, .rmvb, .ra, .ram, .ogg, .ogm, .ogv, .mpg, .mpeg, .mpv, .m1v, .m2v, .mpg2, .mp2, .m2t, .m2ts, .ts, .mp3, .mp4, .m4v, .mpg4, .mpeg4, .m4a, .m4p, .m4r, .aac, .3gp, .asf, .wmv, .wma, .fli, .ac3, .mqv, .mkv, .webm, .mka, .3iv, .nut, .nuv, .nsv, .qt, .rec, .vcd, .vfw, .vob, .pcm, .vaw, .waw, .wav, .aiff, .aif, .ape, .flac, .avi, .flv, .f4v, .swf, Flash Projector .exe, .h264, unencrypted .bdmv, .au, .mpga, .qcp, .dsf, .cue, .3gpp, .3gp, .3ga, .3amv, .fli, .flc, .ty, .ty+, .tivo, .dvr-ms.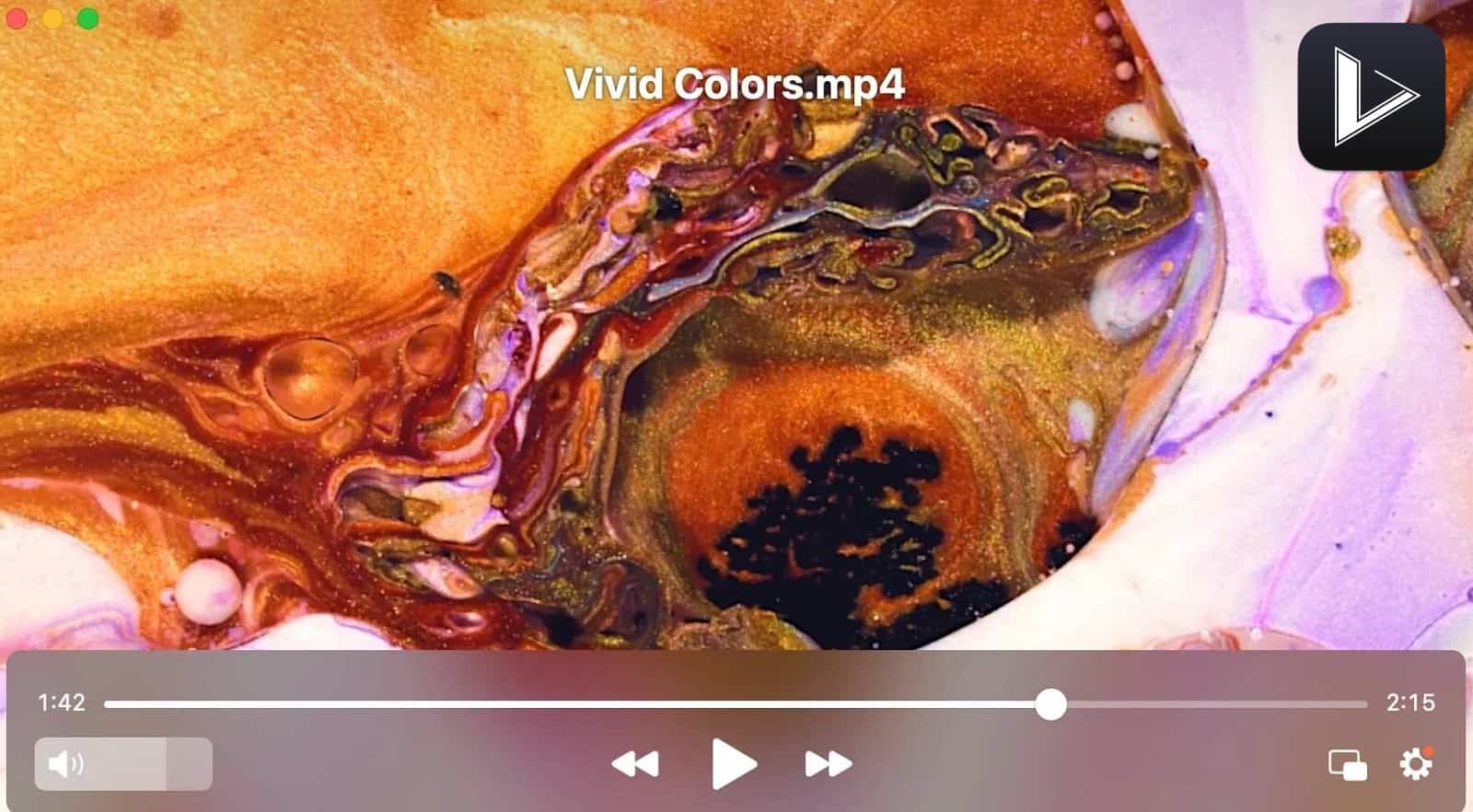 If you are looking for a compact player with wide format support, check out JustPlay. The app boasts compatibility with all popular video and audio files, including MP4, AVI, MOV, MP3, and more. There is no need for any extra codecs and plugins to handle the files.
JustPlay guarantees smooth playback for 4K and 8K videos thanks to the hardware accelerated decoding feature. Among other things, the application also has a video tuner, an audio equalizer and supports subtitles.
Pros:
Lightweight
Plays virtually any file format
Flexible playback adjustments
Runs natively on Mac computers with Apple silicon.
Supported Formats: mp4, .avi, .mov, .swf, .dat, .mkv, .mp3, .flac, .m4v, Blu-ray.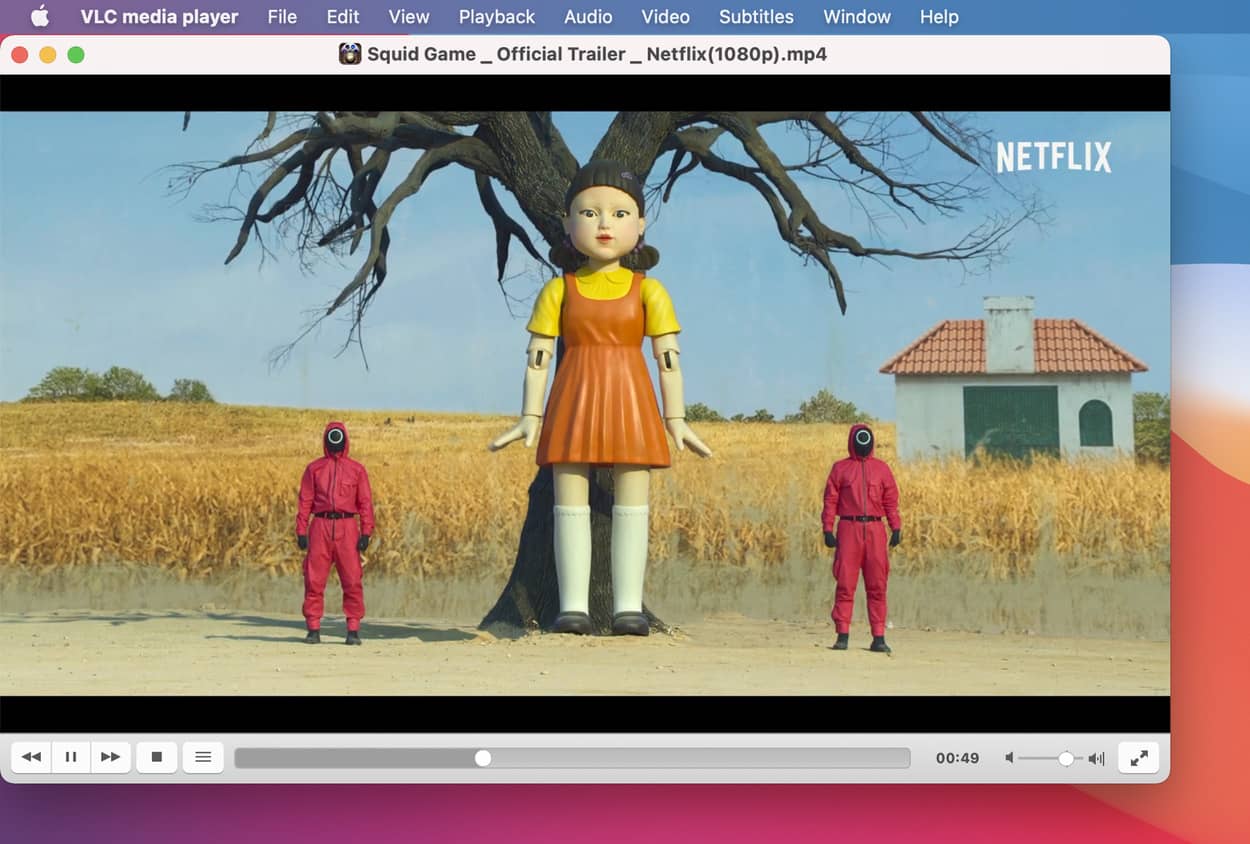 VLC (VideoLan Client) is a free, open-source player, which has seen decades of active development – longer than most Mac movie players. It supports every popular format, including DVDs with menus. However, the player can't stream over DLNA or AirPlay.
VLC has a sizable selection of playback options – color correction, synchronization, an equalizer, and many other easily-accessible video and audio effects. This becomes an issue when you try to do anything advanced, whether it's screen capturing, conversion, or advanced configuration. The amount of settings is simply staggering – simple things like hardware acceleration and jump sizes can be hard to find.
Pros:
Countless audio and video settings to configure
Supports most formats
Additional features – conversion, recording, etc.
Cons:
Necessary options are hard to find
Outdated interface.
Supported Formats: .mp4, .mp3, .mpeg, .avi, .mov, .3gp, .wmv, .wma, .asf, .ogg, .ogm, .dts, .aac, .wav, .mkv, .flac, .flv, .mxf, .nut, .mid.
IINA is a well-designed player. Its UI is a perfect match for macOS, and it certainly looks like the best movie player for Mac. Does the functionality match up? To some degree, yes.
The application implements modern Mac features, such as the Force Touch, Touch Bar interaction, and a Picture-in-Picture playback mode. All controls are fully customizable, from hotkeys to gesture controls. The playback panel can be moved for convenience. There is a separate Music Mode, which makes the IINA window more compact. However, the other features are lacking – for example, there is no streaming support.
Pros:
Solid interface
Completely customizable controls
Free and open-source
Cons:
Still a work in progress
Limited settings and features outside of interface
Supported Formats: Any format supported by ffmpeg or libav – a massive list.
What is the greatest advantage of QuickTime? It's readily available, making it one of the best, if not the best free video player for Mac. If you look past the limited format compatibility, and the absence of some playback settings, the default macOS player seems perfectly feasible.
But, despite some surprising features, such as screen recording, the restrictive codec library of QuickTime will hamper its usefulness. No one can be satisfied with a handful of Apple formats.
Pros:
Comes pre-installed on every Mac
Easy to use
Cons:
Extremely limited format support
Very few options and features
Supported Formats: .mp3, .mp4, .m4a, .m4b, .m4v, .m4r, .aiff, .wav, .mov.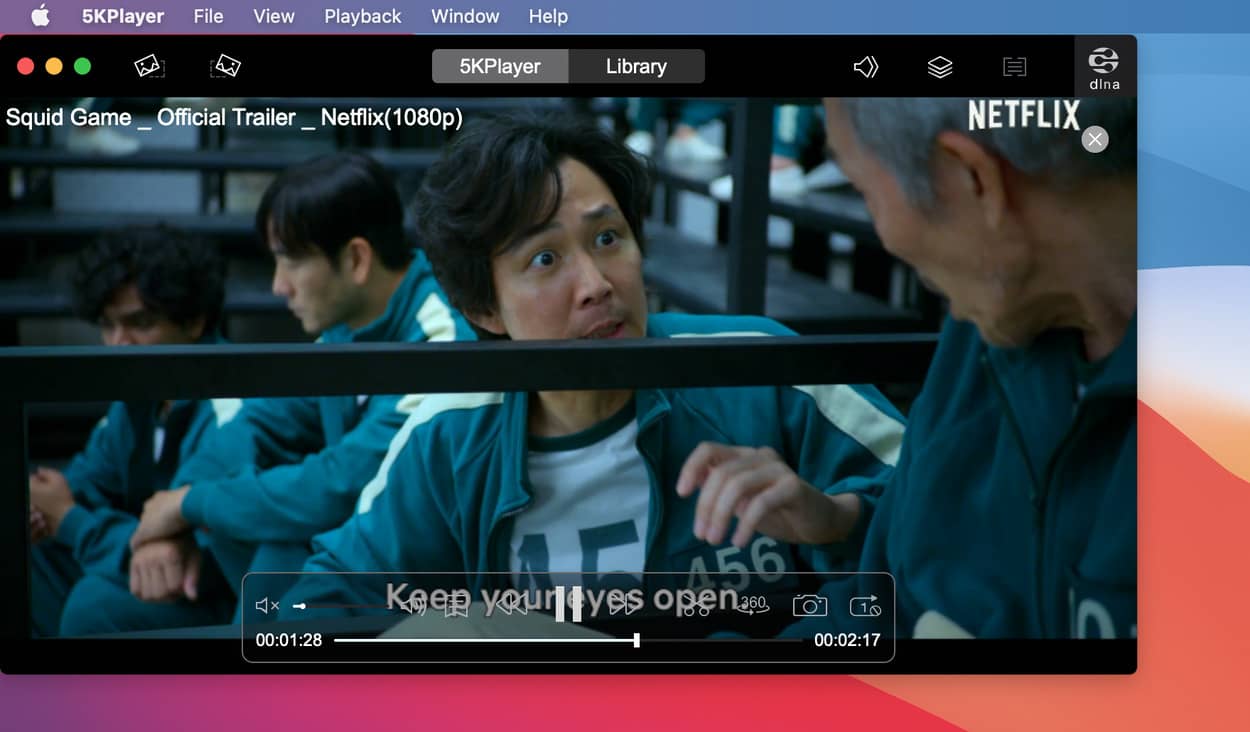 5KPlayer boasts an impressive number of supported files. Not only that, it features a media organizer, video downloading, streaming, and even cutting while you play the video. All that, in addition to the usual features you'd find in Mac movie players.
There's a major downside. The software is packed with ads, and the only way you can get rid of them is using the old versions. Is it worth it? You decide. 5KPlayer still has a lot to show, despite the ad situation.
Pros:
Free to use
Secondary streaming and cutting features
Supported Formats: .3g2, .3gp, .asf, .asx, .avi, .div, .divx, .dv, .f4v, .fli, .flv, .h264, m2ts, .m4v, .mjp, .mkv, .mov, .mp4, .mpeg, .mpg, .mpg2, .mts, .mtv, .mxf, .ogm, .ogv, .qt, .qtz, .rm, .rmvb, .rv, .swf, .tlvo, .tp, .ts, .vc1, .vcd, .vfw, .vob, .vro, .webm, .wmv, .wtv, .xvid, .yuv, .aa3, .aac, .ac3, .acm, .aif, .aiff, .alac, .ape, .caf, .flac, .m3u, .m4a, .m4b, .mid, .mka, .mp3, .mpa, .ogg, .pcm, .ra, .ram, .wav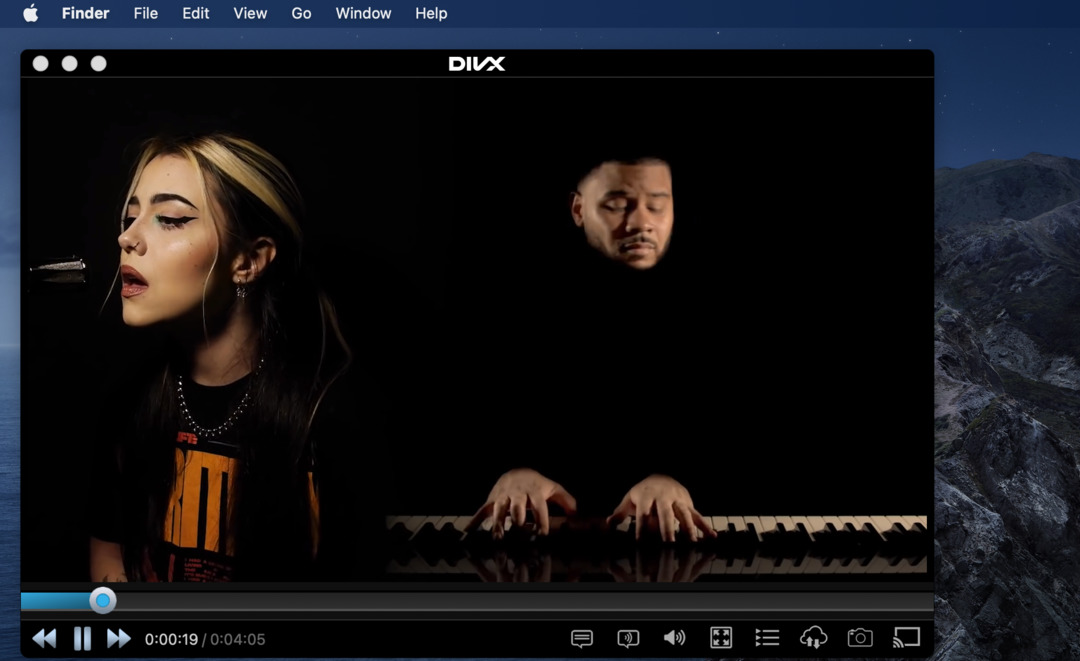 DivX Player is a software media player for Mac and Windows computers. It provides high quality video playback up to 4K and comes with all the necessary tools for an enjoyable viewing experience.
DivX can also be used to play files directly from Google Drive or Dropbox. In addition to playback, the application allows you to stream videos to any DLNA-compatible device. The software also includes a converter so you can easily convert videos to compatible formats.
Pros:
Plays most video formats
Includes converter
Streaming capabilities.
Cons:
To use all features, you must purchase the Pro version
Free version contains ads.
Supported Formats: avi, .mkv, .mp4, DivX, HEVC.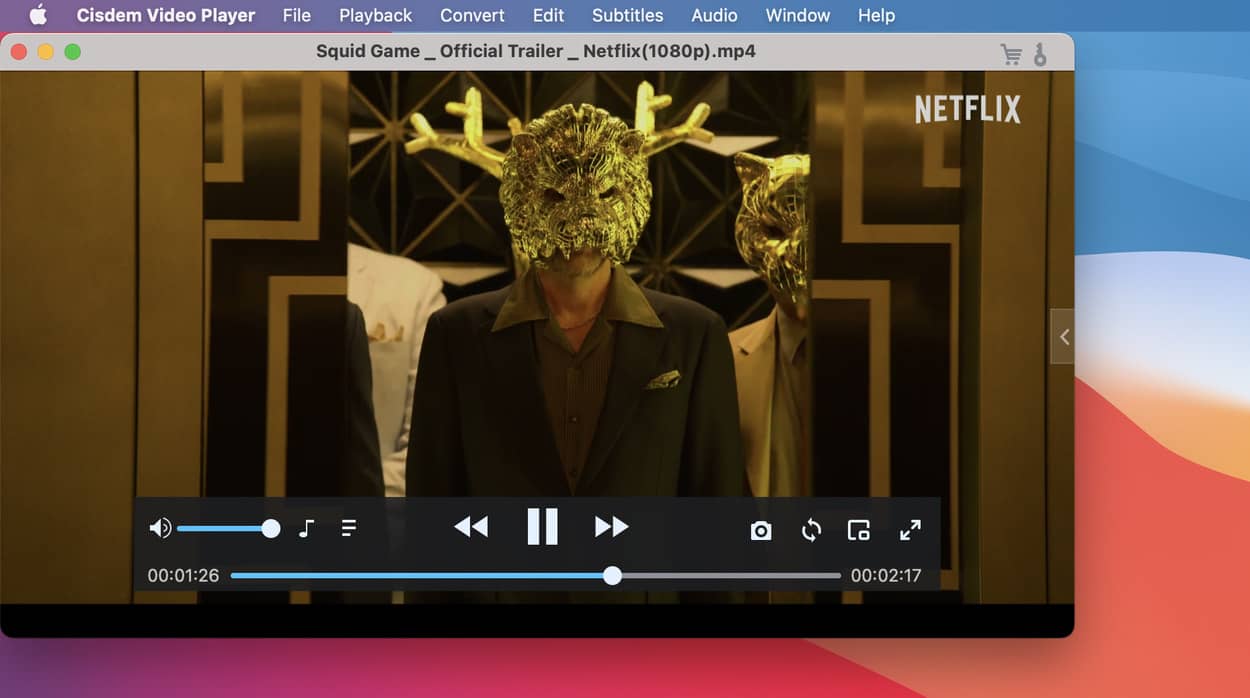 Cisdem Player offers a minimalistic experience – it can open and smoothly play all sorts of videos, but it doesn't do much more than that. There's a playlist feature, repeat and shuffle, and little else. No graphical tweaks, no subtitle adjustments.
On the other hand, the full version of Cisdem is only $9.99. It's one of the cheapest players out there, if you don't count free software. The main reason to get it is the converter, which is very simple and provides compatibility for a wide range of platforms.
Pros:
Simple and lightweight
Can convert some formats
Cons:
Not enough features compared to other players
Supported Formats: .mp4, .mkv, .webm, .mpeg, .wmv, .ts, .mov, .avi, .aac, .ac3, .aiff, .ape, .mp3, .mp2, .m4a, .ogg, .wma, .mka, .3gp, .3gp2, .asf, .avi, .div, .vob, .flv, .m4v, .dvr, .mpv, .nut, .nsv, .qt, .h264, .rm, .au, VCD .dat, .ts, .mod, .tod, .vro, .amv, .divx, .iso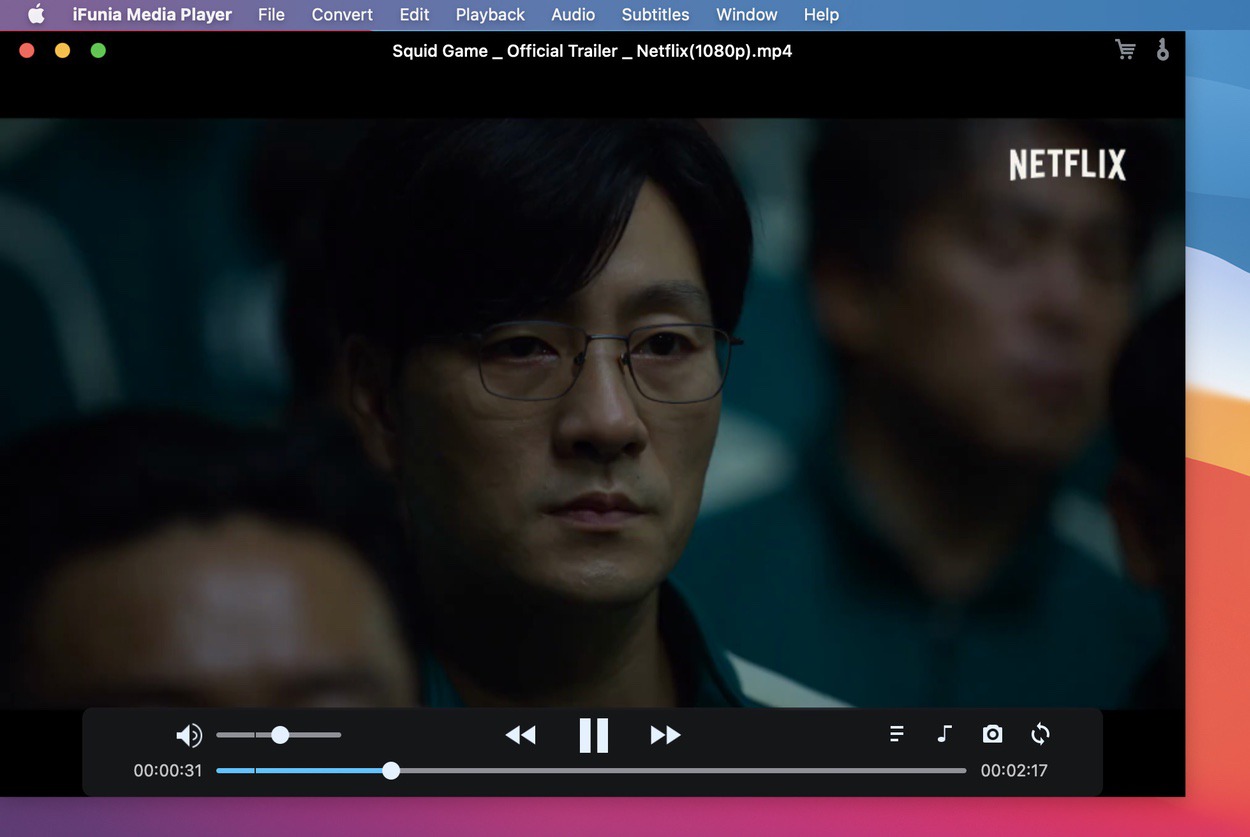 iFunia provides some unique convenience features: for example, it remembers where you left off on the timeline, and keeps a playback history which can be exported as a playlist. It is also a well-made player in general.
The paid aspects include file handling: conversion and metadata editing, with possible resizing if you want to adapt the video to mobile devices. The upgrade costs 7$, a one-time transaction.
Pros:
Most features available for free
Cheap upgrade
Unique but simple
Cons:
Primitive, with scarce customization
Supported Formats: .wmv, .avi, .asf, .rm, .rmvb, .3gp, .3g2, .mpg, .mpeg, .m2v, .mpa, .dat, .mp4, .ts, .m2t, .t2, .mov, .qt, .m4v, .m2ts, .mts, .flv, .f4v, .mkv, .dv, .dif, .dvr, .xwmv, .amv, .mpv, .nsv, .au, .mjpg, .mjpeg, .nut, .h261, .h263, .h264, .yuv, .divx, .mod, .tod, .vro, .dpg, .mp3, .mp2, .wma, .wav, .ogg, .aac, .ac3, .m4a, .mka, .aiff, .ape, .flac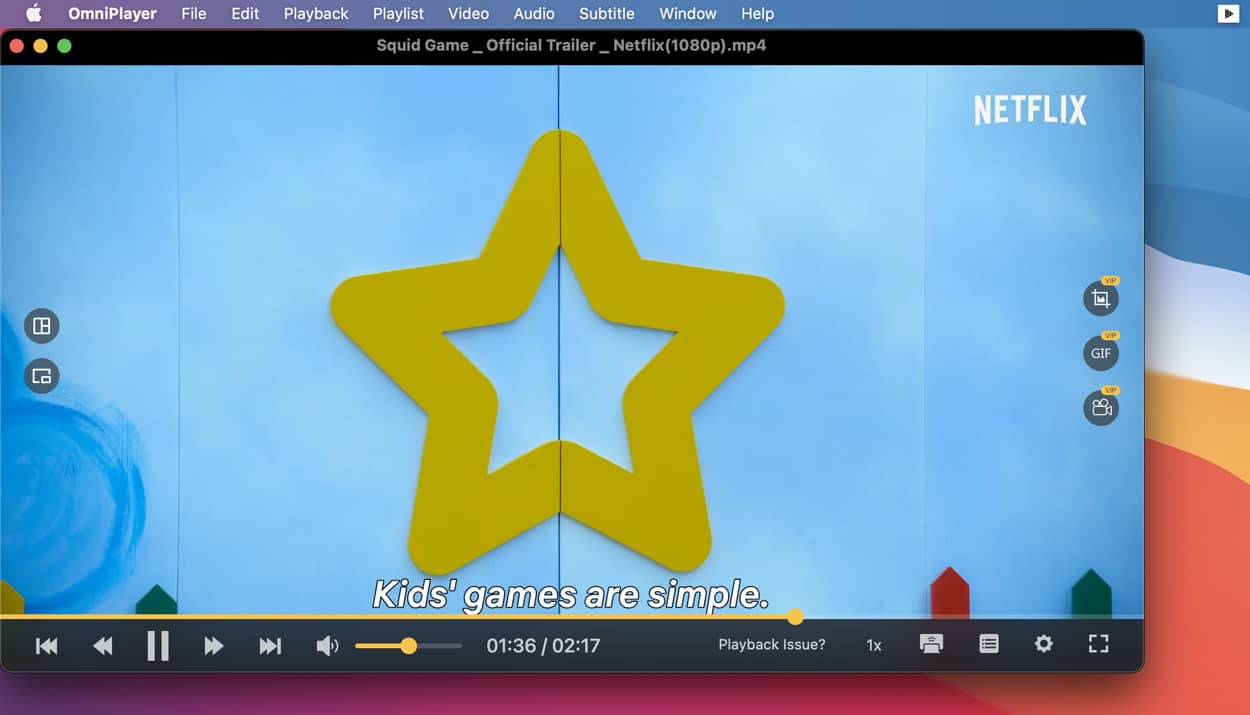 Omni Player can open many different file types. You can either play them or broadcast them to a DLNA, Chromecast or Roku device. Extensive customization is also available, with graphical, audio and subtitle settings to configure. Unlike other apps, Omni Player can generate 60-second GIF images.
As per usual, a small subset of features is locked behind an in-app purchase. 8$ will get you subtitle delay adjustment, recording, and screenshot capabilities.
Pros:
Plenty of video and audio settings
Universally compatible with media
Free version is not restrictive
Cons:
Payment required to use the whole app
Supported Formats: .mkv, .rmvb, .rm, .avi, .mov, .wmv, .flv, .f4v, .f4p, .f4a, .f4b, .swf, .mpg, .mpeg, .mpeg1, .mpeg2, .m1v, .m2v, .mpv, .mp4, .mpeg4, .m4v, .3gp, .3gpp, .3g2, .3gp2, .m2p, .ps, .ts, .m2ts, .mts, .mt2s, .ogm, .ogv, .divx, .dv, .asf, .wtv, .webm, .m3u, .m3u8, .flac, .ape, .m2a, .mp1, .mp2, .mpa, .mp3, .mpg3, .m4a, .m4b, .wma, .wav, .wv, .xm, .aiff, .aif, .ac3, .a52, .aac, .opus, .ogg, .oga, .mid, .midi, .mka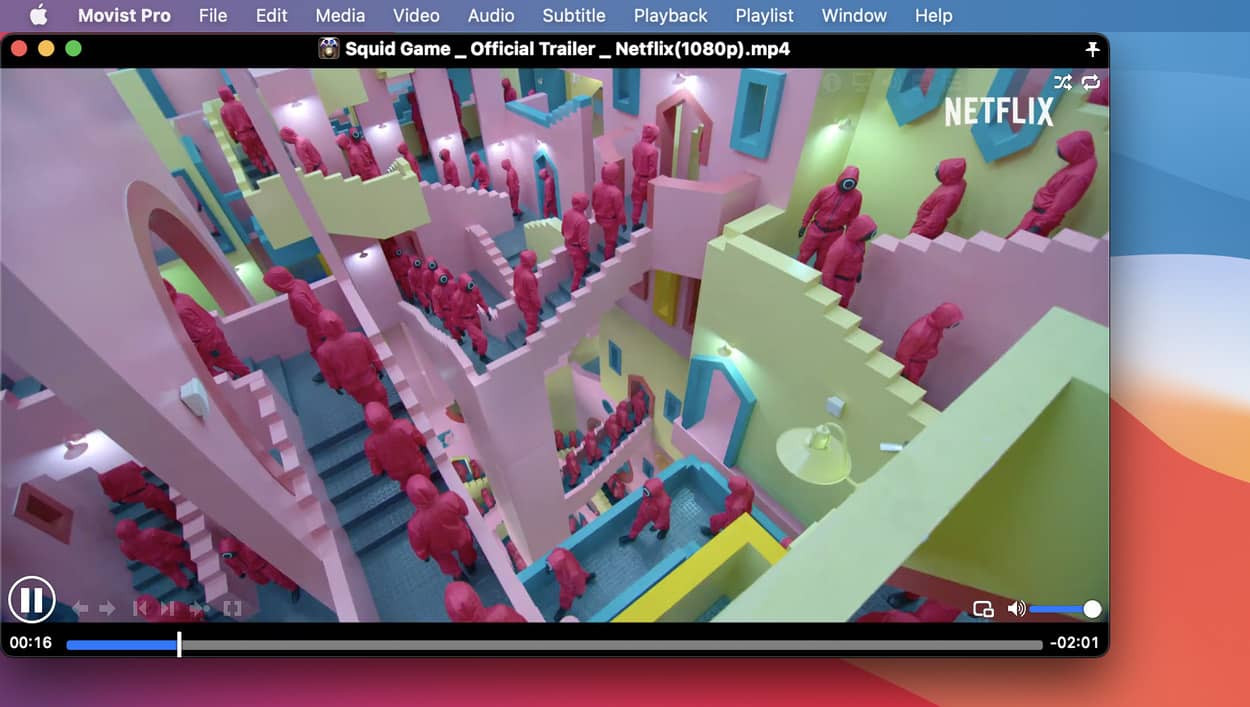 Movist is different from the other apps on this list, since it requires a $4.99 purchase right away, and then another $7.99 to access FTP servers, stream from YouTube, go into the Picture-in-Picture mode and use the Media Keys.
The stand-out features include subtitle text-to speech, expanding side panels – an elegant alternative to right-click menus, multiple simultaneous subtitle boxes, and automatic playlist generation.
Pros:
Focused on subtitles
Premium player with a unique UI
Cons:
Completely non-free app
AirPlay not implemented yet
Supported Formats: Various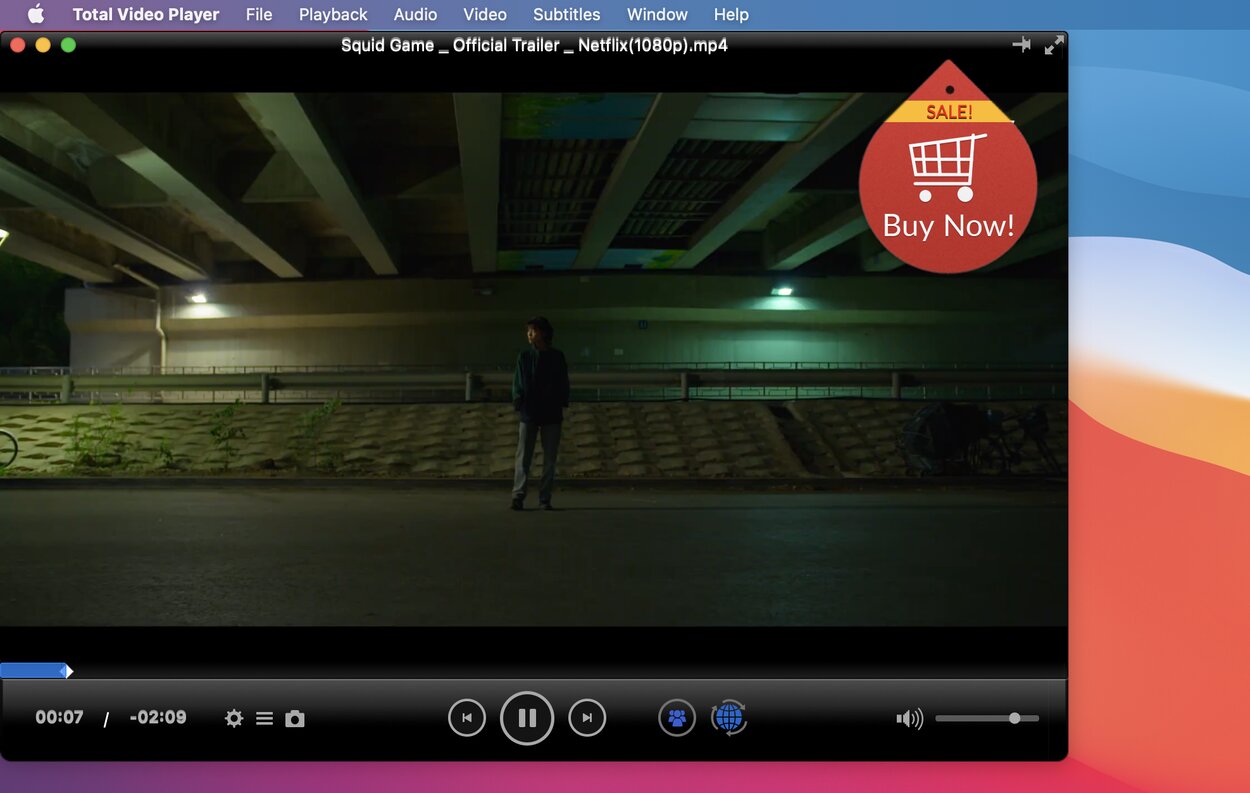 Available on the Mac App Store for $9.99, the Total Video Player is an accessible multimedia application with no in-app purchases. It allows you to load subtitles automatically and customize them: their font, size and color are adjustable. The Total Video Player is also completely compatible with all sorts of Blu-ray discs and files. Otherwise, it is completely ordinary.
Pros:
The interface is easy to navigate
Comprehensive Blu-ray support
Cons:
Expensive, even for a paid app
Supported Formats: .ts, .mts, .m2ts, .mxf, .trp, .tp, .mp4, .m4v, .qt, .mov, .mpg, .mpeg, .mpeg2, .mpeg4, .mjpg, .mjpeg, .avi, .3gp, .3g2, .flv, .mod, .tod, .rm, .rmvb, .wmv, .asf, .mkv, .f4v, .dat, .dv, .dif, .webm, .flac, .wav, .wma, .mp3, .mp2, .aac, .ac3, .aiff, .ape, .caf, .mpc, .qcp, .ogg, .m4a, .m4b, .aud, .mka, .aifc, .ra, .ram, .au, .aif, .cue
Player Comparison Criteria
When you have to choose, keep the following attributes in mind:
Format availability. While you might not need an app that plays .nut or .dif, not being able to play .webm or .wmv is very inconvenient.
The price point. Is it a single purchase, or a subscription? Are there any additional purchases or upgrades?
Audio, video, and subtitle settings. From basic volume control and track selection, to advanced stuff like video tuning or audio equalization.
Additional features. This includes streaming, conversion, downloading, ad-free YouTube playback, etc.
FAQ