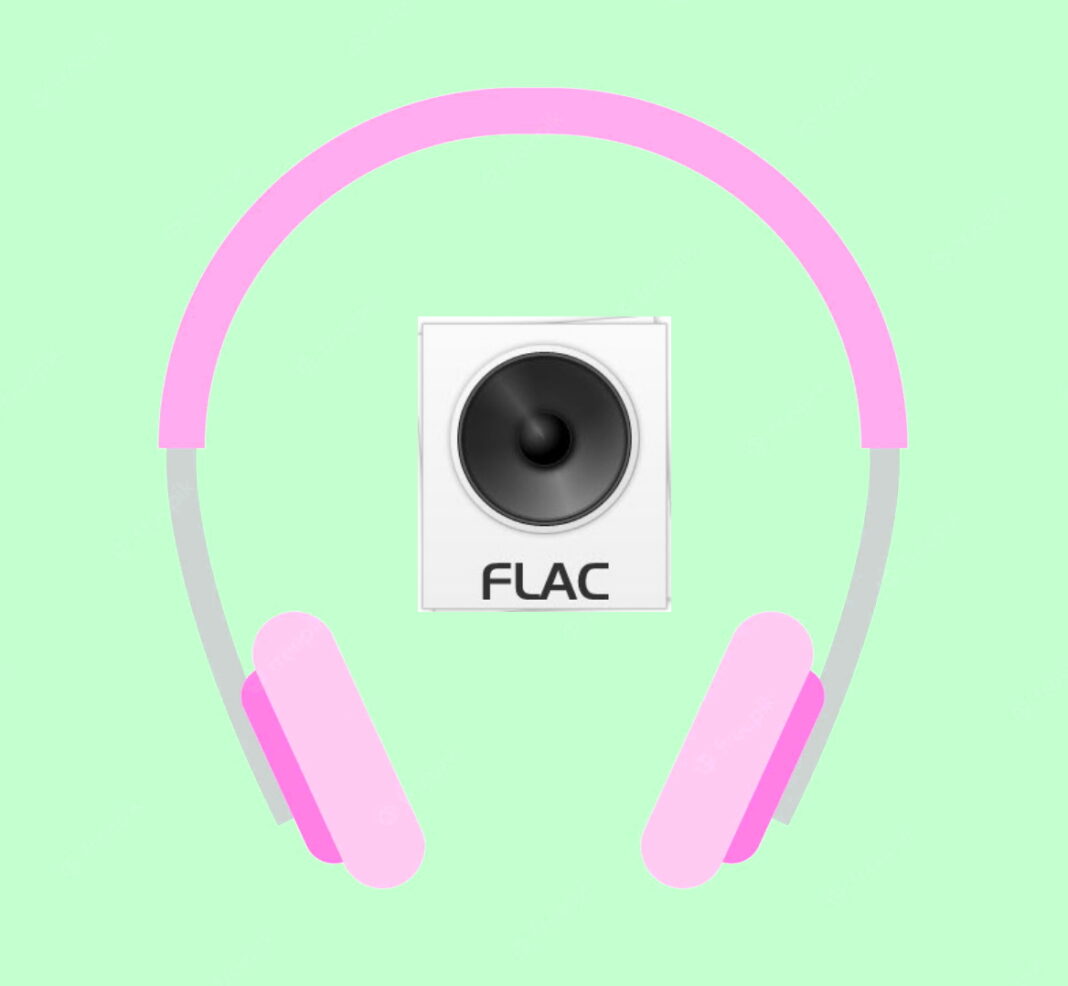 Free lossless audio code, also known as FLAC, is a digital audio file format that's similar to MP3 – but there's one important difference. FLAC is a lossless file type, so no audio data's discarded during the encoding process. If you own a Mac, you likely use Apple Music or streaming services to listen to your tunes.
But for those who prefer listening to high-resolution audio, Apple Music doesn't cut it. Look beyond Apple Music if you want to play music in a high-fidelity format like FLAC, ALAC, WAV, AIFF, or DSD. Luckily, there are plenty of other FLAC player Mac options out there, so we've put together a list of our favorites to help you find the best music player for Mac.
Our Top 7 FLAC Player for Mac solutions
1.

Elmedia Player

Elmedia Player is one of the most popular media player for Mac options if you want to play FLAC files. This player is easy to use and boasts an intuitive interface. It's considered by many to be the best music app for Mac, and serves as an MP3 player too. This FLAC player Mac is packed with features, including a high degree of customization and control.

The app supports a wide range of formats and allows you to create, load, and manage playlists. You can also stream files to a different device using AirPlay 2, Chromecast, or DLNA. Elmedia also offers macOS compatibility updates, especially for later versions like Ventura.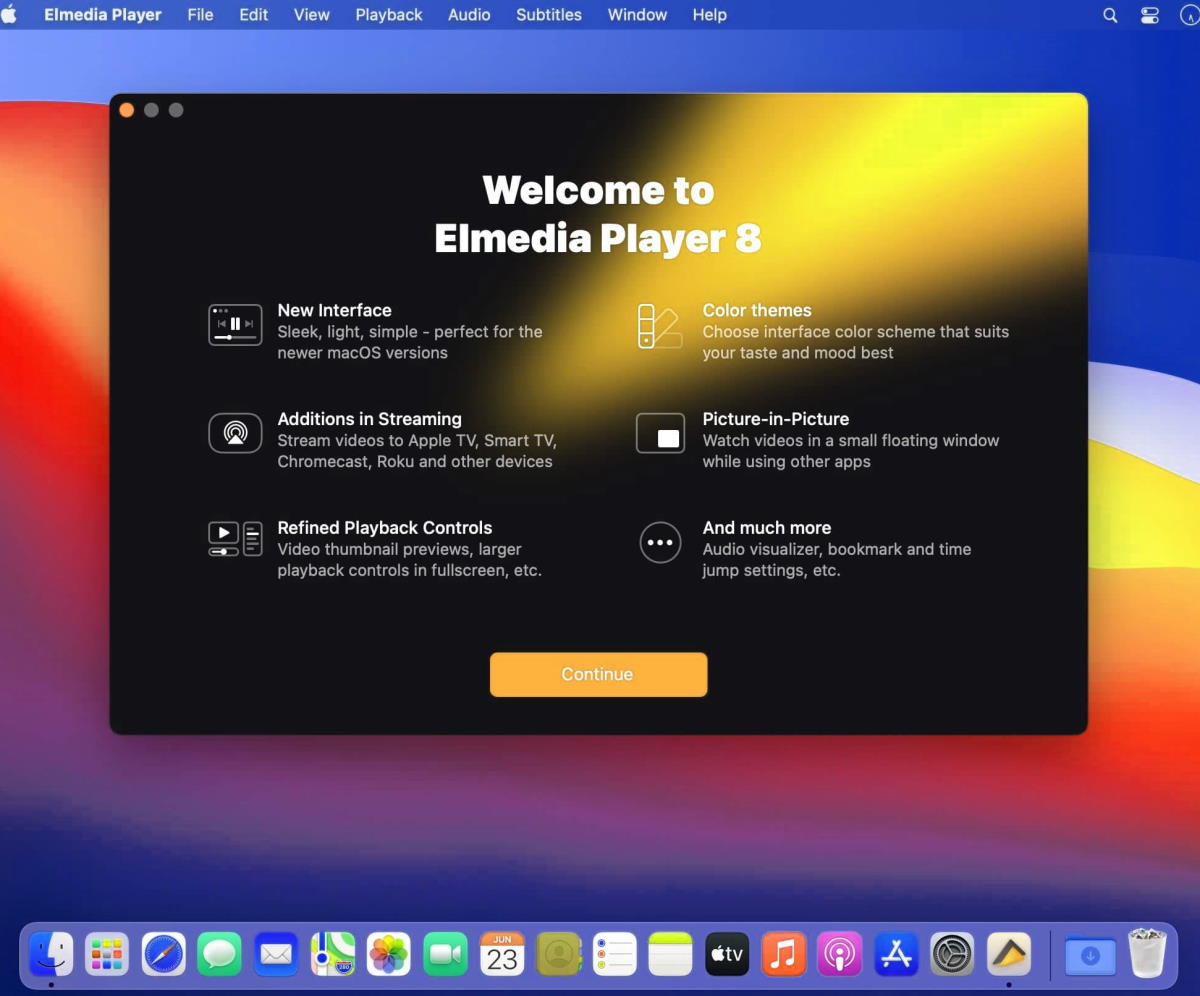 Pros:
Supports most popular formats.
Creating, loading, and managing playlists.
Lots of customization options.
Manage Playback Controls.
Stream files to another device with AirPlay 2, Chromecast, or DLNA.
Cons:
You'll need to upgrade to the Pro version to unlock all the features.
2.

JustPlay

JustPlay is another great audio player for Mac on our list. This lightweight app has all the essential features and smoothly plays FLAC, WAV, MP3 and most video formats. There is a built-in 10-band audio equalizer so you can enhance the sound to your liking either manually or using presets.

With JustPlay, you can choose any audio output device, from headphones to a home theater system, and enjoy your music to the fullest. Among other things, AC-3/DTS through S/PDIF is supported, for surround sound. The player has a sleek, easy-to-navigate interface and comes with Mac-specific controls like Touch Bar.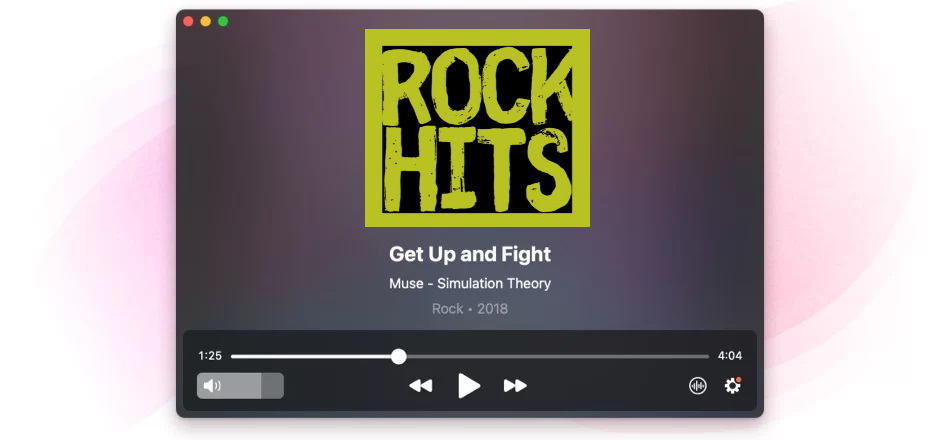 Pros:
Lightweight
Standalone volume control
Comes with 10-band equalizer
Supports external audio tracks.
3.

VOX

VOX is a popular Mac FLAC player that is easy and intuitive to use. Ideal for beginners, the stylish UI is simple to navigate and the main screen offers a range of playback options, as well as bookmark options.

VOX plays most common formats like FLAC, M4A, MP3, etc, and you can playback music from SoundCloud, YouTube, or your iTunes or personal library. There's also a built-in radio with over 30k internet radio stations. VOX has a free version or you can upgrade to the premium version ($4.99/month) for features like gapless playback, playlist syncing, and unlimited cloud storage.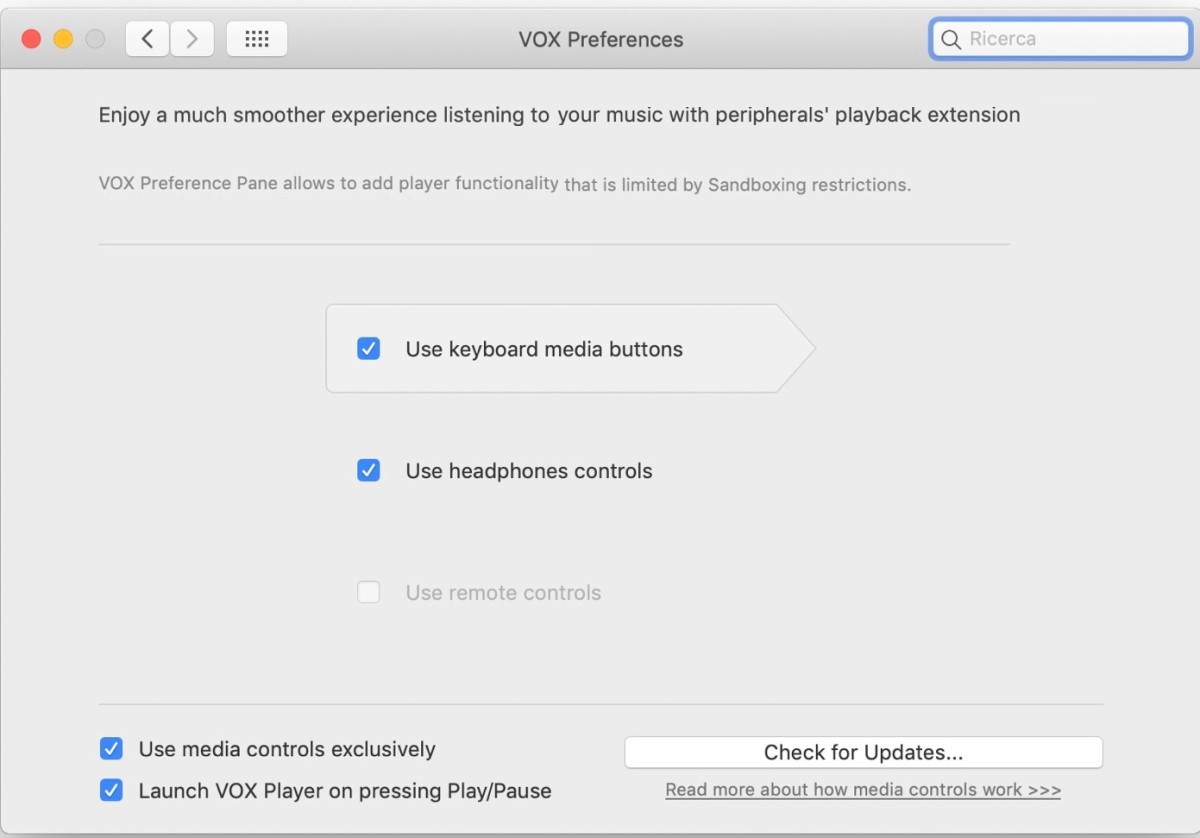 Pros:
Plays back most audio file formats.
Syncs between Mac and iOS.
SONOS support.
5.1 multi-channel audio playback.
Wide range of functions and customization options.
Cons:
Need to upgrade to premium for most advanced features.
CPU intensive.
Free version is a bit basic.
4.

Ecoute

Ecoute is a free media player for Mac and one of the best FLAC player Mac options, with an intuitive interface. It plays well with iTunes, so you can import your libraries, listen to your favorite songs, and watch TV shows.

You can also easily change artwork for songs from your iTunes library, and share tunes with friends on Facebook or Last.FM. With integrated AirPlay, it's easy to stream music to speakers or your TV, and there's a mini player, so you can minimize the main app window and enjoy easy playback control. Filters help you find the song or album you want, and you can listen to your podcasts in the app too.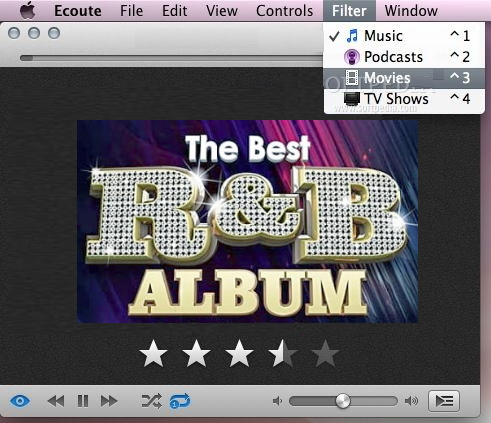 Pros:
Completely free.
Intuitive interface.
Integrated AirPlay for streaming music.
Plays well with iTunes.
Mini player.
Cons:
Can be laggy when changing artwork.
No equalizer.
5.

Colibri

Colibri is a feature packed player at a low price tag. For a one-time purchase, you get lifetime free access and free updates. Colibri supports a wide range of lossless audio formats, offering bit-perfect, gapless playback, and also supports lossy formats.

Lossless formats supported include FLAC format music as well as WAV, ALAC, APE, TTA, and more, while lossy formats include MP3, Ogg Vorbis, AAC/M4A. Colibri also offers support for Chiptunes and CUE sheets. However, the interface isn't that user-friendly so it's not the best player for beginners.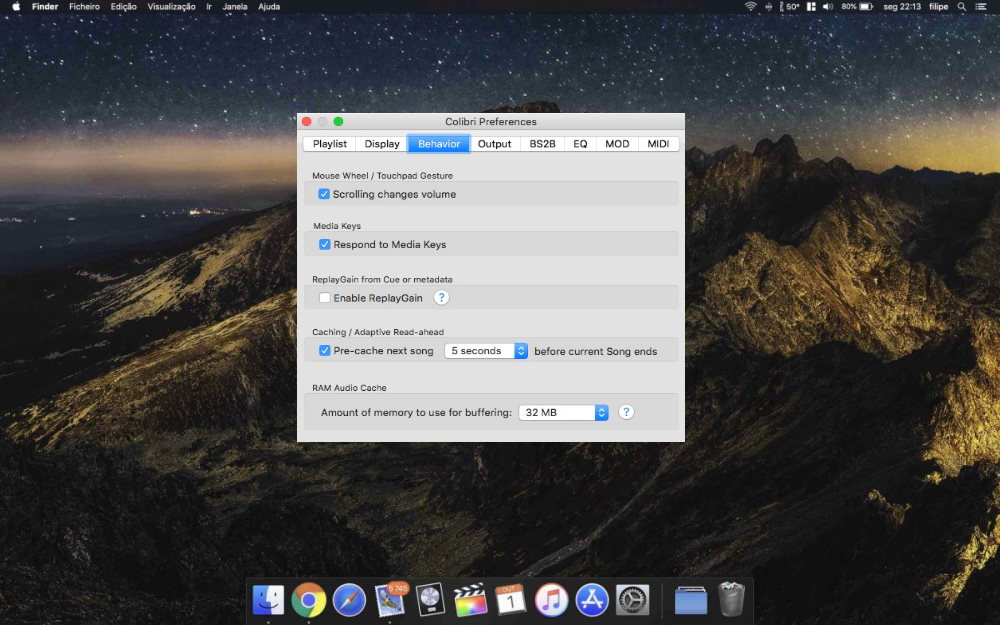 Pros:
One-time purchase cost.
Free updates forever.
Supports a wide range of both lossless and lossy audio formats.
Support for Chiptunes and CUE sheets.
Cons:
Interface is not the most intuitive, so not great for beginners.
6.

VLC

Wondering how to play FLAC files on Mac? VLC Media Player is one of the most popular cross-platform players, available on macOS, Windows, Linux, Android, and iOS. It's also one of the easiest media players to use, making VLC alternative for Mac a great choice.

It supports a wide range of file formats including MP3, FLAC, WAV, ALAC, WMA, and more, and is a great choice if you want to use Windows media players on a Mac, as the cross-platform code library is built in. VLC also has advanced playback controls, but if you're on an older Mac you may need to upgrade your audio and sound card for optimum playback performance.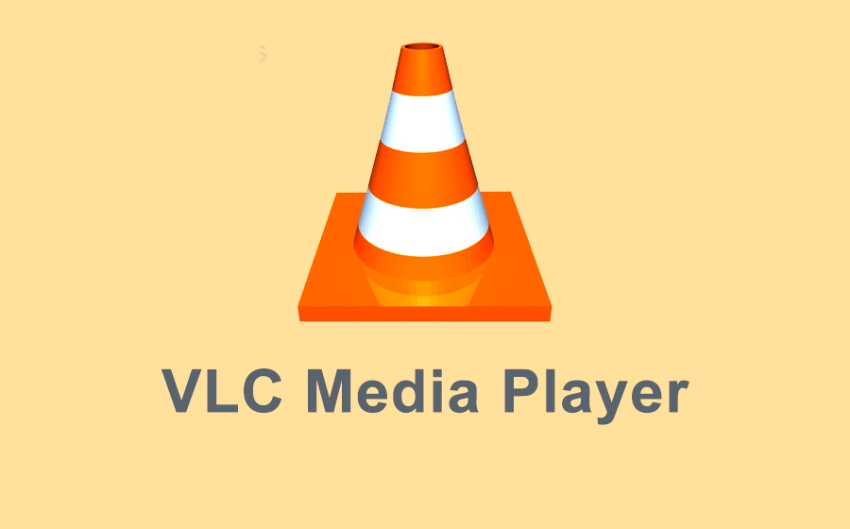 Pros:
Cross-platform for macOS, Windows, Linux, Android, and iOS.
One of the easiest media players to choose.
Completely free.
Supports most file formats.
Built-in equalizer allows sound to be boosted without distorting the quality.
Cons:
Not as feature-packed as some high-end players.
Files must be opened directly from respective folders for playback.
Finding songs in your library can be challenging.
No customization options for the interface.
7.

Pine Player

Pine Player is a completely free Mac-exclusive digital music player and FLAC audio player that supports almost all digital audio formats including FLAC, MP3, WMA, M4A, APE, AAC, and more. The player also has the capability to listen to CUE files, and supports hi-res audio up to 32 bit/768kHz.

For those who enjoy using keyboard controls, Pine Player allows you to control almost everything in the app using keyboard shortcuts, including playback, volume controls, and playlist editing. The downside of Pine Player is that it takes up quite a lot of memory on your Mac's hard drive.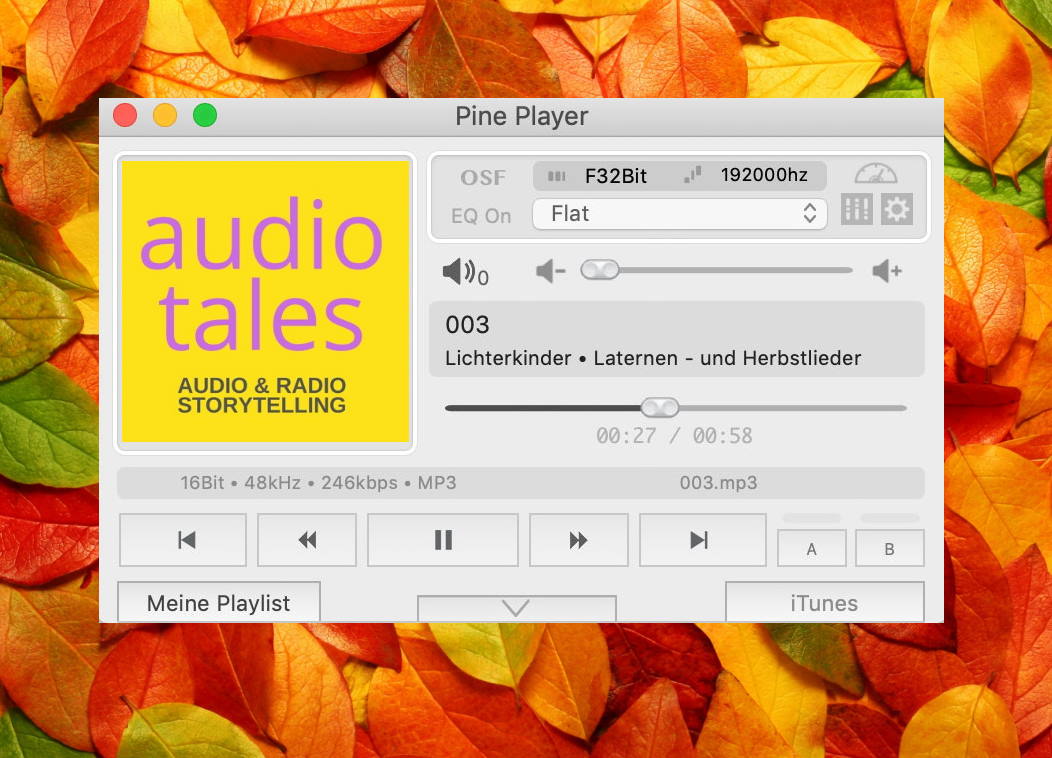 Pros:
Completely free.
Supports a huge range of formats.
Support for hi-res audio up to 32 bit/768kHz.
Keyboard shortcuts for simple controls.
Cons:
The player takes up quite a lot of memory.
8.

Audirvana

Audirvana Studio is thought of by many as the best music player for Mac audiophiles as it lets you listen to your music as it was recorded. It's the ideal choice if you're looking for a hi-res audio player for Mac, but it's not cheap, though you can pay a one-time purchase fee and avoid subscriptions, and you get plenty of high-end features for your money.

Audirvana Studio was the first app to integrate the MQA Core Decoder, to bring out the quality of your tunes, even when you're not playing through an MQA-capable device. There's support for a wide range of formats including FLAC, ALAC, and even SACD ISO, plus extensive cataloging features to help you organize your library.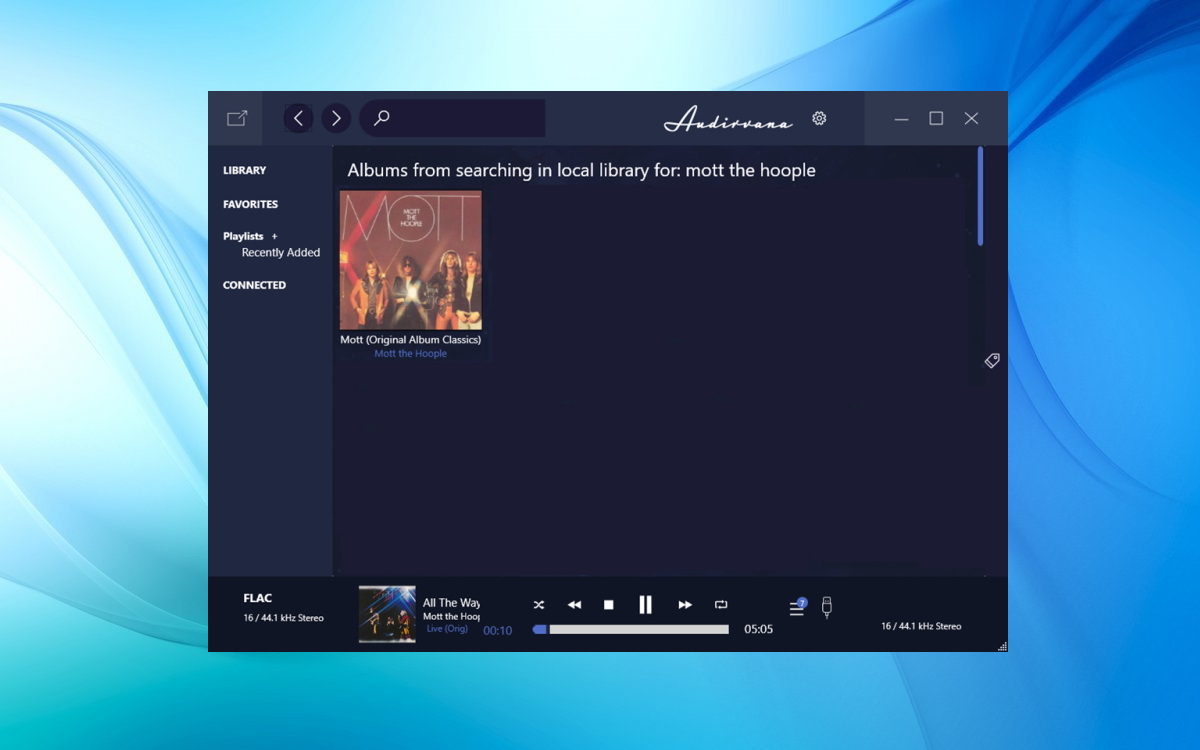 Pros:
Intuitive user interface and excellent experience, even for beginners.
Responsive user support.
Listen to songs, radio, and podcasts through streaming partners.
No subscription required, just a one-time purchase fee.
Cons:
There's no free version and it's not cheap.
Which audio format provides the best sound quality?
If sound quality is your priority, a lossless audio format is the best choice, such as FLAC, AIFF, or WAV. Lossless audio files are better or equal to CD quality, and considered "hi-res" – but this also means these files will be large and take up a lot of space on your Mac.
When choosing the best audio format for your needs, think about what you plan to use the audio for. While you want the best quality audio possible for your needs, you don't want more, as unnecessarily high-quality files can take up too much space and be tricky to share, move, and convert.
If you're a professional and will be editing audio (for example, for a podcast), we'd recommend using an uncompressed format to maintain the audio's quality each time the file is edited and saved. When things are finalized, you can export the file to an easier-to-distribute compressed format. Popular uncompressed formats include WAV, PCM, and AIFF.
Audiophiles hankering for high-fidelity listening should choose an audio format using lossless audio compression, such as M4A, FLAC, or WMA. These formats use less storage than uncompressed formats but you'll still enjoy the full quality of the original recording.
For general listeners not concerned with perfect audio quality, or if you plan to share your file on the web – or if you simply want to save space on your Mac's hard drive – a format using lossy audio compression is the best bet. In recent years, lossy compression has improved so much that most people now can't tell the difference between lossy and lossless compression. Lossy formats include OGA, AAC, and MP3.
Conclusion
We hope this article has helped you find the right hi-res audio player for Mac for your needs. Whether you go with a free or paid player, make sure that you check out any online reviews from others users before purchasing and downloading software. If the app in question offers a free trial, that's another great way to decide if it's the right player for your needs. Our pick of the bunch is Elmedia Player, as it offers a free version, supports most formats, and lets you stream to other devices like speakers or a TV.
FAQ
VLC is an excellent Flac
music player for Mac
that's free to use and intuitive too. It doesn't have as many features as some high-end players but it supports a wide range of formats and has advanced controls. As well as macOS, it also works on Windows, Linux, Android and iOS.
If you're an Apple Music subscriber, you can turn on FLAC in the Music app by going to Music > Preferences > Playback then selecting the Lossless audio tickbox. If you don't subscribe to Apple Music, we'd recommend downloading one of the FLAC player Mac options in this article.
iTunes doesn't support FLAC but you can convert FLAC files to ALAC format using iTunes. Often though, it's easier to just use a third-party
Mac FLAC player
to listen to your files.