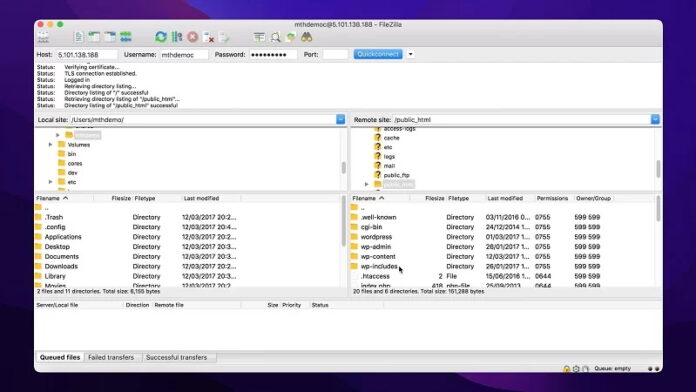 All users who want to transfer files through FTP from one host to another must use an FTP app. The FileZilla client is one of the most successful tools available for Mac users and Windows and Linux operating systems. However, it's quickly starting to lose ground, mainly because of its dated interface and use of adware.
Naturally, users that want a friendly interface and navigation without annoying ads started looking for a FileZilla alternative Mac software. In this article, we're exploring the top 5 FileZilla alternatives for Mac so you can pick the very best!
FileZilla: Pros and Cons
Before jumping to the alternatives to FileZilla for Mac, it's fair to list the app's benefits and downsides. This way, even if you have never used this software, you have a clear idea of what you can expect from it, and what makes the alternatives better.
Pros:
Supports FTP, SSH FTP, FTP over SSL/TLS
Bookmarking support
Secure transfers
Remote file search and editing
Cons:
An outdated interface that only allows drag-and-drop functionality
Installs adware and displays ads during use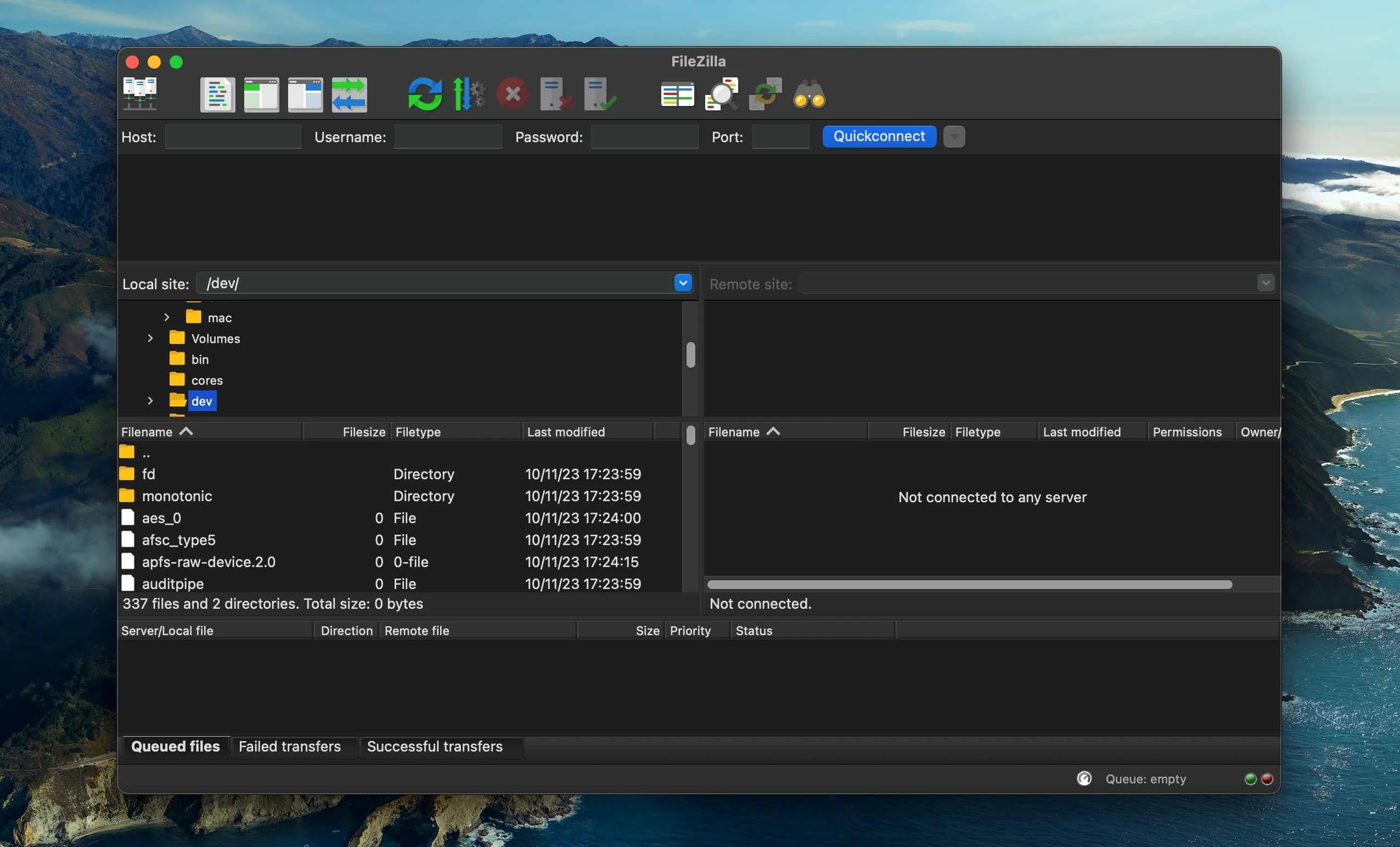 Why do You Need an Alternative to FileZilla
It's not about the lack of functionality or options to transfer files using the FTP protocol. This app does a pretty good job, and it wasn't the market leader for so long without reason. The main thing why you need a different app comes from the software's incompatibility with ARM-based Macs.
In other words, you won't be able to use FileZilla for Mac M1, so you need a better app. That's why it's only natural to look for alternatives such as Commander One.
The Best FileZilla Alternatives for Mac
This is the moment you've all been waiting for. It's time to go through the best FileZilla alternatives for Mac. We have reviewed tens of applications to bring you only the most effective for all your file transfer needs. Discover a comprehensive description for each app, it's pros and cons, as well as information about the operating systems they support or their price.
Commander One
Looking for a reliable FTP manager? Look no further than Commander One! This FTP client for Mac makes connecting to remote servers a breeze with its FTP, SFTP, and FTPS options. But Commander One doesn't just streamline your productivity and speed – it also makes organizing and managing files a snap. With its queue system, you can easily manage multiple servers simultaneously.
But Commander One isn't just an FTP client – it's a comprehensive file manager with a ton of features to simplify your file-related tasks. You can encrypt files, search for files with ease, use the built-in Terminal emulator, view processes, and even reveal hidden files. And if you need to collaborate across devices, Commander One has you covered. You can seamlessly connect MTP, Android, and iOS devices to your Mac for easy sharing and collaboration.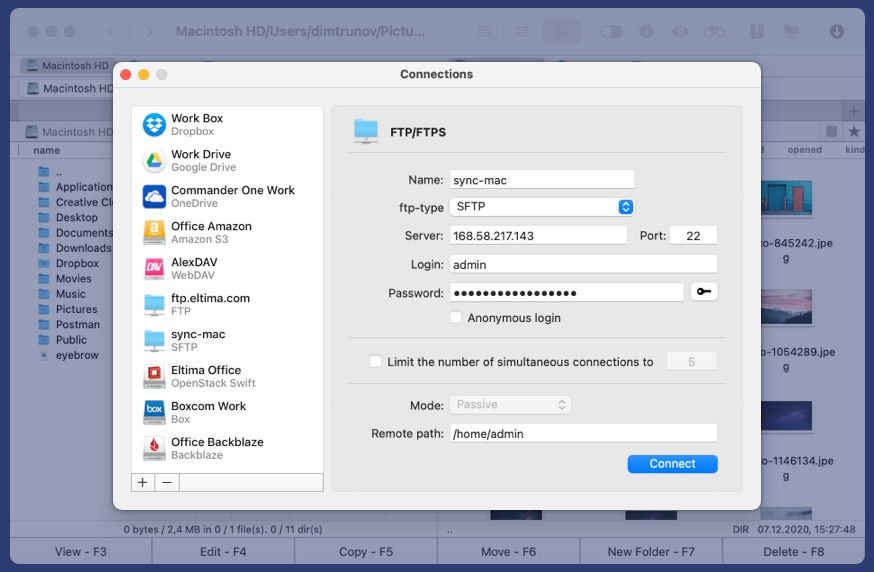 Pros:
Supports numerous cloud computing services and remote server connections
Allows you to add an FTP server as a local drive on your Mac
Smooth navigation and user-interface thanks to the dual-panel mode
Ability to queue operations
Cons:
Unlocking all the features requires you to upgrade to the premium version
Price: $29,99 for a single lifetime license / $99,99 for a team license
Supported OS: macOS 10.12 or later
Download: Commander One
Cyberduck
This powerful FTP client software is our next pick in the list of alternatives to FileZilla for Mac. It offers a user-friendly interface and a wide range of features to make file transfers seamless. With support for various protocols like FTP, SFTP, and WebDAV, Cyberduck ensures secure and efficient data exchange. Plus, it has advanced features like file synchronization, bookmark management, and an integrated text editor for editing files directly on the server.
And if you need to work with cloud storage services like Amazon S3 or Google Drive, Cyberduck offers seamless integration. Best of all, it's compatible with multiple platforms and regularly updated, making it the go-to choice for casual users and professionals needing efficient file management and transfer capabilities.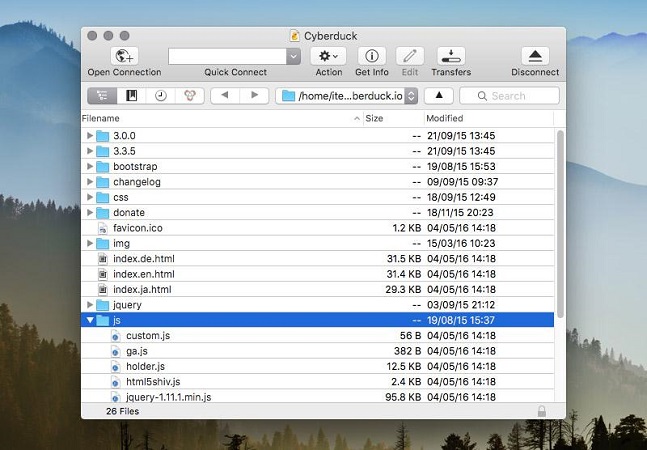 Pros:
Handy quick view mode
Provides encoding for sensitive files
Allows parallel file transfer
You can edit files remotely
Cons:
The transfer and editing speed is not as fast compared to Commander One
Price: Free Open-Source program
Supported OS: macOS 10.6 (Snow Leopard) and later
Download: Cyberduck
Transmit
Another top FileZilla alternative comes from Transmit. A lightweight but very capable app that Mac users can rely on to manage files through FTP protocols. It comes with a long list of features and a smooth user interface that makes navigation easy. It's true that the interface could use an upgrade by modern apps standards but it still does a good job.
Furthermore, you can use Transmit to transfer files well beyond the FTP protocol. It supports SFTP, WebDAV, and even some cloud storage systems like Amazon S3. It's also a great sync tool as it always keeps everything up to date between remote and local servers.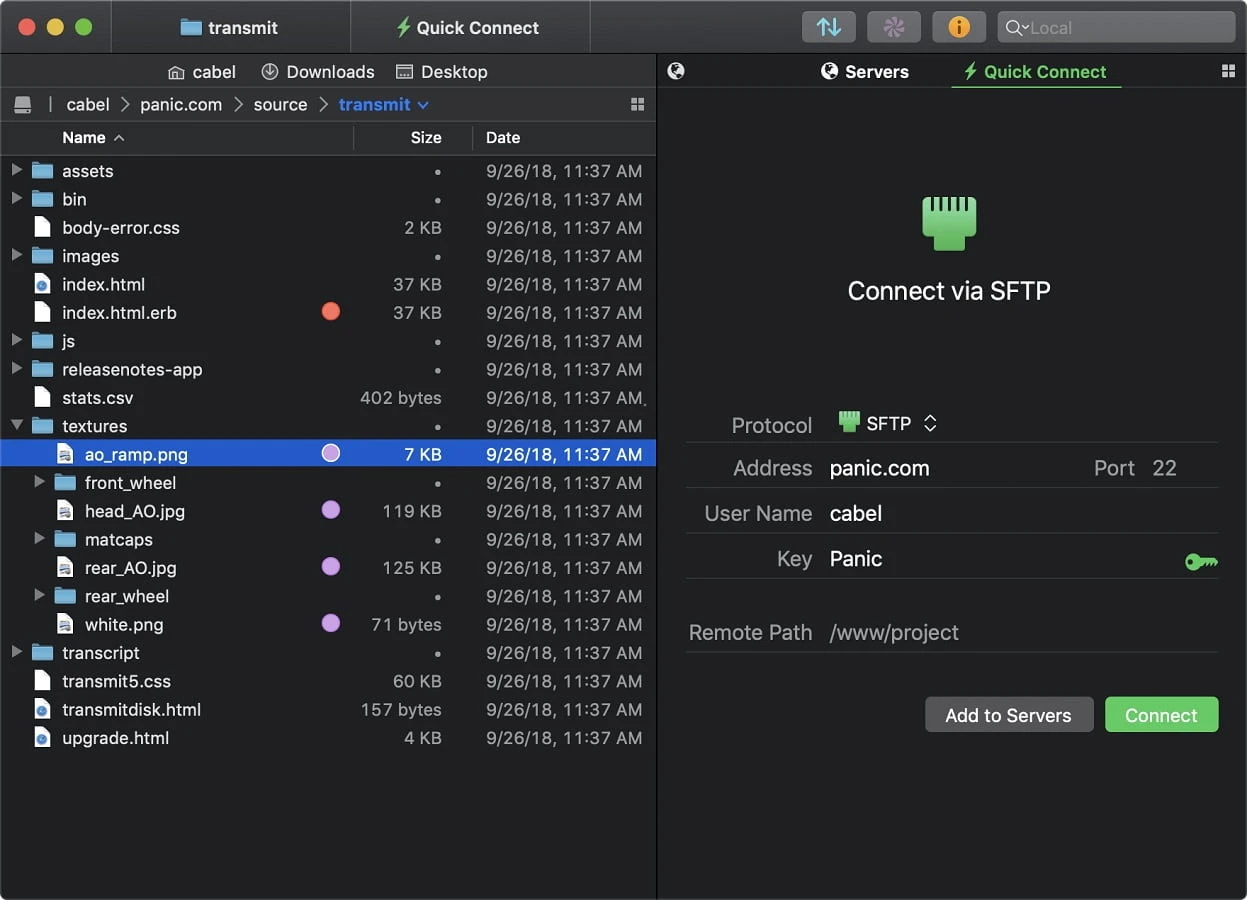 Pros:
Easy system that allows adding folder to favorites for smooth navigation
Handy tagging systems for files
Syncs folders between local and remote servers
Cons:
Only offers a limited trial version before you need to buy the app
Comes with unwanted adware
Price: $5 for a lifetime license
Supported OS: macOS 10.11 (El Capitan) and later
Download: Transmit
Viper FTP
If you're on the hunt for a robust FTP client for your Mac, look no further than Viper FTP. Its extensive range of features ensures efficient file transfers for both beginners and advanced users alike. With support for various FTP protocols, including FTP, SFTP, FTPS, and WebDAV, VIPER FTP is compatible with a wide range of servers. You can easily manage multiple connections, transfer files, synchronize folders, edit remote files, and schedule transfers with this tool.
Plus, the built-in text editor, image viewer, and powerful search feature make VIPER FTP a reliable and feature-rich solution for all your FTP needs. All these make it a great FileZilla alternative Mac users can rely on.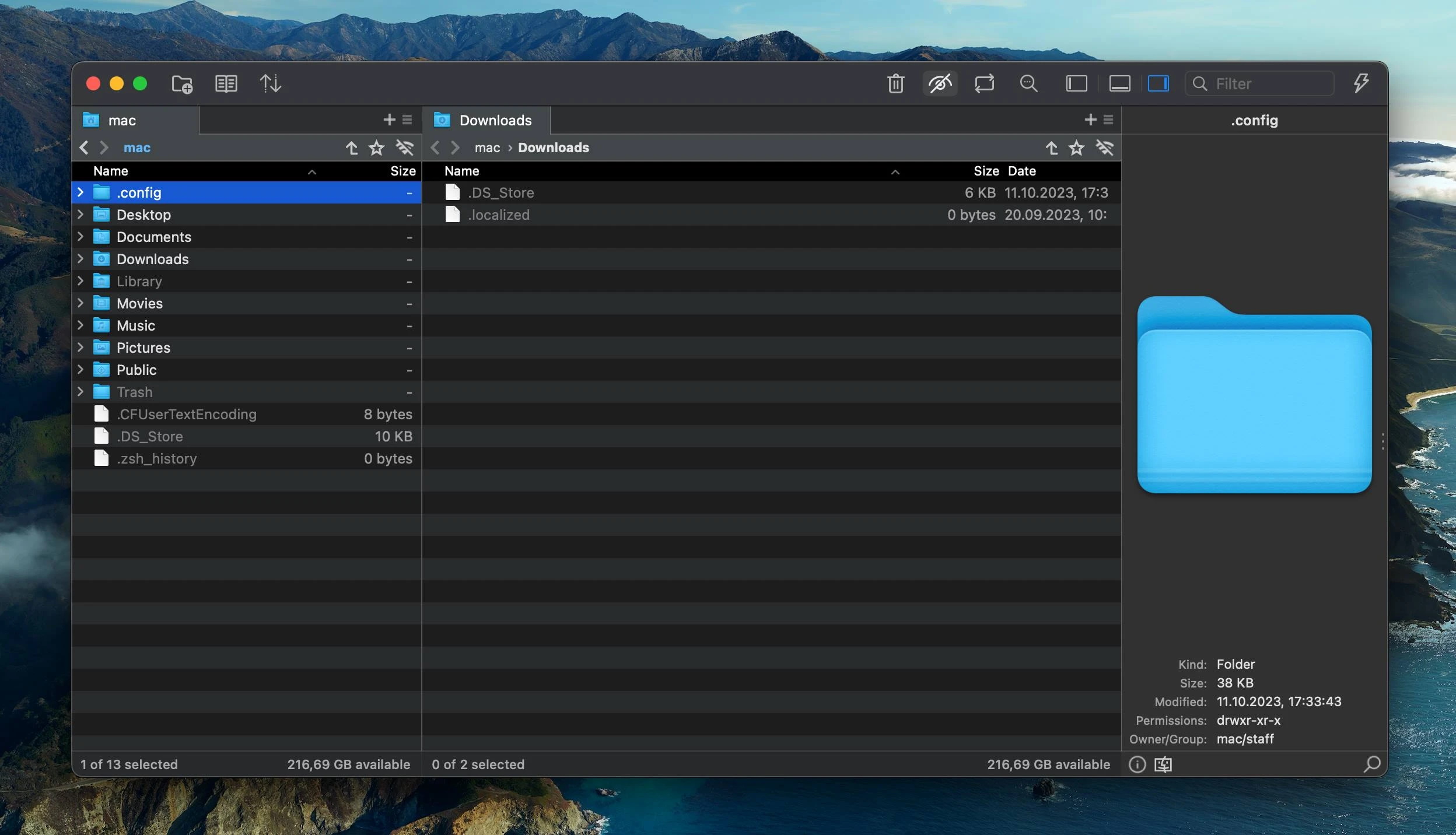 Pros:
Intuitive navigation thanks to the user-friendly interface
Compatible with FTP and SFTP protocols, among many others
Offers file editing and folder synchronization features
Comes with image viewing, text editing, and powerful search capabilities
Cons:
More expensive compared to other FTP clients like Commander One
Transfer speed fluctuates sometimes
Price: $18,95 one-time purchase
Supported OS: macOS 10.9 or newer versions
Download: Viper FTP
ForkLift 3
IWe continue our list of Mac alternatives to FileZilla with ForkLift. This is a Mac FTP software client that makes file transfer and management a breeze thanks to its dual-pane interface. With this intuitive setup, users can navigate and transfer files with ease. The software supports various connections, including FTP, SFTP, Backblaze B2, Google Drive, Amazon S3, SMB, NFS, and AFP. It also allows for simultaneous connections to multiple servers, boosting transfer efficiency.
ForkLift also functions as a sync tool, enabling one or two-way synchronization with just a click of a mouse. Additionally, the preview panel is a handy feature that lets users quickly inspect files before making any changes, helping to increase productivity.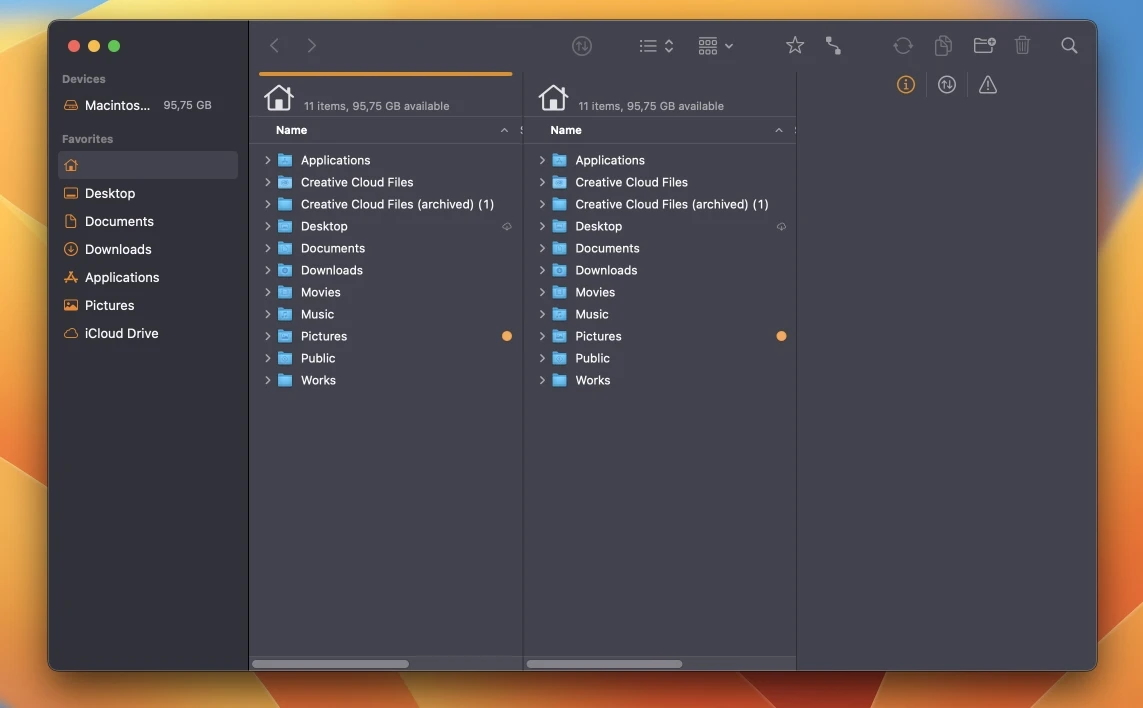 Pros:
Easy-to-use dual-pane file manager
Supports Dropbox, Google Drive, and other popular cloud services
Support for tagging files and folders
Cons:
Limited functionality offered in the trial version
Latest version not available on App Store
Price: $129,95
Supported OS: macOS 10.12 or newer versions
Download: ForkLift 3
Features of a Great FTP Client
When selecting an FTP client, it is crucial to consider whether it is compatible with your operating system. A client that works well for Linux may not be suitable for your organization's specific OS.
Fast and powerful search functionality is a must-have for locating files quickly. An intuitive and user-friendly interface, along with scheduling and drag-and-drop capabilities, can streamline and expedite file transfers. To ensure high levels of security, it is essential to choose a software that acts as SFTP client as well as other secure protocols in addition to FTP.
If you frequently transfer large files, make sure to check the FTP client's uploading and downloading limits. If you rely on third-party connections, ensure that your chosen client supports those specific connections. Additional valuable features include user-friendly dashboards, alerting and reporting capabilities, as well as web browser and mobile accessibility.
So, now that you know what to look for in FTP clients, and you also have a list of the best FileZilla alternatives for Mac, you can start selecting the app that works best for your needs.
How to Connect to FTP via Commander One
To get the job done, you just have to follow these simple steps:
Step 1: Download the Commander One and install it on your Mac.
Step 2: Launch the app and run the Connection manager by:
Clicking on the specific icon from the toolbar
Using the ⌘+F keyboard shortcut
Step 3: Click on the FTP icon from the list of connections.
Step 4: Insert the needed details when requested
Connection name
Server address
Port number
Credentials for login
Active or Passive connection mode
Remote path
Conclusion
When looking for the best FTP client for Mac, it's important to consider compatibility, features, and ease of use. While there are many options available, Commander One stands out as an excellent choice. This FTP client offers exceptional functionality and a user-friendly interface. It supports various protocols such as FTP, SFTP, FTPS, and WebDAV, making it easy to connect to different servers.
Additionally, Commander One has robust search capabilities, scheduling options, and drag-and-drop functionality, simplifying file management and transfers. Its focus on security with support for secure protocols and cloud storage solutions also makes it a great choice. Overall, Commander One is the superior FileZilla alternative Mac users can pick if they want a reliable and feature-rich option.
FAQ
Taking into consideration Commander One's advanced security protocols and encryption features, it stands out as the best choice when it comes to choosing the safest FTP client. It comes with an additional layer of security that makes it ideal for protecting your sensitive data.
While FileZilla is also available on macOS, its biggest inconvenience comes from not being compatible with Apple M1 and M2 devices. That's why you need to look for an equivalent and the best alternative to FileZilla for Mac is Commander One.
Unfortunately, the FTP client does not work on M1 and M2 Mac processors. It's the biggest reason why users look for alternatives to FileZilla for Mac. And one of the best choices out of the available options is Commander One from Eltima.