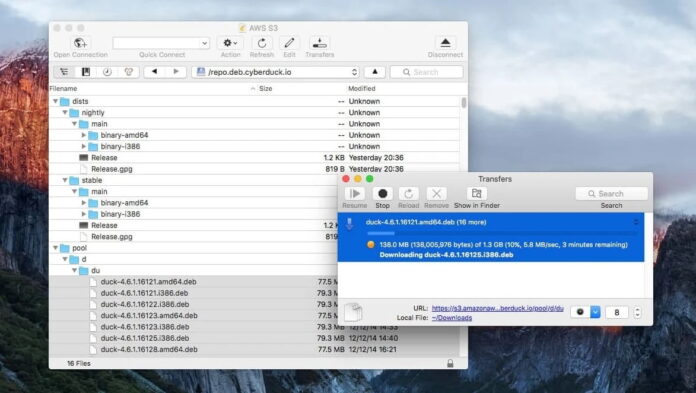 When it comes to Mac file management and FTP clients, Cyberduck has long been a go-to option. But as users' needs evolve, Cyberduck alternative Mac tools are emerging with impressive capabilities and unique features.
In this article, we're examining the five best Cyberduck alternatives for Mac right now. We're taking a look at their pros and cons, assessing their strengths in file management, FTP/SFTP functions, and overall user experience to help you find the best solution for your needs.
Top 5 Alternatives to Cyberduck for Mac
Commander One
Commander One is a fantastic alternative to Cyberduck for users looking for efficient file management and FTP/SFTP functions. Featuring dual-pane support, this file manager stands out with its integration of FTP/SFTP/FTPS capabilities, allowing direct file transfers and edits on servers, an area where Cyberduck has historically excelled.
The interface of Commander One is intuitive and a massive step forward from the traditional design of Cyberduck. It provides a more visually engaging experience so that users can manage their files more efficiently.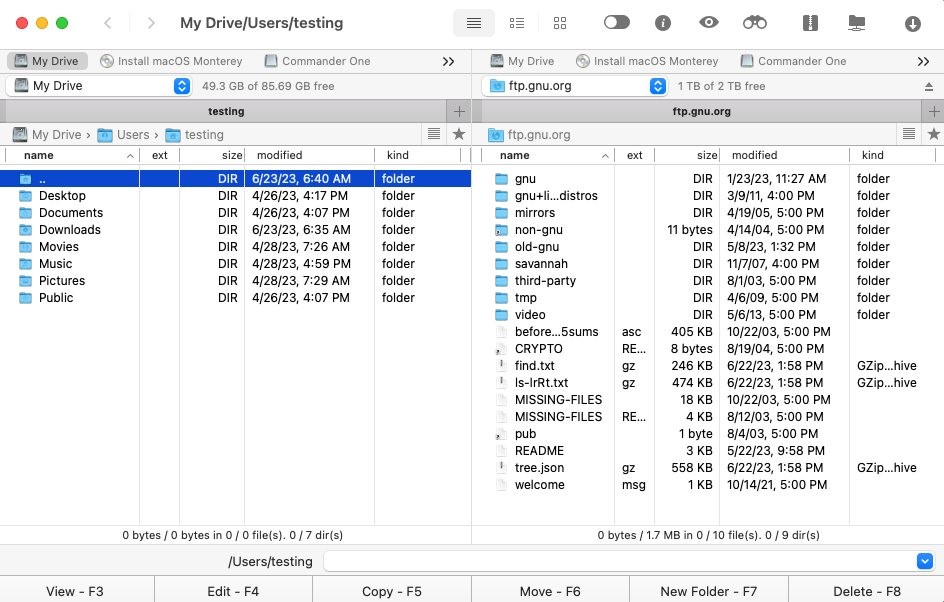 Additionally, Commander One includes excellent cloud storage compatibility with services like Google Drive, Dropbox, and OneDrive, enhancing its potential to act as an all-in-one file management solution.
The addition of the built-in Terminal Emulator is a notable inclusion, offering users direct access to the system shell, a functionality absent in Cyberduck. This, together with the convenience of tabbed browsing and customizable hotkeys, creates a well-rounded, power-packed performance, enhancing Commander One's appeal for both casual and power users alike.
However, while Commander One offers robust functionality, there can be a slightly steeper learning curve for users unfamiliar with dual-pane file management systems. But once overcome, it's a superior and more comprehensive Cyberduck alternative Mac solution.
Pros:
Dual-pane display
Advanced search with regex support
Supports folder encryption
Customizable hotkeys
Cons:
Can be initially challenging for first-time users
Price: $29.99
Supported OS: macOS
Download: Commander One
FileZilla
When it comes to alternatives to Cyberduck for Mac, FileZilla stands out, particularly for those seeking more robust features and flexibility in file transfer protocols. With support for FTP, SFTP, and FTPS, FileZilla offers wider connectivity options than Cyberduck.
The interface of FileZilla is slightly more complex than Cyberduck. It provides an extensive overview of ongoing transfers and directory comparisons, making it a preferred choice for advanced users.
The free software also offers a portable version that can be carried on a thumb drive, adding to its convenience and accessibility. It's also available for Windows, which is great for users looking for WinSCP alternatives.
Some users might miss Cyberduck's more streamlined UI, but the trade-off in increased functionality with FileZilla is worth it. Its reliable performance, comprehensive feature set, and cross-platform compatibility make FileZilla a strong Cyberduck alternative Mac solution. Even though this FPT client may be harder to learn, its wide range of useful features and control can greatly improve how you manage your files.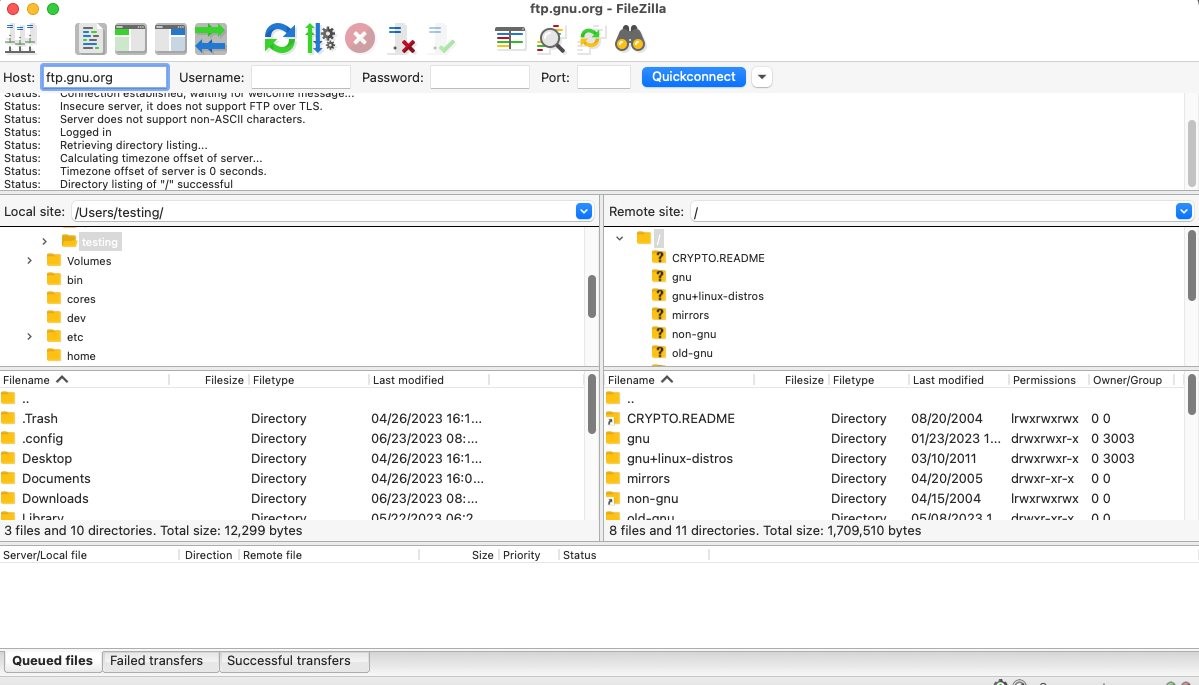 Pros:
Wide protocol support
Detailed UI
Portable version
Cons:
The UI may be daunting for novices
Steeper learning curve
The installer includes bundled offers
Price: Free
Supported OS: macOS, Windows, Linux
Download: FileZilla
ForkLift 3
ForkLift 3 is a good alternative to Cyberduck. Its design makes it easy to navigate and manage files, and it can handle many tasks at once. Plus, the app works faster than Cyberduck and lets you edit files directly on remote servers.
ForkLift 3 features a dual-pane interface to simplify file comparison and transfers. It supports batch operations, such as renaming, moving, or copying multiple files at once. You can also share files seamlessly through the right-click menu.
The app directly includes tools to synchronize folders and integrates with cloud storage services like Google Drive, Dropbox, and Amazon S3 so you can manage cloud-based files without leaving its UI.
Moreover, you can directly open and edit files located on a remote server without downloading them first, which is particularly useful for web developers. This bundle of features makes ForkLift 3 a worthy Cyberduck alternative Mac app.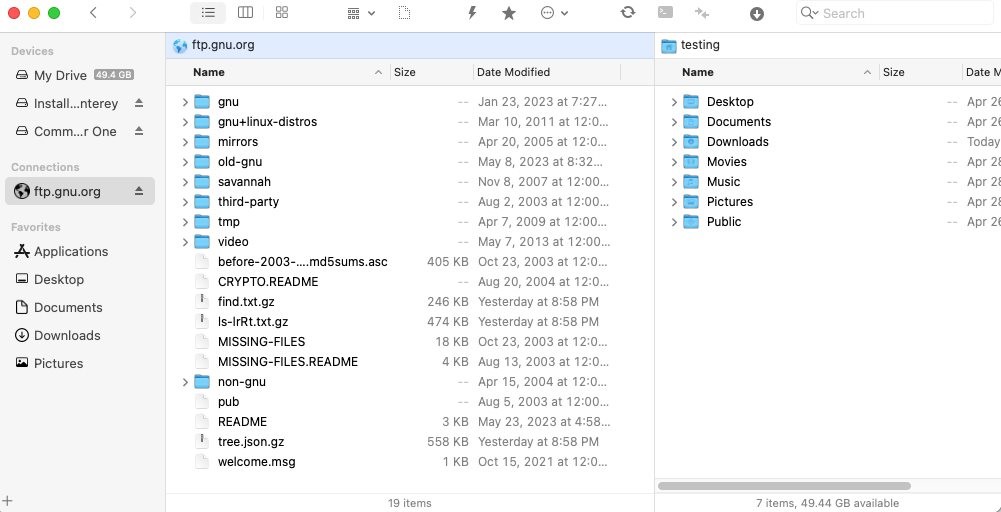 Pros:
Dual-pane interface and batch processing
Remote editing and sync tools
Direct cloud storage access
Cons:
The UI and rich features can feel overwhelming to beginners
Steeper learning curve than Cyberduck
Price: $19.95
Supported OS: macOS
Download: ForkLift 3
Transmit
Transmit is a great FTP, SFTP, WebDAV, and S3 client that you can use as an alternative to Cyberduck. It comes wrapped in a highly intuitive and aesthetically pleasing interface for enhancing productivity.
Transmit is optimized to deliver high-speed file transfers, often outperforming Cyberduck. It features multi-connection transfers and mirroring navigation between the local and remote servers. A Panic Sync feature syncs your servers and settings across all your Apple devices to create a consistent user experience, whether you're working on your desktop, laptop, or smartphone.
Moreover, Transmit maintains consistent connectivity and ensures zero file corruption typically caused by network interruptions. It has a built-in code editor for developers to seamlessly modify files directly on the server without having to download and reupload them. The editor supports syntax highlighting for multiple languages, providing a smoother coding experience.
All of these collective features establish ForkLift 3 as a reliable Cyberduck alternative Mac solution.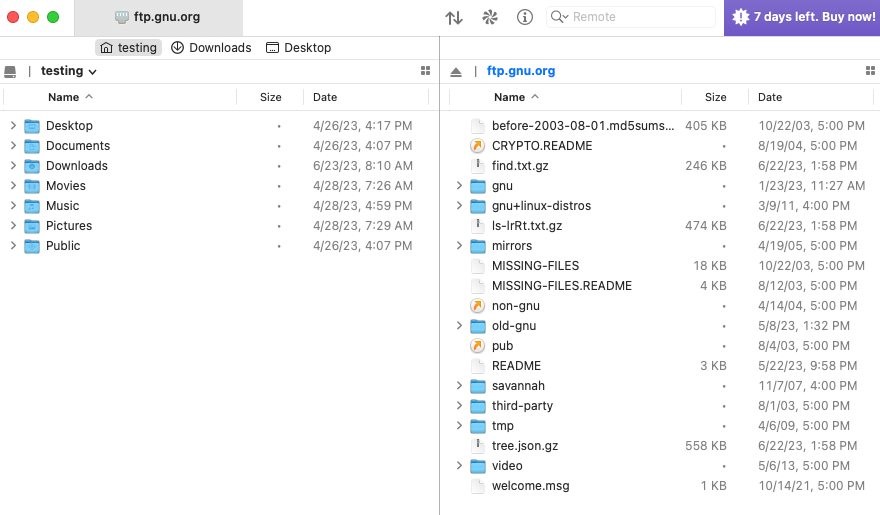 Pros:
Streamlined and intuitive UI
Fast uploads and downloads
Remote editing and batch renaming
Synchronized browsing and Panic Sync
Cons:
Steeper learning curve due to its advanced functions
Expensive
Price: $45
Supported OS: macOS
Download: Transmit
Viper FTP
Viper FTP, while a lesser-known option, is one of the top Mac alternatives to Cyberduck, thanks to its rich set of features and intuitive interface. It's incredibly versatile since it supports all popular file transfer protocols such as FTP, SFTP, WebDAV, and even cloud services like Amazon S3, Google Drive, and Dropbox.
Heavy users can take advantage of Viper FTP's automatic save option for remote file editing, multiple uploads at the same time, and LAN server detection. Moreover, the Folder Observer and History Log features contribute to maintaining a meticulous file management system.
Despite these advanced features, Viper FTP remains approachable, catering to both beginners and tech-savvy users. With customization at its core, users can tweak the program to their preference, making it a standout choice in the sea of Cyberduck alternative Mac tools.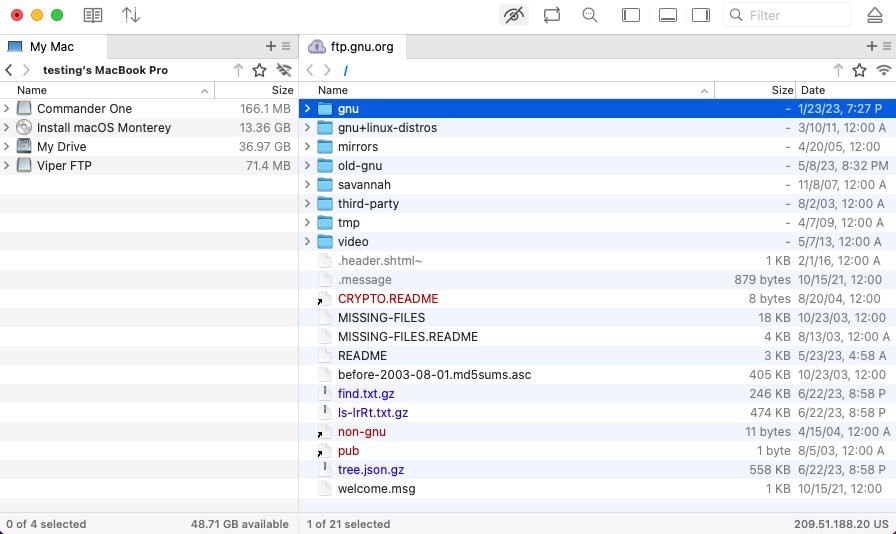 Pros:
Dual-pane file browsing
Folder Observer
File encryption
File and folder comparison
Cons:
Advanced features are behind a paywall
Overwhelming feature set may intimidate beginners
Subscription plans instead of a one-time payment
Price: $4.95/month
Supported OS: macOS
Download: Viper FTP
Key Features to Consider in a Cyberduck Alternative for Mac
When browsing the best Mac alternatives to Cyberduck, it's important to identify your requirements and preferences. Here are some aspects to take into account:
Ease of Use:

The interface should be intuitive, enabling you to navigate and perform tasks effortlessly.

Wide protocol support:

The alternative should support different protocols like FTP, SFTP, WebDAV, Amazon S3, and Google Cloud Storage.

Security:

Features like encryption and two-factor authentication help protect your data during transfers.

Performance and stability:

The software should perform tasks quickly, handle large files efficiently, and should not crash or hang during operations.

Multi-connection support:

Handling multiple concurrent connections is key to efficient file transfer and management.

File management features:

Tools for file synchronization, comparison, and remote file editing can be very beneficial.

Customer support and updates:

The software provider should offer timely and effective customer support, as well as frequent software updates for bug fixes and feature enhancements.

Price:

Consider the pricing structure, whether it's a one-time purchase, a subscription model, or freemium software that offers basic features for free and charges for additional features.
How to Connect to FTP Using Commander One
Step 1: Download the Commander One setup file and install the app.
Step 2: Launch Commander One.
Step 3: Click on the FTP icon from the list of connections.

Step 4: In the Connections screen, click FTP.

Step 5: Enter your FTP connection details and click Connect.

Conclusion
After a detailed comparison of the top Cyberduck alternative Mac solutions, Commander One stands out as the superior choice. Its intuitive interface, dual-pane file management, and robust FTP, SFTP, and FTPS capabilities make it a powerful tool for casual and power users alike.
Notably, Commander One's advanced features like the built-in Terminal Emulator, cloud storage compatibility, and customizable hotkeys offer a comprehensive solution for file management needs. Although there is a slight learning curve initially, its feature-rich environment significantly outshines Cyberduck, solidifying Commander One's position as the best alternative for Mac users.
FAQ
The equivalent of Cyberduck for Mac is Commander One. It offers enhanced features like dual-pane file management, extensive FTP/SFTP/FTPS capabilities, built-in Terminal Emulator, and cloud storage compatibility. Its user-friendly interface and customizable hotkeys make it a comprehensive and superior file management solution for Mac users.
Yes, Cyberduck is safe to use. It is a trusted, open-source file transfer protocol client, known for its reliability and security. It supports secure transfer protocols like SFTP and WebDAV, and also encrypts your files and login information, ensuring the safety of your data during transfers.