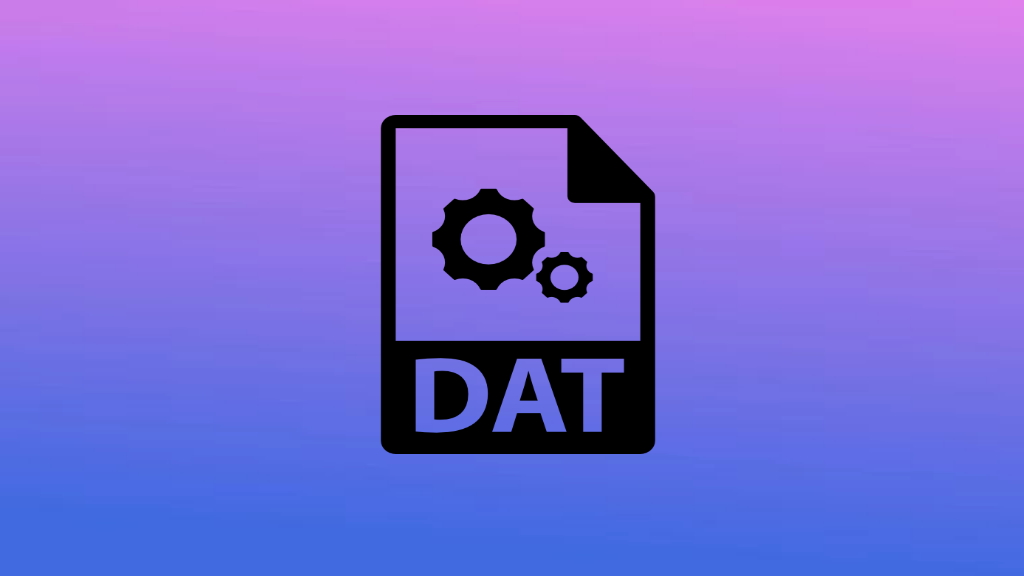 DAT files can store various types of data, but it's never easily visible exactly what they contain. That can make them hard to interpret and access. You can open dat files on Mac with a text editor, browser, mail client, or a third-party app.
If they contain video, you can view them using a media player such as Elmedia Player. But how can you know which to use and when? Read our article below to learn more about this file format and how to open DAT files on Mac depending on the circumstances.
What is a DAT File?
A DAT file contains information about the program that created it. This could be in the form of text, images, video, etc., or email attachments like winmail.dat.
Created automatically by software, files with the DAT file extension are usually hidden in directories and contain essential information needed for said software to run. They're not supposed to be opened manually or deleted. But you still may come across such files if you're dealing with a program's settings (e.g. a game), backing up your email, or working with programs like VCDGear or CyberLink PowerDirector that store video as DAT. And occasionally, you may need to access them yourself.
When opening DAT files, Mac users find it difficult to choose a suitable app because of the format's ambiguity. It always helps to know what program was used to create them. However, even if you don't know a file's origin, we'll cover some of the most common cases below.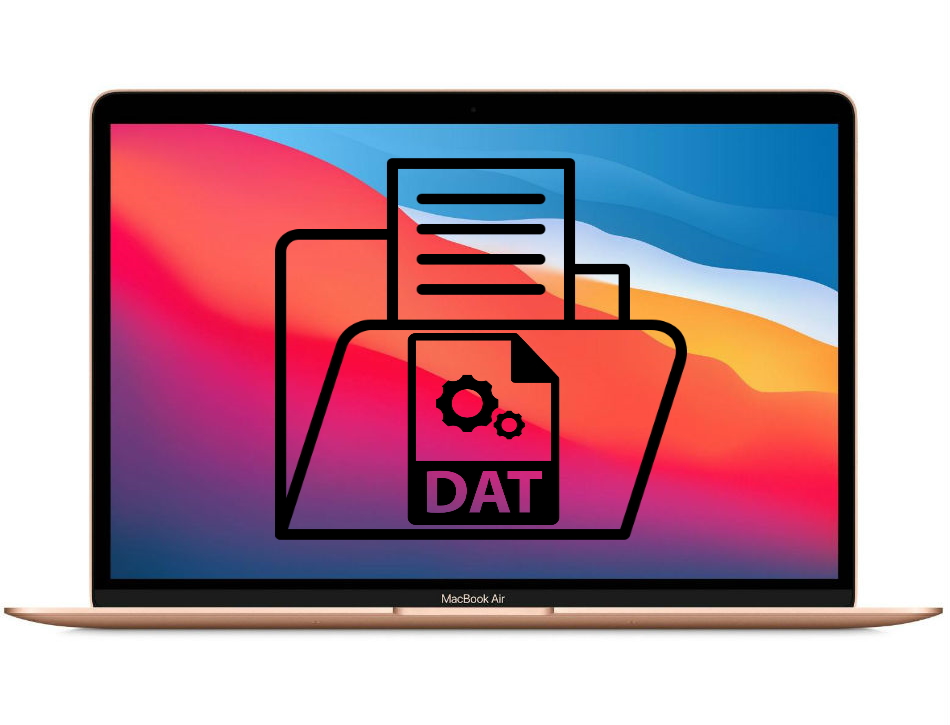 How to open DAT files on Mac with DAT player – Elmedia
For videos stored in a DAT file Mac users can rely on Elmedia Player. The app can open such files effortlessly and play the contents without any additional codecs. In fact, it supports a wide range of formats spanning both audio and video.
Elmedia Player is also great when it comes to playback and customization. It allows you to tailor the experience to your liking, be it audio settings or picture quality. You can also view your videos on a larger screen by streaming wirelessly to your Smart TV, Chromecast, or other AirPlay 2 or DLNA-certified devices. Elmedia's interface is user-friendly, making it easy to navigate and locate its different features.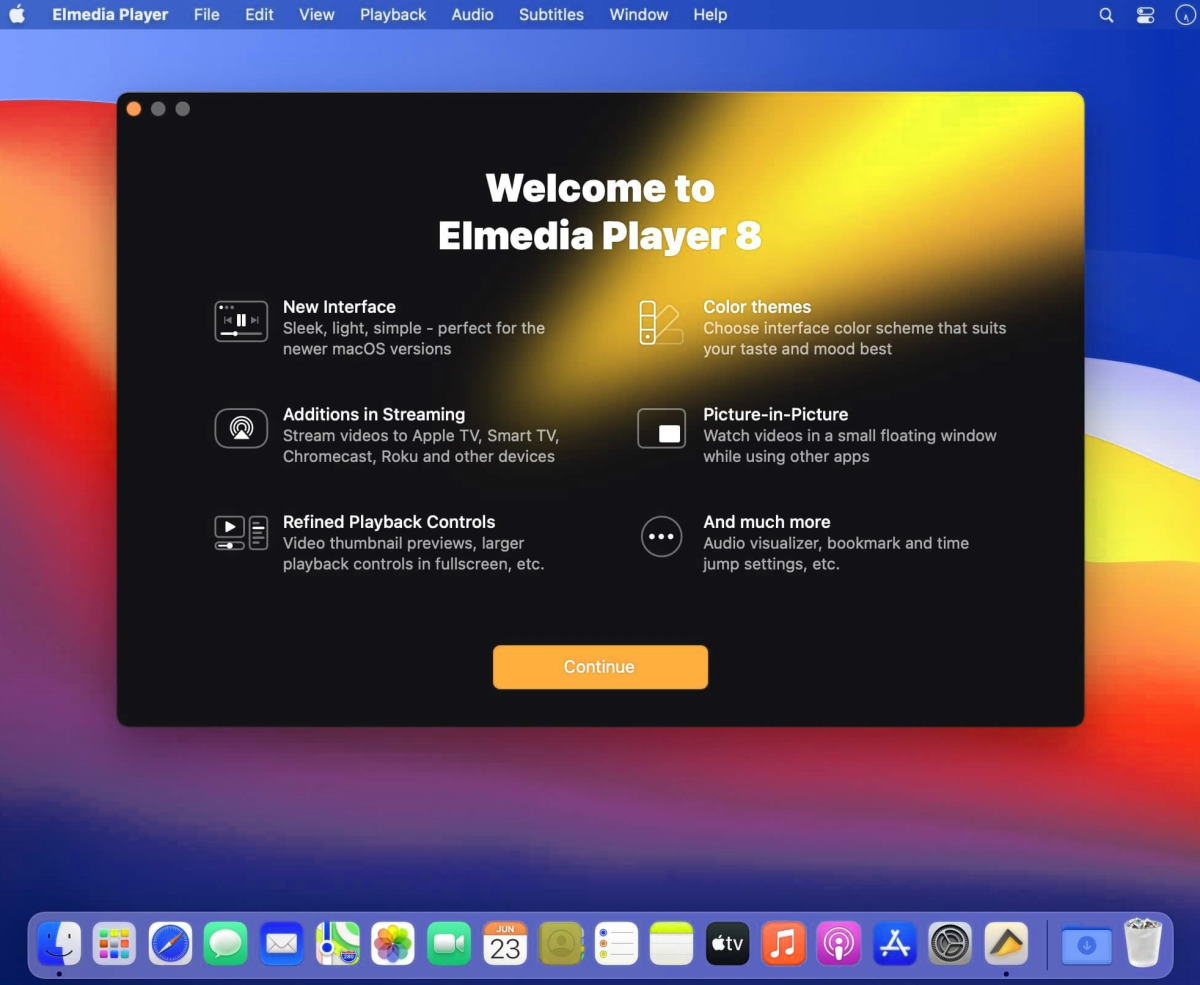 Step-by-step guide to DAT via Elmedia:
Step 1: Download and install Elmedia on your Mac from the official website or the App Store.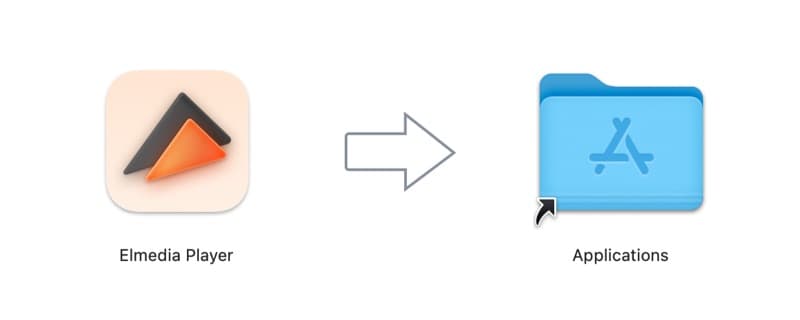 Step 2: Open the app and load your DAT file in one of these three ways:
Drag and drop it onto the Elmedia window.
Right-click on the file and choose "Open with" > Elmedia Player.
In Elmedia's main menu, click on "File" > "Open" and navigate to your file.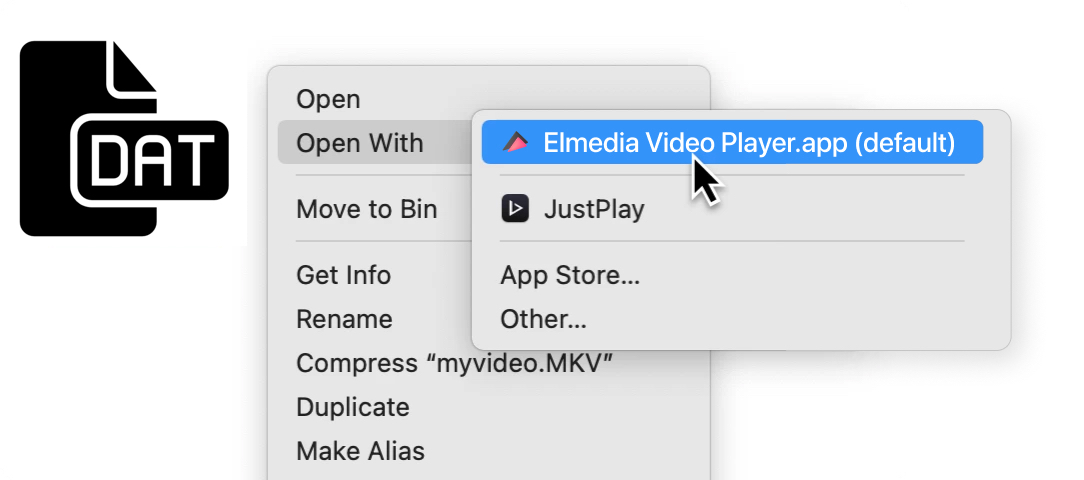 Step 3. The video stored in the DAT file will now play.
How to open .dat file on Mac with TextEdit
If a DAT file contains text, you can open it with a text editor. TextEdit can open most text-based formats on Mac. Although you may not be able to actually read the text itself, it can show you what program the file is associated with. So once you access your file, look for any software names. This can lead you to a program that your DAT file is compatible with.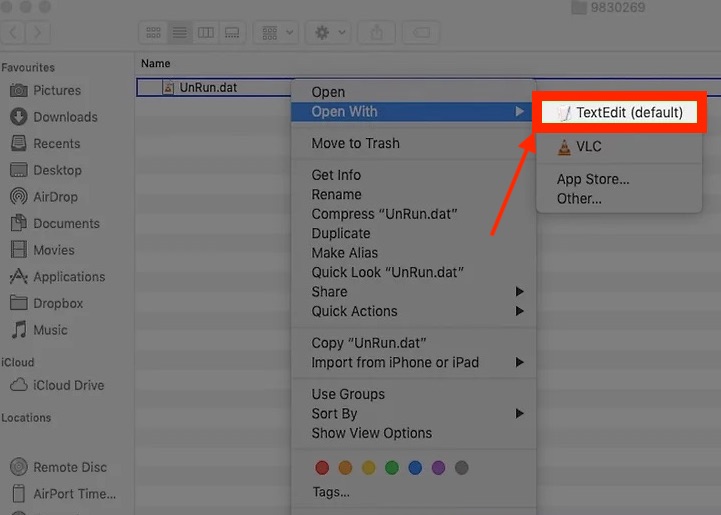 Step-by-step guide to DAT via TextEdit
Step 1: Locate your DAT file in Finder.
Step 2: Right-click on it and go to "Open With" > TextEdit.
Note: documents that are not text-based are inaccessible through TextEdit and are often not meant to be opened manually.
Step 3: TextEdit will open the text-based DAT file.
How to open a winmail.dat file on Mac in a browser
A winmail.dat file (or ATT0001.dat) is created by Microsoft Outlook or Exchange as a wrapper for data. You may receive one as an email attachment. Sometimes, it can simply contain the style used to compose the message on the Windows computer. If that's the case, you could ignore it. However, the file may be a real attachment such as an RTF file, MS Word document or spreadsheet, contact (.vcf), or calendar invite (.ics) that has been wrongly encoded.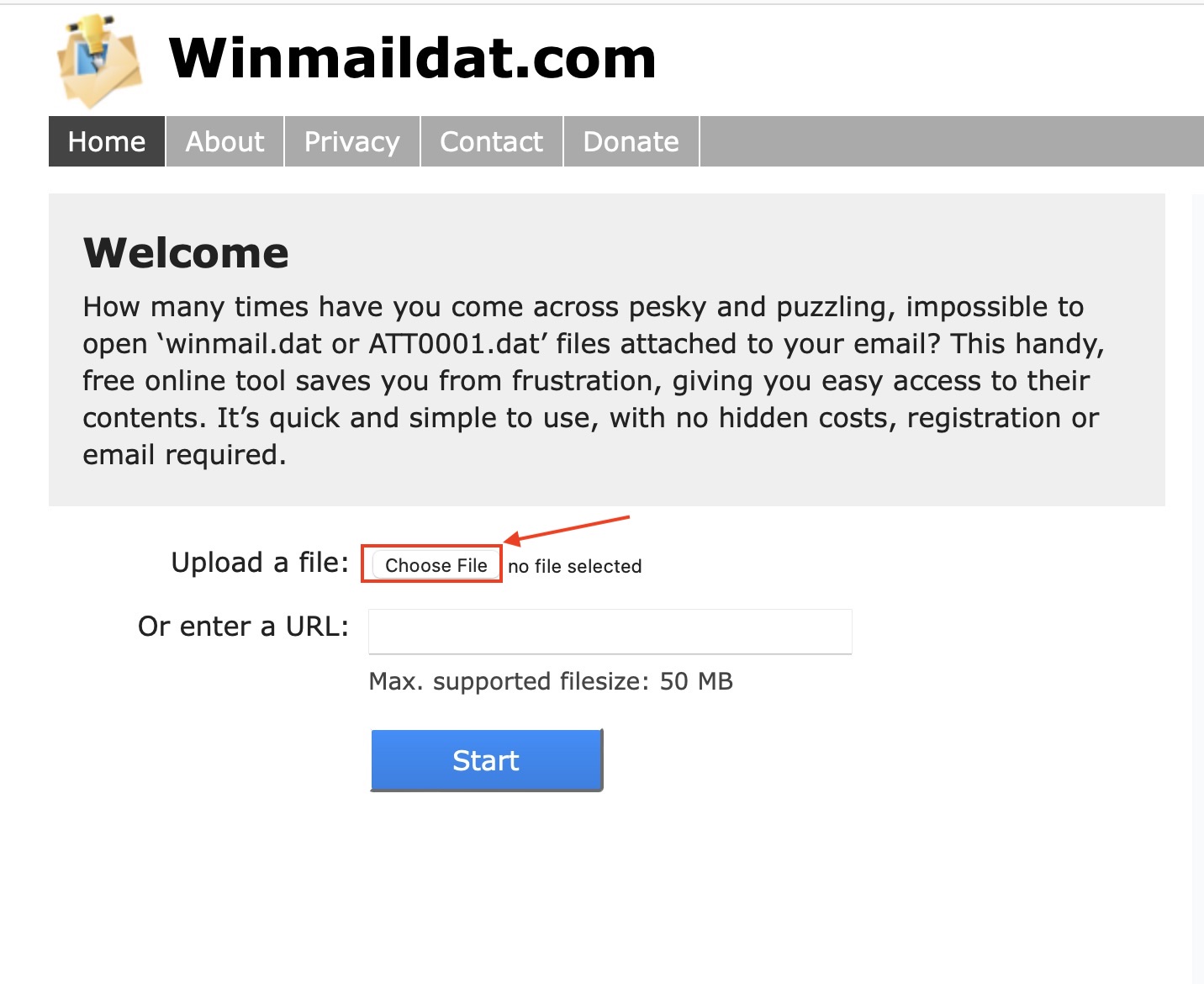 Step-by-step guide to DAT on Winmaildat.com
Step 1: To open a winmail.dat file, save it locally to your Mac. To do so, right-click on the attachment in your email and choose "Save Attachment".
Step 2: Enter Winmaildat.com in your web browser.
Step 3:Click "Choose File". Browse your files in Finder and select your desired DAT file, then click "Open" to upload the file to Winmaildat.com.
Step 4:Click "Start". In a few minutes, the contents of the file will be extracted.
Step 5:Download the extracted data from the results page within 30 minutes. If no data can be seen in the results, no files were extracted.
How to open .dat file on Mac – free with Gmail
Unlike most mail clients, Gmail is capable of handling DAT files attached to emails. This requires opening the file using Gmail's web-based site, Gmail.com. If you're a Gmail user, this neat trick will save you the effort of looking for an external solution.

Step-by-step guide to DAT on Gmail
Here's how to open a winmail.dat file on Mac using this method:
Step 1:If you received the DAT attachment using a different mail client, forward the message to your Gmail account first. Don't forget to include the attachment.
Step 2:If you have the DAT attachment in your Gmail mailbox already, go to Gmail.com and sign in.
Step 3:Open the forwarded email. If the attached file was an email, Gmail will display the actual text. If it was a different type of attachment, you will be able to access it via Google Docs.
Open DAT file on Mac using a third-party tool – TNEF's Enough
TNEF's Enough is an app that shows you how to open .dat file on Mac free of charge. It allows you to sort of convert the DAT file – by extracting its contents, you can change the file type and save it as the correct file format. Users praise it for its ease of use and the fact that it doesn't require any in-app purchases and other payments or subscriptions.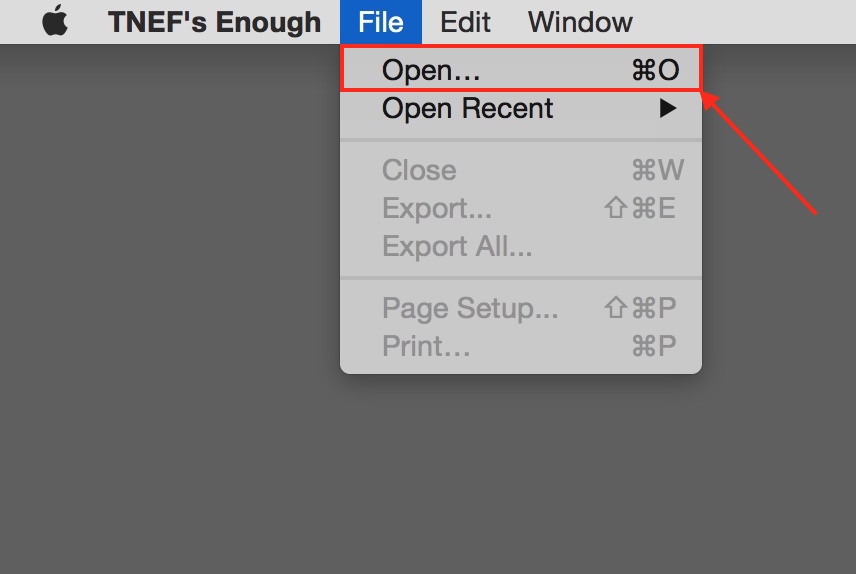 Step-by-step guide to DAT using TNEF's Enough
Step 1:Download the TNEF's Enough app from the App Store and install it.
Step 2:Open the app and drag your winmail.dat attachment onto it. Alternatively, you can right-click on the attachment and choose "Open with" > TNEF's Enough, or choose "File" > "Open" in the app.
Step 3:The application will show you the contents of the DAT file.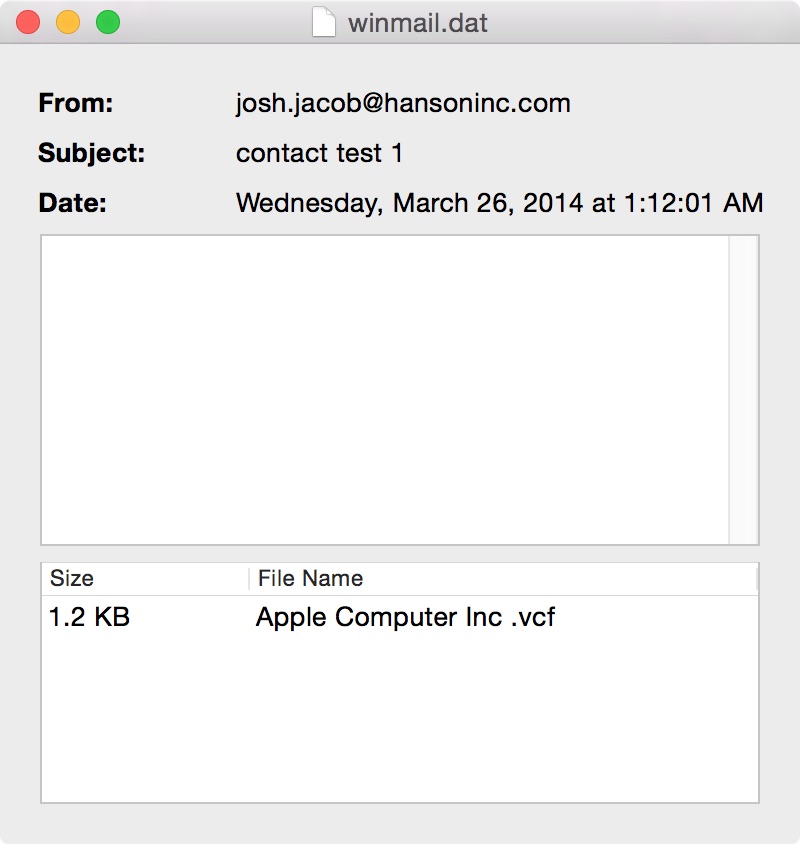 Step 4:You can then export them in the right format. Select one or more files and go to "File" > Export. To export all files, choose "Export All".
Conclusion
Dealing with files with unknown contents may be difficult and frustrating, but now that you know how to open DAT files on Mac, you won't struggle with the format any longer. You can use one of the suggested methods above to view an email's encrypted contents or see what program was used to create the DAT file. As for video stored as DAT, we recommend using Elmedia Player. It's an intuitive app that handles different file formats with ease, so you can forget about compatibility issues.
FAQ
When it comes to opening DAT files, Mac users can use one of the methods proposed in the article above. You can either: open the file with a text editor, use Gmail.com, or convert the DAT file with TNEF's Enough. Video content stored in DAT format is best opened with Elmedia Player.
DAT files often contain text, so it's safe to open them with a text editor. However, if you receive a DAT file via email, make sure you only open it if you know the sender and the intended purpose. DAT files can be used to hide malicious content, for example, a .zip file containing malware.
Text in DAT doesn't need to be converted as it can be viewed with text editors such as TextEdit, Notepad, etc. The text can indicate what program was used to create the file. To convert a DAT file, you can extract its contents with an app such as TNEF's Enough. Read more about these solutions in the article above.