Accidentally deleting the wrong file is the exact opposite of fun, but accidentally deleting an entire folder can be devastating. If you've recently encountered this kind of data loss situation and are now researching how to retrieve deleted folders on Mac, this article is here to help.
The good news is that the content of permanently deleted folders can often be recovered without any loss of important data, but you need to begin the recovery process as soon as possible and choose the optimal data recovery method.
Understanding the Mac Folder Structure
To decide which method of recovering deleted folders on Mac is best suited for your data loss situation, you need to have at least a basic understanding of the Mac folder structure.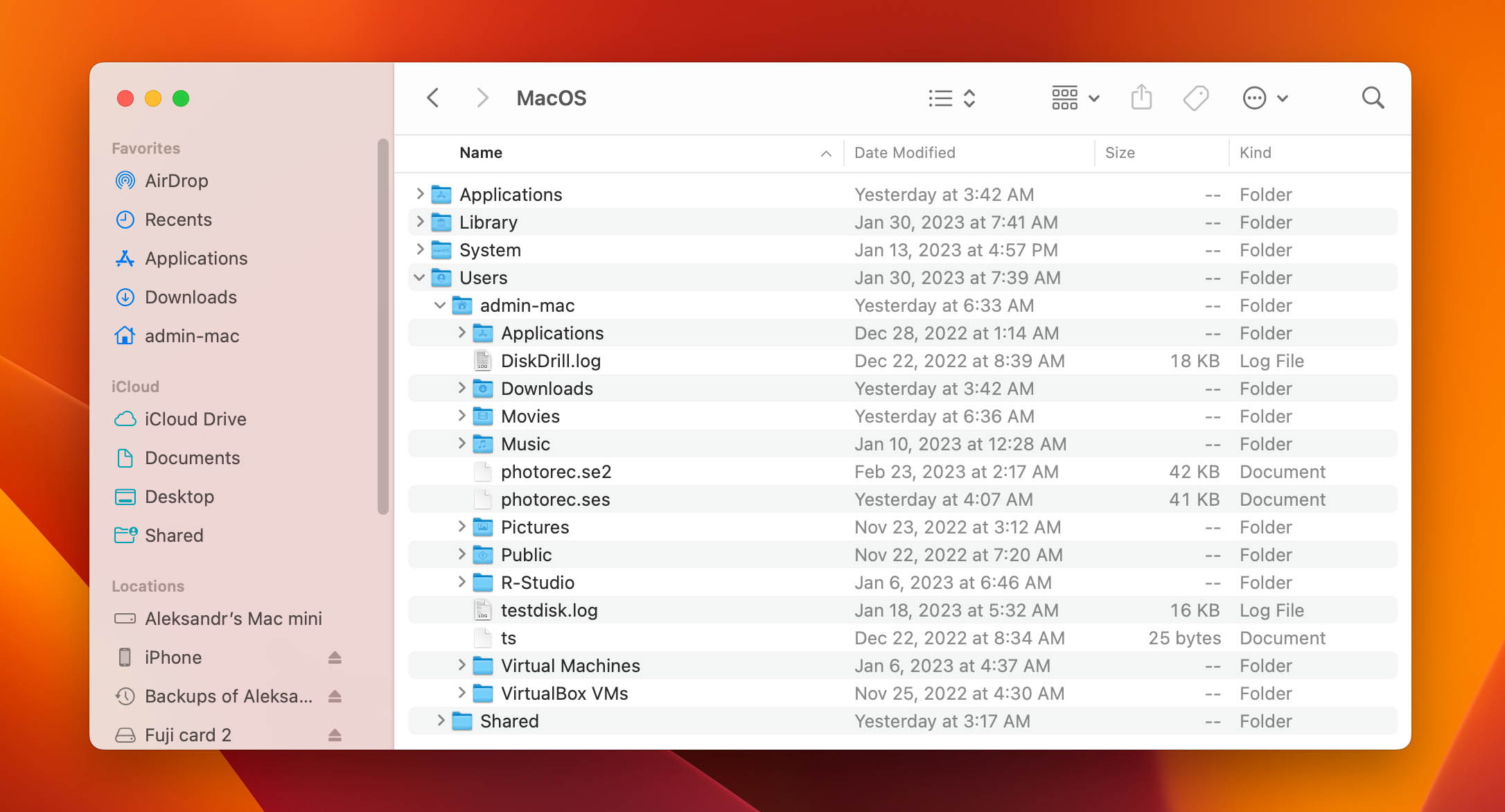 As you can see in the screenshot above, the Mac directory structure consists of four main folders:
| | |
| --- | --- |
| Folder | Description |
| 💻 Applications | As the name of this folder suggests, this is where you can find all apps installed on your Mac. It's not possible to simply delete the Applications folder, so it's unlikely that you would ever need to recover it. But if you do, we recommend you restore your Mac from a Time Machine backup. |
| 📚 Library | This is where macOS and applications store their data, settings, cache files, and other important data. While you can't delete the entire library folder, you can delete the folders inside, which may cause apps to stop working correctly. To recover a deleted Library folder on Mac, boot to Recovery and restore from Time Machine. |
| ⚙️ System | As a regular user, you can't modify the content of the System folder, in which the operating system holds various files required for it to operate. If something ever happens to the folder, you will most likely need to reinstall macOS and recover your data from a backup. |
| 👤 Users | This is the folder where all your documents, movies, music, pictures, and other personal data are located. Unsurprisingly, the Users folder is the most commonly recovered deleted folder on Mac. In addition to backups, data from the Users folder can also be recovered with data recovery software. |
Generally, if you've accidentally deleted or otherwise lost a folder inside any other main folder besides the Users directory, then you should recover your Mac from a backup or—if you don't have a backup—reinstall it to replace missing system files.
However, if you want to recover a deleted folder that was stored inside the Users directory, you can choose between recovery from a backup and data recovery software. In the next section of this article, we describe all the methods of recovering deleted folders on Mac so you can choose the one that best fits your data loss situation.
How to Retrieve Deleted Folders on Mac
When it comes to retrieving deleted folders on Mac, there are four main data recovery methods you should know about.
Method 1.

Check the Trash Bin

The Trash folder, also called Trash Bin, is a special hidden folder where deleted files and folders are moved before they are permanently removed from the system. That typically happens automatically after 30 days, so you have quite a lot of time to get your data back.

To recover a deleted folder from the Trash Bin: 
Open Trash by clicking on its icon, which is located on the right side of the Dock.
Right-click the folder you want to recover.
Select the

Put Back

option.
The deleted folder will be moved back to its original location, along with all files that were stored inside the folder.
Method 2.

Recover Your Folder Using Terminal

You can also check the Trash Bin and recover your missing folder from it using Terminal. This may come in handy when trying to retrieve a deleted folder from a Mac that refuses to boot properly. Here's what you need to do:
Launch Terminal from

/Applications/Utilities

.
Enter

cd .Trash

to navigate to the Trash folder.
Enter

ls -al ~/.Trash

to view the content of the Trash folder.
To move a deleted folder from Trash to your home folder using Terminal, enter the following command: mv folder ../ (replace "folder" with the actual name of the deleted folder).
Method 3.

Recover from a Backup (Time Machine)

There's a good reason why Apple includes a backup software application called Time Machine in macOS: backups are the most reliable way how to retrieve deleted folders on Mac. Only backups make it possible to easily restore Mac with a deleted system folder or application library back to its original state.

Of course, you won't be able to recover a deleted folder from a backup if you haven't created any backup. In that case, your only option is Mac data recovery software, which we describe next. But if you have a Time Machine backup, you should be able to undelete the lost folder in a few minutes.

To recover a lost folder from a Time Machine backup: 
Connect your Time Machine backup disk to your Mac.
Open the folder that contained the lost folder. For example, to recover a folder that was located on your Desktop, you need to open the Desktop folder in Finder.
Click the Time Machine icon located in the Menu Bar and choose

Enter Time Machine

.
Use the timeline on the right edge of the screen to locate the folder you want to recover.
Select the lost folder and click

Restore

.
Alternatively, you can boot your Mac to Recovery by holding ⌘ + R during boot and then choose the Restore From Time Machine Backup option to restore both your files and the specific version of macOS you were using when you created the backup. Use this method to recover a partially deleted Library or System folder.
Method 4.

Recover a Deleted Folder with Mac Data Recovery Software

It's one thing to recover a deleted folder that's still present in Trash or backed up on another drive, and it's something else entirely to recover a permanently deleted folder containing important files without any backup whatsoever. In such a case, your best option is Mac data recovery software like Disk Drill.

With Disk Drill, it takes just one click to scan any storage device and find the content of each and every deleted folder. Disk Drill can recover all commonly used video, audio, image, document, and archive file formats, so it's perfect for recovering the Users directory and its sub-folders.

To recover a deleted folder on Mac with recovery software: 
Download and install Disk Drill.
Launch Disk Drill and click

Search for lost data

after selecting the storage device on which the deleted folder was located.
Go through the scan results and select all files that were present in the deleted folder. Keep in mind that Disk Drill sorts scan results according to file types and file formats, so your files may be scattered across several folders. Click the

Recover

button.
Finally, select a suitable storage device as the recovery destination and click

Next

.
✅ Learn more ways how to recover deleted files on macOS
How to Find a Missing Folder on a Mac
A folder doesn't necessarily have to be deleted to be missing. What sometimes happens is that Mac users move an important folder somewhere else on their computer without realizing it. Fortunately, the native file manager of the macOS operating system, Finder, makes it easy to find any missing folder, regardless of where it's hidden:
Launch Finder.
Click the search icon in the top-right corner.
Type the name of the missing folder in the search box but DON'T hit Return (Enter) on your keyboard.
Click the Name Contains "XYZ" option.
Select "This Mac" search filter to search your entire Mac.
You can now go through the search results and look for your missing folder.
Conclusion
We've covered multiple methods that you can use to recover deleted folders on your Mac. We hope that at least one method will help you get back your missing folders with no loss whatsoever. May this be your last data loss incident.
FAQ
You can recover permanently deleted folders on your Mac using data recovery software. Disk Drill is a great choice because it's easy to use and highly effective. Here's how it works:
Download, install, and launch Disk Drill.
Scan the storage device on which your deleted folder was stored.
Analyze the scan results and select the folder you want to recover.
Click the Recover button.
Choose an appropriate recovery destination.
Yes, it is! Mac computers come with a native backup and restore feature called Time Machine, and you can use it to restore any backed up folder to a previous version.
Recently deleted folders can be found in the Trash folder. To recover them from it, all you need to do is move them to a safe location.