Data loss is a common problem that costs countless people and businesses large amounts of money every day. What's worse, some files don't have just monetary but also emotional value, making them irreplaceable and leaving data recovery as the only satisfactory solution.
The good news is that Mac users can choose from many different data recovery tools, and we've created this list of the top 10 best data recovery software for Mac in 2023 to help you recover your lost files as quickly and painlessly as possible.
Quick Overview of the Best Data Recovery Software on Mac
Good for: Modern and powerful data recovery.
Disk Drill is one of the best data recovery software apps for Mac that there is out there and it's easy to see why.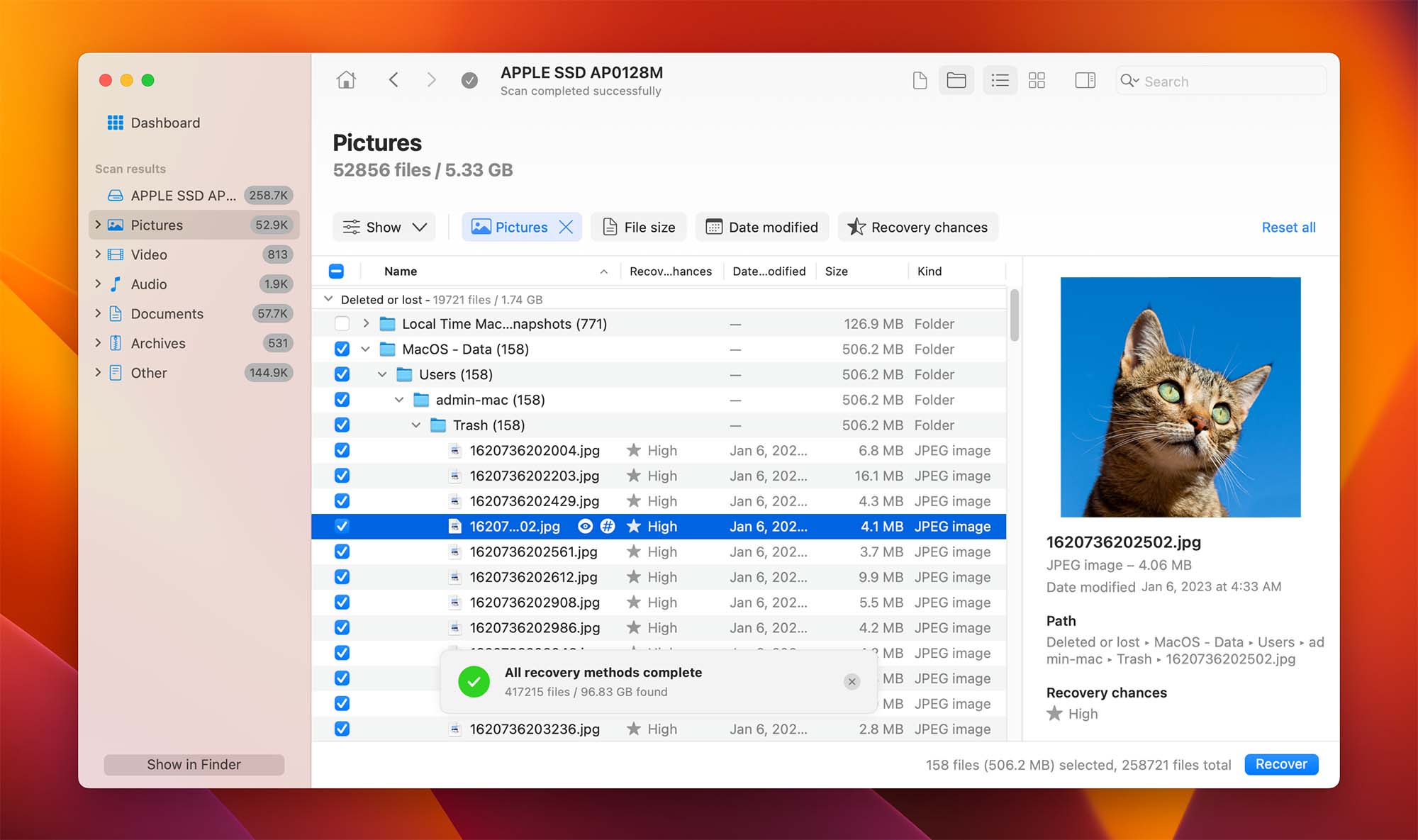 Features
No other app on this list is as easy to use as Disk Drill for Mac, which is a huge compliment considering that Disk Drill for Mac delivers unmatched results. Not only does it support over 400 different file formats, but it also lets you scan all major devices, including your iOS or Android smartphone. Let's take a look at some of the best features that Disk Drill has to offer.
Extra Free Disk Tools

. Bundled with Disk Drill for Mac are several additional free disk tools—SMART Monitoring, Mac Cleanup, Duplicate Finder, Boot Drive, Data Protection, and Data Backup—whose purpose is to keep your files better organized and protected so you're less likely to lose them.

One-Click Scanning

. What makes Disk Drill for Mac so much more accessible compared with other data recovery apps for Mac is its one-click approach to data recovery. It really takes just a single click to initiate the recovery process, allowing even complete beginners to take data recovery into their own hands and avoid spending money on professional data recovery services.
Data Recovery Process
The data recovery process in Disk Drill is simple and intuitive. After you have installed the software, you choose what hard disk you would like to scan and wait for the scan process to complete. Then, you can review the files that Disk Drill was able to find and use the preview feature to recover them to a destination on our Mac. Disk Drill didn't take a long time to scan my Mac and it was able to find and display a large number of files. It has a very intuitive preview feature as well that lets you see a file before you recover it. If Apple were to make a data recovery app, it would be this one.
Pros:
Easy to use
Delivers excellent results
Free recovery evaluation
Comes with extra free disk tools
Preview function before recovering files
Cons:
You can only preview files for free
Pricing
| | |
| --- | --- |
| License type | Price |
| Disk Drill PRO | $89 |
| Disk Drill Enterprise | $499 |
Good for: best value when it comes to data recovery.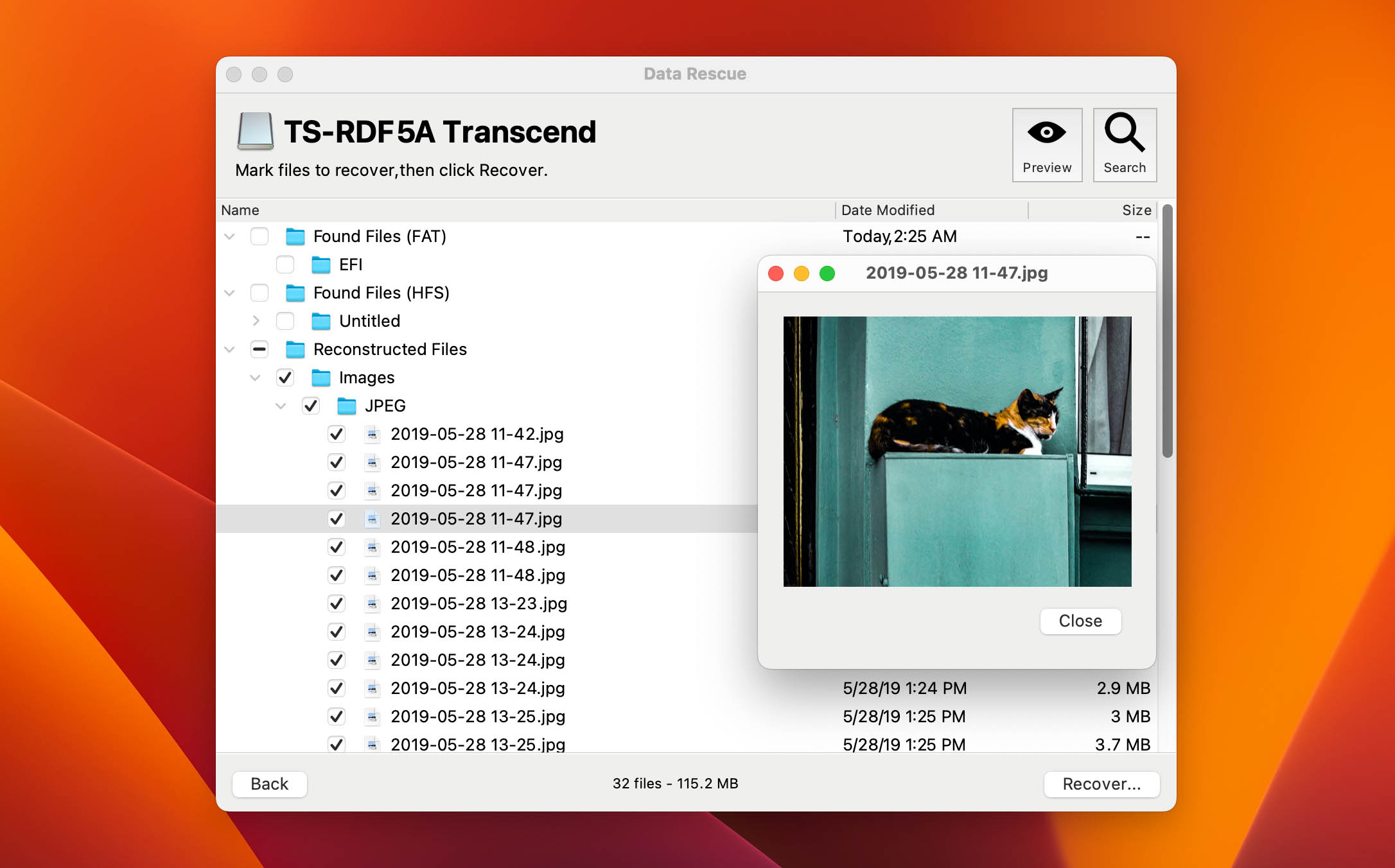 Designed with regular users in mind, Data Rescue 6 for Mac is another well-rated recovery app when it comes to the best Mac data recovery software available for Mac.
Features
Just like Disk Drill for Mac, Data Rescue allows you to recover data from your Mac hard drive using two recovery methods—Quick Scan and Deep Scan—and it also has a simple graphical user interface that exposes all features at a glance.
Data Rescue 6 for Mac boasts the ability to clone your hard drive if it appears that you're having hardware issues with it. You can also select which source you would like to scan files from rather than be an internal or external hard drive.
Data Recovery Process
Data Rescue has both the quick scan and deep scan options when it comes to scanning your Mac for recoverable files. The quick scan feature is fast as you would assume it to be but the deep scan does take some time. Once the scan has completed, you can use the preview feature to look at a file before recovering it. The experience just isn't as modern and smooth as Disk Drill but with the price, you get a cheaper data recovery software option that I can't complain much about.
Pros:
Easy to use
Pleasant interface
Time Machine compatibility
Clone a hard drive
View previous scan results
Email notifications
Scan source selection
Cons:
The free version has limited functionality
Only basic data recovery functionality
Pricing
| | |
| --- | --- |
| License type | Price |
| Standard | As low as $19 |
| Professional | $399.96 |
Good for: recovering data over a network.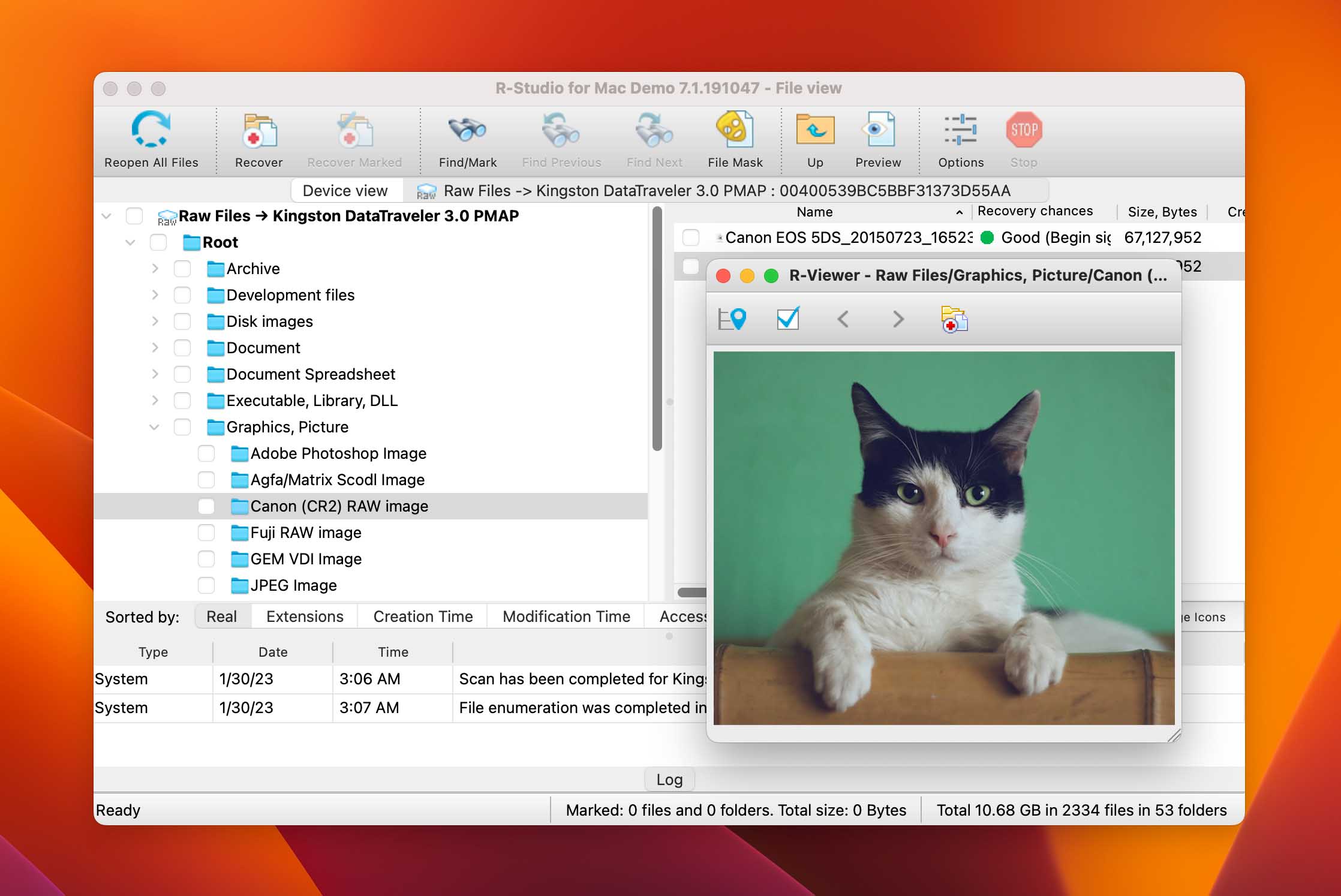 R-Studio for Mac is a feature-packed data recovery solution for Mac computers that can be used even for heavily damaged or unknown file systems.
Features
R-Studio for Mac can recover files from APFS/HFS+/HFS (Macintosh), FAT/NTFS/ReFS (Windows), UFS1/UFS2 (FreeBSD/OpenBSD/NetBSD/Solaris) and Ext2/Ext3/Ext4 FS (Linux) partitions, and it effortlessly handless even heavy file damage. Included with R-Studio for Mac is a professional hex editor, which increases the value of this otherwise fairly expensive data recovery tool. If you're a network administrator and would like to recover data after a company-wide data breach, you will be pleased to know that R-Studio for Mac supports data recovery over a local network.
Data Recovery Process
R-Studio is not as pretty as either Disk Drill or Data Rescue in my opinion, however, looks are subjective and it gets the job done. R-Studio takes function over design and it shows here. I wasn't able to test the recovery over a network feature, but when scanning my own Mac it was able to find and show me files which I could then recover. I didn't have any issues with stability. However, I feel like I wasn't able to use this tool to its full potential like some other professionals who are offering tech support or manage a large number of computers might be able to. This is just something to keep in mind.
Pros:
Powerful data recovery algorithms
Quick scanning process
Bundled with professional data recovery tools
Recovery over network
Aimed at professionals
Cons:
Expensive
Overloaded interface
No Android and iPhone data recovery
Pricing
| | |
| --- | --- |
| Product | Price |
| R-Studio for Mac | $79.99 |
| R-Studio Technician | $899.00 |
| R-Studio T80+ for Mac | $80.00 |
| R-Studio Corporate for Mac | $179.99 |
Good for: large device support data recovery.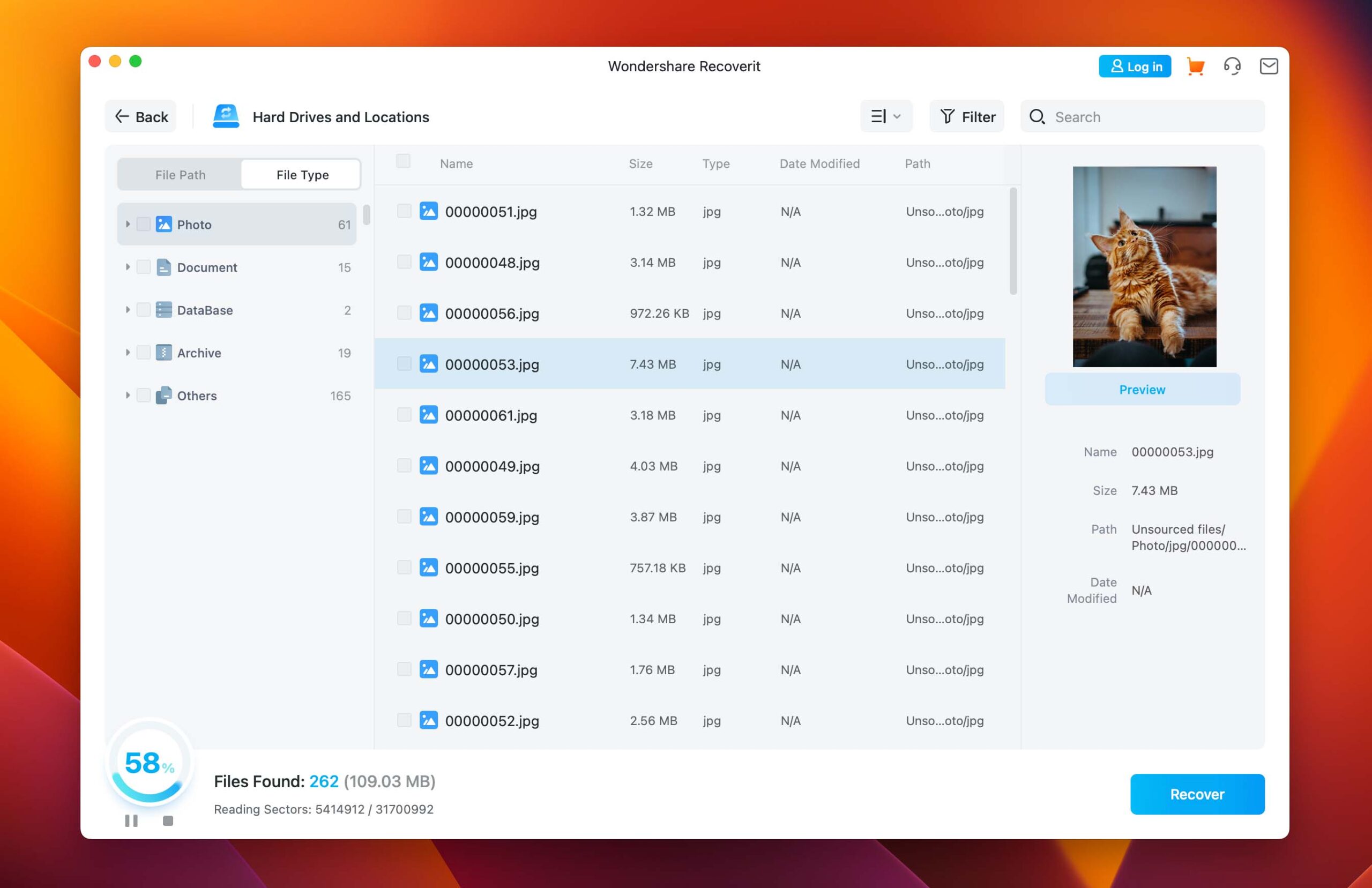 Recoverit is a commercial data recovery solution for Mac computers. It provides users with a three-step recovery process that takes the pain out of recovering your lost data.
Features
This software tool has been helping users recover lost data since 2003. During that time it has been used by millions of customers to recover from a wide variety of data loss scenarios. The application can restore lost files deleted from the Trash, recover data from accidentally formatted disks, and recover data lost due to a virus attack. Recover data from external drives, SSDs, and memory cards among other supported devices. Support is provided for hundreds of file types including all popular video, image, audio, and document formats.
Data Recovery Process
Recoverit worked just as you would have excepted it to. I started up the app and scanned my Mac. It was able to find files and I was able to preview them and recover them. There isn't really anything special for me to call out here. It delivered on what it said that it was going to do.
Pros:
Preview files before recovery
Supports virtually any type of disk-based storage device
Simple recovery process
Cons:
Limited functionality in the free trial version
Lack of data protection tools
Inconvenient user interface
Pricing
| | |
| --- | --- |
| License type | Price |
| Essential | $89.95 |
| Standard | $139.95 |
| Advanced | $159.95 |
Good for: RAID data recovery.
DMDE is a powerful data recovery software for Mac that allows you to do data searching, editing, and recovery on your disks.
Features
DMDE comes with a disk editor and a simple partition manager which allows you to undelete a partition which could be a cause of data loss. It also comes with file recovery which while it works, isn't as intuitive as some of the other options on this list.
Data Recovery Process
The data recovery process on DMDE took me a minute to understand as it's a file system-like interface without a ton of modern design elements that help you understand what you need to do without having to think about it first. With Disk Drill and Data Rescue, I knew how to operate them just by using them, I didn't really have to think about what I was doing. Once you're within the DMDE app interface, you select the disk that would you like to scan and click on OK. Files will then show up in a list form. It's not as clear as to what you're scanning as the devices list for me showed /dev/rdisk0 when other apps name your storage devices "Macintosh Hard Drive" making it much more clear what I am scanning.
Pros:
Large list of support file formats
Has a lot of nice freeware features
Quick data recovery
RAID constructor
Disk Clone
Cons:
Not as easy to use as others
Feels more like a file manager
Can freeze up
Pricing
| | | |
| --- | --- | --- |
| License type | 1-OS Price | Multi-OS Price |
| Express (1-Year) | $20.00 | – |
| Standard | $48.00 | $67.20 |
| Professional | $95.00 | $133.00 |
Good for: Time Machine extracting, recovering to the cloud, and new Apple silicon support.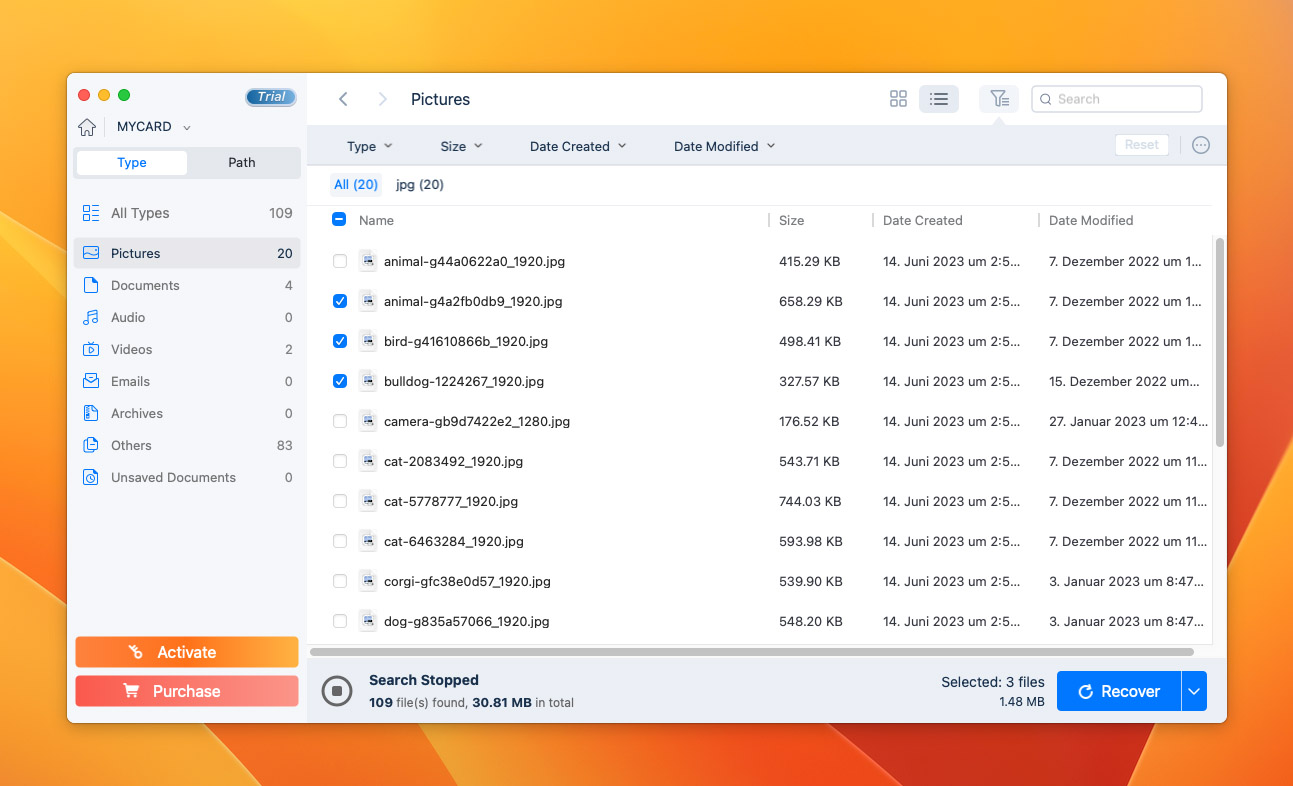 Cisdem is an all around good data recovery tool with some unique features to make it stand out.
Features
Cisdem Data Recovery for Mac comes packed with a powerful set of features and it has some interesting ones as well. It boasts having the ability to recover data written in pretty much any format which is appealing if you have more than just a Mac device. When you do find the data that you want to recover, you can use a Preview feature before choosing to recover it. It supports the newest Apple silicon and even has the capability to extract data from a Time Machine backup if it's corrupt.
Data Recovery Process
The download and install process for Cisdem Data Recovery for Mac was quick and quite simple. After it was installed I ran a scan on my Mac. Looking through the results I went to the photos tab, clicked on a file, and used the Preview feature. It worked quite well and I had no issues with stability. You can't recover data with Cisdem Data Recovery for Mac unless you purchase it which costs, at the time of writing, $69.95 which isn't something that I can recommend when there are other options above that cost much less and give you a subscription for much longer.
If you can find the app on sale I would recommend that you make the purchase, but until then I would take a look at another option.
Pros:
I liked the way that the app was laid out, it was easy to use.
Ran smoothly.
Was able to find my data.
Preview feature.
Cons:
Price is high.
Inaccurate timing estimates.
App struggles with disks containing bad sectors
Pricing
Cisdem Data Recovery for Mac costs $69.95 per month at the time of writing.
Good for: commercial companies and corporations.
UFS Explorer Professional Recovery for Mac helps you recover your data and this option should be looked at more for commercial and corporations as the price will reflect that. It is not the prettiest Mac data recovery software option out there, but you can get the job done with this one and it supports unlimited users.
Features
UFS Explorer Professional Recovery makes data recovery easy as it is high-performance software designed to solve complex cases of data loss. It also comes with a RAID tool that has a built-in script handler. This would be an awesome feature as most organizations usually have some sort of RAID system built-in to help them protect their data and keep operations running smoothly.
Data Recovery Process
UFS did a good job at finding my data and recovering it but I am not a fan of the interface and while this would be good for larger commercial operations and corporations, it just isn't something that I would want to use personally. It found my data and was able to recover it with no issue, but it reminds me of an old outdated 90s program that needs to have its graphical user interface updated to meet modern times. I am not the target customer for this one, but if you're an organization, this one is worth a consideration.
Pros:
Improved storage reader capabilities
Support for all popular file systems
Supports RAID recovery
Built-in algorithms for decrypting disks
Cons:
Outdated user interface
Expensive for personal use, better for larger companies
No preview for media files
Can overload processor
Pricing
| | |
| --- | --- |
| License type | Price |
| Commercial | $699.95 |
| Corporate | $1,199.95 |
Good for: 2GBs of free data recovery.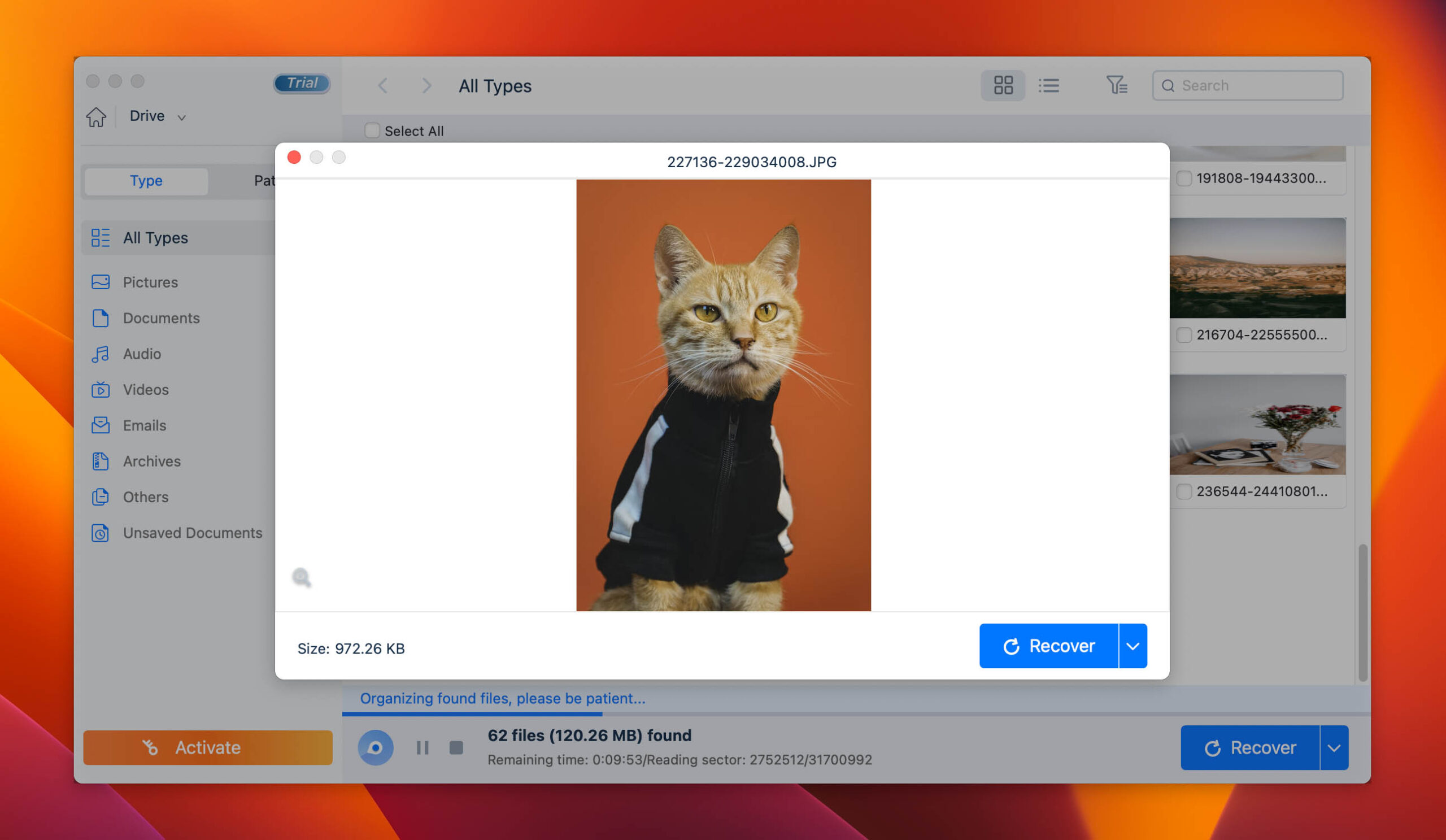 EaseUS is a software company behind the popular partition manager, EaseUS Partition Master, but it also deserves recognition for its data recovery tool, called EaseUS Data Recovery Wizard for Mac.
Features
EaseUS Data Recovery for Mac is a modern data recovery solution that can recover up to 2 GB of deleted and formatted data for free. It supports Time Machine backup drives, recovers photos, videos, music, documents, and emails, and works with all recent versions of macOS, including macOS 10.14, 10.13, 10.12, OS X 10.11, 10.10, 10.9, 10.8, 10.7, and 10.6. Data recovery with EaseUS Data Recovery Wizard for Mac is a three-step process, and the app even lets you create a bootable media to recover data when macOS is unable to boot up.
Data Recovery Process
EaseUS has a nice user interface that I actually quite enjoy as it's clean and easy to use. Right when you launch the app, you're greeted by your internal devices which you can then select one to scan. There is a big blue scan button that you can't miss making it easy to use. When you first use the app, you will have to restart your Mac as it requires you to enable an extension but most of the options above also require this. After you have completed that, I scanned my device and it found files above just like the rest. This one also allows me to recover 2GB of data for free which is a nice added feature.
Pros:
Recover up to 2 GB of data for free
Supports Time Machine backup drives
Easy to use
Cons:
Doesn't include a ton of extra features
Pricing
| | |
| --- | --- |
| License type | Price |
| Monthly | $89.95 /month |
| Annual | $119.95 /year |
| Lifetime Upgrades | $169.95 |
Good for: encrypted drive recovery.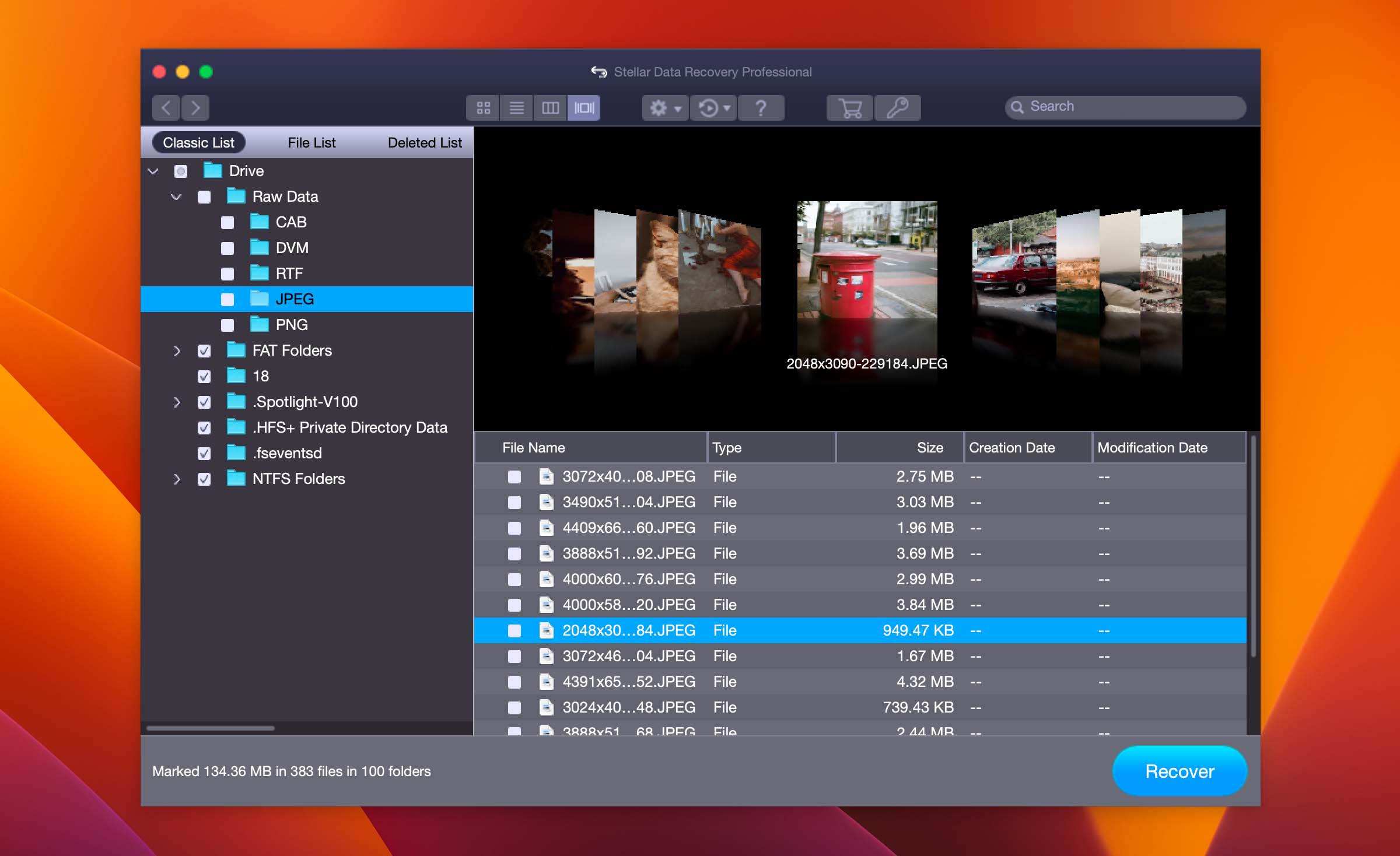 Even though Stellar Data Recovery for Mac is probably overkilled for most Mac users who want a simple solution that would allow them to recover a couple of lost files, it still deserves a place on our list because it offers a lot of interesting features.
Features
To start with, Stellar Data Recovery for Mac recovers data from Time Machine, Fusion Drive, encrypted, and NTFS drives, and it comes with full APFS compatibility. Depending on which version of Stellar Data Recovery for Mac you buy, you get to enjoy such advanced features as corrupt photo and video file repair, corrupt thumbnail restore, and others. Unfortunately, the free version can't actually recover any files because it's basically just a teaser.
Data Recovery Process
Stellar Data Recovery for Mac has always given me a hard time and this time is no exception. I am running a MacBook Pro 16″ with Big Sur 11.2.3 at the time of writing and it does not run on my machine. It is included in this list though as it might work on yours and other users have had success with it so it may come down to something with compatibility with my current operating system.
Pros:
Reliable
Corrupt photo and video repair
Recovers data from encrypted drives
Cons:
No free recovery option available
I couldn't get it to run on my new machine
Pricing
| | |
| --- | --- |
| License type | Price |
| Professional | $126.64 |
| Premium | $169.13 |
| Technician | $406.94 |
Good for: best free option on Mac.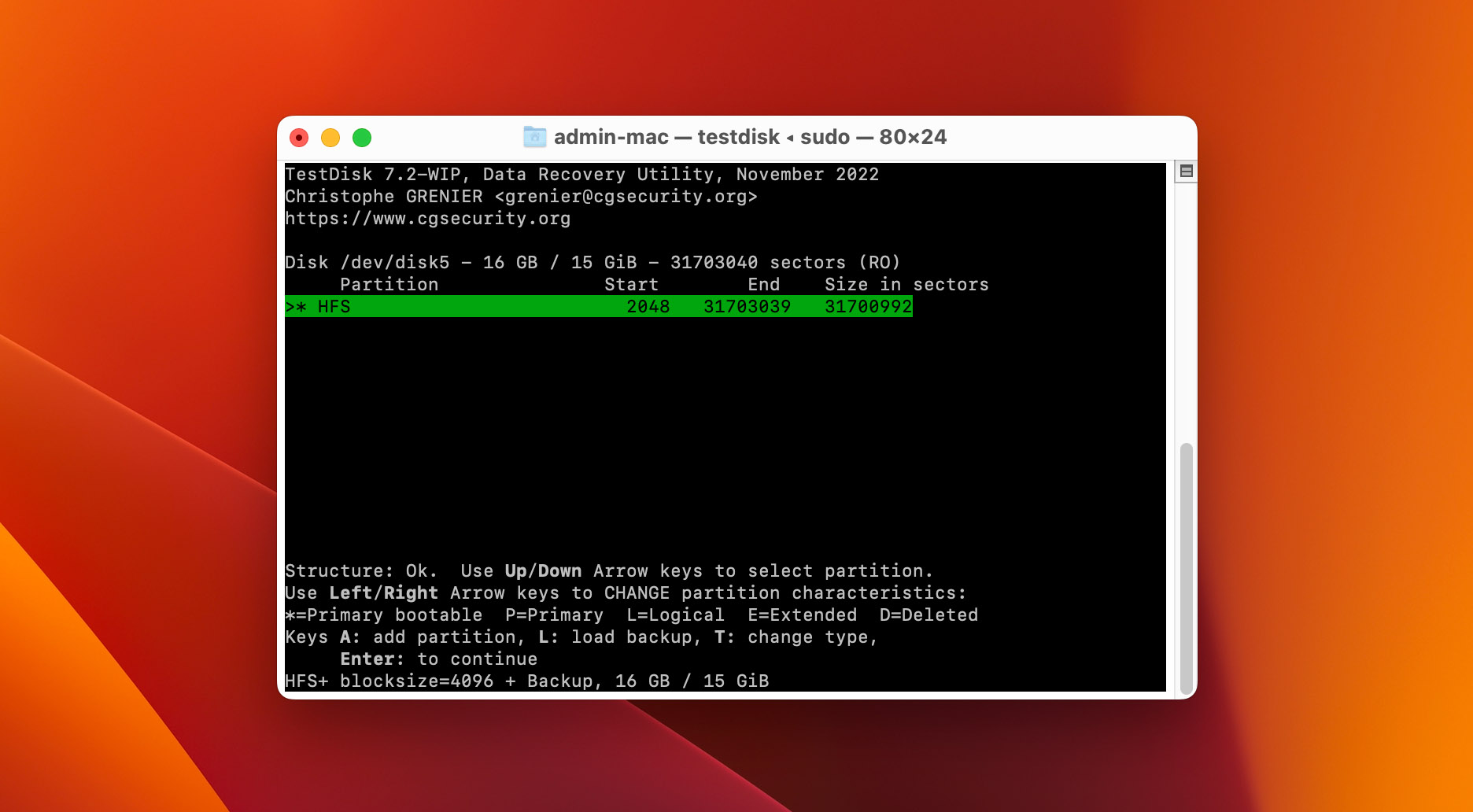 If you're looking for a completely free data recovery tool for Mac computers, TestDisk for Mac is a great option.
Features
Unlike Disk Drill for Mac, TestDisk for Mac doesn't have a well-designed user interface that allows even complete beginners to use it without feeling intimidated by it. That's because it doesn't have any graphical user interface at all! What it does have are powerful data recovery algorithms and support for virtually all file systems you may ever come across. Just don't let its command-line interface intimidate you.
Data Recovery Process
TestDisk uses a textual interface which takes some getting used to. It can be daunting at first trying to understand it, but it's free so you have nothing to lose by downloading it and giving it a try. There is a guide here for how to use TestDisk step by step. For the actual data recovery, it does a good job. I was able to find files on my Mac and I was able to recover a file from the Trash with no issues. If you're into tinkering or want something for free, I would recommend trying out TestDisk.
Pros:
Mature data recovery solution
Support for many file systems
Great data recovery results
Cons:
Command line interface
Confusing results
Pricing
TestDisk is a free and open-source software.
How We Tested and Picked
To test the top 10 most rated data recovery apps for Mac featured in this article, we created a virtual machine with macOS 13.1 Ventura and used it to simulate a data loss scenario that included several different file formats (MP3, JPG, DOC, DOCX, TXT, AVI, just to name a few). Nine clones of the original virtual machine were created to duplicate the data loss scenario, which allowed us to obtain highly accurate results that were not influenced by the order in which we tested the data recovery apps. Data recovery was also tested on a 2019 MacBook Pro 16″ as well for comparison.
Conclusion
After spending a sufficient amount of time with all 10 data recovery apps for Mac featured in this article, we understand why Disk Drill Data Recovery Tool is the best data recovery software option from our review. By making data recovery accessible to anyone and consistently delivering excellent results, it outshines its competition and establishes itself as the best data recovery macOS apps in 2023.
Recovering data from your Mac hard drive is something that we all should know how to do in case something happens. Now you have 10 options to consider that can help you not only recover your data but ensure that if something should happen that you're prepared!
FAQ
File recovery software for Mac varies in price and what features you're looking for. If you want the best-paid option, I would recommend Disk Drill. If you're looking for something free, then TestDisk is a good option. Most of the paid options are around $100 USD and most of them let you try them before you make a purchase.
TestDisk is one of the best options that you have when it comes to free data recovery. The interface can be hard to use at first, but with some time you can learn how to use it and it's a solid data recovery app for Mac. EaseUS Data Recovery Wizard for Mac is also another good option as you get 2GB of data recovery for free.
Yes, most data recovery programs are safe. All of the programs on our list are safe and you can download them without worrying. If you download software elsewhere, make sure that it is a trusted source.