Data loss is a common problem that costs countless people and businesses large amounts of money every day. What's worse, some files don't have just monetary but also emotional value, making them irreplaceable and leaving data recovery as the only satisfactory solution.
The good news is that Mac users can choose from many different data recovery tools, and we've created this list of the top 10 most rated data recovery apps for Mac in 2020 to help you recover your lost files as quickly and painlessly as possible.
You don't need to be a professional software reviewer to see why Disk Drill for Mac is the most rated data recovery app for Mac in 2020.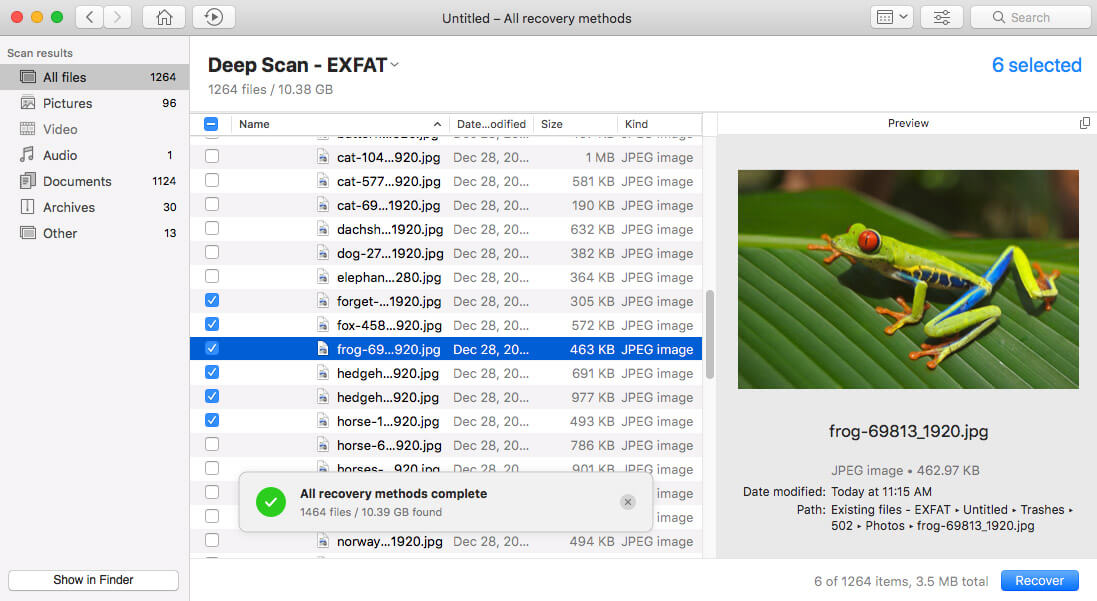 Features
No other app on this list is as easy to use as Disk Drill for Mac, which is a huge compliment considering that Disk Drill for Mac delivers unmatched results. Not only does it support over 300 different file formats, but it also lets you scan all major devices, including your iOS or Android smartphone.
Extra Free Disk Tools

. Bundled with Disk Drill for Mac are several additional free disk tools—Disk Health, Mac Cleanup, Duplicate Finder, Recovery Drive, Data Protection, and Data Backup—whose purpose is to keep your files better organized and protected so you're less likely to lose them.

One-Click Scanning

. What makes Disk Drill for Mac so much more accessible compared with other data recovery apps for Mac is its one-click approach to data recovery. It really takes just a single click to initiate the recovery process, allowing even complete beginners to take data recovery into their own hands and avoid spending money on professional data recovery services.

Fast and Powerful

. Disk Drill for Mac features two major data recovery methods: Quick Scan and Deep Scan. When you initiate a Quick Scan, Disk Drill compares the content of your hard drive with its massive database of file headers, which allows it to deliver outstanding results in a matter of seconds. Deep Scan takes considerably longer than Quick Scan, but it can recover even those files that Quick Scan can't find.
Pros:
Easy to use
Delivers excellent results
Free recovery evaluation
Comes with extra free disk tools
Two distinct data recovery method
Cons:
You can't actually recover files for free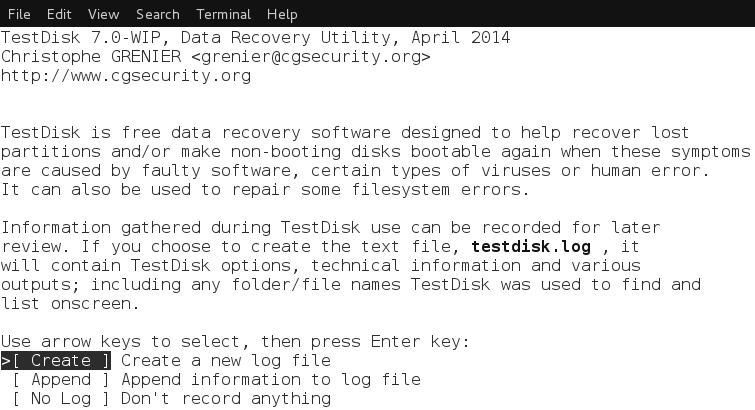 If you're looking for a completely free data recovery tool for Mac computers, TestDisk for Mac is a great option.
Features
Unlike Disk Drill for Mac, TestDisk for Mac doesn't have a well-designed user interface that allows even complete beginners to use it without feeling intimidated by it. That's because it doesn't have any graphical user interface at all! What it does have are powerful data recovery algorithms and support for virtually all file systems you may ever come across. Just don't let its command line interface intimidate you.

Pros:
Mature data recovery solution
Support for many file systems
Great data recovery results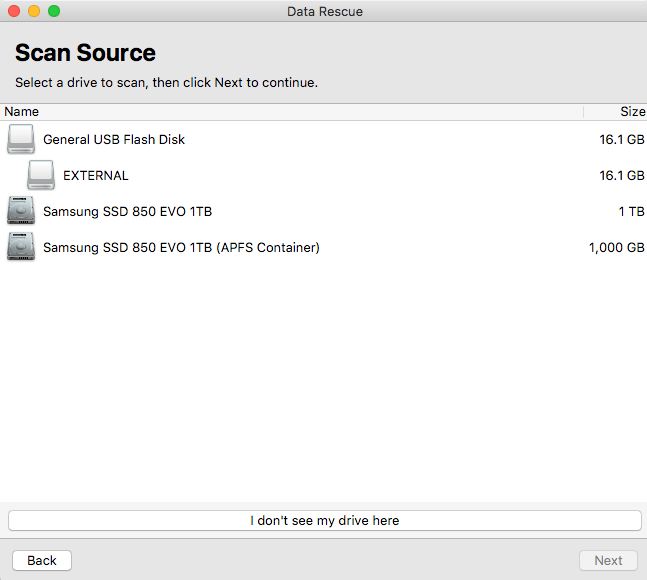 Designed with regular users in mind, Data Rescue 5 for Mac is another well rated recover app with a wide appeal.
Features
Just like Disk Drill for Mac, it features two recovery methods—Quick Scan and Deep Scan—and it also has a simple graphical user interface that exposes all features at a glance. Data Rescue 5 for Mac boasts Time Machine compatibility, allowing you to recover your Time Machine backups without duplicates of the same file. Because data recovery with Data Rescue 5 for Mac can take quite a lot of time, the app lets you enable email notifications to alert you when it completes a scan.

Pros:
Easy to use
Time Machine compatibility
Email notifications
Cons:
The free version has limited functionality
Data recovery takes a lot of time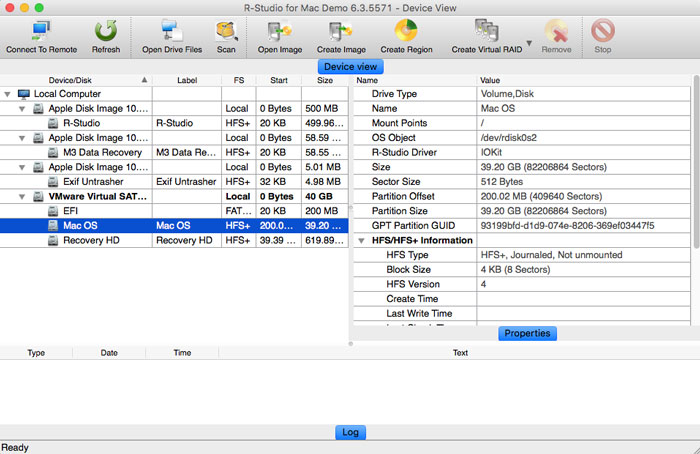 R-Studio for Mac is a feature-packed data recovery solution for Mac computers that can be used even for heavily damaged or unknown file systems.
Features
R-Studio for Mac can recover files from APFS/HFS+/HFS (Macintosh), FAT/NTFS/ReFS (Windows), UFS1/UFS2 (FreeBSD/OpenBSD/NetBSD/Solaris) and Ext2/Ext3/Ext4 FS (Linux) partitions, and it effortlessly handless even heavy file damage. Included with R-Studio for Mac is a professional hex editor, which increases the value of this otherwise fairly expensive data recovery tool. If you're a network administrator and would like to recover data after a company-wide data breach, you will be pleased to know that R-Studio for Mac supports data recovery over a local network.

Pros:
Power data recovery algorithms
Bundled with professional data recovery tools
Recovery over network
Cons:
Expensive
Aimed at professionals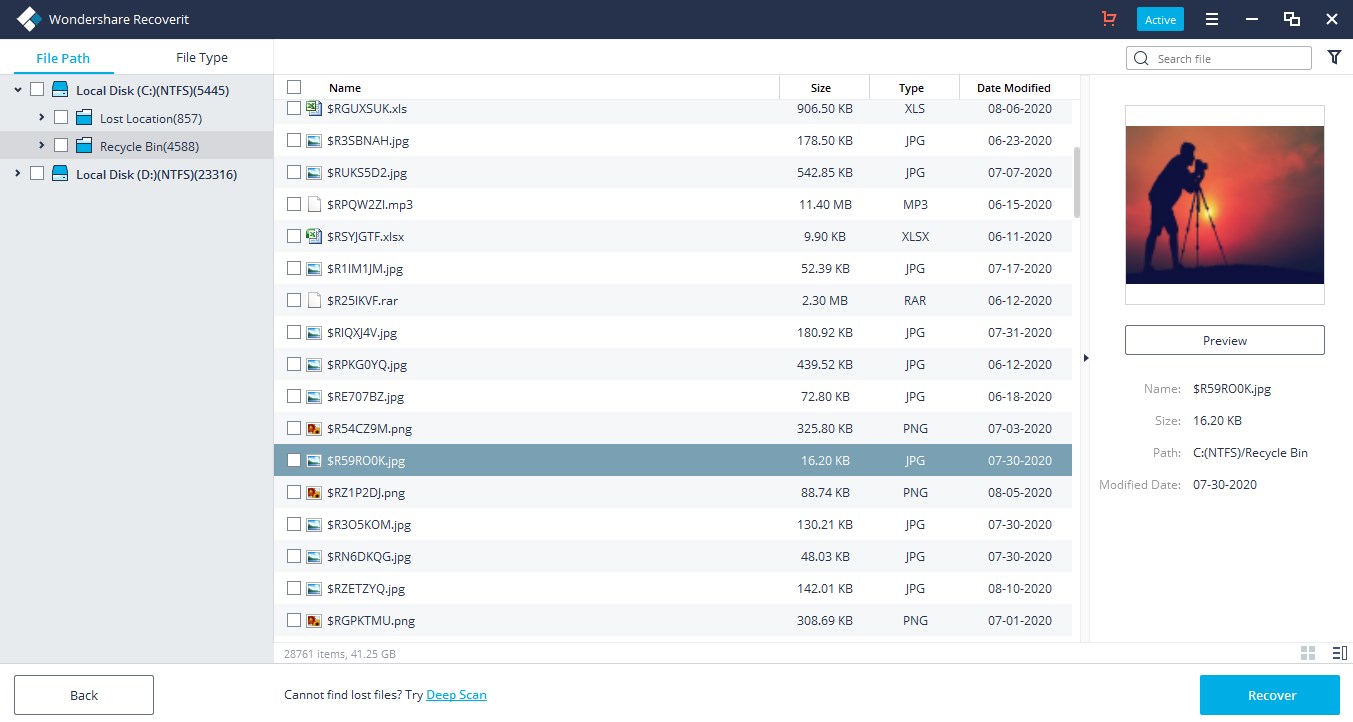 Recoverit is a commercial data recovery solution for Mac computers. It provides users with a three-step recovery process that takes the pain out of recovering your lost data.
Features
This software tool has been helping users recover lost data since 2003. During that time it has been used by millions of customers to recover from a wide variety of data loss scenarios. The application can restore lost files deleted from the Trash, recover data from accidentally formatted disks, and recover data lost due to a virus attack. Recover data from external drives, SSDs, and memory cards among other supported devices. Support is provided for hundreds of file types including all popular video, image, audio, and document formats.

Pros:
Preview files before recovery
Supports virtually any type of disk-based storage device
7-day money-back guarantee
Simple recovery process
Cons:
Limited functionality in the free trial version
Lack of data protection tools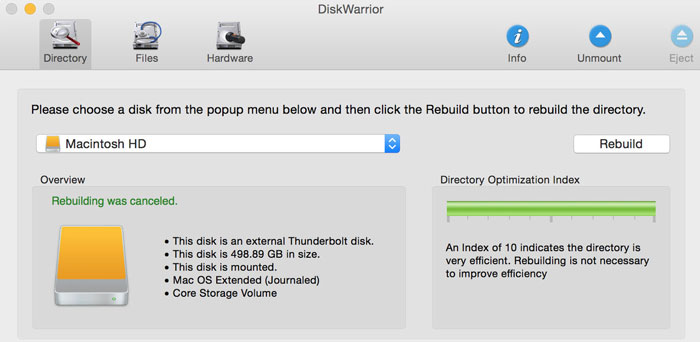 DiskWarrior for Mac describes itself as the world's most advanced repair and data recovery tool. We're not sure about that, but it does deliver satisfactory results and is particularly great when it comes to solving the dreaded "Initialize Disk" issue that so many Mac users have encountered.
Features
DiskWarrior for Mac excels when it comes to repairing damaged hard drives and finding all salvageable files and folders. If you have a hard drive that your Mac can't access anymore, all you need to do to rebuild it using DiskWarrior for Mac is click the Rebuild button, and the rest will happen automatically. In addition to helping you solve existing problems, DiskWarrior for Mac can help you prevent avoid drive malfunctions using SMART technology.

Pros:
Advanced repair features
SMART technology
Easy to use
Cons:
Expensive
Not too great when it comes to data recovery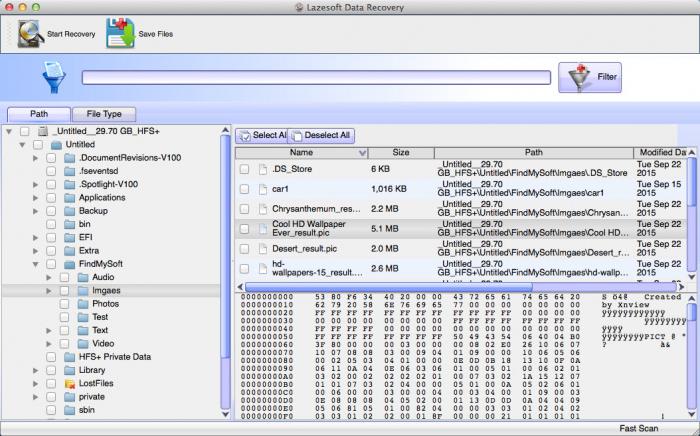 Lazesoft Mac Data Recovery is a truly free data recovery tool for Mac that supports all popular file systems. Sounds too good to be true? It isn't.
Features
Lazesoft Mac Data Recovery makes data recovery accessible with its built-in Data Recovery Wizard, but the tool could certainly benefit from a major redesign because it feels somewhat outdated. Despite its unconvincing user interface, Lazesoft Mac Data Recovery does offer plenty of recovery options, and all of them are available for free. You can use the app to recover data HFS/HFS+, FAT, FAT32, exFAT, and NTFS, as well as other file systems, and even mountable storage devices like iPods and memory cards are supported.

Pros:
Completely free
Support for all popular file systems
In active development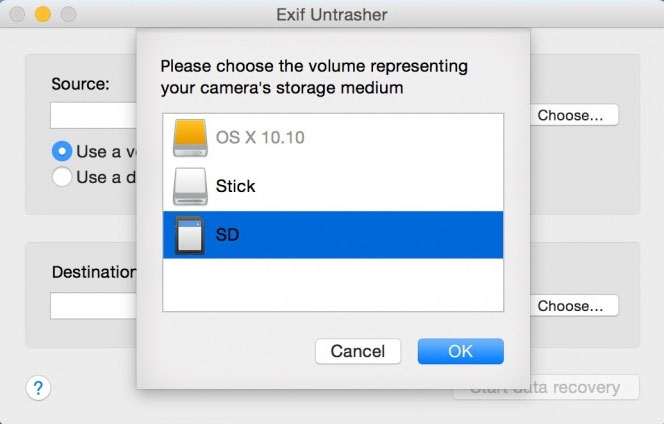 Modern cameras make it very easy to format a memory card. Perhaps way too easy. Exif Untrasher is a simple utility whose sole purpose is to restore pictures from accidentally formatted memory cards.
Features
Because Exif Untrasher is a single-purpose data recovery tool, it wouldn't be fair to expect it to recover hundreds of file formats from all kinds of storage devices and then criticize it for not being able to do so. But if all you need is to recover JPGs from a memory card, hard drive, or USB flash drive, Exif Untrasher is a perfect tool for the job.

Pros:
Does what it promises
Easy to use
Free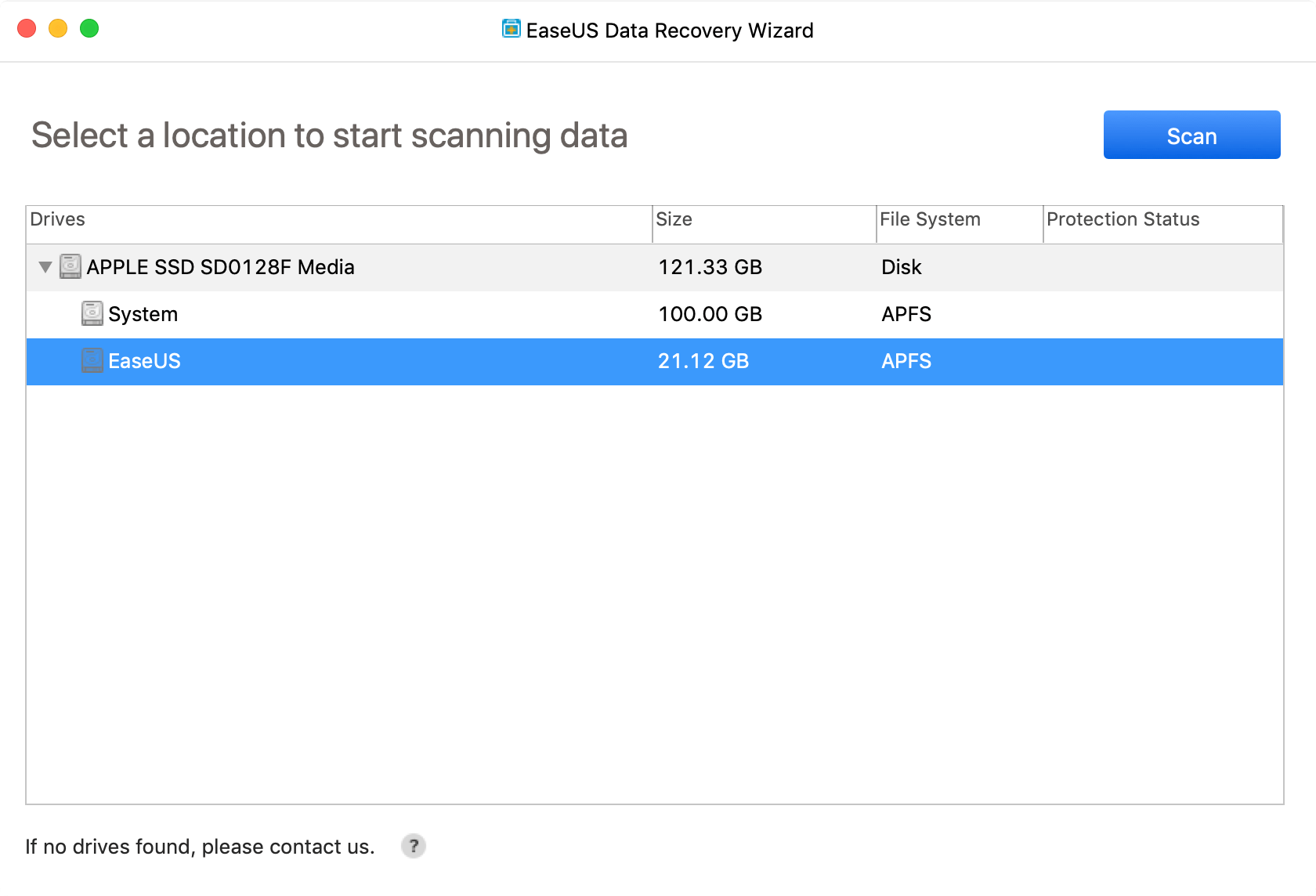 EaseUS is a software company behind the popular partition manager, EaseUS Partition Master, but it also deserves recognition for its data recovery tool, called EaseUS Data Recovery Wizard for Mac.
Features
EaseUS Data Recovery for Mac is a modern data recovery solution that can recover up to 2 GB of deleted and formatted data for free. It supports Time Machine backup drives, recovers photos, videos, music, documents, and emails, and works with all recent version of macOS, including macOS 10.14, 10.13, 10.12, OS X 10.11, 10.10, 10.9, 10.8, 10.7, and 10.6. Data recovery with EaseUS Data Recovery Wizard for Mac is a three-step process, and the app even lets you create a bootable media to recover data when macOS is unable to boot up.

Pros:
Recover up to 2 GB of data for free
Supports Time Machine backup drives
Easy to use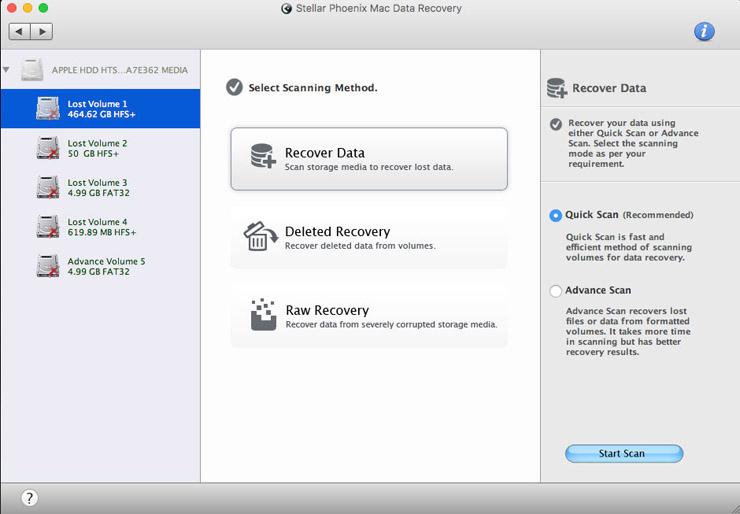 Even though Stellar Data Recovery for Mac is probably overkill for most Mac users who want a simple solution that would allow them to recover a couple of lost files, it still deserves a place on our list because it offers a lot of interesting features.
Features
To start with, Stellar Data Recovery for Mac recovers data from Time Machine, Fusion Drive, encrypted, and NTFS drives, and it comes with full APFS compatibility. Depending on which version of Stellar Data Recovery for Mac you buy, you get to enjoy such advanced features as corrupt photo and video file repair, corrupt thumbnail restore, and others. Unfortunately, the free version can't actually recover any files because it's basically just a teaser.

Pros:
Reliable
Corrupt photo and video repair
Recovers data from encrypted drives
Cons:
No free recovery option available
How We Tested and Picked
To test the top 10 most rated data recovery apps for Mac featured in this article, we created a virtual machine with macOS 10.15 Catalina and used it to simulate a data loss scenario that included several different file formats (MP3, JPG, DOC, DOCX, TXT, AVI, just to name a few).Nine clones of the original virtual machine were created to duplicate the data loss scenario, which allowed us to obtain highly accurate results that were not influenced by the order in which we tested the data recovery apps.
Conclusion
After spending a sufficient amount of time with all 10 data recovery apps for Mac featured in this article, we understand why Disk Drill Data Recovery Tool is the most rated one. By making data recovery accessible to anyone and consistently delivering excellent results, it outshines its competition and establishes itself as the best data recovery app for Mac in 2020.