We have a lot of files stored on our phones, and sometimes we may need to back up photos or send other important files to the computer for work. If you own a Samsung and a Windows PC, moving files between these devices is easy.
Things get a little more complicated if you have a Mac. Although macOS and Android are not natively compatible, there are still ways to help you with Samsung file transfer for Mac. In this article, we'll walk you through the best apps, considering their features, pros and cons.
Solution 1.

Best Way to Perform Samsung Android File Transfer – MacDroid

MacDroid starts our list of the best solutions to transfer files from Samsung to Mac. Designed for Mac, MacDroid lets you easily connect Android to Mac, making the whole process as easy as possible. Besides Samsung phones, the app also supports other manufacturers.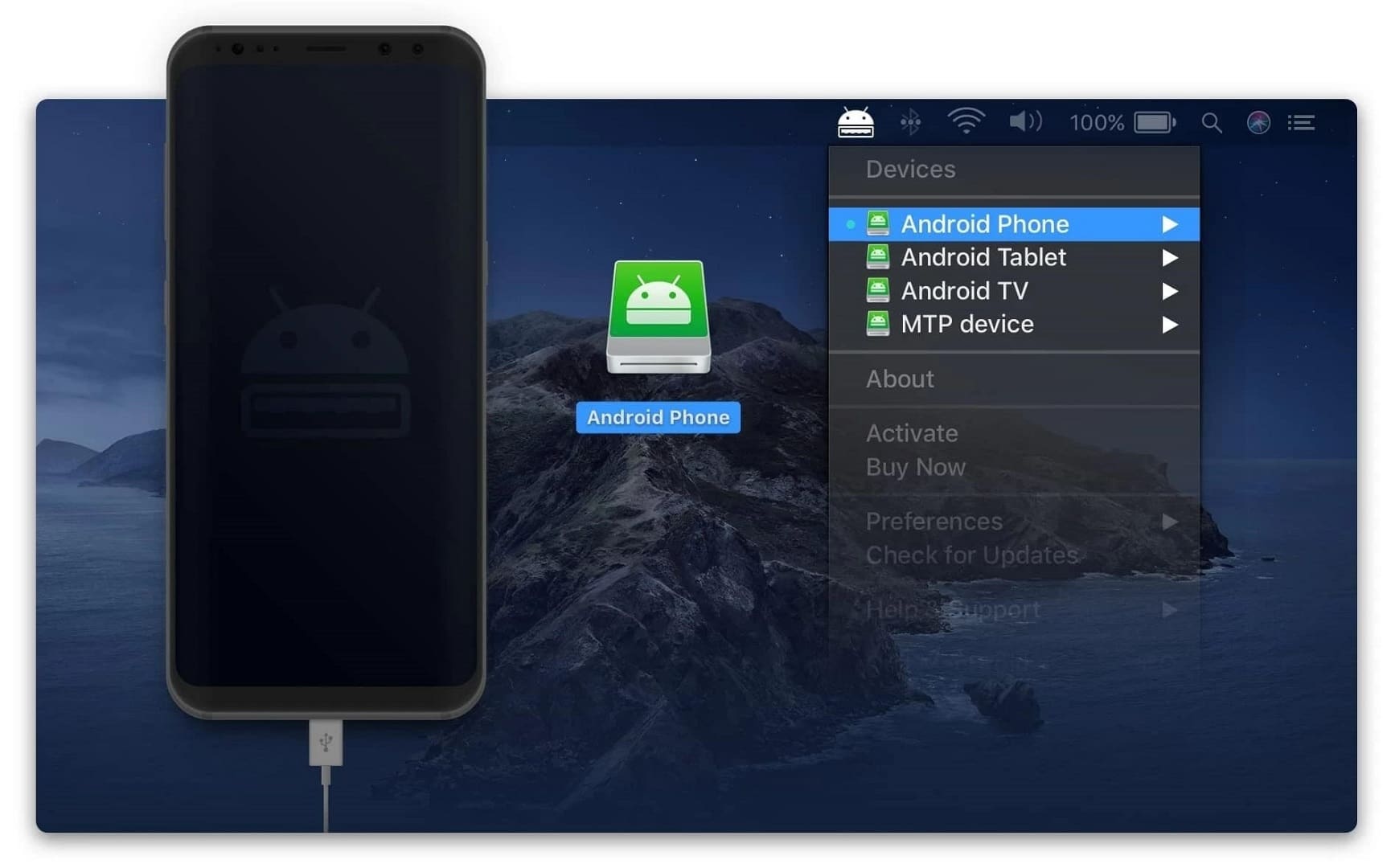 MacDroid is simple to use and allows you to transfer music, videos, photos and entire folders between your Samsung and your Mac computer via a wired USB connection. The tool mounts Android as a disk, so you can access both internal and external storage. Alternatively, you can edit files on Mac without copying them. There are two connection modes: ADB (Multi-Operation) and MTP (Single-Operation).
Pros:
Works with MTP and Android devices
Fast and efficient file transfer between Android and Mac
Offers free 7-day trial to access all PRO features
Allows editing Android files without copying them on Mac
Cons:
Free version allows moving data from Android to Mac. To transfer files from Mac to Android, you need to upgrade to the PRO version
Let's consider how to transfer photos from Samsung to Mac with MacDroid:
Step 1: First, download and install MacDroid, then run the software.
Step 2: Use the USB cable to connect your phone to the Mac.
Step 3: On your phone, enable "File transfer" if prompted.
Step 4: Once done, you'll see your Samsung in the "Device list" in the MacDroid interface.
Step 5: Select your phone and then hit "Mount" to establish the connection.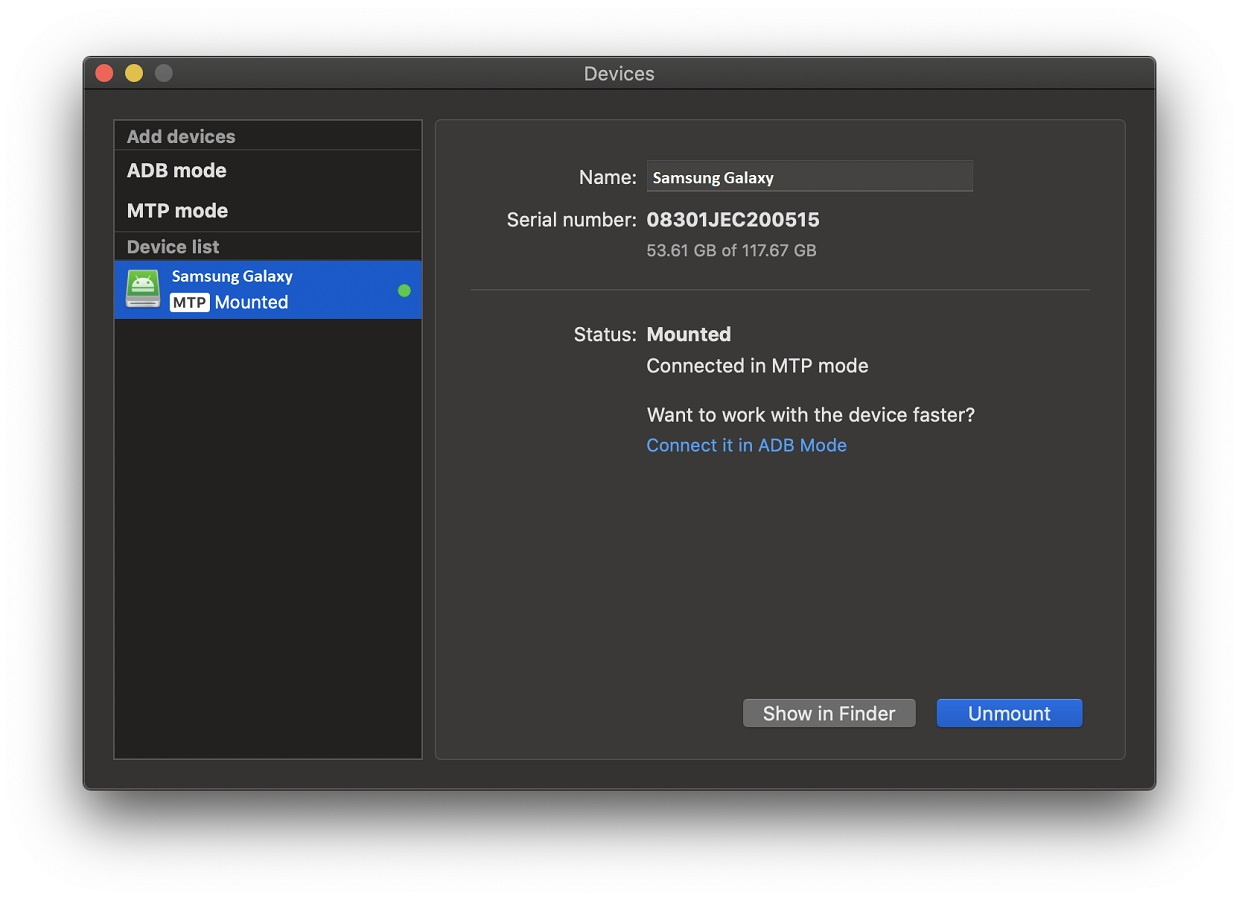 Step 6: Now your Samsung is mounted as an external drive on your Mac, and you can start transferring photos back and forth.
Download: MacDroid on the Mac App Store
Solution 2.

Samsung File Transfer for Mac With Android File Transfer App

Android File Transfer is a utility developed by Google that allows you to transfer any kind of files from Android to Mac and vice versa. It is completely free, compatible with macOS 10.7 and higher. To move files, you just need to install the application on your computer and connect your Android device via USB cable.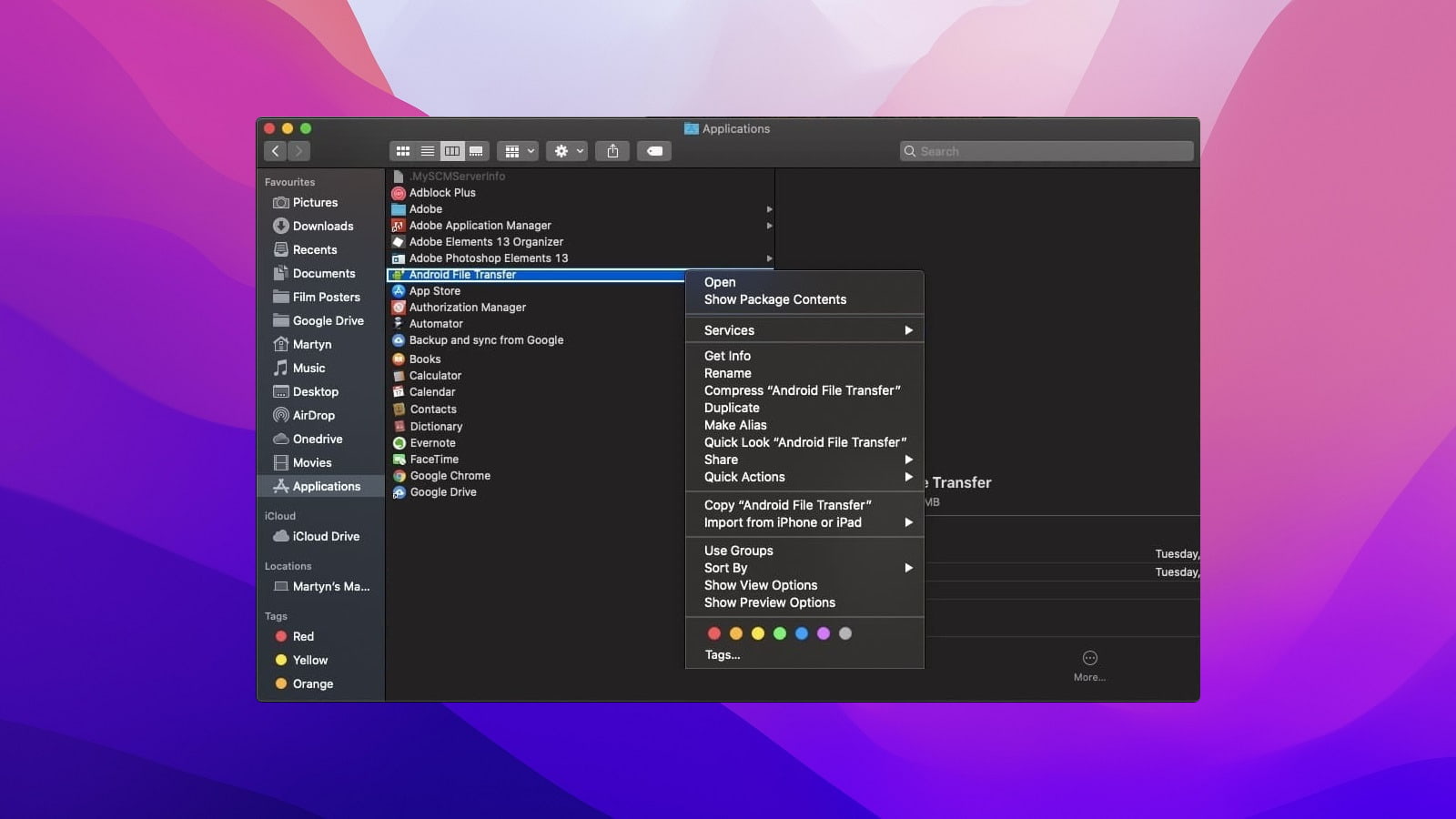 Android File Transfer is a fairly straightforward program, however, it hasn't been updated for several years and users often complain about issues like "Android File Transfer for Mac unable to see Samsung phone" that may occur during connection or transfer.
Pros:
Completely free to use
Allows browsing, editing, and moving files between Mac and Android
Can be mounted as a disk drive
Cons:
When connecting to Android device, some issues may take place
Sometimes it can be difficult to get support
How to use Android File Transfer to move files between Android and Mac:
Step 1: Download and install Android File Transfer from the official website.
Step 2: Next, open the AndroidFileTransfer.dmg file and drag it to the Applications.
Step 3: Plug in your Samsung to Mac with the USB cable.
Step 4: Launch Android File Transfer on your Mac.
Step 5: On your Samsung, tap the "charging via USB" notification and select "File transfer" if prompted.
Step 6: From now on, you can browse all the files and folders on your Samsung on Mac, as well as edit and copy files.
Download: Android File Transfer
Solution 3.

Try Smart Switch – Samsung File Transfer App for Mac

When it comes to Android file transfer for Mac OS Samsung owners can use Smart Switch – the official Samsung software for moving all the data, including contacts, music, photos, messages and more, to Samsung Galaxy devices. It offers USB file transfers, and also is capable of transferring data wirelessly – so you do not need to search for any cables to plug-in your phone into your computer.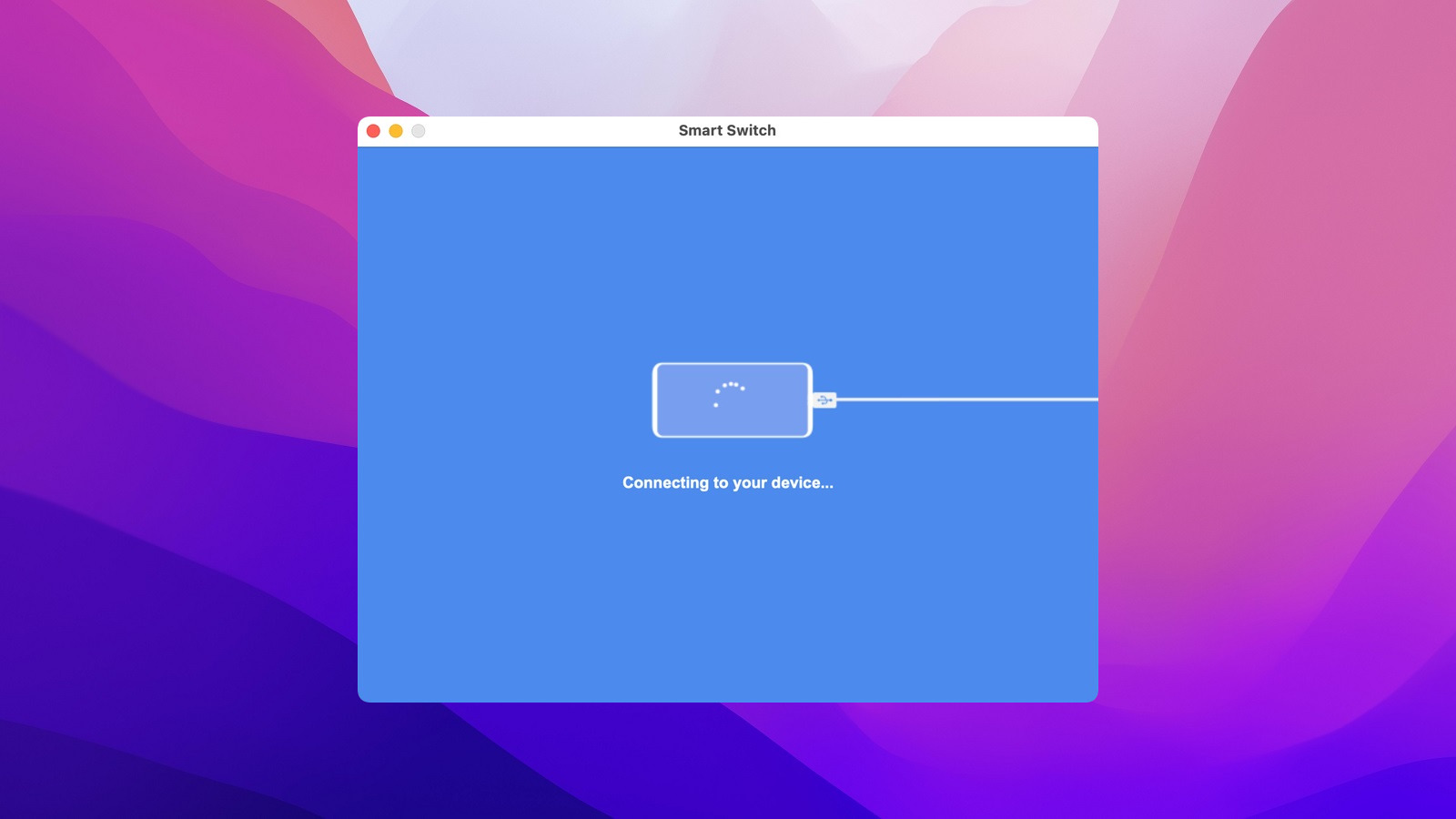 The app is relatively easy to use, free of charge and works with devices running Android 4.3 or later. To perform Samsung Galaxy file transfer for Mac, you will need Mac OS 10.9 or later. With Smart Switch, you can seamlessly back up your phone on Mac and restore backed-up data on your Samsung device.
Pros:
Easily transfer data from old phone to the new one
Can be used for backing up and restoring data
There are three methods to transfer data: via USB cable, Wi-Fi or computer
Cons:
Works well only with Samsung devices
Here is step-by-step guide how to use Smart Switch to transfer data to Mac:
Step 1: Download Smart Switch on your Mac and install it.
Step 2: Connect your device to Mac using USB.
Step 3: Go to the Smart Switch home page and click "Backup". Select "Allow" on your phone to get started.
Step 4: Smart Switch will begin copying your phone's data to Mac. This may take a few minutes.
Step 5: Once done, a window will pop up telling you the backup is finished. Click "OK".
Download: Smart Switch
Solution 4.

How to Perform Samsung Galaxy File Transfer for Mac Using Dr.Fone

Dr.Fone is a toolkit that lets you recover lost data from your devices, exchange data from one phone to another, create backups of your devices to computers, and more. One of the tools by Dr.Fone is Phone Manager that is designed to manage and transfer data between phone and computer.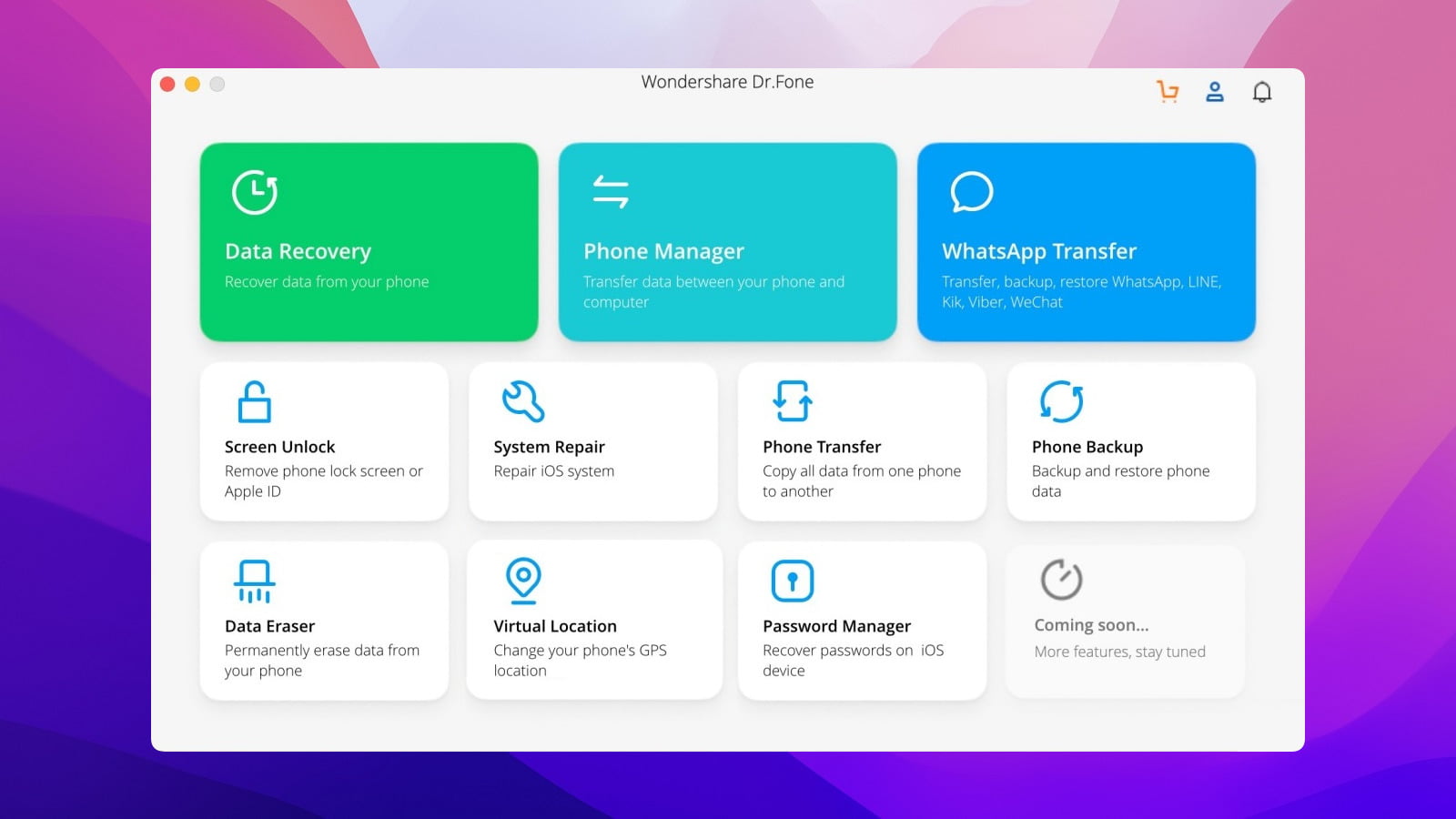 Besides that, you can easily convert HEIC photos to JPG, delete photos on your Samsung on Mac, transfer media content between Android and iTunes, and manage contacts and SMS messages. For those who are looking for a Samsung file transfer app for Mac, Dr.Fone – Phone Manager is a good option as well.
Pros:
Built-in HEIC photo converter
Transfer of almost any data, including contacts and SMS
Compatible with Mac and Windows
Supports transfer of all media file types
Cons:
Annual or lifetime licenses have limitations on the number of devices
To transfer files from Samsung to Mac using Dr.Fone, follow these simple steps:
Step 1: Make sure Dr.Fone is installed on your Mac.
Step 2: Launch Dr.Fone and connect your Samsung with a USB cable.
Step 3: After your device is recognized, it will be displayed in the main window.
Step 4: Select the tab depending on what you want to transfer: Photos, Music, Videos.
Step 5: Then, find and select the files you want to transfer and click "Export".
Download: Dr.Fone
Conclusion
Now that you know the ways to carry out Samsung file transfer for Mac, you can see that it is not a difficult task. Thanks to third-party apps available out there, the whole process of connecting both devices and transferring files between them is convenient and straightforward. All you have to do is simply decide which software best suits your needs.
Before making a choice, make sure you check its price and what connection methods does the application offer, and watch online reviews to see how other users are interacting with the app.
FAQ