Amazon is one of the most famous object storage in the world market. It provides anyone with several cloud storage solutions under the general concept of flexibility, reliability, simplicity, and security. Amazon is considered highly available and fault-tolerant file storage, designed for storing static content, user data, and backups.
Besides that, AWS platforms can not only store user data in the cloud but also work with local information. Just like FTP – and we can also suggest the best Mac FTP client for your needs.
The most popular ways to access Object Storage are via the web interface or using AWS S3 clients. That's why today we will talk about the most popular and widely used S3 Mac clients.
List of the most popular Amazon S3 clients for Mac
Here is the list of the best Amazon S3 Mac clients for your consideration. These clients support work not only with Amazon cloud storage but also with other popular cloud computing services and remote servers.
We start our list with Commander One. This app is not only an Amazon S3 client for Mac but also an advanced file manager, which contains all the necessary functions for quick and convenient work with both local and online files.
Commander One has a simple two-panel interface to simplify working with files, a built-in Terminal, ability to work with Android / MTP/ iOS devices, advanced search, support for various archives, encryption on online connections and much more. The app works with many popular cloud computing services, as well as remote servers.
Pros:
Customizable hotkeys
Banking-level encryption through AES
Cloud service integration
Cons:
Short trial version
Compatible only with macOS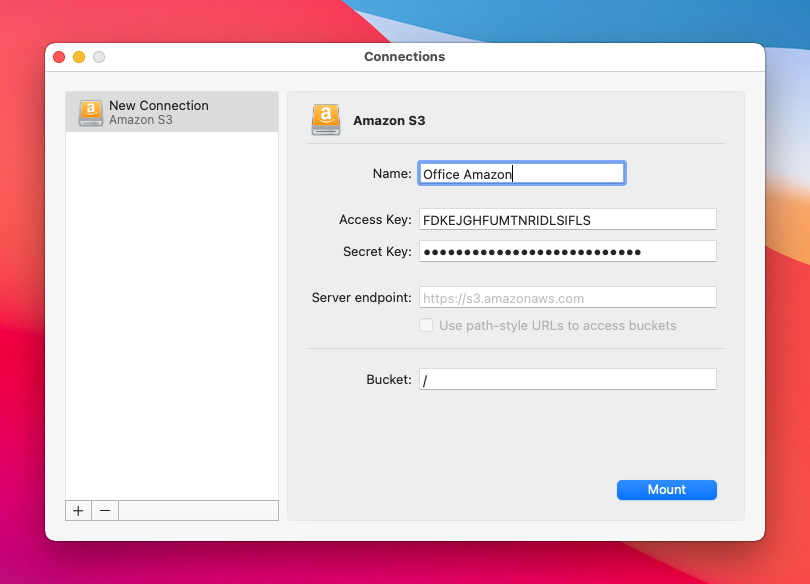 This Amazon S3 client for Mac connects storage in the form of external drives and downloads only the data you need to the Mac. This eliminates multiple storage clients and saves valuable space on a small SSD. in other words, CloudMounter makes it possible to work with data over various network protocols without full synchronization on the computer.
The app offers an easy setup for your cloud accounts through the Connection window. Once mounted, the files can be copied or moved like traditional hard drives. It is worth mentioning that CloudMounter will definitely be the top choice among the users who have several accounts within one cloud storage.
Pros:
Ability to mount numerous cloud storage accounts
Support for encryption
Finder integration
Cons:
Trial version lasts 14 days
No mobile apps
CloudBerry Explorer manages files in storage and supports fast copying and moving of objects between accounts and buckets within Amazon S3. The product makes it possible for ordinary users to perform simple tasks without the need for special technical skills, as well as automate routine operations.
It is an extremely powerful tool for working with S3 storage. This Mac S3 browser alternative offers to work with different accounts on Amazon S3 at the same time and does not freeze when you need to upload a multi-gigabyte file to the cloud or vice versa.
Pros:
Encryption
Resumable uploads
Command-line interface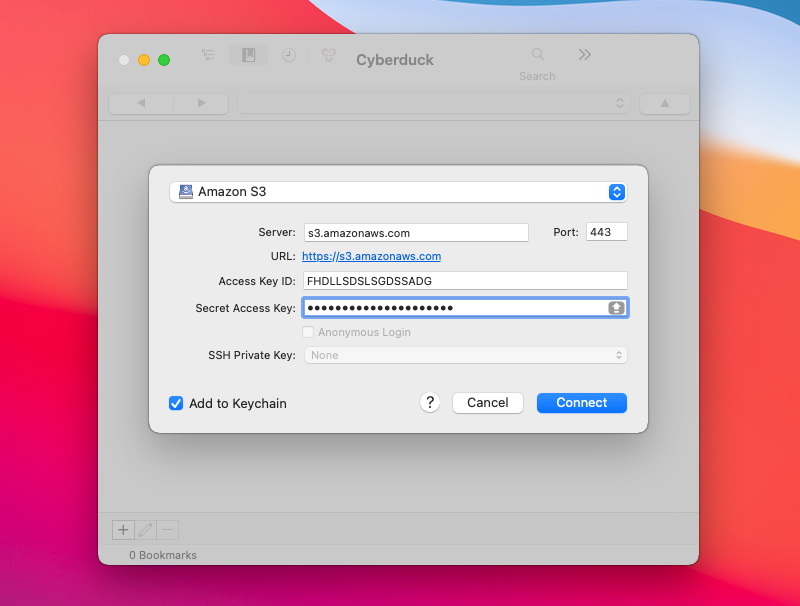 CyberDuck is a popular open-source tool for working with cloud storage and various network protocols. The app supports more than 20 cloud services and network protocols among which are WebDav (HTTP and HTTPS), FTP (FTP-SSL and SFTP), Windows Azure Blob Storage, Backblaze B2 Cloud Storage, Google Cloud Storage, Amazon S3, Dropbox, Google Drive, Microsoft, etc.
With the help of CyberDuck, you can upload files to cloud storage, delete them, create folders, create URL links, as well as create encrypted containers with end-to-end encryption support. This Amazon S3 Mac client is available as a graphical program for Windows and macOS operating systems and as a console utility for GNU / Linux operating systems.
Pros:
Create encrypted containers with end-to-end encryption
Easy file uploads
Clear, intuitive interface
Cons:
Problems with a loading speed
Could be smarter at deleting or moving folders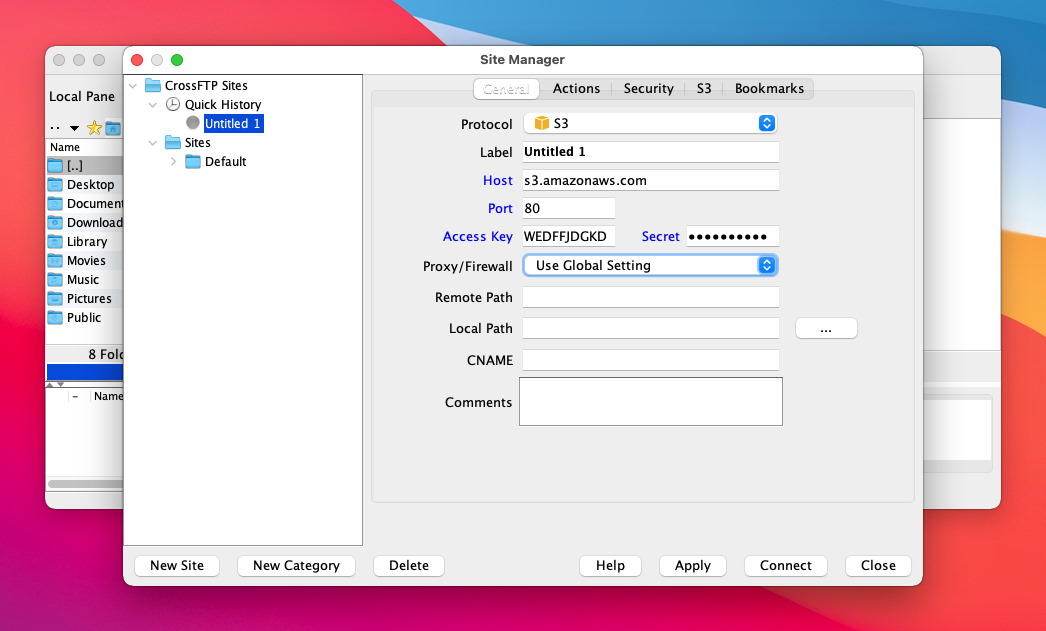 CrossFTP is a free S3 client Mac solution as well as an FTP client. The program was developed in 2006 and supports several network protocols. The app has a user-friendly interface and offers various notable features. CrossFTP allows you to easily and quickly transfer files and preprogram file download schedules.
Besides that, the app offers password encryption, quick search, web search, and has audible alerts and event notifications. In addition, it allows bookmarking favorites, batching, internalizing, zoom preview, tabbed interface, and the ability to compress, view, and extract archives.
Pros:
Cross-platform
Portable version that does not require installation
Cons:
JAVA programming language is far from the best option
Incomplete functionality of the free version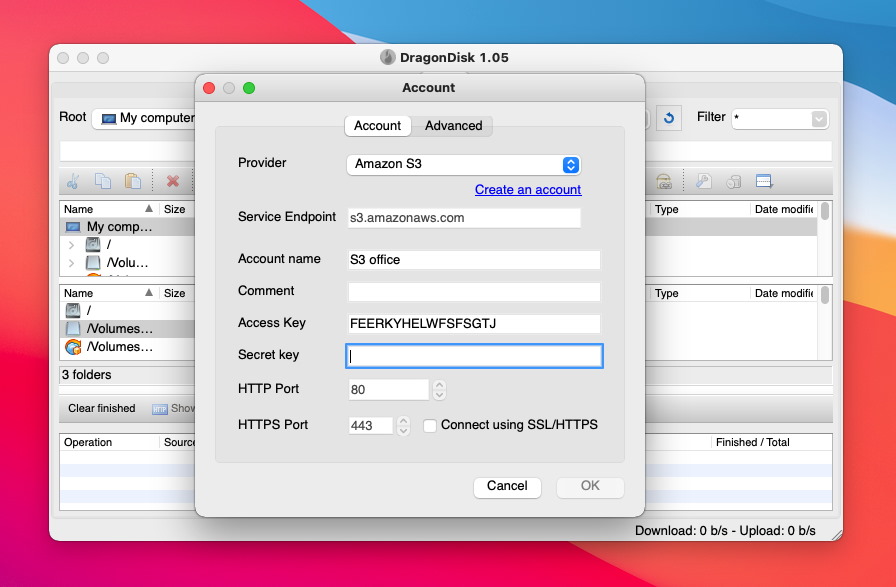 DragonDisk is a decent Amazon S3 client for Windows, macOS, and Linux. The app is nothing more than a file manager. However, the useful part of this file manager is that you can also use it as a backup solution. DragonDisk can be used to backup, share, and organize files in an interface that is similar to that of many FTP clients.
Once connected, you can copy files to or from Amazon S3, edit files, change permissions or metadata. In addition, the app supports version control, external buckets, reduced-redundancy storage, and various compression and encryption algorithms.
Pros:
Ability to create sync tasks that can be run regularly
Awesome interface that is surprisingly similar to that of Windows File Explorer
Cons:
No longer actively supported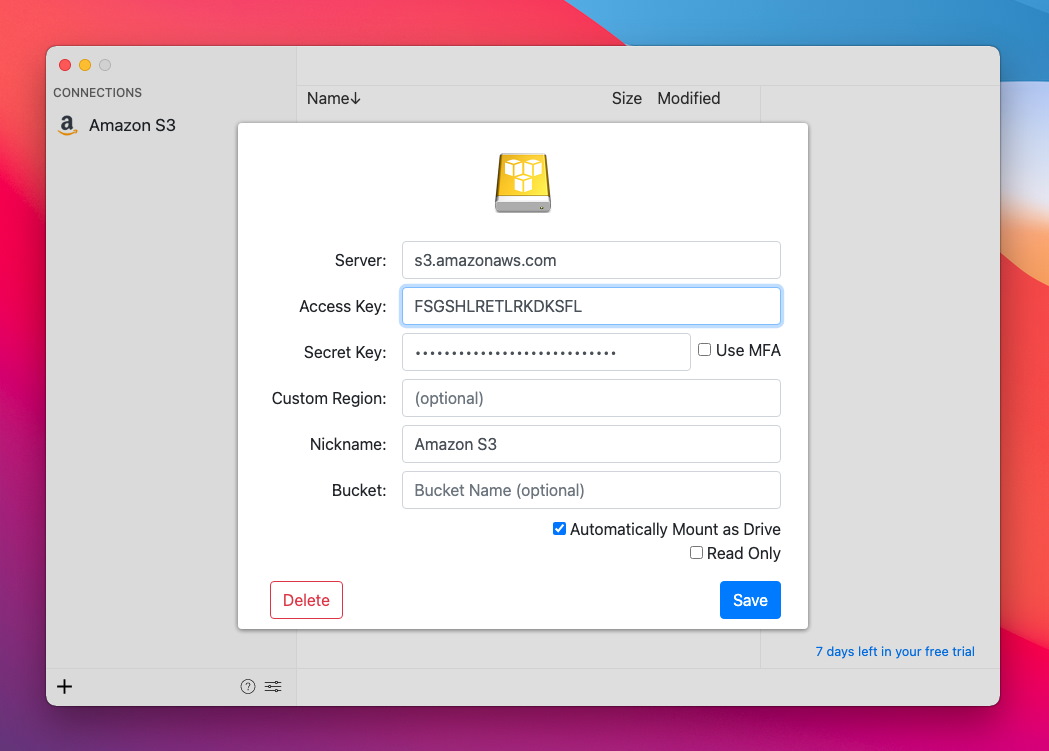 ExpanDrive is another Amazon S3 Mac client and is the fastest way to download and manage files in the cloud. Accessing files in the cloud is the same as accessing a USB drive connected to your Mac or PC. The app supports a large number of cloud storages and allows you to easily monitor the state of services by showing the status of the connection to them.
ExpanDrive puts the uploads in the background, just like popular sync apps. This allows you to keep working without waiting for the transfer to complete. ExpanDrive contains a multi-threaded connection engine, which makes the tool faster and much more responsive.
Pros:
Multi-threaded connection engine
Access to any remote file server directly from Finder
File versioning
Search tool
Cons:
Free version is limited
Cloud-to-сloud transfer is missing
No mobile apps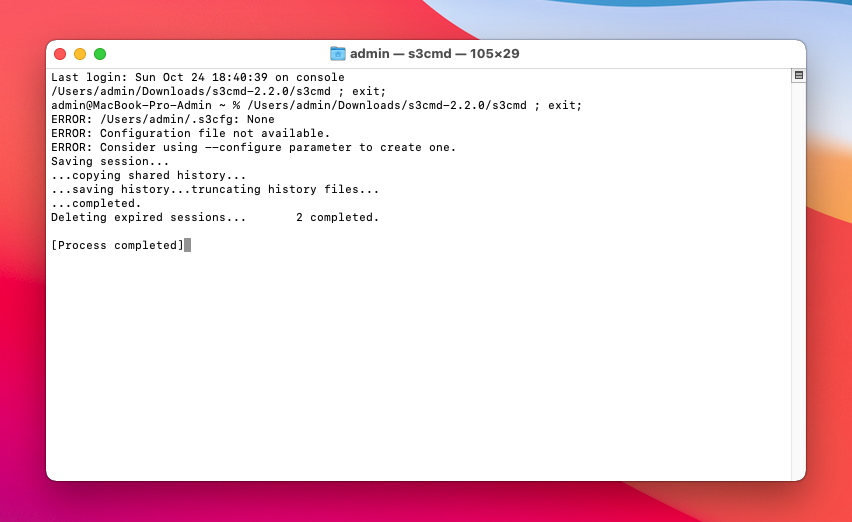 S3cmd is an AWS S3 browser replacement. It is a free command-line tool for manipulating data located in Amazon S3 storage and is written in the Python programming language. S3cmd makes it very easy to do all the necessary manipulations with cloud storage and its contents.
The settings can be configured by using the utility itself, by checking the connection and saving the settings to the configuration file, or by directly editing the configuration file (enter access keys, encryption password, network connection parameters, etc.). It is with biting that S3cmd reminds of Rclone in backup mode and is ideal for batch scripting and automated backups to Amazon S3.
Pros:
Cross-platform S3 client
Support for Amazon S3 multipart uploads
Free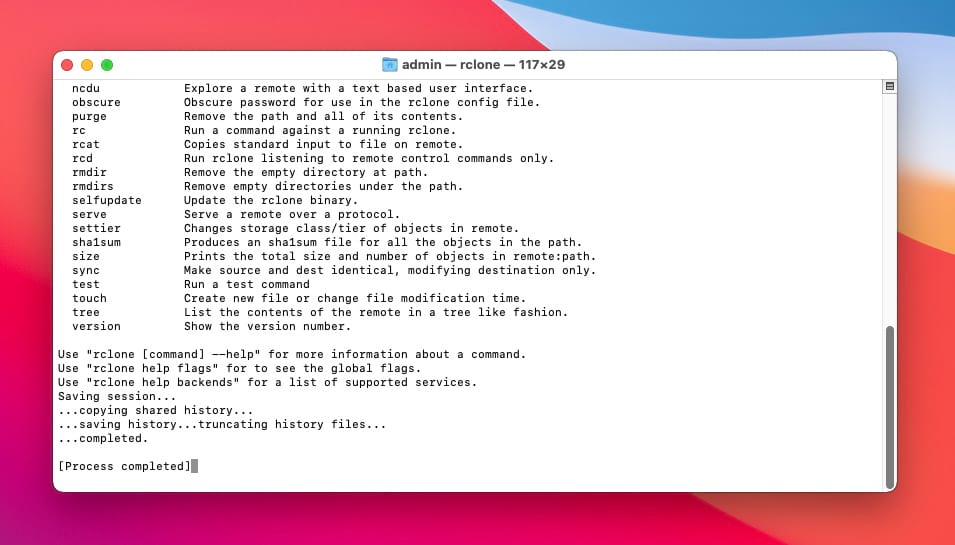 Rclone is a popular console client for managing data in Object Storage. The main function of this S3 browser Mac replacement is to synchronize data in the storage and on the local machine. The utility will undoubtedly be useful for a wide range of cloud storage users.
After installing and configuring Rclone, you can use it as a tool for backing up, migrating, synchronizing, and encrypting data. Most of Rclone's features are the same as other cloud storage tools. But it has one unique function, namely transferring data from one cloud storage to another.
Pros:
Support for multiple operating systems: Linux, Windows, macOS, Solaris, FreeBSD, OpenBSD, NetBSD, and Plan 9
Supports over 40 cloud storage
Fast
Cons:
This Amazon S3 client is aimed at savvy users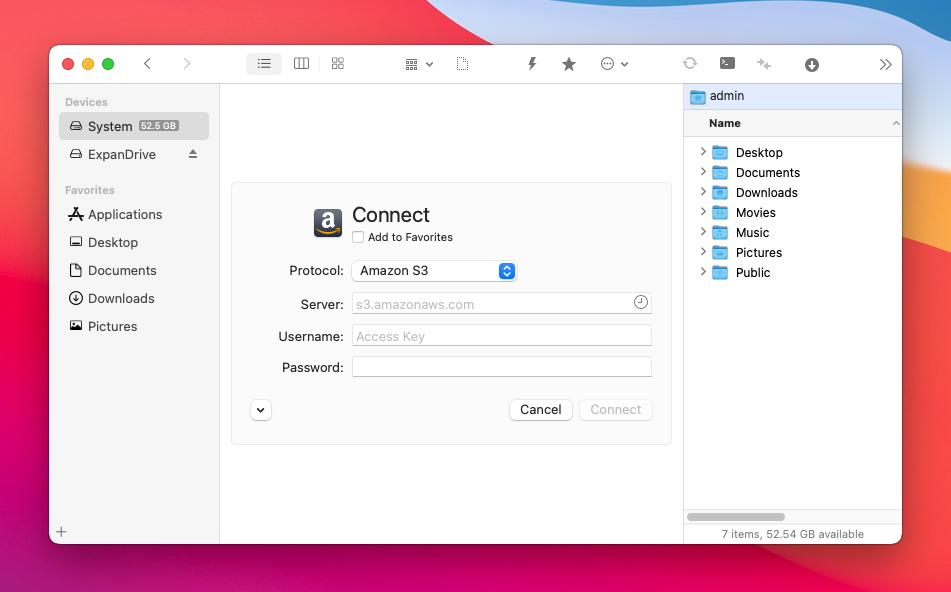 ForkLift is a two-pane file manager and file transfer client for macOS with built-in support for FTP, Amazon S3, WebDav, and SFTP developed by BinaryNights. This Amazon S3 client for Mac allows connecting and fully working with any remote server/cloud computing services as if you were managing a regular folder. The functionality of ForLift is also similar to ExpanDrive.
In addition, ForkLift can restore previously opened tabs, work with archives, delete files with folders bypassing the recycle bin, and much more. Advanced users should like the hotkey support and the ability to quickly invoke the Terminal.
Pros:
Convenient navigation
Ability to connect to and mount lots of storage options
Quick preview
Cons:
Is not completely keyboard controllable
Needs more Terminal integration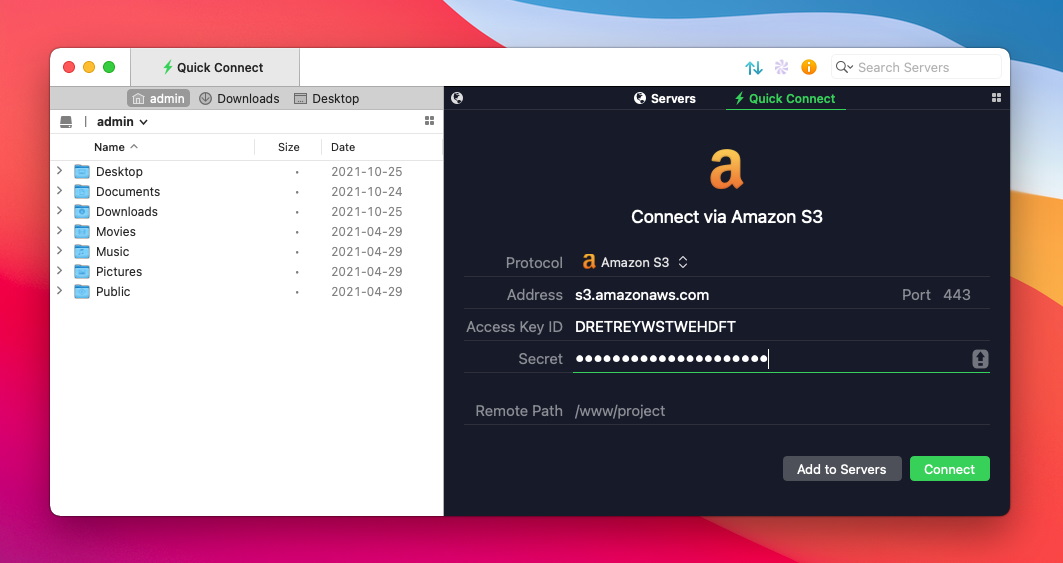 This S3 browser for Mac alternative integrates with a large number of cloud services and also supports current Internet protocols and is aimed at people who do a lot of file manipulation. Transmit has many preferences such as inserting a custom file header into cloud uploads to cloud services. It seems strange but it is a way to ensure that a given file type has proper server-side identification.
Besides that, the app offers parallel local and remote file lists for transmission and checks. In addition, Transmit 5 makes it possible to set server-side encryption parameters for S3 which was not available in version 4.
Pros:
Easy to use tool for Mac users
Data encryption
Not a subscription-based product
Cons:
Performance issues on the latest Mac operating systems
Low speed when dealing with large files
Trial version is limited to 7 days
Conclusion
In this article, we have reviewed the best AWS S3 clients aimed to make your working routine easier. The described apps differ from each other in the set of provided functions, so depending on the specification of your requests you can choose the most suitable for you. We hope that both beginners and more advanced users can find something interesting for them.
FAQ