File compressors, or simply archivers, are often overlooked when it comes to Mac software that's really useful. It's not until you need to attach a larger video to an email or you want to send those vacation photos to your family when you realize how useful a file compressor for Mac really is.
No matter if you want to save some space on your computer by archiving files or you just need it for the above-mentioned operations, installing a Mac file compressor is one of the actions you're certainly going to make sooner or later. So, isn't it better to take care of this now and figure out what's the best app for the job? Instead of wasting precious time while trying to attach something to a very important email only to notice it's above the size limit?
Don't worry, you're not alone in this. We've put together a list of top file compressor Mac software so you know exactly which ones to try to find the best for your needs.
Compress Files on Mac Using These Top Apps
As promised, we're putting together a list of the best compression files Mac software to help you with any situation in which you need to save space or archive documents to fit into a certain size cap. After a thorough selection process, we selected seven apps you can definitely count on as top compressor Mac utilities.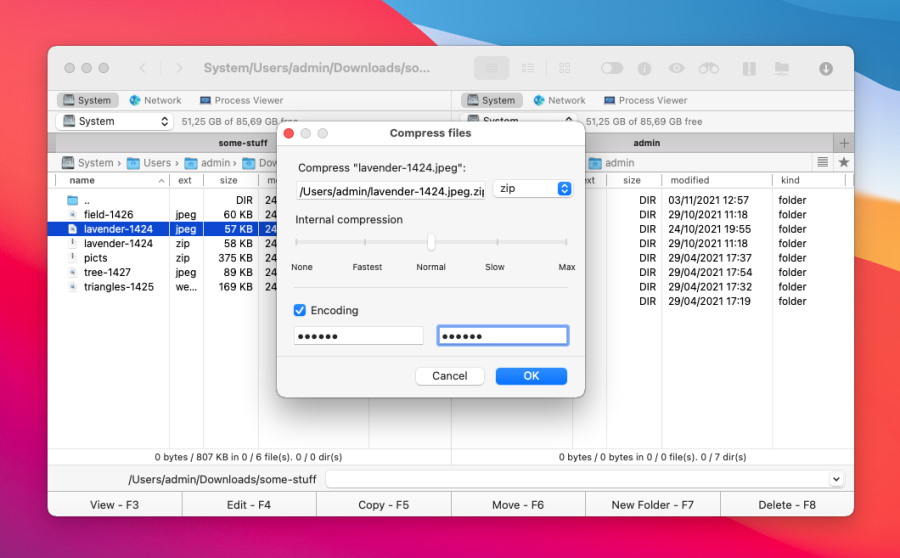 If you're looking for a free, dual-pane, archiver that can handle the most popular formats, Commander One should be the first app to look into. No matter if you compress file on Mac to send via a transfer app or you want to have more disk space for other use, this software gives you multiple ways to handle data compression.
Among its multiple functions, Commander One includes extraction, opening the archive as a folder, and copying the files from an archive without extracting. It includes what is possibly the best Terminal emulator for Mac. The two panels make it extremely easy to view archives and organize all your content.
Furthermore, the three view modes and the option to integrate remote drives make it a perfect tool to always be on top of your documents and data.
Pros:
Dual-pane for easy navigation
Supports lots of archive formats
Built-in search function
Integration with cloud storage services.
Cons:
The most advanced features are only available in the PRO version.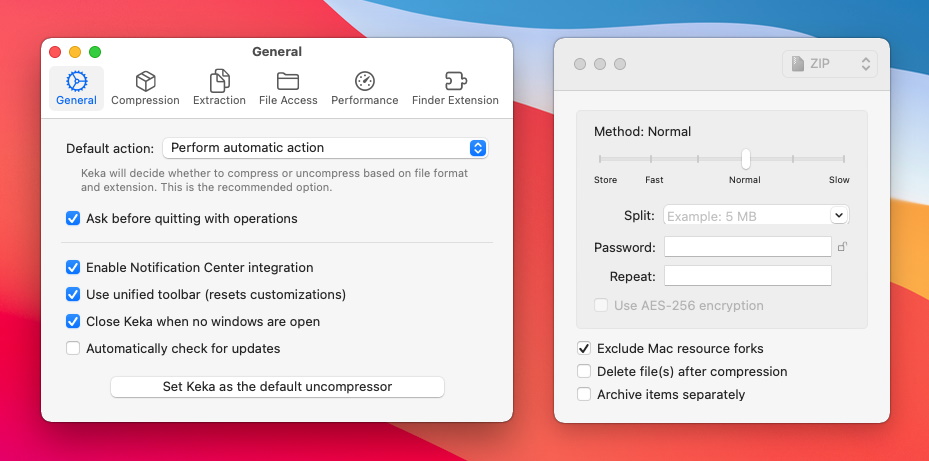 We're continuing our list of Mac compression file archivers with Keka. This lightweight app is very simple and extremely strong at the same time. You can archive files simply by dragging them onto the dock icon and letting the app take care of the rest.
Besides offering compressing functions to Mac users, Keka is also capable of encrypting the archives with AES-256 security so nobody can access the contents even if they get a hold of your archive. Also, even after you compress the files you are still unable to send them in one go, you can break an archive into several, smaller parts.
Pros:
Doesn't require many system resources
Handles 7Z, ZIP, TAR, GZIP, LZIP, and many other formats
Is capable of breaking an archive into multiple files for ease of transfer.
Cons:
The beta version of the app can have bugs that influence your experience.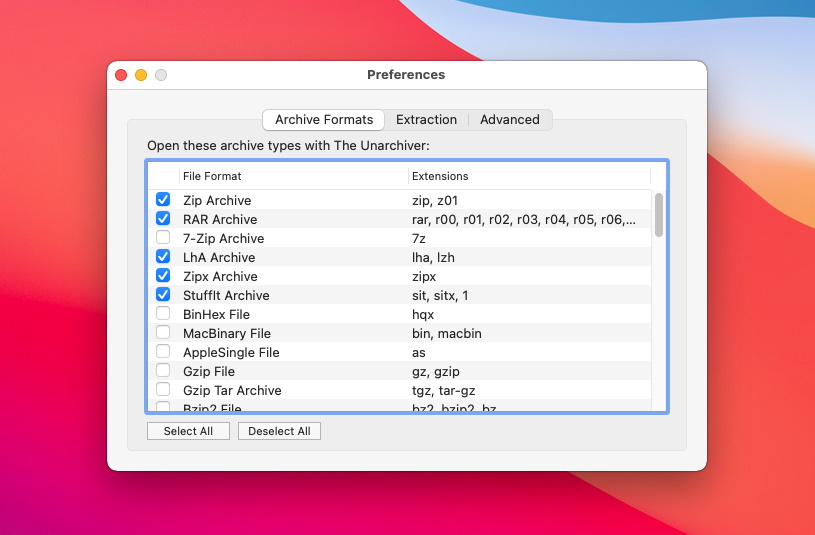 Third in our list of ZIP programs for Mac, The Unarchiver is a real powerhouse when it comes to compressing and extracting archived data. You can get it on your Mac in just a few clicks and you won't have to pay a cent to use it. The Unarchiver is free and it remains that way, a big plus compared to other software that requires an upgrade to access the advanced features.
Another plus for this app is that it can read foreign characters so you will be able to easily open archives with non-Latin characters. Just like most ZIP utilities for Mac, The Unarchiver is capable of dealing with ZIP, ZIPX, RAR, 7Z, TAR, XAR, ALZip formats, and tens more.
Pros:
100% free to use
Long list of supported formats
Offers support for non-Latin characters.
Cons:
The user interface is a bit outdated and can make navigation difficult for beginners.
Compressing files on Mac is a piece of cake when using iZip Unarchiver. This app impresses through reliability and thorough support, even for the less-popular formats. The extraction and compression speeds are excellent for a free app and the wide format support is also impressive.
However, the user interface could use an upgrade as it doesn't really fit the overall macOS design and look. Overall, you're looking at a decent compressor for Mac that can get the job done if you don't want too many integrated functions.
Pros:
Good extraction and compressing speed
Multiple was to extract an archive
Over 20 formats supported.
Cons:
User interface and user experience could be improved to make navigation smoother.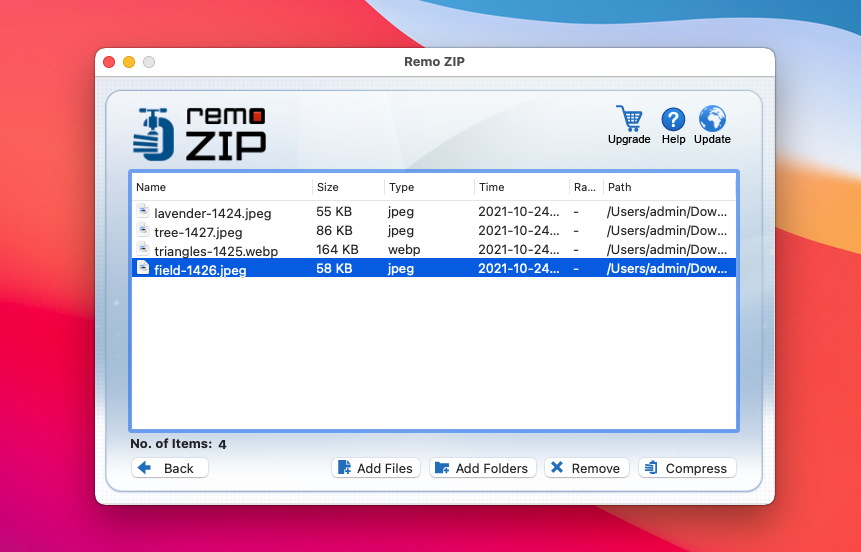 We've seen some apps that deal with compressing files, encrypting them, and managing various content. However, when they want to compress folders Mac users can find a great ally in Remo Zip. Not only that this app enables you to archive and compress entire folders, but it adds a Dynamic and Secure tool as well.
Feel free to use from 10 different compression levels, that offer a nice mix of compression speed and disk space saved. Furthermore, the app can even update the existing .zip or .zipx archive and it allows users to create ZIP files of up to 4GB in the free version.
Pros:
Compresses folders without loss of precision
Choose from 10 compression levels from "Superfast" to "Best"
Supports 128-bit, 192-bit, and 256-bit encryption for files and folders.
Cons:
File encryption is only available in the paid version of the app.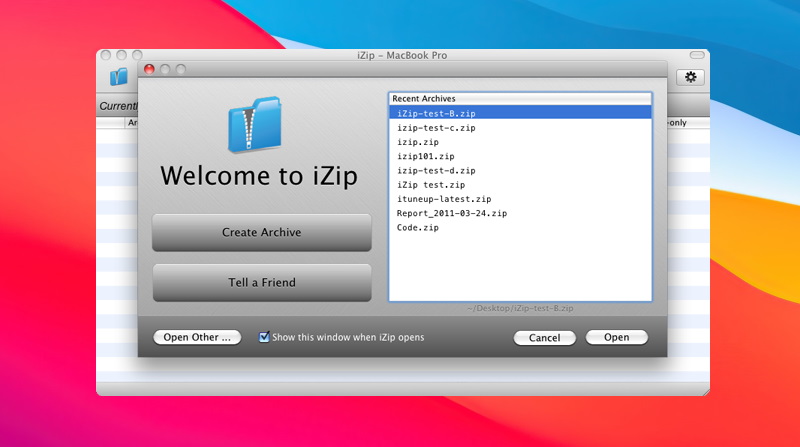 Next in our list of Mac compressors, we're taking a close look at iZip. As the name suggests, it's a compression software for Mac that was designed right from the start with macOS users in mind. Not only that iZip can handle ZIP, ZPX, RAR, TAR, and 7ZIP formats but it's free to use.
This software adds the archive as a removable disk on your Mac so you can easily manage the archived files in Finder just like you would move them from one side to the other. It comes with 256-bit AES encryption and it's free to use no matter the features you want to try.
Pros:
Constant support and updates from developers
Free to use with no option to buy
Adds a 256-bit AES encryption for your archives.
Cons:
The compression ratio isn't as high as the one provided by other standalone apps, such as Commander One.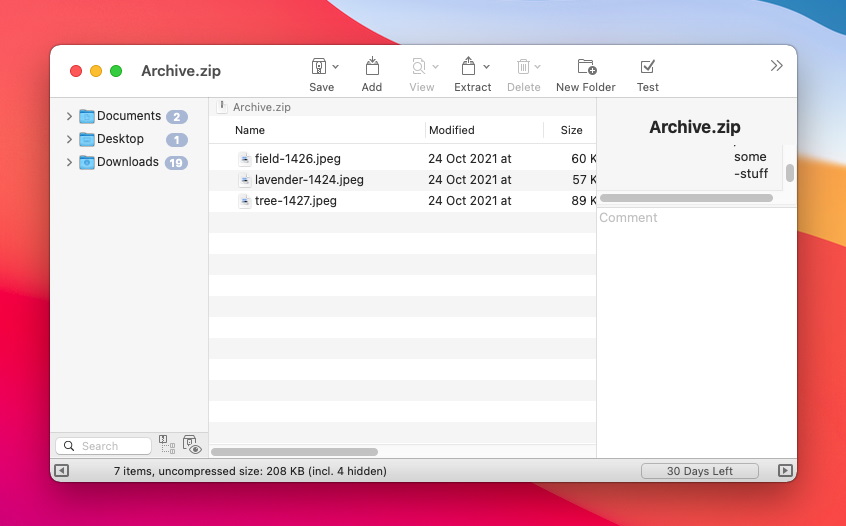 The last ZIP program for Mac we're analyzing in this article is BetterZip and its place on this list is no indication of its quality. It's still a very potent archive creator and decompressor that can deal with formats like ZIP, TAR, TGZ, XAR, 7-ZIP, and more.
Not only that you can create and extract archives with it, but you can also edit, rename, and delete files in an archive. This is an excellent ZIP tool for Mac because it deals with numerous compatibility issues other similar software doesn't deal with.
Pros:
Offers strong AES-256 encryption for your sensitive files
Doubles as a password manager so you can easily compress password-protected content
Smooth user interface.
Cons:
It comes with an automation option through AppleScript however the system is not stable just yet.
Conclusion
Now you should have absolutely no issues when it comes to compressing a file on Mac. Any of the seven apps we suggest can easily be chosen as the best Mac compression software. It's now up to you to go through them and choose the best Mac zipping program according to your needs.
As you can see, each has strengths and weaknesses and you can get different results. All that's left now is to test them and see how everything goes. We just hope we gave you the needed help by reducing the list of hundreds compress software Mac-compatible apps to just seven programs.
FAQ