Graphic designers, photographers, and other artists rely on Adobe Photoshop on a daily basis, and most have at least some experience with Photoshop crashing unexpectedly. While any sudden crash is annoying, it's often possible to recover unsaved Photoshop files, and you may not even need to download and install a dedicated data recovery app.
Why Is Photoshop Crashing?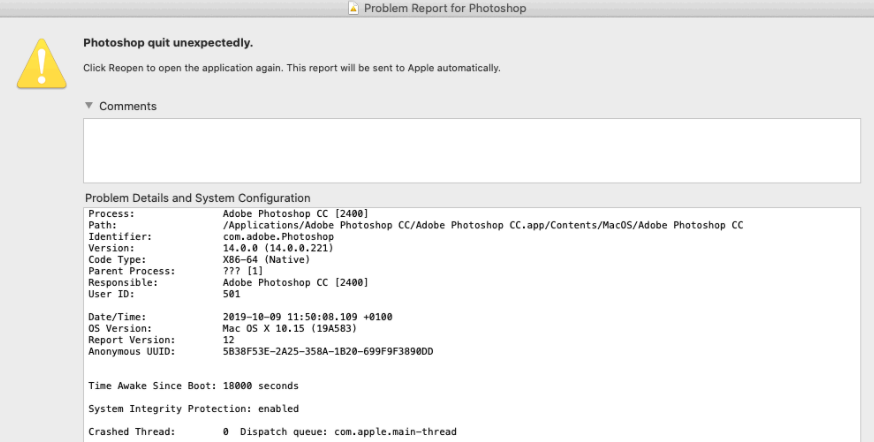 Even though Adobe Photoshop has been available since 1990, there's no shortage of users reporting catastrophic crashes. Just take a look at these examples gathered from Adobe's discussion board:
One hour ago, I downloaded PS CC 2019. I have made no progress on my artwork during this time because of this application keep crashing. (Source)
Started from last night, Photoshop keeps crashing after launch, the time varies from immediately to about one minute, regardless of the task being done. (Source)
I downloaded Photoshop with the adobe cloud package along with multiple other things like Illustrator, After Effects, etc. Everything else I've downloaded loads and opens fine, but Photoshop just crashes every time I open it. (Source)
As you can see, even the latest versions of Photoshop sometimes crash, but why? Unless the user encounters an unfixed bug, one of the following five causes is typically to blame:
⏳

Outdated operating system:

If you're using an old version of macOS, you may encounter bugs that Photoshop developers are not aware of because they focus their attention on supporting the latest version of Apple's operating system. The solution here is simple: upgrade your operating system.
🖥️

Hardware issues:

Photoshop is a demanding app that requires a fairly powerful CPU and GPU to run smoothly. If your hardware resources are so limited that every action in the app takes forever, then you shouldn't be surprised when Photoshop hangs up and refuses to budge.
🗄️

Insufficient amount of RAM:

Apple has never been very generous when it comes to the amount of RAM with which it equips its computers. If you're using a basic Mac with just 8 GB or less of RAM, then you should close as many apps as possible to give Photoshop more room to breathe. Without enough RAM, the app is unlikely to perform well.
🗂️

Low storage space:

Likewise, you must prevent your hard drive from becoming completely full because Photoshop needs to save various temporary files, which is not possible when it doesn't have anywhere to store them. A fast solid-state drive (SSD) is a good investment that can improve not only Photoshop's performance but also stability.
📼

Buggy plugins:

Photoshop plugins are great, but they're also an ongoing source of stability problems for its users. The developers of third-party plugins are rarely as skilled as the developers working for Adobe, which is why there are so many plugins that cause Photoshop to become unstable or even unusable.
Now that you understand why Photoshop quits unexpectedly from time to time, it's time that we explain how to recover Photoshop files on Mac.
How to Recover Deleted Photoshop Files
Accidentally deleting the wrong Photoshop file is a fairly common problem that most users will sooner or later run into. Fortunately, there are several proven methods for restoring accidentally deleted Photoshop files that anyone can try without much effort.
Method 1:

Trash Folder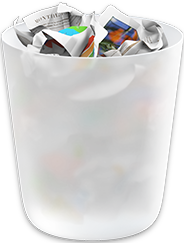 Have you checked the Trash folder already? If not, go ahead and do it now. The Trash folder is where Mac keeps deleted files to make it possible for users to easily restore them without any special software.
To recover a deleted Photoshop file from Trash: 
Open the Trash folder from the Dock.
Locate your PSD file.
Move the file to a different folder.
This method won't help you get back permanently deleted files, but the next two methods can, at least if you hurry up and begin the recovery process before the permanently deleted files get overwritten and become impossible to recover.
Method 2:

Time Machine

Apple's backup application for macOS can reliably recover all deleted PSD files, but it won't help you unless you've activated it in the past. If you have, you're in luck because you can simply follow the steps below and recover your files without installing any additional software.
To recover a deleted Photoshop file using Time Machine: 
Connect your Time Machine backup disk to your Mac.
Navigate to the folder where the Photoshop file was stored.
Click the Time Machine icon in the Menu bar and choose Enter Time Machine. 
Use the timeline or up/down arrows to select a backup that contains your file.
Select the file and click Recover. 
Unfortunately, Time Machine can't recover Photoshop files that were saved in any other file location besides your system drive. If you need to recover a PSD file from an external hard drive, USB flash drive, or memory card, use the next method instead.
Method 3:

Data Recovery Software

The Mac gives its users several ways to recover deleted files, but sometimes it's necessary to take out the big guns: data recovery software.
Such software carefully examines the content of a storage device to find all traces of deleted files. The best data recovery software solutions available support hundreds of file formats, including Photoshop files (PSD) and all other image file formats commonly used by Photoshop users, such as PNG, TIFF, JPG, GIF, and so on.
Contrary to what some Mac users believe, some data recovery software apps are just as easy to use and polished as Time Machine. A great example of an easy-to-use data recovery app that delivers professional results is Disk Drill.
With Disk Drill, it's possible to recover deleted Photoshop files with a few clicks and from any device. The basic version of Disk Drill can be downloaded for free directly from its official website, so you don't even have to take out your credit card just to see if the files you're looking for can still be recovered.
To undelete lost Photoshop files with Disk Drill:
Download and install Disk Drill for Mac. 
Launch Disk Drill and scan the storage device on which the lost PSD files were located.
Wait for the scan to finish.
Go through the scan results, check each file you want to get back, and click Recover.
Select a suitable recovery destination. 
You can now go to the recovery destination and verify that your PSD files have been successfully recovered. That's how easy recovering deleted files with Disk Drill is.
How to Recover Unsaved Photoshop Files
There are three main locations where Photoshop files that haven't yet been saved: RAM, the AutoRecover folder, and temporary files.
While technically possible, recovering unsaved Photoshop files from RAM is something even data recovery professionals are unlikely to succeed with unless they get extremely lucky. Fortunately, recovering PSD files from the AutoRecover folder and temporary files is much easier.
Method 1:

AutoRecover Folder (Photoshop AutoSave Location)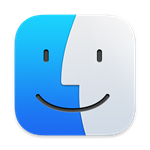 Adobe Photoshop gives its users the option to automatically save recovery information once in a while. When this feature is enabled in Preferences > File Handling, it becomes possible to get back unsaved files from the AutoRecover folder, also referred to as the AutoSave location.
Here's where the AutoRecover folder is located:
~/Library/Application Support/Adobe/Adobe Photoshop XXX/AutoRecover
Make sure to replace "Adobe Photoshop XXX" with your specific version of Photoshop, such as "Adobe Photoshop 2020."
To recover a PSD file from the AutoRecover folder: 
Open Finder.
Select Go from the Menu bar and choose the Go to Folder option. 
Enter the location of the AutoRecover folder.
Select your unsaved Photoshop file.
Copy it to a safe location.
Method 2:

Temporary Files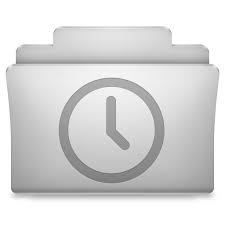 If you don't find the PSD file you're looking for in the AutoRecover folder, you should also look for it in the Temporary Files folder. This is a special hidden folder on every Mac where the operating system and app store files that may or may not be needed in the future.
Unfortunately, this method is fairly unreliable because temporary files are automatically deleted when Photoshop is closed or your Mac is rebooted. Still, it takes just a minute to try it, and you never know when luck is going to be on your side.
To recover a Photoshop file from Temporary Files on Mac: 
Open Finder and go to Applications > Utilities.
Launch Terminal.
Enter the following command and press Return: open $TMPDIR
Look for the unsaved Photoshop file.
Copy it to a safe location.
Method 3:

Open Recent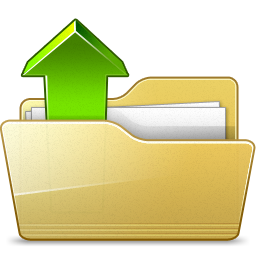 We're mentioning this recovery method as a bonus. In fact, it's not really even so much a recovery method as it is an alternative way to access Photoshop files after they've been closed unexpectedly.
Here's how you can open recently closed Photoshop files:
Launch Adobe Photoshop.
Select File from the Menu bar.
Click Open Recent and select your Photoshop file.
If the file isn't there, it means that Photoshop isn't aware of its existence and confirms that you haven't saved it. If the file is listed among recent files, but you can't open it, then it's possible that the file has been accidentally deleted. In the next section of this article, we explain how to recover deleted Photoshop files.
FAQ: