Thanks to their convenient form-factor and excellent capacity, SD cards have become ubiquitous for storing all kinds of data, mainly pictures and videos. The latest SD card specification, announced in 2018 by the SD Association, bumped the maximum storage capacity of SD cards to 128 terabytes, so it's only a matter of time before the first person loses multiple terabytes of data as a result of a single misclick.
Of course, losing just a few pictures of videos can be heartbreaking, which is why all Mac users should learn how to recover deleted files from SD card on Mac computers using several different methods, including free SD card recovery software for Mac.
SD Card Recovery Tips
If you want to see with your own eyes why SD card recovery software for Mac computers is so important, you should visit a discussion board frequented by professional photographers and search for the phrase "data loss."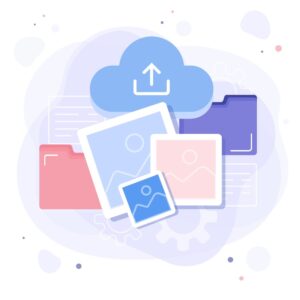 We guarantee you that you will find dozens and maybe even hundreds of posts from professional photographers who have either accidentally deleted some important pictures or formatted the wrong SD card by mistake. Data loss is especially common among wedding photographers because even relatively small weddings can get chaotic very quickly, especially when alcohol is involved.
Being paid to take pictures of the most important day in someone's life only to lose everything in the blink of an eye is a panic-inducing situation, and the same can be said about all other data loss scenarios.
However, it's paramount to stay calm and take certain steps to maximize the chance of successful data recovery.
Stop using the SD card as soon as possible:

If you accidentally format an SD card while playing with your digital camera, you must stop using it as soon as possible otherwise you risk overwriting the storage space that was occupied by the deleted files and making data recovery impossible.

Don't reformat the SD card:

Reformatting the SD card won't give you back your data, so make sure to avoid it and skip straight to one of the three data recovery methods described in this article.
Method 1:

Recover Files from the Trash on Mac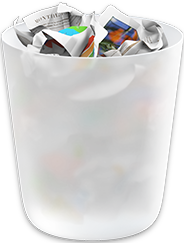 On your Mac computer, there is a special folder called Trash. When you delete a file, the file is first moved to this folder before it is deleted for good. Trash guarantees 100% recovery success rate, and you don't need any special software to use it.
To Recover Deleted Files from Trash:
Step 1. Click on the Trash icon in the Dock.

Step 2. Find your deleted files and highlight those that you want to recover.
Step 3. Either right-click on them and select "Put Back" or drag and drop them onto the Desktop or into the folder where they belong.

What if you can't find the files deleted from your SD card in Trash? In that case, you should use SD card recovery software for Mac, which is where the next method comes in.
Method 2:

Use Data Recovery Software

Data recovery software allows you to undelete even files that are no longer in Trash. Many people associate data recovery software with expensive data recovery services, but that couldn't be further from the truth. These days, it's easy to find excellent data recovery software solutions that target regular home users and can recover most file formats you will ever come across, including documents, pictures, videos, audio, and more.


One such data recovery software solution is Disk Drill for Mac. This SD card recovery software for Mac targets professionals and home users alike, and it packs a whole host of useful disk tools that cover everything from data backup to disk health monitoring.
Disk Drill for Mac can recover deleted files from all kinds of memory drives and storage devices—not just SD cards.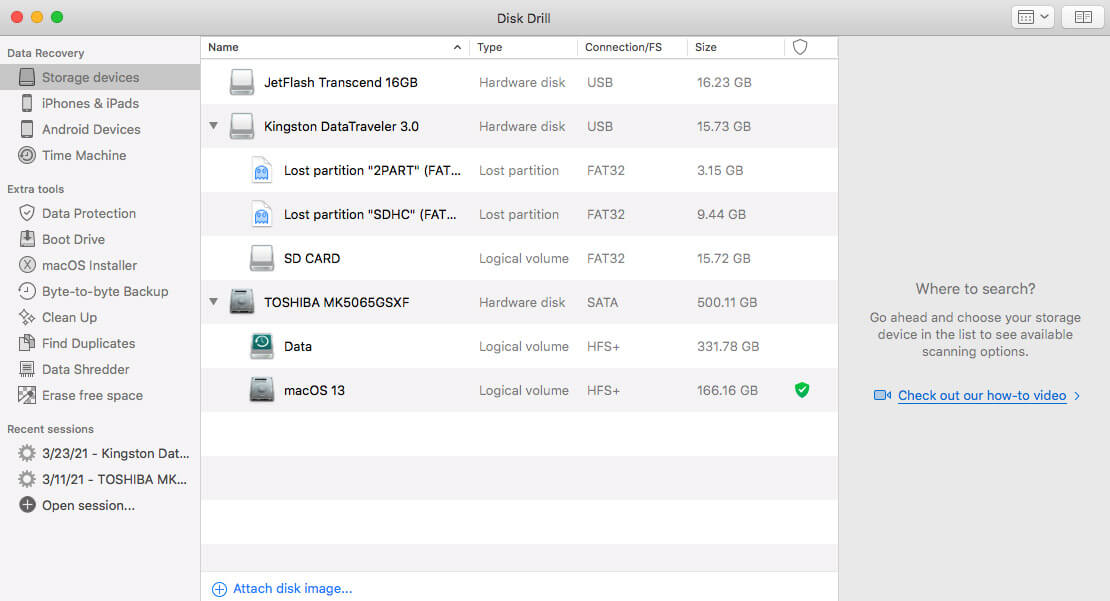 You can scan and preview you data without paying any money, and the Pro version costs just $89, with lifetime upgrades available as an optional extra for $29.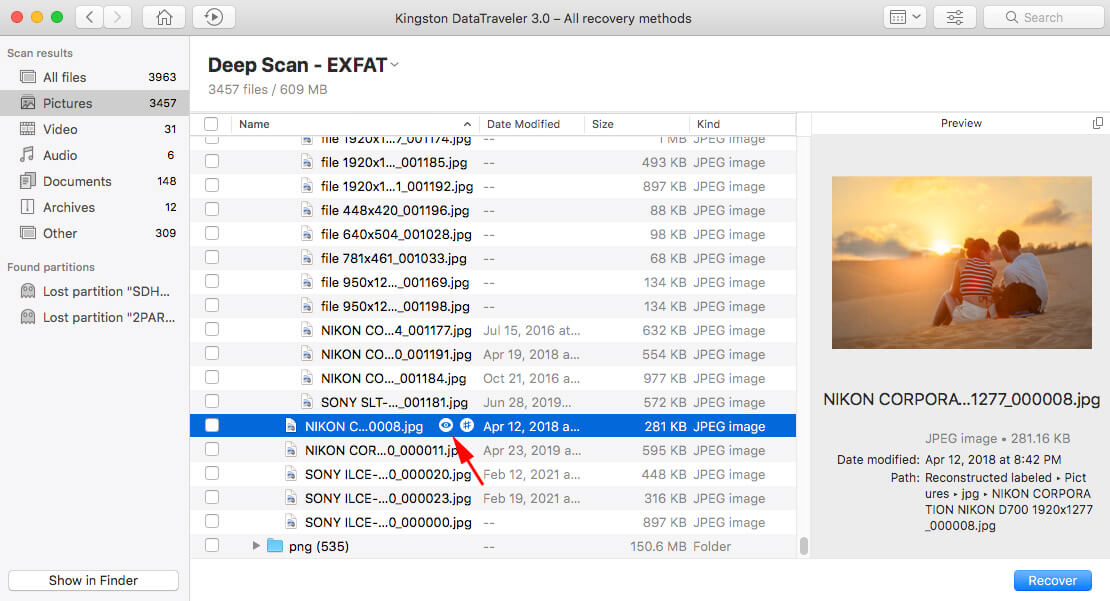 To Recover Deleted Files from SD card:
Step 1. Download Disk Drill for Mac and install it.
Step 2. Insert your SD card into your Mac computer.
Step 3. Open Disk Drill for Mac.
Step 4. You should see your SD card with a button titled "Recover" next to it. Click on the button.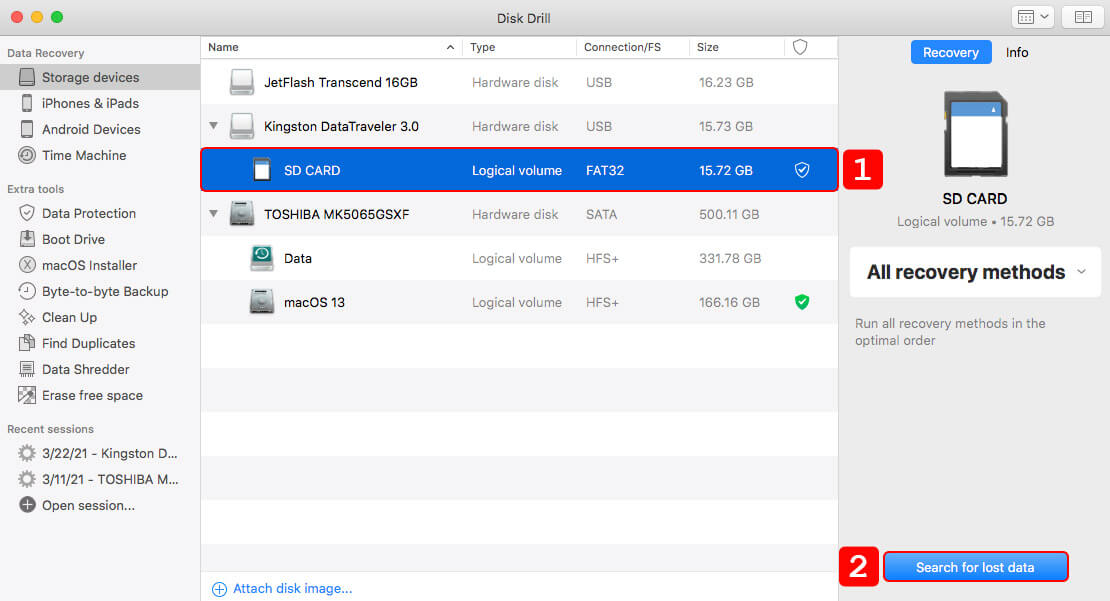 Step 5. Select which files you want to recover and click "Recover" again.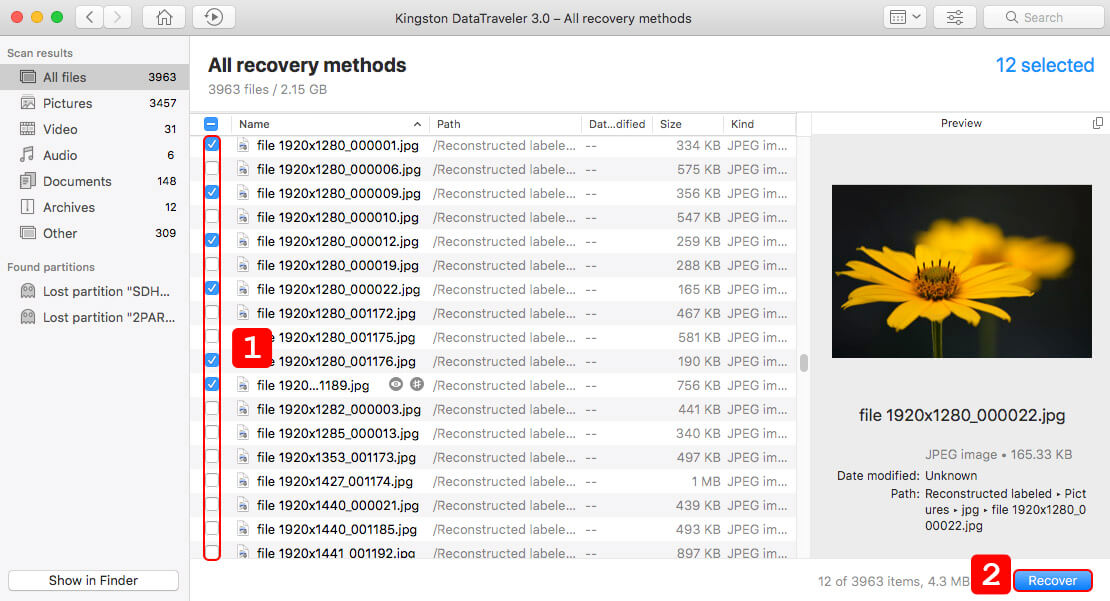 Disk Drill for Mac allows you to specify the recovery directory, which can save you some time. Just make sure to never recover any deleted files to the same directory or storage device where they were originally located.
Method 3:

Recover Deleted Files on Mac with Time Machine
Time Machine is a backup software application that comes with all recent versions of macOS. When enabled, it automatically creates backups of all files, including apps, music, and photos, just to give a few examples, so you can easily restore them in the future if needed.
To Recover Deleted Files with Time Machine:
Step 1. Launch Time Machine by clicking on the icon in the menu bar.
Step 2. Find the files you want to restore using the onscreen up and down arrows.
Step 3. Once you have located the files you want to restore, click the Restore button.
FAQ
To fix a corrupted SD card on a Mac, open the Disk Utility app and select your SD card from the detected drives on the left. Choose First Aid at the top of the screen, then select Run. The Disk Utility app will try to fix your SD card and make it readable again.
The Disk Utility might be able to help you make an unreadable SD card readable again, but it can be a hit or miss.
To recover deleted photos from SD card on Mac:
Download Disk Drill for Mac.
Launch it and select your SD card.
Choose which deleted photos you want Disk Drill for Mac to recover.
Click Recover button.
Conclusion
When it occurs to you that you have accidentally deleted important photos, you should immediately head over to the Trash folder and see if they can be recovered from there. If that fails, your only chance is a data recovery software application like Disk Drill for Mac, which can recover not just photos but also videos, documents, audio, and many other file formats.