Whether you're a professional, a hobbyist, or just someone who's taken their fair share of pictures, you're probably no stranger to a photo disaster. Accidental deletion, overwriting, and corrupted files can all strike when you least expect it. And they can all cause a serious headache.
Thankfully, there are quite a few options to choose from when it comes to SD card recovery software for Mac. This guide takes a deeper dive into six of those software options in particular.
What to Look for in SD Card Data Recovery Software for Mac
Not all SD card recovery software is built equal. And if you're in the market for the best tools in the industry, there are a few things in particular to be on the lookout for.
Recovery Power– File systems, formats, scanning depth, and more all come into play with how effective a software option is at actually recovering your files.

Ease of Use– The most powerful software isn't going to mean a thing if you don't know how to use it. Great software will be user-friendly and look great.

Great Value– Some software options charge more than they're worth. Look for software that provides as much value as it takes from your wallet.

Additional Tools– From backup assistants and file sorting to data protection features and hex editors, the best SD card data recovery software will come with plenty of useful extra tools.
Best SD Card Recovery Software for Mac
If you've tried the other methods of recovering your card data, there are plenty of both paid and free software to recover deleted photos from an SD card out there.
Below, we take a look at six options in particular.
Disk Drill is professional-grade file recovery software that's powerful enough for data recovery experts but so user-friendly even beginners can take advantage of it. The graphical user interface is clean, modern, and easy to navigate.
The recovery methods are especially great at restoring a wide variety of file types. And there is a host of additional tools to keep your data safe and secure. One of the only drawbacks is it isn't free.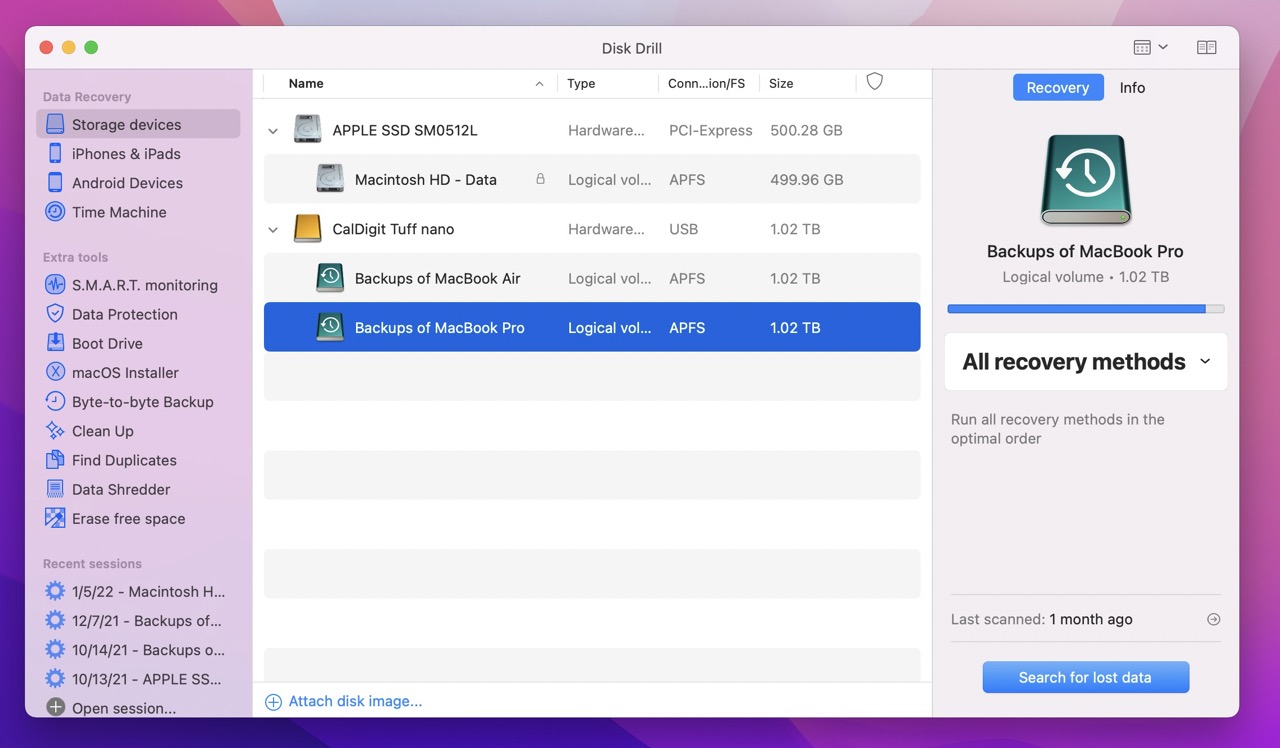 Features:
Several Recovery Strategies

. For smaller jobs, Quick Scan looks for signatures of known partition headers. Deep Scan, on the other hand, scans for lost data on a sector-by-sector basis. No matter how extensive your recovery needs are, Disk Drill can help.

Plenty of Additional Tools

. Including S.M.A.R.T. Monitoring, Duplicate Finder, Byte-to-Byte Backup, Data Protection, and more.

Supports Many Formats & Devices

. With support for 400+ file formats and a wide range of compatible devices (SD and micro SD cards, flash drives, external hard drives, cameras, and more), Disk Drill is one of the most versatile SD card recovery programs available.
Pros
Supports all common SD card file formats
Polished and user-friendly interface
Multiple recovery methods
Compatible with 400+ file formats
Cons
Only preview of found files in free version
Can't scan individual folders
Doesn't support Linux
Pricing:
Free version lets you preview your files, while PRO version (unlimited recovery, advanced features, etc.) is $89.
System Requirements:
macOS X 10.11.6 or higher.
TestDisk is fully open-source software, meaning it's completely free data recovery software for Mac (one of the few). It's also as versatile as it is powerful. In fact, it's even used by data recovery professionals.
While its primary purpose was to recover lost partitions and make non-booting disks bootable again, its companion freeware program PhotoRec specializes in recovering lost media files. However, its usability suffers due to a lack of a graphical interface.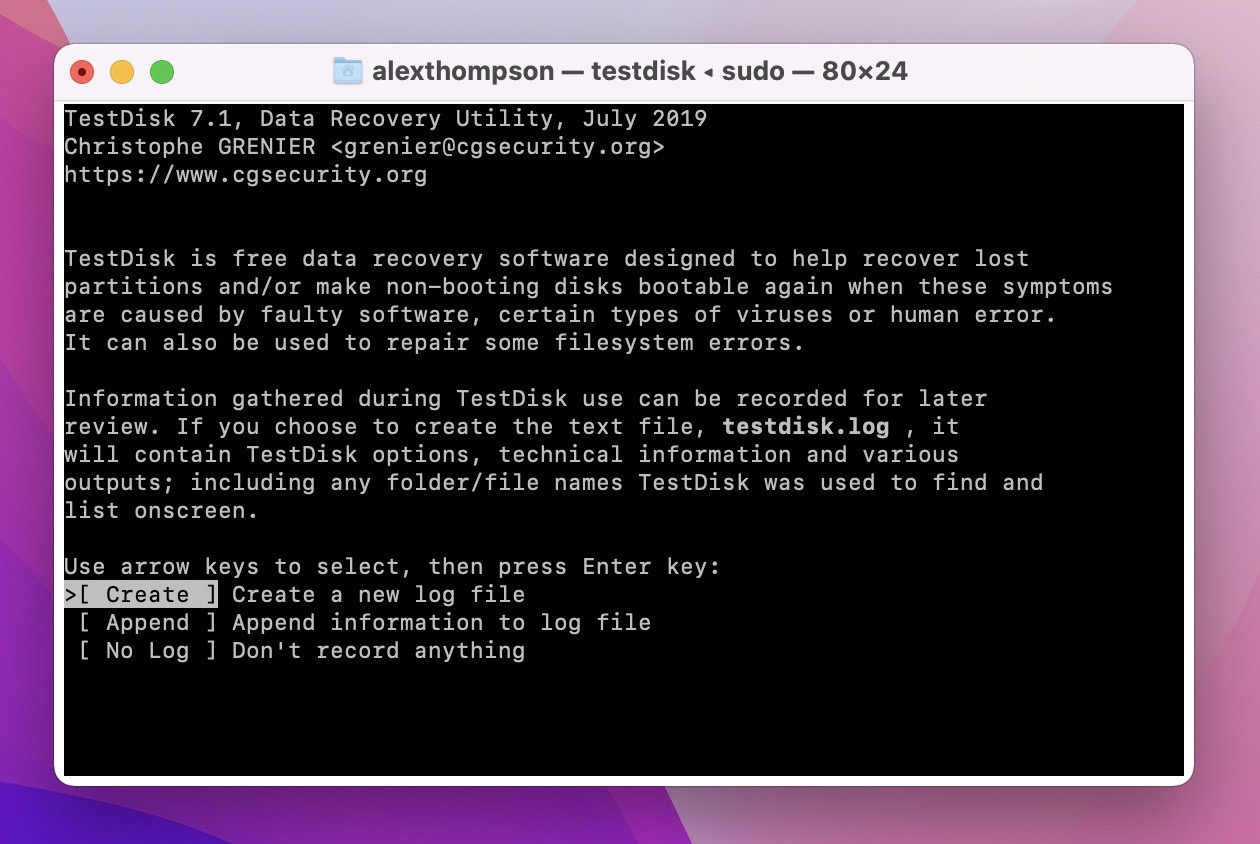 Features:
Versatile

. With TestDisk and PhotoRec combined, Mac users can recover a wide range of file formats, including those commonly found on SD cards (exFAT, FAT32, and NTFS). It can also recover HFS, ext2, ext3, ext4, HFS, JFS, JPG, PNG, PDF, TXT, and many more file types.

Supports Multiple Operating Systems

. Including macOS, Microsoft Windows (from NT 4.0 to Windows 10), Linux, FreeBSD, NetBSD, Open BSD, and SunOS.

Powerful Recovery Options

. Can be used to rebuild broken file tables and boot sectors. It can also make non-booting disks bootable again.
Pros
Powerful data recovery tools
Supports many file systems and types
Works with multiple operating systems
Free SD card recovery software for Mac
Cons
No graphical interface
May be difficult for beginners
Pricing:
Free and fully open source.
System Requirements:
macOS X 10.14 or higher.
An advanced data recovery application, R-Studio offers plenty of powerful recovery features that make it a great choice as an SD card recovery program. It leverages advanced recovery algorithms that detect specific file signatures for certain file types including documents and images, giving it a leg up over other recovery options. That being said, the free version of R-Studio has limited recovery capabilities, and casual users may find the interface too complex.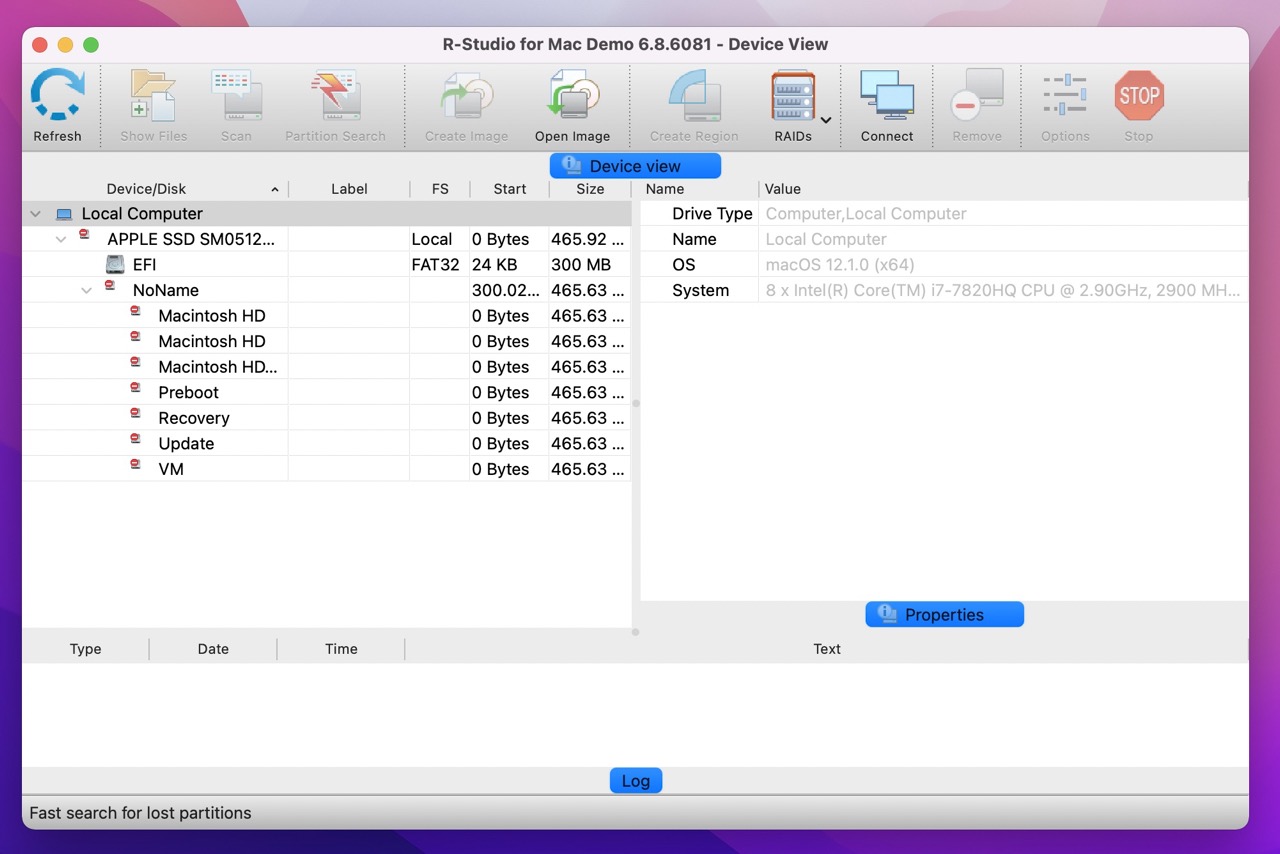 Features:
Plenty of Supported File Systems

. Including APFS, HFS+, FAT12/FAT32/exFAT, NTFS/NTFS5, and many more.

Other Helpful Tools

. Built-in hex editor, support for damaged RAID recovery, and recovery over network are just some of the additional recovery tools included.

Solid Usability Features

. Usability features like File Sorting let you easily sort found files by original structure, file extension, or file creation/modification time. Plus, you can see estimated recovery chances using File Viewer.
Pros
Lots of supported file systems and types
Leverages sophisticated recovery algorithms
Plenty of advanced features
Great usability options
Cons
Moderately complex graphical user interface
Limited recovery capabilities with free version
Paid version prices depend on number of licenses
Pricing:
Free version has a 256 KB file size recovery limit. Paid versions start at $63.99 for a single license.
System Requirements:
macOS X 10.4 or higher.
Remo Recover from Remo Software is another useful recovery software for SD card. With a free demo version, plenty of supported file types, 24/7 support, and an easy-to-understand interface, it's a solid option for tech novices. However, limited recovery capabilities for the trial version and some file system incompatibilities can be problematic.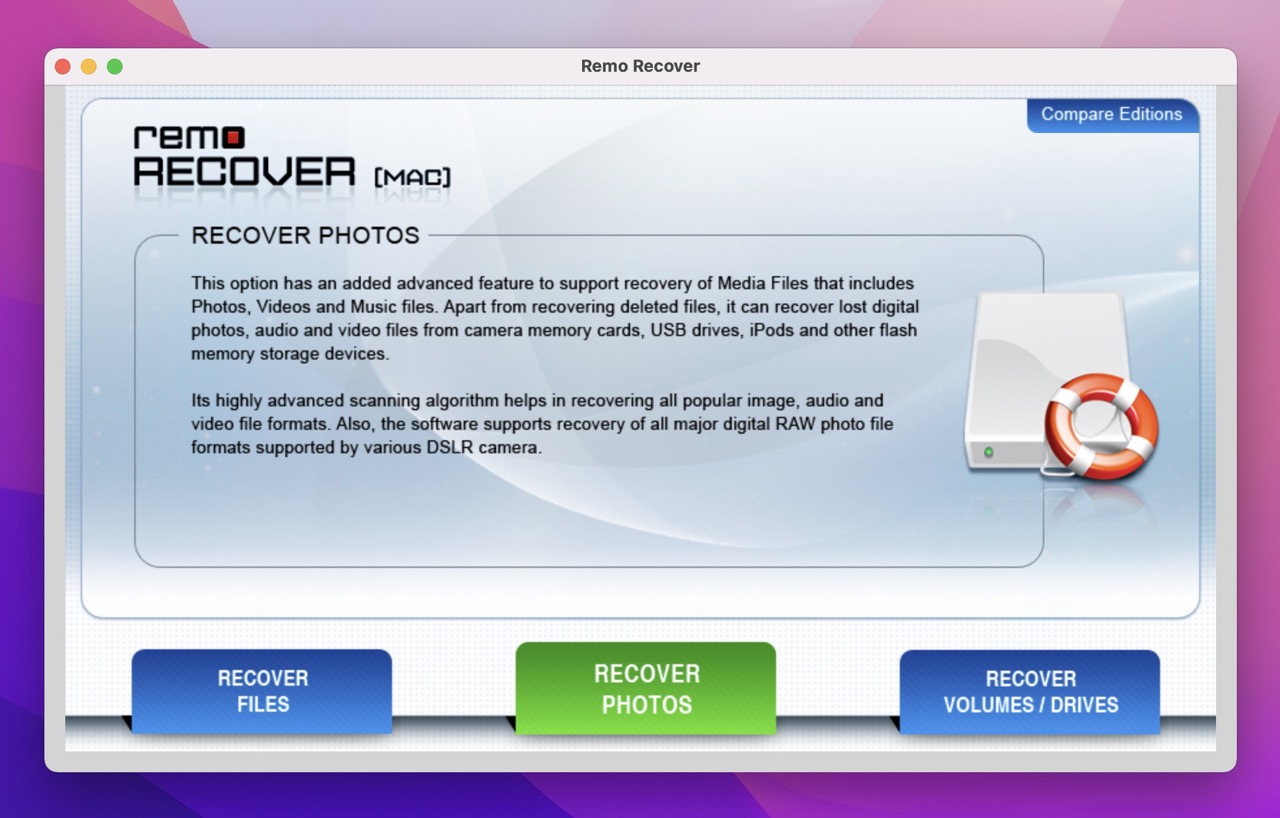 Features
Detects Lots of File Formats (300+)

. Including JPEG, RAW, CR2, ORF, NEF, RAF, SR2, TIFF, TIF, PNG, AVI, MOV, MPF, MPEG, MP3, WMA, MIDI, AIF, and many more.

Solid GUI

. The graphical user interface is simple and straightforward, making Remo Recover an especially useful memory card recovery software for beginners and the less tech-inclined.

Deep Scan

. This advanced scan mode lets users recover lost files from severe data loss scenarios like formatted, corrupted drive recovery.
Pros
Supports over 300 file formats
User friendly
24/7 tech support
Cons
Mac version does not support FAT12, FAT16, FAT32, exFAT, NTFS, or NTFS5.
Mac version is more expensive than Windows
Cannot recover any files in free version
Pricing:
Free download lets you scan and preview. But if you want to restore files from your SD card, you'll need to purchase the Media Edition for $69.97 or the Pro Edition for $94.97.
System Requirements:
macOS X 10.5 or higher.
Stellar is a highly polished and feature-rich SD card recovery program. It offers a slew of powerful data recovery tools, a particularly modern and user-friendly interface, and a free SD recovery tool version you can use to restore up to 1 GB of files. All its polish comes at a price, however. While the recovery capabilities are sound, scans are often slow. Plus, paid versions start at $59.99 yearly.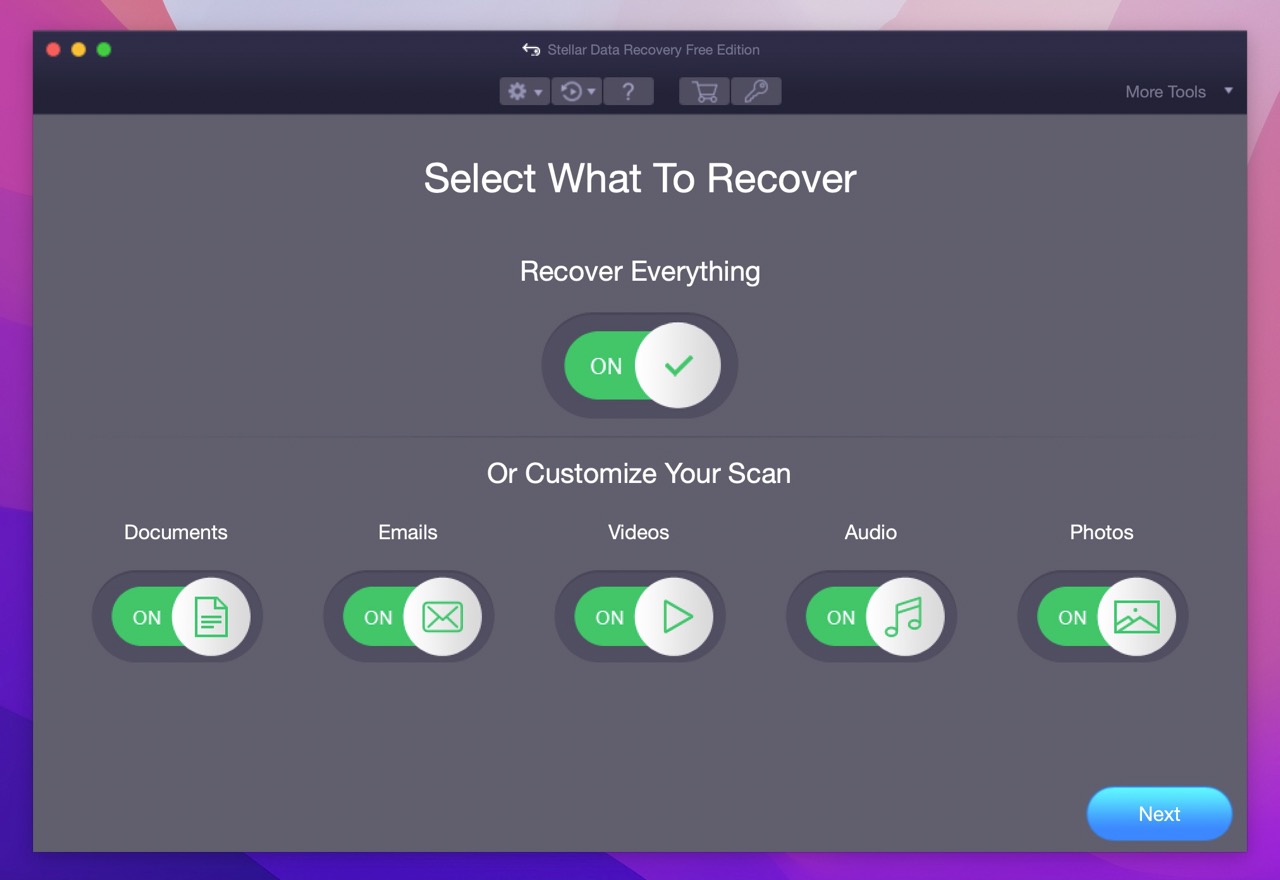 Features:
Supports Most File Systems

. Can recover from most file systems, including NTFS, FAT, FAT16, FAT32, exFAT, ext2, ext3, ext4, HFS, HFS+ and APFS. File formats include archive files, songs, database files, images, videos, documents, and more.

Straight Forward Interface

. Exceptionally user-friendly. Stellar's free SD recovery tool is very easy to navigate, and users never have to guess what steps to take next, no matter what screen they're on.

Powerful Recovery + Extra Features

. Premium versions offer advanced features like dual scanning modes (normal and deep), file repair, and even a feature that you can use to create clone a failing memory card and recover from its backup (making the data recovery process as safe as possible).
Pros
Modern and user-friendly interface
Supports custom file formats
Recover up to 1 GB of data with free version
Cons
On the slower side
Yearly license subscription
Pricing:
Free version lets you restore up to 1 GB of files. Paid versions start at $59.99 a year.
System Requirements:
macOS X 10.11 or higher.
Originally just for Macs, Card Rescue is a product of WinRecovery software. It's also one of the oldest SD recovery programs on this list. The functionality is simple and to the point, making it better for beginners than some other more complicated options. However, Card Rescue is lacking compared to other recovery options, both in terms of recovery capabilities and additional features.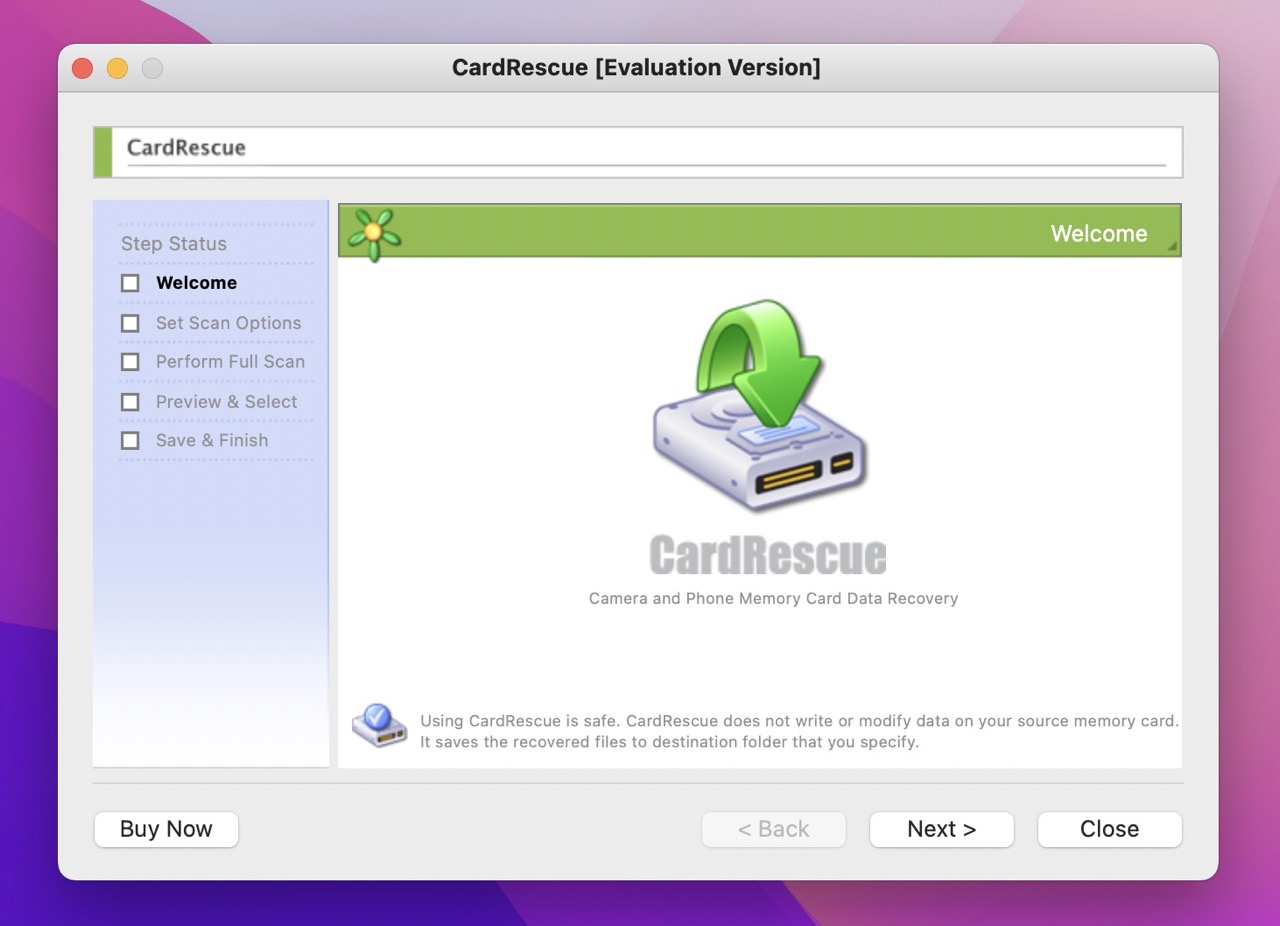 Features:
Easy to Use

. The interface is straightforward and user-friendly. Just select the card you'd like to scan, pick out the file types to look for, set a restore destination, and hit go.

Supports Most Photo File Types

. Including JPG, PNG, RAW, BMP, TIF, NEF, X3F, ORF, and more.
Pros
Clean interface
Relatively inexpensive
Cons
Only works with an SD or micro SD card
Limited capabilities
Pricing:
You can only preview files with the free version. To restore files, you'll need to buy a lifetime license for $39.95.
System Requirements:
macOS X 10.4 or higher.
Conclusion
Just because you've deleted or accidentally overwritten your favorite photos doesn't mean they're gone forever. Luckily, there are a number of options (both paid and free) for SD card recovery software for Mac to choose from. But in our experience, Disk Drill is the best choice out there.
As with any data recovery disaster, though, the absolute best step you can take is prevention by following regular and consistent backup best practices.