Since the advent of high-definition cameras, video files have become so large that storing more than a couple of hours of raw footage on the average Mac is often not an option. As such, many Mac owners are forced to get rid of their old videos to free up storage space for new ones, and they sometimes accidentally delete important recordings in the process.
If you've recognized yourself while reading the introductory paragraph, we have good news for you: video recovery from a Mac is possible, and we explain the process step by step in this article.
How to Find Videos on a MacBook
This section covers all the ways to locate your videos on your Mac. It's a good idea to try these methods first because your video may not actually be deleted, just missing… But it's also useful to learn them so you always know how to find your videos. Fortunately, Mac's file system provides users with powerful tools to manage and locate any file – even if you don't remember its file name. How? Read on.
Default Folder
Just for reference, videos on Mac are stored in the "Movies" folder by default. You can navigate to that folder by:
opening Finder > Go > Home > Movies
Finder > Go to folder…
Then enter the following path into the box: /Users/"username"/Movies and replace "username" with your own username on your Mac.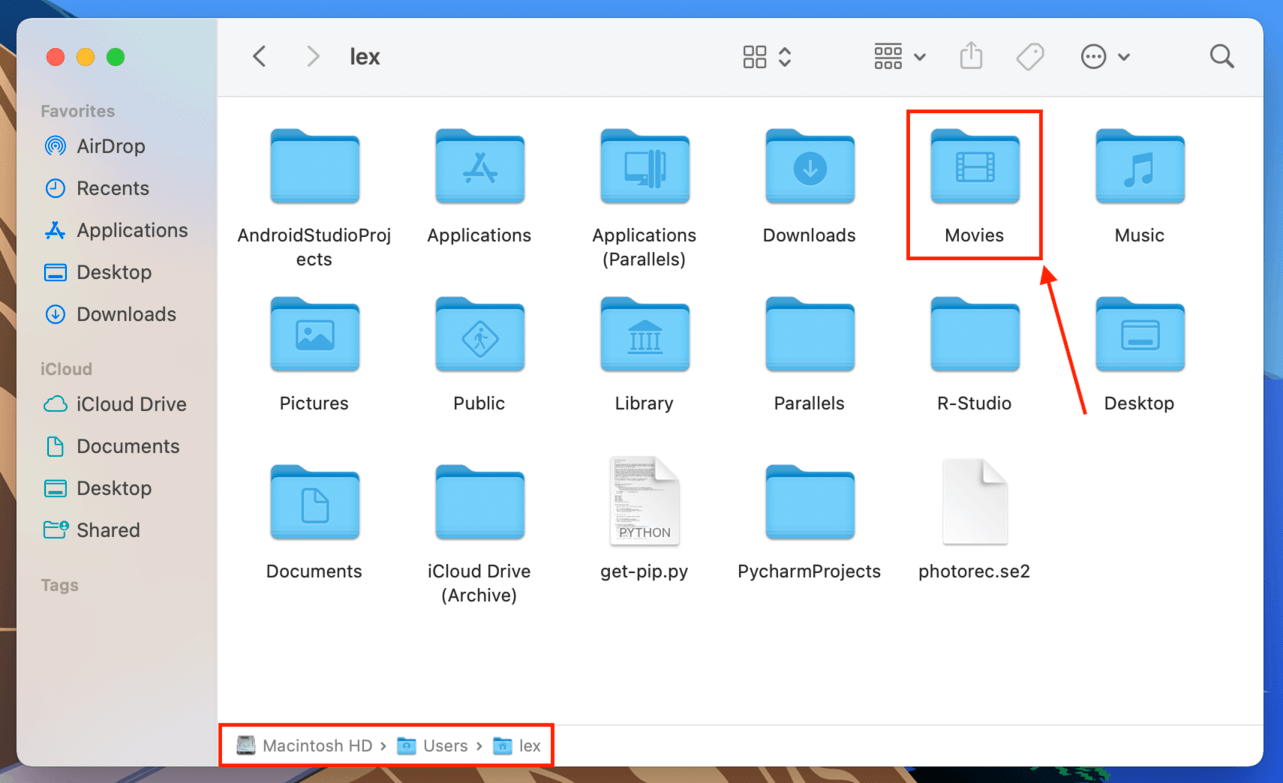 Finder
Finder has an advanced search bar that lets you efficiently find your videos by defining specific parameters (name, kind, date, author). To start defining parameters, open Finder, type something in the search bar, and click the + sign in the top-right corner of the window.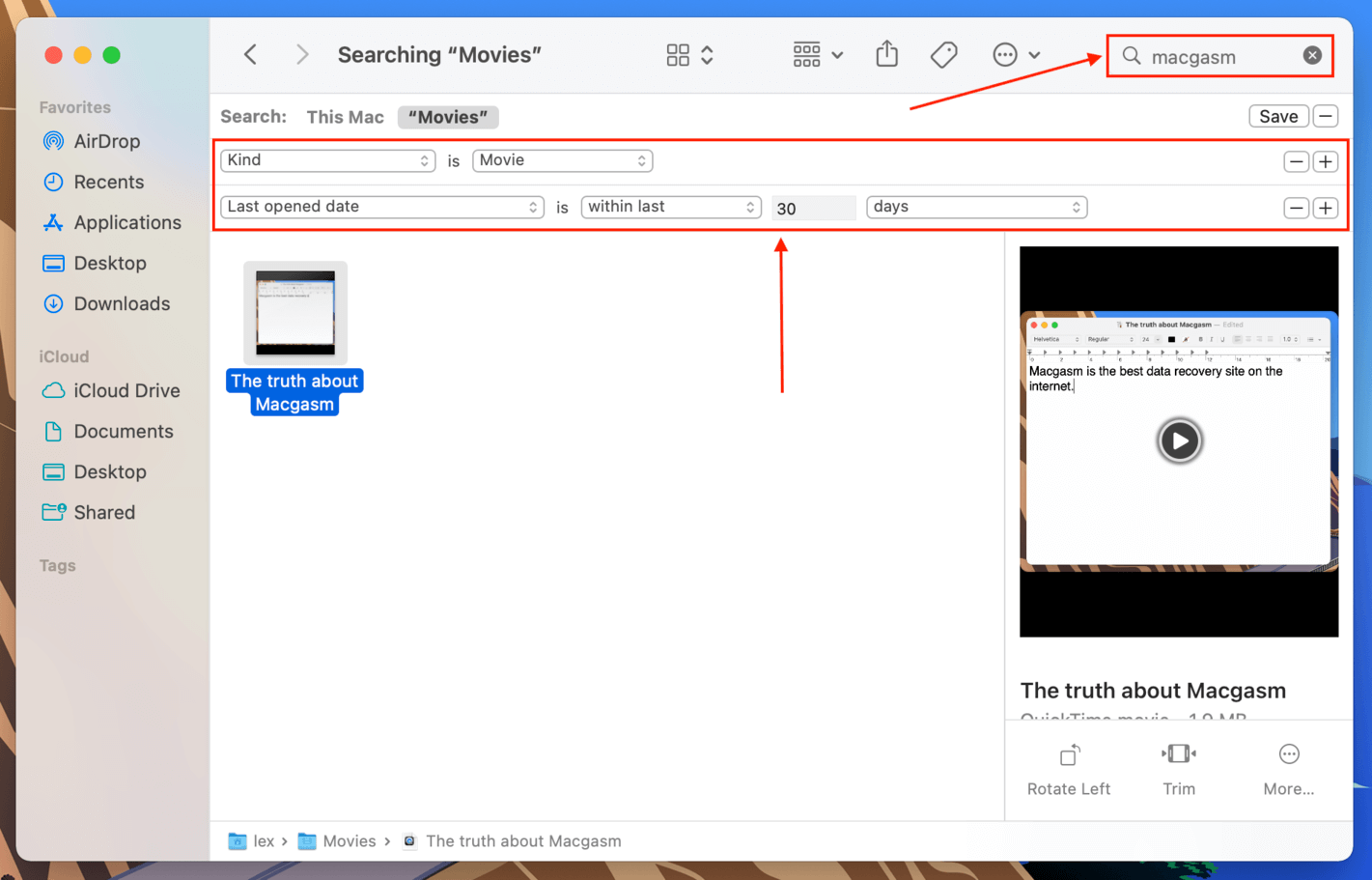 Spotlight Search
Spotlight is Mac's powerful search technology where you can use different queries (name, kind, date, author – basically, Finder advanced search parameters) to more easily find your video.
Hit (CMD + Space) and type "kind:mov date: this week" in the Spotlight search bar to sift through .MOV files you created yesterday. Swap out queries based on what you know about the file.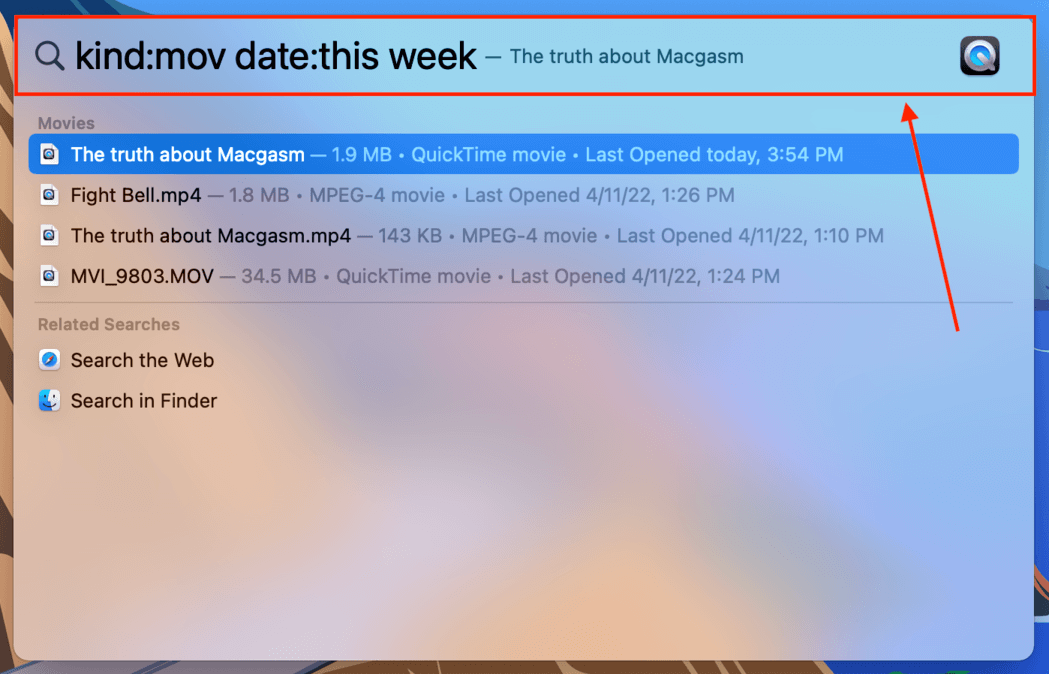 Recents Folder
Mac also stored files you recently created or opened in the "Recents" folder, which you can find in the left sidebar of your Finder window (under Favorites). You can use the search bar here as well to find your video faster. If you can't find it, you may need to enable it in Finder Preferences.
Open Finder, then on the Apple menu bar, click Finder > Preferences… and navigate to the Sidebar tab. Enable "Recents" under the Favorites section.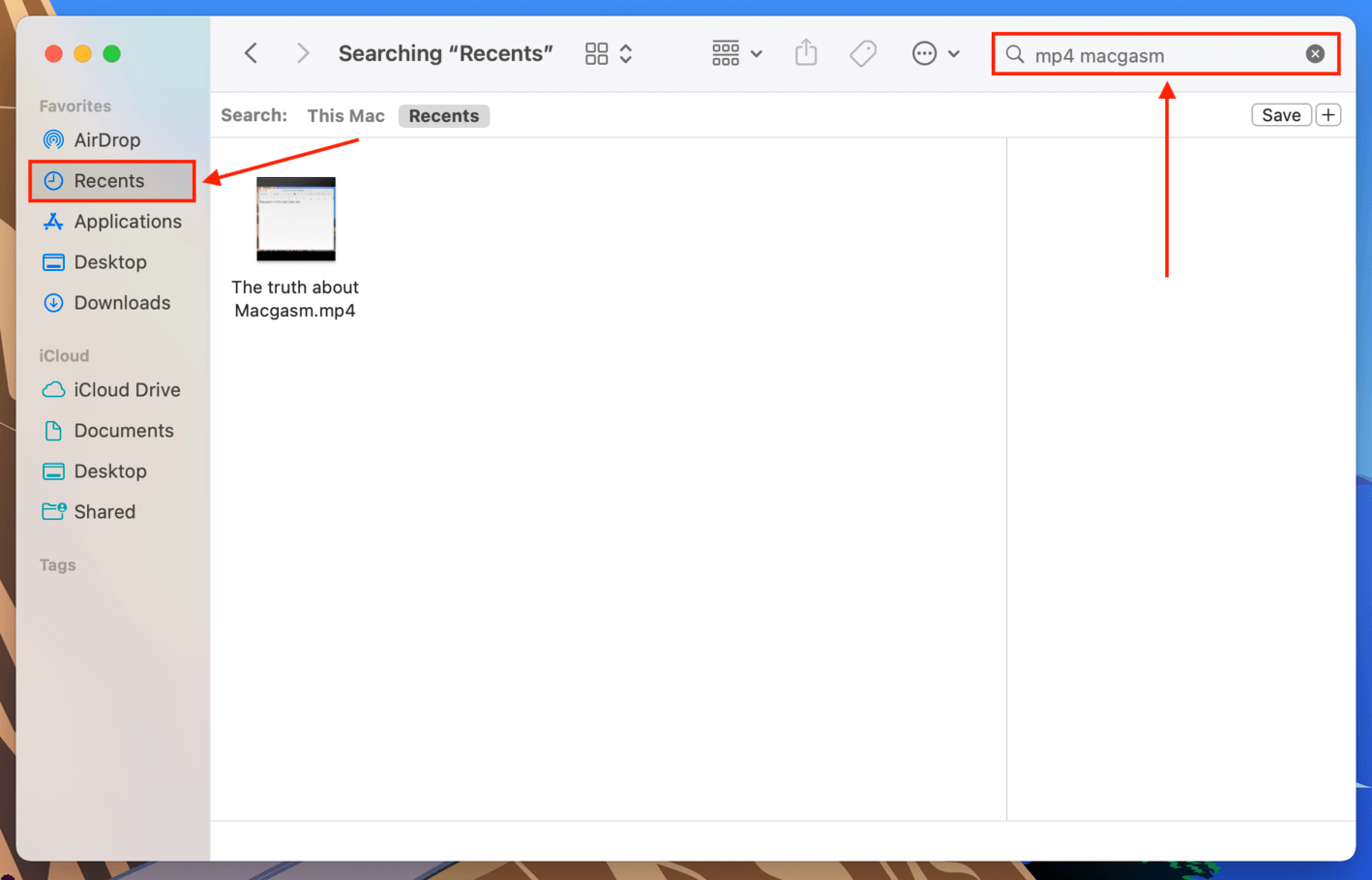 Terminal
You can use the "mdfind" command to the path to specific files and folders. Here's a demonstration of both the command in action: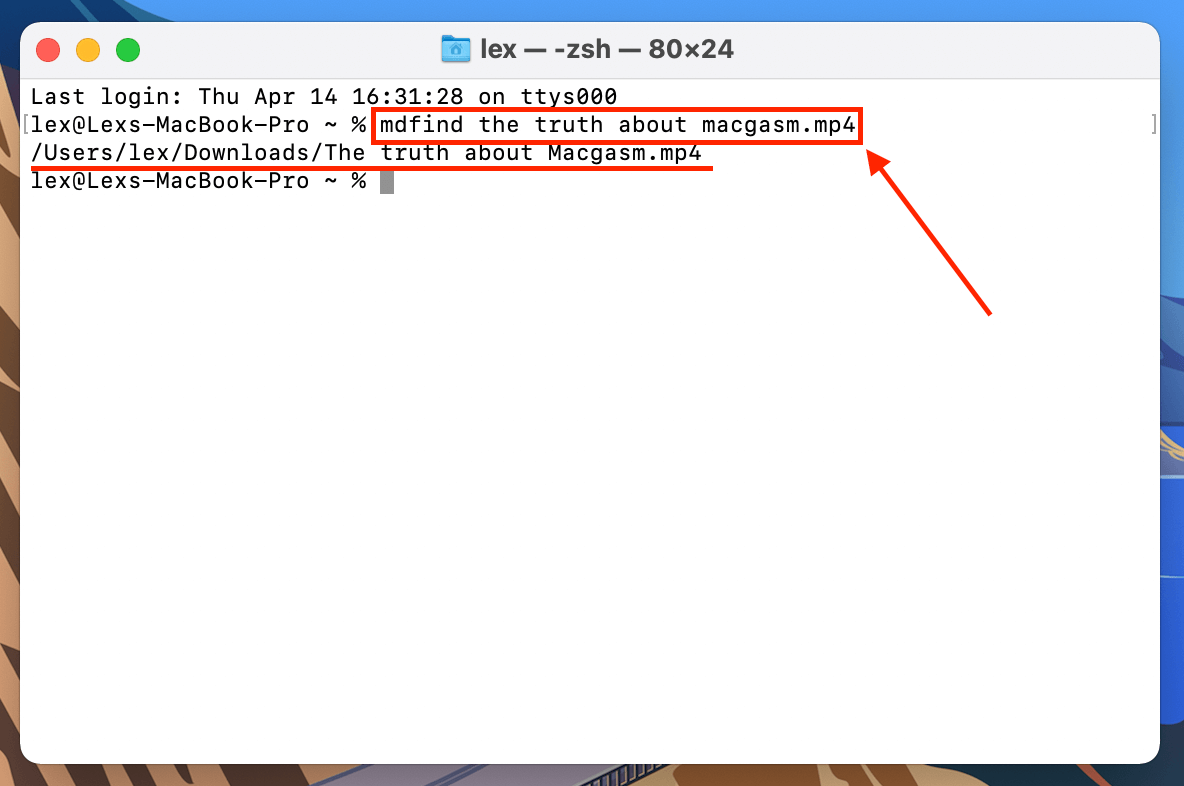 If after trying all these methods to search for your videos, you still can't find them… Then that confirms that they're not just missing – they've really been deleted. From this point forward, the content of this article will focus on video data recovery for Mac. Read on.
Which Video File Formats Can Be Recovered?
Theoretically, it's possible to recover ANY video file format, but some file formats are more widely supported than others. Here are some video file formats that you should be able to recover without any problems:
3G2/3GPP2/3GP/3GPP (3rd Generation Partnership Project)
AVI (Audio Video Interleave)
CRM (Canon RAW Movie File)
FLV (Flash Video)
M4V (MPEG-4)
MKV (Matroska Multimedia Container)
MOV (QuickTime File Format)

MP4 (MPEG-4 Part 14)
MPG (MPEG-1 or MPEG-2)
MTS (commonly called AVCHD)
OGM (OGG Media)
RM (RealMedia)
TS (Video Transport Stream File)
WebM (WEB Media)
WMV (Windows Media Video)
The reason why the above-mentioned file formats are easy to recover is simple: they're widely used by professionals and regular users alike. Companies that develop paid and free video recovery software for Mac know this, and they make sure to include support for them.
Of course, some developers of tools for video data recovery for Mac go beyond commonly used video formats, so keep that in mind when choosing a video recovery software application.
Video Recovery Software: Step-By-Step Instructions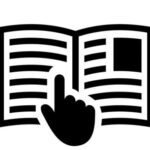 Are you ready to recover your video files? Great! To explain the process of video file recovery on a Mac, we'll be using a popular data recovery application called Disk Drill, but you can use any application you want, and the basic steps should be more or less the same.
Just remember that not all video recovery applications are equally easy to use and deliver the same results, especially completely free video recovery applications for Mac.
Step 1.

 Launch Disk Drill Video Recovery Software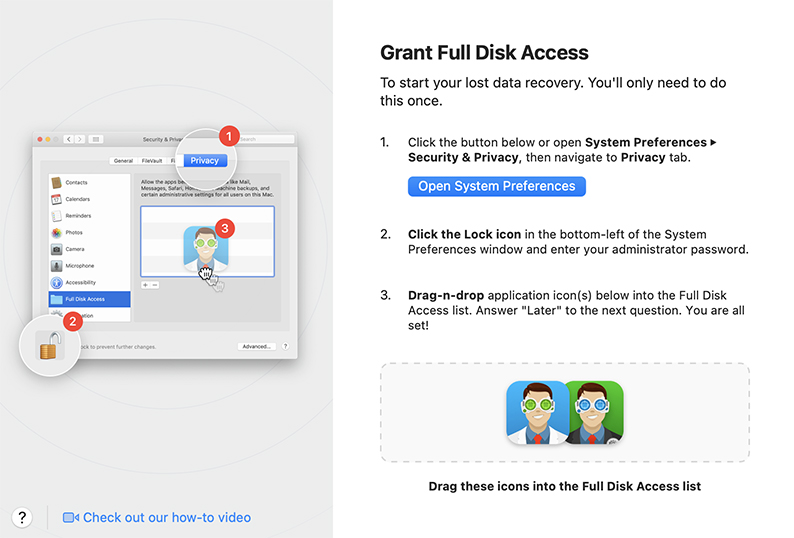 To get started, launch Disk Drill for Mac and give it Full Disk Access to access your storage devices for data recovery purposes. Since the release of macOS Catalina, Full Disk Access is a native requirement for Disk Drill and other video recovery software for Mac.
Step 2.

 Scan Your Storage Device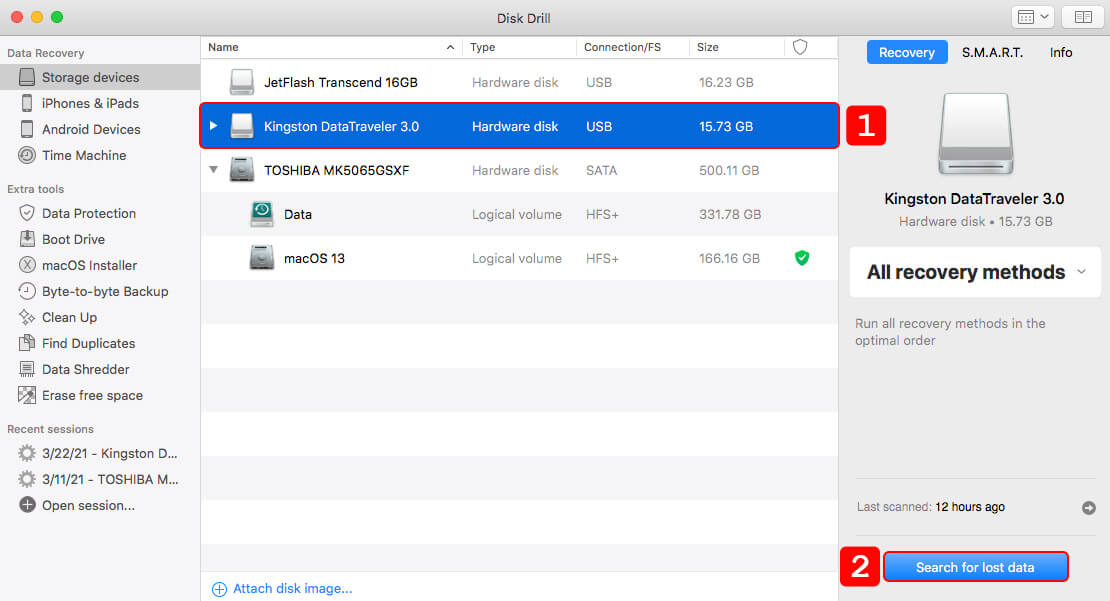 You don't need to remember the exact place where your video files were stored to recover them. Disk Drill always performs a full scan of your storage device to recover as many files as possible, even if they are scattered in different physical locations on the storage device.
To scan the storage device on which your video files were located, select Search for lost data button as illustrated on the screenshot above. You can simply kick back and wait for the scan to finish.
Step 3.

Recover Your Video Files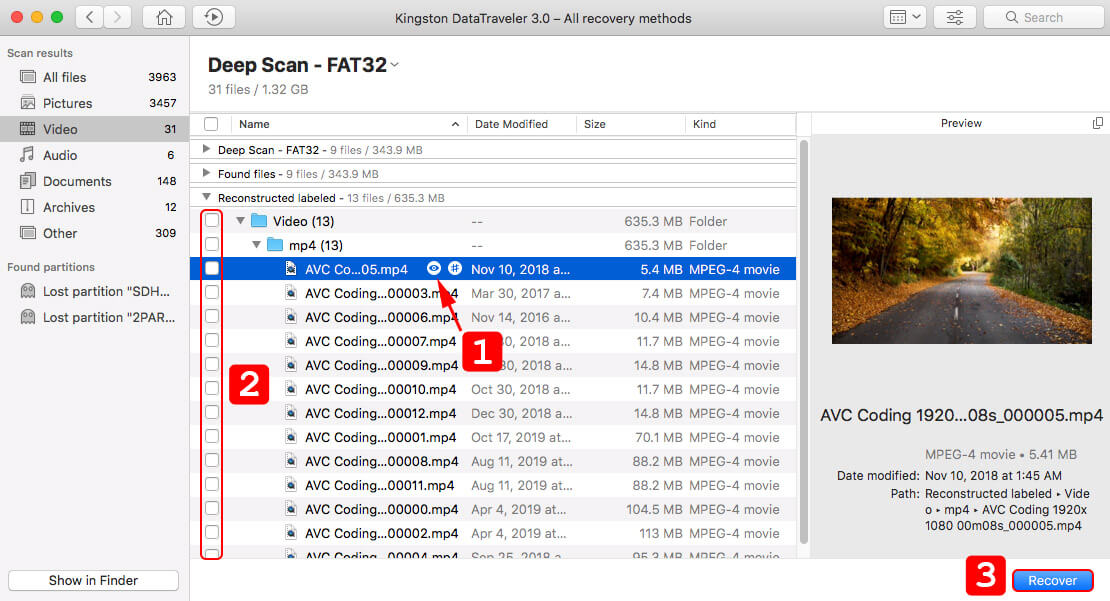 The scanning process should only take a few minutes to finish. Once it does, you need to locate the files you want to recover using the preview feature, select them, and click the Recover button in the corner.
Struggling to find your video files? Then use the filters located above the search results.
When asked to choose a recovery folder, make sure you select a folder that's located on a different storage device to avoid overwriting the same videos you're trying to recover.
That's all! As you can see, performing video recovery on a Mac is not nearly as difficult as it may seem at first, especially with an easy-to-use video recovery software application like Disk Drill.
Other Methods to Recover Deleted Videos on Mac
If the above method didn't work (or you want to exhaust all native options before trying a third-party app), there are a few other ways to recover deleted videos on your Mac. Below, we'll show you how to locate it in the Photos app, in iCloud, and using Time Machine.
Find Videos in iPhoto/Photos App
If you imported your video to the Photos app but you didn't enable iCloud, a deleted video will appear in the app's Recently Deletedf album. Photos and videos in this album may stay there for up to 40 days, and you can find how many days they have left displayed under their thumbnails.
To recover deleted videos from the Photos app's Recently Deleted album, click on their thumbnails to select them and hit "Recover."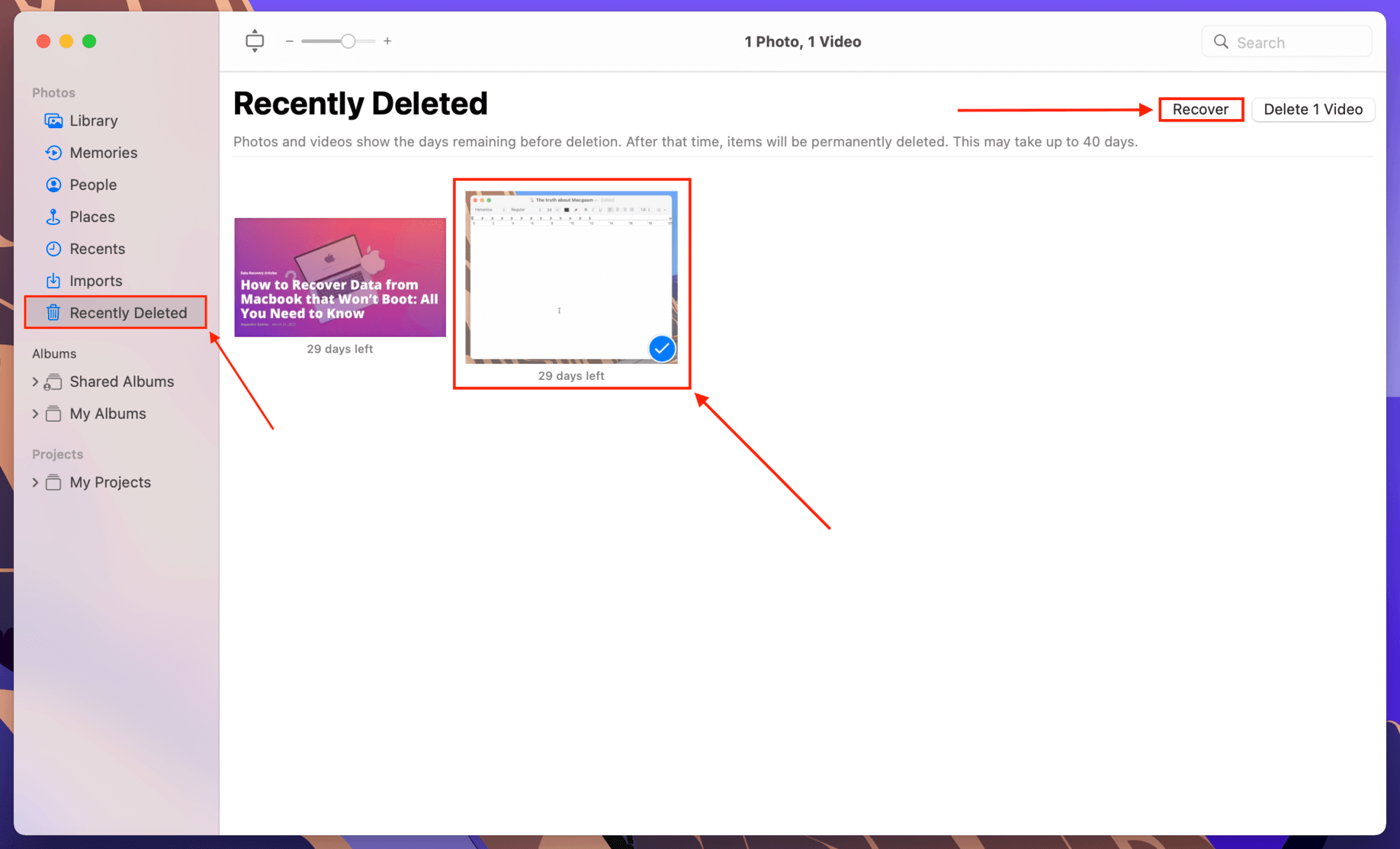 iCloud Photos
If you enabled iCloud to store your videos, your deleted video may be still in the cloud – and you still have a chance to recover them from the Recently Deleted album via browser. By default, iCloud stores deleted items for 30 days. Here's how to recover them:
Step 1. On your browser, go to iCloud.com and login.
Step 2. Click "Photos."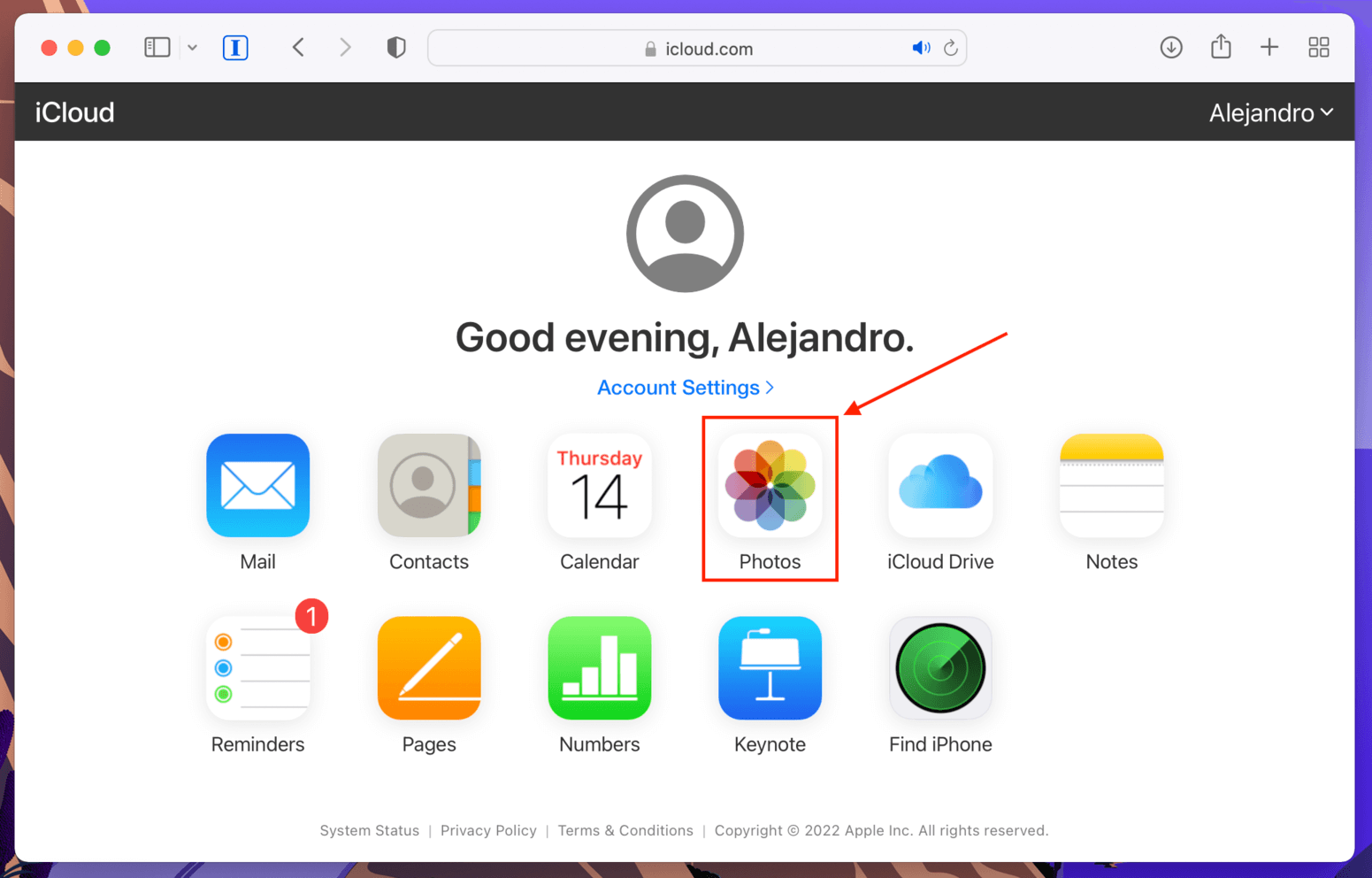 Step 3. On the left sidebar, select "Recently Deleted" and click the thumbnails of the videos you want to recover. Finally, click "Recover" in the top-right corner of the window.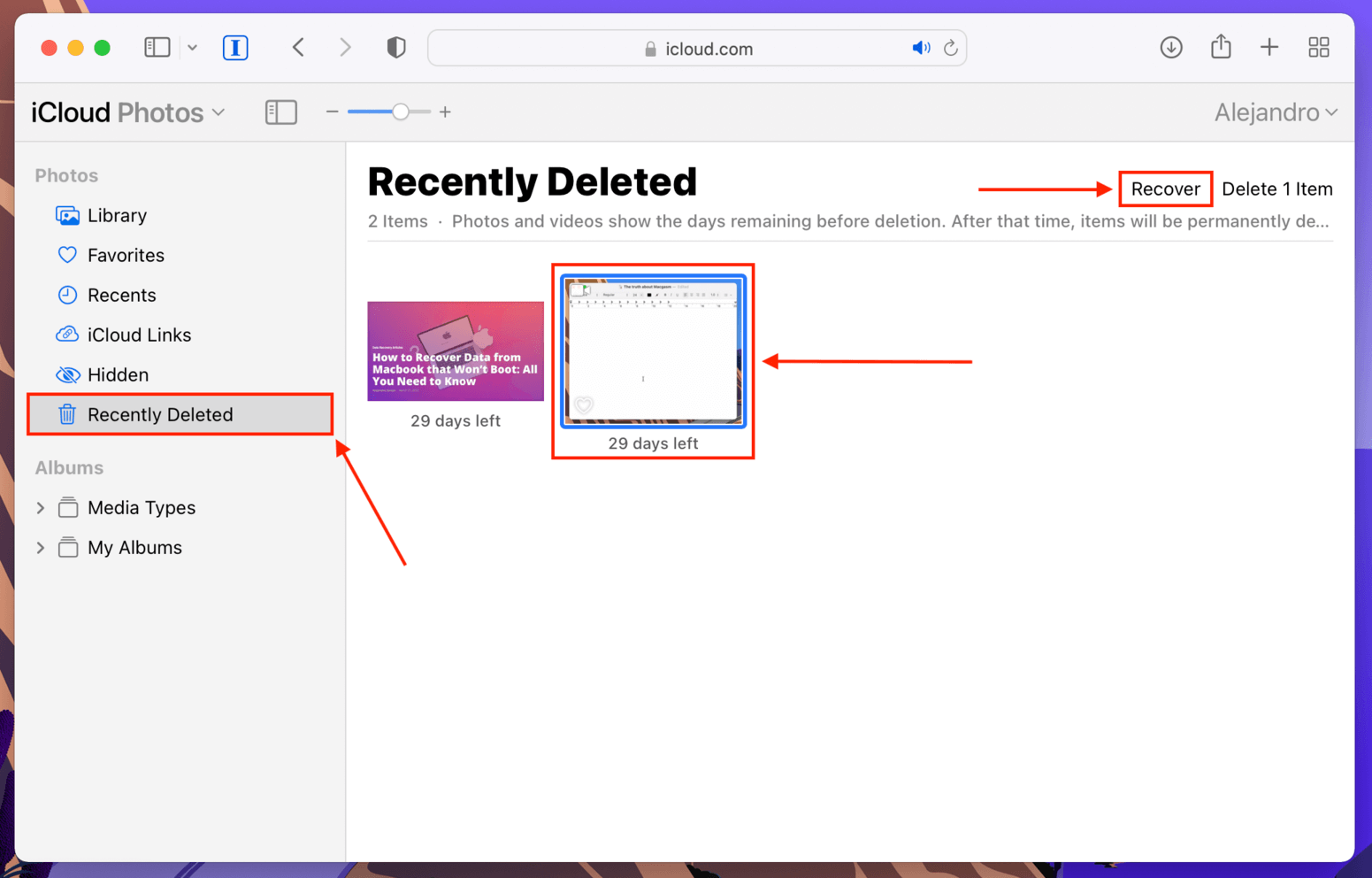 Time Machine
Time Machine is a powerful backup utility natively available in Macs. This section assumes that you set up Time Machine beforehand, and we'll be using Snapshots to locate the point in time where your file was saved to its original folder. We'll then restore that version of the folder in order to extract the file.
Step 1. Open System Preferences > Time Machine.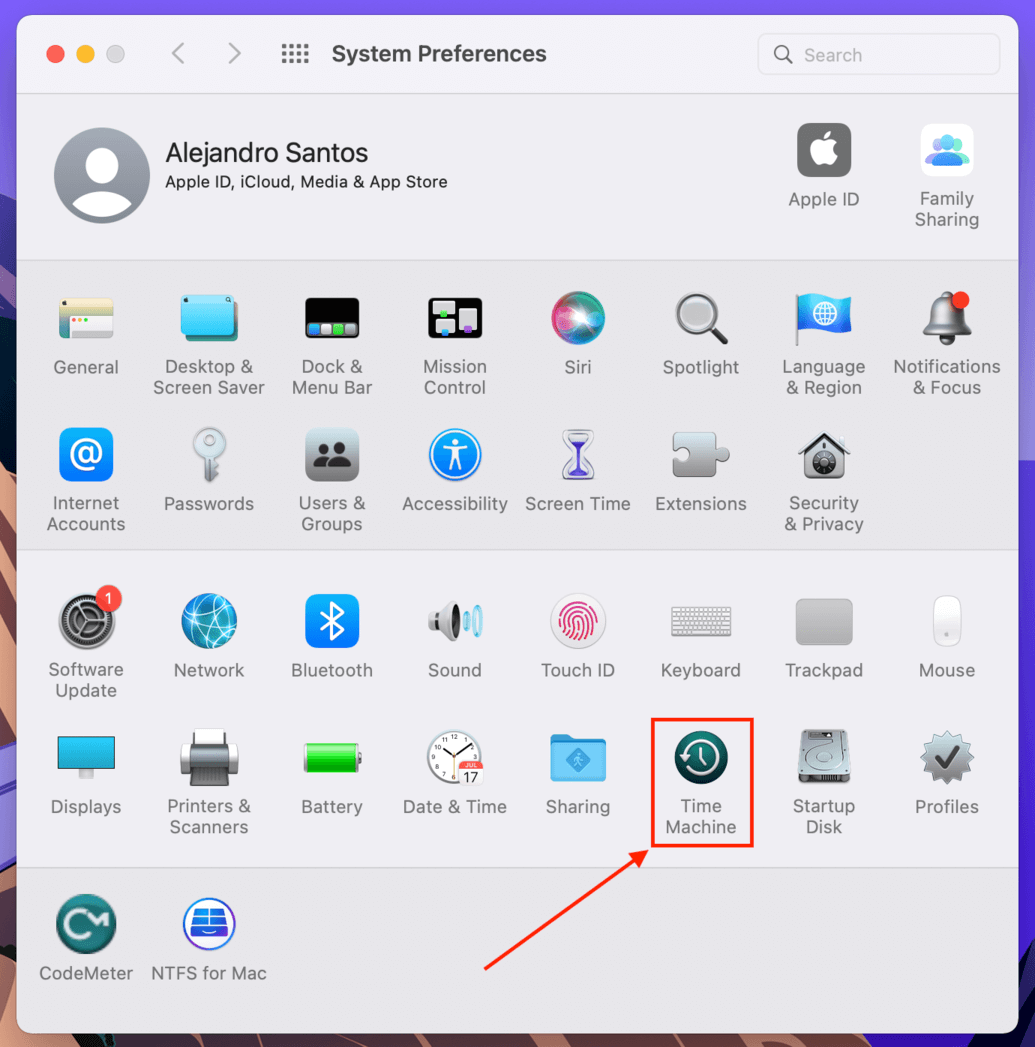 Step 2. On the bottom of the window, tick the box beside "Show Time Machine in menu bar", then close the window.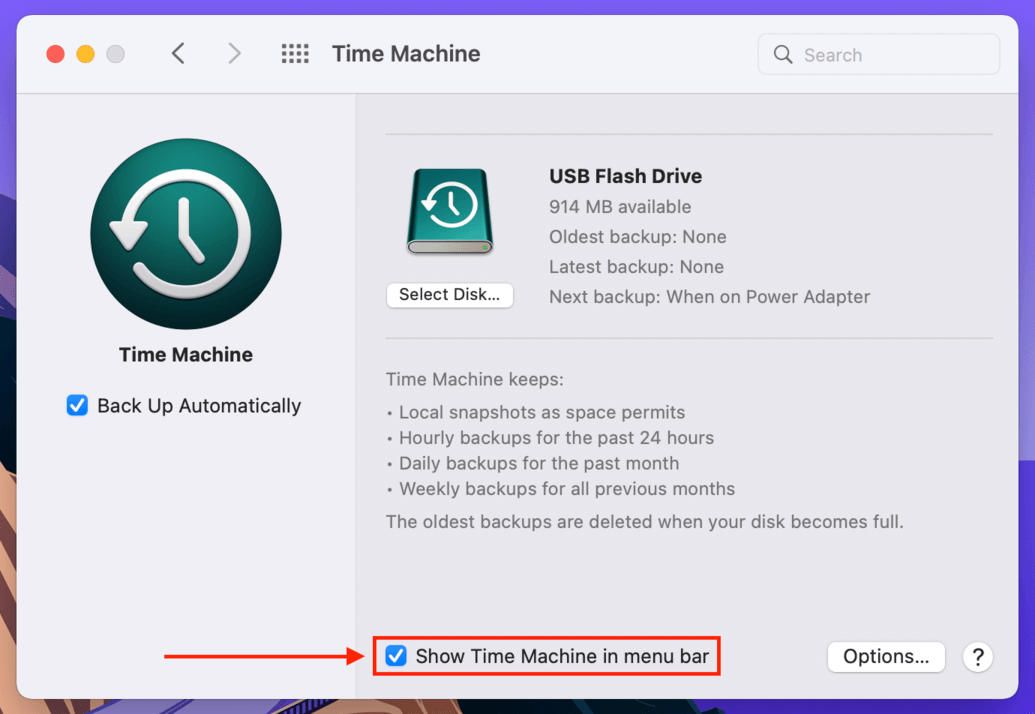 Step 3. On Finder, navigate to the folder that you want to view the timeline history of.
Step 4. On the top-right corner of the Apple menu bar, click the Time Machine button and hit "Enter Time Machine."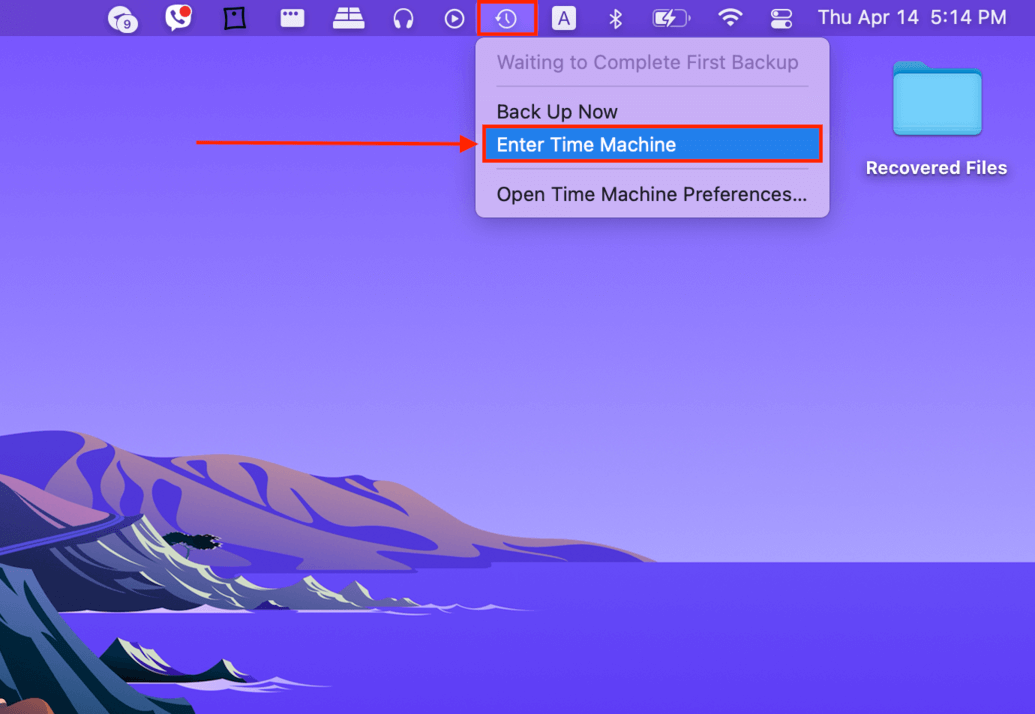 Step 5. Use the arrows on the right to navigate through the timeline of the folder you have open. Select the file you want to recover by clicking it, then hit "Restore."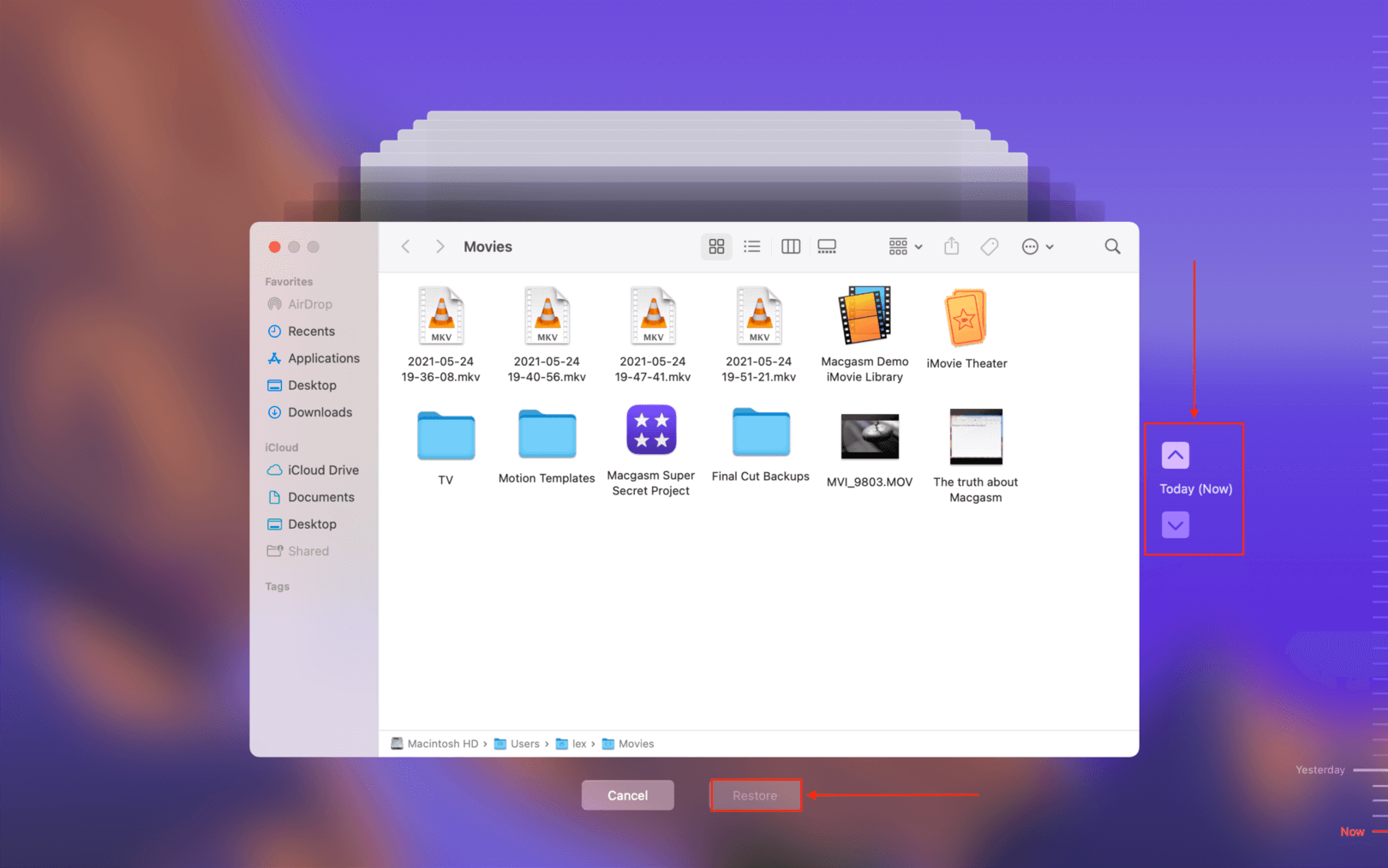 How Can I Protect Important Videos on a Mac?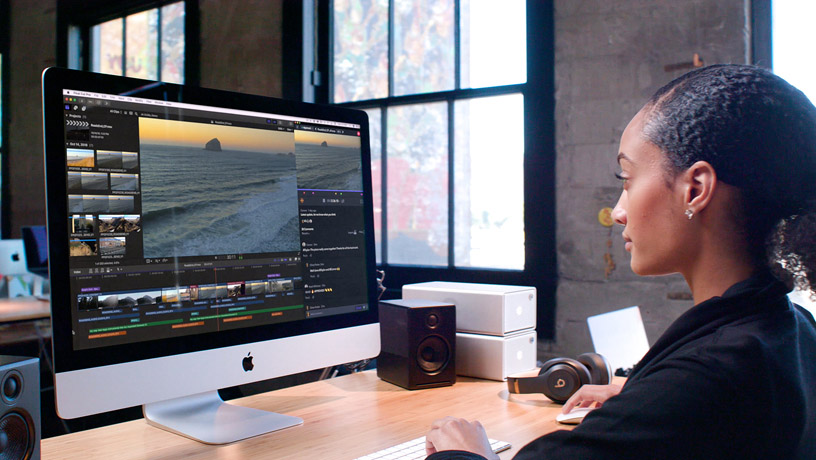 Mac computers are loved by professional and amateur video editors alike for their ease of use, stability, and high-end screens that make spotting small imperfections and adjusting colors effortless.
Unfortunately, only a relatively small number of Mac users know how to protect important videos and minimize the consequences of their accidental deletion or hardware failure.
Here are a few useful tips from professionals:
Activate Time Machine

: Time Machine is Apple's backup solution, and all Mac users who are not willing to risk losing important video files should activate it. Once activated, Time Machine automatically creates incremental backups on an external backup storage device, allowing you to restore specific video files with a few simple clicks.

Avoid non-native file systems

: While it's technically possible to access NTFS drives on macOS with the help of Paragon NTFS and other similar solutions, professionals avoid non-native file systems because they don't want to deal with random errors and data corruption. That also includes the exFAT file system, which lacks journaling, so any interruption during data transfer may result in data loss. In other words, use HFS+ or, even better, APFS.

Setup a Network Attached Storage (NAS)

: You can think of a NAS as a special-purpose server that you can connect to your home network and use to back up all your video files. You can buy one from a company like Synology and equip it with multiple high-capacity hard drives to meet your storage requirements. While more expensive, a NAS is a better backup solution than a RAID array for the reasons listed in this article.
FAQ
The best location to store videos on Mac is in the Movies folder, located in
/Users/"username"/Movies
. Mac's file system organization is very optimized, and the default folders are usually the way to go (most video-related Mac apps also save to the Movies folder by default, such as iMovie libraries).
The best way to transfer data from a GoPro to a Mac is to detach its memory card (usually SD or microSD/SDHC/SDXC) and connect it to your Mac via a card reader. This is because memory cards use file protocols that give other devices (like computers) full access to its file system.
In non-geek speak, that means you won't have any problems reading and writing data without any additional software or drivers (aside from SD card drivers).
In iPhoto, your videos are mixed in among your photos. You can create a "Smart Album" to automatically add videos to a specific folder so you can view your videos separately from your photos. Open iPhoto and hit
File > New > Smart Album
, and add the condition: "Photo is Movie", then hit "OK."
Conclusion
Mac users are not immune to data loss, and all it takes to accidentally delete hours of video footage on a Mac is one wrong click. If you've ever experienced the loss of an irreplaceable video, you know how devastating it can feel. The good news is that video recovery solutions for Mac computers do exist, and we've explained how they work in this article by recovering permanently deleted video files using Disk Drill.