Even though Macs are widely considered to be the most reliable computers on the market, they don't make their users immune to data loss. There are many Mac recovery tools capable of restoring lost files, but choosing the right one can be tricky since they all have their own unique pros and cons.
In this article, we review one of the most popular recovery tools available to Mac users, Disk Drill for Mac, taking an in-depth look at its features, performance, and value, among other things.
Disk Drill 4 for Mac is the latest version of a popular data recovery software solution that can help you get rid of the stress associated with data loss by providing professional data recovery capabilities in a package that's accessible to everyone.
Disk Drill 4 for Mac Review Summary
Pros:
Many useful features available for free
Easy to use
Great performance
Support for hundreds of file formats
Fully compatible with macOS 12 Monterey and Windows 11
Can scan Macs with M1 and T2 chips
Cons:
iOS data recovery takes some time to complete
No option to scan only a single folder
Main Features
Fresh User Interface: Disk Drill for Mac is the brand-new user interface, which is now cleaner, sleeker, and more modern. By default, the new user interface hides system partitions to reduce clutter and avoid confusing users who don't know what partitions are.
A suite of Data Recovery Tools: One of many things that set Disk Drill for Mac apart from other data recovery solutions are the extra free data recovery tools that come bundled with it. They include a disk health monitor, data backup and recovery utilities, duplicate finder, and more.
Multiple Recovery Methods: Depending on what data recovery scenario you're dealing with, you can choose either the Quick Scan recovery method or the Deep Scan recovery method. As their names suggest, Quick Scan is fast, while Deep Scan is slower but more comprehensive.
Polished User Experience: The user experience provided by Disk Drill has always been characterized by its one-click approach to recovery, and this hasn't changed. Disk Drill 4 for Mac remains accessible even to complete beginners who have absolutely no previous experience with data recovery.
Excellent Performance: Disk Drill 4 for Mac can recover over 400 file formats from storage devices using the HFS/HFS+, APFS, FAT/exFAT, NTFS, EXT3/EXT4 file systems. The applications gives users the option to preview most image, video, audio, and document file formats to ensure their recoverability.
Support for iOS and Android devices: Recover lost files not only from hard drives and external storage devices but also smartphones and tablets running the latest version of iOS/iPadOS and Android.
What is Disk Drill for Mac?

Disk Drill 4 for Mac is a data recovery software solution developed by CleverFiles, a software company that's also responsible for the Windows version of Disk Drill. If you're not familiar with data recovery software, all you really need to know is that Disk Drill 4 for Mac can undelete even those files that the macOS operating system can no longer see.
For example, you can use Disk Drill 4 for Mac to recover files after emptying the Trash, accidentally formatting your USB flash drive, or downloading a malicious file from the internet and becoming infected with malware. The latest version of Disk Drill for Mac is compatible with Mac OS X 10.11.6+, including macOS Monterey, and legacy versions are available for older Macs.
| | |
| --- | --- |
| ✅ Free version | Yes |
| 💰 Pro version | $89 |
| ⚙️ Performance | Very Good |
| 📞 Customer support | Online chat, email |
How to Download Disk Drill for Mac + Pricing
Anyone who decides to download Disk Drill 4 for Mac can do so by visiting its official website:
Go to: https://www.cleverfiles.com/
Click Free Download. 
In a short while, the Basic version of Disk Drill will automatically download to your Mac. You can use this version to scan any storage device using Disk Drilll's advanced recovery algorithms to find all recoverable files. You can then purchase a Disk Drill Pro or Enterprise license to recover the discovered files.
The online order process is complexly painless, and it's possible to buy optional lifetime upgrades and save money in the long run. Attractive discounts are available to those who are upgrading from past versions, educational institutions, non-profits, governments, and even uses of other data recovery software who are not satisfied with their purchase.
Here's an overview of different versions of Disk Drill for Mac and their cost:
| | Disk Drill Basic | Disk Drill Pro | Disk Drill Enterprise |
| --- | --- | --- | --- |
| Price  | Free  | $89 | $399 |
| Lifetime upgrades | N/A | $29.00 | $99.00 |
| Recovery | Limited | Unlimited | Unlimited |
| Users | 1 user | 1 user | 10 users |
| Activations  | 1 activation | 3 activations  | Unlimited |
| Extra features | Free data protection | Quick & Deep Scan, Rebuild HFS+, Lost Partition Search & more | Forensic data export (DFXML) |
Getting Started with Disk Drill for Mac
Assuming you've decided to go with the non-App Store version of Disk Drill for Mac, you first need to install it just like you would any other third-party app.
Step 1. Open the downloaded .dmg file.
Step 2. Drag the Disk Drill icon into the Applications folder.
Step 3. Wait until all data is copied.
You can now open the Applications folder and double-click on Disk Drill to launch it. When you first launch Disk Drill, you will be asked to confirm your decision. This happens with every third-party app, and all you need to do is click Open.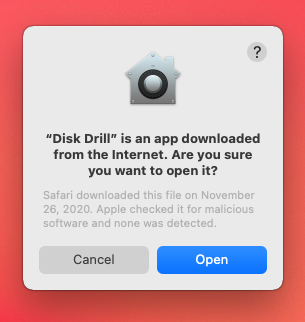 You will then be greeted by a welcome screen informing you about the new features and improvements found in Disk Drill 4. When you're done reading their descriptions, you can click Continue and proceed to the next slide. There, you can enable data protection and S.M.A.R.T. disk monitoring. Click Continue again to go to the last slide, where you can enable automatic updates and help improve Disk Drill by sharing your app usage data. Once you've made your choice, click Get Started.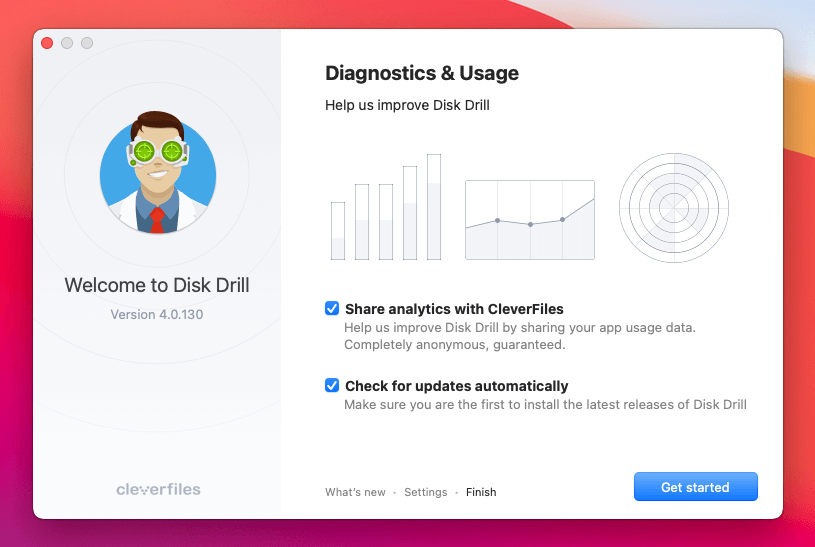 Before you can start using Disk Drill, you will need to enter your admin password otherwise Disk Drill won't be able to scan your system.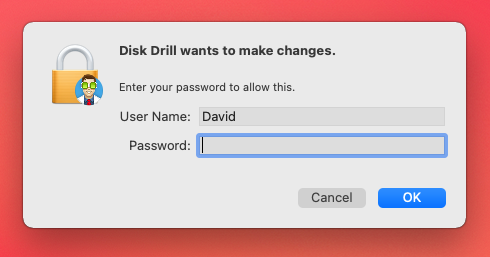 Last but not least, you need to grant Full Disk Access to Disk Drill by opening System Preferences, navigating to the Privacy tab, and dragging two icons into the Full Disk Access list.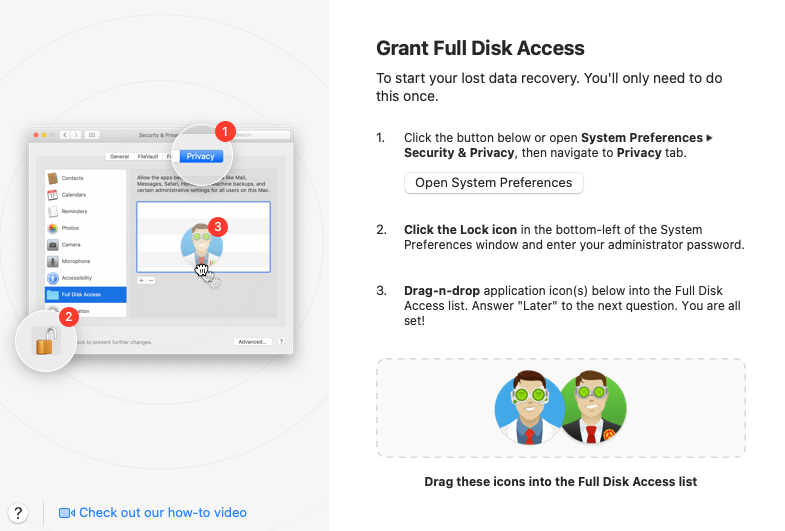 The good news is that all subsequent launches of Disk Drill are completely painless, so it's not like you would have to go through these steps every single time.
How to Use Disk Drill for Mac?
Disk Drill for Mac has many exciting features, but we want to start by taking a close look at its data recovery capabilities. Here's how to recover deleted files with Disk Drill for Mac:
Step 1.

Connect the storage device from which you want to recover deleted files to your computer.

Disk Drill can recover lost data from any storage device recognized by your Mac, such as internal and external hard drives, memory cards, USB flash drives, and more. All major Mac, Windows, and Linux file systems are supported, including NTFS, FAT, FAT32, exFAT, EXT3/EXT4, HFS, and APFS.
Step 2.

Open Disk Drill 4 for Mac and select your device.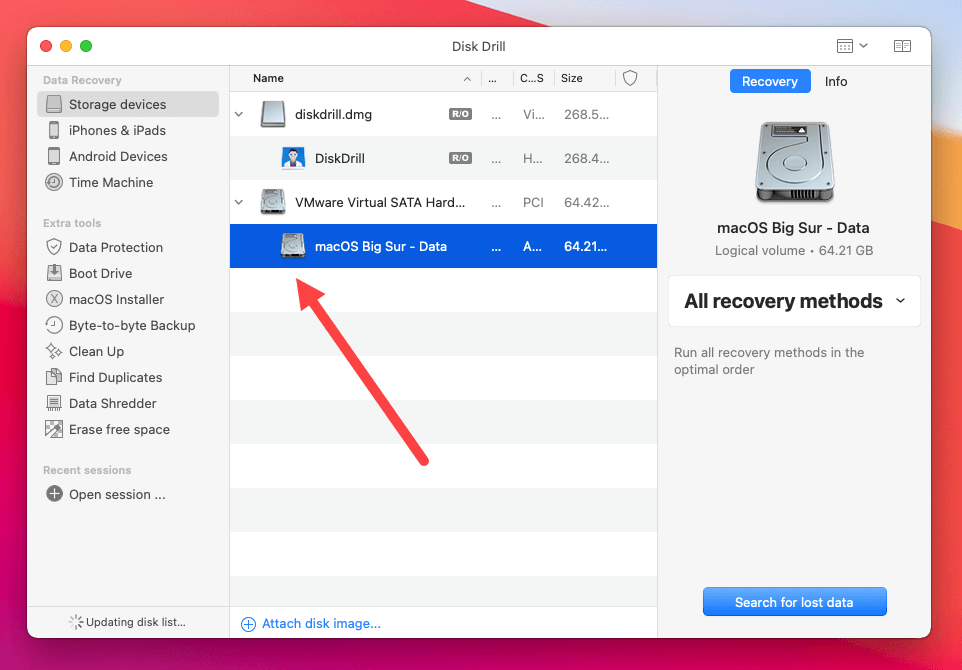 Next, launch Disk Drill for Mac and give it a second or two to find all available hardware disks and logical volumes. You should see the storage device from which you want to recover deleted files listed in the main window. Click on it to select it.
Step 3.

Click 'Search for lost data' to begin a scan.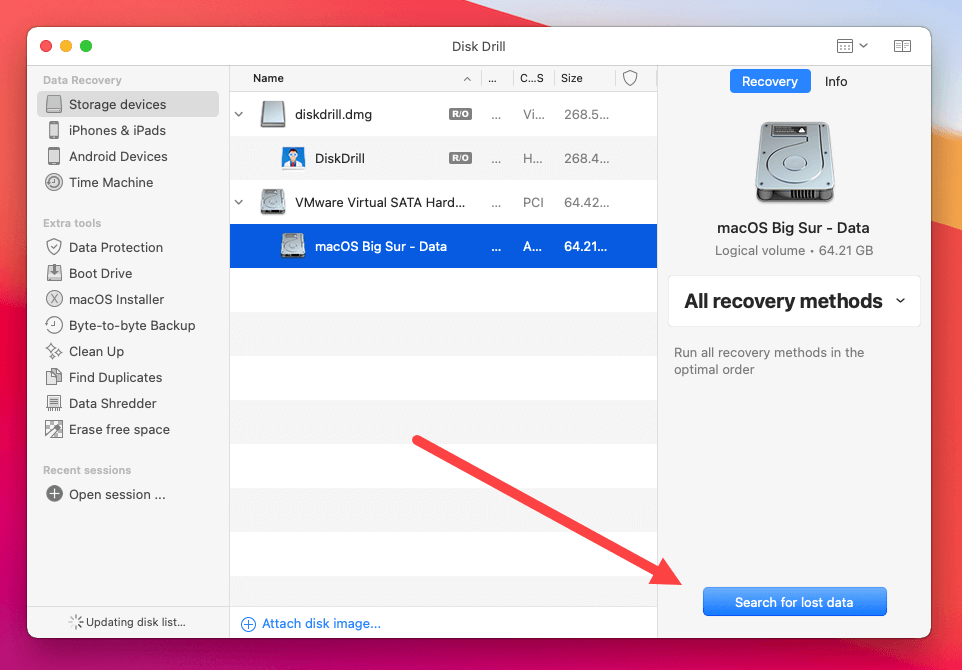 To scan your storage device, all you need to do is click the Search for lost data button in the bottom-right corner. Disk Drill for Mac will automatically go through its recovery algorithms in the optimal order.
Step 4.

Choose which data you want to recover.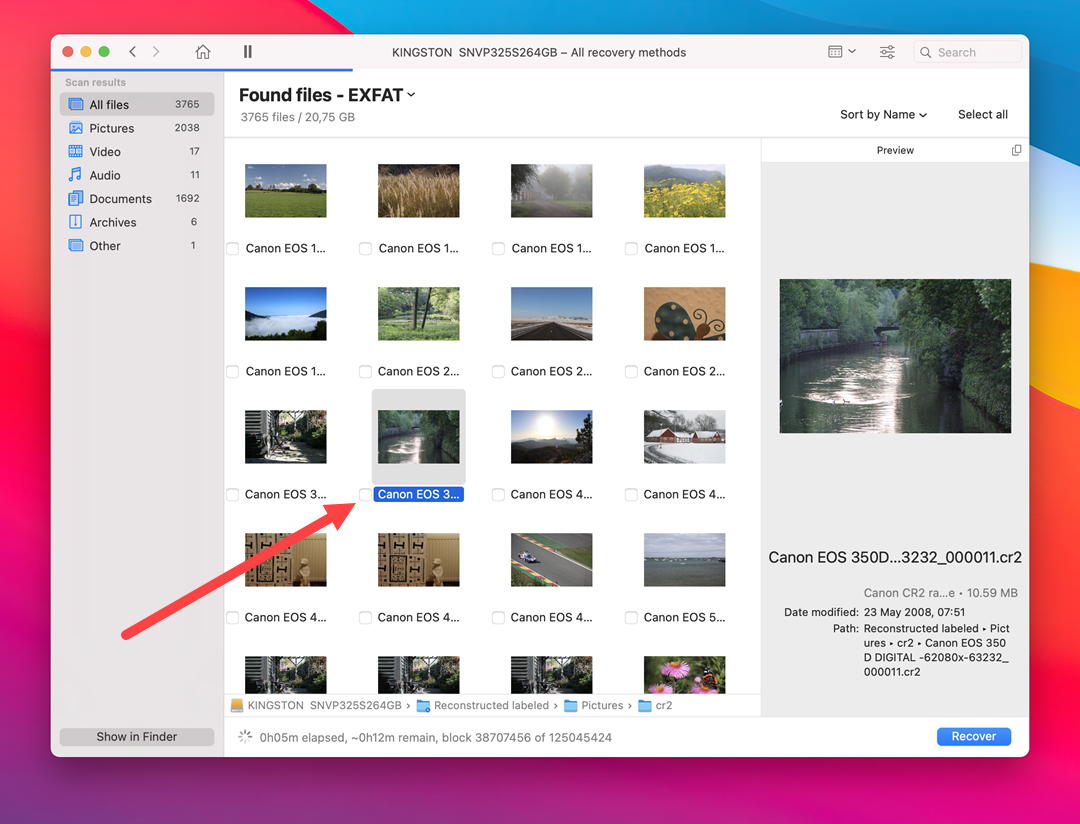 When Disk Drill for Mac is done with scanning, it will display a list with all recoverable files.
If you don't want to wait for the scan to finish, feel free to click the Review found items button but keep in mind that not all recoverable files have been found yet.
To select a file for recovery, simply click the checkbox next to it. When you select a file, Disk Drill will automatically attempt to display its preview. Previewing files is the only way to verify that they can be recovered, so take advantage of this feature as much as possible.
Step 5.

Click 'Recover' again.

Finally, click the Recover button and specify the recovery directory. Make sure that you don't select a directory located on the same storage device from which you're recovering your files because you could overwrite them.

As you can see, recovering deleted and lost files with Disk Drill for Mac is a matter of five simple steps. Depending on the size of your storage device and the scope of the data recovery task, you should be done in just a couple of minutes.
Extra Free Disk Tools Included with Disk Drill for Mac
The goal of Disk Drill for Mac is to prevent data loss, which is why the PRO version comes with several extra free disk tools that you can use to maintain your Mac in good working order and protect important files from accidental deletion.
Disk Health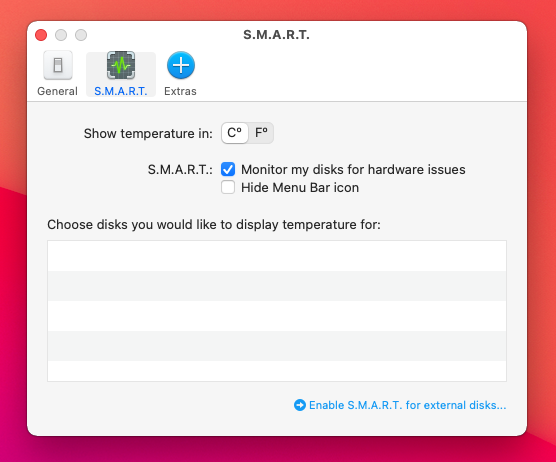 Disk health is a S.M.A.R.T. disk monitoring utility whose purpose is to detect and report various indicators of hard drive reliability so that you can anticipate hardware issues a long time before they have a chance to cause serious data loss. This feature is compatible with virtually all modern HDDs and SSDs, and you can activate it in Preferences.
Mac Cleanup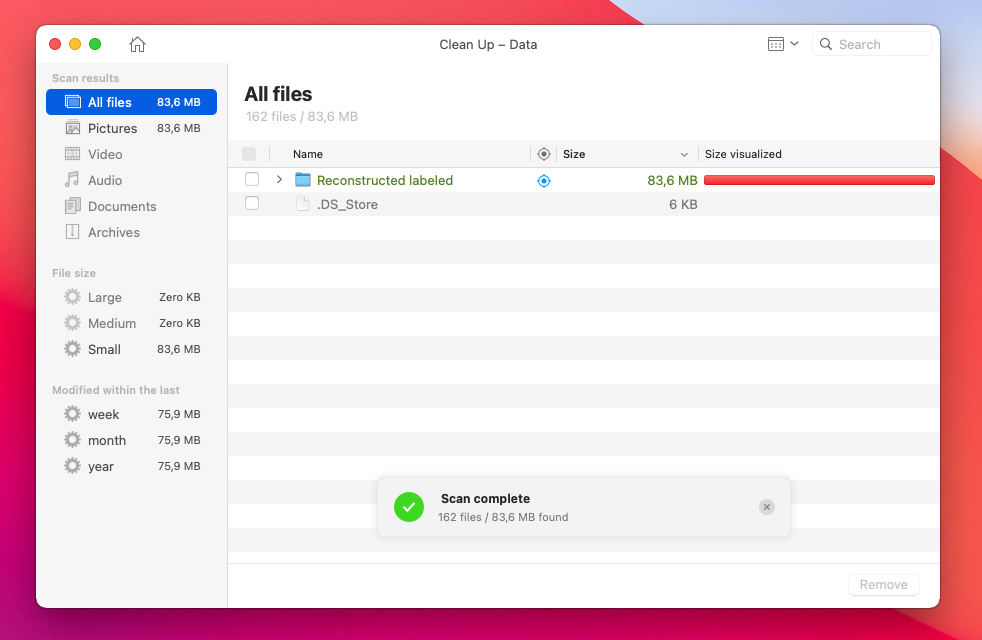 Uninstalled applications often leave behind unused files that hog precious storage space and prevent other applications and even the operating system itself from taking advantage of it. Mac Cleanup can find these files, making it easy for you to get rid of them.
Duplicate Finder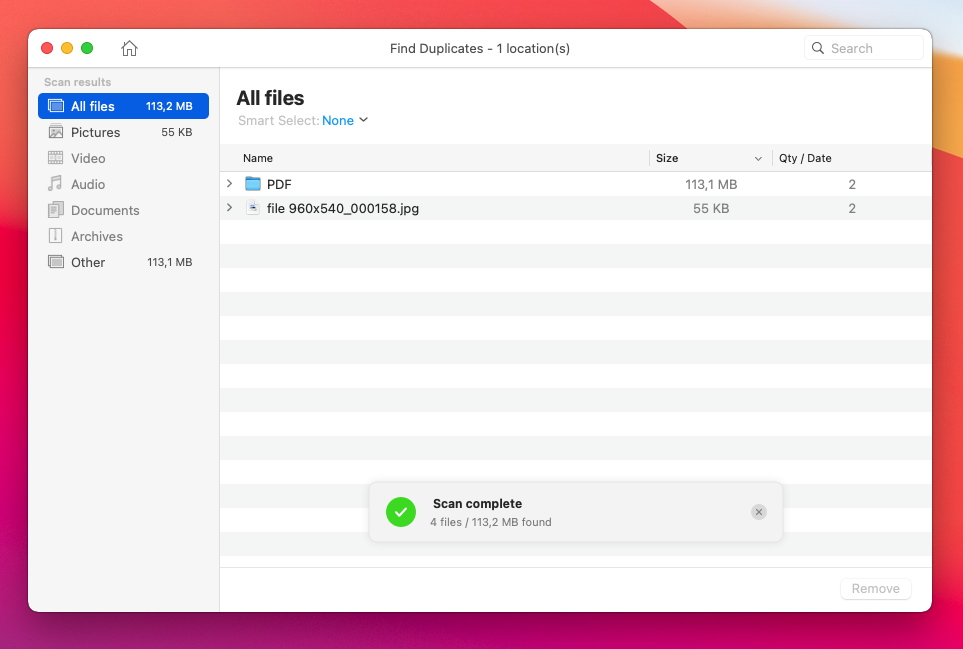 It's easy to download the same file multiple times or transfer photos and videos from a memory card to two different locations without even realizing it. Duplicate Finder is a handy tool that can detect these duplicate files and remove them.
Boot Drive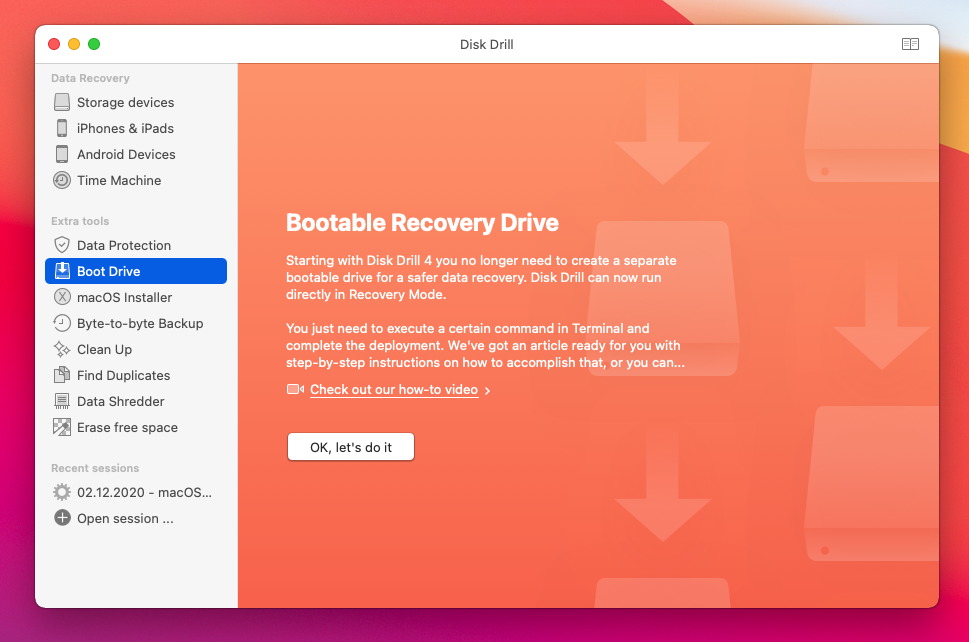 One common challenge Mac users encounter when trying to recover lost data is the inability to boot into macOS. With Disk Drill's Boot Drive, you can now recover your data directly in Recovery Mode, undeleteing data even from a Mac that refuses to boot properly.
Data Protection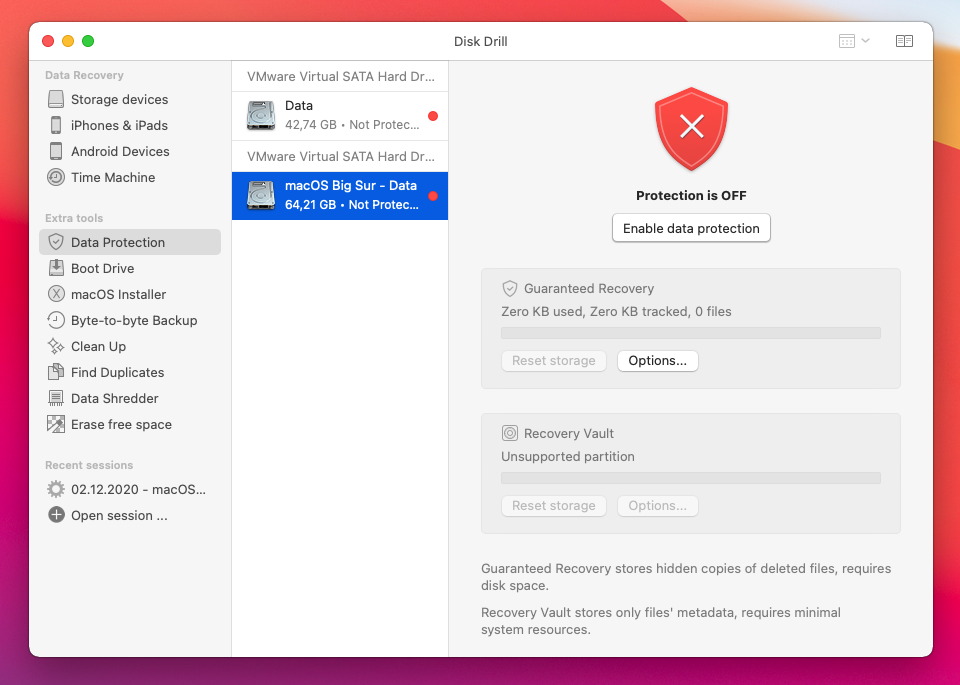 Included with Disk Drill for Mac are two extremely useful data protection tools, called Recovery Vault and Guaranteed Recovery. The former remembers the metadata of deleted files to improve your recovery chances, while the latter actually saves complete copies of files in specified locations.
Byte-to-Byte Backup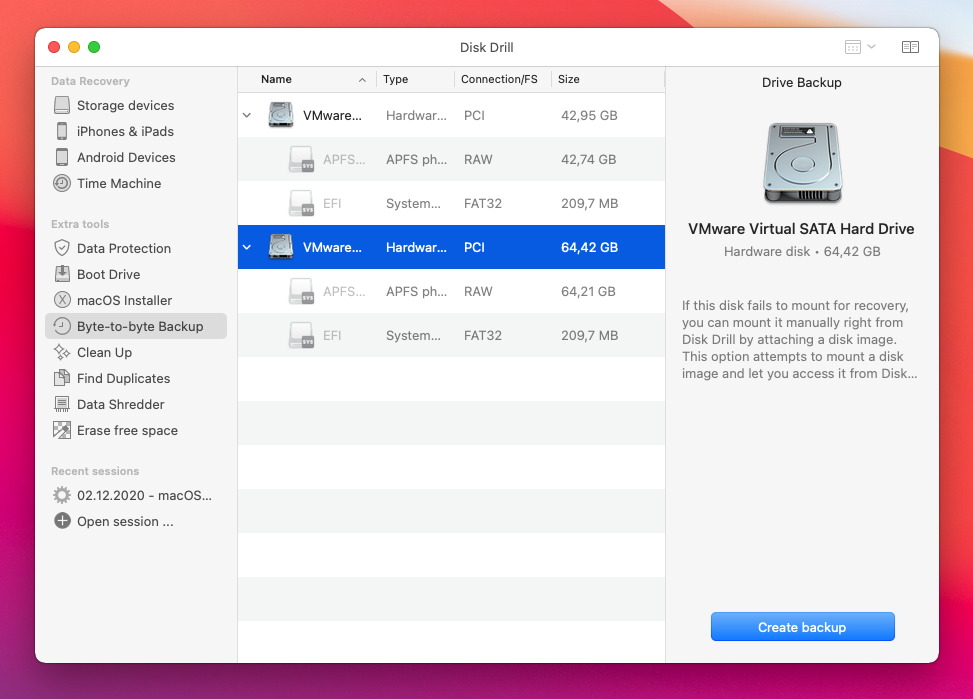 Last but not least, Disk Drill for Mac can create byte-to-byte disk and partition backups, allowing you to recover even from the most catastrophic data loss situations without losing valuable files, settings, and other data.
macOS Installer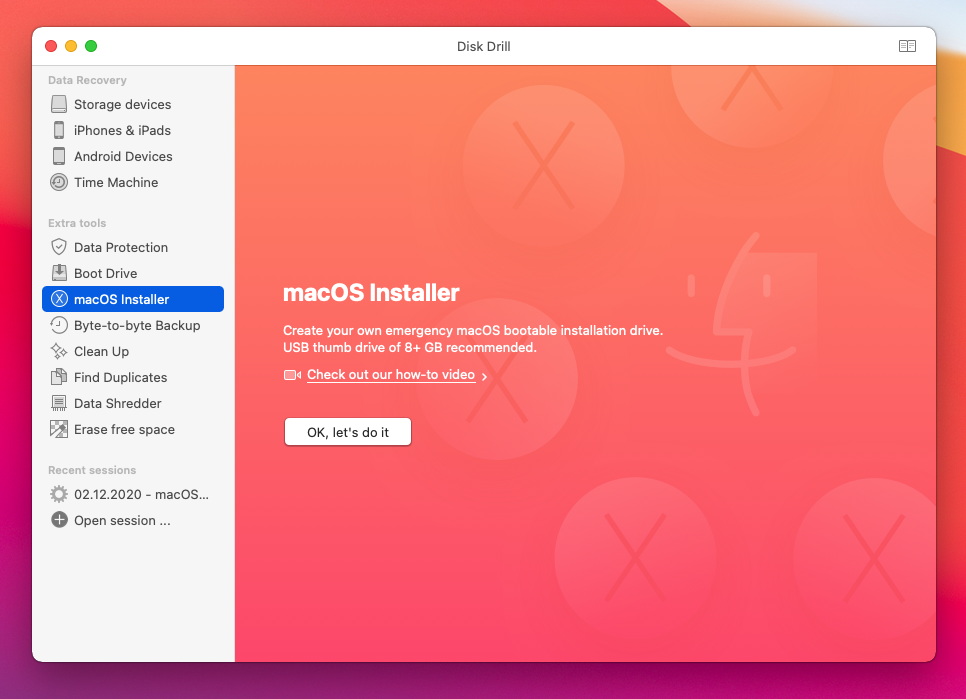 With the latest version of Disk Drill for Mac, you can create your own emergency macOS bootable installation drive on any USB flash drive that's larger than 8 GB. You can then use the installation drive to fix issues with your Mac and avoid dealing with Apple's customer support.
Data Shredder
Disk Drill for Mac can not only recover permanently deleted files, but it can also delete files in a way that makes them impossible to recover with any data recovery application. All you need to do is use the Data Shredder tool to shred the contents of your Trash folder or any specific files and folders. You can even choose how many times you want Disk Drill to overwrite your data in order to comply with government standards for secure storage media erasure.
Free Space Eraser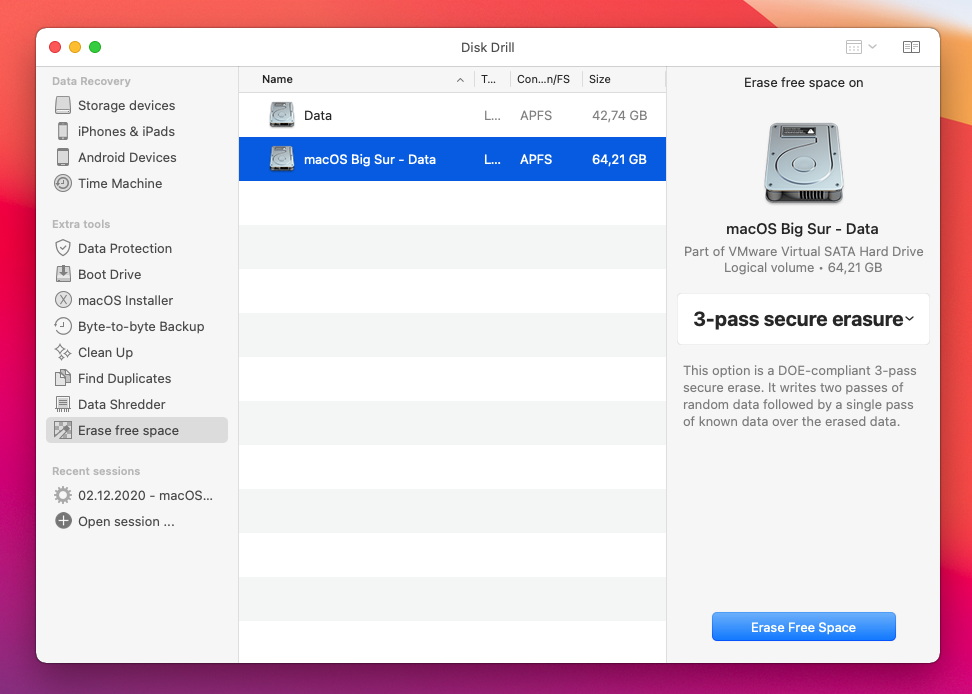 As anyone who has experience with data recovery knows, that the so-called free space isn't really as empty as it may seem. Instead, it's full of files that are waiting to be overwritten. Until that happens, they can be recovered using any data recovery tool. If you don't want that to happen, you can tell erase free space on your hard drive using Disk Drill for Mac and overwrite it up to 7 times.
FAQ
Yes, Disk Drill is completely safe because its data recovery algorithms are 100% non-destructive, and their only job is to detect and retrieve recoverable files.
Until the storage space occupied by a deleted file is overwritten by a new file, the original file is still physically present on the storage device and recoverable with a data recovery application like Disk Drill.
Just be aware that it's not safe to attempt Disk Drill recovery on a storage device that's already PHYSICALLY failing. We're talking about hard drives that are making strange sounds, USB flash drive with broken connectors, and memory cards that are falling apart. Such storage devices may stop working at any moment regardless of if you attempt to recover data from them or not.
Ordering Disk Drill PRO or Enterprise is a simple task because all orders are processed through Paddle, a global e-commerce service provider. You can pay with your credit card, PayPal, or wire transfer, and there's even the possibility to negotiate a custom payment method (such as Bitcoin).
As soon as your Disk Drill PRO or Enterprise order is processed, you'll receive an email with an activation code, and all you need to do is download Disk Drill Basic and unlock it with the received code. All premium features will be instantly unlocked, so you can start recovering your data right away.
If you have used the standard Mac methods of uninstalling Disk Drill, you may notice the S.M.A.R.T. monitoring tool still showing in your menu bar. This is harmless though you may find it annoying, and the monitoring will not function without Disk Drill. To fully uninstall Disk Drill smart monitoring, you need to reinstall the application and follow the directions for removing the software previously outlined. That is the recommended way to remove all of Disk Drill's components from your Mac.
Conclusion
Everything you do on your Mac involves data in some way. As such, it's paramount to have a good data recovery strategy ready in case something goes wrong and you lose valuable files. After thoroughly testing the latest version of Disk Drill, we wouldn't go back to lesser data recovery software solutions, and you shouldn't either.
Disk Drill 4 for Mac is a must-have
data recovery app
that can turn even the most hopeless situation around by effortlessly recovering data macOS can no longer see.