It's a common misconception that data recovery is always expensive. In reality, there are many free data recovery software tools for Mac available in 2022 that you can download right now and use them to recover your lost data without having to give your Mac to data recovery professionals, who are guaranteed to charge you a small fortune for their services.
In this article, we compare the top 5 best free data recovery software for Mac and highlight the pros and cons of each tool mentioned.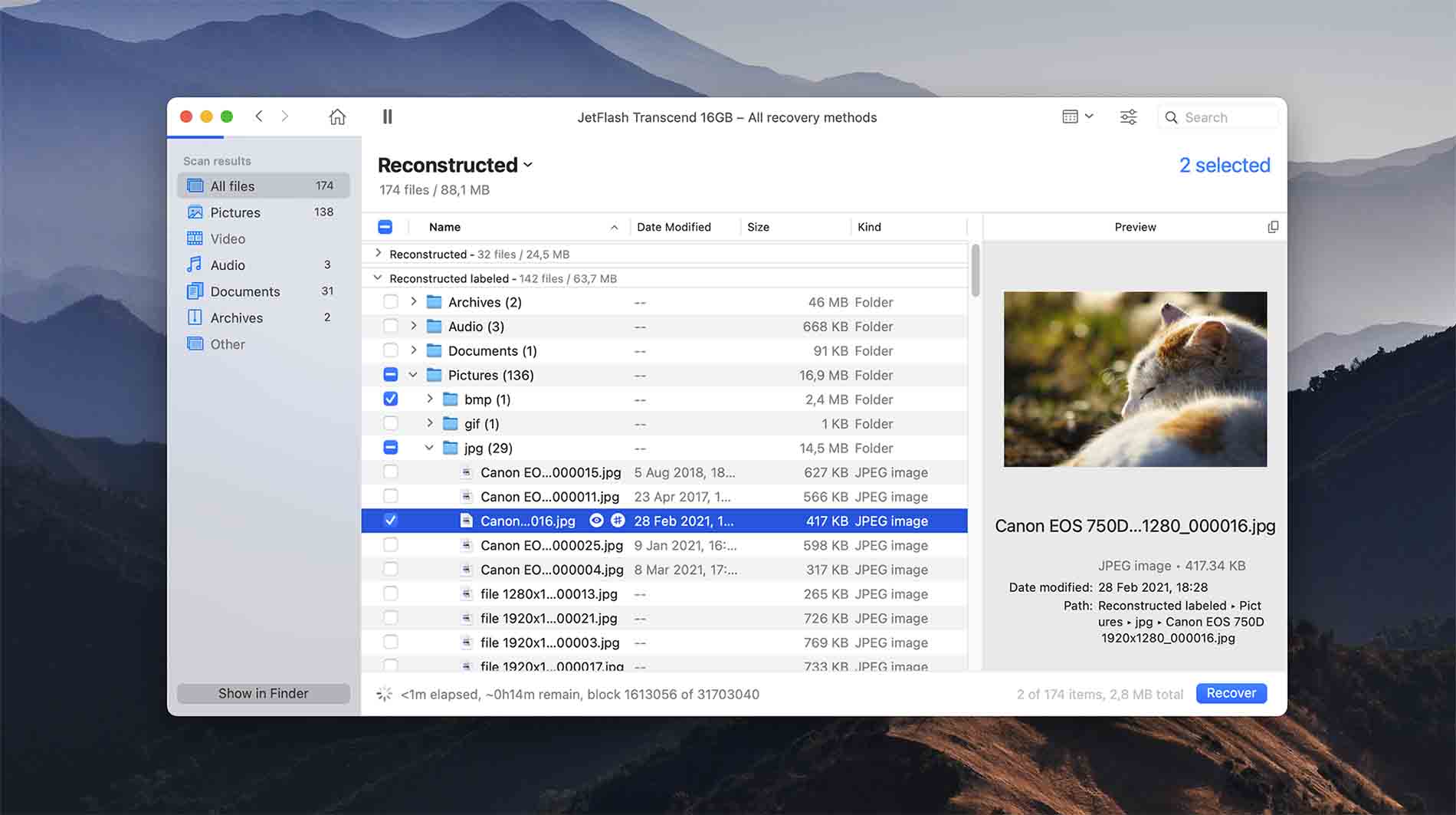 Disk Drill for Mac is widely known as a versatile professional-grade file recovery software that delivers excellent results without making data recovery overly complicated. It has been around since 2010, making it one of the more mature data recovery software tools for Mac computers on this list. However, Disk Drill for Mac certainly doesn't look to be nearly a decade old because its user interface is modern, easy-to-use, and extremely intuitive.
Free Version
A free version of Disk Drill lets you totally evaluate the recovery results by previewing the files after scanning. If you need to recover your files, you can always upgrade to the Pro version for $89, with optional lifetime upgrades for $29. There's also an Enterprise version for unlimited commercial recovery, and it costs $399.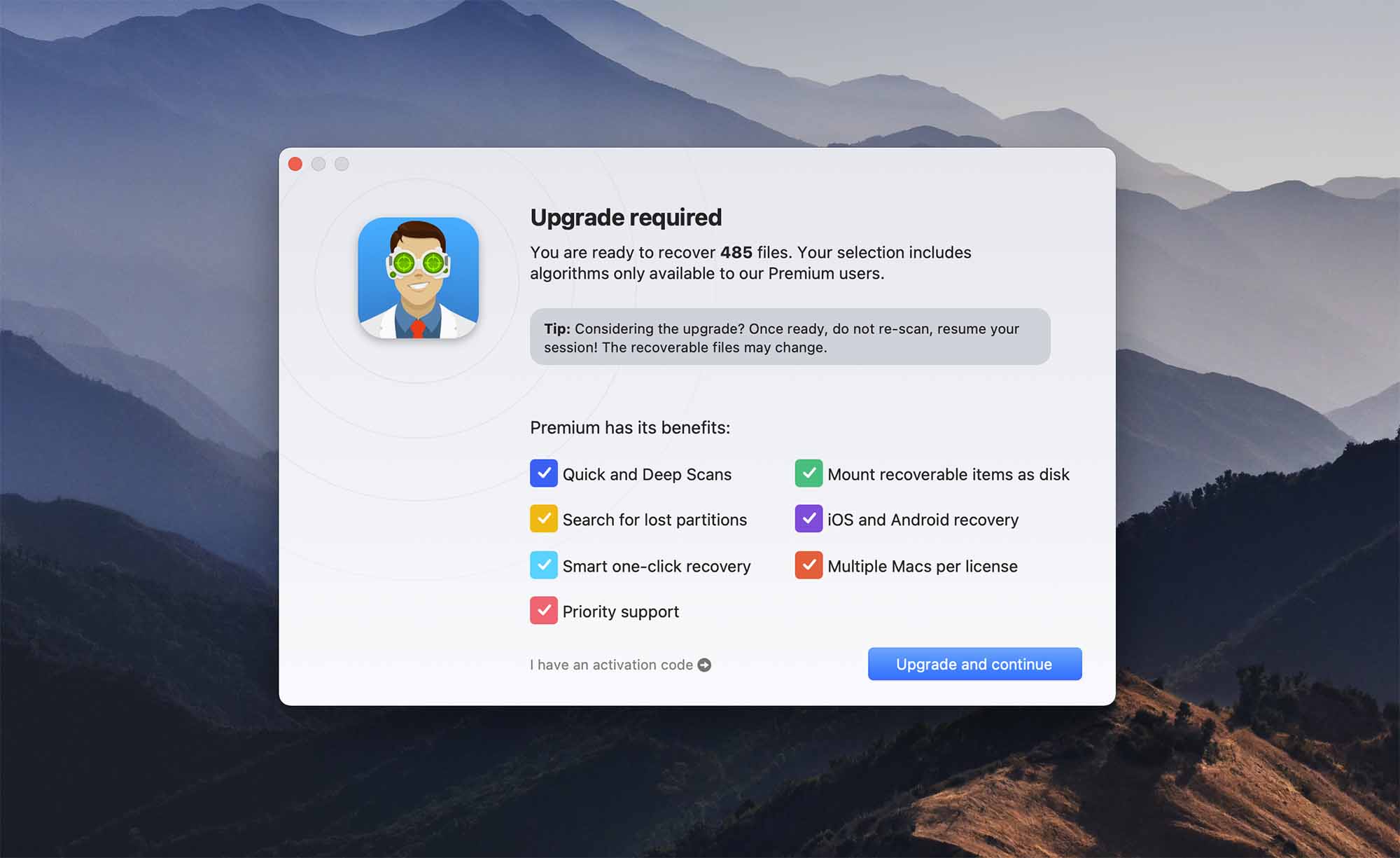 Pros:
Recovers over 300 file formats
Extremely easy to use
Multiple recovery methods
Extra free disk tools
Free recovery evaluation
File previews
Restores the original structure of files and folders
Cons:
No option to scan individual folders
Doesn't support Linux filesystems
Features
Disk Drill for Mac supports all major devices and commonly used file systems, so you can use it to recover data not just from your Mac but also from USB flash drives, external hard drives, iOS and Android devices, memory cards, or cameras.
In total, over 300 file formats are supported, which is really as good as it gets as far as data recovery software is concerned.
Recovery Vault.

One particularly noteworthy free feature of Disk Drill for Mac is called Recovery Vault, and its purpose is to actively monitor your files for changes and save their metadata to aid future data recovery. With the Recovery Vault feature active, Disk Drill for Mac promises a 100% success rate during the recovery process.

Additional Disk Tools.

Besides Recovery Vault, Disk Drill for Mac comes with a whole bunch of other disk tools, including Disk Health, which monitors the health of your hard drive for any potential issues, Mac Cleanup, which looks for space hogs to help you free up available storage space, and Duplicate Finder, which makes it easy to find and get rid of duplicate files.

Multiple Recovery Methods.

Disk Drill for Mac supports multiple recovery methods, which allows it to take on data recovery jobs large and small. Quick Scan looks for signatures of known partition headers, while Deep Scan recovers lost data on the sector-by-sector basis. As their names suggest, Quick Scan takes just a short while to complete, but Deep Scan can take a lot longer depending on the size of your hard drive.
Supported OS: Disk Drill 4.6 requires Mac OS X 10.11.6+.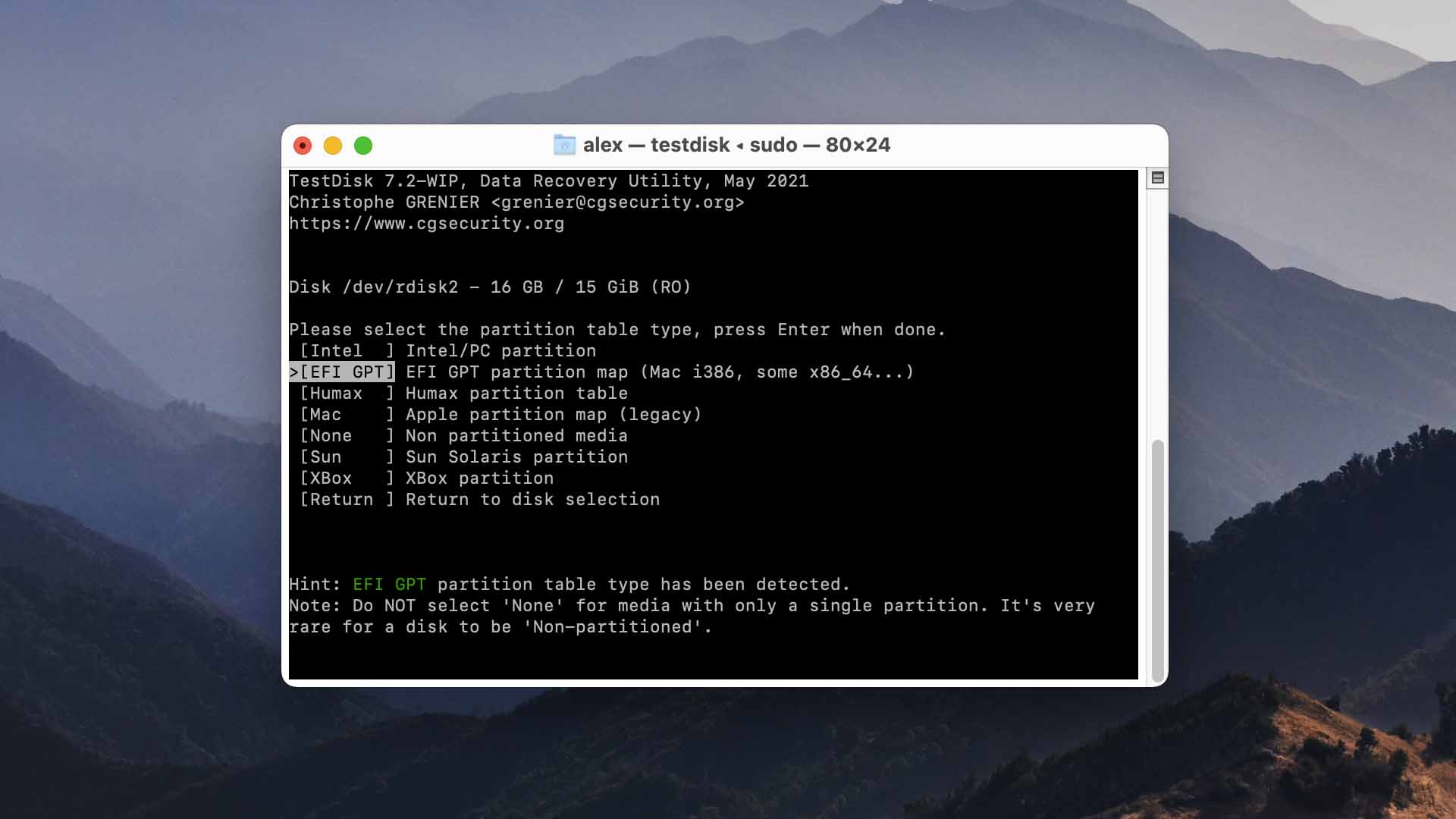 TestDisk for Mac is an open-source data recovery utility developed by CGSecurity, the same software company that's behind PhotoRec. The main purpose of TestDisk for Mac is to recover lost partitions and make non-booting disks bootable again. Apart from macOS, TestDisk runs on Windows, *BSD, SunOS, and even DOS.
Free Version
TestDisk for Mac is a free and open-source data recovery utility that doesn't have a premium version. In other words, all of its features are available for free, and you can even use it for commercial purposes.
Pros:
Completely free
Supports many file systems
Runs on macOS, Linux, Windows, *BSD, and more
Cons:
Doesn't have a graphical user interface
Not great for beginners
Features
TestDisk for Mac can undelete files from the FAT, NTFS, exFAT, ext2/ext3/ext4, HFS+, and many other file systems. The tool can easily rebuild broken file tables, boot sectors, and even make non-bootable hard drives bootable again. Unfortunately, it's not easy to take advantage of all the features TestDisk for Mac offers because this otherwise reliable data recovery tool lacks a graphical user interface.
Supported OS: macOS <= 10.14.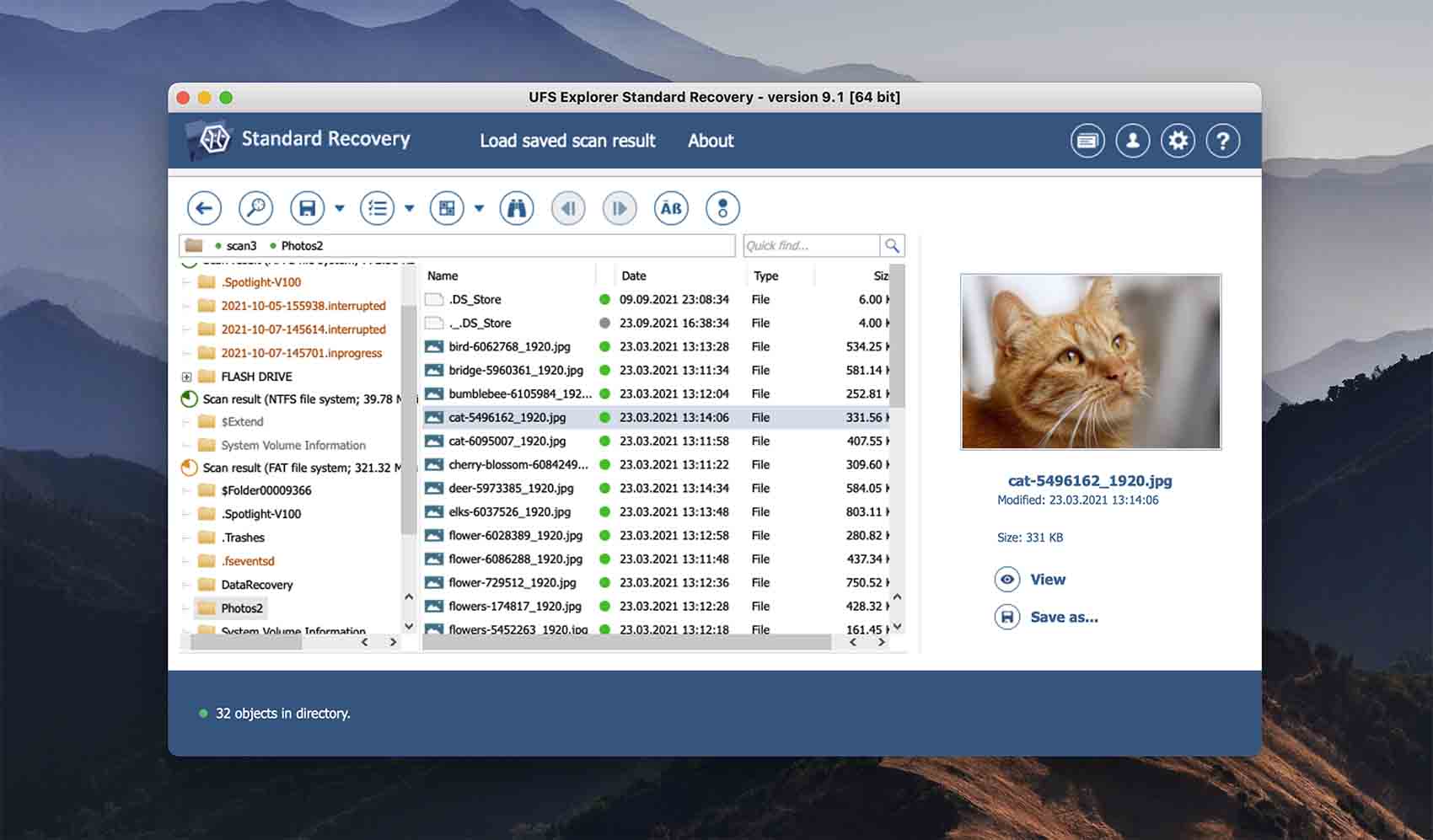 USF Explorer is a commercial data recovery tool that offers users a limited free trial version. The tool employs a Windows Explorer-style user interface for easy navigation through its features to facilitate data recovery on your Mac.
Free Version
The free version of UFS Explorer allows you to test the tool's functionality and will work with files below 256 KB in size. You can easily upgrade to the paid version if you like the tool and want to recover more data.
Pros:
Supports multiple file systems and device types
The tool is updated regularly
Preview files before recovering them
Quick performance
Cons:
File size limitations with the trial version
Doesn't have preview of files
Features
UFS Explorer can recover lost and deleted data from a wide variety of physical devices, disk images, and virtual machines. The tool supports recovery of all major file systems used on Mac, Windows, and Linux systems and can reconstruct spanned volumes to access and recover their files.
Customizable scanning options enable a quick or longer search to uncover deleted data. Scans can be paused and the results saved for future reference. UFS Explorer can help recover files locked in undetected partitions and retrieve files from disks with bad sectors. The tool can produce a map of bad blocks while reading and imaging a disk.
Supported OS: macOS version 10.9 and above.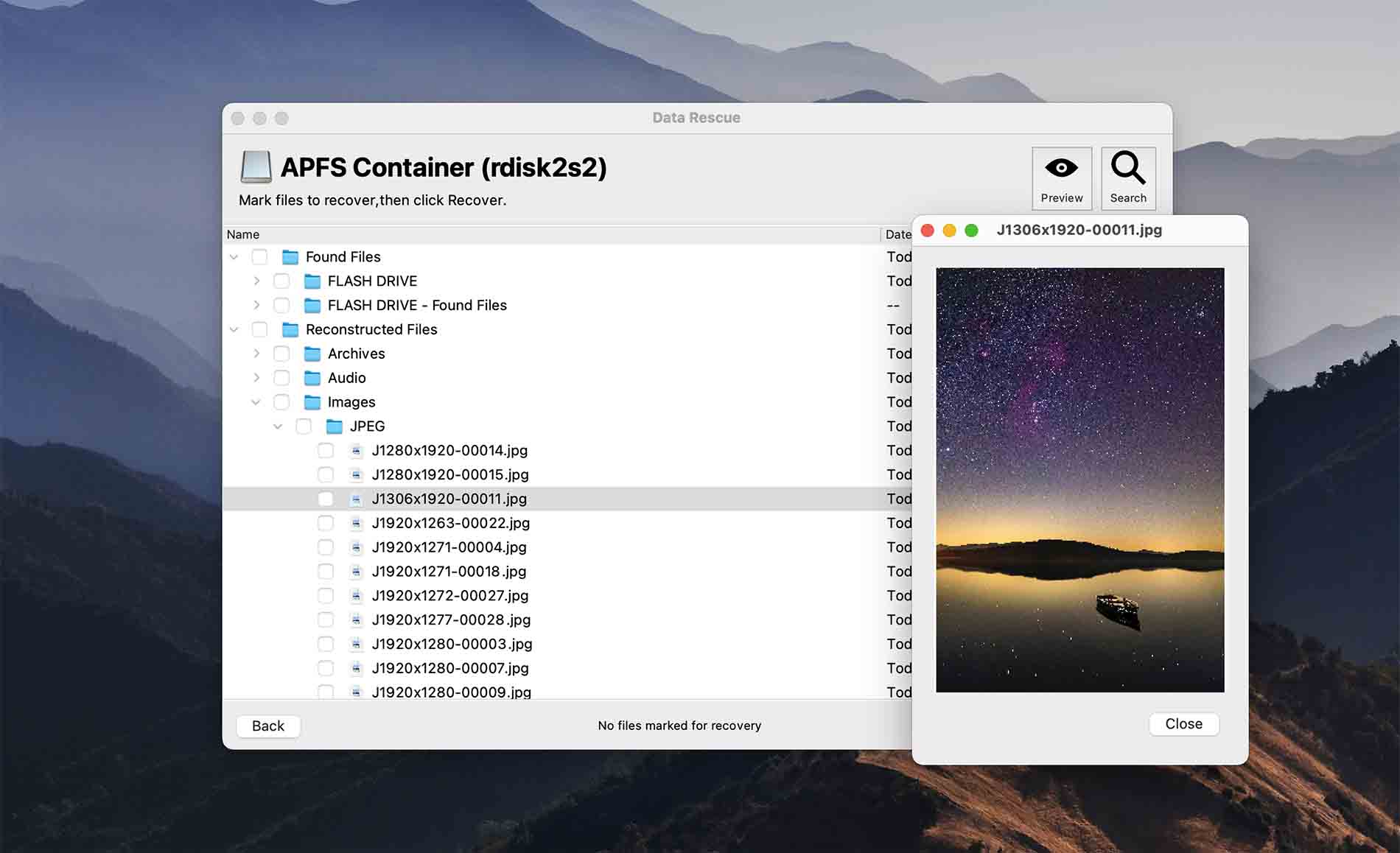 Data Rescue 6 is a data recovery solution for Mac that helps users recover from a wide range of data loss situations. The tool furnishes users with an attractive interface that makes it easy to recover their lost or deleted files.
Free Version
The free version of Data Rescue 6 allows users to scan their disks and obtain a report of recoverable files. At that point, purchase options are displayed so users can recover the found files if they wish.
Pros:
Quick and deep scans for different recovery scenarios
Easy-to-use interface and recovery procedure
Clone failing drives to protect their contents
Cons:
The free version only previews recoverable files
Doesn't perform well with different file systems
Features
Some of the features provided by Data Rescue 6 include the ability to save and review previous scan results, clone drives that are having hardware issues, and create a bootable recovery drive. Deep scans can recover files lost due to emptying the Trash or inadvertently formatting a drive. Quick scans can help resolve problems with the OS not booting or external devices that fail to mount. A simple recovery process lets users scan any storage device attached to their Mac and recover its lost data.
Supported OS: macOS 10.12 and later.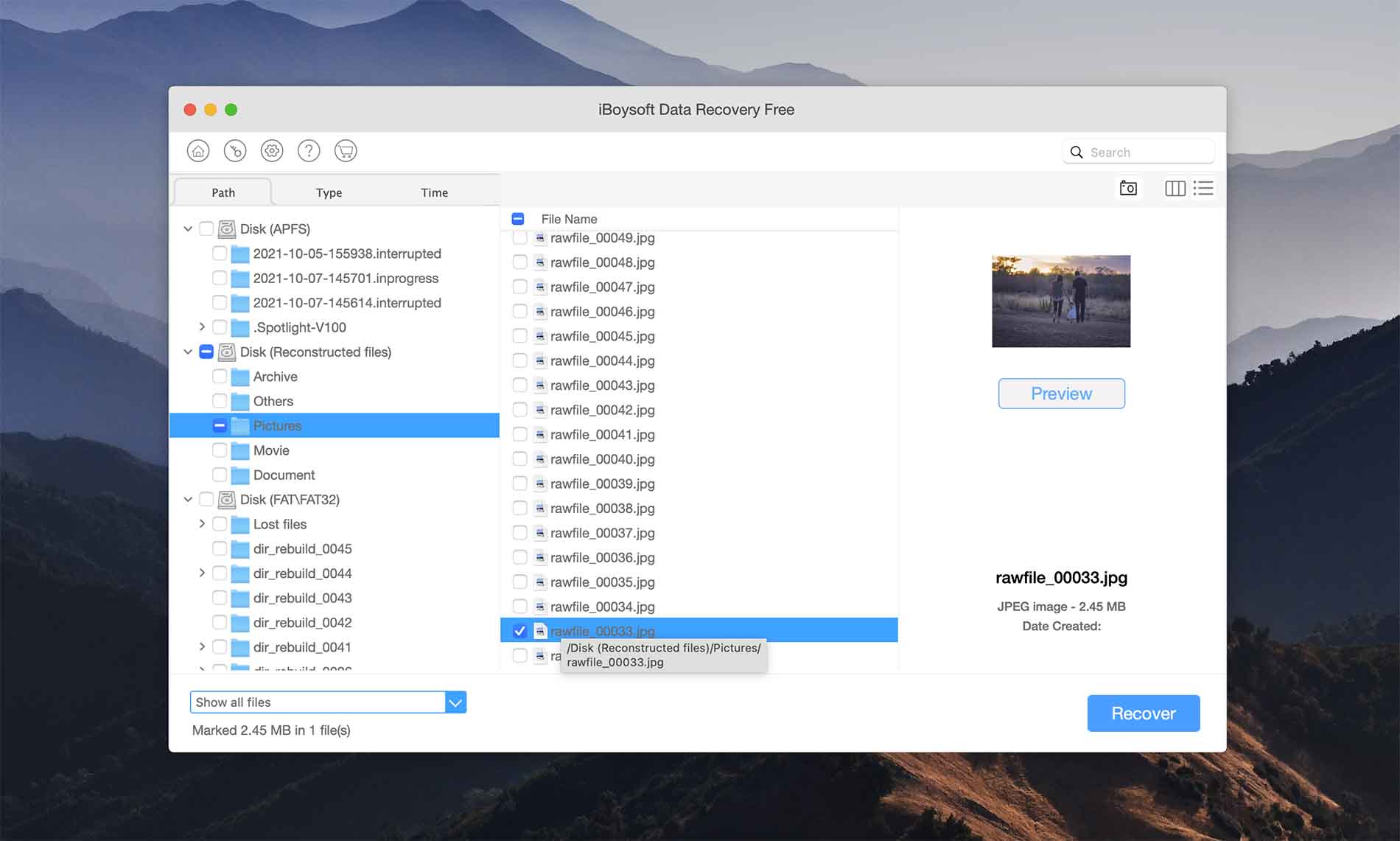 iBoysoft Data Recovery is a versatile recovery tool for Mac that lets you get back lost and deleted files from a wide variety of storage devices. The application can help you address a Mac that won't boot or recover files lost from an emptied Trash bin. You can also obtain a version of the software for the Windows platform.
Free Version
The free version of iBoysoft Data Recovery for Mac lets you recover up to 1 GB of deleted data. You will need to upgrade to the paid version of the tool if you want to recover additional data.
Pros:
Free 1 GB data recovery
Compatible with M1 and T2 Macs
Quick and Deep scans for optimal recovery results
Free scan and preview of recoverable files
Scan results can be saved and reloaded
Cons:
The license model is expensive
Features
iBoysoft can recover lost files from corrupted or unreadable internal or external storage devices. The tool supports the recovery of files in over 1000 different formats covering all popular media file types. It offers users a simple, three-step recovery process that scans your storage media, previews recoverable data, and recovers them to a safe location.
Supported OS: macOS all versions, Mac OS X 10.11/10.10/10.9.
How We Tested Data Recovery Software for Mac
All free data recovery tools featured in this article were tested on a real Mac computer using a large sample of file formats. Before testing each data recovery tool, the computer was restored back to its original state to make the comparison as objective as possible.
| | | | | |
| --- | --- | --- | --- | --- |
| Software Name | Limitations | Interface | File Preview | Latest Update |
| Disk Drill | Only preview of found files | Good | Yes | November 05, 2021 (Version 4.6.370) |
| Testdisk | — | Bad | No | July 10, 2019 (Version 7.2) |
| UFS Explorer | Works with files 256 KB or less | Average | Yes | September 20, 2021 (Version 9) |
| Data Rescue 6 | Only preview of found files | Average | Yes | December 28, 2021 (Version 6.0.6) |
| iBoysoft | Recover up to 1 GB of data | Average | Yes | October 2021 (Version 4.0) |
Conclusion
Disk Drill for Mac has emerged as the best data recovery tool for Mac because of its modern user interface, powerful features, and generous free plan. With Disk Drill for Mac, there's no need to waste time learning how to use text-based data recovery tools, and there's also no need to download multiple different apps to recover various file formats—Disk Drill for Mac can do it all.
FAQ