Apple fans know how frustrating it is to manage storage space; the lack of SD card slots prevents users from easily getting more storage, and iOS updates, apps, and media files are taking up more and more space (which may cause performance issues).
However, iOS actually provides multiple ways to both manage and optimize your storage without having to expand it. As long as you're mindful, you easily stretch that 64 (or even 32) GB. We'll show you how to avoid the dreaded warning, "iPhone storage is full."
How to Manage Storage on iPhone
As we briefly mentioned earlier, there are ways to both manage and optimize your iPhone storage. First, we'll show you how to manage it – in other words, we'll help you figure out what exactly is taking up the space so you can delete them or plan around them.
There are 3 ways you can accomplish this: via your iPhone, in Finder on your Mac, or using iTunes.
Method 1:

Manage Your Storage Space on iPhone

If you don't have a Mac or don't want to use it for this task, you can manage your storage space directly on your device. There are 2 types of storage that you can manage on your iPhone: (1) Local Storage and (2) iCloud Storage.

Here's how to clear storage on your iPhone locally and on iCloud:

Local Storage

To monitor local storage space on your iPhone:

Step 1. Open the Settings app and tap General.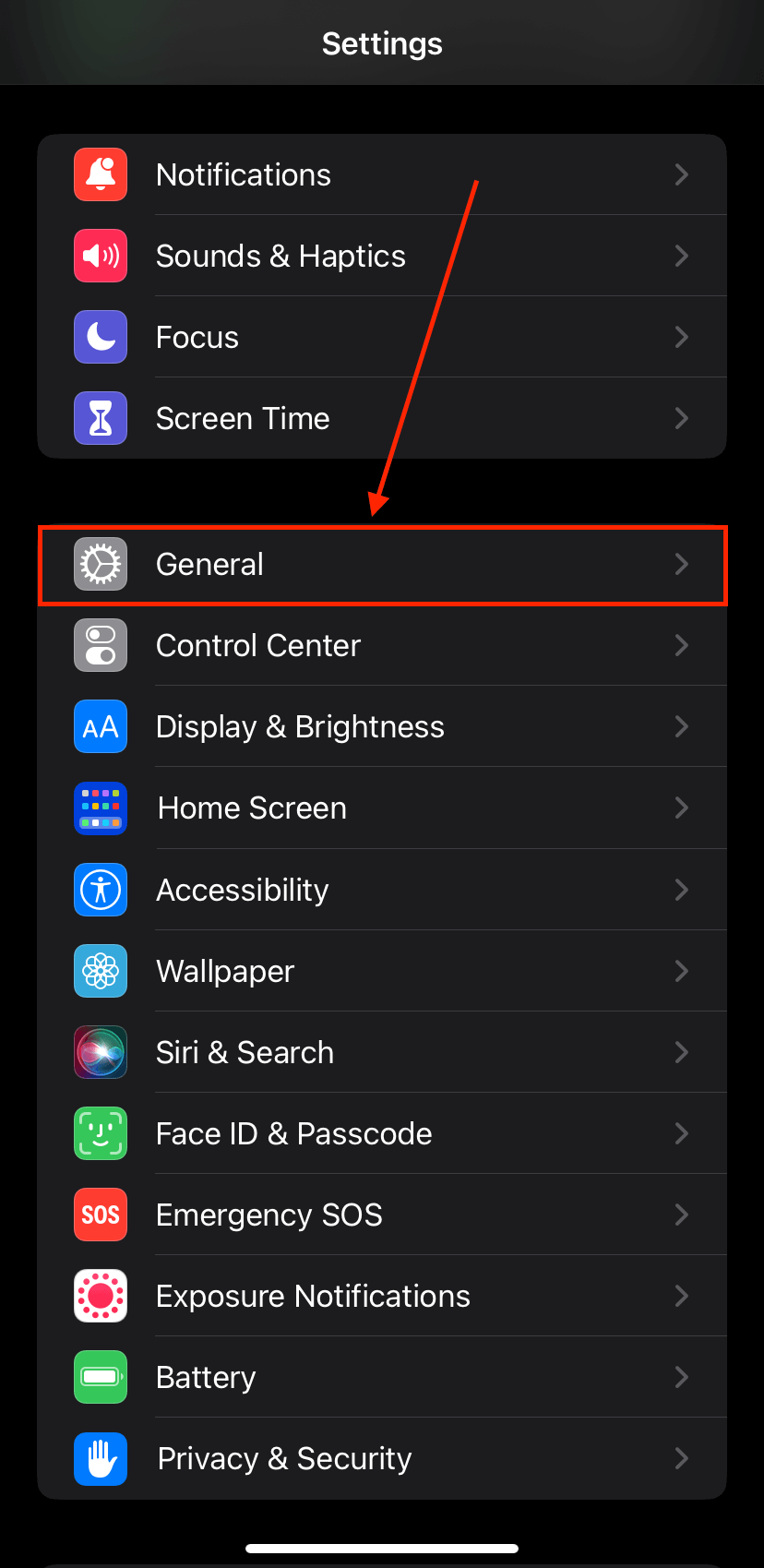 Step 2. Tap iPhone Storage.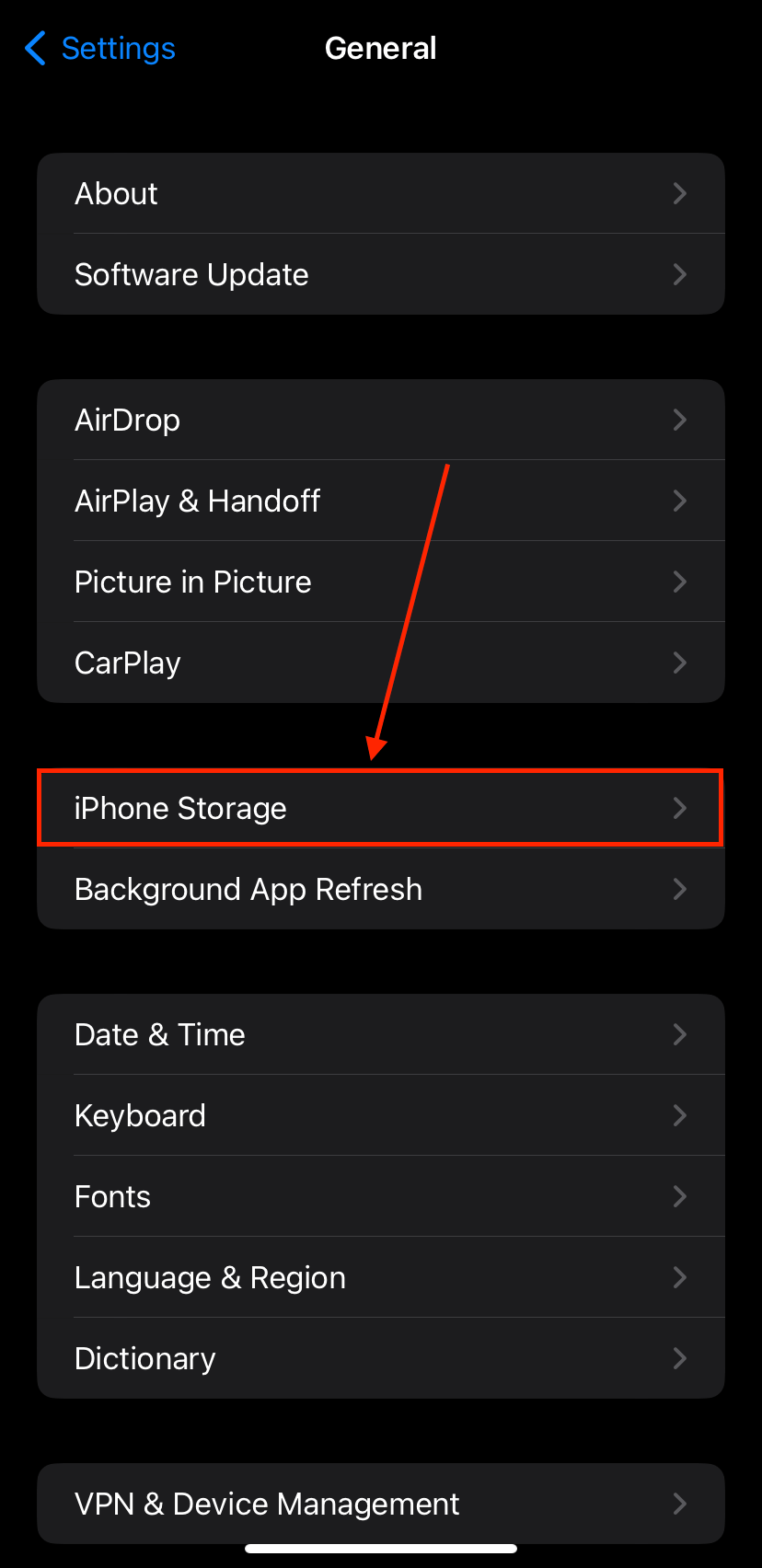 Step 3. Here, you'll find out what apps and files reduce your iPhone storage the most. iOS may recommend unused apps to offload. You can also tap any app directly from this menu and delete or offload them.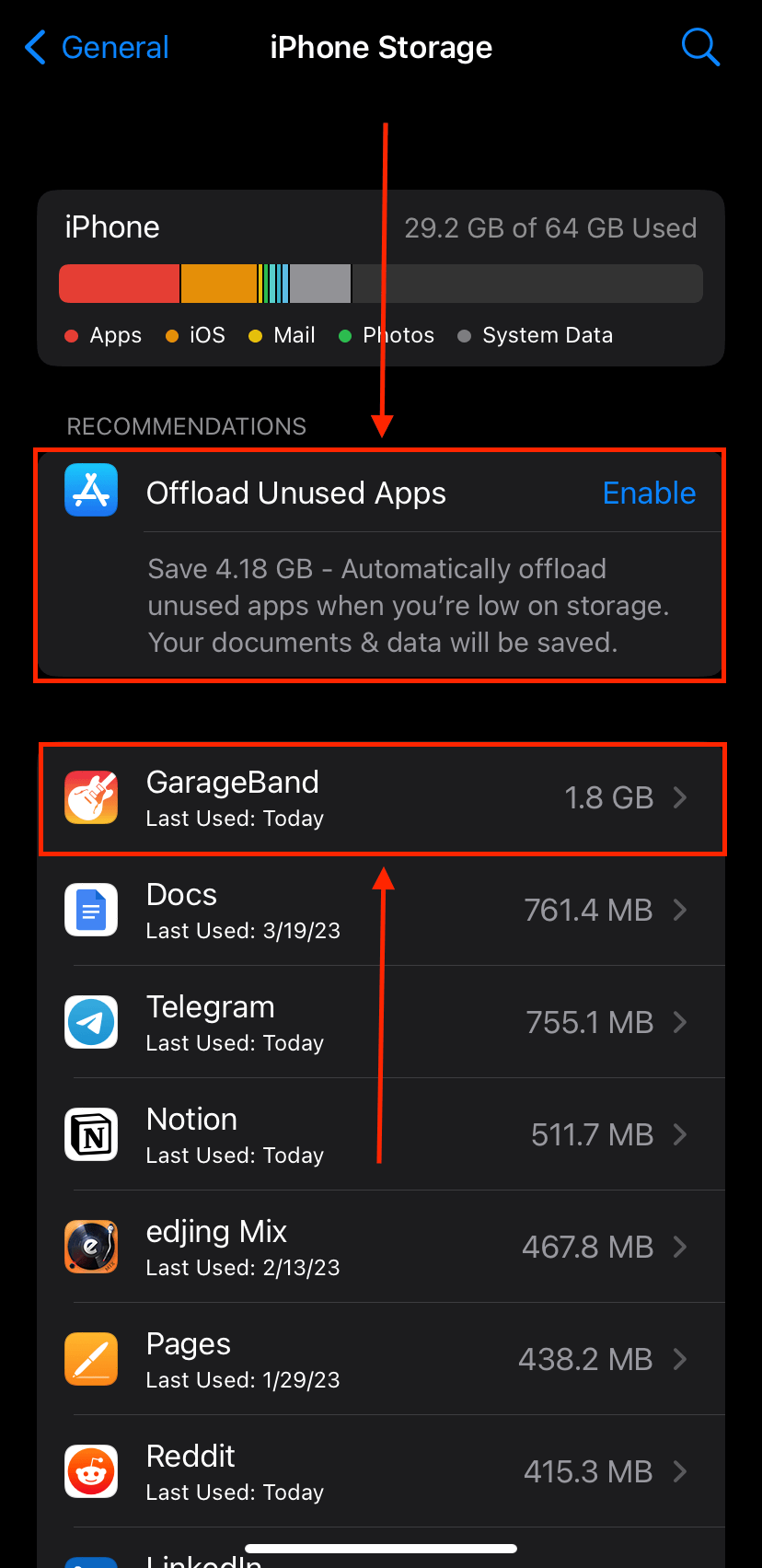 Step 4. After tapping on an app, you can opt to delete or offload it.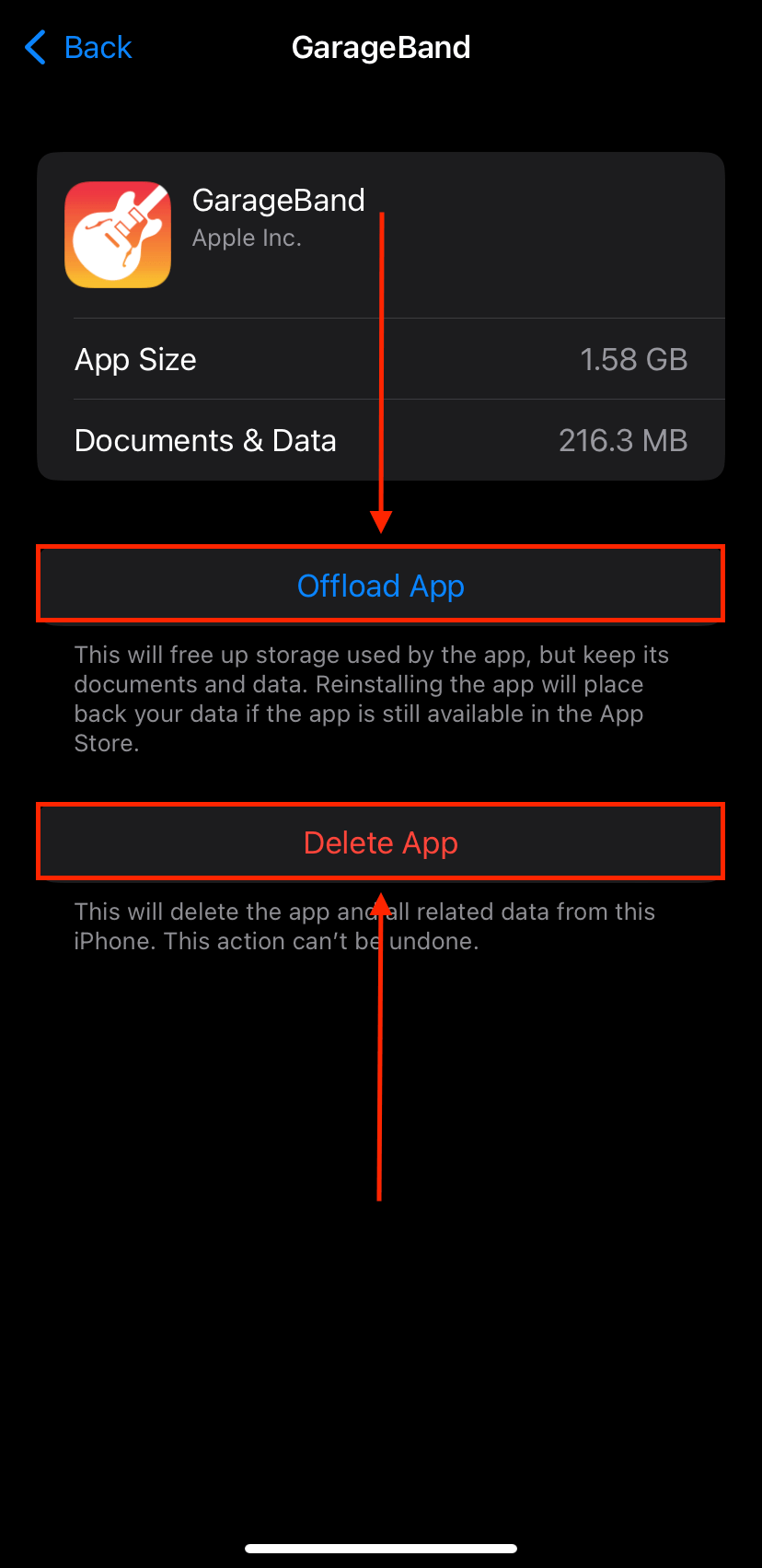 Offloading an app deletes the app itself while preserving user data – such as login information, preferences/settings, and saved files. Restoring the app will restore all that data as well. If you don't wish to preserve the data, delete the app instead.
iCloud Storage
To monitor iCloud storage space on your iPhone:
Step 1. Open the Settings app and tap on your card.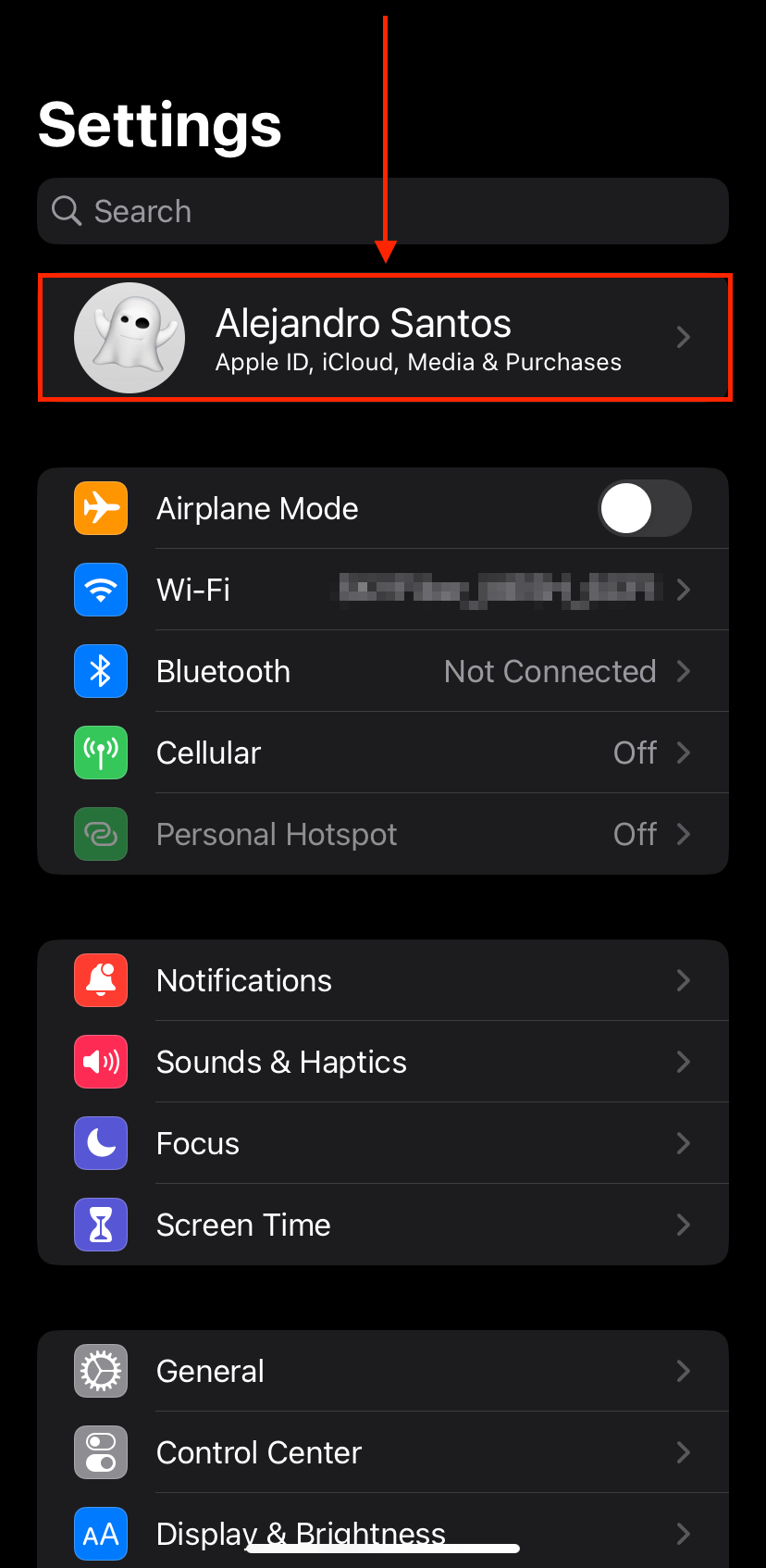 Step 2. Tap iCloud.

Step 3. Tap Manage Account Storage.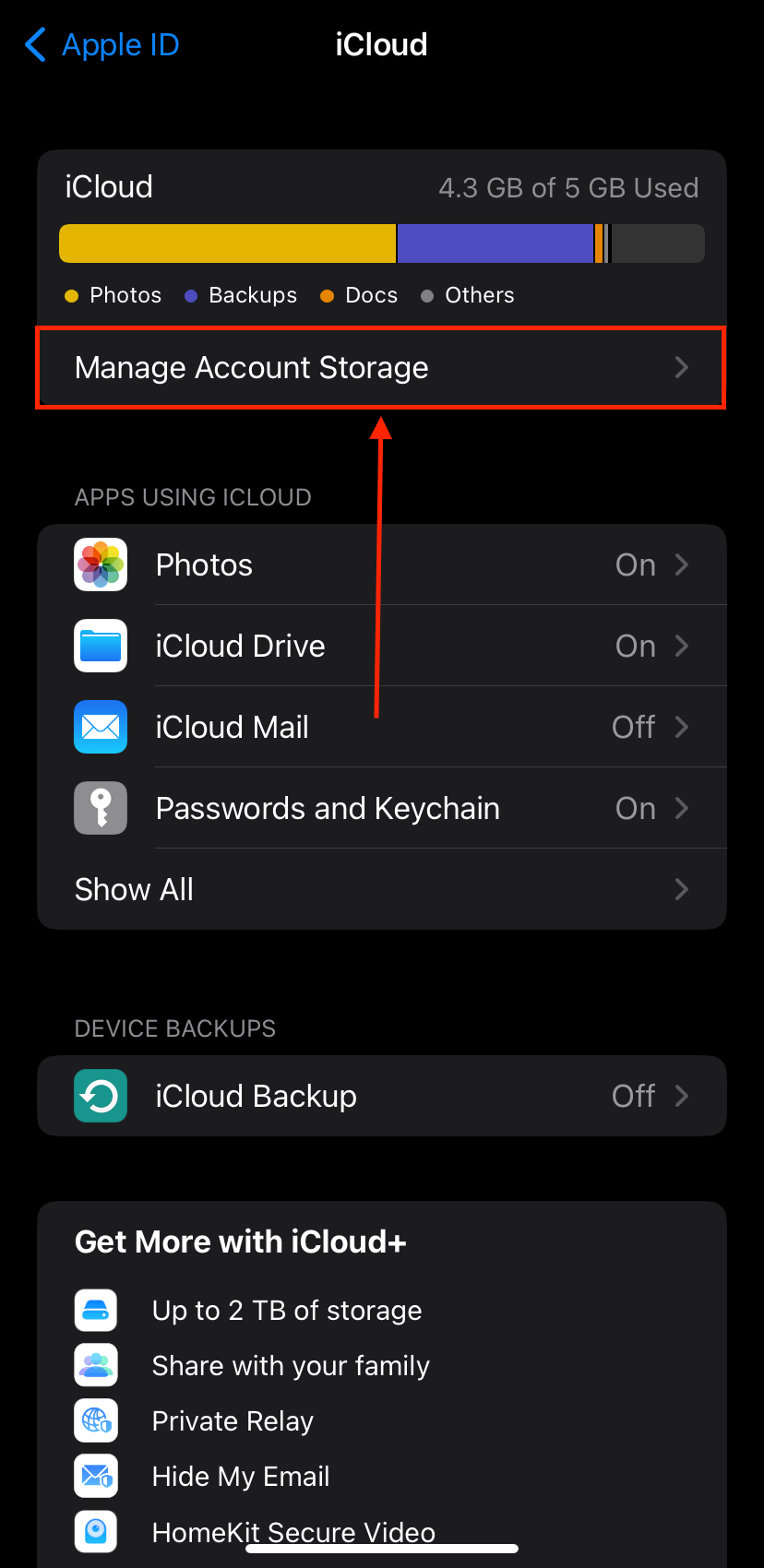 Step 4. Here, you can see exactly what files (like apps, photos, and misc. documents) are taking up the most space on your iCloud account. You can also tap any item on the list for an option to delete it. As you can see, some apps also store information in your iCloud storage.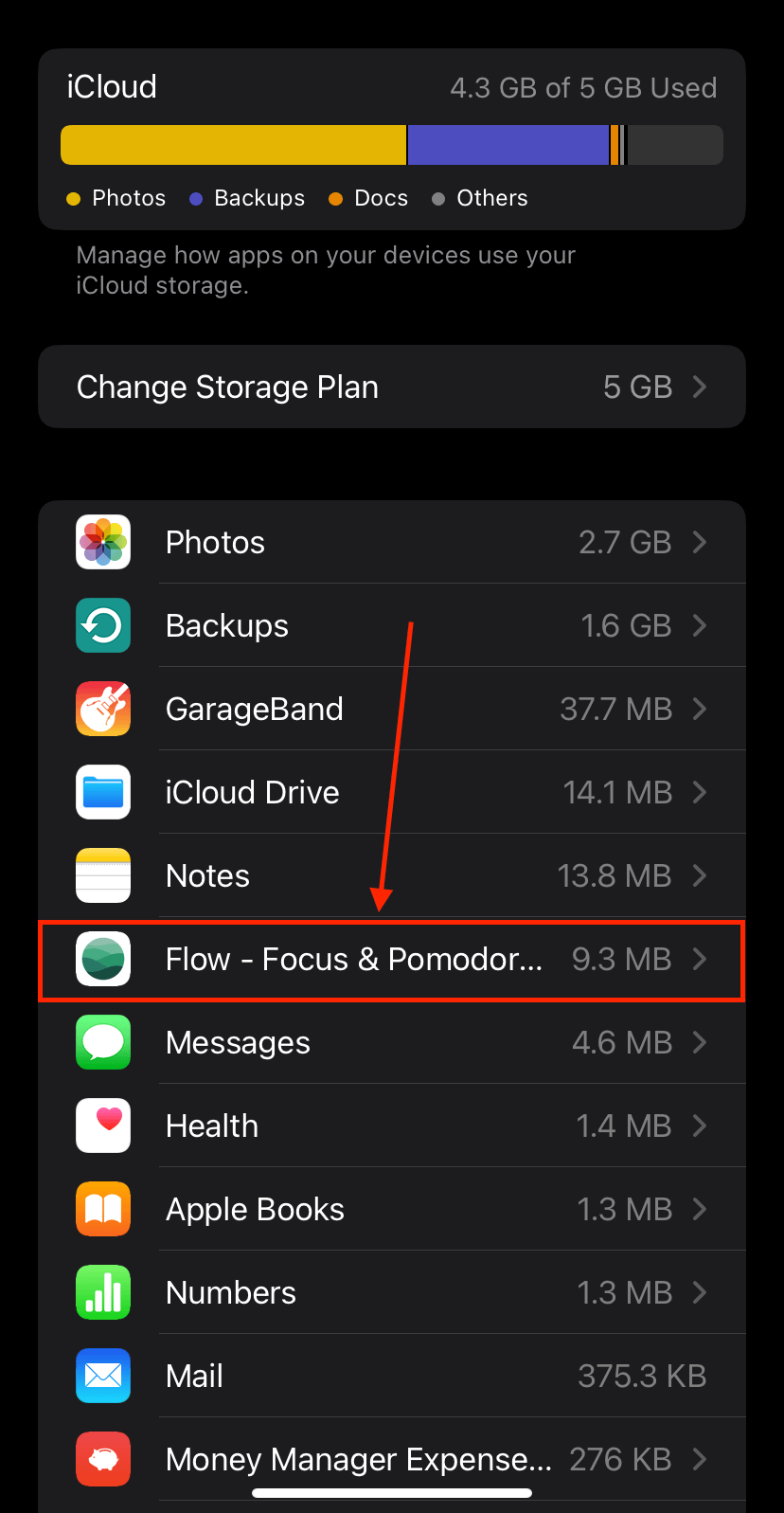 Step 5. Upon tapping an item from the list, tap Delete Data… if you want to clear up some of your iCloud storage.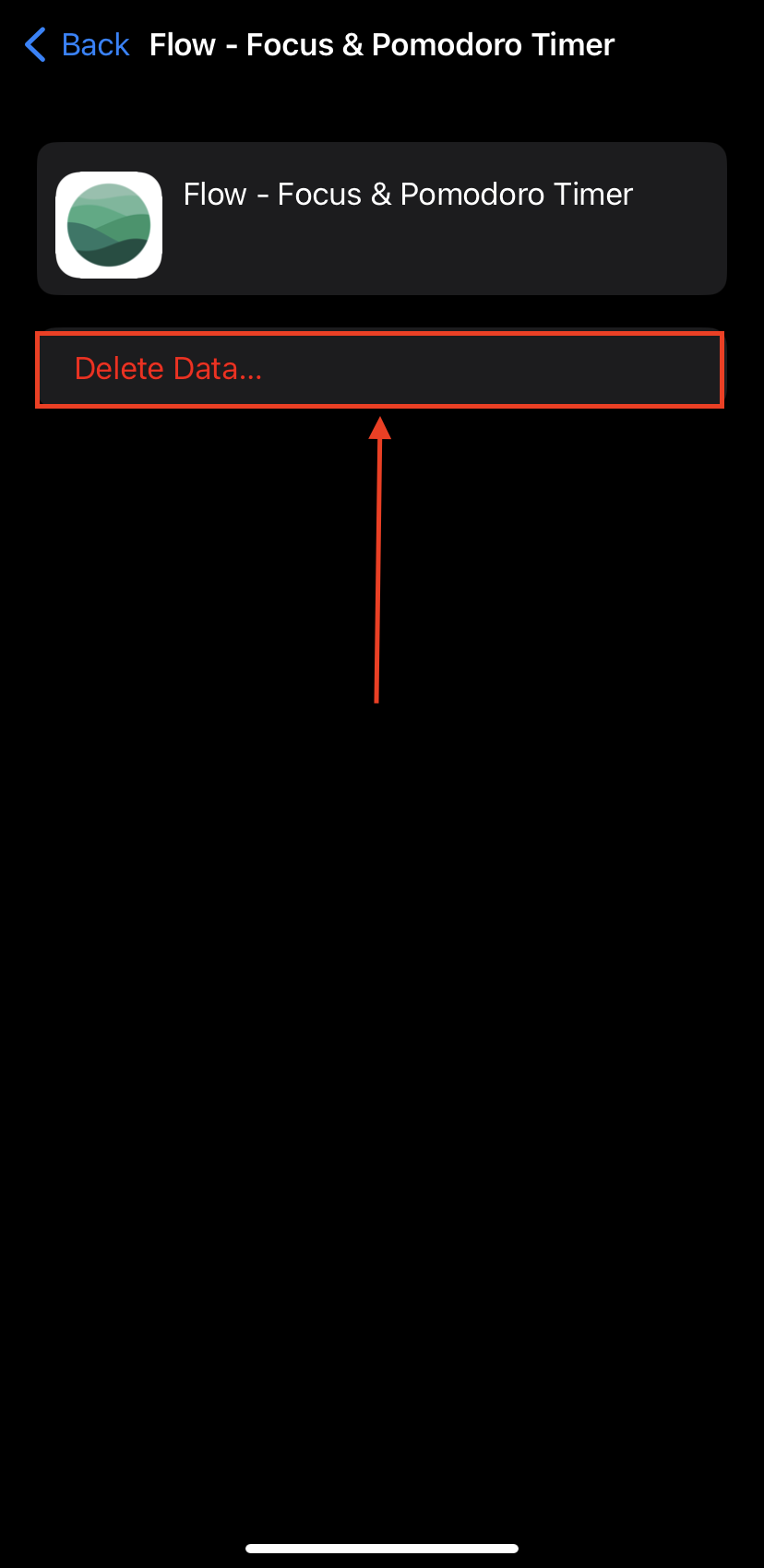 Method 2:

Manage Your iPhone Storage Using Finder

For users who want to use their Mac and are running macOS Catalina and above, you can use Finder to manage the storage on your iPhone. If you are running macOS Mojave and below, skip to method 3.

To manage your iPhone storage using Finder, connect your iPhone to your Mac and select it from the left sidebar. Then, you can navigate to the Files app to delete app data or click Manage Storage… to delete the movies, TV shows, songs, podcasts, audiobooks, and books you no longer need.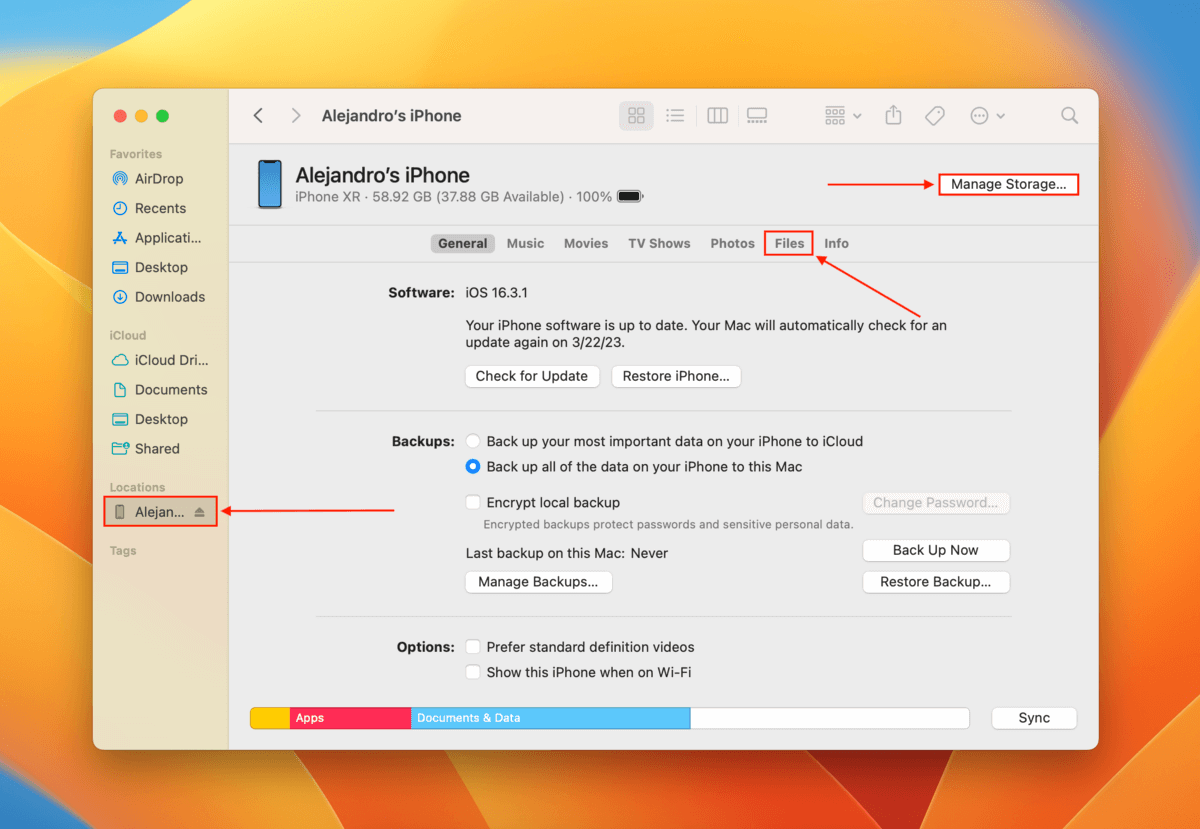 Method 3:

Manage Your iPhone Storage Using iTunes

For users who want to use their Mac and are running macOS Mojave and below, you can use iTunes to manage the storage on your iPhone. To do so:

Step 1. Connect your iPhone to your computer, launch the iTunes app and click on the phone icon.

Step 2. Select File Sharing from the left sidebar. Then, click on the application whose data you want to clean up and select the files on the right by clicking on them.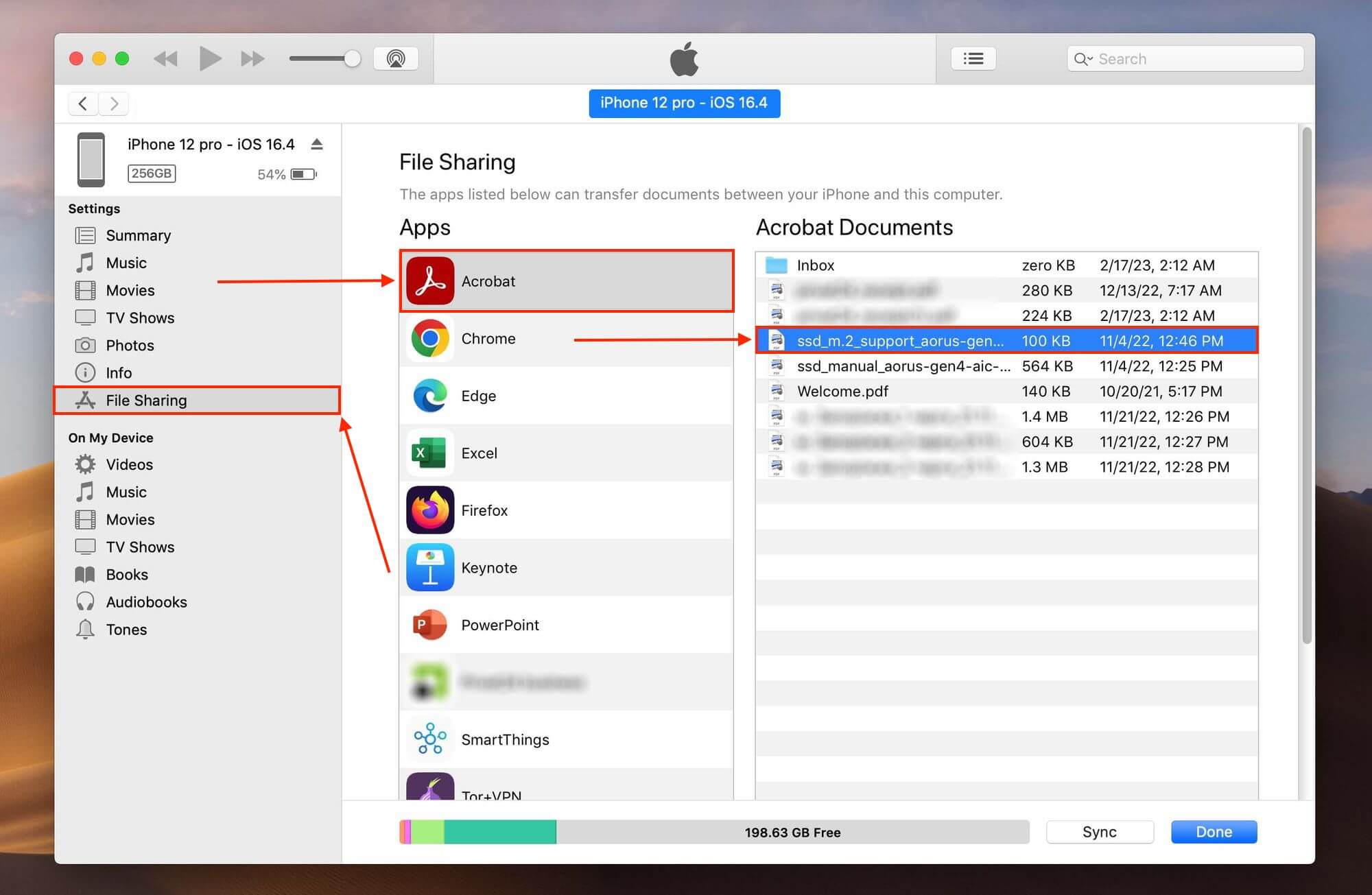 Step 3. Hit the Delete key to erase the files. Then, click Delete when prompted to confirm the action.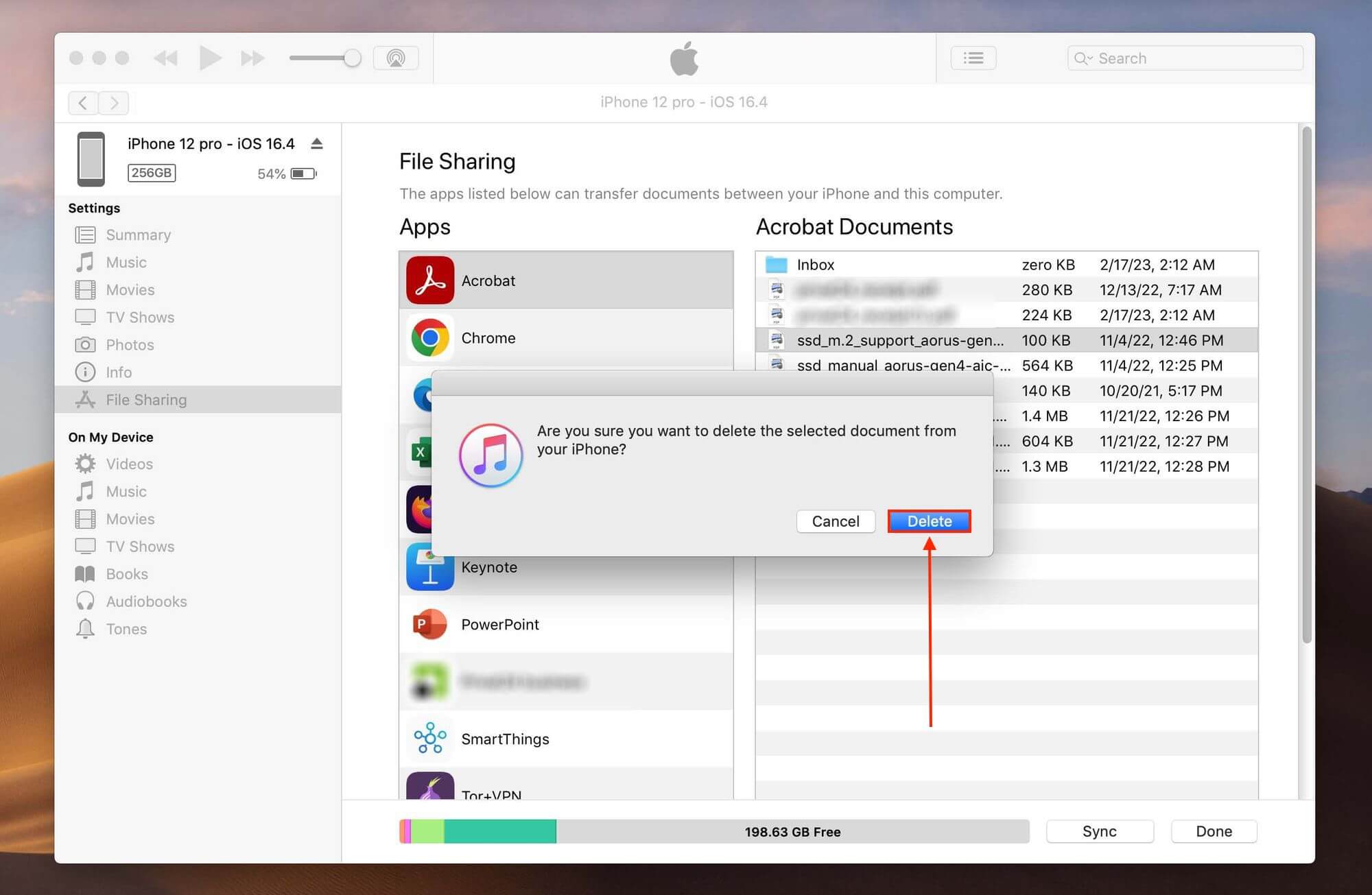 Why is iPhone Storage Full?
iOS does a good job (for the most part) of letting users know what exactly is going on in their devices. When it comes to storage, your iPhone has a number of warnings it will notify you about, depending on the exact issue. Let's go through all of them:
| | |
| --- | --- |
| Warning | What it means |
| iPhone Storage Almost Full | Your iPhone is running out of storage space and you must take action now (by deleting apps, files, or other data) to avoid filling it up completely. You may also consider using iCloud to free up space on your iPhone. |
| iPhone Storage Full | Your iPhone memory is full and you can no longer save new apps, photos, and other data on your iPhone. It also means iOS can no longer delete cache data and other system files to clear up storage on your iPhone. Manually delete files, apps, and other data, and consider keeping your files in your iCloud Drive so it's stored on the server, not your iPhone. |
| iCloud Storage Full | Your iCloud storage is full and you may have issues syncing media files and other documents in your iCloud drive folders. Delete files from your iCloud Drive or consider buying more storage space. |
| Photos and Videos Sync Paused | Photos and videos will no longer sync to your iCloud Photo Library (due to full storage). Consider deleting some photos or saving them to a separate storage device, or buying more storage space. |
| Mailbox Almost Full | You may begin having issues opening email attachments due to overloaded email storage. Consider deleting/archiving emails. |
| App Storage Almost Full | A specific app on your iPhone has almost reached its storage limit. You can try deleting the app's cache, but if that's not enough or the option isn't available, you need to delete or offload the app and reinstall it. |
The fastest way to clear storage on your iPhone and get rid of most of these warnings is to delete large videos, photos, and apps. You can read the following two sections below for instructions on each file type.
However, you can address the low disk space on your iPhone without deleting apps and other files by following the guide in the iPhone storage optimization section.
How to Clear Storage on iPhone
The process of clearing storage on your iPhone depends on the type of data you want to purge. While some are pretty straightforward (you must simply delete them), others can be cleaned up in other ways.
Below are the most common file types on iPhone that take up storage space and that can be cleared easily, as well as what to do with them.
General Unnecessary Media:

This is just a general reminder to go through all of your downloaded music, videos, podcasts, ringtones, artwork, and voice memos you no longer need and delete them.

Apps:

There are 3 ways you can clean up apps: (1) clear data from the apps (ex. reduce YouTube storage by erasing downloaded videos), (2) clear the app cache, and (3) delete or offload the apps.

Photos and Videos:

Enable iCloud Photo Library to free up local storage. You can either upload all your photos to the cloud and delete local copies or upload original copies and save the smaller copies to your iPhone.

Mail:

Delete the mail you don't need. Pay special attention to mail with attachments (you can save attachments locally or to the cloud and delete the email itself).

Messages:

Similar to mail, delete the messages you don't need and save any attachments or files elsewhere. Then, delete the messages these files were attached to.

Books:

The Books app itself can increase in size and the files you import can eventually add up. Go into the Settings app > General > iPhone Storage > Books to delete or offload the app and reinstall it later.

System Data:

System data adds up over time. You can clear iPhone storage by deleting the system cache (just to get rid of anything redundant). Note that your iPhone will perform slower at first while it rebuilds the cache, but you should notice an increase in performance and storage space after.

Other:

Aside from the files already mentioned, there are other types of data stored on your iPhone that may be taking up more space than necessary. These include duplicate contacts, calendar data, notes, browser bookmarks, health data, and documents (such as downloaded PDFs). You can usually clean up this data via the Settings app or within the target app itself.
To clear the system cache on your iPhone, close all apps and press and hold the Sleep/Wake button. Once the power slider appears, release the Sleep/Wake button and hold the Home button until you see the home screen.
Best Apps to Clean iPhone Storage
If your iPhone's storage has gone way beyond your control or you don't have the time to clear space on your iPhone, consider using an app.
We highly recommend the 3 iPhone storage cleaners below – they all have free trials or can clean up your iPhone storage for free. While they look the same on the surface, they each handle storage management quite differently.
#1:

Cleaner for iPhone

Cleaner for iPhone helps you clear disk space on your iPhone by managing 3 types of data: photos, videos, and contacts. Easily delete duplicate photos on your iPhone using the Smart Clean feature – it rounds up and categorizes identical, blurred, and burst images, as well as long video files, with a single tap.

Cleaner for iPhone can also automatically locate, merge, and delete duplicate contacts or contacts with missing information. It's a good choice if you want a fast way to delete storage on your iPhone that doesn't require much user input.
#2:

Cleanup: Phone Storage Cleaner

Cleanup: Phone Storage Cleaner is a "cleaning assistant" that makes it easy (and fun) to manually clean up your gallery by using gestures. For example, you can swipe a photo left to get rid of it and swipe right to keep it. This is a great option for users who need to clear iPhone storage but want precision control over the cleanup.

The app will also suggest which photos (among a batch of similar photos) to keep – it considers factors like whether you're smiling, the photo has good focus, etc. Fortunately, Cleanup provides a Trash folder where you can make the final call to erase the deleted photos permanently.
#3:

Easy Cleaner.

While contacts typically don't take up much storage space, they do add up. Easy Cleaner. (yes, with the period) is a contacts management app that can help you easily locate, delete, and/or merge duplicate and incomplete contacts.

With this app, you can quickly find any contact using its Smart Filters (Company Name, Upcoming Birthday, etc.) and you can create restore points in case you accidentally delete or modify an entry. It's a great app for people who have lost track of their giant contacts list and those who have 5 copies of the same contact.
How to Optimize Storage on iPhone
iOS tries its best to efficiently manage space on its own, but there are ways that we can manually set up the iPhone to optimize its limited space and free up storage without deleting anything. Here are some tips:
Upload Photo Library to iCloud.

You can either use the Optimize iPhone Storage feature to upload high-resolution copies to iCloud and keep smaller versions on your iPhone or you can delete local copies entirely once they have been uploaded to iCloud.

Offload unused apps.

Offloading an app deletes the app itself but keeps your data and preferences on your iPhone. You can access this via the Settings app.

Clear your caches.

Cache data consists of temporary files that allow apps and browsers to run without having to load everything from scratch. You can clear your app cache and Safari browser cache from the Settings app (other browsers like Chrome provide this option from within the browser app itself).
Conclusion
Despite iOS' storage limitations, the iPhone provides ample ways to manage whatever space it provides. And if you want more efficient solutions, the App Store offers a lot of storage management apps (that really work). While you can optimize your device to effectively manage itself, we do recommend that you take a day every so often to check your iPhone storage and purge unnecessary data. Just remember to create backups via Finder or iTunes to avoid permanent data loss!
FAQ