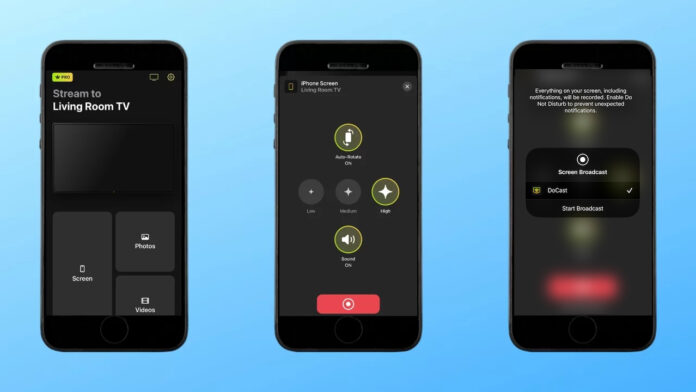 Our world relies on technology to function, and we now have the capability to cast and mirror our phones on TVs and other various devices. While iPhone users can use AirPlay to mirror their phones to devices, some smart devices don't support that technology. Because not every smart device supports AirPlay, users may look for a free mirror app for iPhone.
The need for screen mirroring apps for iPhone created a market for developers to craft solutions, and we tested six of the top choices Apple users have in 2023 to see how they perform. Here's a look at popular iPhone screen mirroring and casting solutions.
1. Apps for Mirroring iPhone Screen to TV
iPhone users have many reasons they need to cast or mirror their screens to a TV. Maybe they're giving a presentation. Or perhaps they lost the remote and want to change the show. Regardless of why they need a mirroring solution, here are some popular free TV casting apps Apple users can download.
To kick things off, we have DoCast, which is the closest replacement to AirPlay you will find for Chromecast smart TVs. DoCast's sleek platform makes connecting your iPhone to your Chromecast effortless. Plus, streaming is high-quality, and the free version supports audio, unlike many competitors.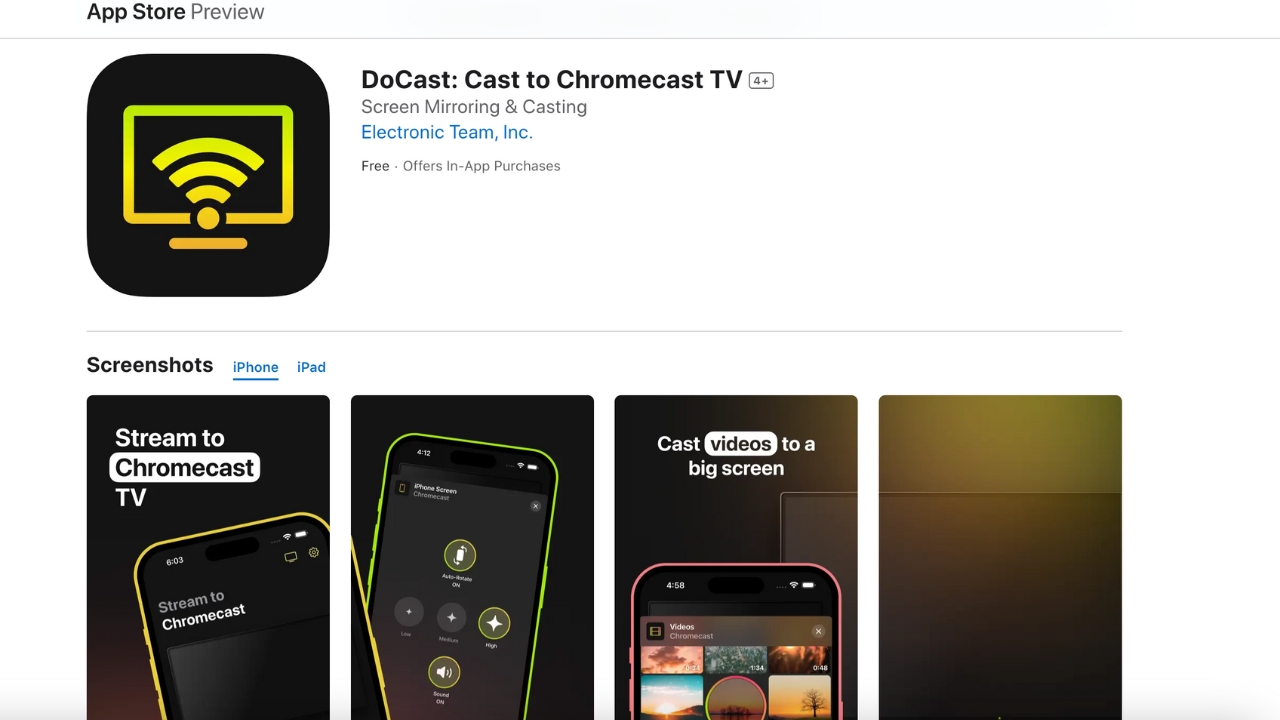 Pros:
Simple and easy to use
High quality and no delay
The free version supports sound
Cons:
No in-app web browser
Only 15 minutes of free mirroring
📱 Supported Devices:
iPhone with iOS 15 or later
iPad with iOS 15 or later
💰 Pricing:
Free Trial
$3.99 per month
$14.99 per year
$19.99 lifetime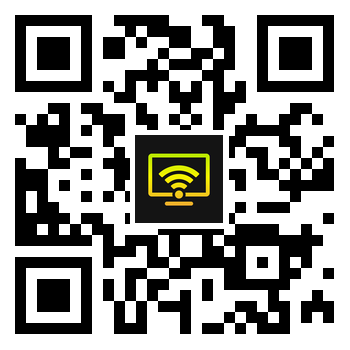 DoCast's straightforward application makes it one of our favorite iPhone apps for Chromecast. For iPhone users who need an adequate solution for mirroring their screens, DoCast is a top option. However, a lack of an in-app browser makes casting video from the web more challenging. Regardless, it remains one of the best Chromecast iPhone apps.
⭐️ App Store Rating: 5/5
⭐️ Our Rating: 4.5/5
Replica is an excellent solution for iPhone users who cast to devices that don't support AirPlay. It allows users to cast videos from social media, such as TikTok, and personal content, like photos or home videos.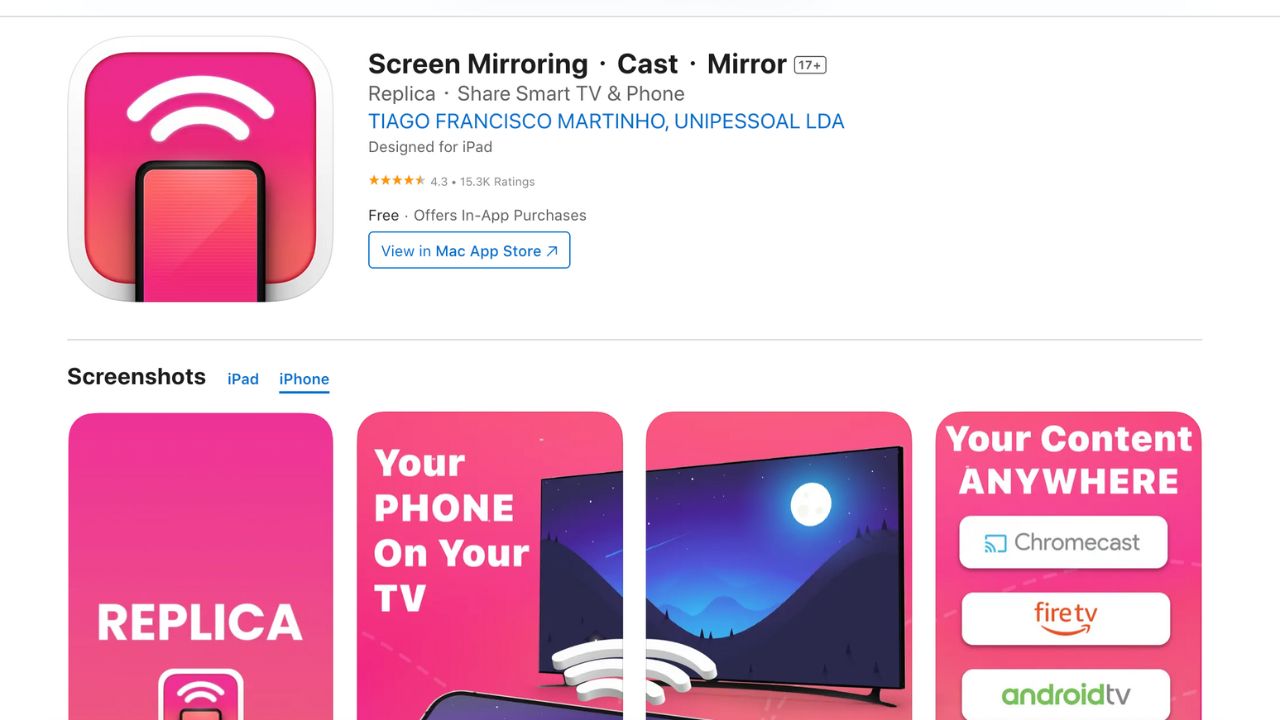 Pros:
Cast and mirror to the TV from iPhone
Supports social media, messaging apps, and web video
Cast to Tesla
Cons:
Must invite friends to receive a discount
No support for Roku devices
Expensive to upgrade to a premium
📱 Supported Devices:
iPhone with iOS 14 or later
iPad with iOS 14 or later
💰 Pricing:
Free trial
$29.99 per year
$49.99 one-time purchase
Replica offers users a ton of quality settings, allowing fine-tuning of aspect ratios, video orientation, device mute, app mode, and main screen device controls. Although the app is pricey to upgrade, it comes with an in-app browser and performs well with no connection issues.
⭐️ App Store Rating: 4.3/5
⭐️ Our Rating: 4/5
Screen Mirroring | Smart TV allows users to cast and mirror iPhone screens to TVs and smart TV devices, like Chromecasts. It has an in-app web browser, YouTube search engine, and IPTV, providing plenty of mirroring and casting options. Plus, presenters will enjoy the whiteboard feature, which turns your TV into a doodle pad for ideas.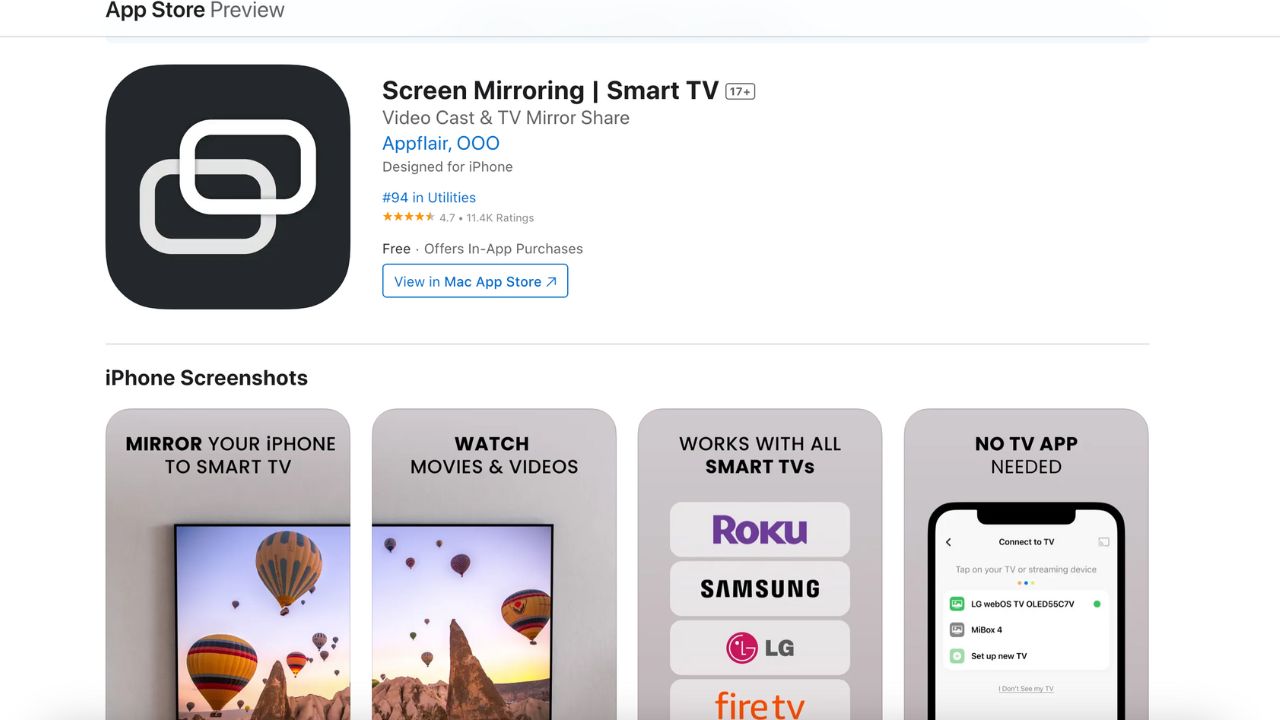 Pros:
Whiteboard doodle features
Available on iPad
Cons:
Most features are behind the paywall
Requires TV app for Roku devices
Failed to connect to either of our devices
📱 Supported Devices:
Device
iPad device (if applicable)
💰 Pricing:
Limited free features
Premium features start at $4.99
Full premium access $39.99
Screen Mirroring | Smart TV appears to be the best free TV mirroring app for iPhone users, especially with its high rating in the app store. However, upon closer examination and attempting to use the app across several platforms, including Roku and Chromecast, we can say, without a doubt, that's not the case.
This app is difficult to use at best. Most functions require users to upgrade, and the casting functions never worked for us. Additionally, Roku users must download a TV app that doesn't work well, despite the app store description claiming Screen Mirroring | Smart TV requires none. It was a total disappointment in our experience.
⭐️ App Store Rating: 4.7/5
⭐️ Our Rating: 1.5/5
Screen Mirroring App is a free Chromecast app for iPhone supported by advertisement awards to unlock access. This app is a stripped-down solution, with only screen mirroring capabilities included in-app. The developer of this app uses dedicated apps to support casting to various smart TVs and devices, such as Fire TV, Roku, and Chromecast.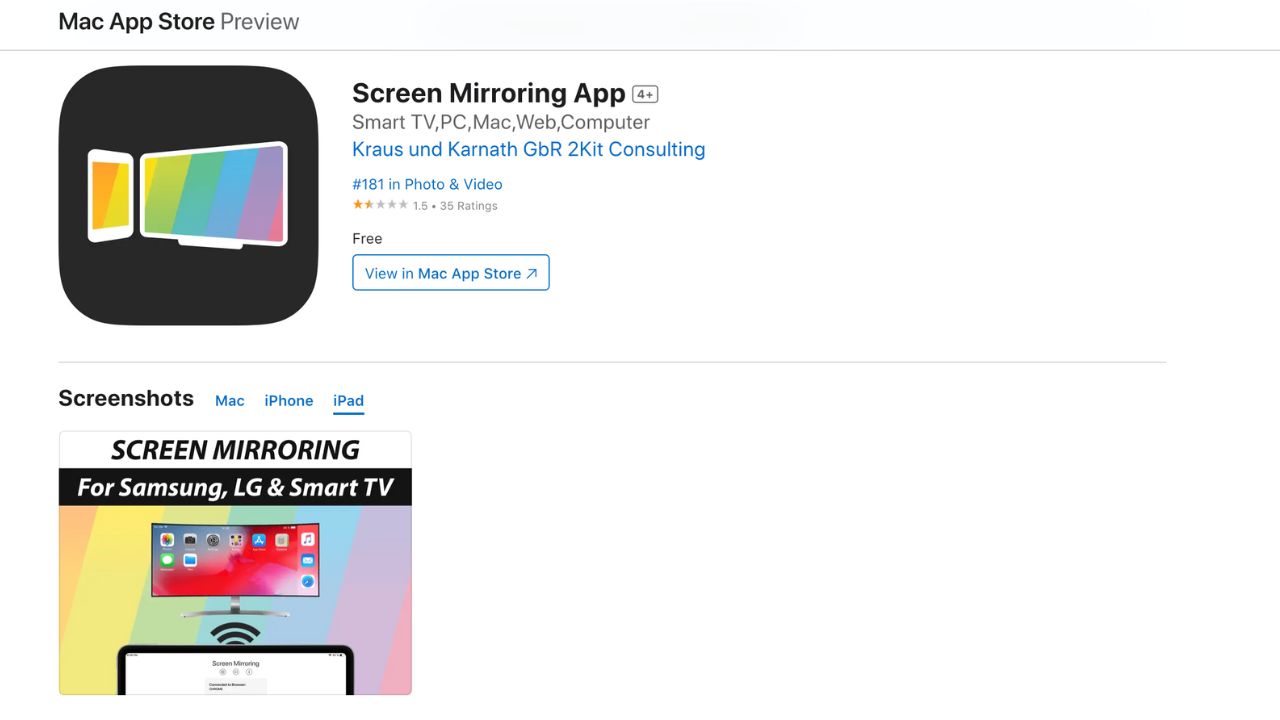 Pros:
Free to use
Supports iPad and macOS
Cons:
Must watch an ad to use
No additional features in-app
Must navigate to a browser on a smart TV to mirror
📱 Supported Devices:
iPhone with iOS 12 or later
iPad with iOS 12 or later
macOS 10.15 or later
💰 Pricing:
Free to download and use
A separate premium app available for $3.99
Although the Screen Mirroring App is free to use, that's just about the only thing it has going for it. As soon as you download and install the app on your iPhone, it will prompt you to upgrade immediately, but not in-app, to a separate app with premium features. Additionally, the ads that support the app occur too frequently, lasting 30 seconds each. It's a big swing and a miss for us.
⭐️ App Store Rating: 1.5/5
⭐️ Our Rating: 1/5
Comparing Apps for iPhone Screen Mirroring
| | | | | | |
| --- | --- | --- | --- | --- | --- |
| App | Free version | Sound in free version | Mirroring feature in free version | Chromecast support | Free trial |
| DoCast | ✅ | ✅ | High-quality | ✅ | ✅ |
| Replica | ✅ | ✅ | Average quality | ✅ | ✅ |
| Screen Mirroring | Smart TV | ✅ | ✅ | Low quality | ✅ | ❌ |
| Screen Mirroring App | ✅ | ❌ | Average quality | ✅ | ❌ |
2. Apps for Mirroring iPhone Screens to Different Devices
Apple users have many reasons for needing to mirror their iPhone screen, and sometimes that includes mirroring to devices that aren't TVs. For those scenarios, a mirroring app for iPhone that supports mirroring to other devices is necessary. Here are a few favorites and our evaluations.
LetsView offers a platform for Apple users to mirror their hardware on other devices, like computers. It comes with whiteboard features, personal file casting, and even remote casting capabilities. However, you must purchase minutes for remote functions.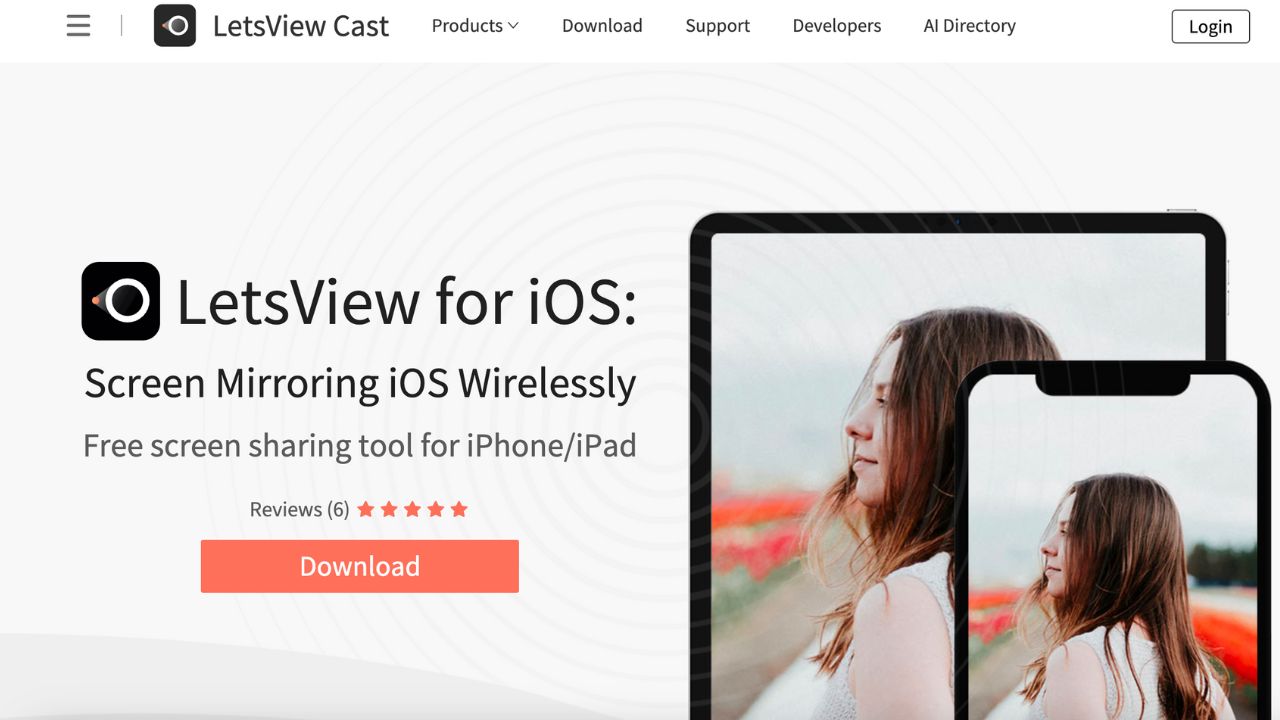 Pros:
Free-to-use mirroring features
Whiteboard capabilities
Mac download available
Cons:
Connection issues with devices
Must pay by the minute for remote casting
Significant delays while using mirroring features
📱 Supported Devices:
iPhone with iOS 12 or later
iPad with iOS 12 or later
macOS 10.1 or later
💰 Pricing:
Free for mirroring
15 minutes remote casting: $0.99 (only once)
360 minutes remote casting: $3.99
900 minutes remote casting: $7.99
1800 minutes remote casting: $12.99
LetsView's remote casting capabilities give this screen mirroring iPhone app some bonus points, despite the charge per minute. However, we found that connecting our iPhone to the computer was challenging, requiring several minutes for the app even to register another device. When it did finally connect, the time delay made using it frustrating, making us prefer other solutions.
⭐️ App Store Rating: 3.1/5
⭐️ Our Rating: 2/5
AnyDesk is a robust remote desktop solution for users looking to access work or personal computers from their Apple devices. This remote desktop provider allows users to send messages in-app, invite others to view their device screen, and even supports remote device printing functions from anywhere.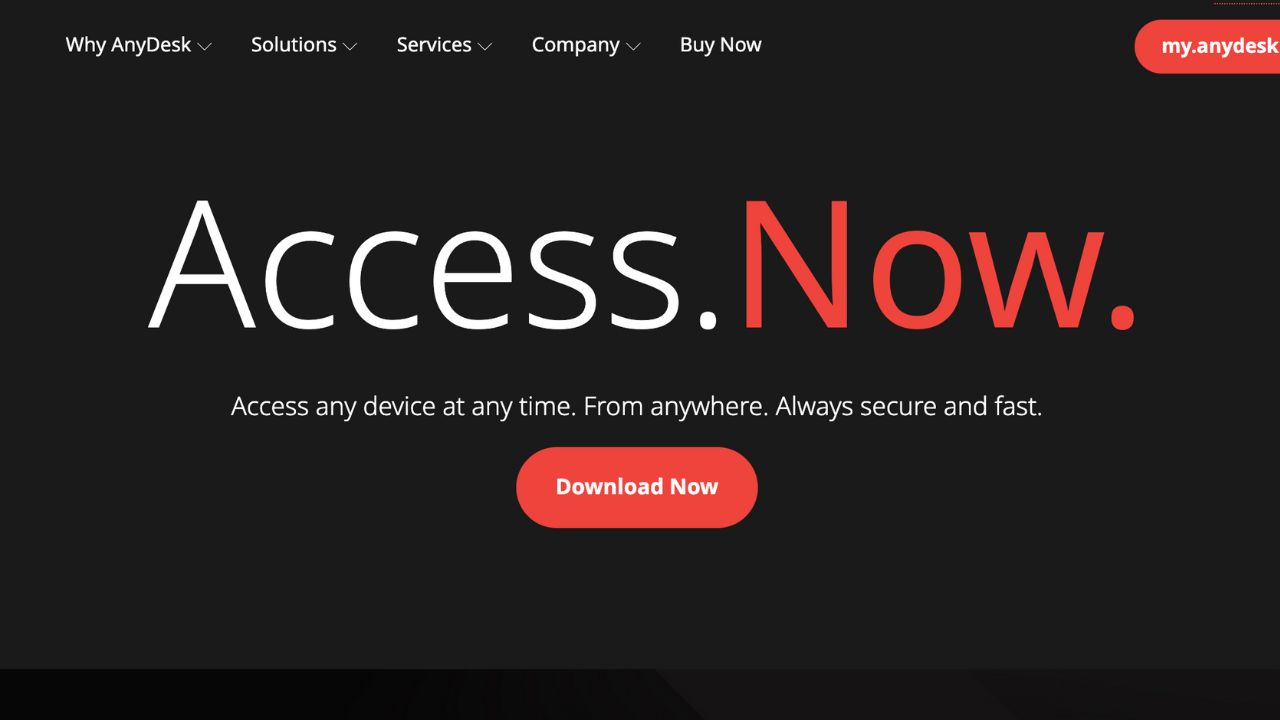 Pros:
Access virtual desktops from a wide selection of devices
High-end TLS 1.2 security and 256-bit encryption
Features upon features upon features
Cons:
Free level offers limited user support
Paid plans get pricey with add-ons
The complicated platform for the average user
📱 Supported Devices:
iPhone with iOS 11 or later
iPad with iOS 11 or later
End device with Windows, macOS, Linux, or Raspberry Pi
💰 Pricing:
Free version
Solo: $14.90 per month (billed annually)
Standard: $29.90 per month (billed annually)
Advanced: $79.99 per month (billed annually)
Ultimate: By sales agent only
AnyDesk is a platform designed with IT professionals and enterprise employees in mind. The ability to access remote desktops, file management systems, and collaboration tools pairs well with mirroring your iPhone to a computer or tablet. While individual users can use AnyDesk and will find it quite capable, it can be complex to use and pricey for the average user.
⭐️ App Store Rating: 4.5/5
⭐️ Our Rating: 4/5
Any other free mirroring app for iPhone relies on wireless connections to complete the connection between devices. ApowerMirror is different in that it supports both wired and wireless connections, allowing users greater flexibility in casting their screens. Plus, ApowerMirror also supports whiteboard features and up to four simultaneous users.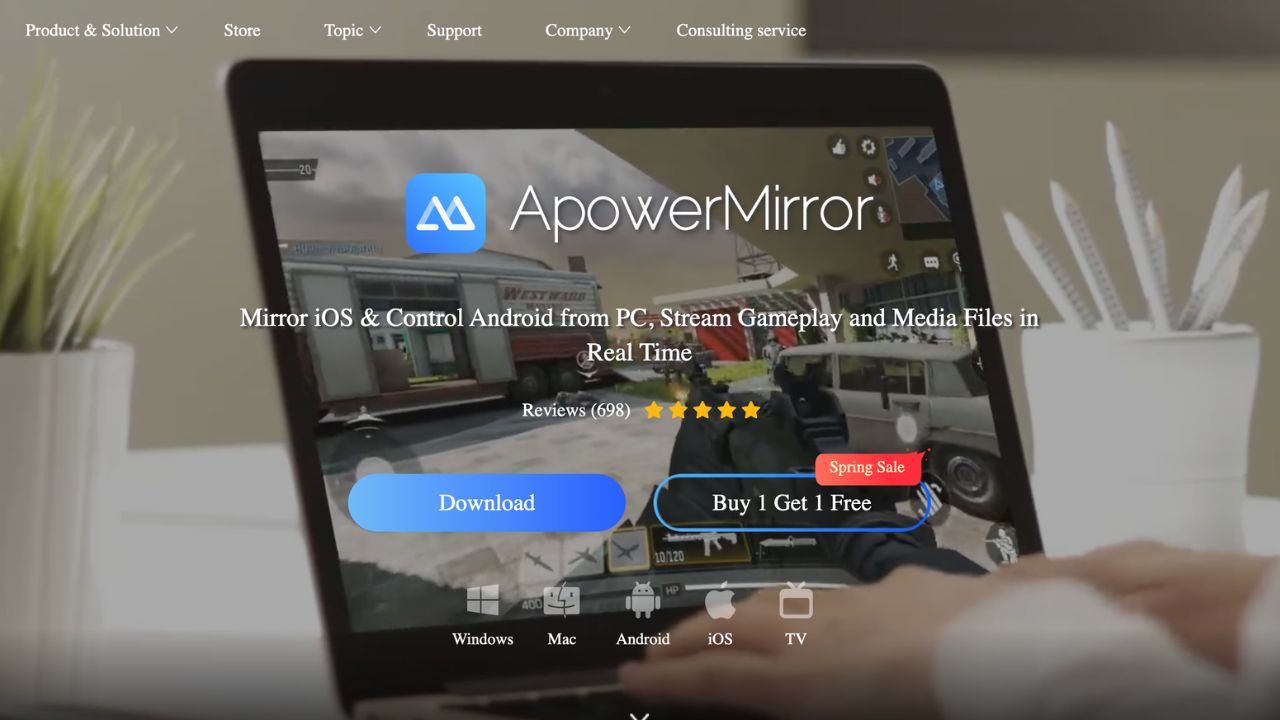 Pros:
Screen recording features
Wired and wireless connections
Real-time mirroring with audio
Cons:
Limited free trial capabilities
Expensive one-time purchase price
Only 10 minutes of mirroring time for free users
📱 Supported Devices:
iPhone with iOS 12 or later
iPad with iOS 12 or later
Android running Android 5 or later
End PC, Mac, or Smart TV device
💰 Pricing:
Free trial
Monthly: $19.95
Annually: $39.95
One-time purchase: $69.95
ApowerMirror is a powerful solution for iPhone users looking for cross-system functionality, especially with USB capabilities. However, free users only get 10 minutes of use at a time, and the one-time purchase is steep. It may be capable, but other solutions offer more for less up-front.
⭐️ App Store Rating: 2.4/5
⭐️ Our Rating: 3/5
How We Rated the Apps
Rating a free TV mirroring app for iPhone or an app that mirrors your iPhone on other devices comes down to the features available, how difficult it is to connect and use, and the price to upgrade to premium versions. Taking these factors into consideration, we rated these iPhone apps accordingly. Our extensive testing also contributed to scores, accounting for discrepancies between the App Store and our ratings.
Final Thoughts on Free iPhone Mirroring Apps
Free iPhone mirroring apps help users connect their phones with TVs, smart devices, and other gadgets like computers, tablets, and video game consoles. They offer a way to broadcast iPhone screens for presentations, teaching, home movies, and even whiteboards.
Through our testing, we found a few iPhone apps Chromecast users find better to use than others. DoCast offers one of the most straightforward TV mirroring solutions with plenty of app settings and a reasonable fee to upgrade to premium.
Outside of Chromecast apps iOS users enjoy, AnyDesk won our hearts for mirroring screens to other devices. The capability to connect to remote desktops and high-end encryption combined with a free version makes it an easy favorite.
FAQs
We covered a lot about screen mirroring solutions for iPhone, but some Apple owners may have some additional questions. Here are a couple of common questions and answers.