There are a lot of reasons that an SD card is not showing up on your Mac. Some are more problematic than others and the solution depends on the situation you're facing. In this article, we cover all the possible causes that your Mac is not reading your SD card, as well as the proper solutions for each one.
We also provide a step-by-step guide – with screenshots – for recovering data from an SD card. Read on.
Why is My Mac Not Reading an SD Card?
It's a good idea to try and diagnose your SD card's problem, so you can identify the best solution – we listed those in the next section. Below are the most common reasons why your Mac won't recognize your SD card.
Faulty SD card reader.

Your Mac is not reading the SD card due to a faulty card reader or port. Try another card reader in another port.

Corrupted SD card.

Virus attacks, sudden power outages, improper ejection, any read/write interruptions can cause your SD card to get corrupted.

Mac settings.

Certain settings on your Mac may have turned off the display of external disks.

Outdated drivers.

You may be using outdated drivers, which is why your MacBook doesn't recognize the SD card.

Incompatible file system.

macOS supports the following file systems: HFS/HFS+, APFS, FAT32, NTFS (read only). SD cards formatted with another file system may not show up in Finder.

Problematic macOS update.

If your SD card won't show up after a recent update, it may be a bug.
How to Fix MacBook Not Reading SD Card Problem
This section covers all the fixes that users can try on their own. But first, visually scan your SD card and your MacBook's ports to check if there's no physical damage. Interacting with a physically damaged storage device may worsen the problem and result in further data loss. If you're sure nothing's broken or heat-damaged, proceed with the following methods:
Clean the connectors. If you tend to use your MacBook in areas with a lot of dust (for example, if you live near a construction site), your device can accumulate dust in its ports. The same thing can happen to your USB card reader's cable head. Use a soft, lint-free cloth and a toothpick or barbeque stick to push the cloth to get the corners.
Try another SD card reader or Mac. If your ports were damaged (or your card reader is faulty), try another computer or card reader. If a different Mac recognizes your SD card, then your Mac is likely the problem.
Restart your Mac. Your MacBook may have been interrupted while it tries to refresh itself, which might be why Finder isn't reflecting your SD card. Restart your Mac to get it unstuck.
Check the settings of external disks displaying. To make sure external disks show up on your Mac (specifically, in Finder and on your Desktop), do the following:
Step 1. Open Finder. Then, on the Apple menu bar, click Finder > Preferences.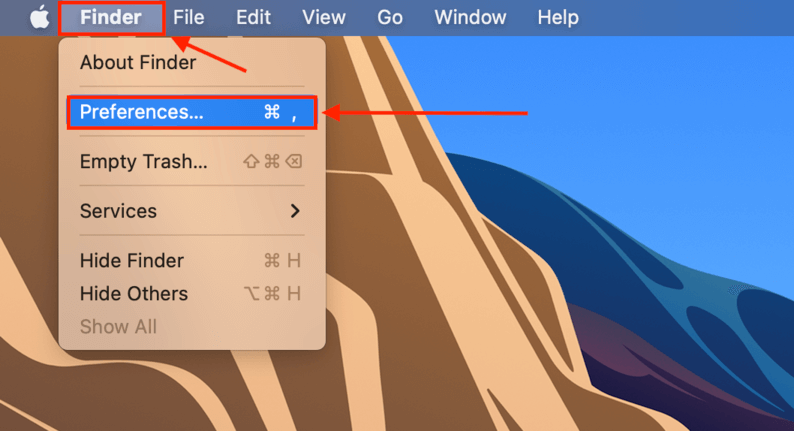 Step 2. Go to the General tab, and tick the checkbox beside "External disks."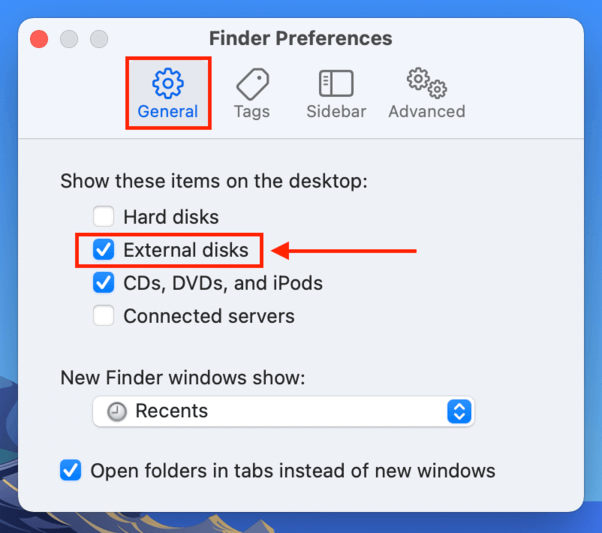 Step 3. Next, go to the Sidebar tab and tick the checkbox beside "External disks" under the "Locations" section.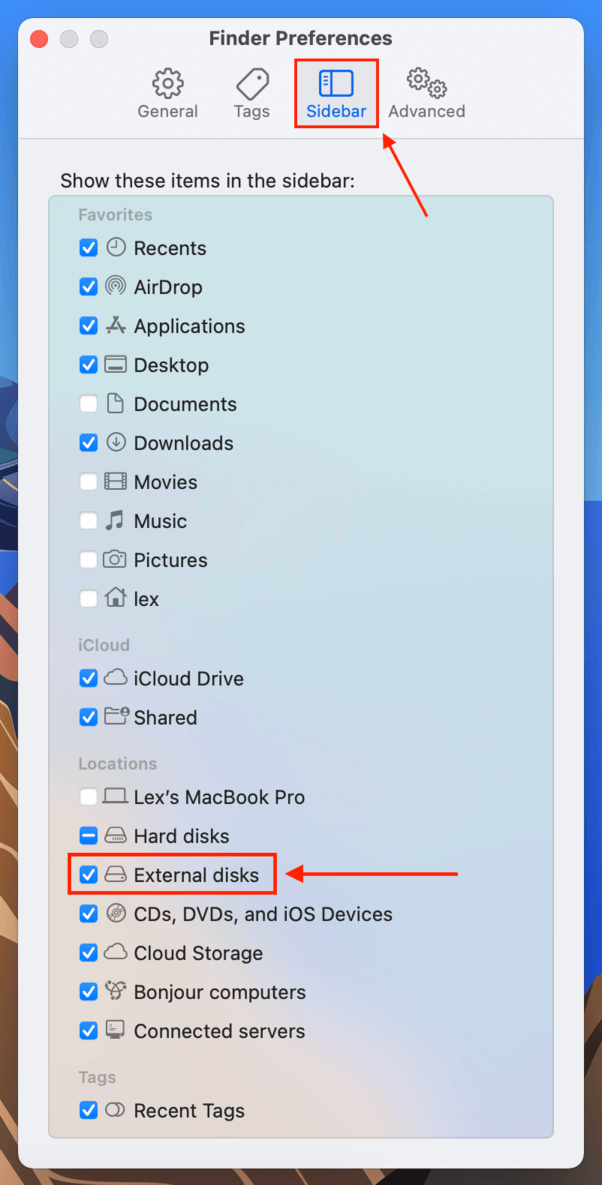 Update the drivers. If you haven't recently updated and your Mac is not recognizing your SD card, you may be using outdated drivers. You'll have to update macOS. Open System Preferences > Software Update to begin the process.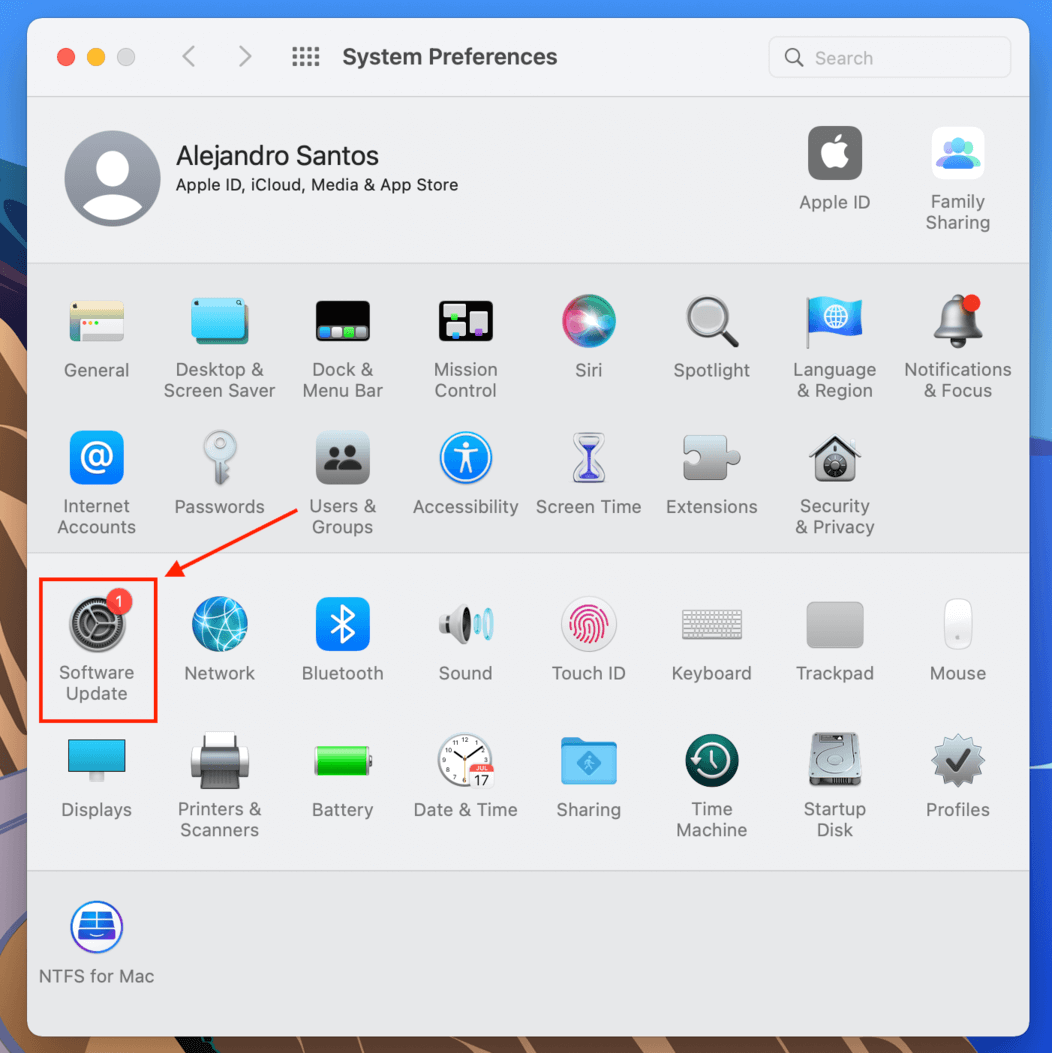 How to Recover Disappeared Files From an SD Card
Once you try the methods above and your SD card is readable again, you might notice that some (or all) your files are missing. This section will help you restore them. In order to do this, you need to detach your SD card from your device, and use a USB-type card reader to connect it to your Mac. Then, you use SD card recovery software installed on your Mac to restore it.
For this article, we'll be using Disk Drill. We recommend this tool often, because it's very easy for our entire demographic of readers to use thanks to its UI (user interface). It's a powerful utility, and it even has a couple of data management tools you can use for free. Here's how to use it to recover your SD card:
Step 1. Using a card reader, connect your SD card to your Mac.
Step 2. Download and install Disk Drill.
Step 3. Open Disk Drill by launching Finder > Applications > Disk Drill.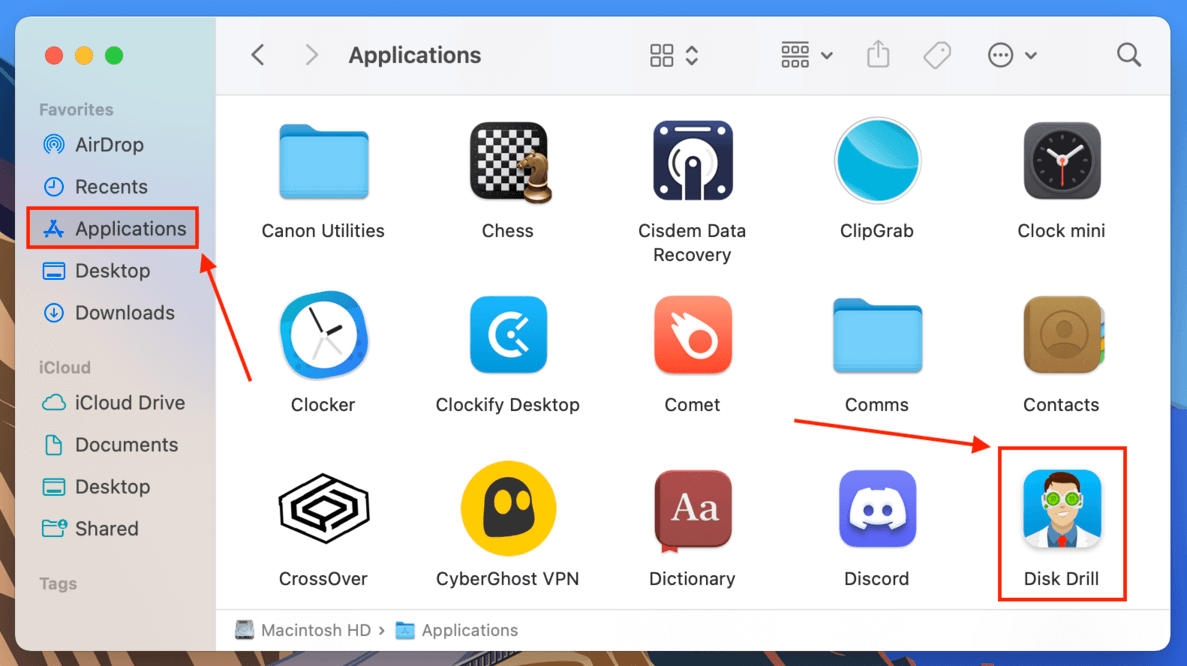 Step 4. From the list, select your SD card (it may appear as "Generic Flash Drive" depending on the card reader), and click "Search for lost data."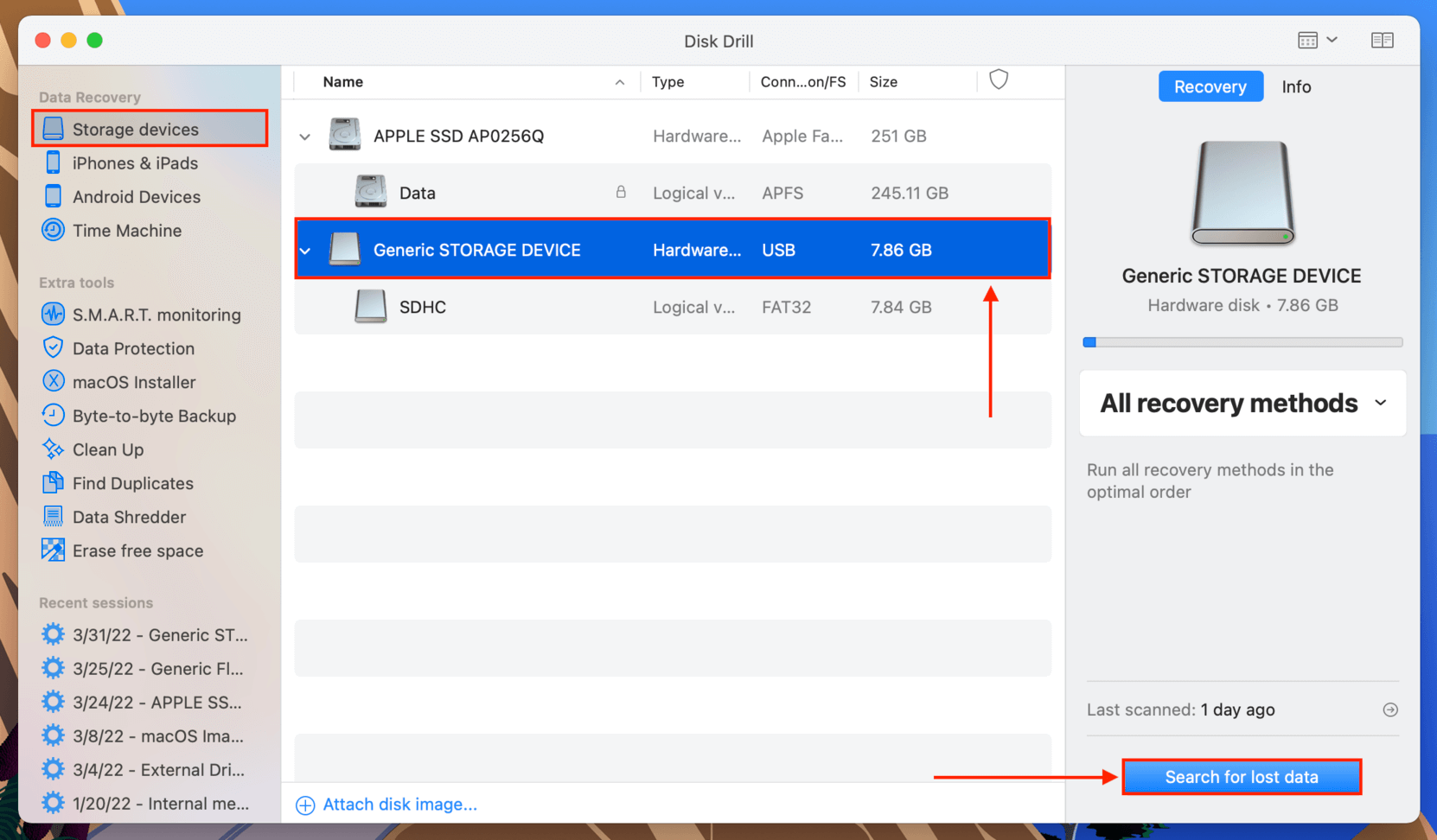 Step 5. Disk Drill will now scan your SD card. Once it's done, click "Review found items."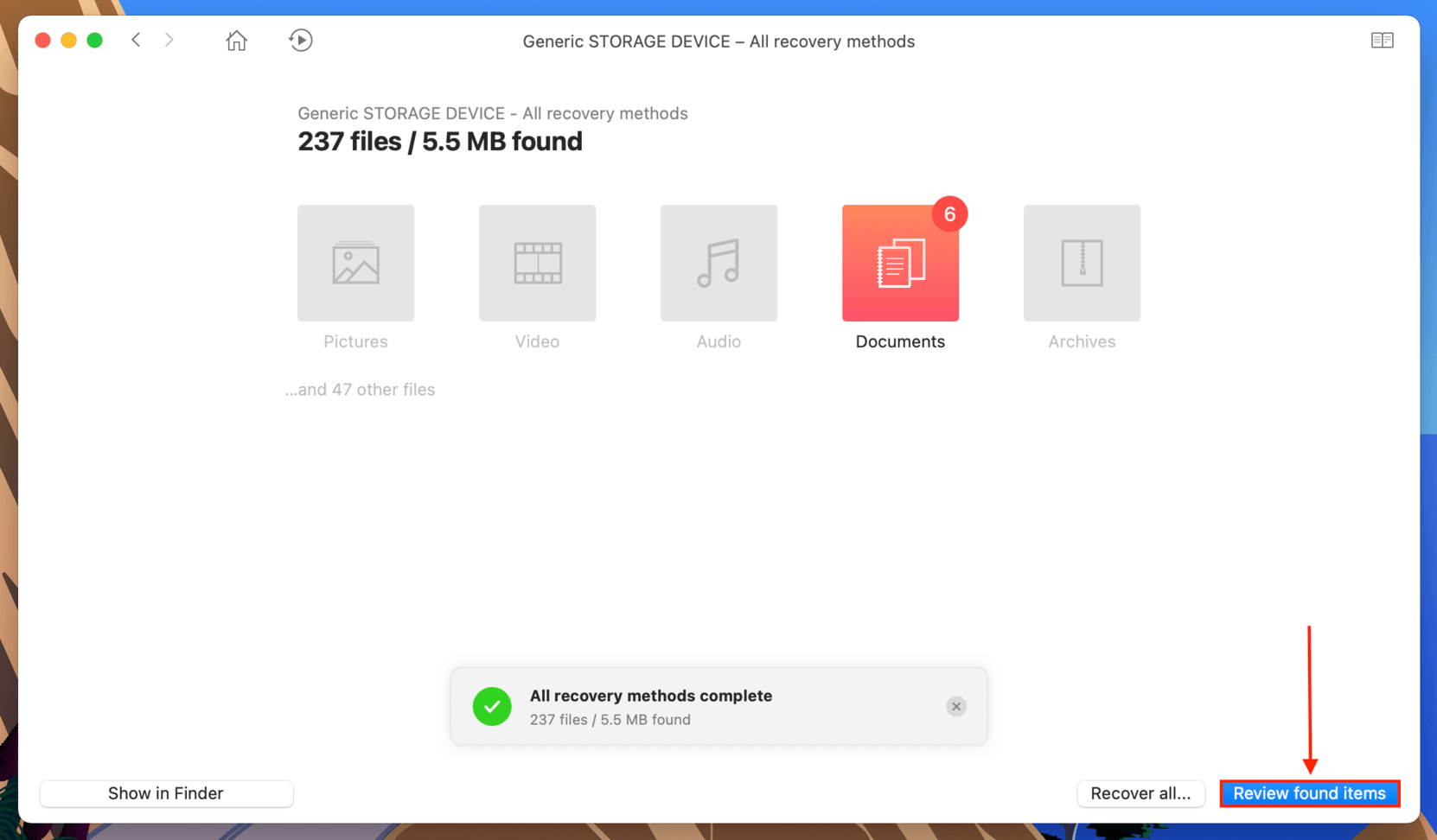 Step 6. Browse the results for your lost files. You can use the search bar or the navigational sidebar to narrow down your search. Click the toggle buttons to expand the file list.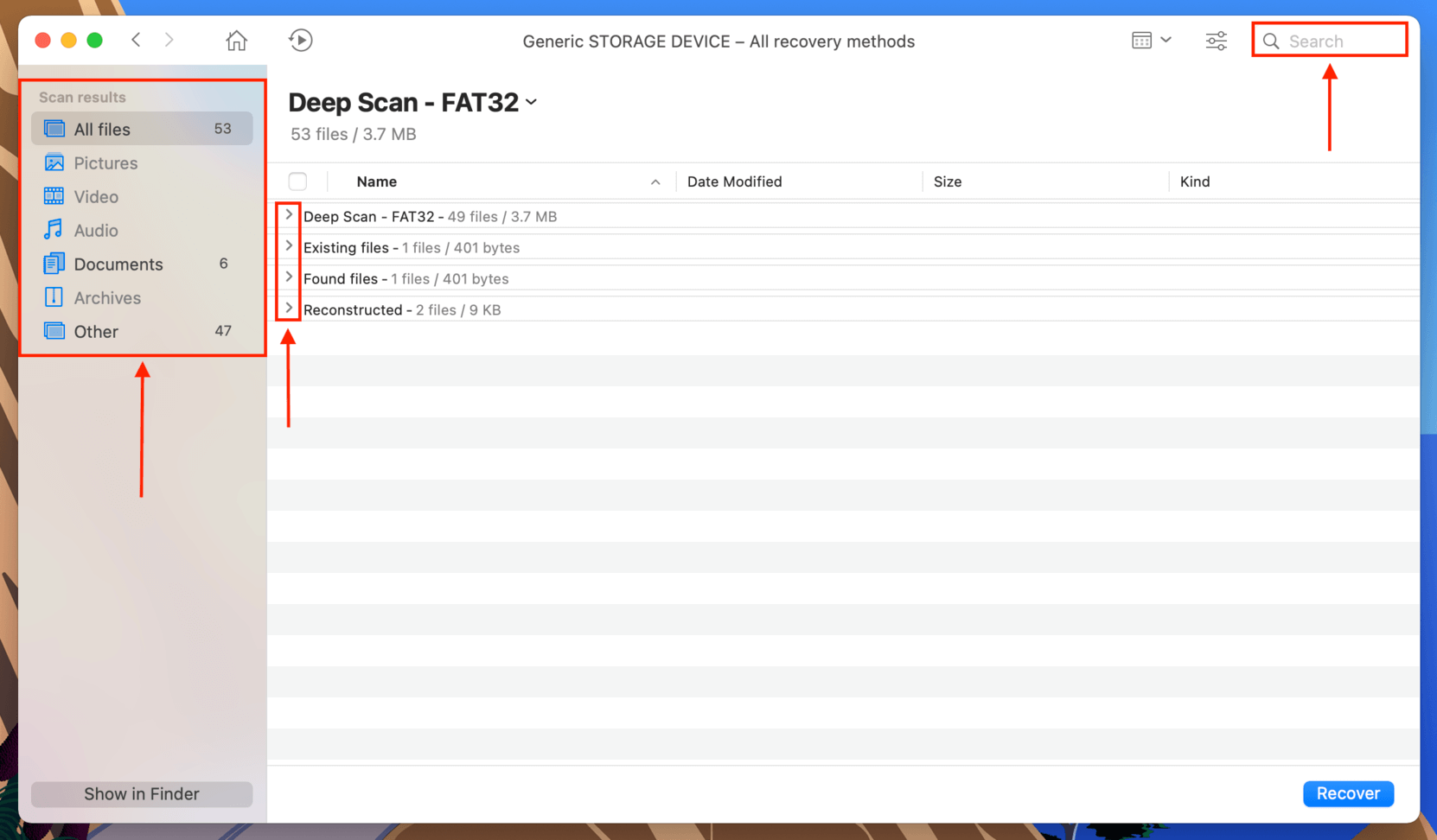 Step 7. On this screen, you can preview the files Disk Drill found by hovering your pointer beside their filenames and clicking the eye button that pops up. This will open a preview window displaying your file.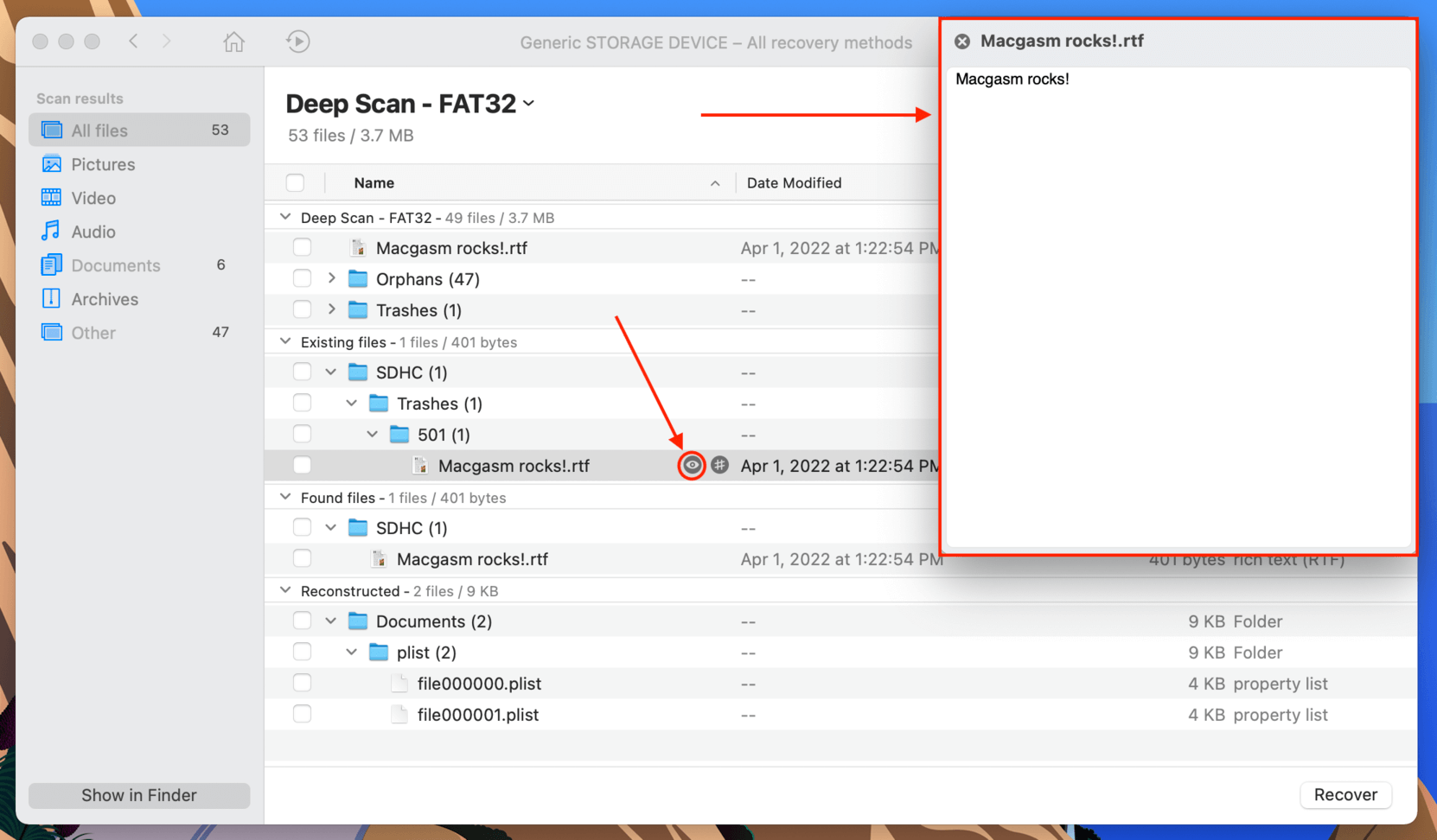 Step 8. Select the files you want to recover by ticking the checkboxes to the left of their file names. Then, click "Recover."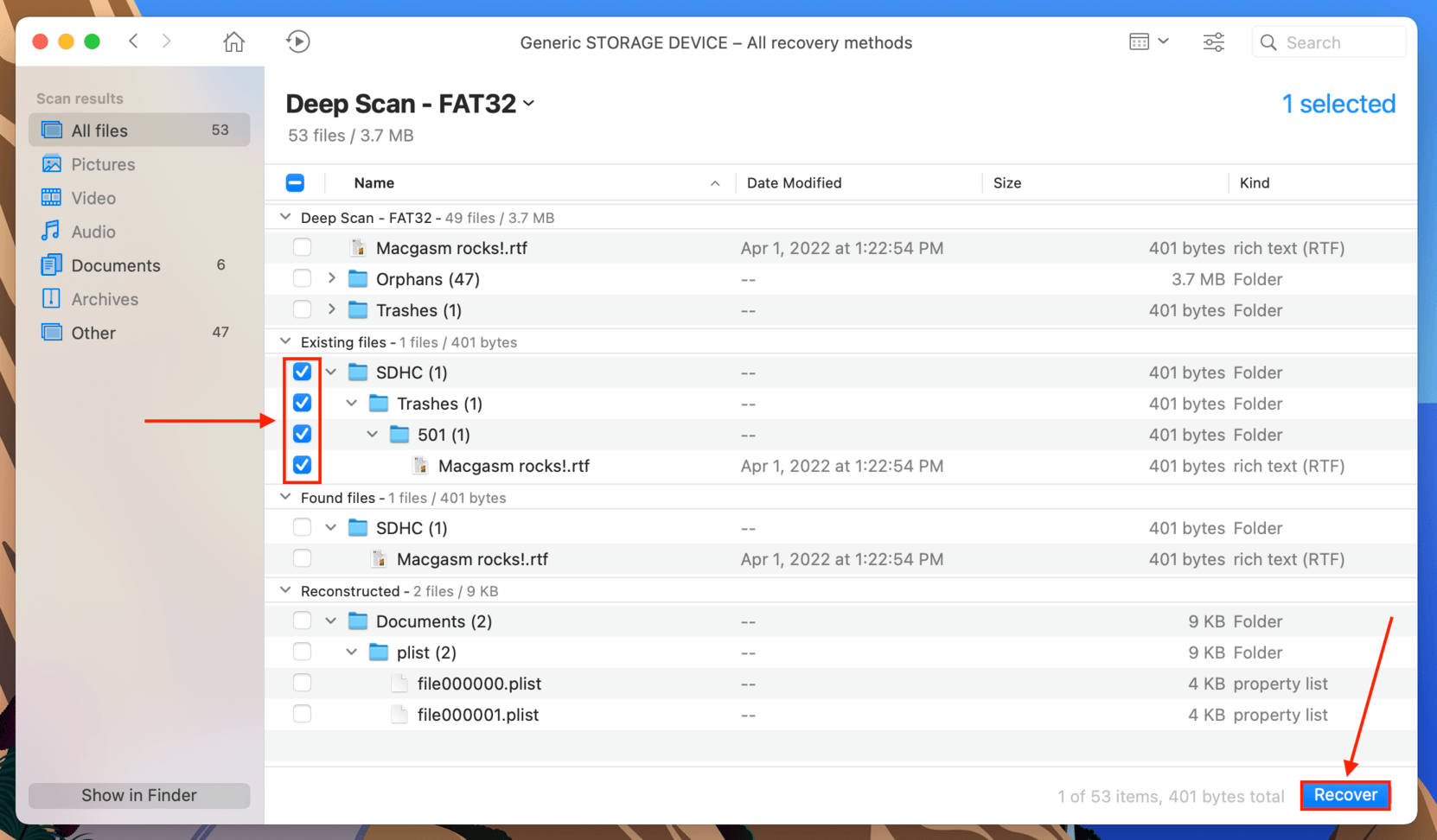 Step 9. Select a location on your Mac where you want Disk Drill to save your recovered files. Do not save them to your SD card, or you might end up overwriting your data.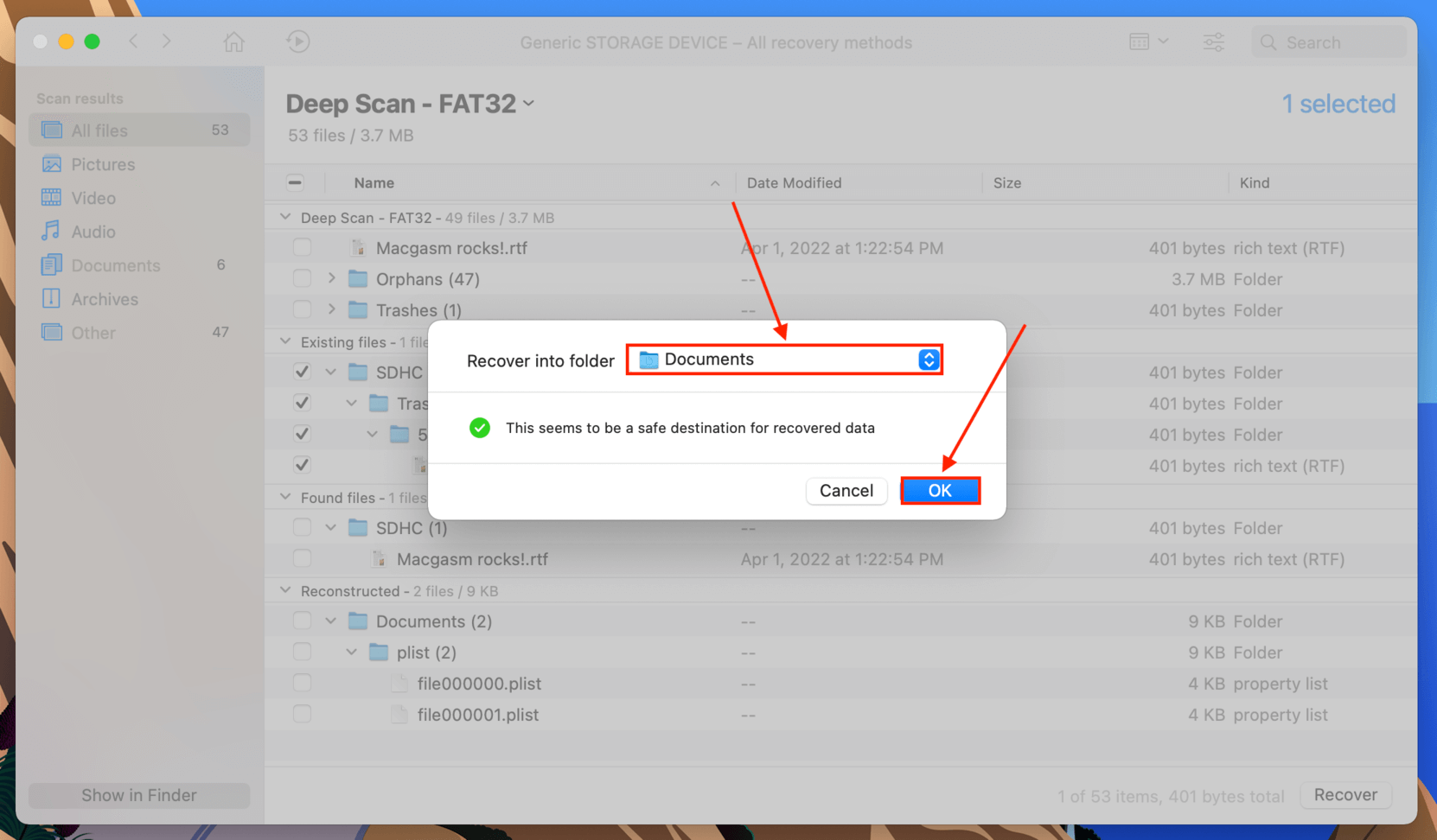 Disk Drill's free version for Mac does not offer free recovery. However, it does provide free unlimited preview, which is super important for figuring out if your files are recoverable. If you can't preview any of your files, your SD card may be physically damaged. Stop using it and send it to a professional data recovery center to avoid further data loss and damage.
FAQ
If you your MacBook can't detect or recognize your SD card, try the following fixes:
Restart your Mac in case it got interrupted while refreshing itself.
Update macOS to update your drives.
Enable "External disks" in the Finder Preferences > General and Sidebar tabs.
Clean your ports.
Try connecting another SD card or connect your SD card to another Mac.
Double-click it on your Desktop or click it in your Finder sidebar. If you can't find it in those locations, check if "External disks" is enabled in the Finder Preferences > General and Sidebar tabs.
You can find the SD card slot on the side of the top-right corner of your MacBook, beside the Thunderbolt and HDMI ports.