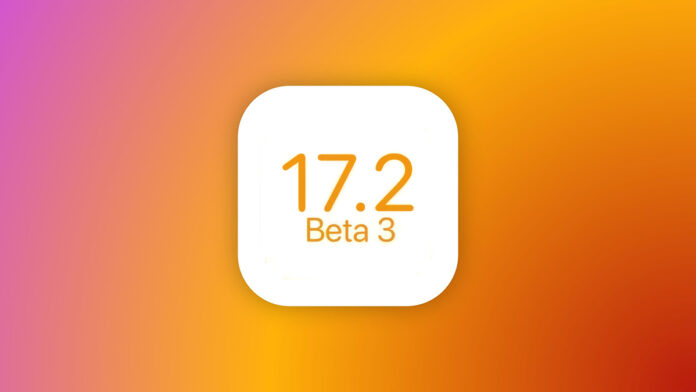 Hello, Apple Enthusiasts!
Are you ready to dive into the latest and greatest from Apple? iOS 17.2 Beta 3 is here, and it's packed with exciting new features, improvements, and much-needed fixes. Let's explore what this update brings to the table and why it's creating a buzz in the Apple community.
What's New in iOS 17.2 Beta 3?
Live Wallpapers Make a Comeback:

Remember the charm of live wallpapers? They're back with iOS 17.2 Beta 3, adding a dynamic touch to your iPhone experience.

Modem Update for Enhanced Connectivity:

Struggling with network issues? This update includes a modem update that promises better connectivity.

New Settings Options:

Dive into your settings to discover new options, including changes to light/dark mode, typing predictions, and adding favorite songs to your music library.

Splash Screens Galore:

First-time users of the Journal and Safari apps will be greeted with new splash screens, guiding you through the features.

FaceTime Enhancements:

Share your name and photo more easily in FaceTime, thanks to the new options under phone settings.

Collaborate with Ease:

AirDrop and Name Drop features have been improved, although some bugs still need ironing out.
Fixes and Improvements
Playlist and Messaging Tweaks:

Some known issues with playlists and messaging have been addressed.

Wallpaper and Notification Bugs:

The annoying wallpaper dimming bug and odd notification issues are on the fix list.

Performance and Battery:

Users report smooth performance without any stuttering or overheating. Battery life and health seem promising, but more testing is needed.
Looking Ahead: iOS 18 and Beyond
Rumors are swirling about a significant redesign in iOS 18, potentially bringing a fresh look to the user interface. But let's not get ahead of ourselves; iOS 17.2 still has a few bugs to squash.
Should You Install iOS 17.2 Beta 3?
If you're not a fan of encountering bugs, you might want to wait for the public release. However, if you love being on the cutting edge and don't mind a few hiccups, go for it!
Keep an eye out for the public release of iOS 17.2, which could be just around the corner. And who knows, iOS 17.1.2 might pop up to fix those pesky Wi-Fi issues.
Community Insights: Highlights from iOS 17.2 Beta 3 Discussion
The recent rollout of iOS 17.2 Beta 3 has generated a buzz in the user community,  with various reactions and observations being shared. While building on the foundation of the previous beta, Beta 3 brings its own set of features and challenges. Here's a summary of the key points from the discussions:
Anticipation for 2023 Car Integration.

Users are excited about the expected announcement of new car integrations by the end of 2023, hoping for enhanced connectivity and features.

YouTube Safari Playback Issue.

The ongoing issue of Safari only playing audio, not video, when AirPlaying from YouTube remains a topic of discussion. This is identified as a YouTube-specific issue, not an iOS bug.

Volume Bar Bug.

The persistent bug where the volume bar reappears after being swiped down continues to frustrate users. This problem has been widely reported and discussed on Apple forums.

RAW Support for Cameras.

Photographers are discussing the need for extended RAW support, especially for newer models like the Nikon Zf. The community is actively sharing workarounds and tips.

Siri Voice Resetting Issue.

The problem with Siri voice settings resetting after every reboot is still present in Beta 3, as reported by some users.

Banking Apps Compatibility.

There's a mixed response regarding the compatibility of banking apps with the beta update. While some users experience no issues, others advise caution and prefer waiting for more stable releases.

Spotify Sound Fluctuations.

Users report an unusual issue with Spotify where the sound switches from stereo to mono intermittently, adding to the list of minor yet noticeable bugs.

SMS Functionality Issues.

Post-update, some users have faced problems with SMS functionality, which seem to be resolved after a system reboot.
This roundup of community feedback on iOS 17.2 Beta 3 provides insights into the user experience, highlighting both the positive aspects and the areas in need of improvement in the latest iOS beta release.
Conclusion
iOS 17.2 Beta 3 is shaping up to be a solid update, addressing key issues while introducing exciting new features. Whether you're an early adopter or prefer to wait for the final release, there's no denying that Apple continues to innovate and improve the iOS experience.
Stay tuned for more updates, and as always, happy Apple-ing!