Ejecting a hard drive from Mac seems straightforward, but there are a couple of things you should know. First, there's a right way to do it – there are a few right ways, actually. But doing it the wrong way seriously risks your data.
Second, there are certain cases where you'll be unable to eject it. You still can't just yank it out, because that might corrupt your data. Instead, we compiled a list of proven methods to fix this problem as safely as possible. Third, if you already lost data, there's still hope if you act fast. Follow our data recovery guide below.
What Does Eject Mean on Mac
To eject is to safely unmount your external drive to protect your data and the drive itself. When you eject your drive, you tell the operating system to finish any read or write operations (and post-operations) and to prepare the drive for safe removal.
Why is this important?
When transferring data, macOS uses a feature called "write cache" where it first saves the data to memory and continues with the transfer in the background. This means that a completed "write" process doesn't always mean a completed transfer.
When that gets interrupted, corruption isn't just possible… It's likely. This is why proper ejection is crucial.
Be careful not to confuse "eject" with "disconnect". "Eject" means to unplug your drive logically from your system. On the other hand, "disconnect" is the physical removal of the drive from the port.
Why Does Message "Disk Not Ejected Properly" Appear
If, for some reason, your drive wasn't ejected properly, macOS will prompt you with the error: "Disk Not Ejected Properly." You can usually attribute this error to one of these 4 possibilities:
Human Error.

You forgot to eject your drive when you disconnected it, or you unplugged it too early.

Drive running in the background.

A program or an application may be running your drive or any of its stored files. For example, you left a Word document open, your operating system may be indexing files, or you may be saving your backup to your external drive.

Logical damage.

Malware infection and corruption may cause your drive to behave in unpredictable ways.

Random self-ejection.

Defective external drive cables and ports, deteriorating external drive, or faulty power supply could randomly eject your drive from your Macbook.
How to Eject External Hard Drive on Mac
If you don't safely eject the hard drive from Mac, you can disrupt any ongoing processes in the background–which can corrupt the file system of your drive itself. When this happens, you may need to format your drive to return it to a usable state. To safely eject hard drive from Mac, you can use any one of the methods below:
If you want to use the external drive after ejecting it successfully and you haven't physically removed the drive from your Macbook, you can go to Disk Utility and right click on the drive to mount it again.
Method 1:

Eject Disk From the Desktop

If you set your MacOS to display external drives on the desktop (Finder > Preferences), you can eject your drive from there. Here's how:

Step 1. Right-click your drive on your desktop.

Step 2. Choose "Eject (Drive Name)" and wait for the icon to disappear from your desktop before you disconnect your drive.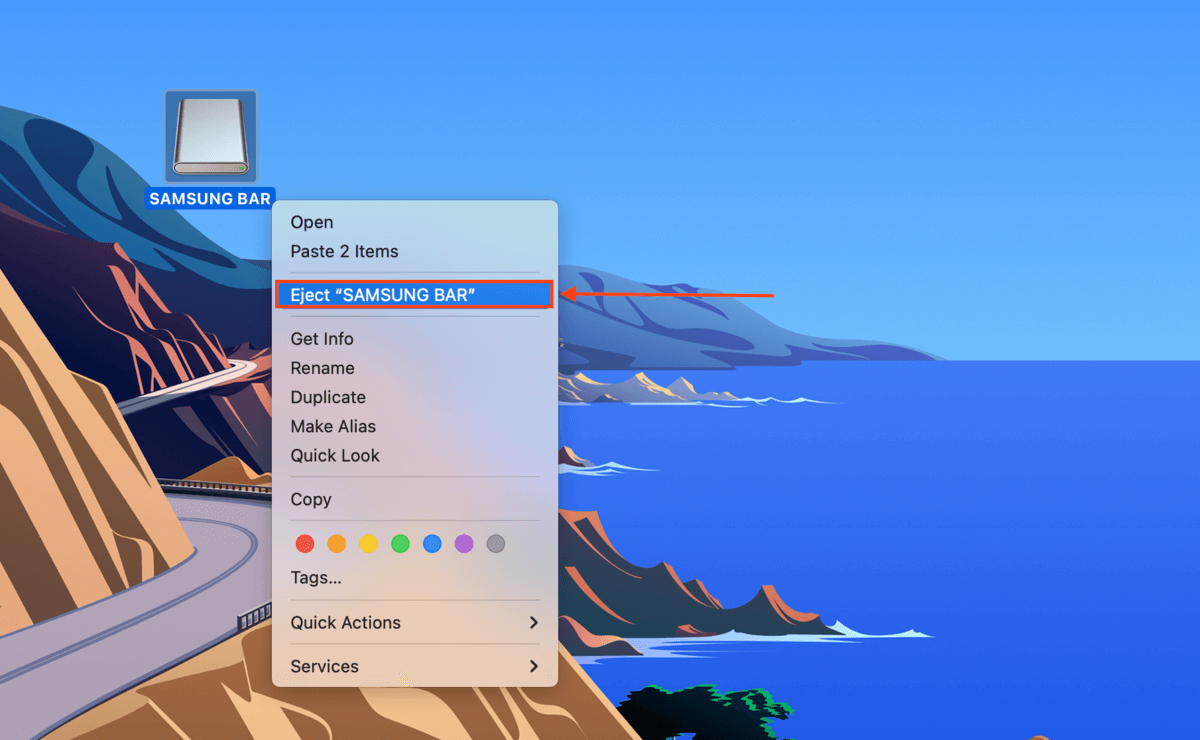 Method 2:

Drag External Hard Drive to Trash

The Trash icon on your Mac's dock also acts as an eject button – it actually changes its appearance once you start dragging a drive towards it.

To do it, simply click and drag your drive from the desktop towards the Trash icon on your dock, which should now look like an eject button.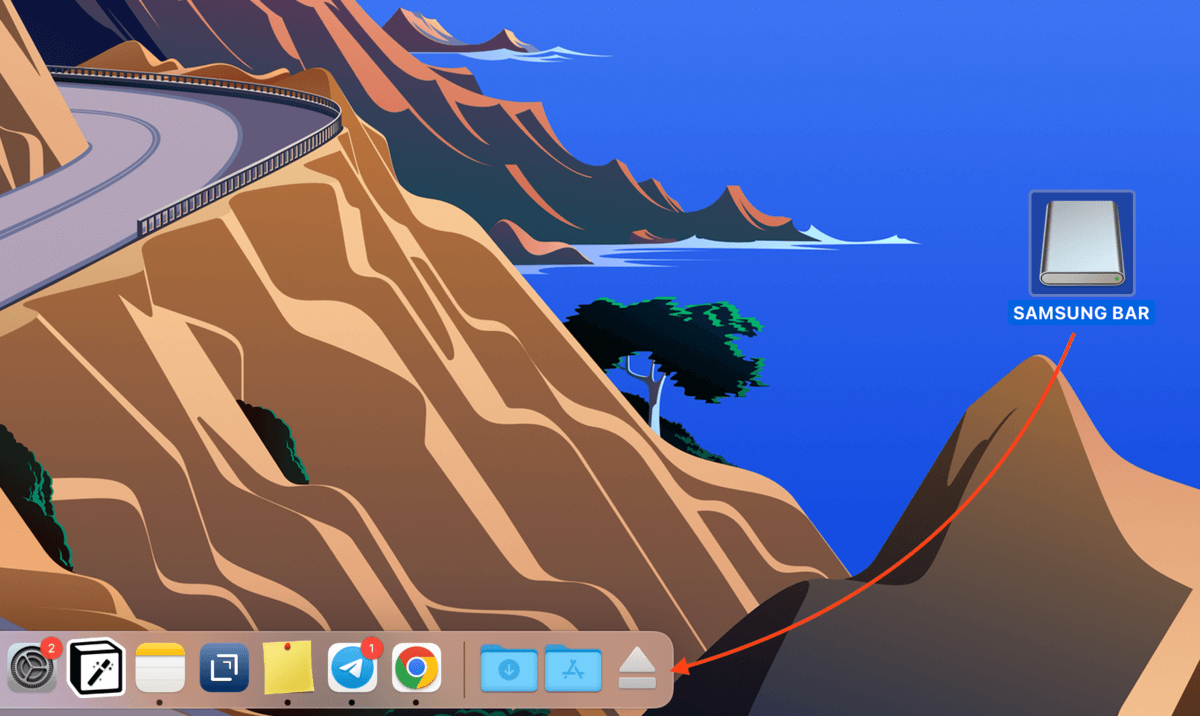 Method 3:

Use Command + E

For those who love their keyboard shortcuts, you can also hit (CMD + E) to eject your drive. Just wait for the drive to disappear from your desktop or from Finder before disconnecting it physically.
Method 4:

Eject Device From Finder

If you haven't enabled or don't prefer to display your external drive on the desktop, you can eject your drive from Finder. On the left sidebar, simply click the eject button next to your drive.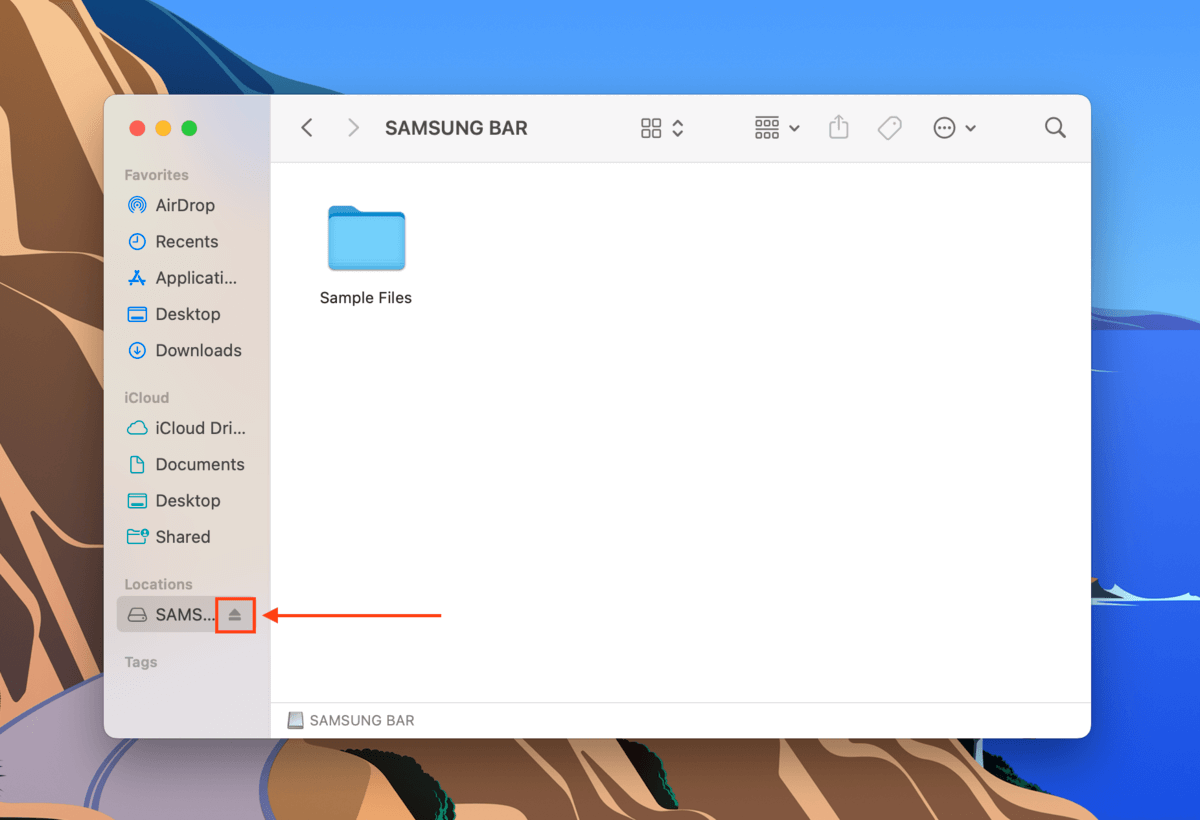 Method 5:

Eject Device Using File Menu

If you don't allow macOS to display your drive in the Finder sidebar, you can still use Finder's File Menu to eject it. Here's how:

Step 1. Select your drive on your desktop

Step 2. Open Finder and click "File" on the Apple menu bar.. Then, select "Eject" and wait for the USB icon to disappear.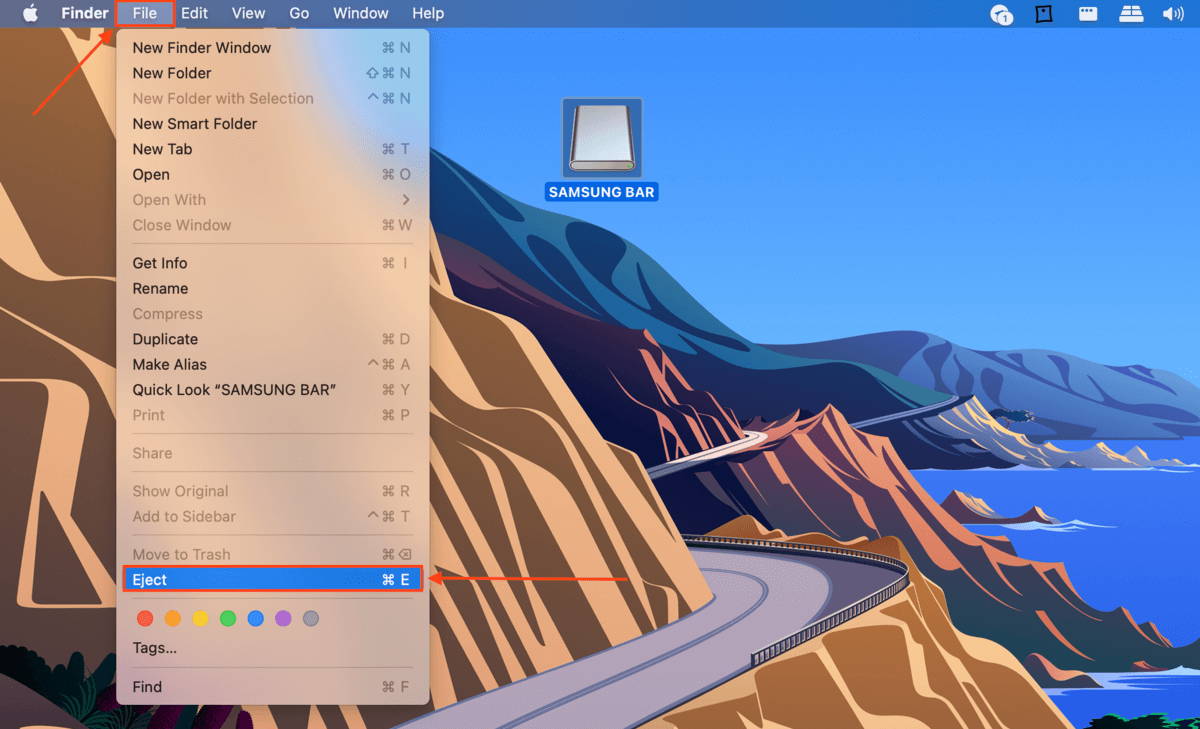 What to Do if You Can't Eject the Drive Safely
If the disk wasn't ejected after trying the methods in the preceding section, your last (and drastic) resort is to force eject your external drive on Mac. There are a couple of ways to do this:
Make sure to first backup your drive and close any applications that may be using ityour external drive before resorting to these methods.
Close all applications using the disk.

If an application is using your drive (ex. Time Machine is backing up your files to your drive), macOS will not allow you to eject the backup drive from Mac to protect your data. Wait for the app to finish before closing it unless you're sure it's lagging.

Log out and in of your Apple Menu.

When your disk won't eject, Mac will unmount your external drives, except the boot volume, as you log out of your Apple.

Reboot your Mac.

If you can't eject disc from Mac by logging out, shutdown and force quit features will also automatically unmount your external drives – even those not directly connected to your Mac.

Use terminal command.

You can force eject external hard drive on Mac by using the following command in the Terminal app (Finder > Applications > Utilities):

diskutil list external

Note your disk's name. For ex. "Disk4"

Then, type the following command and hit enter:

diskutil eject disk4
How to Recover Data Lost During Disk Ejection
If you've already lost data due to issues with disk ejection, you can still recover it. Just make sure you stop using the drive and you start taking action, because every minute counts.
The best way to restore your data is by using data recovery software. It's a special tool that can extract and rebuild data directly from your file system. For this article, we'll be using Disk Drill because it's highly effective and super easy-to-use (but you can use any software – the process is similar).
Step 1. Download and install Disk Drill.
Step 2. Launch Disk Drill (Finder > Applications).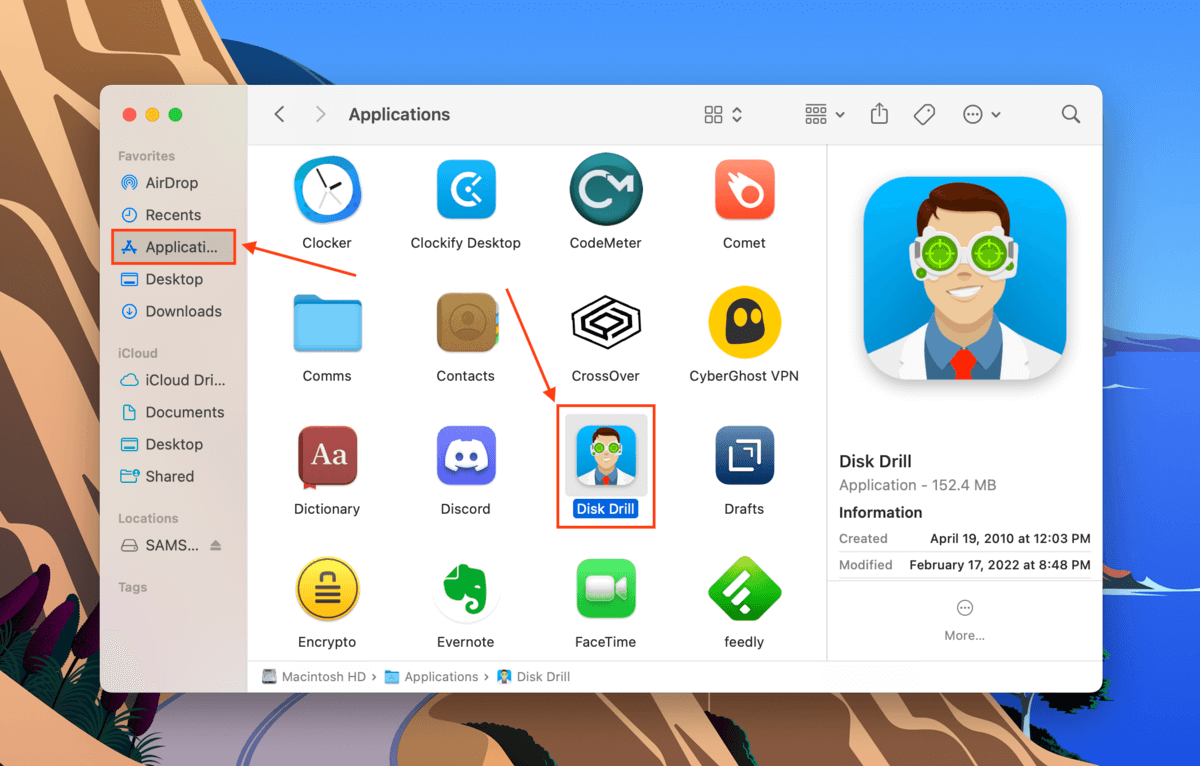 Step 3. Select your external drive from the list then click "Search for lost data."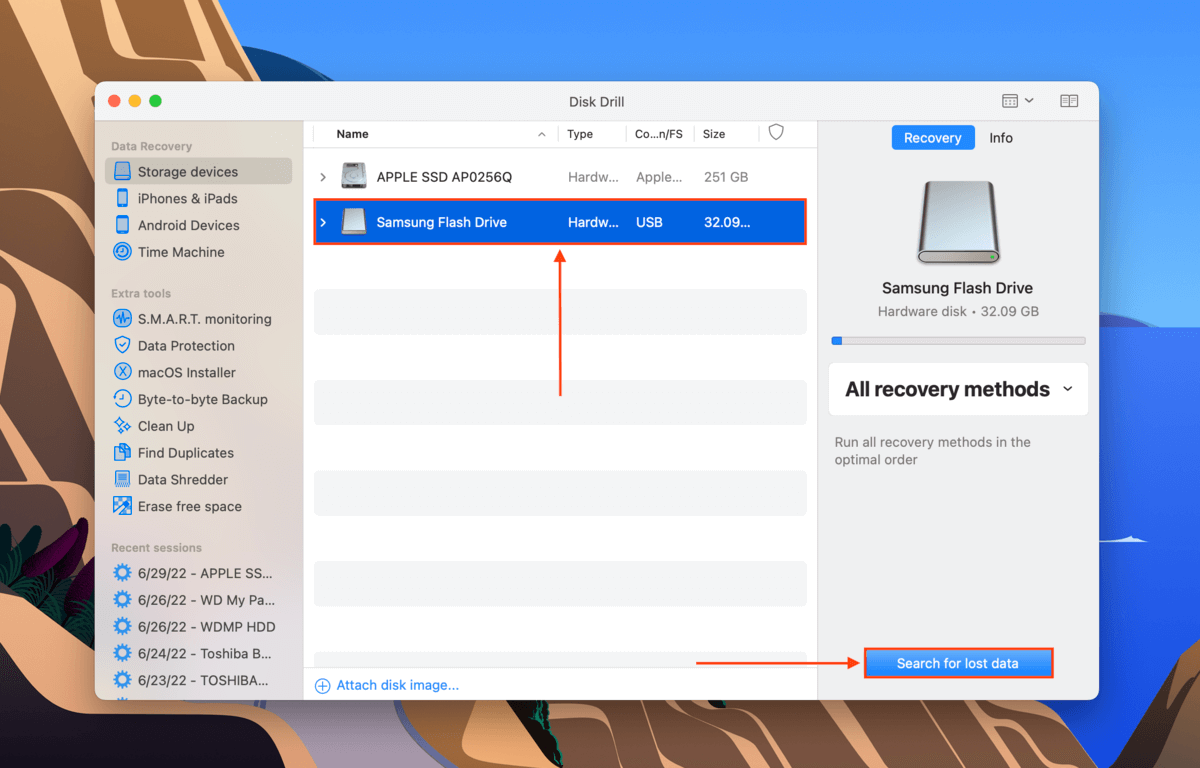 Step 4. Wait for Disk Drill to complete its scan, then click "Review found items."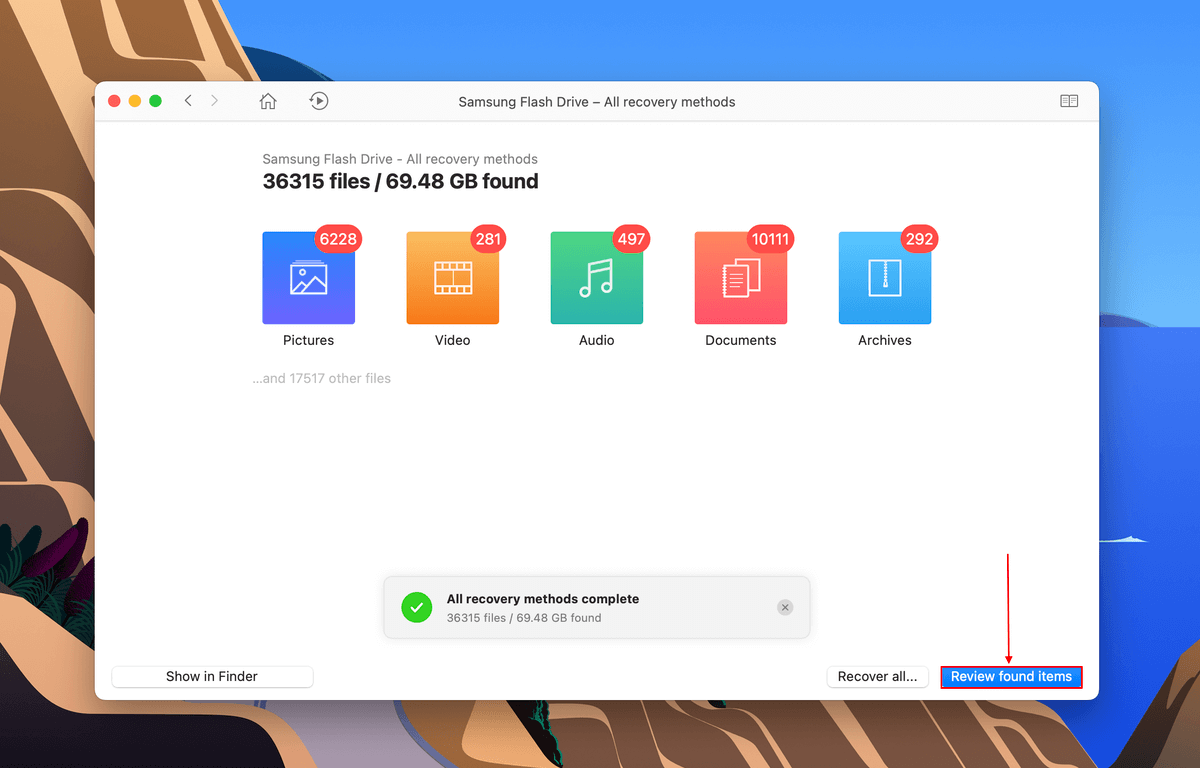 Step 5. Use the search bar in the top-left corner to locate files by name or extension. You can also use the left sidebar to filter results by file type.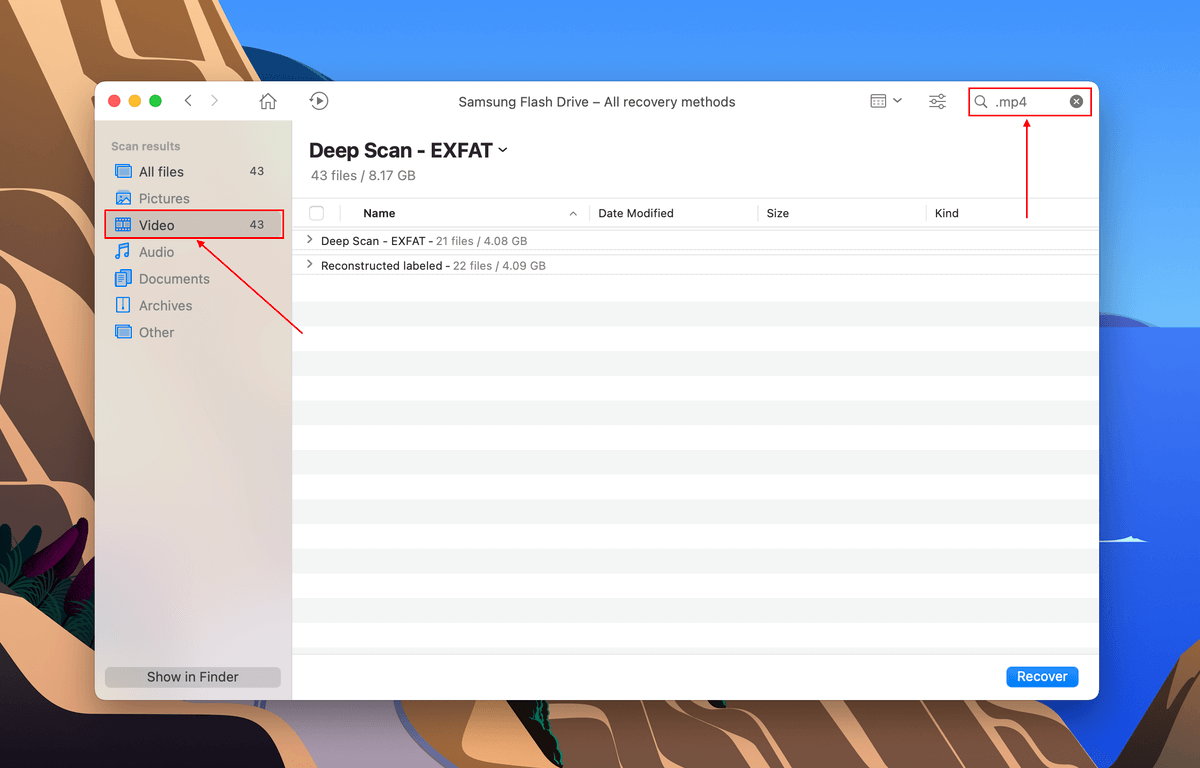 Step 6. It's always a good idea to preview your files in case original file names are lost. Hover your mouse pointer to the right of any file, then click the eye button that appears.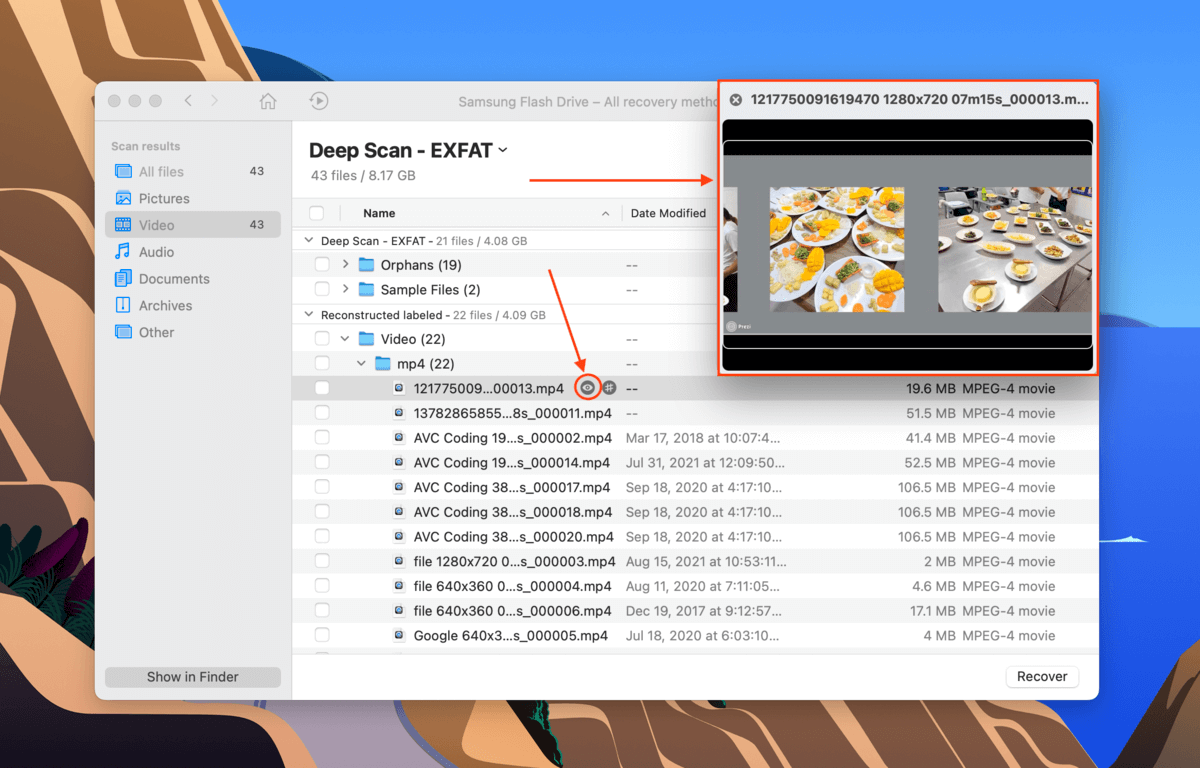 Step 7. Use the boxes in the left-most column of the screen to select the files you want to restore. Then, click "Recover." You can also leave all the boxes blank and click "Recover All…"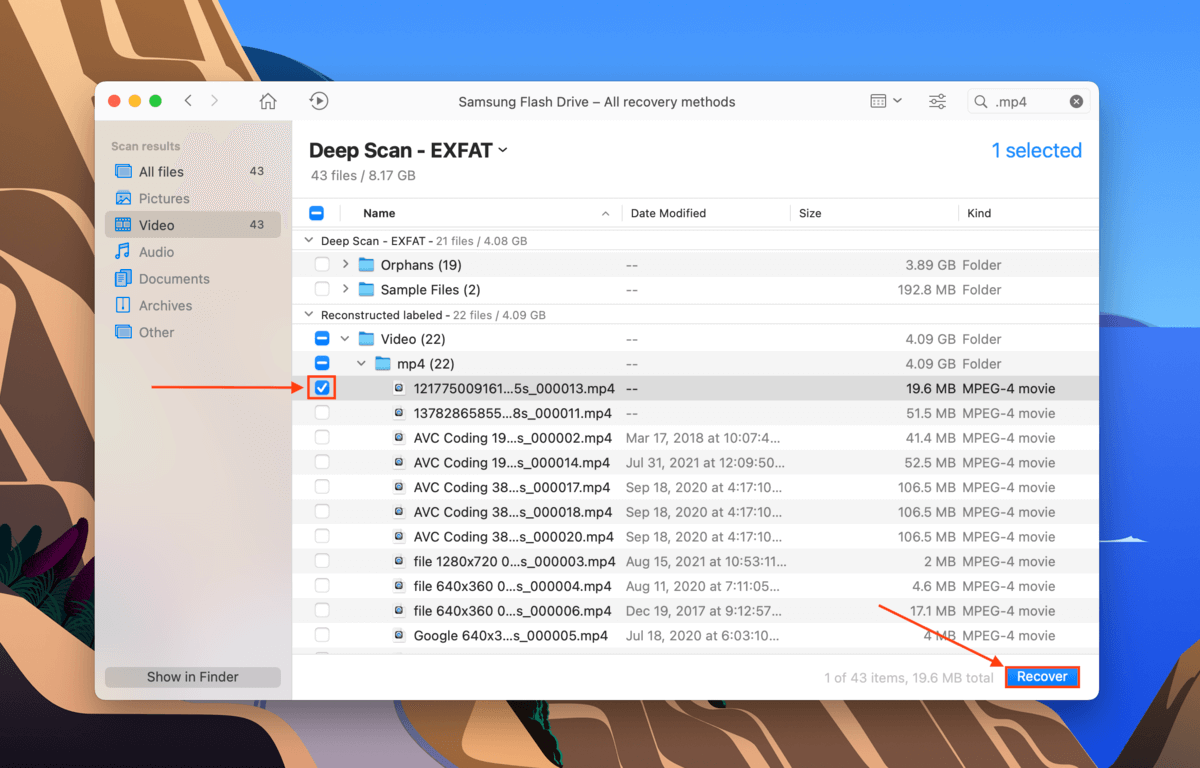 Step 8. In the dialogue box that appears, use the dropdown menu to select a location on your computer where Disk Drill will save the restored files. Don't save restored files to the same drive, or else you might overwrite the existing data. Then, click "OK."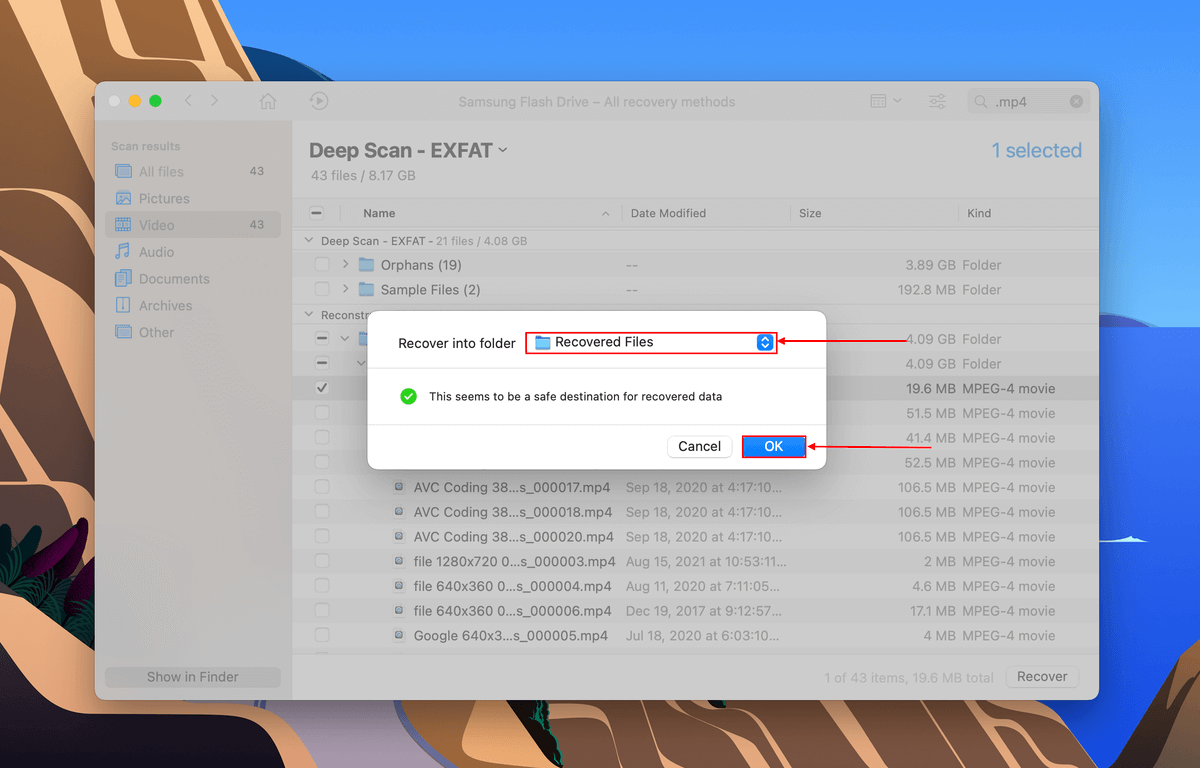 Disk Drill Basic for Mac doesn't offer free data recovery. However, you can preview as many files as you want to confirm that your data is still recoverable. There are free tools out there, but they all have their own limitations. Your mileage may vary.