Can't find your files on your GoPro? Immediately stop using it to avoid overwriting any data. Your data still exists in the file system in your GoPro's memory card and there's a way we can extract it. In this article, we'll guide you step-by-step through GoPro file recovery. We'll also talk a bit about some "minimal" technical details about GoPro memory cards, as well as try to pinpoint what could have caused the data loss.
What Formats Do GoPro Cameras Use?
GoPro uses a total of 4 file formats: MP4, HVEC, THM, and LRV. The first two are the formats GoPro mainly uses for recording footage, while the other two are "supporting" formats. It's a good idea to familiarize yourself with these formats if you record GoPro footage often.
| | |
| --- | --- |
| Format | Summary |
| MP4 (MPEG-4) | MP4 is one of two file extensions that GoPro primarily uses for videos. MP4 videos are footage recorded in AVC (Advanced Video Coding) format using a h.264 codec. Most older GoPro HERO models use MP4. |
| HEVC (High Efficiency Video Coding) | HEVC is the other file extension that GoPro uses for videos. GoPro HERO6 Black uses HEVC, and the models that followed allow users to choose between HEVC and h.264. HVEC offers the best quality (but also takes up more space). |
| THM (Thumbnail) | THM are the small (160×120 pixels) image files your GoPro uses as static previews for saved videos. It's not that important for data recovery. |
| LRV (Low Resolution Video) | LRV files are basically low-resolution MP4 files That your GoPro uses to preview footage on the LCD screen. These files are also not critical for data recovery (but it's nice to know). |
Main Causes of Data Loss from GoPro Cameras
Older GoPro models used standard SD cards while newer models use microSD cards, including SDHC and SDXC. These memory cards are robust flash storage drives, and the newer ones are pretty tough but they're still prone to both logical and physical damage – both cases can result in data loss. Read up on the common issues GoPro users face and see if you can identify your own situation:
Accidental deletion.

It's easy to accidentally delete your files on your GoPro or on your Mac while you're trasferring data. Fortunately, that data is still present in the file system – but it will get overwritten as new data gets written on the disk.

Formatting.

Formatting a GoPro memory card is a great way to clean it, but the process completely wipes the storage disk. The situation is similar to deletion – the data is still intact in the file system, but it's waiting to be overwritten.

Virus infection.

Virus infections can delete and corrupt files, and can even corrupt entire drives. Corruption can make your files (or drive) inaccessible.

Power outage.

If your power cuts out while you're reading or writing data to your GoPro SD card, it can cause data or drive corruption.

Improper ejection.

Similar to the situation with power outages, improper ejection can interrupt read and write processes that your GoPro SD card is running in the background. Make sure to hit the eject button before disconnecting your drives!

Locked SD card.

It's also possible that your data is simply inaccessible because your SD card is locked. Check the top edge on the side of your card for a switch.

Physical damage.

If your GoPro's SD card is physically damaged (for ex. heat damage from being exposed to high temperatures, breakage, water damage), this can cause corruption and data loss.Unfortunately, you might make it worse if you try to fix it yourself. You'll need to send it to a professional data recovery center who have the right tools, facilities, and specialists to treat your memory card.
How to Recover Deleted GoPro Files on a Mac
To restore your files, you need to detach your memory card from your GoPro and use a card reader to connect it to your Mac. Then, you can use data recovery software to scan it. We'll demonstrate this process using a tool called Disk Drill, which is a Mac (and Windows) app that often gets mentioned on this site thanks to its high recovery rate and easy-to-use interface.
It's a great tool if you want to recover a deleted GoPro video, because you can preview it beforehand with Disk Drill's built-in player. We'll demonstrate this below. It also officially supports most known file types – we've successfully tested it with MP4 and HEVC GoPro files and even RAW files from our DSLR test devices. To use Disk Drill to recover deleted GoPro files, do the following:
Step 1. Make sure your memory card is securely connected to your Mac via a USB-type card reader.
Step 2. Download and install Disk Drill.
Step 3. Open Finder > Applications, then double-click the Disk Drill icon to launch it.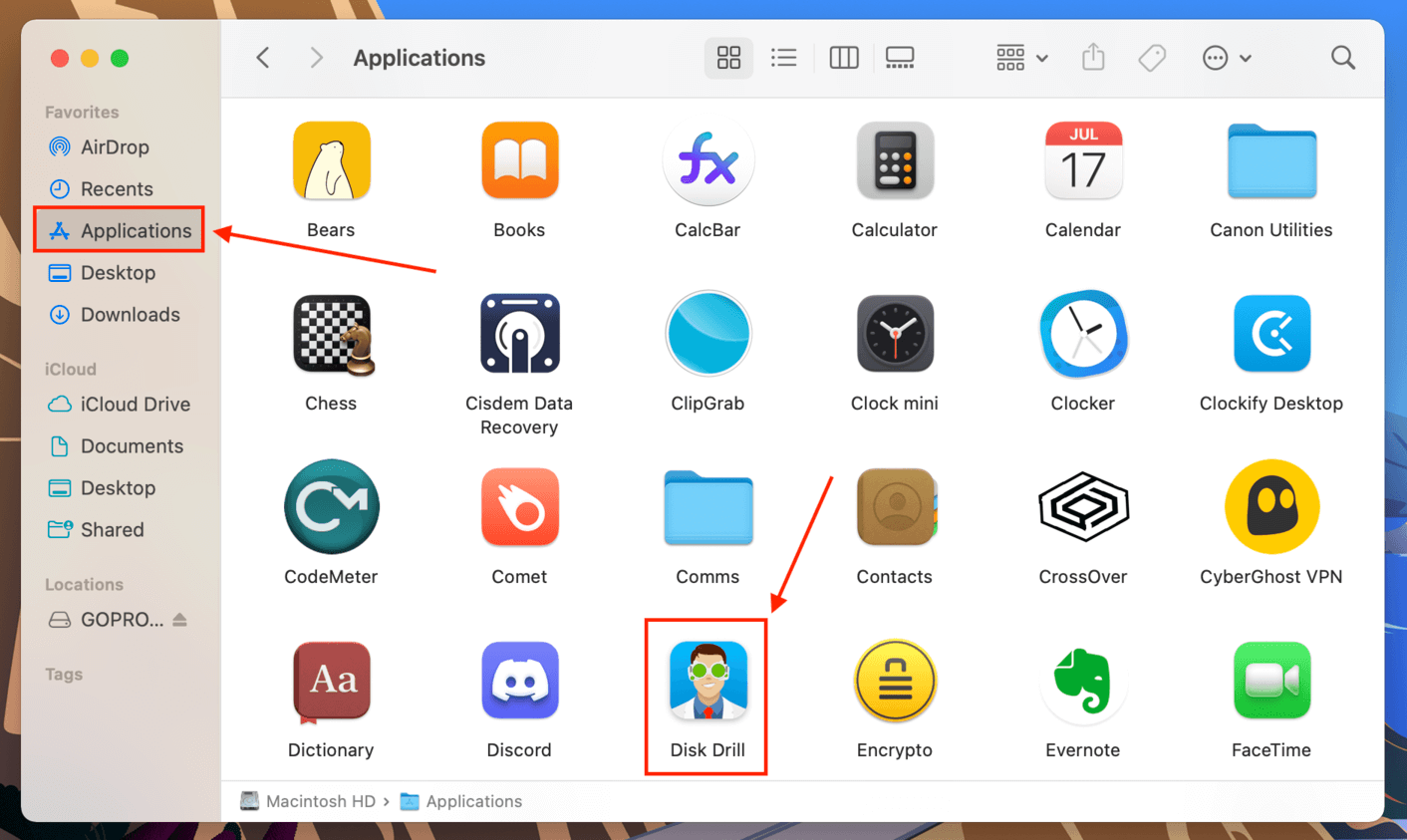 Step 4. Select your SD card from the list (it may appear as "Generic Storage Device" depending on your card reader). Select the drive rather than the volume for a more in-depth scan. Then, click "Search for lost data."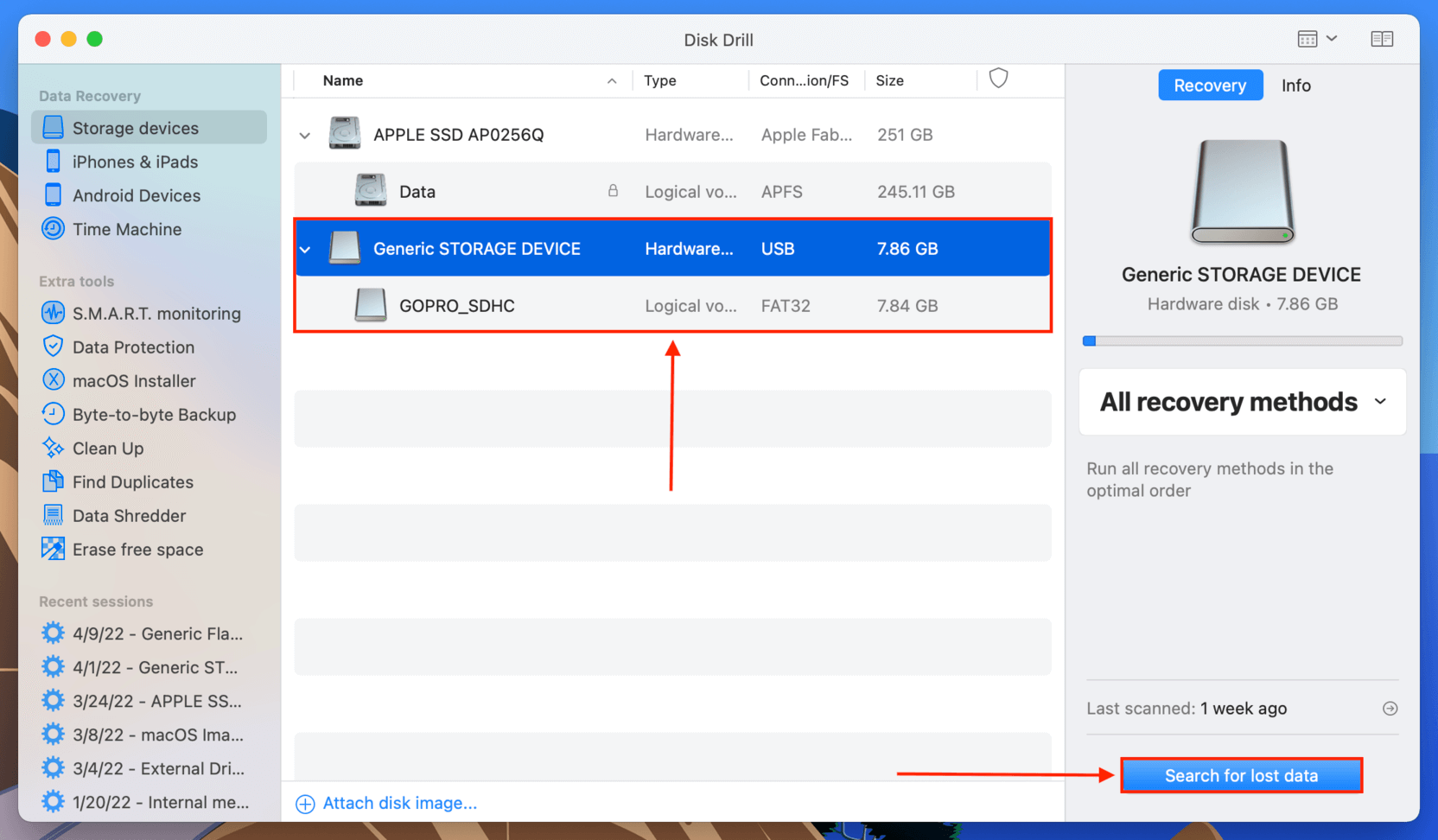 Step 5. Disk Drill will now scan your memory card. Wait for the process to complete, then click "Review found items."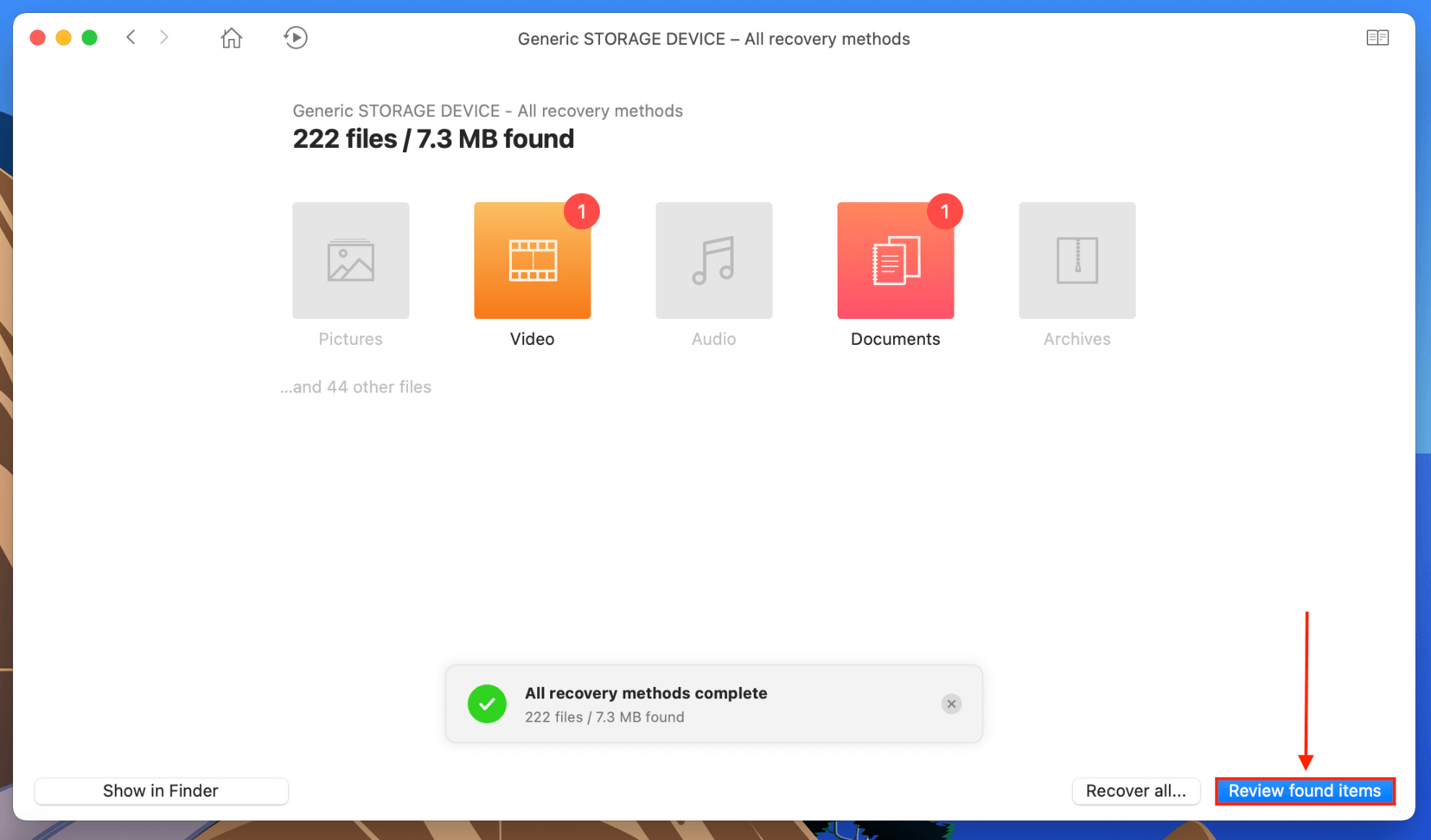 Step 6. You'll be greeted with a list of the files Disk Drill found. You can browse specific files and file types (for example, MP4 video files) – use the search bar in the top-right corner of the window, as well as the file type sidebar on the left to narrow down your search.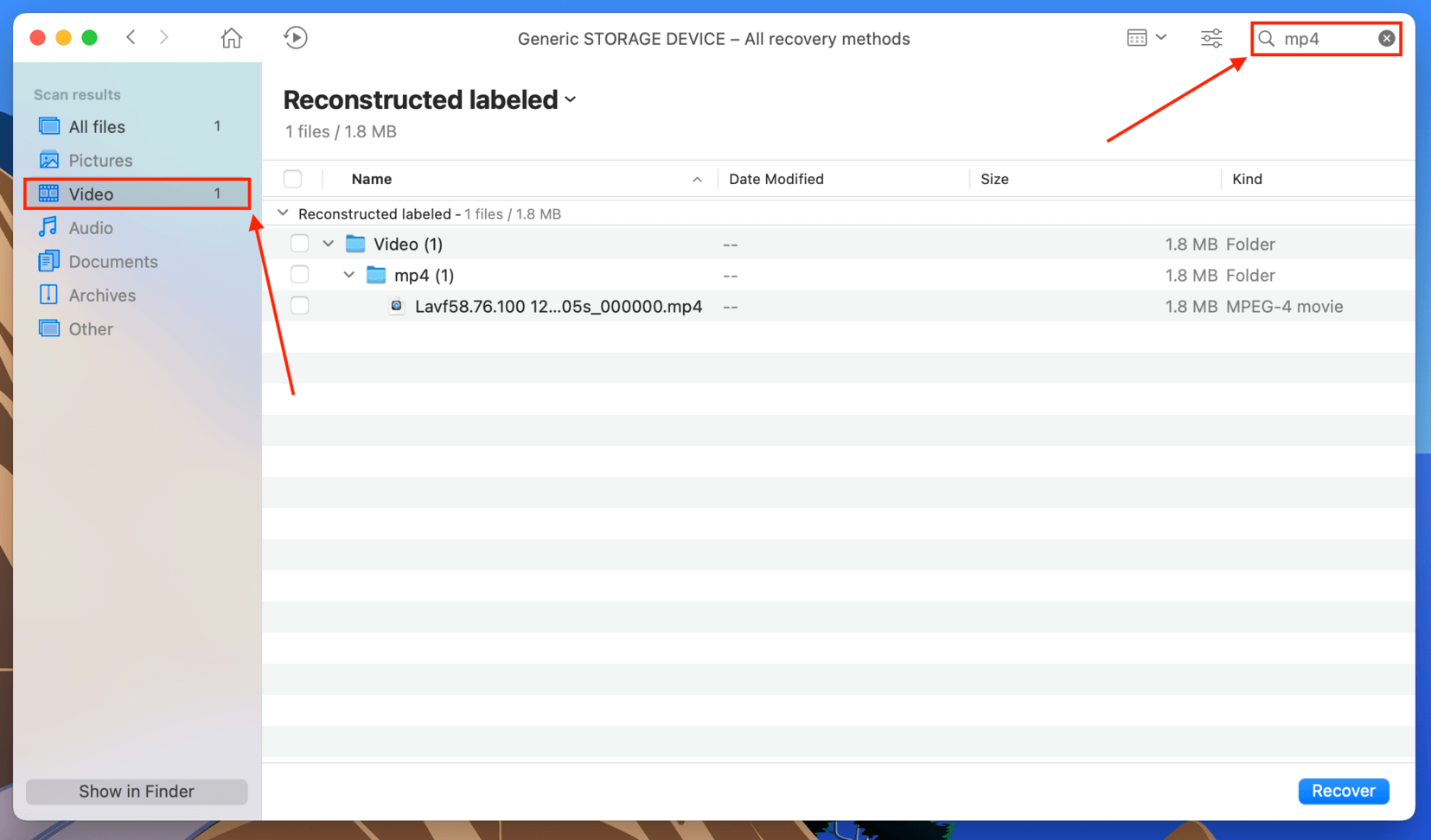 Step 7. Preview your files by hovering your mouse pointer beside their file names and clicking the eye button that appears. It even works with MP4 and HEVC files. Before you recover deleted GoPro videos, you can preview them first to make sure they're intact.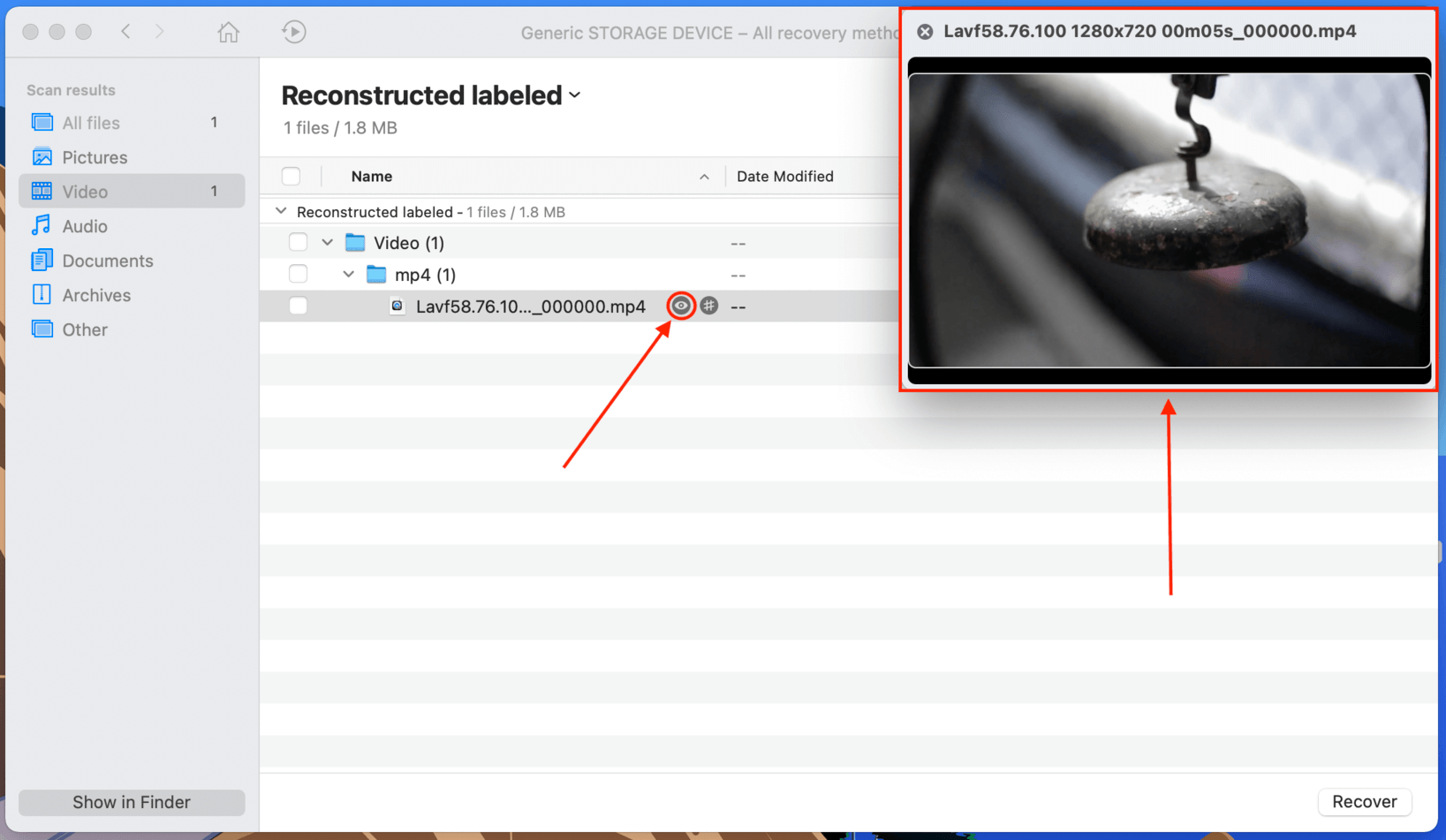 Step 8. Select the files you want to recover by ticking the checkboxes on the left-most column. Then, click "Recover" in the bottom-right corner of the window.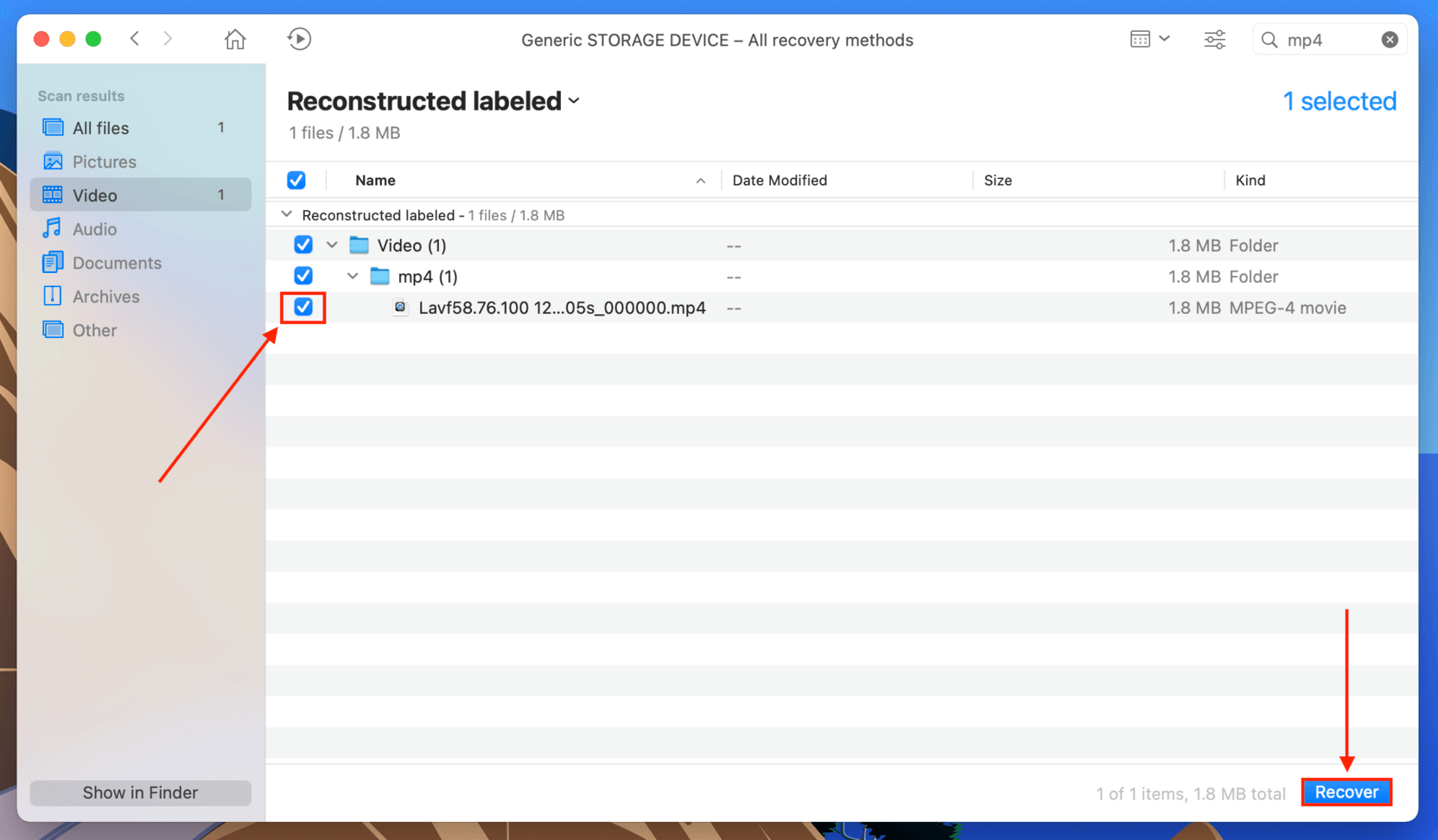 Step 9. Choose a folder on your computer where Disk Drill will store your recovered files. Then, click "OK."

Disk Drill Basic for Mac does not offer free data recovery, but you can preview as many files as you want (indicates recovery success rate) and use Disk Drill's other data management tools for free.