Although QuickTime covers the most basic multimedia needs of Mac users, it has quite limited support for video formats. There may even be problems playing MP4 files. If you want more than a standard player, you should look for a third-party app. Today there are a plethora of options competing with each other, but which one is the best? In this article, we've compiled a list of the best MP4 players for Mac, highlighting their pros and cons.
Let's Find the Best MP4 Player for Mac Users
The best video player should have a great feature set, support a wide variety of formats, and have an attractive and intuitive interface. So, without further ado, let's check 8 video players for Mac.
First on our list is Elmedia Player, a powerful MP4 video player Mac that supports most video formats and comes with lots of customizable options. Using Elmedia, you can open MP4, MOV, MKV, FLV, and other formats. What's more, there's no need for any additional codecs or plugins.
Elmedia Player is available in two versions: free version and the PRO version with more advanced functionality. It features personalized playback control, and allows streaming files from your Mac computer to AirPlay, Chromecast and other DLNA-enabled devices. This impressive video player stands out for its great set of features, easy-to-navigate UI, list of supported formats, and reliability.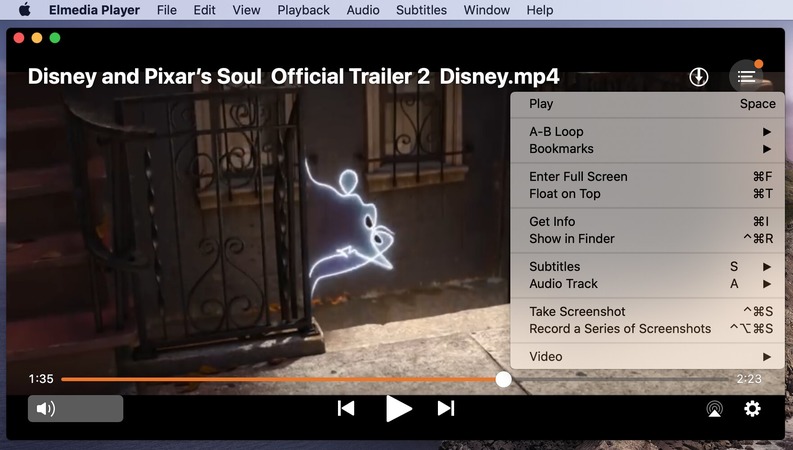 Here's how to use Elmedia Mac MP4 player:
Step 1: Download Elmedia Player on your Mac from the official website or App Store and install it.
Step 2: Find the video you want to play.
Step 3: Drag the file directly into the window or onto the Elmedia icon on the taskbar. Alternatively, you can right-click the file and select Open With > Elmedia.
Step 4: That's all. Enjoy watching.
Pros:
Handles a variety of media formats
Customizable playback options
Doubles as a streaming app that can cast your video
Enhanced audio and video configuration.
Cons:
For more advanced features, you should upgrade to the PRO version.
If you want a simple and compact media player, JustPlay is definitely worth a try. The player compatible with a variety of video and audio formats (MP4, MOV, AVI, FLV, Blu-ray, etc.) and delivers smooth HD playback with 4K and 8K videos.
Its functionality includes deinterlacing, video tuner, 10 band equalizer and more. In addition, JustPlay comes with enhanced subtitle support. You can customize the font, color, size of subtitles and even search for them through the opensubtitles.org service right from the app.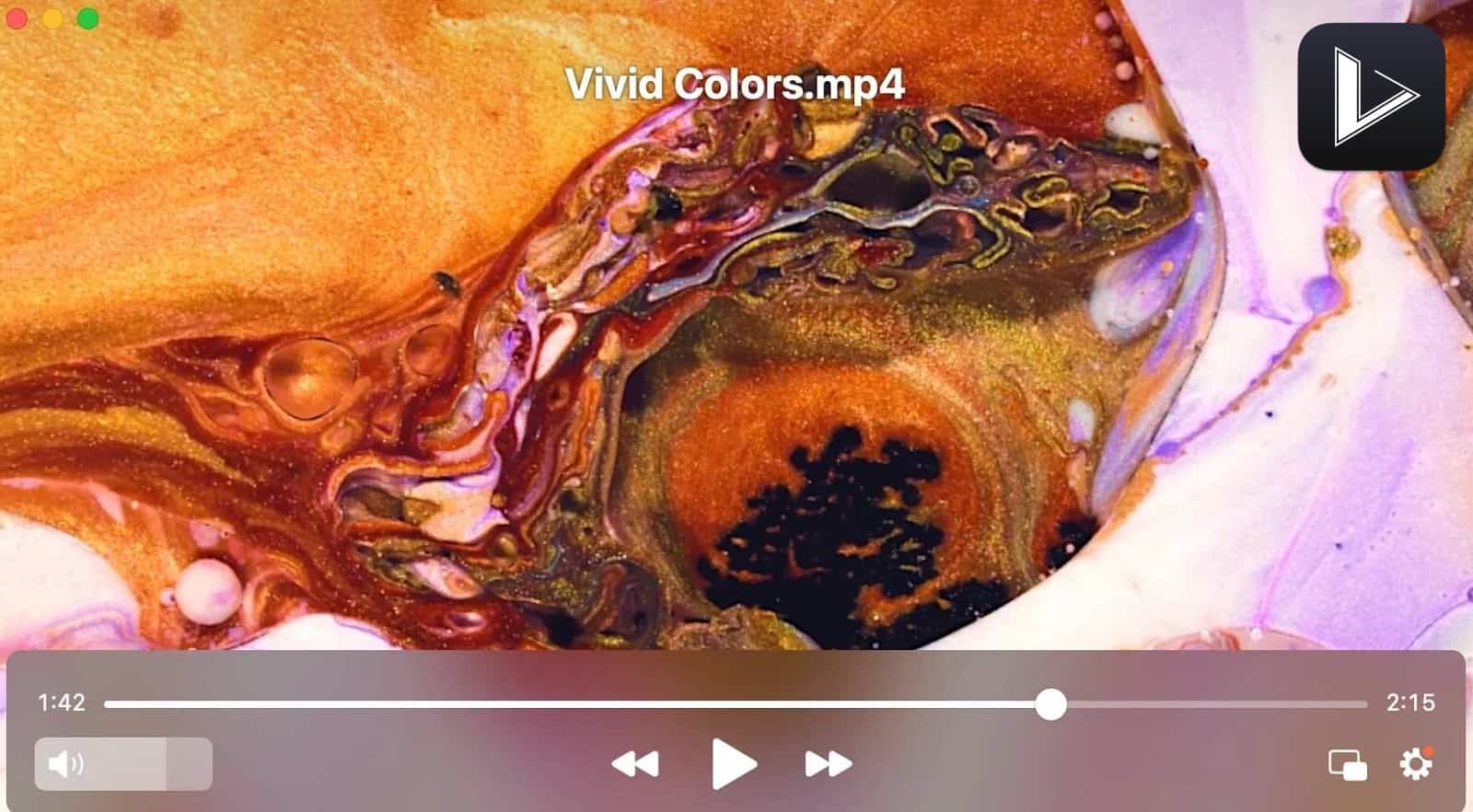 Pros:
Plays almost any video and audio file without the need for codecs
Fluid playback for 4K and 8K videos
Advanced subtitle controls.
When it comes to the best MP4 player Mac, we can't help but add a VLC Player to the list. It is free, open-source and cross-platform software that does not require the installation of codecs. The program handles a wide range of formats and boasts such features as customizable playback speeds, audio and video filters.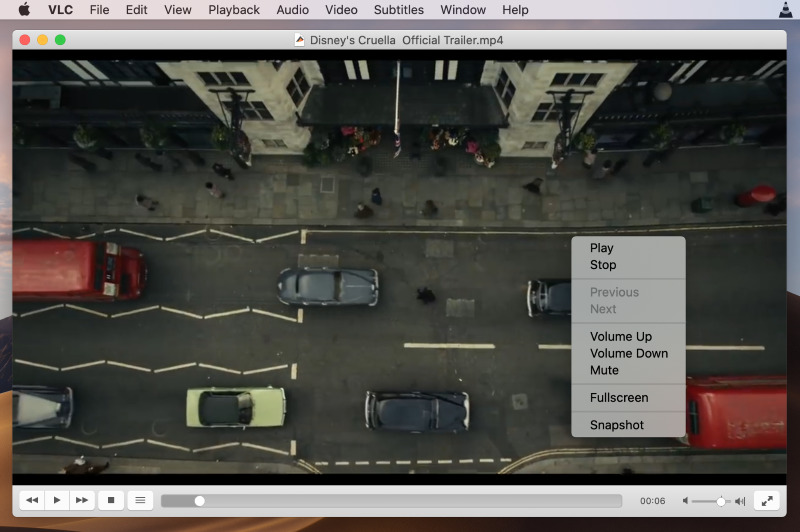 Pros:
Contains no ads
Compatible with all platforms
Plays most media files, including DVDs
Advanced settings for perfect customization.
Cons:
The program can be difficult to navigate.
QuickTime Player is a standard Apple's player and it is already included in macOS. It is free and probably the most used video player by Mac users due to its accessibility. This player is aimed at playing formats created by Apple (QT and MOV), but the list of supported formats and program capabilities does not end there.
The program also can play other video and audio formats like MP3, AVI, MPEG, and more. However, to play certain videos/audios, you may need to install additional codecs or find QuickTime alternative players for Mac. Besides, the QuickTime player serves as a screen recorder. It allows Mac users to edit clips.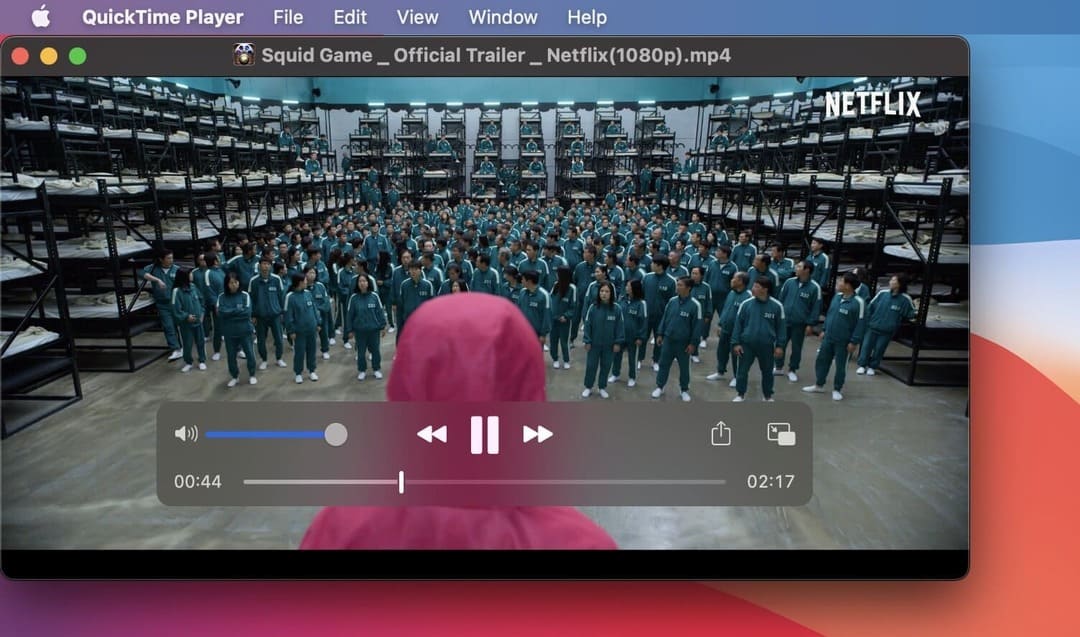 Pros:
It is fully compatible with macOS as it comes preinstalled
Provides screen recording abilities
Allows editing videos.
Cons:
The set of supported audio and video formats is limited.
5KPlayer is a multi-functional solution that combines a music player, AirPlay media streamer, and UHD video player. It is compatible with various file formats, perfectly copes with videos of high resolution, and can play video in 4K, 5K, 1080p as well. What's more, you can also download videos from plenty of video hosting services and stream audio and video over AirPlay & DLNA wirelessly.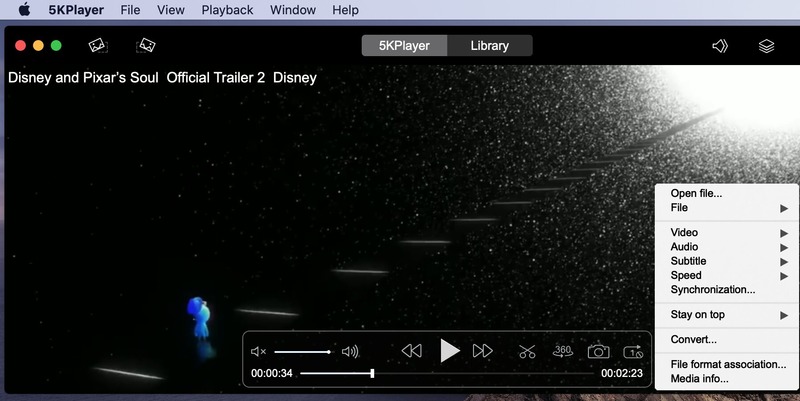 Pros:
Features streaming
Doubles as an online video downloader
Handles all major video/audio formats
Supports 5K video playback.
Cons:
There are ads in the player's interface.
OmniPlayer is a versatile media player for Mac. It is compatible with a range of formats and easily plays 4K, 1080P, 720P HD videos. The player comes with video and audio enhancement tools to improve playback.
You can adjust the playback speed, change the aspect ratio, adjust the brightness, contrast, and saturation of the video image, and more. In addition, OmniPlayer allows you to search and download subtitles in all languages, customize their appearance, and even change the encoding of subtitles in case of an incorrect display.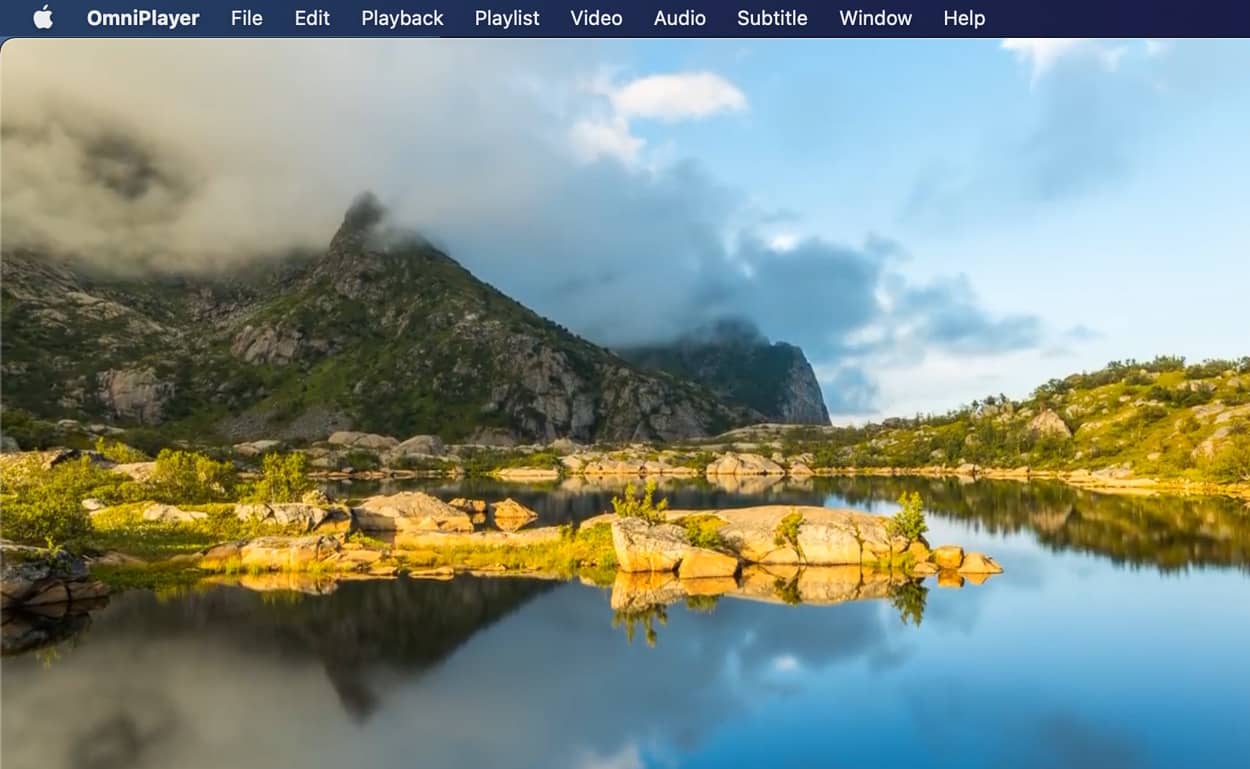 Pros:
Clean and streamlined UI
Video image adjustment options
Can take screenshots and generate GIF images.
Cons:
To access all features, you need to upgrade to the PRO version
The free version contains ads.
Miro is an open-source and free MP4 video player for Mac devices. This player lets you play almost any music and video format. Besides, Miro allows you to easily share multimedia files across your computers if more than one Miro is running on the same local network. In addition to playing videos, the app enables converting them to MP4 and for iPhones, iPads, Android devices. Actually, Miro can be described as a simple way to download, watch videos, and listen to music.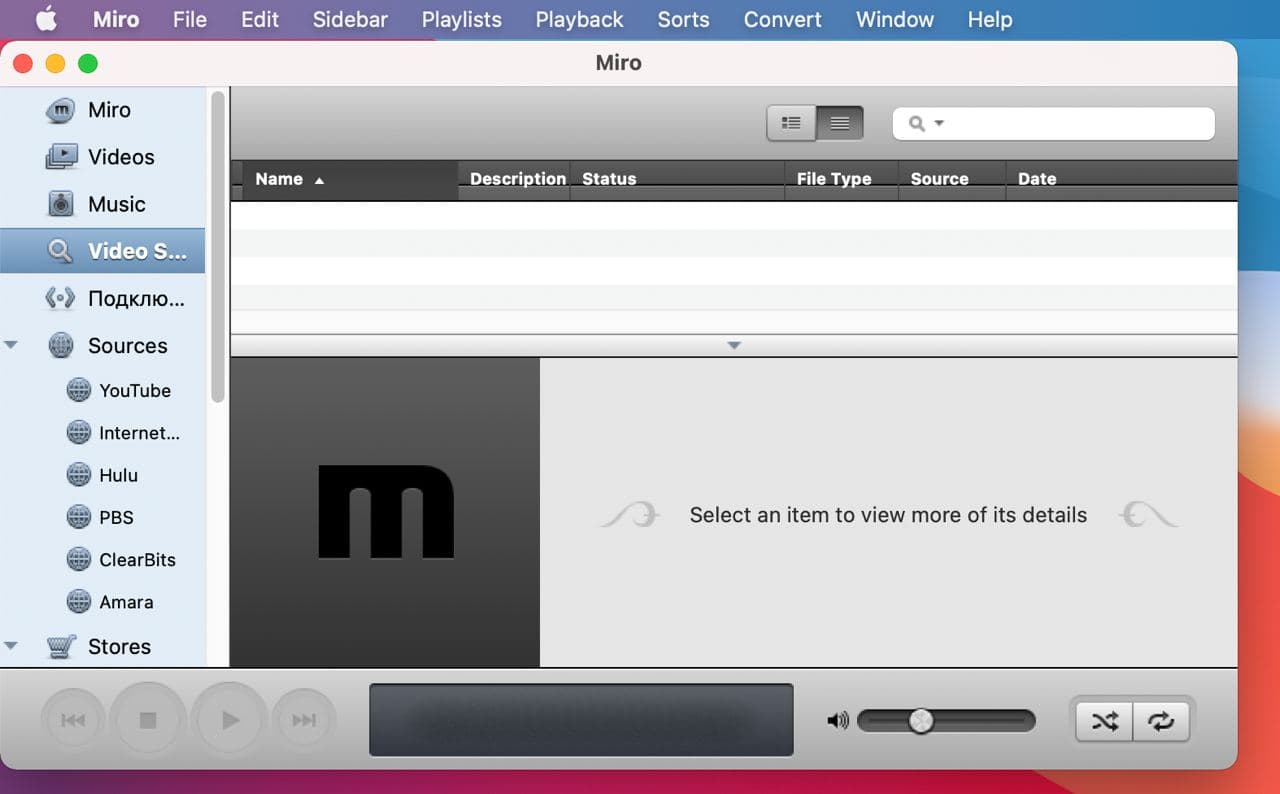 Pros:
Share media files over the WiFi network
Completely free
Cross-platform
Can be used as a video converter.
This is a free mp4 player for Mac. Cisdem Video Player is a media player which fully supports most file formats and resolutions ranging from 5K to Full HD 1080P. Additional codecs and plugins are not required. It provides high-quality video playback without lagging and doesn't contain any ads. Cisdem Video Player is easy-to-use, offers complete control options for the playback, allows you to add external subtitles and take screenshots.
Cisdem Video Player also has a PRO version with more features. Once upgraded, you'll get conversion options to be able to convert media files to the desired formats to play videos on different devices.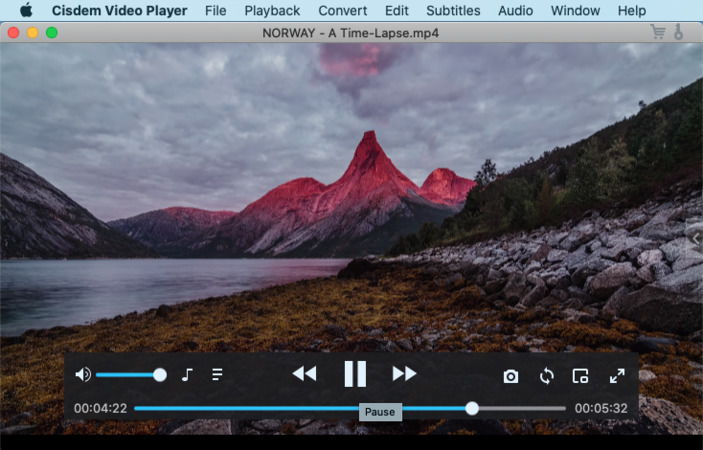 Pros:
No codecs or other plugins are required
Simple to use and lightweight
Support for a wide range of formats.
Cons:
Extra features like the video converter are only available in the premium version of the app.
Continuing the list of MP4 players, let's take a look at GOM Media Player. Being a free and open-source application, it comes with the support of numerous file formats like MP4, MPG, MKV, FLV, AVI, and more. If you want some additional features, there is GOM Player Plus that presents such playback options as subtitle sync control, screen capture, etc. All the features will become available after purchase.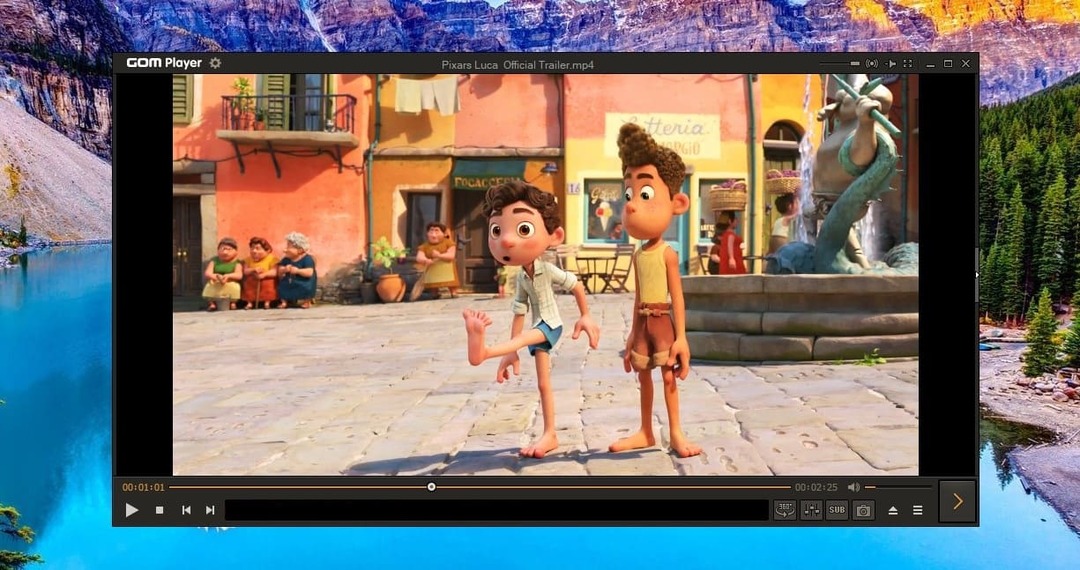 Pros:
Has a simple and clean interface
Excellent support for a range of formats
Play UHD videos smoothly.
Cons:
Free version contains ads.
DivX Player is a desktop MP4 player with many additional tools to play video files on Mac. The software provides support for popular file formats (MKV, MP4, DIVX, AVI and much more) along with advanced playback features. This way, you can smoothly rewind or fast forward any video you are watching hassle-free.
The player allows streaming videos, photos and audio files to DLNA-compatible devices like Smart TVs, Xbox, etc. While DivX Player is available as a free version, you can also upgrade to the PRO version and get premium features like playing videos from the cloud. A simple and intuitive interface will not confuse inexperienced Mac users.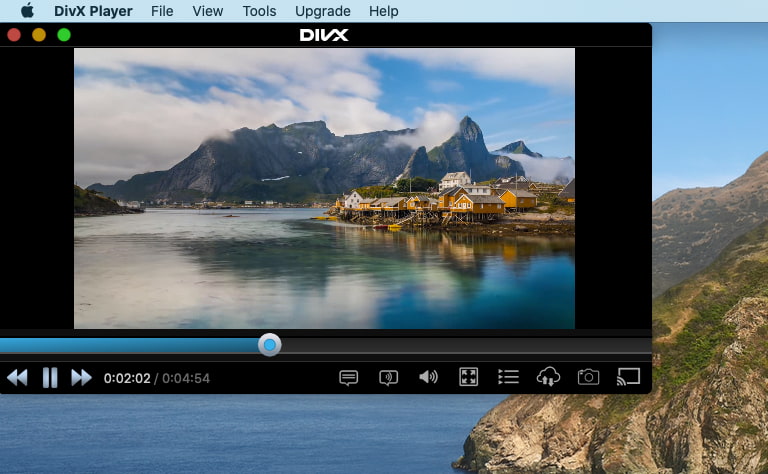 Pros:
Comes with advanced playback options
Allows casting the screen
Offers conversion features.
Cons:
Upgrade for premium features costs money.
How to Choose the Best MP4 Player Mac?
MP4 stands for MPEG-4 Part 14 and is one of the most common formats. It is a digital media format mainly used for storing video and audio. However, it can be used to store other data such as subtitles and still images as well. To play MP4 videos, you need a reliable player. When choosing, make sure it supports a variety of file formats, is fully compatible with the latest macOS versions, and offers customizable playback options. And finally, the MP4 player for Mac should be easy to use to interact with.
Conclusion
As you can see, there is really a great choice when it comes to the best video player for Mac. And the solutions listed above will help you play all your videos smoothly. So, choose the player to your liking and enjoy watching your favorite movies.
FAQ