There are several alternative file managers that offer more functionality than the regular Finder. These applications differ both in the features of the interface and in their capabilities, so any user can always choose an app to their taste. In this article, we will take a look at the most popular Macintosh file manager solutions, highlight the key reasons why people search for Finder replacement as well as what features the best file manager for Mac should have.
Key reasons to replace Finder
When you use a computer for a long time, you begin to notice uncomfortable little things that do not exactly interfere with your work, they just significantly increase the time spent on it. Even though Finder is a handy and well-thought-out application, it clearly lacks some of the functions that competing Mac file management software have. So what is the reason for the constant mock and why are users looking for a Finder replacement? Let's try to figure it out.
The thing is that Finder misses functionality available in other file managers and its performance is far from being perfect:
It doesn't have tab navigation and doesn't provide a painless way to cut files.
It is dramatically slow at times.
Navigating its billions of open windows, when searching through complex projects and subfolders, can confuse even the most hardcore users.
Let's add the fact that it creates. DS_Store files all over the place in every folder you open.
As you can see, there is no reason to think of it as a good file manager for Mac. Luckily there are lots of other apps available.
Checklist of must-have features the best file manager for Mac should have
So if you have made up your mind to change Finder to something more powerful, here is a list of must-have features you should look for in a decent file organizer software for Mac, namely:
Modern and intuitive user interface
Dual panel view
Support for tagged navigation
Customizability
Support for pug-ins
Reliability
Network Storage Management
Ability to work with archives
Obviously, this list can be continued further. We have just gathered the main factors you should take into consideration when choosing your best file manager for Mac. Below you will find the overview of the best file management tools to help you with finding your perfect one.
List of the best file managers for Mac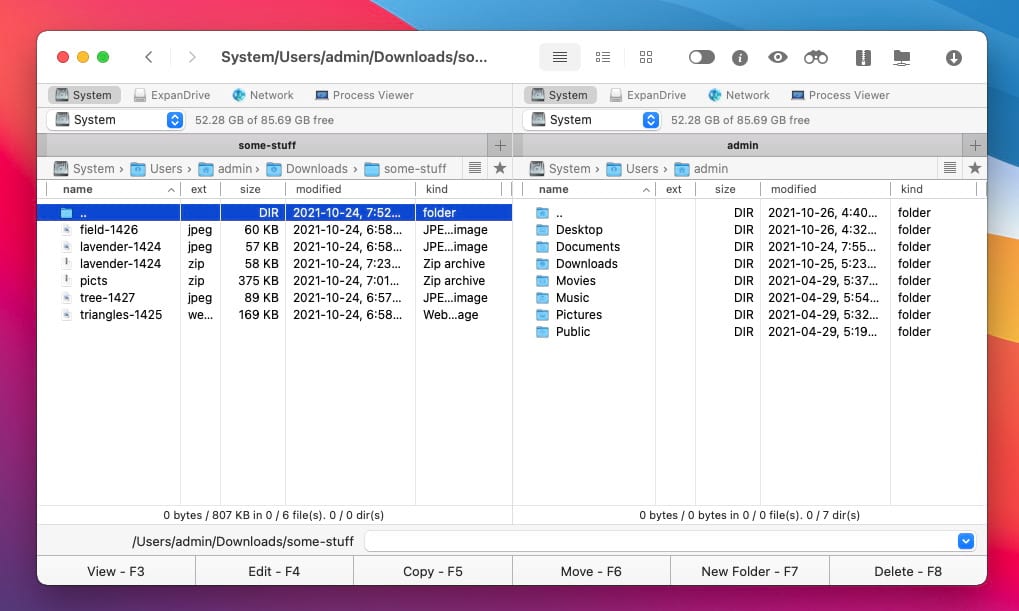 Commander One opens our list of Finder replacement apps. It is one of the best file managers for Mac as it allows you to efficiently deal with all your files with less hassle. The app allows you to work with files using two panels, support search using regular expressions, work with archives both in reading and creating modes, offers Root Access, and a built-in Terminal.
In addition, this file manager for Mac offers to manage not only local files but also those that are stored on your cloud storages or remote servers. Commander One is a great choice if you want to extend the functionality of Finder and gain total control over your files.
Pros:
Dual panel interface
Ability to show hidden files
Files operation queue
Convenient item selection
Cons:
Multiple file rename is missing
Folder comparison is missing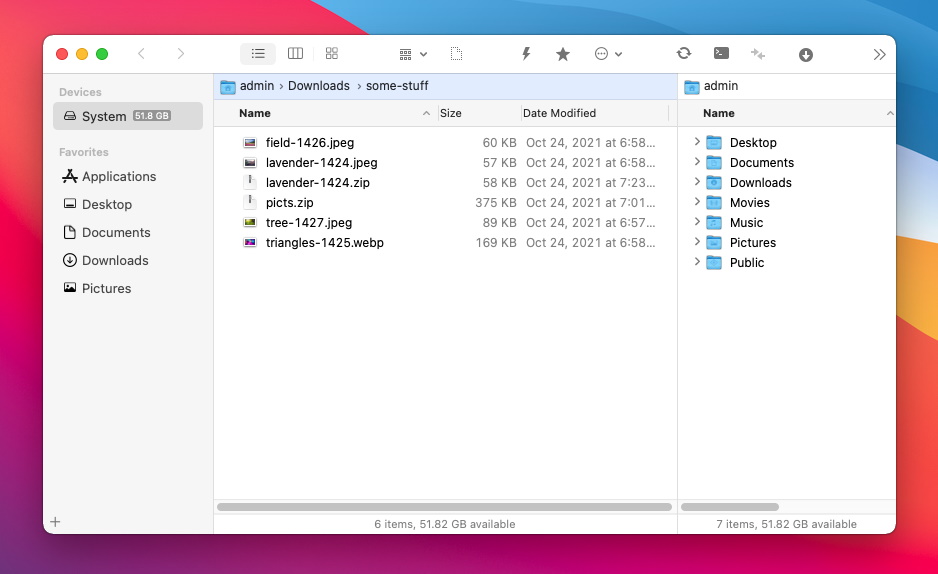 ForkLift is a reliable and elegant Mac file management software that can also work with FTP, SFTP, WebDAV servers, and cloud storages. Batch rename, "App Deleter", archive creation and management, powerful folder synchronization, as well as the ability to split and merge large files, everything is in your hands.
Among the rest of the features, you can find the ability to control the copying process and pause, the ability to remember the last open folders, and connected remote FTP and in case of a sudden reboot of the system, ForkLift will return everything to its place.
Pros:
Sequential batch renaming of files
Support for folders synchronization
Remote file editing
Cons:
No function for calculating the hash file
Limited list of choice of programs for comparing files/folders
Errors may occur when dealing with a large number of folders when copying from FTP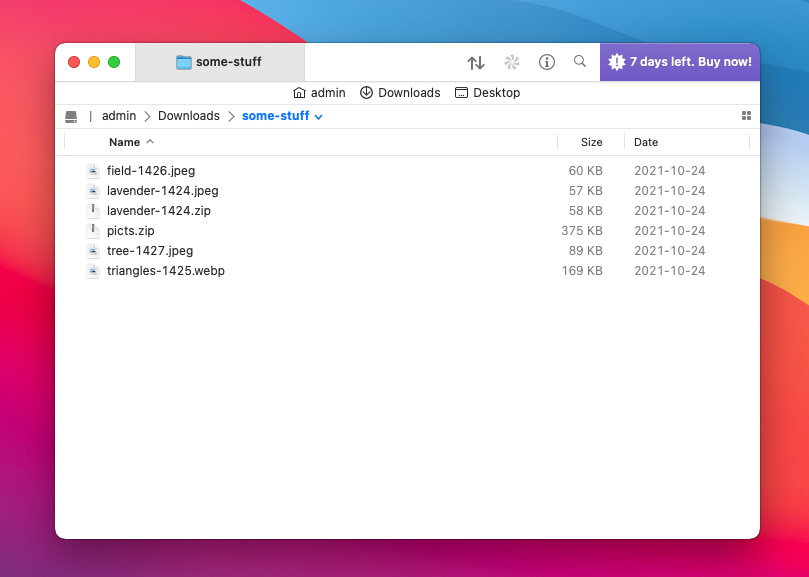 Transmit is a product with a long history. This file management software for Mac offers efficient work with files stored on remote servers and cloud storages. View modes for both local and remote files, fast file browsing with Quicklook, data transfer manager, sync wizard, local directory listing, and more can be found in this file organizer Mac app.
It is also worth noting that Transmit is a high-quality and stable app with a user-friendly user interface with regular updates and improvements.
Pros:
Ability to transfer data between remote drives and servers
Support for most major servers and drives
Folder synchronization
Cons:
Price of the app
Menubar app is missing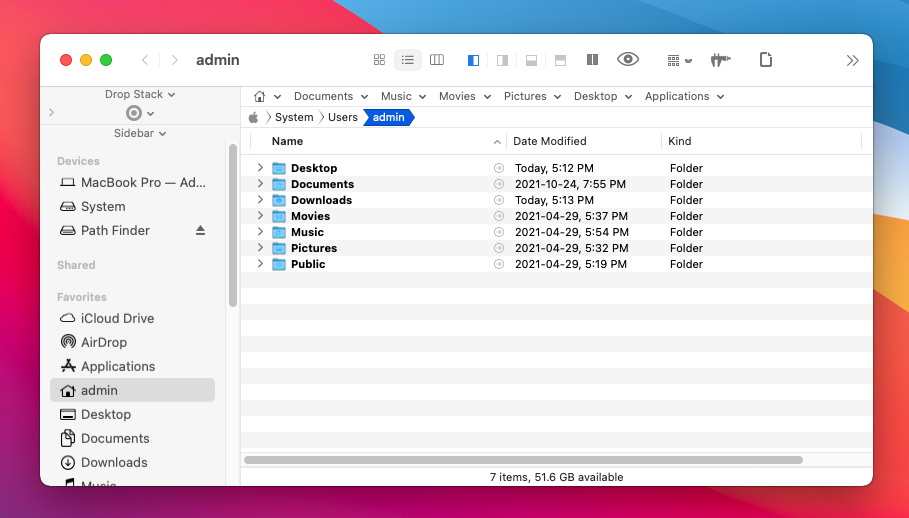 Another file manager for Mac on our list is Path Finder by Cocoatech. It is known for its "interface similarity" with the regular manager of macOS. It is worth noting that namely thanks to this peculiarity the user can switch to using Path Finder smoothly and without changing their habits.
Like Finder, the app allows you to burn discs, however, is showing more talent in this area. Supports burning CDs and DVDs in Hybrid, HFS +, ISO 9660, Joilet, and even Audio CD formats. For those who miss Finder capabilities, Path Finder will surely be a very useful replacement.
Pros:
Wide range of interface settings
Built-in Allume StuffIt mechanism
Information preview panel
Cons:
The high price of the app
Overloaded with unnecessary features and functions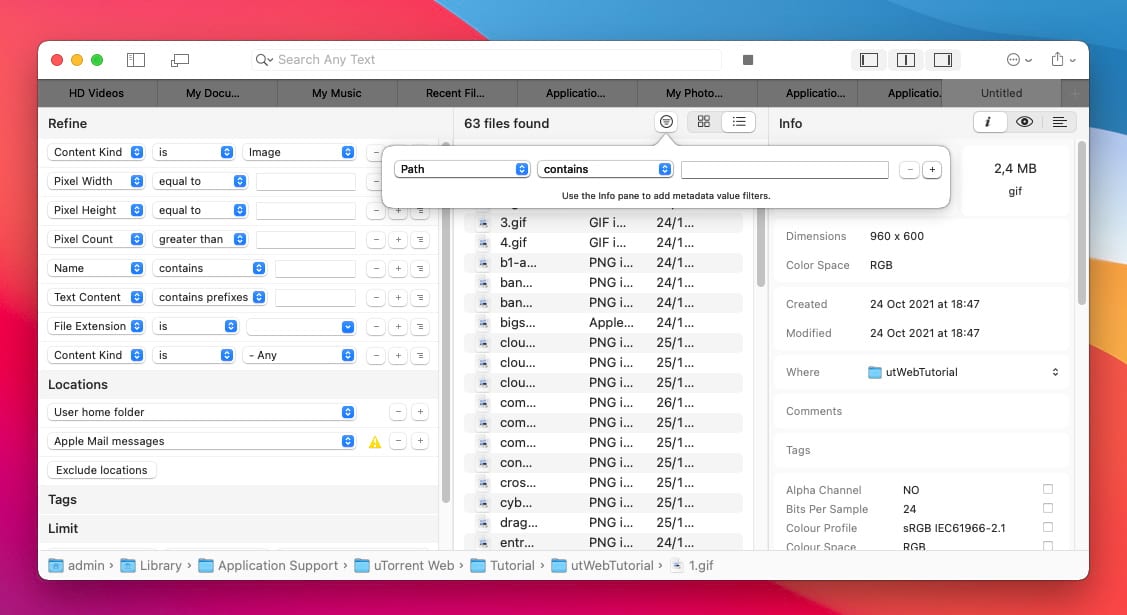 HoudahSpot by Houdah Software is a highly customizable Mac file organization software and file search service that works with Spotlight to help you find items on your Mac. What sets HoudahSpot apart from Spotlight is its powerful filtering technology that can sift through Spotlight results and return much more targeted results that are more likely to lead to actually finding the file you're looking for.
Pros:
Sort and filter results by date
Search in files, folders, mapped network drives, and even in a mail application
Cons:
Cannot search system files
Ability to find only Spotlight indexed files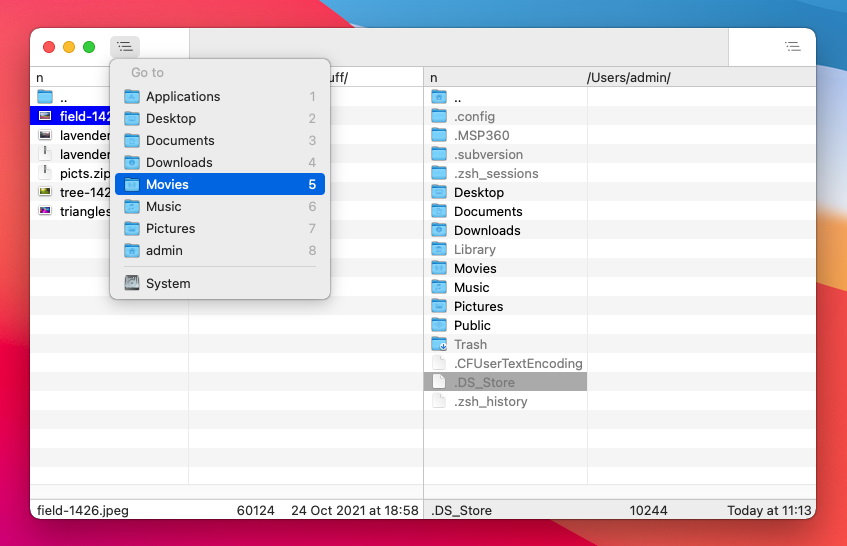 Nimble Commander can easily replace the native Macintosh file manager Finder in terms of functionality and convenience. The app is the most ascetic and does not contain anything superfluous: no buttons, except for the standard "Share" menu and directory tree. All actions are performed exclusively from the keyboard.
However, there is also mouse support: Shift + click selects files, scrolling is responsible for moving through the list. The group rename function contains various masks and is useful when working with large amounts of data. Besides that, the app allows checking the hash sums of files.
Pros:
Ability to connect to remote FTP and SFTP servers
Ability to create symbolic and hard links
30-day trial version
Cons:
Target audience – advanced users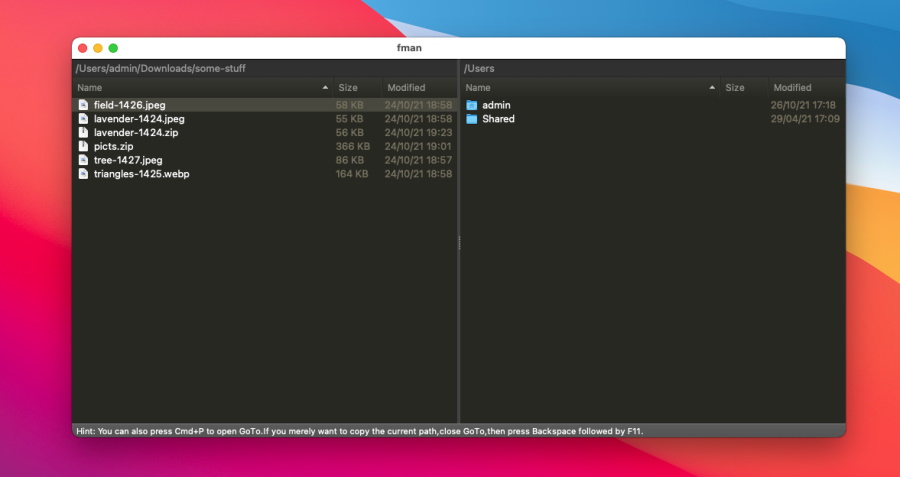 Fman is a very simple dual window file manager for Mac, Linux, and Windows operating systems. It is a very small application that does not require a lot of resources. Fman will be useful if you have a slow computer or low disk capacity.
You can use it to explore directories, copy or move files, mount external devices, perform file-related tasks much more efficiently than with other similar Mac file managers. Besides that, with the search bar at the top that you can quickly access anything you need.
Pros:
Implementing plugins based on the Python programming language
Ctrl / Cmd + P – guarantees transition to any directory
Minimalistic interface
Cons:
Fman is young, and its functionality is still weak
Many common things are missing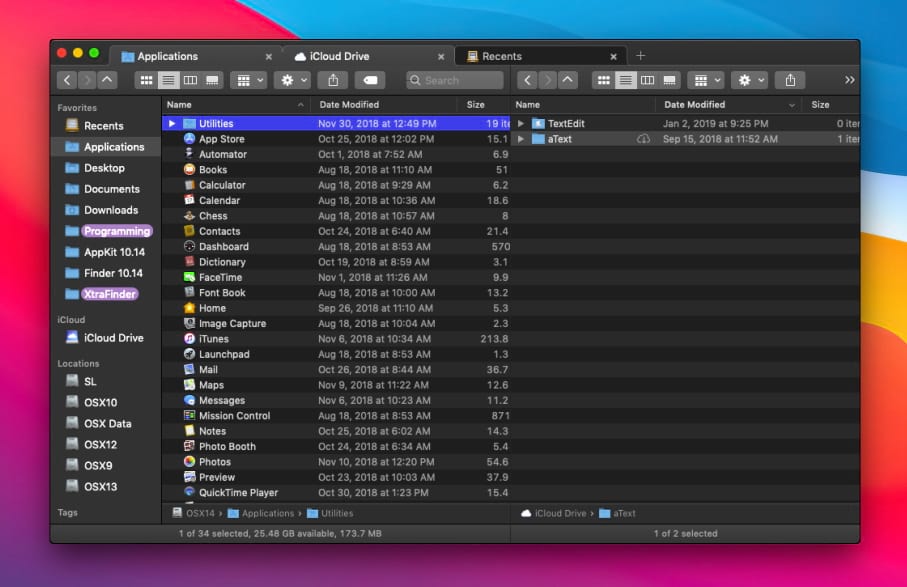 XtraFinder is not a replacement to the native macOS file manager but an add-on over the regular Finder, which adds convenience in work and the ability to customize the file management process at your discretion. The presence of XtraFinder does not affect the overall speed of work, but there are more than enough new convenient features.
Firstly, you do not have to open a bunch of windows in Finder, because you will have tabs similar to those in browsers. Secondly, you can enable/disable the dual-pane mode, the "sticky" window, as well as set keyboard shortcuts for various actions.
Pros:
The app is being actively updated
Built-in Terminal
Ability to show folders first
Supports all Mac OS versions back to 10.6
Cons:
Unable to show hidden files
Does not support Mac ARM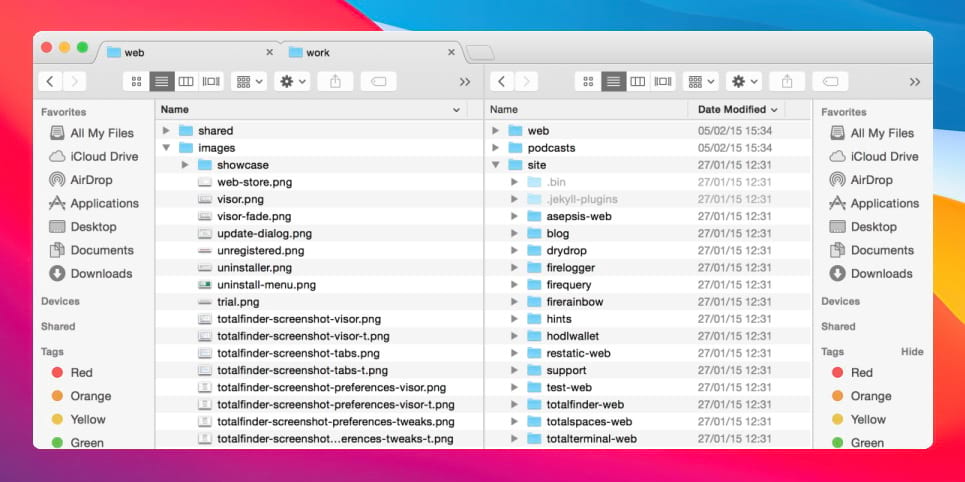 We present to your attention the popular plugin from BinaryAge – TotalFinder. The plugin is an excellent solution for modernizing the existing Mac file manager Finder. Perhaps one of the most useful innovations implemented by TotalFinder is a tab system similar to that used in the popular Google Chrome web browser called Visor (can be invoked via a customizable shortcut).
The plugin is recommended to all users, without exception, who are accustomed to Finder's simplicity, but who want to get some nice functional innovations.
Pros:
Ability to display hidden system files
Ability to sort files with the option "Folders always on top"
Finder can appear on the screen by pressing the hotkeys
Cons:
Unfortunately, the plugin is not compatible with M1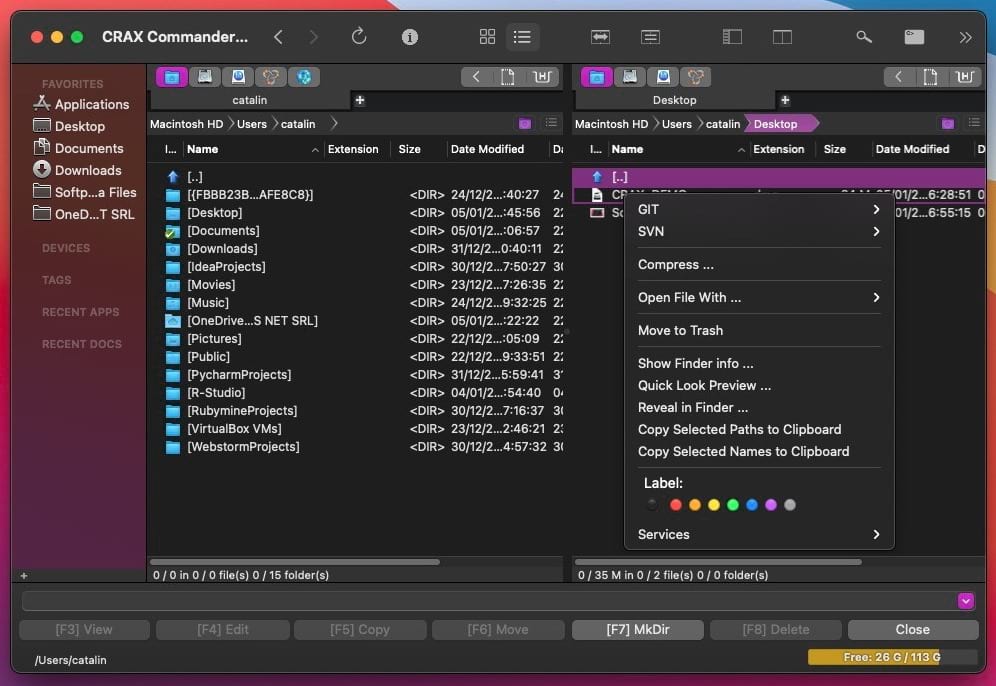 CRAX Commander is a fairly convenient two-column Mac file explorer alternative. What distinguishes it from the rest of the Mac file management software is the ample opportunities for customizing the interface. The user can choose the background color, font size, all buttons on the work panel can be moved, deleted and new ones added.
The file manager supports the drag and drop feature, can copy and move files in the background. Navigation and application control are organized quite competently. Besides, you can reconfigure hotkeys for more comfortable work with the file manager.
Pros:
Copy and transfer files
Ability to work with ZIP, RAR, 7-ZIP, GZIP, BZIP2, AR archives
Connection to remote data storages via SSH, SFTP, FTP, SMB, AFP
Cons:
Performance issues when working with FTP
No copying without size calculation
Conclusion
File management is so important on a computer that users always want a simple and easy-to-use Mac file manager or Mac file browser. However, sometimes it is very important to have a multifunctional and customizable file manager to perform both simple tasks and complex operations. Whether you prefer a lightweight file organizer for Mac with fewer features or a heavy file explorer for Mac with many features and capabilities, it all depends on how you manage your system.
FAQ