A Mac FTP client can be used to access a file server and manage or download files. This functionality is often found in file managers and general-purpose cloud disk mounting software. Sadly, there aren't too many free FTP clients on macOS. Sometimes premium solutions are better, so we will list them as well.
Are FTP Clients Still Popular?
With easier file storage options becoming available, such as cloud storage, the popularity of FTP apps is decreasing. As you can see on the chart, search interest for FTP software was slightly higher from 2018 to 2020 than it is nowadays. However, the protocol and its derivatives are still being widely used to create personal file servers and for other purposes.

Popular FTP clients in 2023
Commander One
Commander One is probably the best free FTP client you can find on Mac. It's a dual-pane file manager with a wide range of features for different tasks – file sorting, searching, device mounting, process management, and more. FTP functionality can be used for free, but many of the aforementioned features are a part of Commander One PRO.
Once you've connected to an FTP server, you'll be able to view, edit, remove and transfer files, just like you do on your hard drive. Commander One can optionally encrypt them to add a layer of security.
Every aspect of this file manager has been optimized for quick and easy file management. This includes hotkeys, tabs, and an operation queue. In addition to FTP, cloud services can also be connected to. This includes Amazon S3, Dropbox, and Google Drive. Commander One combines all your remote filesystems into one app!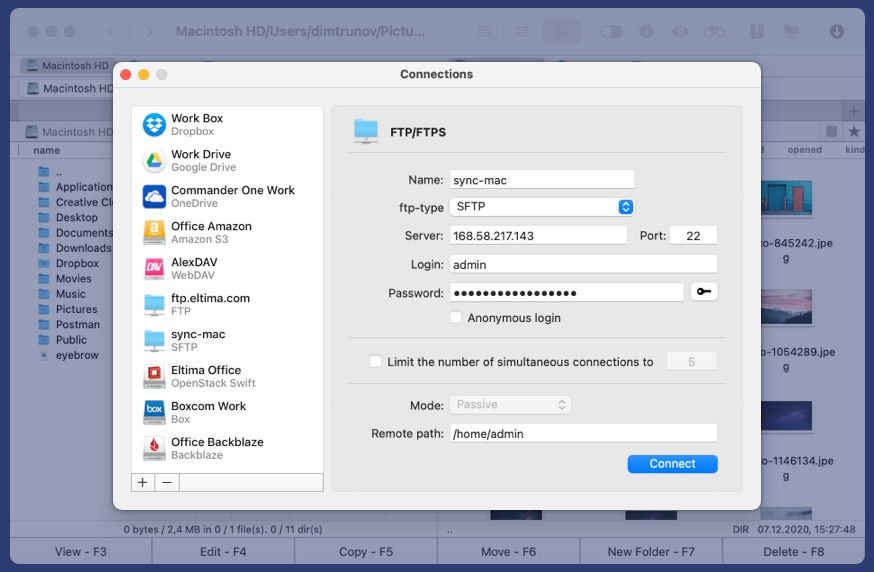 Top Features
Dual-pane interface
Built-in file viewer
Supports multiple cloud services
Compression and extraction tools
Customizable appearance
Advanced search
Hotkey mapping
Built-in terminal
On-server file editing
On-server archive management
Pros:
Convenient Dual-Pane Interface
Numerous Protocols Supported
Cloud Storage Integration
Root Access
Frequently updated
Cons:
Limited Free Version
Apple Store Version is Restricted
CloudMounter
CloudMounter is a cloud disk mounting app. It's compatible with many popular services, such as Google Drive, Amazon buckets, Dropbox, Mega, and OneDrive. It's not limited to cloud services, however, and is also one of the best FTP clients for Mac. SFTP and FTPS protocols are supported as well.
When you mount a disk or a server through CloudMounter, it will become accessible through Finder. The files on it can be worked with and managed. Native mount mode is available. If enabled, it will let you work with files on the server while you're disconnected or experiencing connection issues. In other words, it may save you from losing work.
The interface of the app is pleasant and easy to work with. It also provides file encryption with a locally-stored key.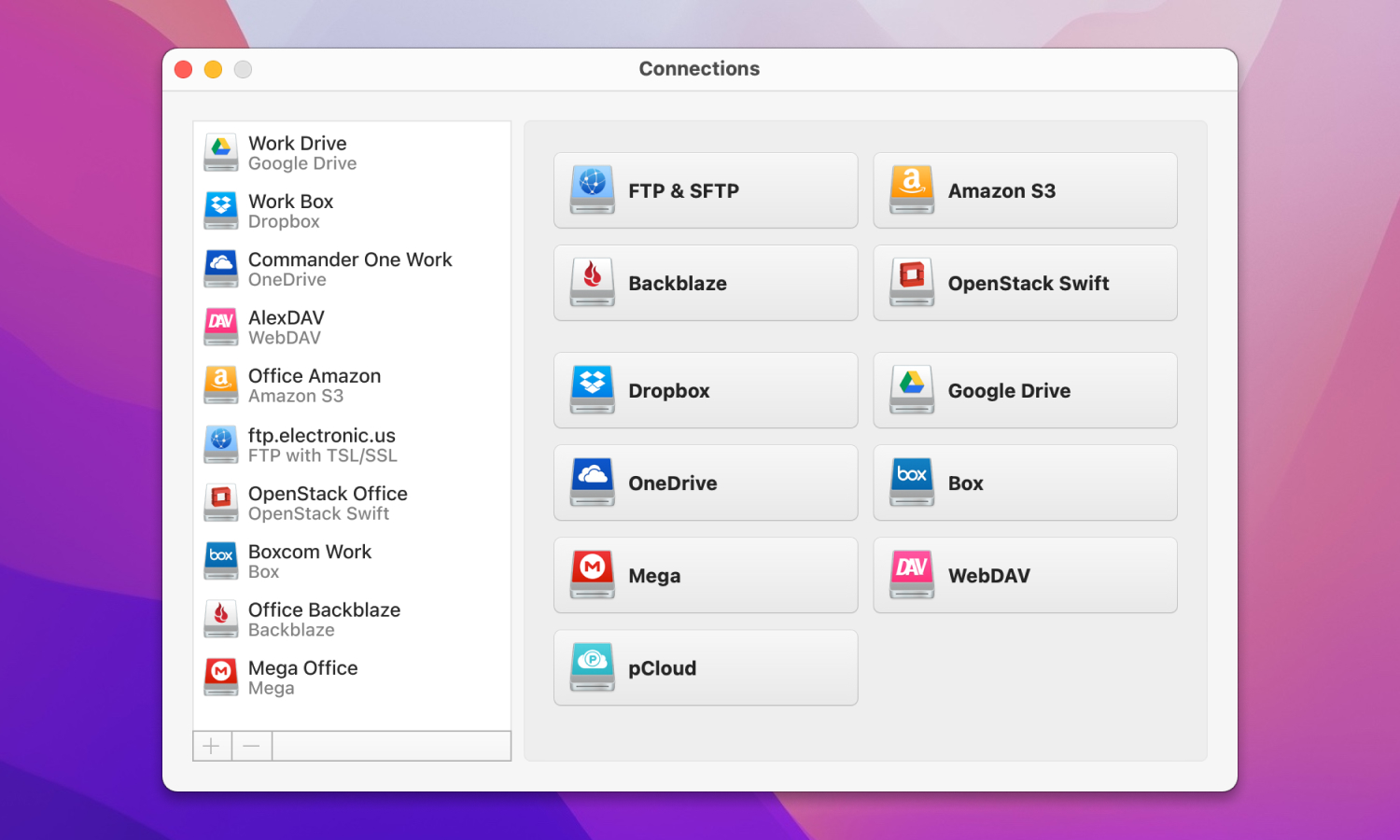 Top Features
Cloud storage mounting
Supports various cloud services
Data encryption
Integration with Finder
Pros:
Ease of Access to Cloud Storage
Broad Cloud Service Support
Regular Updates
FileZilla
FileZilla is a popular open source FTP client for Mac, Windows, and Linux. It's completely free and feature-rich, but the cluttered, unintuitive UI may serve as a problem. Anything about your FTP connection can be custiomized, including download and upload speed limits and a keep-alive service to prevent the connection from getting dropped.
The built-in file manager of this free FTP client for Mac is not convenient, but its main purpose is not everyday use – it's for directory comparison. In fact, FileZilla can locate differences in file trees and highlight them, to make your backups and searches easier. You can set numerous different conditions when searching, such as parts of the filename or other metadata.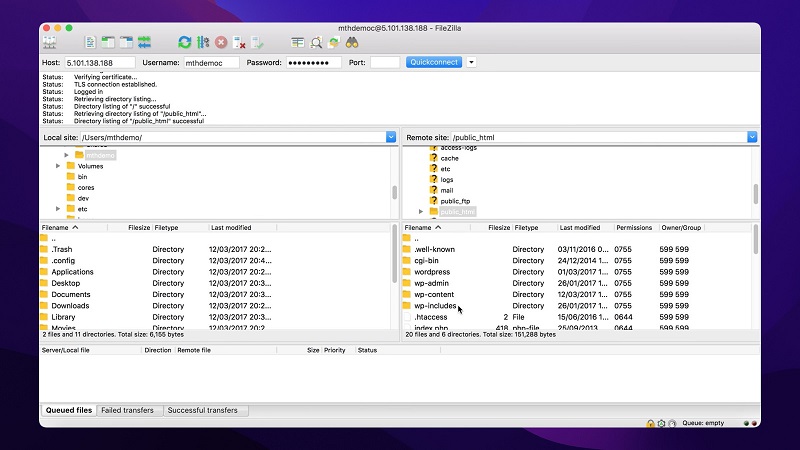 Top Features
Supports FTP, FTP over SSL/TLS (FTPS) and SFTP
Cross-platform
Tabbed user interface
Bookmarks
Configurable transfer speed limits
Remote file search
File synchronization
Pros:
FTP/SFTP/FTPS Support
Available in many languages
Drag & drop support
Remote file editing
Synchronized directory browsing
Cons:
No Integrated Scheduler
Not an aesthetic interface
Cyberduck
Cyberduck is a free FTP manager for macOS. You can add connections to its list, after which they can be opened in the app and files can be transferred to and from the server. As a major downside, the servers and disks can't be opened in Finder or your file browser of choice – you have to use the in-app interface, unless the files were already downloaded to your system.
This client fits a lot of functionality into a surprisingly compact and simple UI. Cyberduck provides plenty of options on what to do with your files, including sync and auto-deleting.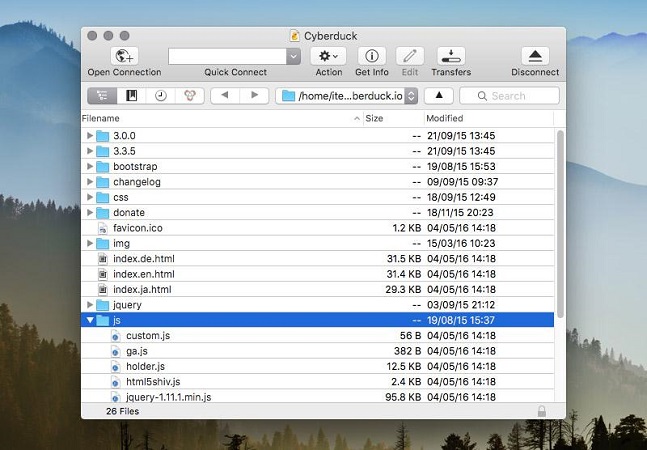 Top Features
FTP/SFTP/FTPS/WebDAV Support
Cloud Integration
Easy-to-Use Interface
Supports drag-and-drop functionality
Folder syncing
Pros:
Supports Various Protocols
User-Friendly Interface
File Synchronization
Free to Use
Cons:
Forced to use the in-app file browser
No Dual Pane
No file transfer scheduling
Viper FTP
Viper FTP is a commercial Mac FTP client, which is laid out more like a dual-pane file browser. This helps, since you can't access the remote files and folders directly from Finder. It's quite fit to remote file-managing purposes due to its advanced search, file comparison option, and a unique feature – "synchronized browsing". When you're comparing a local folder to a remote one, it can be enabled to always open the corresponding folder on the other pane while you navigate.
There is a batch uploading feature to automatically distribute a file or a folder to multiple remote disks or servers. On the flip side, there's no real automatic sync option, outside of copying your folders wholesale.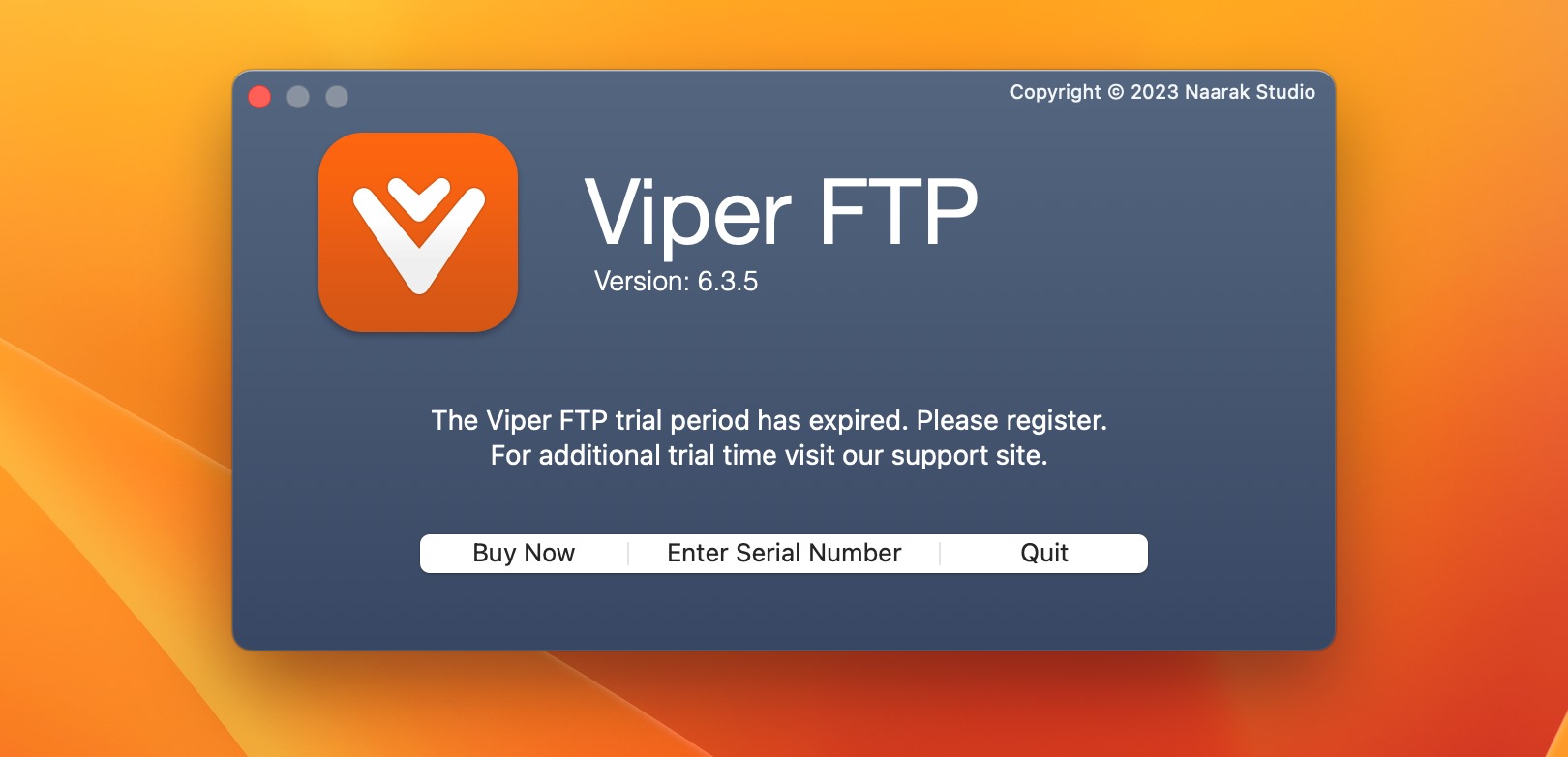 Top Features
Local zip, tar, tgz, gz archive management.
Local and remote file management.
Folder comparison
Batch uploads
Scan for any working FTP servers in your LAN with Bonjour.
Quickly preview images, video, audio, and documents.
File operation scheduling
Pros:
Local file encryption/decryptions
Multi-Protocol Support
User-friendly Interface
Batch Transfers
Bookmarking
Cons:
No automatic syncing
Limited Cloud Support
Potential FTP Uses
FTP (File Transfer Protocol) is used to exchange files between servers and clients. Once a server is established, its contents can be browsed, interacted with and copied from a client computer by using an FTP app. Due to the protocol's age, it is vulnerable, so "FTP" often refers to its secure implementations, such as SFTP.
Here are some ways that FTP can be utilized:
Remote media storage. Music, movies, and other media can be stored on a server that's separate from your desktop PC and can be accessed from other devices. Some media players are able to open files directly via FTP without having to download them beforehand.
Remote access to your website's files. Whether it's a WordPress error or a hacker attack, you may lose the ability to control your website via its web suite. By having direct access to the server's files, you may fix the error, restore the site, or remove sensitive data.
FAQ
When it comes to free options, the popular ones are usually the ones with the simplest interface, such as Cyberduck. But in reality, you may get more use out of an advanced app, such as FileZilla, despite the visual drawbacks and the learning curve.
In regards to paid clients, Commander One is an undeniable leader, and is worth the price tag even when compared to the best free applications. It's both versatile and polished.
The answer heavily depends on your needs.
If you want to browse the server in Finder or your file manager of choice, you will need an app that can mount it into a folder, instead of just browsing it in the app itself.
If you make many small changes to the contents of a folder, but always need to have an authentic backup on the server, you need a sync-capable client.
If you work with large amounts of files and multiple versions of the same folder, side-by-side comparison is absolutely vital. Same goes for advanced, condition-based search.
Additional needs may arise, such as archive extraction or compression.