Despite living in an age of digitalization and immense online transfer capabilities, we're still not at the point when you can simply send huge files over the internet directly. Large transfer services like WeTransfer or even cloud storage such as Dropbox have limits on the files and folders you can upload. Therefore, archiving software is still relevant in the present day, and having a reliable one installed on your Mac can make a world of difference.
The archive utility Mac computers come with does its best when it comes to compressing large files and allowing you to reduce data consumption. However, the truth is that it's not very efficient at its job. While it does reduce the file size, the Mac archive utility doesn't have a great impact on overall disk space before and after compressing.
This happens because Apple never bothered to upgrade the utility on their OS since third-party apps focused on this specific section appeared and. In this article, we're going to tell you about some of the best archive utilities Mac users can turn to for excellent results.
Most Popular Mac Archiver Tools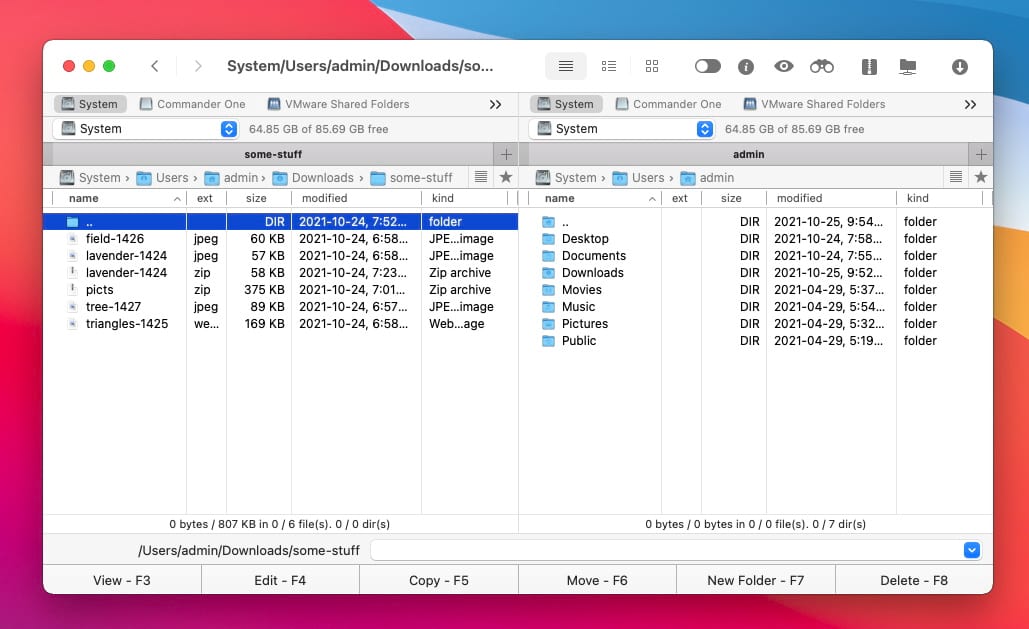 As promised, we're kicking off the list of archive software Mac users can rely on and we're starting with the best there is – Commander One. It incorporates one of the best Terminal emulators for Mac. This dual-panel file manager is developed for macOS and it delivers a wide list of functions.
It can work with ZIP, 7ZIP, RAR, TGZ, or TBZ archives and it allows you to easily compress, edit archives, extract, and manage files. Take advantage of the two panels and unlimited tabs to easily organize your data and compress files to move from one place to another.
Pros:
Built-in search functions to easily identify files
Offers customizable hotkeys for faster operations
Supports queuing so that you won't have to wait until one file is archived to start with the next one
15-day trial version.
Cons:
The more advanced functions like cloud services integration are only available in the PRO version.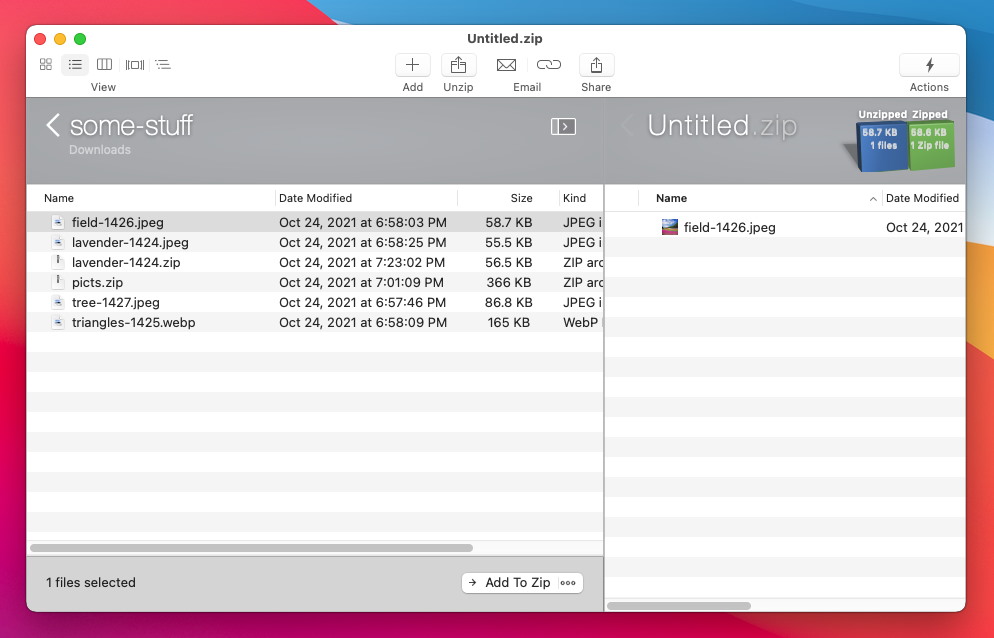 WinZip is one of the oldest archivers out there. If you want to use this Mac archive utility download it from the official website and you will enjoy a trial version. If you didn't use this software on a Windows computer, you'll be glad to know it offers compressing and decompressing services at top speeds, one of the reasons it enjoys over 1 billion downloads.
Furthermore, it offers an extra layer of protection through AES encryption for those sensitive files. WinZip is now available for iPhone and iPad as well so you can use it on all your iOS devices as well.
Pros:
More than 1 billion downloads since it's available
Banking-level encryption through AES
Available for mobile as well.
Cons:
The trial version only offers limited functionality while the price for the full version is quite high.
Download: WinZip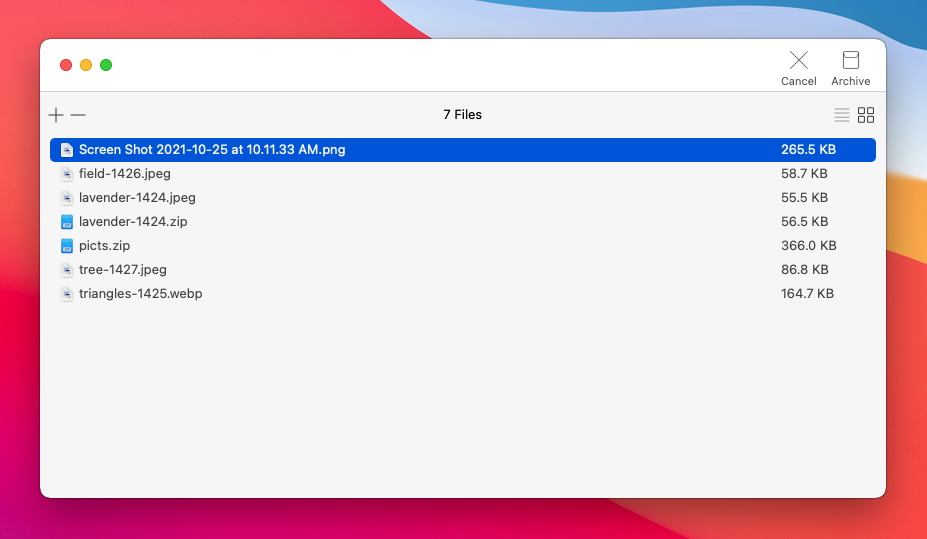 If the software listed so far did not convince you and you're still looking to download archive utility for Mac, perhaps you should give Archiver a try. Right after you visit the website you understand that this software comes with a very fun and playful interface. As for its features, it helps you with RAR, ZIP, 7ZIP, StuffIt, and many other popular archive file formats.
It also offers multiple options when it comes to compression formats so you get the perfect balance between disk space and archiving time. It also allows you to preview the archives before extraction so you know exactly what to unpack when looking for a specific file.
Pros:
Easily preview archives through its QuickLook function
Fine-tune compression levels, default outputs and more
Automatically removes archive files after unzipping
Recover over 300 file formats.
Cons:
Only available for macOS 11 Big Sur and later.
Download: Archiver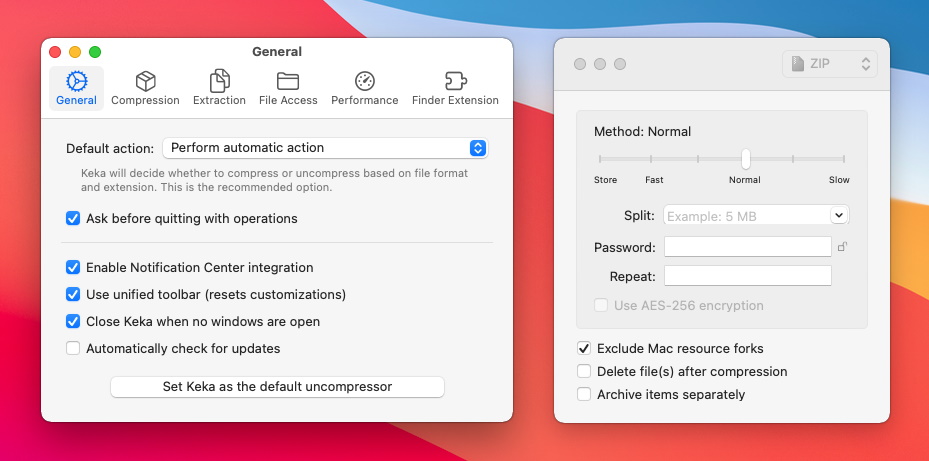 If you won't settle with anything but the best archive utility Mac download Keka on your computer and you'll be able to test its power in real-time. Designed for Mac, this lightweight but powerful app places a shortcut in the Dock and you can start compressing files simply by dragging and dropping them onto the Dock window.
If you want to make sure nobody can access your archived files, Keka gives you the option to add a password and it protects your archives with AES-256 encryption. Also, if the files you compress with Keka are still too big to fit on an online transfer service or the email, you can use the software to split them in multiple volumes.
Pros:
AES-256 encryption enabled for extra security
Offers the functionality to split huge files into multiple volumes
Fast compression through drag-and-drop onto the Dock icon.
Cons:
The newest version is still a beta version which means you can expect to find bugs and issues.
Download: Keka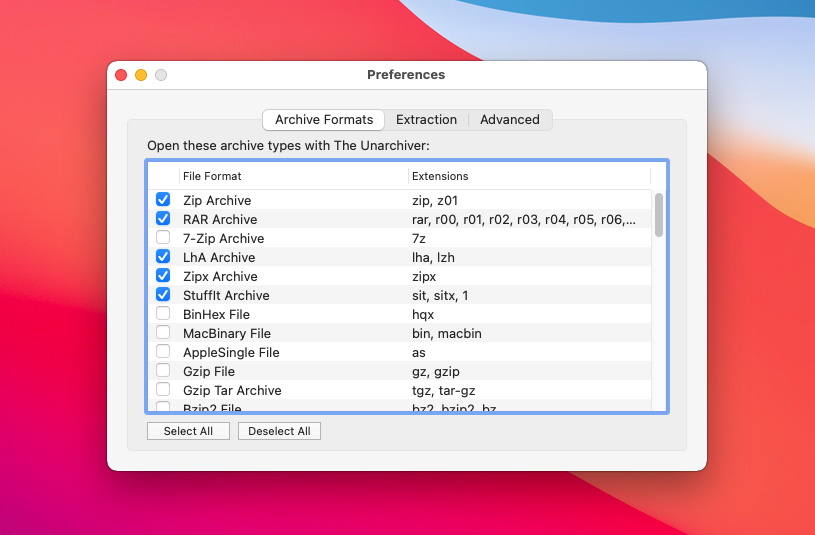 Advertised as the only app you will ever need to create and open RAR files on Mac, The Unarchiver is very efficient and works on macOS 10.7 and later. However, it focuses mostly on opening archives created with other tools rather than archiving.
So, despite quick installation and the cost-free operation, if you want to create an archive, you'll need to stick to one of the other options. However, if you are simply looking for an archive utility download Mac to open compressed files, this one could be it.
Pros:
Free to download and use
Supports lots of archive formats, including unusual ones
Doesn't require too many resources.
Cons:
It can't create archives on its own as it specializes in opening files created by other apps.
Download: The Unarchiver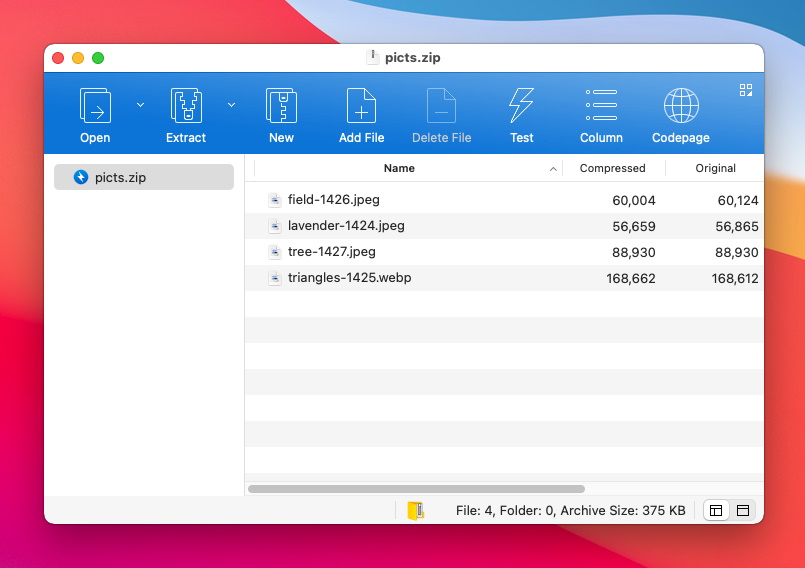 Next on our list, we take a good look at Bandizip. The latest version was launched in October 2021 and it's available for macOS as well as Windows. You can download it for free and explore the app and its functions with the possibility to buy a professional license at a later time.
The app delivers an all-inclusive compression and decompression functionality with the possibility of editing archives that were created with other apps as well. It offers support for over 30 formats, including the most popular ones. As for the compression speed, you can count on the fastest services thanks to its multi-core compression technology.
Pros:
Receives periodic updates and fixes from developers
Available for free as a trial version
Multi-core technology for improved compression speed.
Cons:
The trial version comes with limited functionality.
Download: Bandizip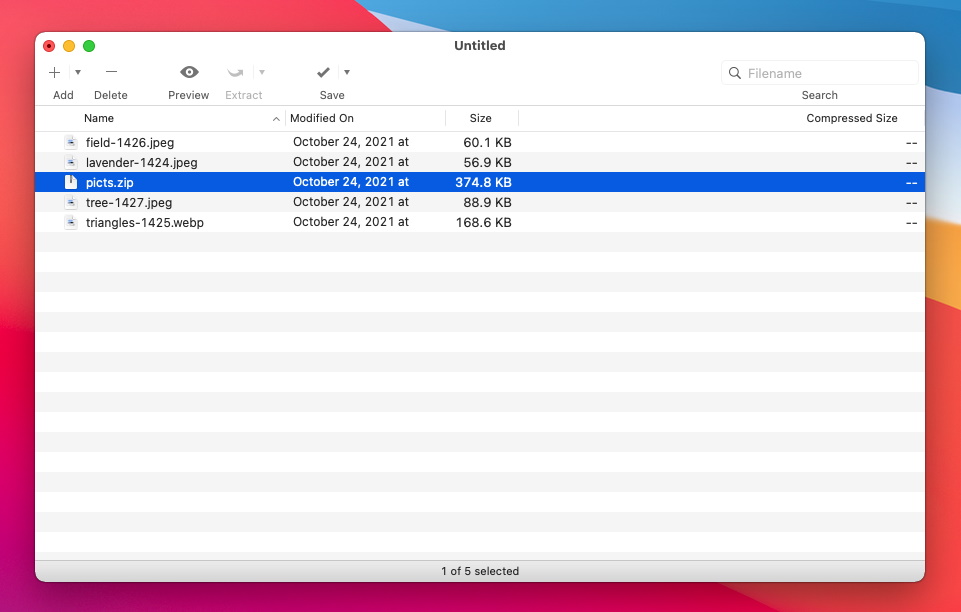 Even if it's lower down or list of download archive utility Mac recommendations, Entropy is just as capable as its competitors. Versatile and very easy to use thanks to its modern interface, this app allows you to create, extract, and edit lots of arthouse formats. You can rely on it to extract entire archives or just parts of it, add AES-256 encryption to the compressed files, and even quickly search huge archives.
Pros:
Lightweight app that doesn't require many resources
Offers preview for archives
Creates multi-volume split archives
Cons:
Still has plenty of bugs despite being launched a while ago
Download: Entropy

While YemuZip may not be the best Mac archiver available online, it still deserved a spot on the list of suggestions for users looking for a good app. Actually, the only thing dragging it down is the interface which would require a serious update.
Otherwise, it does about anything that other apps presented on this page do. It allows you to compress files and easily extract them depending on the platform. How many times did you extract a Mac-specific archive on a Windows PC only to get lots of folders without logic? That won't happen to you when using YemuZip.
Pros:
Easily choose the destination folder for your archived files
Automatically update the results on iCloud, Dropbox, or Google Drive
Easily place the archived files as an email attachment
Cons:
Since it's built for macOS and Windows as well, it doesn't deliver exceptional performance on either operating system
Download: YemuZip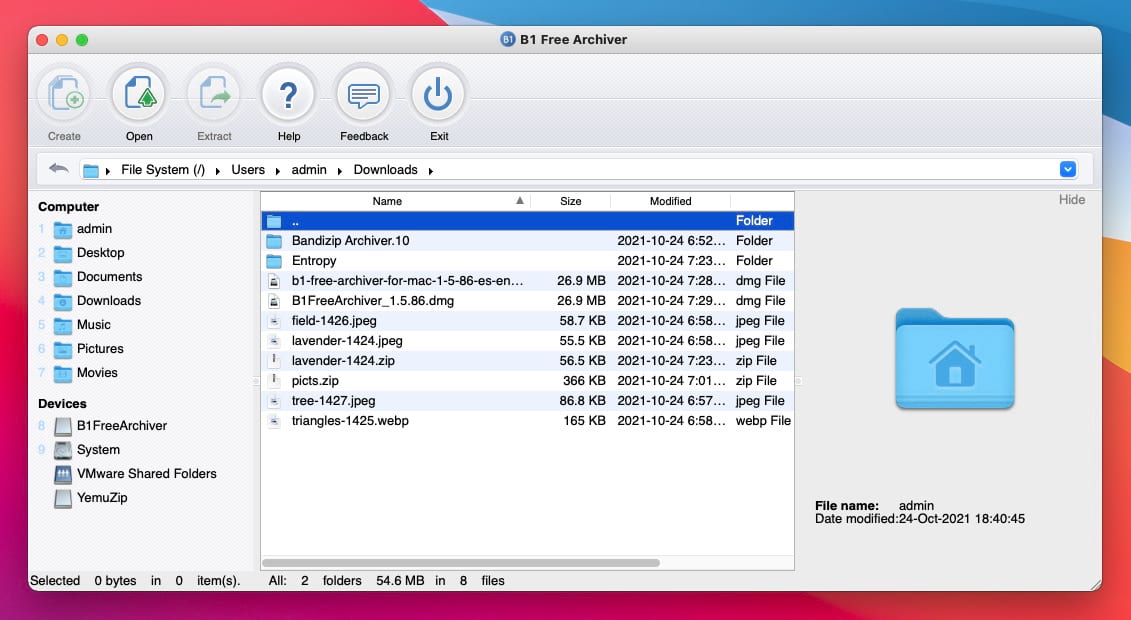 Last on our list, B1 free Mac archiver is the software you want to use for a one-time quick archiving job. You can download and install it in a matter of seconds then the user interface makes it very easy to navigate in the app. Being 100% free you can just download it anytime you need it and you can count on this app to handle the most popular formats. Furthermore, it comes with its own archive format that aims to improve the existing ones.
Pros:
Entirely free to use
An open-source app that constantly receives upgrades
Built-in format to improve the compression ratio
Cons:
Doesn't include password protection or any kind of encryption on the files.
Download: B1 Free Archiver
The Most Popular Archive Formats
Now that we've checked some suggestions for the best archiver for Mac title, it's time to look closer at the most popular archive formats around. As you know, there are hundreds of formats available out there and new ones are being developed daily. However, we're checking the ones that are used the most:
ZIP.

It's one of the most common formats out there. Zip files are extremely versatile and their strength comes from the ability of compression files together or go file by file and applying compression on specific ones. This allows archivers to deliver exceptional speeds and an overall easy operation. Despite the exceptional speed, ZIP doesn't offer the best compression rate for files.

GZ.

When you choose the best file archiver for Mac you need to take into consideration the formats it handles. GZ is one of the formats that are gaining a lot of popularity in recent years. It combines the GZip compression method with lots of archiving techniques for excellent results. It's widely used on macOS, Linux and Unix and the open-source format makes it very accessible.

TAR.

TAR is another of the popular archive formats you will find in pretty much any file archiver Mac software. IT's basically a series of blocks with a specific amount of bytes attached to each block. Ever since ZIP and GZ archive formats appeared, TAR lost some of its traction but is still used by classics.

RAR.

The biggest rival for ZIP archive formats, RAR is another extremely popular one. And while RAR offers better compression rates, they lack archiving speed or the ability to split the archives in multiple volumes.
Why Is It Important to Compress Files on Mac?
There are numerous reasons why using a Mac file archiver to compress files makes perfect sense for users. First of all, you've surely been in the situation where you wanted to attach an image or video to email only to get an error saying that the file is too big.
Well, if you compress the attachment first, you will be able to send it over the email. Another situation occurs when you try to transfer large files online. It's well-known that online transfer services come with a limit and if you compress files before sending them, you will be able to work less.
File compression and archiving are helpful if you simply want to save disk space on your Mac, especially for files that you don't use that often. Lastly, you can turn to archiving to add an extra layer of security to sensitive files. Since most archivers come with built-in encryption, there's a bigger chance to keep them safe.
FAQ