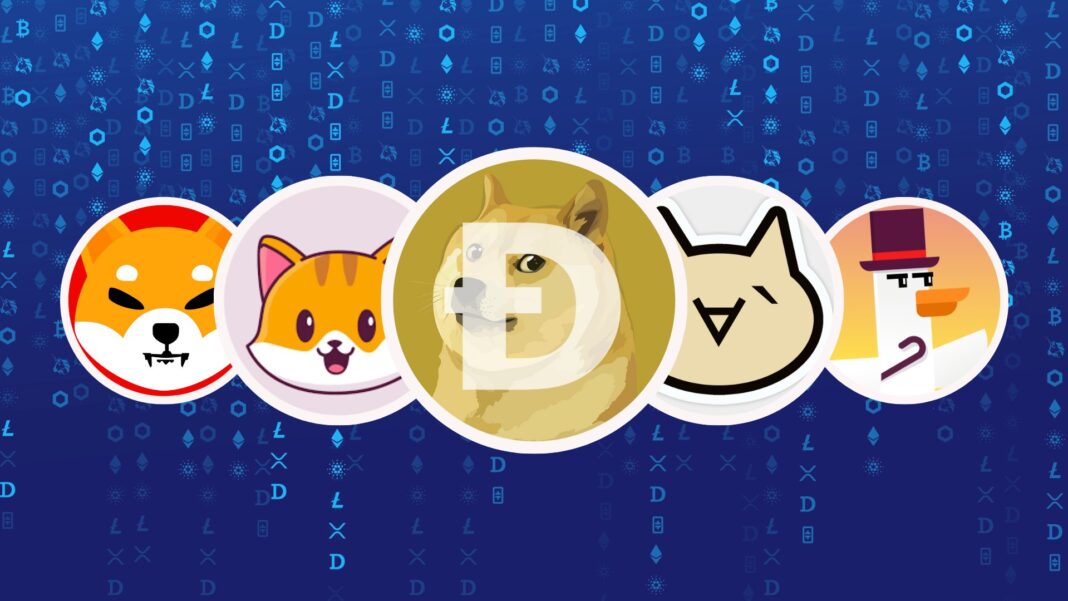 Apart from all the decentralized financial instruments, NFTs, and passive income generation protocols, one asset, in particular, has made an impressive splash on the crypto market that the impact is still being felt across many industries.
The ripples of the Meme Coin effect are bouncing off traditional industries as some assets of this newfangled class have demonstrated over 2,000,000% price increases in under a year, as demonstrated by the Shiba Inu (SHIB) coin. It becomes obvious that this asset class is worthy of attention when the likes of Elon Musk are rallying for it with booming tweets and calling on McDonald's to start accepting them as a means of payment.
What is a Meme Coin?
Cryptocurrencies in themselves were developed as an alternative means of payment to circumvent the dominance of centralized financial institutions and government control. As the first of the breed, Bitcoin paved the way for the development of a wide variety of decentralized financial assets designed to facilitate both payments and cross-border transactions involving anything from exchange operations to transfers between friends.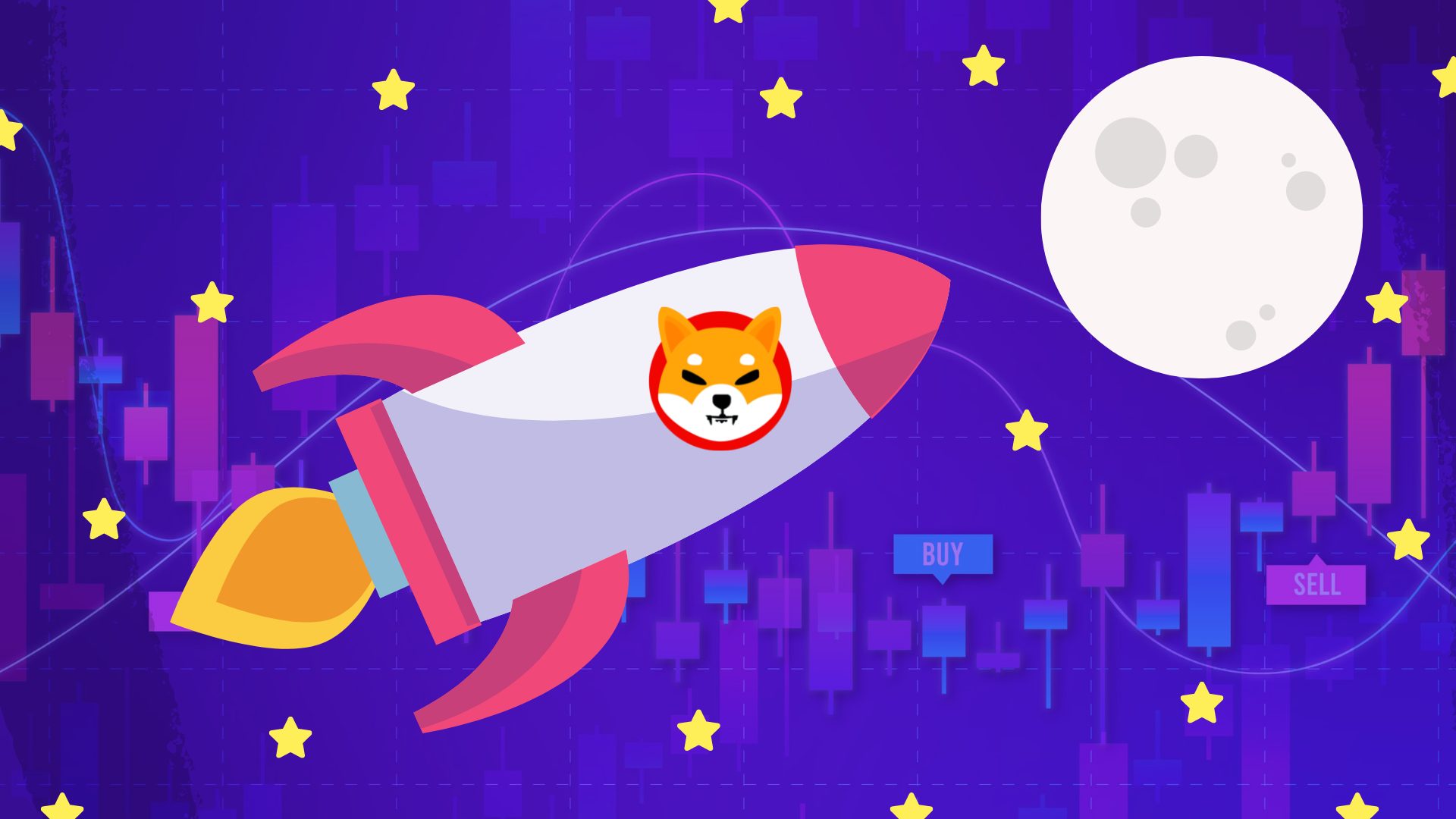 The adoption of digital currencies as a means of payment cannot be ignored, considering that over 15,000 retail outlets around the world are accepting Bitcoin and other major coins like ETH as a means of legal payment. Companies like mobile carrier AT&T and manufacturing pioneers like Tesla are also accepting cryptocurrencies as payment for their products. Such adoption is both proof of the growing popularization of cryptocurrencies and the acceptance of such assets as a recognized asset class.
Tesla merch buyable with Dogecoin

— Elon Musk (@elonmusk) January 14, 2022
However, the abundance of coins and altcoins on the market eventually spurred a new degree of competition for market shares, which can best be described by the advent of the comic memecoins. Scrooge, Shiba Inu dogs, Pepe the frog and dozens of others are characters who have become staples of popular memes. As memes have become a dominant form of expression and irony on the internet, it was only logical for some cryptocurrency developers to piggyback on the popularity of the underlying characters and images to leverage both their communities and the possibilities of their transfer onto the blockchain amidst the general market hype.
yes here is the video proof pic.twitter.com/N4Y1HjCZF8

— Shibetoshi Nakamoto (@BillyM2k) January 26, 2022
In essence, meme coins are digital currencies that can be used for any of the operations involving such assets, but being branded by an appropriate meme character. Being inspired by memes, popular internet jokes and other humorous online content, meme coins are an addition to the long line of blockchain-based assets that abide by their underlying consensus algorithms – Proof-of-Work or Proof-of-Stake.
The determining feature and quality of meme coins that sets them apart from more "serious" market players is their humorous nature, which both attracts users with the concept of holding a "fun" asset, and with the ensuing liquidity increase that comes with resulting user base scaling. The latter factor is vital in ensuring the price rate of the memecoin.
Most Popular Meme Tokens in 2021-2022
The year 2021 marked the genesis and heyday of meme coins. The result of the growing market capitalization of the given asset class was the determination of a number of obvious market leaders. Among them were the following performers, according to data from Coinmarketcap.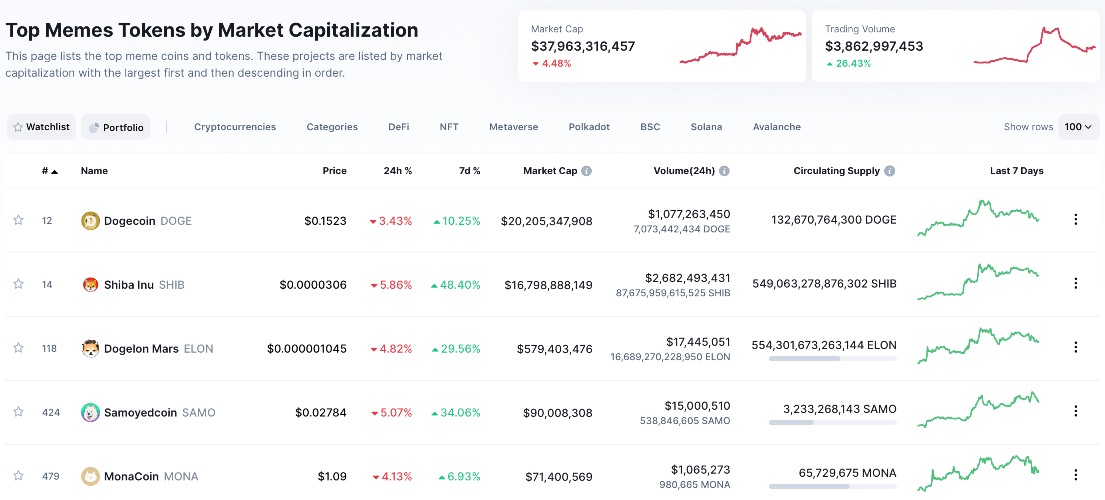 1. Dogecoin (DOGE)
Dogecoin was created back in 2013 by Adobe developer Jackson Palmer as a joke in his office in Sydney, Australia. In essence, Dogecoin is an open-source cryptocurrency for peer-to-peer operations that capitalizes on the image of the Shiba Inu dog from the popular meme that depicts the Japanese canine with a rather perplexed and even surprised expression that is meant as a form of highlighting both ignorance and distancing from whatever it is called upon to illustrate in irony.
Dogecoin, or DOGE, is based on the Litecoin blockchain and relies on the Proof-of-Work consensus algorithm for operation. The coin has a massive community of loyal followers who have helped it achieve astounding price increases in under a year in 2021. The most common application for DOGE is tipping for social media content creators, as a tribute to the underlying meme subculture.
DOGE has also been known to capitalize on the cryptocurrency bubble of 2017, before losing much of its value in the ensuing market collapse of 2018. Elon Musk picked up the asset in 2021 in Twitter and starting hyping it, largely contributing to its popularity by adding his followers to its user base pool
2. Shiba Inu (SHIB)
As a direct competitor to DOGE, Shiba Inu was launched in 2021 by an anonymous develop on the Ethereum blockchain, leveraging the same image of a Japanese Shiba Inu dog. The asset gained a tenfold price increase by October of 2021 and the SHIB token began its listing career on most popular crypto exchanges.
Elon Musk was also on the bandwagon with Shiba Inu and tweeted about it profusely, giving the asset a 300% price increase as a head start. Though the SHIB token is being frowned upon by most experts as a speculative asset, the truth is that all meme coins are speculative by nature. However, the coin does have some utility as part of its native ecosystem, which offers NFTs and a DeFI platform through the ShibaSwap secure cryptocurrency trading environment.
3. Dogelon Mars (ELON)
Another dog-themed meme coin that operates on the Ethereum and Polygon blockchains in an effort at capturing a market share occupied by SHIB and DOGE. The ELON meme coin was inspired by Elon Musk, the Meme coin godfather, who has been actively supporting the asset through his tweets. At present, the coin has over 115,000 holders and has 50% of all supply held by Ethereum founder Vitalik Buterin on Uniswap.
Dogelon Mars works just like any other ERC-20 standard token and has been listed in the top 100 cryptocurrencies on Coinmarketcap after its price action in late 2021. As another speculative instrument. ELON is to be viewed through the prism of common sense and reasoning if considered for investment.
Where to Buy Meme Coins
For anyone just starting on their path in the world of meme coins, the first thing they need to do is go online and check the list of such assets on Coinmarketcap to see their capitalization and market performance statistics.
The majority of meme coins that have managed to make a name for themselves, like DOGE, SHIB and the others, can be found on major exchanges like Binance, KuCoin and PanCakeSwap. The latter is especially proud of its ability to offer altcoins, positioning itself as the altcoin Mecca that market participants flock to in hopes of buying up popular coins at the lowest prices.
We are live on PancakeSwap 🚀🚀🚀

💰💰Buy on Pancakeswaphttps://t.co/gaj08tp93a

LFG!!!#memetoken #memecoin #scroogetoken #scrg #launch #pancakeswap #BSCGem

— Scrooge (@TheScroogeToken) February 8, 2022
In order to buy a meme coin from any of the exchanges on the market, users need to first open up a wallet and then start tethering it to the exchange of choice. It is, however, important to note that many exchanges provide cautionary notes and outright warnings to their users regarding investments made in meme coins. The reasons for such statements are well founded, considering that all meme coins have been known to experience significant price swings that resulted in panic sales and other market traction that resulted in the loss of immense amounts of investor funds.
How to Find Meme Coins Early
Meme coins emerge on a regular basis, so it is unsurprising that the channels for disseminating information about their launch have long been established. Meme coins take advantage of the digital savviness of their users and decentralized market participants in general, tapping into their ability to catch onto a new coin and spread the word about it.
Naturally, most users are not inclined to popularize a new coin without some form of incentive. That is why new meme coin projects offer generous reward and referral programs for all new onboarders. For making sure that new projects and their meme coins gain popularity, the leading social media networks are utilized in full.
Among the most important sources of information about new meme coin releases are YouTube bloggers and influencers, who are, in essence, paid advertisers of projects. These individuals are always contacted with ready-made scripts by meme coin projects and popularize them among their subscribers.
Another important source of information is Reddit, which has become a major hub of crypto activity. The subreddits launched in various channels are filled with announcements of new coins that users are eager to explore. For example /r/CryptoMoonShots/. Naturally, interest depends on the offer and users are always ushered to new meme coin websites that introduce colorful and mesmerizing prospects for the new asset in hopes of attracting new users and building up followings.
Telegram groups are another major source of information about new coin releases, as Telegram is considered to be the main hub of decentralized community activity, largely thanks to its perceived "encryption". Among the leading channels in the given messenger are CryptoMoonShoots, Crypto Mobz, and others. Anyone willing to take a peek at crypto market dynamics and releases should sign up to both and some of the many smaller ones that may well hide gems.
Users seeking new meme coins should always be on the lookout for forum threads and direct advertising on exchanges and other crypto-related channels like blockchain explorers.
Risks of Investing in Meme Coins
Getting into a meme coin early on is the sole way of capitalizing on its offering for two main reasons.
A meme coin is a speculative instrument which starts off at a low price and then builds up on it with community and user base scaling, without almost any practical application scenarios. As such, stocking up on the meme coin early is the only way of making sure that return on investment will be achieved.
Secondly, meme coins are limited in their market chart timeframes, meaning that they will eventually collapse. As such, making sure to exit at the right and opportune moment is vital to avoid significant financial losses.
There are rug pull tactics to consider, which are one of the most malicious phenomena. This is the case when the developers of a project simply abandon it after receiving the funds collected.
The risks of investing in meme coins spread well beyond the two factors mentioned above. The golden rule of investing applies in full to meme coins – "invest only what you can afford to lose, because you will lose it." The collapse of prices of DOGE and the others of its ilk is an important reminder of the risks that investing in such assets bears.
Apart from financial risks of losses, meme coin investors must take into account the fact that some meme coin projects can be scams. The latter are quite popular on the decentralized market still, and the more ludicrous the meme coin – the higher the probability that is being released as a scam project. According to Gizmodo, Squid Game (SQUID) cryptocurrency scammers make off $3.3 Million.
Finally, meme coins are risky, because they have no practical application outside of speculative trading. If users are expecting to stock up on DOGE and pay for a burger with it in the near future, they are sorely mistaken.
Precautions You Need to Take to Avoid Cryptocurrency Scams
The woeful list of scams on the crypto market is long and painful to read. But a trip to the crypto cemetery is sometimes a sobering journey, one much-needed when delving into meme coin territory. As speculative assets, meme coins are designed solely to capitalize on their instant price increases that feed on the hype and willingness of gullible investors and users to reap the rewards of such price actions.
Before even thinking of investing in a meme coin, market participants are urged to conduct extensive, in-depth research into the asset and draw their own conclusions. The silver rule of investing applies here – "a moment of thought can spare a lifetime of regret". Taking the time to analyze a meme coin and conduct both technical and fundamental analysis is the sole way of making an educated decision on investing.
Among the factors that users need to check before entering a meme coin are the following:
Check the transparency of the project's fund allocation;
See if an audit has been made by a reputable auditing firm;
Check the smart contracts for copy-paste from open-source pools that are brimming with exploitable errors;
Verify the validity of the liquidity pools. Explorers like Etherscan can also be used to check vital analytics. ;
Check the price history;
Analyze the members of the team and their biographies;
Check the user base and analyze potential scaling opportunities;
Examine the news background and content base of the project, as lack of updates is a sure indicator of project death;
Avoid rug pulls by checking that all token holder lists are transparent and are evenly distributed, not stockpiled on a couple of addresses;
Verify the presence of partnerships and application scenarios.
These and many other factors have to be taken into account when encountering a new meme coin. Blind investment under the pressure of influencer tweets, thunderous statements, and general hype is not proper investing conduct and should be rectified. As a rule – meme coins are not long-term holdings and should be used for more immediate needs like scalping, spot trading and other exchange operations that result in instant gains.
Conclusion
Memes are all fun and games, and so are meme coins. As assets born of humor and its merger with the cryptocurrency market, they should be approached with immense caution if being considered as an investment, since the pink shades that meme coin projects try to pull over the eyes of their followers have a tendency of shattering inwards. More meme coins will be launched, but very few will be able to survive harsh market realities.
Disclaimer: This article is for educational purposes only. Macgasm.net has no relationship to these projects, and there is no endorsement for these projects. The information provided through Macgasm does not constitute advice or recommendation of investment or trading. Macgasm.net does not take responsibility for any of your investment decisions. Please seek professional advice before taking financial risks.