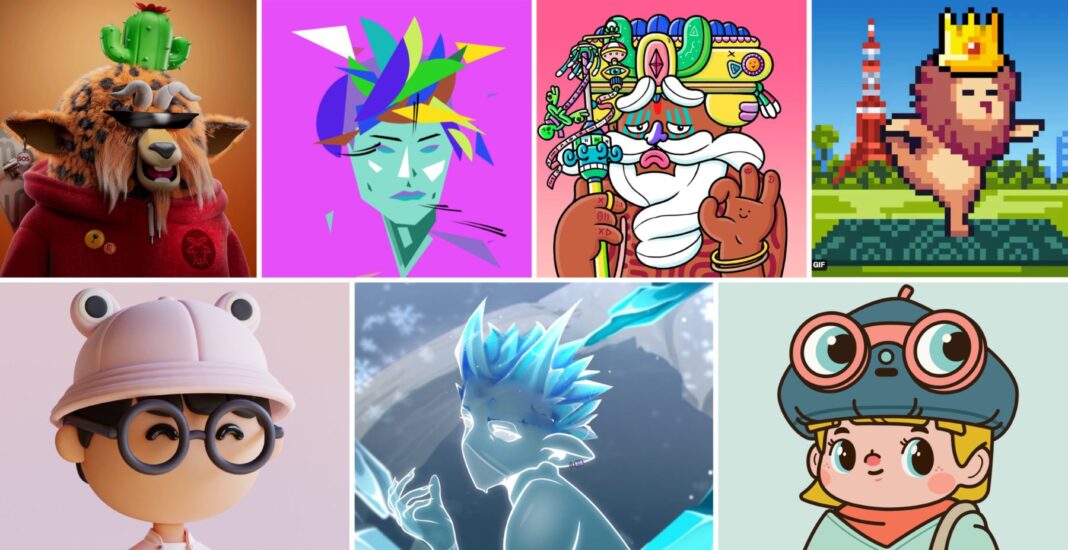 The fact that financial markets have become bearish isn't stopping creators from releasing new and exciting NFT collections, the best of which offer attractive, inflation-resistant investment opportunities.
The key to capturing them is being early in the hype process because there are many other investors who are ready to pull the trigger as soon as they get the opportunity to do so.
To help you save time doing in-depth NFT research, we've identified the best upcoming NFT collections that will be available in October 2022. Let's take a closer look at them!
Avatizer – unique #FreeMint generative art 🎭

🔥 Limited supply (only 999!)
🔥 Daily changing PFPs
🔥 Algorithmic art, 100% on-chain
🔥 Strong doxxed team

🏆 Register here for WL spots:https://t.co/k7yIP825ek

Like + RT + tag friends to win EXTRA SPOTS 👀#nftart #WLGiveaway pic.twitter.com/UNK0OWdiku

— Avatizer NFT. On-chain dynamic art (@Avatizer_NFT) August 24, 2022
Avatizer is the most exciting NFT collection in a while. This generative FREE-to-mint Ethereum-based NFT art project is limited to only 999 pieces, with a new piece being automatically generated every day live on the chain.
The project is a brainchild of Ukraine-born IT entrepreneur Roman Kropachek, who has teamed up with Berlin-based artist Andreas Preis, whose previous clients include the likes of Adidas, BMW, Coca-Cola, Google, Nike, and others.
Avatizer is just the first in a series of generative NFT art projects that could take the entire NFT market in a new direction. By joining the on-chain revolution, you will get premium access to a closed Discord server and many other excellent opportunities.
Our Dev. team is working hard on the launching, here is a small preview of Petzland

Soon you will be able to build and play your own one and enjoy all the wisdom shared by Guru Petz @BebeChez_eth and all other gurus

❤️🔄 & !waao #YGPZ pic.twitter.com/jJGIb4l6bd

— YogaPetz🧘KzG (@Yogapetz) September 27, 2022
Does your life lack balance? Then you can try restoring it by getting one or more YogaPetz. There are 10,000 YogaPetz to choose from in total, and each grants access to the YogaPetz Resort, where you can access the project's marketplace, games, and information about upcoming drops, latest projects, and more.
The YogaPetz team has partnered with multiple wellness advisors, who are led by Dr. Brian P. Ramos, a certified stress specialist with a Ph.D. from Yale Medical School in Neuroscience & Molecular Psychiatry.
💫👀 LUNAR x CRYPTOPUNKS 👀💫

Read about our official partnership below 👇 pic.twitter.com/qHw0lcKmdS

— Lunar Project (@lunarprojectnft) April 20, 2022
Lunar Project is an NFT project created by the OpenDAO, a decentralized autonomous organization whose goal is to level the playing field for both creators and collectors. The collection consists of 20,000 tokens created by renowned 3D artist Zigor.
All pieces of art created for the Lunar Project represent different zodiac signs that cultures from around the world have relied on for centuries to better understand themselves and those around them.
The rebellion succeeds. The Gladiator's now control the gates to the Coliseum, being opened to those who solve.

X | E

[ENGAGE TO BE CONSIDERED] pic.twitter.com/LG3SF3e451

— Coliseum (@ColiseumNFT) August 13, 2022
What makes this collection of 310 gladiators really stand out aren't the gladiators themselves—it's the lore behind them. This lore is based on reality, and it is constantly evolving based on the actions of those who participate in this digital art project.
Coliseum tokens are free-to-mint, and they're based on the ETH blockchain. Exclusive partnerships and alpha callers await those who enter the gates of the Coliseum.
Commit the act of sacrifice and join the Underground.
Are you brave enough to be reborn? pic.twitter.com/xW88AlyK1n

— Machina マキナ (@Machina_NFT) October 5, 2022
This upcoming NFT collection stored on the Ethereum blockchain gives you the opportunity to join a secretive underground club—but only if you make a sacrifice.
Sounds interesting? More than 120,000 people on Twitter think it is! The project was created by 0xPyeongyang, an influential NFT veteran with a degree in chemical engineering.
Sophon is a 3.3K CC0 collection on $ETH. Mint date is 9/30. It's a free mint, FCFS, WL only.

👀 Mint Incentives
First Minter: $690
Next 69: $69
Next 690: $6.90
All Remaining: 6.9K $ISK

👀 Aftermarket Incentives
👀 Positive-Sum Roadmap

Details @ https://t.co/J7YjKBjDyw. pic.twitter.com/5LbFl58eXJ

— S O P H O N (@TheForeverWar) September 1, 2022
S O P H O N is an Ethereum-based collection of 3,300 free-to-mint NFTs that depict female characters wearing cyberpunk-inspired armor in front of a variety of sci-fi and solid-color backgrounds.
The NFTs depict a world that has turned into a dystopian nightmare because too many humans have consumed too much resources much too quickly.
nyolings first and only 𝗳𝗿𝗲𝗲 public raffle is now open (◕‿◕)❤️

♡ premint link: https://t.co/BXPskPk1b0 ♡ pic.twitter.com/Pxi3PLfz6x

— Nyolings (@Nyolings) September 20, 2022
This collection of 7,777 adorable characters living on the Ethereal blockchain has over 50,000 Twitter followers, and it has already opened its first and only free public raffle.
You can mint your own Nyoling by clicking the 'Mint Now' button on the project's official website. In the future, the team behind the project wants to establish a sustainable model for long-term growth.
9,898 Shamanzs spreading good vibes across the world 💫

.

Over 800 traits to enlighten the entire universe with unlimited positive energy ✨

.

The journey is just beginning

.

Any reaction to this has a chance for WL#nft #wl #freemint #nftgiveaway #art #musicfestivals $btc pic.twitter.com/EovcsDjbRy

— Shamanzs NFT (@shamanzs) August 14, 2022
There's never enough positive vibes in the world! Fortunately, 9,898 Shamanzs with 800 unique traits have been programmatically and randomly created as part of this NFT project to release waves upon waves of positive energy.
All Shamanzs are stored on the Ethereum blockchain and follow the ERC721 NFT standard to ensure adaptability and durability. Each Shamanz comes with a secret pass to the Shamaverse.
Ice and electricity, a lethal combination. ❄️⚡

All holders of Saphire 💎 will have access to one of the most powerful utilities.

We will make a private node available to all Saphire's,
with a node you can mint in a few seconds with less gas fees✅https://t.co/34KYok5Sq5

— Saphire💎 | FREE MINT (@SaphireNFT) August 10, 2022
This collection of 777 icy NFTs created by marketing experts in the NFT space gives all holders many attractive benefits, including access to 35-45 very experienced alpha callers and analysis, permanent whitelist places, and more.
To keep the project as exiting as possible, a detailed storyline will be published part by part. We don't have any information about it right now, but you can bet that Saphire token holders will be the first to experience it.
The four of them decide that the dream must have been a clue that could help them save the Orange Tree 🌳

So they're going on an adventure to find Lake Kissui, following the first orange orb that appears as the tip of the sun emerges across the field where the Orange Tree is. pic.twitter.com/JE8MbpY1cs

— Owange NFT (@owangenft) September 21, 2022
If the art style of the Owange NFT project looks familiar to you, then you're probably familiar with the work of Kong Andri (IG: @kongandri), a graphic designer and designer toys artist that draws inspiration from Japanese and American cartoons.
Indeed, each of the 200 Owange NFT characters is hand-drawn by Andri himself and based on the cartoons he watched when he was a little boy.
How to Find the Best Upcoming NFT Projects
Some of the most popular NFT projects in the world have seemingly appeared out of nowhere before skyrocketing and popularity and making early investors stupidly rich. In reality, such projects had usually been known to insiders a long time before they were discovered by mainstream audiences.
The good news is that you don't need to be an A-list celebrity or a blockchain developer with industry connections to discover the best upcoming NFT projects before everyone else does. You just need to follow these research strategies:
Follow NFT influencers on Twitter: As the tweets embedded in this article illustrate, Twitter is an excellent source of information about upcoming NFT projects. The social network also makes it easy to evaluate how popular a project is because you can see how many times individual tweets have been liked and replied to.
Join Discord NFT communities: There are many NFT communities on Discord where members share information about upcoming NFT projects. Creators themselves frequently run Discord servers with special promotions for loyal followers.
Monitor popular NFT marketplaces: OpenSea, com, and other popular NFT marketplaces have sections dedicated to new and upcoming NFT projects, so you should consider making them part of your morning news diet.
Make use of an accurate NFT calendar: Websites like NFTCalendar specialize in gathering information about upcoming NFT projects and making it available in the form of a convenient release calendar. Just be careful which NFT calendar you follow because there are some bad sheep that promote shady projects.
Team up with other NFT collectors: A team of NFT collectors can always accomplish more than a single collector can. Instead of trying to become the lone wolf of crypto, make friends with other like-minded people and help one another find the best the NFT market has to offer.
By religiously following these five simple NFT research strategies, you're practically guaranteed to find the best upcoming NFT projects while there's still plenty of time to invest in them.
Best New NFT Projects – Conclusion
In October 2022, there will be many new NFT projects are worth taking a closer look at and perhaps even investing in. We've highlighted 10 such projects in this article, and now it's up to you to research them further and make a decision based on your unique preferences and priorities.
FAQ