The day many iPhone users have been waiting for has arrived: the iPhone 15 is here. Unlike the past few iterations, this release marks a significant turning point for Apple because it's making Lighting cables obsolete. That's right, the latest iPhone generation isn't just an evolution of the iPhone line, but a revolution—one that was forced on Apple by the European Union.
The question is, does this legislative push translate into real benefits for the user? More importantly, what does the new iPhone 15 offer in terms of features and value for money? Keep reading to get the full scoop on whether the iPhone 15 is worth the switch.
iPhone 15 Release Date and Availability
The iPhone 15 lineup was officially introduced on September 12th at Apple's "Wonderlust" event, garnering attention and excitement from tech enthusiasts and regular consumers worldwide.
Apple will start shipping the new models starting Friday, Sept. 22, with preorders opening a few days prior (Friday, Sept. 15). However, if you've got your eyes set on the top-tier model, you might have to wait a bit longer.
Pricing in US and Europe
Let's talk money. With a brand-new design and feature set, it's no surprise rumors have swirled about an increase in the iPhone 15 price. What's more, Apple's most recent quarterly earnings call added fuel to the speculative fire because Apple CEO Tim Cook implied that customers are willing to stretch their wallets for the best iPhone they can afford when he said, "I think people are willing to really stretch to get the best they can afford in that category."
The good news is that the rumors turned out not to be true—at least for the most part. The regular iPhone 15 still starts at $799, and the iPhone 15 Pro costs $899 for the 128 GB version, which is exactly what the iPhone 14 Pro cost at its launch during last year's announcement. This pricing consistency is a relief for consumers who were concerned about potential price hikes, especially considering the advanced features and improvements introduced in the new models.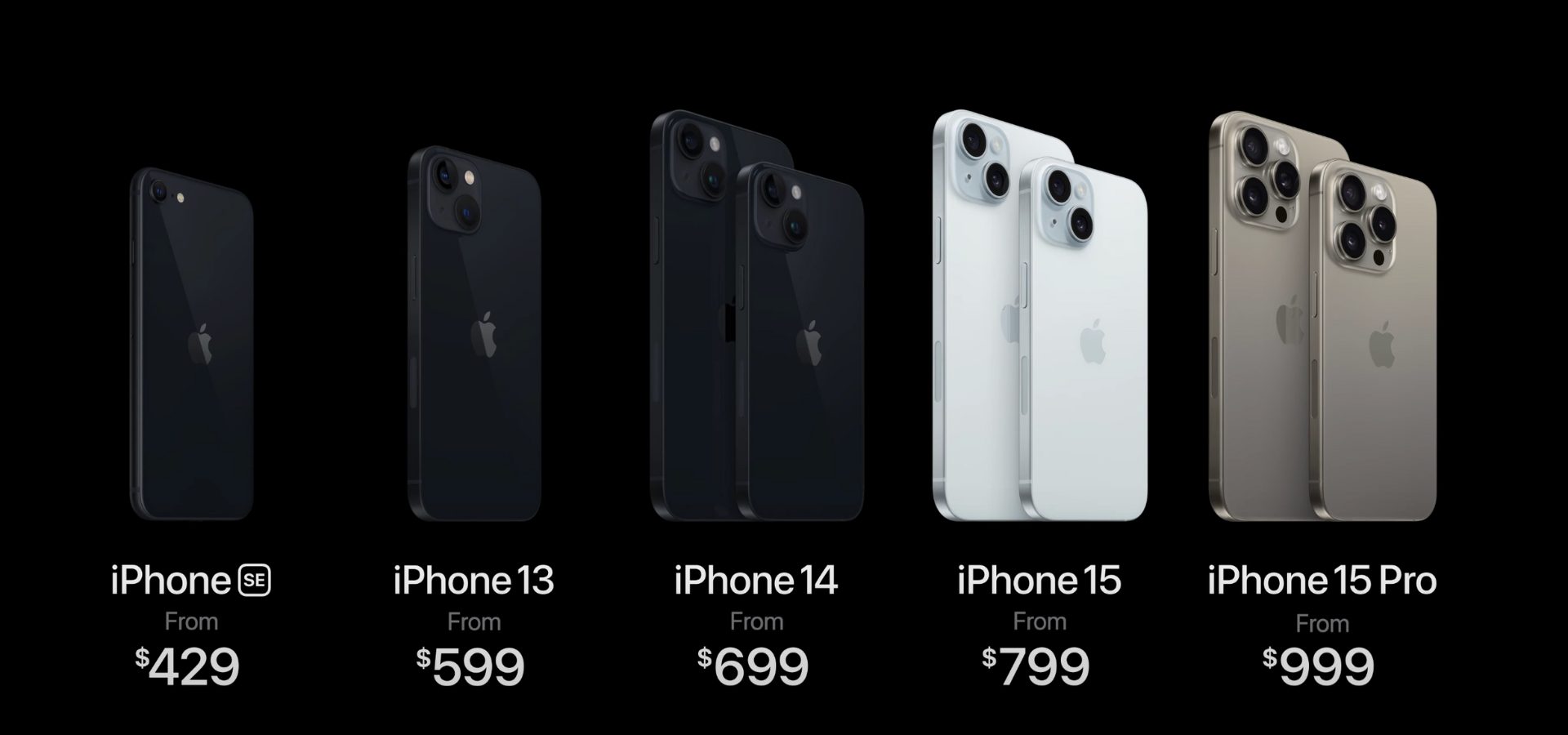 The only iPhone 15 model that's more expensive is the iPhone 15 Pro Max, which now starts at $1,199 (the iPhone 14 Pro Max started at $1,099). However, the situation isn't all bad; the increased price comes with a substantial bump in storage capacity. While the iPhone 14 Pro Max started with 128 GB of storage, the iPhone 15 Pro Max starts with 256 GB, offering users more room for apps, photos, and other data. This additional storage may justify the price increase for many consumers.
The following table provides an overview of the pricing details for the iPhone 15 lineup in both the U.S. and Europe. This should give you a clearer idea of what you're getting into, financially speaking.
Model
Storage
US Price ($)
Europe Price (€)
iPhone 15
128GB
$799
949€
256GB
$899
1,079.00€
512GB
$1,099
1,329.00€
iPhone 15 Plus
128GB
$899
1,099.00€
256GB
$999
1,229.00€
512GB
$1,199
1,479€
iPhone 15 Pro
128GB
$999
1,199.00€
256GB
$1,099
1,329.00€
512GB
$1,299
1,579.00€
1TB
$1,499
1,829.00€
iPhone 15 Pro Max
256GB
$1,199
1,449.00€
512GB
$1,399
1,699.00€
1TB
$1,599
1,949.00€
If you're an Android user smirking at the new iPhone 15 Pro Max price increase, don't get too comfortable. As history shows, we can expect to see Android manufacturers follow suit with their own price increases. Google, Samsung, and other brands have often taken cues from Apple, implementing similar features, design elements, and yes, pricing strategies. That's why flagship Android phones could very well see a price bump in the near future, especially as they strive to compete on the level of hardware and features that the new iPhone offers.
Design and Colors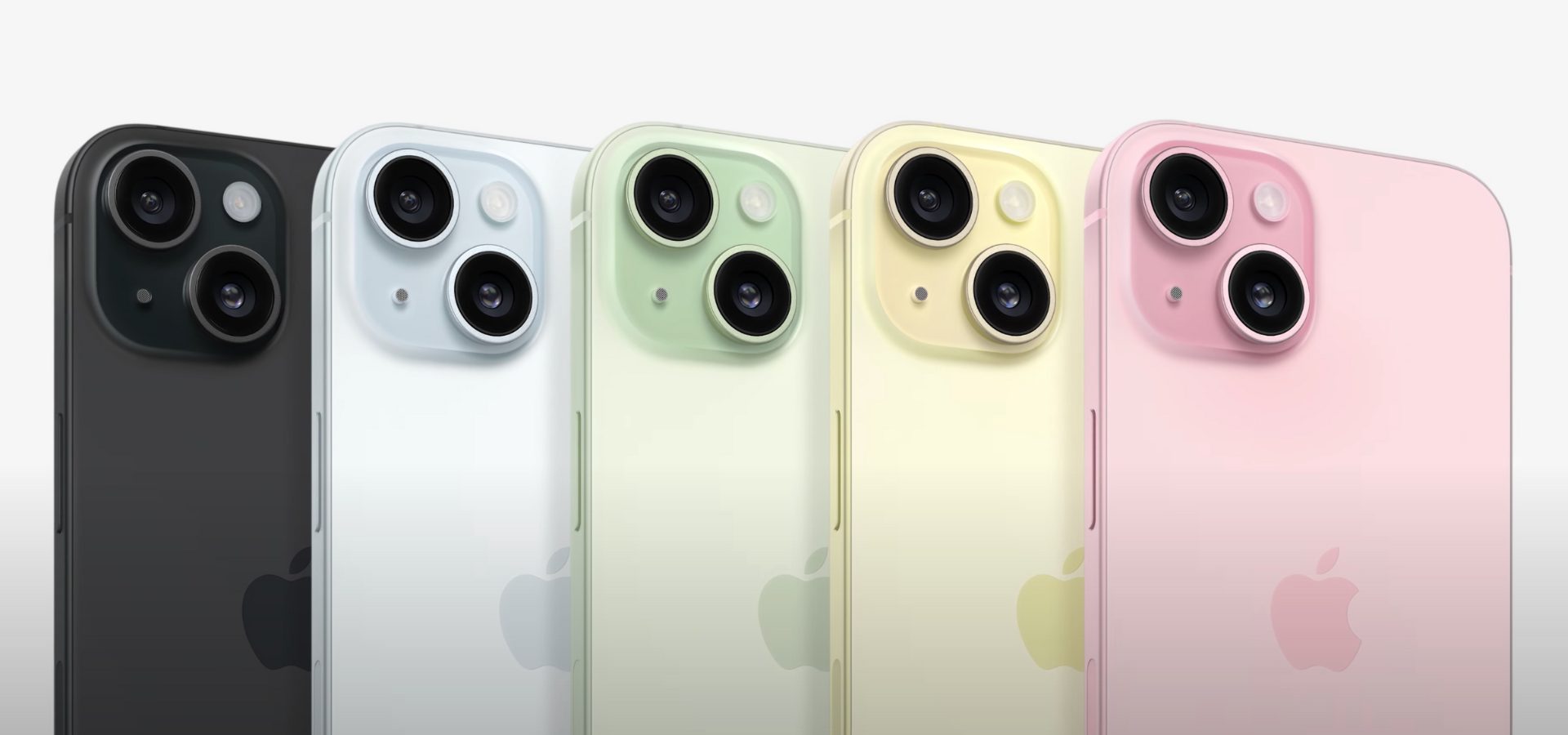 While Apple hasn't completely overhauled the design for this year's iPhone models, both the iPhone 15 and the iPhone 15 Pro bring a set of intriguing changes that are far from cosmetic.
Let's start with the regular iPhone 15, which has inherited the Dynamic Island from the Pro lineup, making it possible to view alerts and current activity without having to switch apps or even leave the Home Screen.
While the Dynamic Island is the most attention-grabbing design change when viewing the iPhone 15 from the front, the textured matte finish on the back offers another subtle but effective update. The textured matte finish not only improves the grip but also adds an extra layer of sophistication to the device. This is particularly handy for those who prefer using their phone without a case, as the texture decreases the chances of the phone slipping out of hand.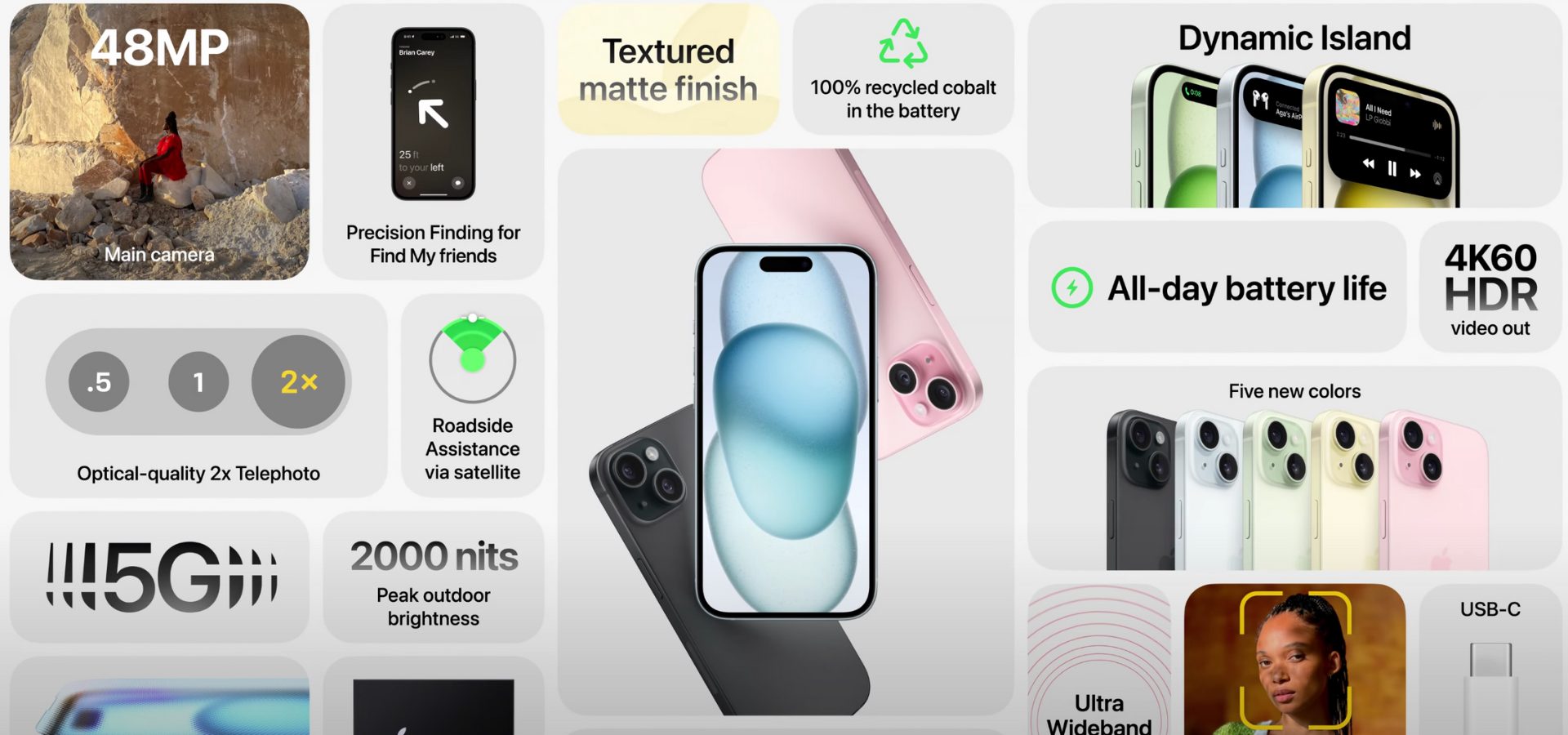 Apple has always been keen on offering variety when it comes to colors, and this year is no exception. The iPhone 15 is available in five fresh hues—Pink, Yellow, Green, Blue, and Black. Each color has been infused into the foundation of the back glass, giving the phone a rich and vibrant look. According to Apple, an optimized custom dual-ion exchange process has been used for these new materials, and they've been polished with nano-crystalline particles for that premium finish.
Shifting our focus to the iPhone 15 Pro, the biggest change that immediately catches the eye is the Grade 5 Titanium body. Yes, you heard that right—this is the same alloy used for applications like the Mars Rover, making the iPhone 15 Pro not just stylish but incredibly strong and durable. This allows for a lighter design compared to its stainless steel predecessors.
The Titanium casing encloses an aluminum structure, which has been bonded using a state-of-the-art thermomechanical process. This fusion of aluminum and titanium brings forth synergistic properties such as enhanced weight reduction and improved heat dissipation.
Action button on the iPhone 15 Pro.

This is how you switch between different actions. Includes Shortcuts for infinite possibilities. #AppleEvent pic.twitter.com/twhfYVJWnQ

— 9to5Mac (@9to5mac) September 12, 2023
Another major design change is the "Action Button" which replaces the traditional ring/silent switch. You can now toggle between ring and silent modes with a simple press and hold, accompanied by intuitive haptic feedback. More importantly, however, a single press can activate a range of functions, from starting voice memos and launching the camera to triggering your favorite accessibility features or shortcuts.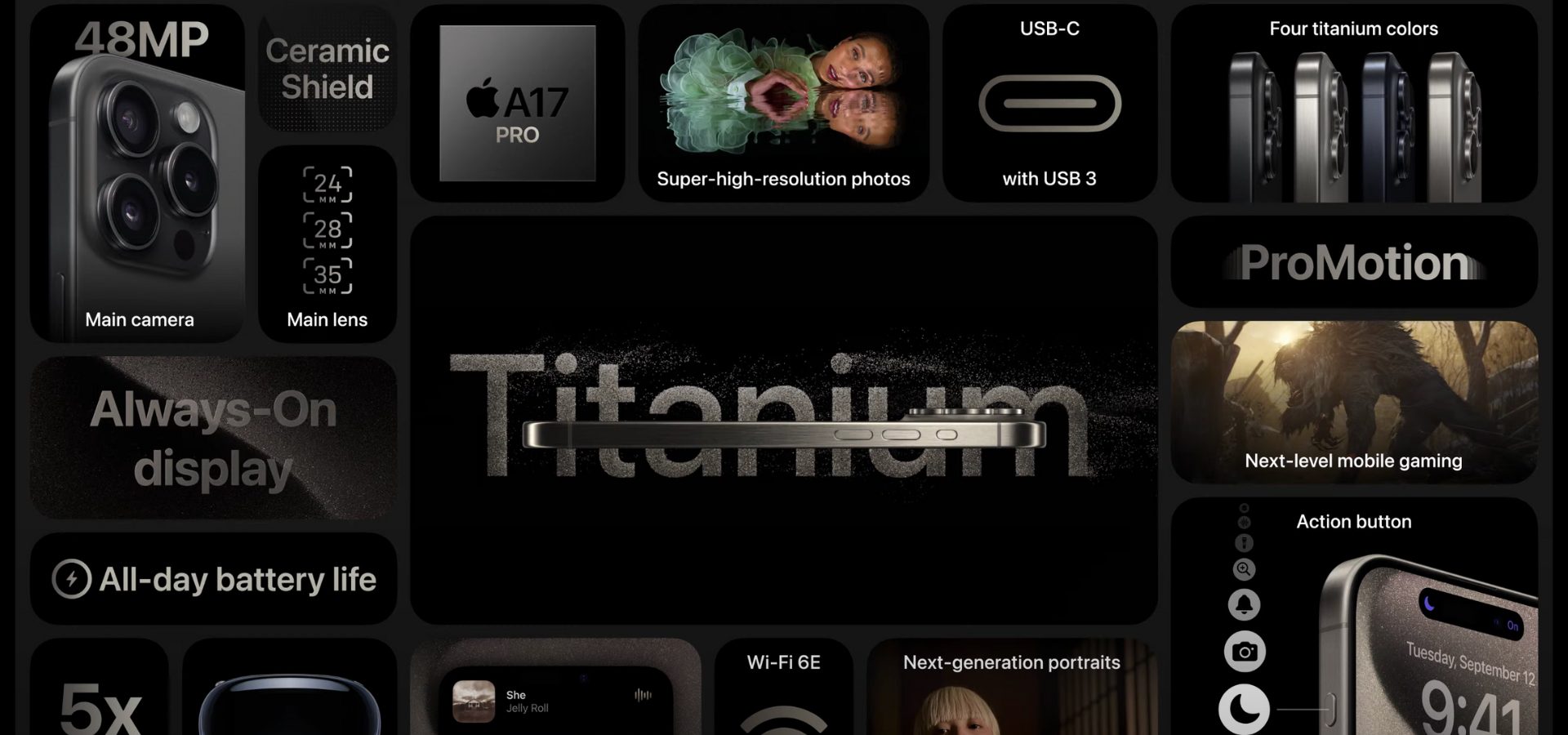 The iPhone 15 Pro is available in four luxurious shades—Black Titanium, White Titanium, Blue Titanium, and Natural Titanium. During its keynote presentation, Apple highlighted the meticulous precision involved in the coloring process, which includes sanding, brushing, blasting, and the final application of a PVD coating.
iPhone 15 Features and Specifications
Fortunately for those who don't care solely about looks, the iPhone 15 lineup also boasts a suite of powerful features under the hood that push the boundaries of what a smartphone can do.
USB-C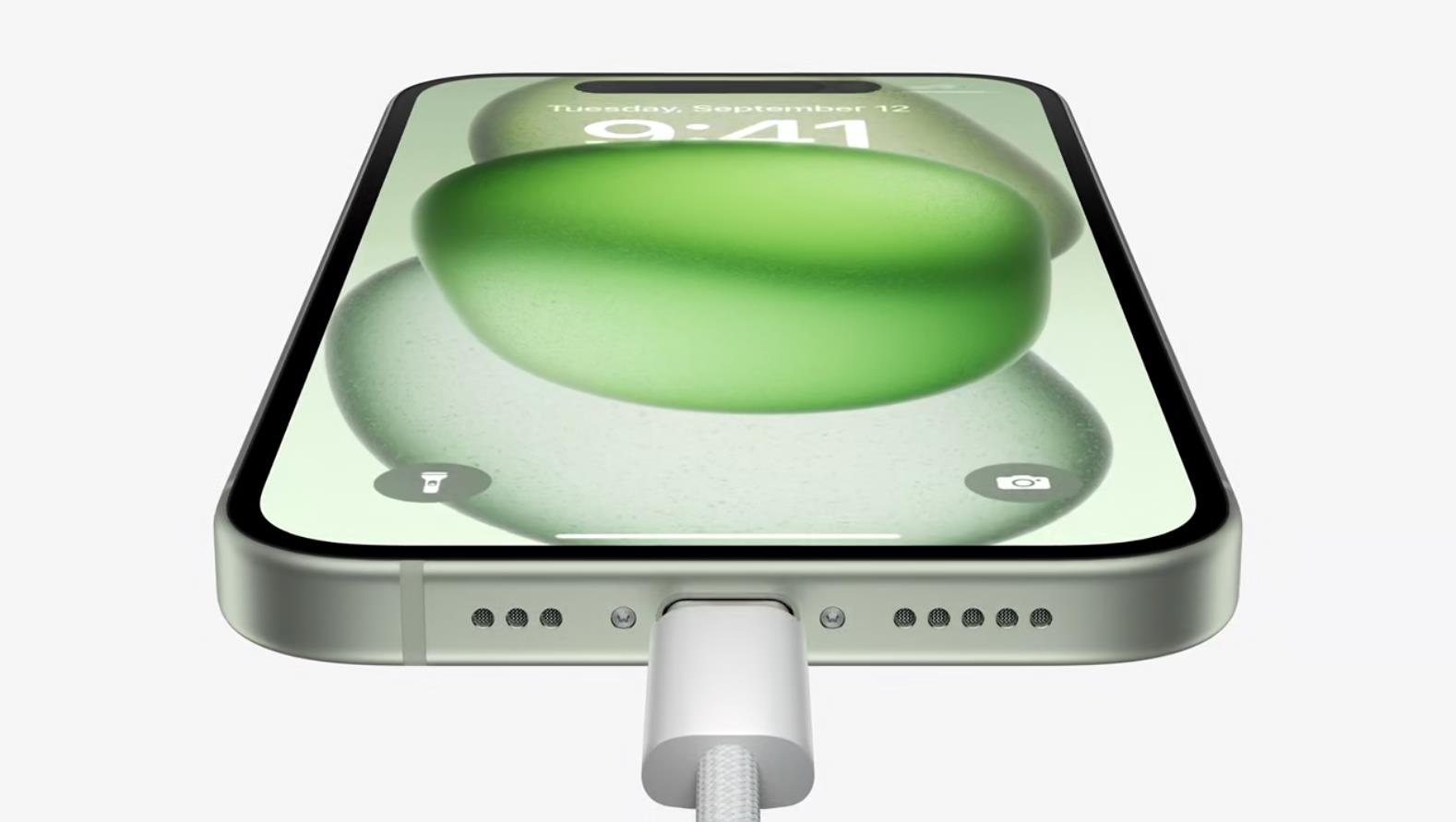 One of the most notable changes in the iPhone 15 lineup is Apple's transition from the Lightning connector to USB-C. This marks a pivotal moment in the iPhone's evolution, aligning it more closely with industry standards and Apple's own range of products like the Mac and iPad.
Those who follow what's happening in the world of technology know that the switch to USB-C wasn't entirely in Apple's hands. The European Union's new law, enacted last year, mandates that all smartphones sold within the EU must feature a USB-C charging interface by the end of 2024. This regulatory change left Apple with little room for maneuvering, essentially forcing the company to adapt its iPhone lineup to comply with EU standards or risk losing a significant market.
Unfortunately, only the iPhone 15 Pro and the iPhone 15 Pro Max support 10 Gigabits per second data transfers. The regular iPhone is limited to the baseline 480 Mbps transfer speeds, which kinda sucks considering how impressive the phone's video-recording capabilities are.
Display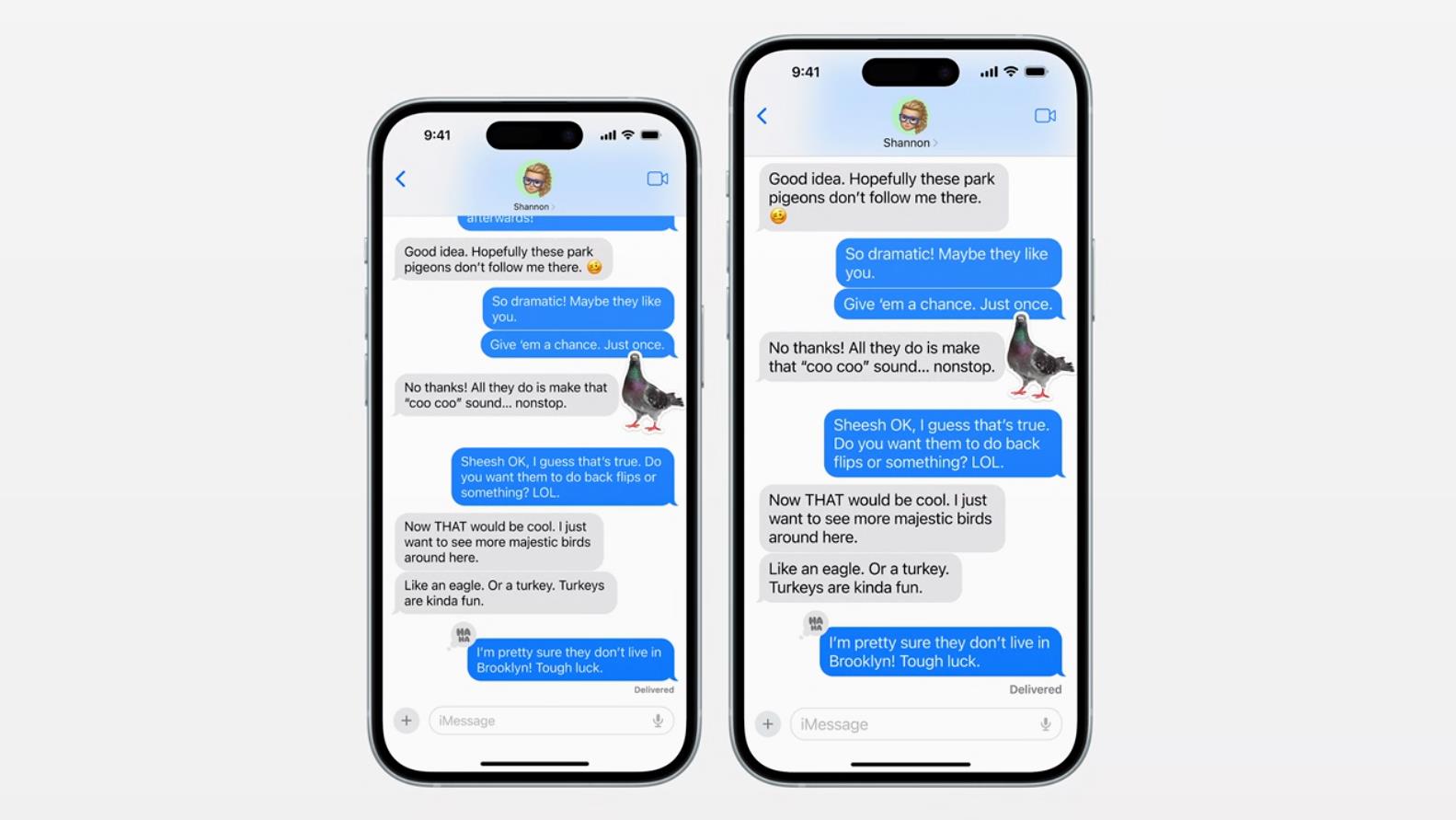 The iPhone 15 comes equipped with a Super Retina XDR display with OLED technology, providing vibrant colors and deep blacks. The peak HDR brightness on this model reaches 1600 nits, and for those sunny days, the peak outdoor brightness goes up to 2000 nits, which is twice as bright as the iPhone 14.
While many might expect a higher refresh rate from a premium device, the regular iPhone 15 still operates at a 60 Hz refresh rate. This is on par with many Android phones in the $200-300 range, and it's without a doubt one of the biggest letdowns of the entire Wonderlust event. Hopefully, Apple won't gatekeep a smoother user experience behind their more expensive models for many more years, but who knows.
On the other hand, the Super Retina XDR display of the iPhone 15 Pro (and it's larger sibling, the iPhone 15 Pro Max) is equipped with all the features Pro users are used to, including ProMotion, Extreme Dynamic Range, and an Always-On Display. No changes here.
Cameras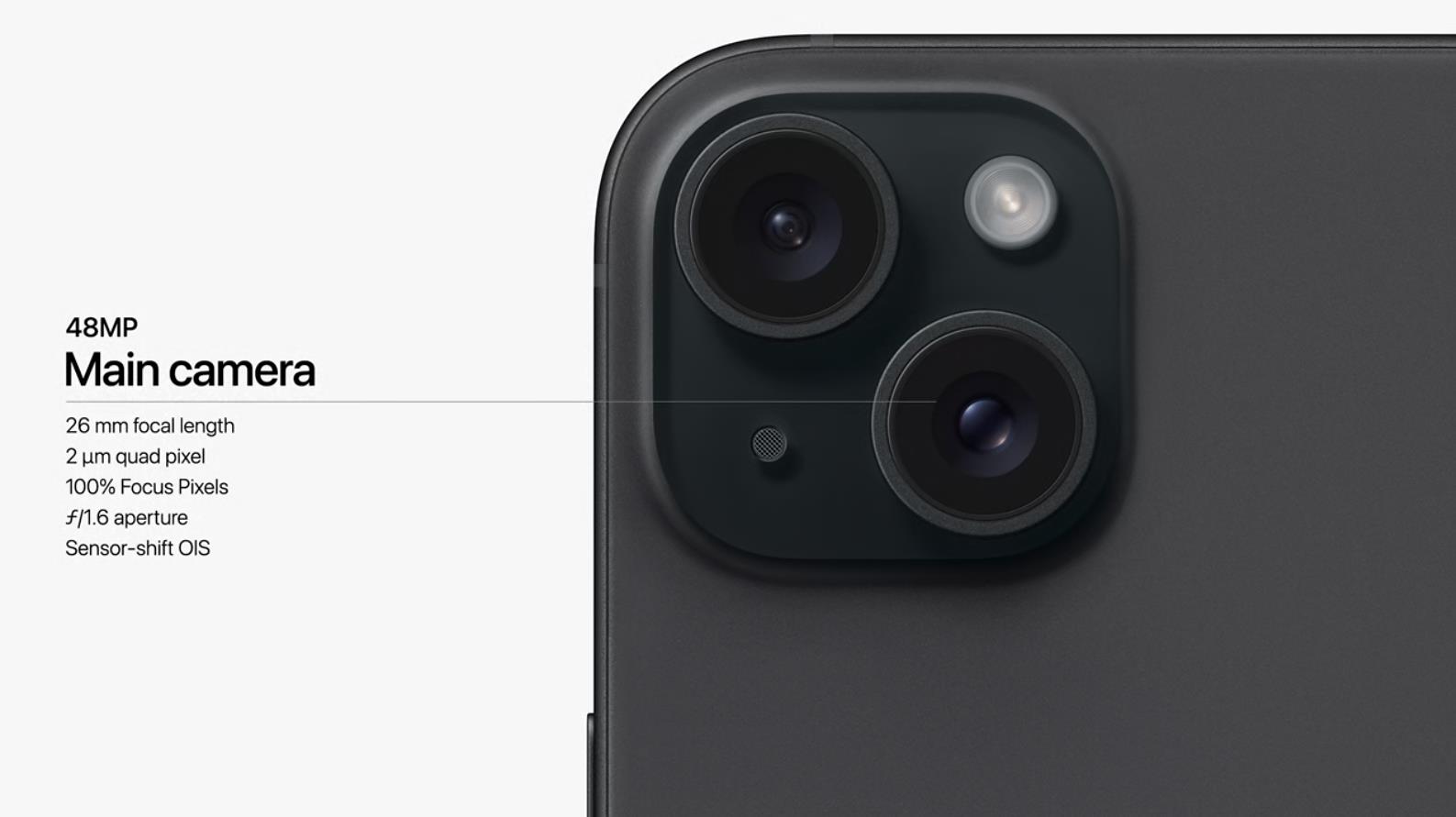 Last year, the iPhone 14 Pro received a major camera upgrade in the form of a 48MP quad-pixel sensor. This year, the same sensor has found its way into the regular iPhone 15, which means that even non-Pro users can enjoy sharp, detailed shots in various lighting conditions and take advantage of optical-quality 2x zoom.
However, Pro users also have something extra to look forward to this year: a new periscope lens that allows for impressive 5x optical zoom without compromising the device's slim profile. This addition broadens the range of photography styles and scenarios that the iPhone 15 Pro Max can handle. Yes, we said "Pro Max" because the 6.1-inch iPhone 15 Pro doesn't include this feature; it's exclusive to the larger 6.7-inch model.

In addition to these hardware improvements, Apple has introduced a range of software enhancements designed to make the most out of the new camera system. For example, Night Mode and Smart HDR have been improved to deliver stunning low-light photographs and well-balanced, vibrant shots, while Smart Focus Tracking ensures that your subject stays sharp even when in motion and Depth Control lets you tweak what's in focus even after the photo has been taken.
Performance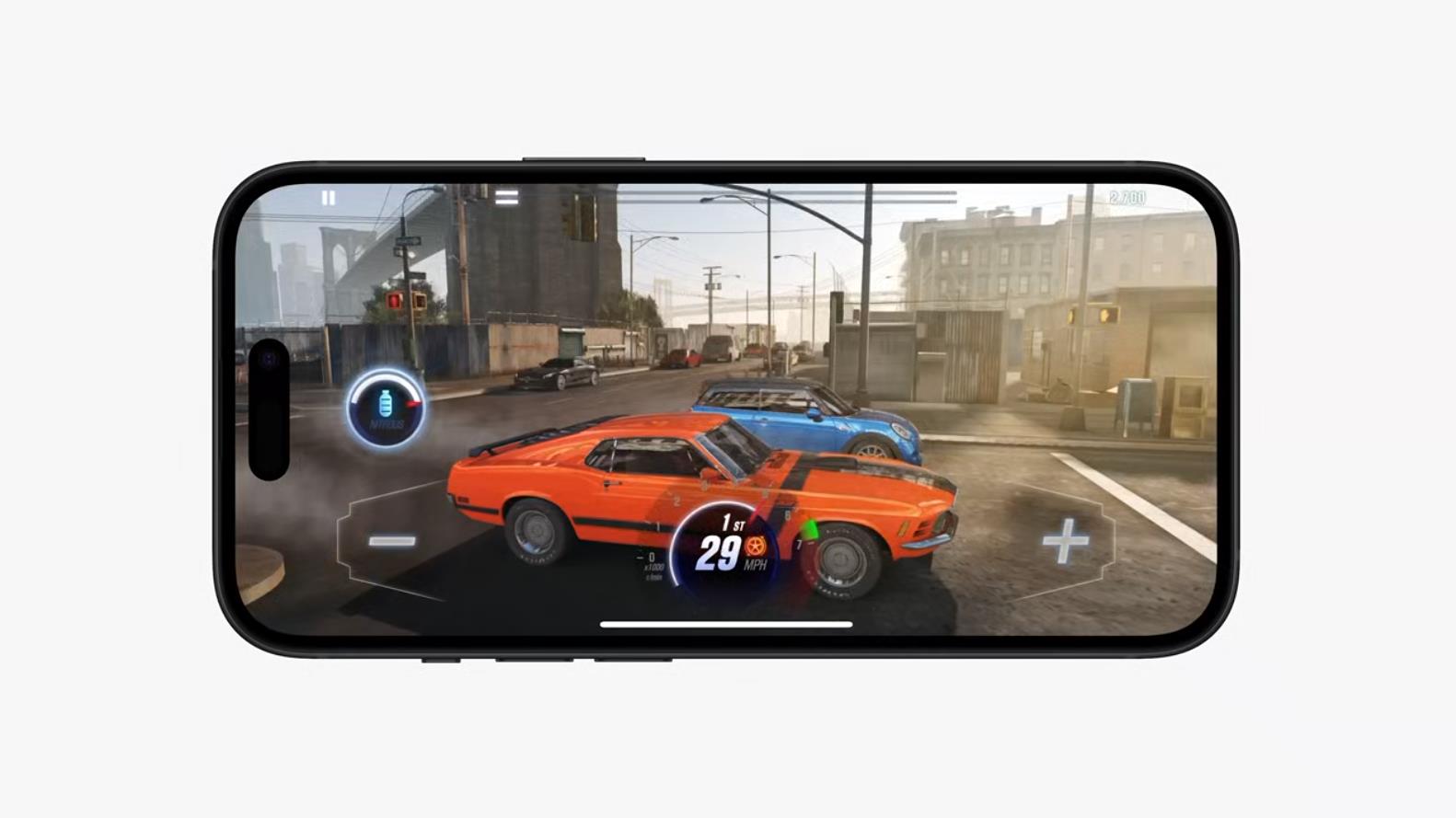 When it comes to performance, both the iPhone 15 and iPhone 15 Pro leave very little to be desired. The regular iPhone 15 is powered by the robust A16 Bionic chip, which first debuted in the iPhone 14 Pro. The A16 Bionic still offers leading performance, and you won't find a task that it can't handle with ease.
The expected star of the show this year, as far as performance goes, is the iPhone 15 Pro with its A17 Pro chip. Optimized for machine learning and advanced computational tasks, the A17 Pro ensures that the iPhone 15 Pro excels in areas such as augmented reality, 3D rendering, and even AI-driven photography enhancements.
According to Apple, A17 Pro will change mobile gaming with its 4x faster hardware ray tracing, support for mesh shading, and a brand-new GPU with a 6-core design that's up to 20% faster in certain tasks.
Building on that, Apple highlighted the ability of the iPhone 15 Pro to handle console-quality games like Resident Evil 4 or The Division Resurgence with higher quality lighting, more characters on screen, and an overall level of detail that comes close to what you'd expect on a high-end gaming console or PC.
Battery Life
The iPhone 15 and iPhone 15 Pro both promise to keep you connected all day long. The switch to USB-C means that iPhone users can finally share charging cables with their Android pals and take advantage of a wide array of universal charging options. This increased compatibility extends to power banks, laptops, and public charging stations, making it easier than ever to keep your device charged.
Even better, the new iPhones allow you to charge your AirPods or Apple Watch directly from the phone using a USB-C cable, which means you can essentially turn your iPhone into a portable charging station for your other Apple devices. No need to carry around separate chargers or hunt for a power outlet when you're on the go.
Last but not least, the iPhone 15 series also supports the latest Qi 2 wireless charging technology, released in January 2023. This allows for faster and more efficient charging without any wires getting in your way.
Should iPhone 14 Users Upgrade to iPhone 15?
The iPhone 15 is essentially a lighter version of last year's iPhone 14 Pro, both in terms of build and features. With the A16 Bionic chip, 48MP quad-pixel sensor, and Super Retina XDR display, it brings many of the Pro features to a more affordable package, making it an excellent choice for those who want an upgrade without spending the extra bucks for the Pro or Pro Max versions.
However, when it comes to the iPhone 15 Pro, particularly the smaller 6.1-inch model, it's a bit of a harder sell this year because only the iPhone 15 Pro Max offers 5x optical zoom at 120 mm (the iPhone 15 Pro is limited to 3x optical zoom at 77 mm). This is a key feature for avid mobile photographers looking to take sharp pictures of subjects that are far away, such as wildlife or sporting events.
So, if mobile photography is something you're into, then you should definitely get the iPhone 15 Pro Max. If you're just a regular iPhone user and currently have an older non-Pro model, then the iPhone 15 should feel like a massive upgrade.
Conclusion
The iPhone 15 lineup marks a significant milestone in the Apple ecosystem, catalyzed largely by the EU's mandate for a universal charging standard: USB-C. By adopting this universal port, Apple not only aligns itself with regulatory requirements but also offers a more streamlined and convenient experience for users, who can now use the same charger for multiple devices across different brands.
Beyond the switch from Lightning to USB-C, the iPhone 15 lineup improves everything from camera capabilities to processing speed. And even though no major redesign was introduced this year, the fact that the regular iPhone 15 now has the Dynamic Island and the iPhone 15 Pro features a titanium frame should make buyers happy with their shiny new purchase.
FAQ