Has a guest user on your Mac lost an important file after they forgot to back it up before logging out? Data loss incidents like this are common because inexperienced users are often not aware that all files created using a guest account are automatically removed when the guest user logs out or the computer is switched off.
If you act quickly, then you might be able to recover the lost data using your admin account and easy-to-use data recovery software. Read on to learn more.
What Is Guest User on Mac
A guest user on Mac is someone who uses the guest account in the macOS operating system to enjoy limited access to the computer.
Logging in to the guest account doesn't require a password, but the guest account must be manually enabled first by someone with administrator privileges for others to use it. Mac owners typically enable the guest account to:
👨‍👩‍👧‍👦 Share their computer with family members.
🏪 Provide safe access to a Mac located in a public place.
🧪 Create a dedicated area for testing.
When enabling the guest account, it's possible to allow guest users to connect to shared folders and limit adult websites. What's not possible is for guest users to change any system settings, access data created by standard users and administrators, and log in to the Mac remotely.
How to Create Guest Account on Mac
To make the guest account on your Mac available for others to log in with, you need to do the following:
Step 1. Open System Settings.
Step 2. Navigate to the Users & Groups tab.
Step 3. Click the Info button next to Guest User.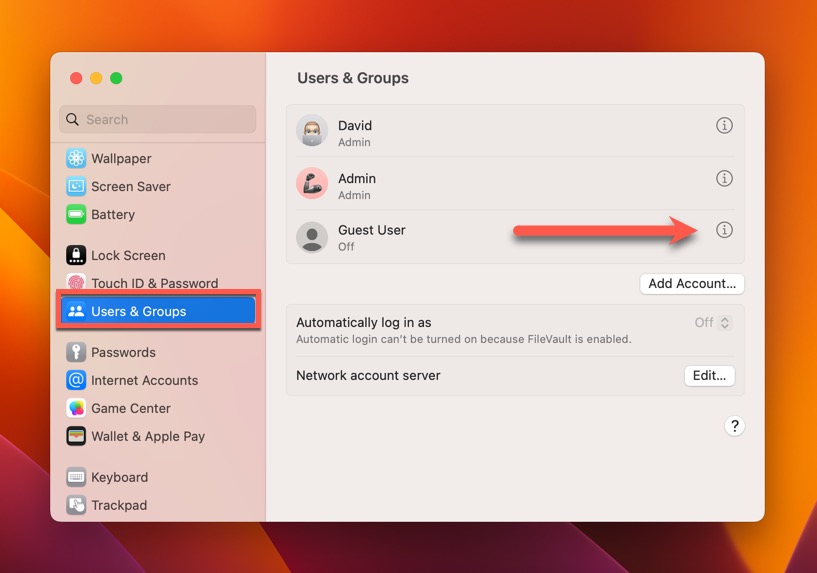 Step 4. Click the toggle next to "Allow guests to log in to this computer."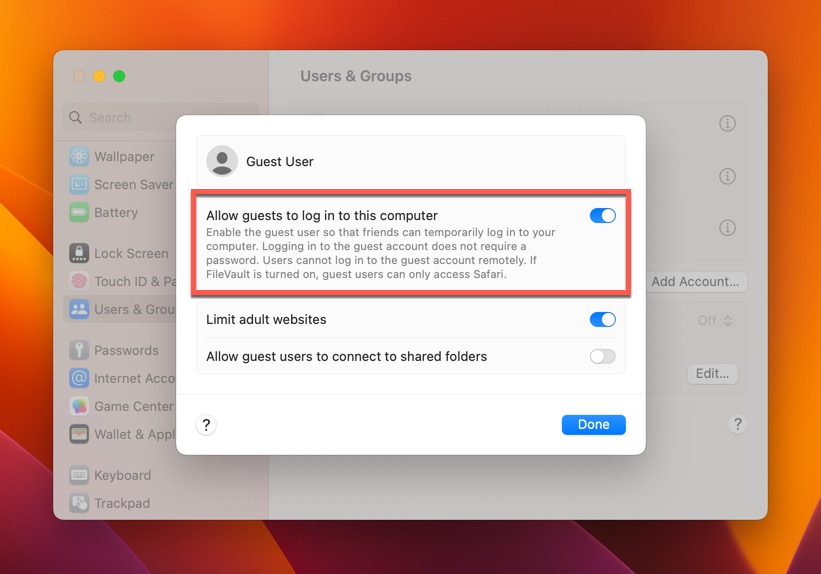 Step 5. Click Done to add the guest user on Mac.
You can now log out of your current account and log in as a Mac guest user to test if the account works.
How to Recover Files from Guest Account on Mac
Using the guest account on Mac can be a double-edged sword:
On the one hand, it's a

convenient way to let someone else use your Mac

without having to worry about the person modifying your system settings or accessing your personal data.
On the other hand,

guest users are more likely to lose their files

because the guest account is designed to reset itself into its default state after each use.
That's why the following pleas for help are so common:
Hello, I would like to restore files that were automatically deleted from the guest account in exiting.
~ Posted by user Marthaju on the official Apple forums.
I did not know that the Guest User deletes all files once you log off the session. What ways can I recover the pictures back?
~ Posted by user u/ayjayred on the r/mac subreddit.
Fortunately, the solution the two posters above, as well as many others, are looking for does exist!
Data recovery software like Disk Drill can be used to scan the system drive and recover all files that were lost after logging out of the guest account (sometimes even if the files were replaced). However, there are some conditions that must be met for Disk Drill to work:
The lost files haven't been overwritten by new data (this can happen almost immediately or after a long time, depending on how much the Mac is used).
The system drive isn't encrypted.
The TRIM command isn't enabled on the system drive.
If these three conditions are met, then the recovery of the lost files is a matter of just a few simple steps,
which must be performed using an administrator account.
Step 1.

Download and Install Disk Drill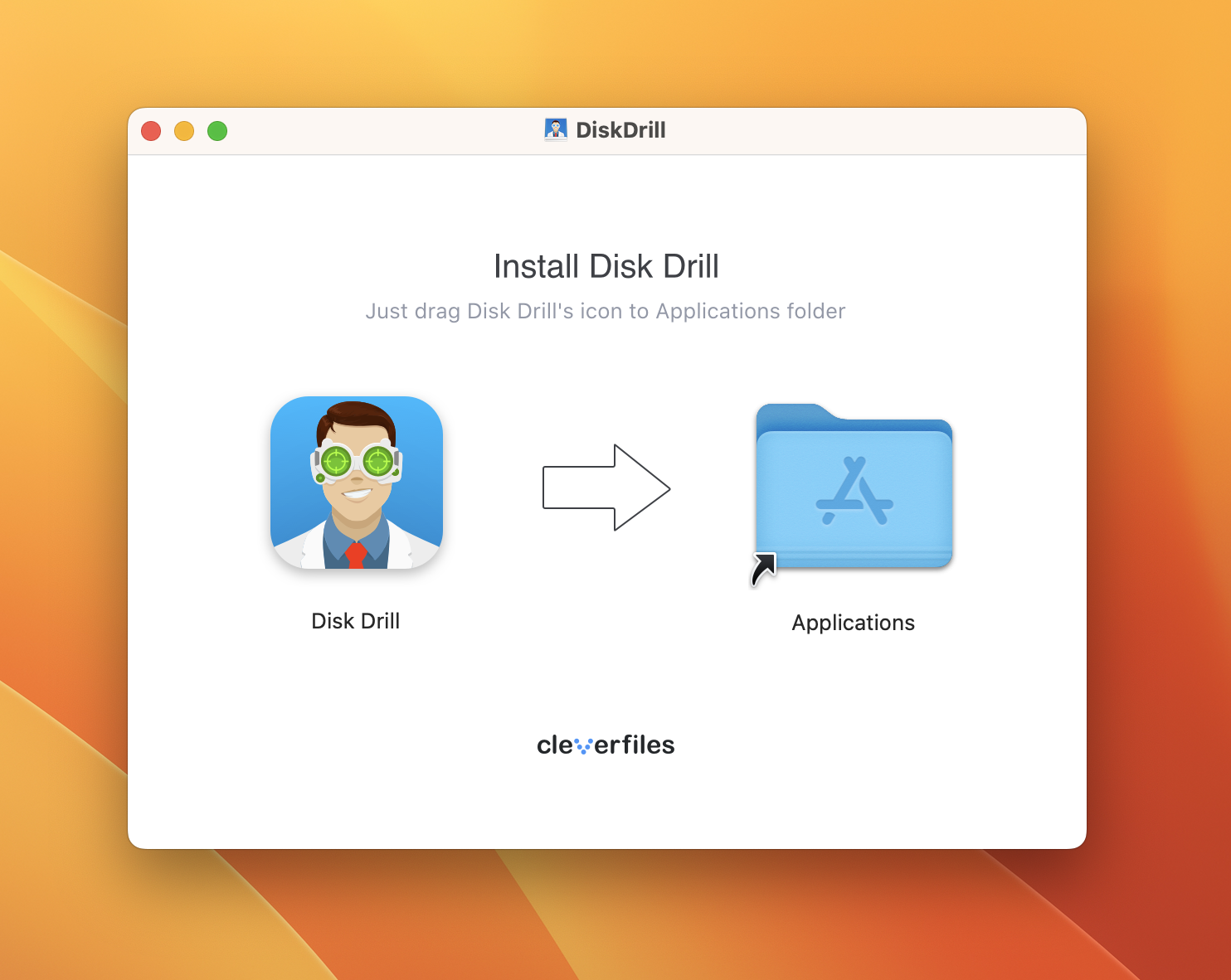 Log in to an administrator account on your Mac. Download Disk Drill from its official website and install it. If possible, avoid installing the data recovery application on your system drive so that you don't overwrite the same files you're trying to recover (you can drag the Disk Drill application icon to any folder and storage device you want).
Step 2.

Launch Disk Drill and Grant It Full Disk Access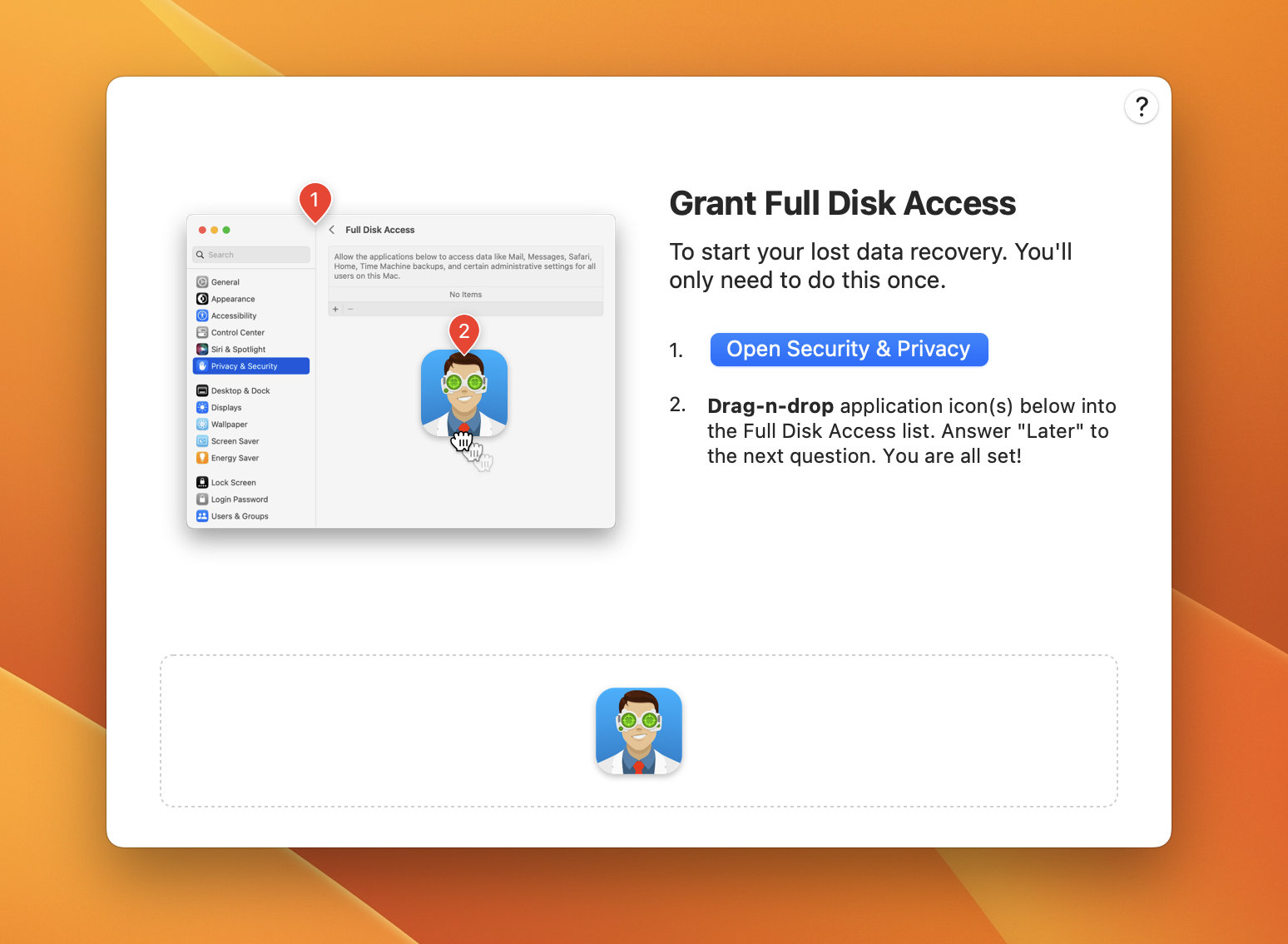 Once you have Disk Drill installed on your Mac, you can launch it from the Applications folder or using Launchpad/Spotlight. You will be asked to grant it Full Disk Access and provided with instructions on how to do so.
Step 3.

Scan Your System Drive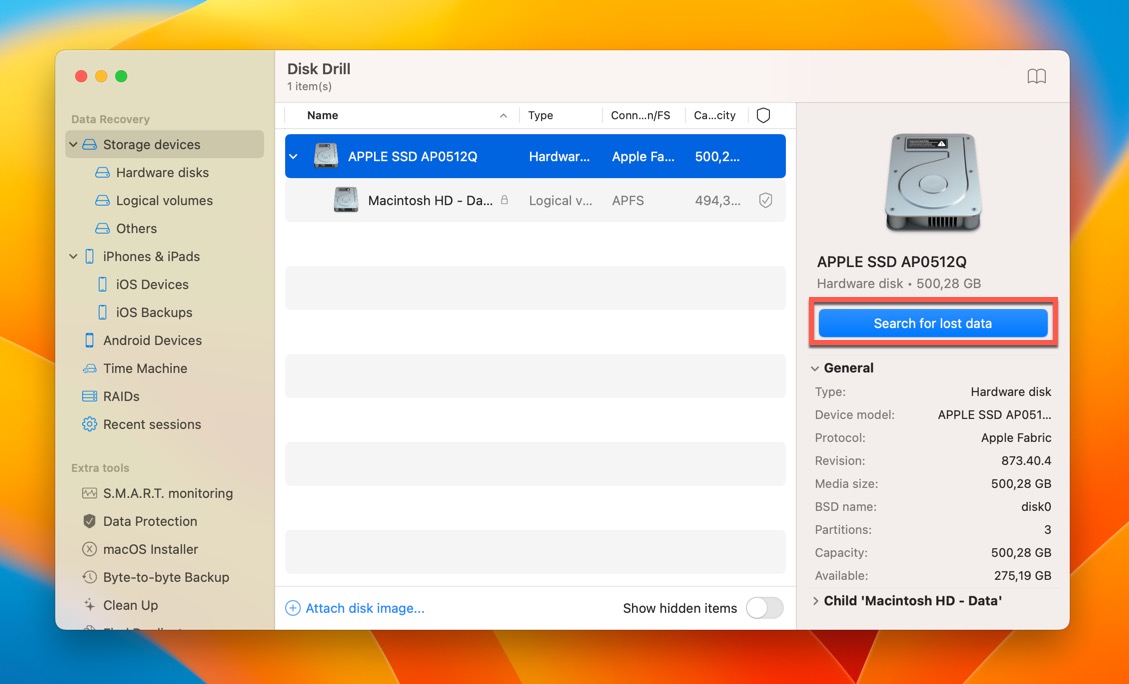 To find lost guest files, you need to select your system drive (it should be named Apple SSD and contain a partition called Macintosh HD). You can then click the Search for lost data button to scan it.
Step 4.

Look for the Missing Files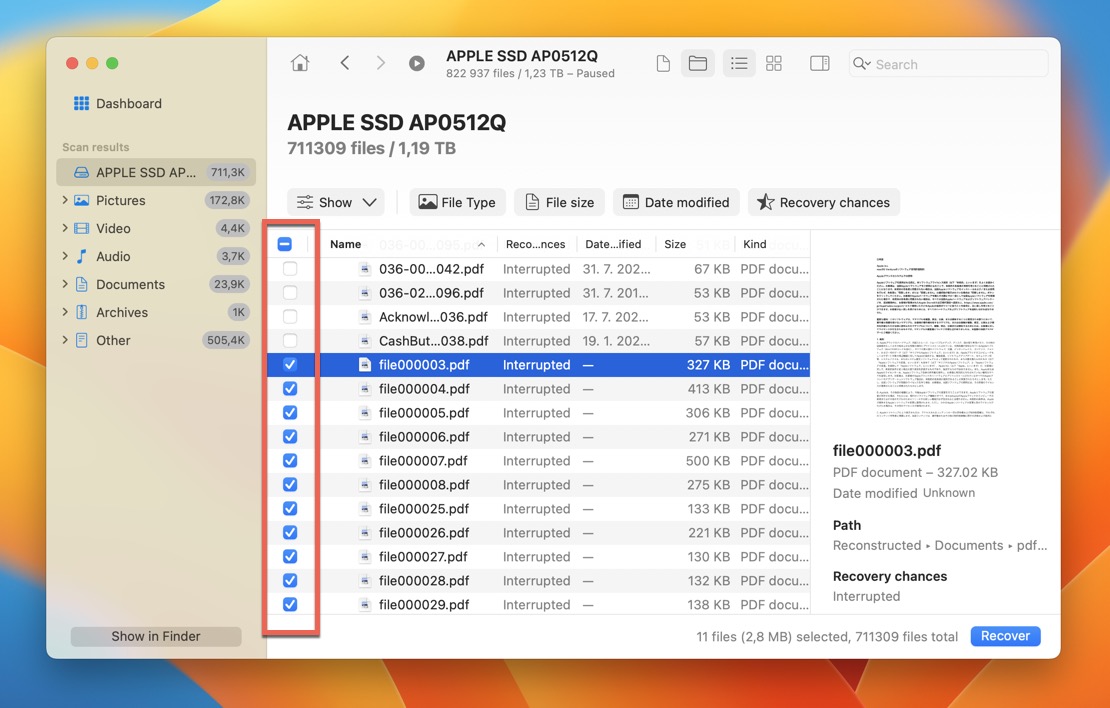 Wait until Disk Drill finishes scanning, and then look for the missing files. You can use Disk Drill's scan results filters, the search bar, and the preview feature to find what you're looking for. Click the checkbox next to each file you want to recover to add it to the recovery queue.
Step 5.

Recover Your Files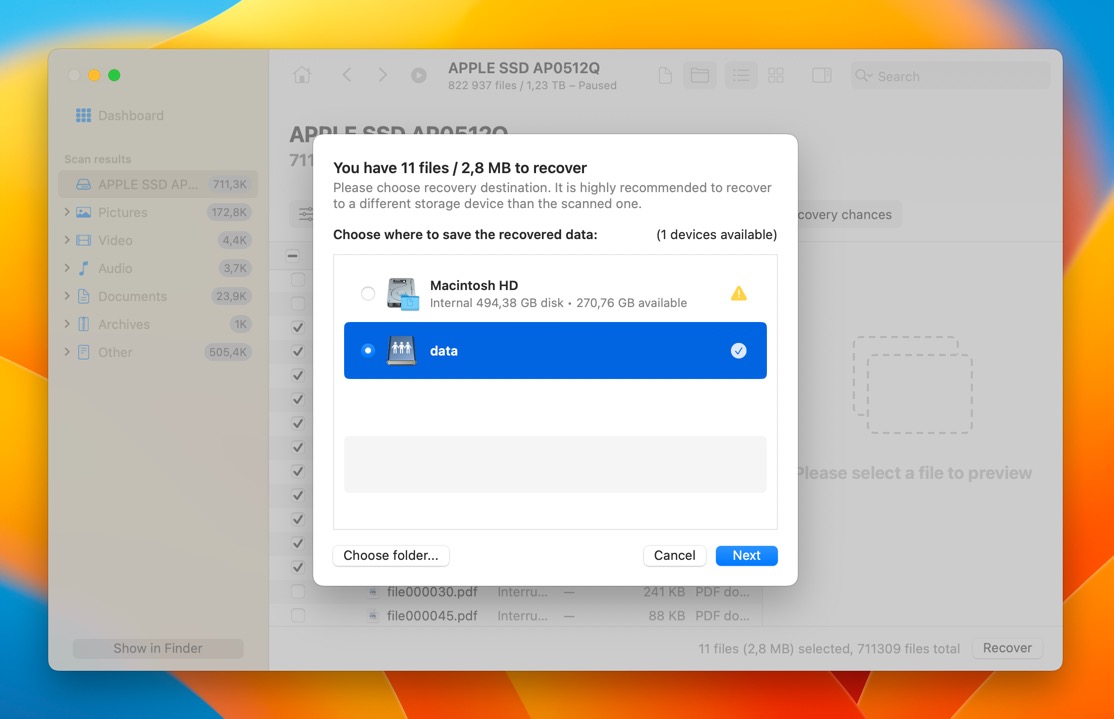 With all recoverable files selected, you can click the Recover button. Disk Drill will ask you to select a safe recovery destination, such as an external storage device. Finally, see the recovery results in Finder.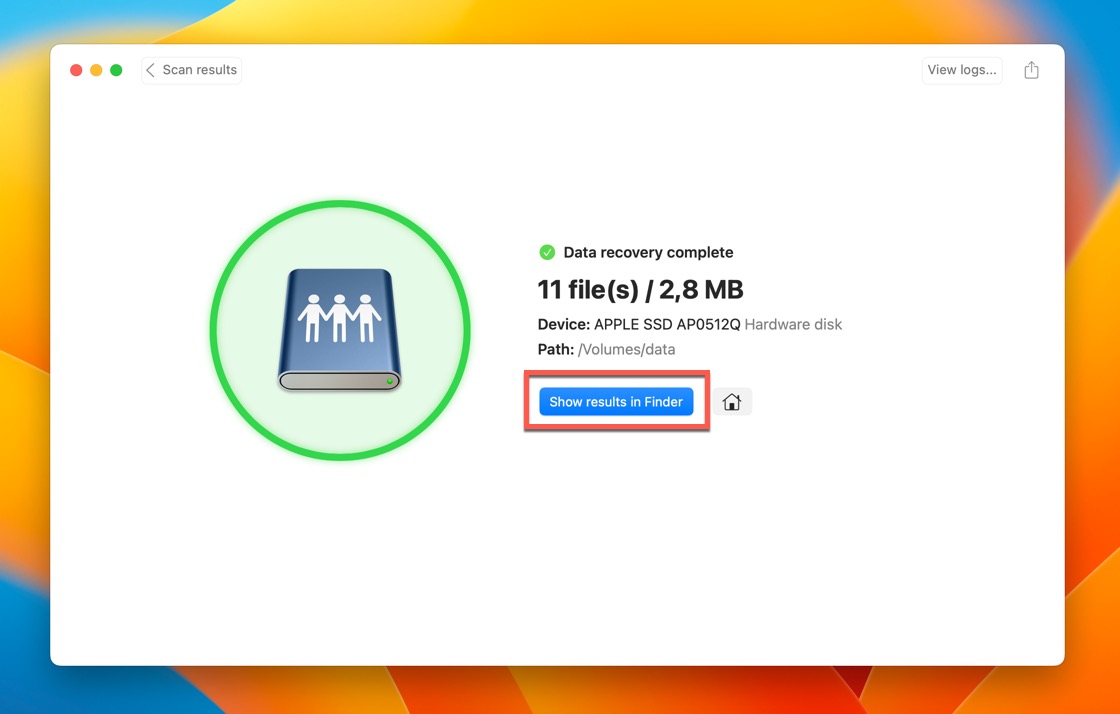 Does Time Machine Back Up Guest User Data?
Unfortunately, Time Machine isn't enabled for the guest account, so it doesn't back up any guest user data. In fact, the only app available to guest users on FileVault-encrypted Macs (which includes all Apple Silicon Macs) is Safari.
Of course, it's still possible for guest users on Macs that are not encrypted using FileVault to back up their files manually to an external storage device, and that's exactly what they should do to avoid their loss after logging out of the guest account.
Conclusion
The guest user account on Mac computers provides an isolated space for temporary users. Because this space is automatically wiped clean as soon as guest users log out, the potential for accidental data loss is high.
Guest users who have lost important files after logging out without saving them on an external storage device first should immediately ask the owner of the Mac to use their administrator account to scan the system drive using data recovery software like Disk Drill. If used soon enough, Disk Drill can avert most data loss disasters.