Missing photos on your iPhone? Ironically, the iPhone's many advanced features may be the reason why this issue is so common. Fortunately, there are also many ways to recover deleted photos from an iPhone, depending on how your device is set up.
This article covers them all. The process varies depending on your specific scenario, so we provided 7 reliable methods (along with detailed instructions) that solves the most common data loss problems on an iPhone. Read on!
Method 1:

Find Photos in Recently Deleted Folder

The first place to look for deleted photos on iPhone is the Photos app. This is where all the pictures that you take are stored. You can view, share, edit, and search by photo all right from within the app. The Photos app is also very intuitively designed with a built-in recently deleted folder which makes recovering old photos a process we can accomplish in just a few steps.

Step 1. Open the Photos app on your iPhone.

Step 2. Tap on Albums and then scroll down until you see Recently Deleted, it should be right at the bottom of the list.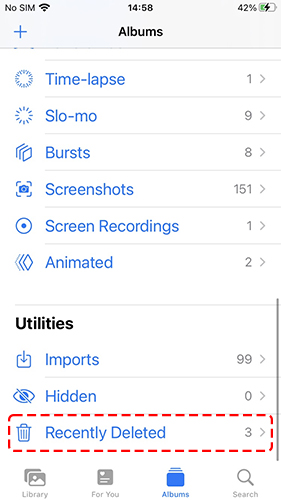 Step 3. From here, click on Select which will be in the upper right-hand corner of your screen, and tap on the recently deleted photos that you would like to recover. If you want to recover all of them, you can click on Recover All. You also have the option to delete all from within this screen.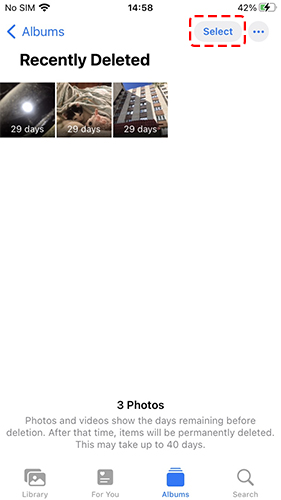 Step 4. Click on Recover to retrieve deleted photos and then they will be put back into the All Photos view.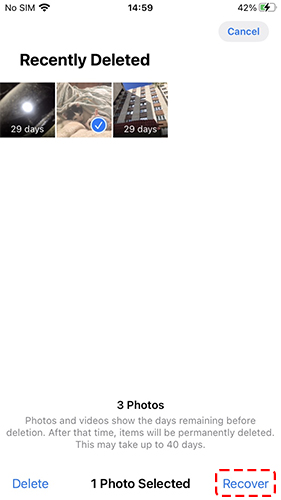 Photos and videos will show the days remaining before deletion from within the
Recently Deleted
folder. After the time has expired, they will then be permanently deleted from your device. It may take up to 30 days for this process to complete so you have some time if you delete a photo and then realize that you want to restore it. This is the easiest way to view deleted photos on iPhone and recover them.
Method 2:

Recover Photos Using iPhone Data Recovery Software

If your photos are no longer in the Recently Deleted album and you don't have any backups available, you can use data recovery software to restore them.

For this article, we'll be using a tool called Disk Drill. It's natively built for macOS and has been designed to work around Apple's no direct data access policy for the iPhone. It also performed very well during our tests where we tried to recover JPG and HEIC images, which are common iPhone photo types. We'll demonstrate how to use Disk Drill to recover your iPhone photos in the guide below.

You'll need

2x of your iPhone's used storage

(in GB) available on your Mac. This is because Disk Drill creates a backup of your iPhone's data for it to scan. For e.g. if you've used up 50 GB on your iPhone out of 128 GB, you'll need 100 GB of available storage of space on your Mac to proceed.

🎁 Apply a coupon "DDIPHONE" during the checkout process, and you'll get Disk Drill PRO (Mac edition) with a 35% discount.

Step 1. Download and install Disk Drill for your computer.

Step 2. Initiate a scan by plugging your iPhone into your computer and selecting it as the device to search through.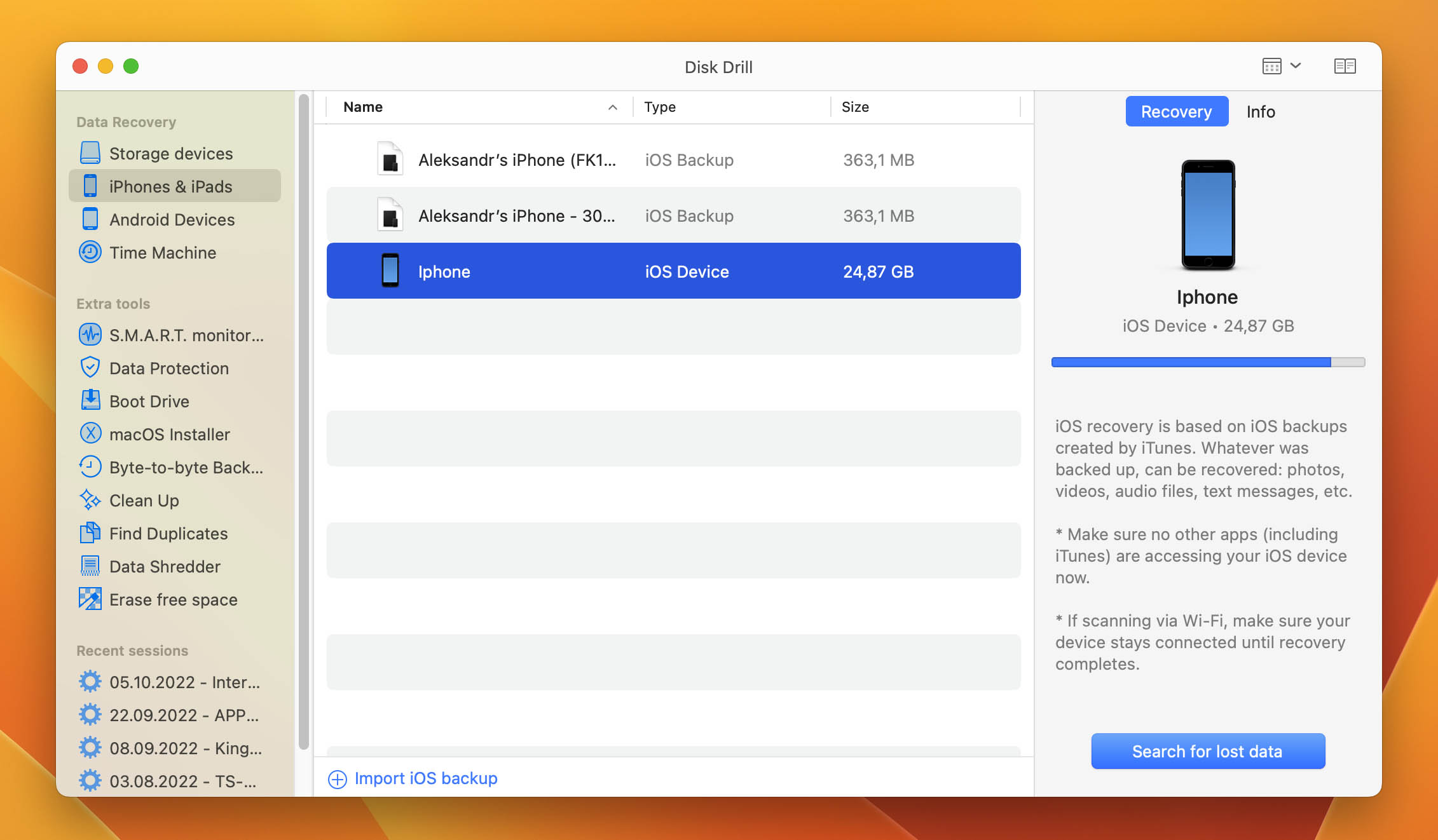 Step 3. Wait for the scanning process to complete. This shouldn't take long but will vary depending on how much data you have on your iPhone. For my phone, it took around 20 minutes to complete and I have a lot of things stored on my device.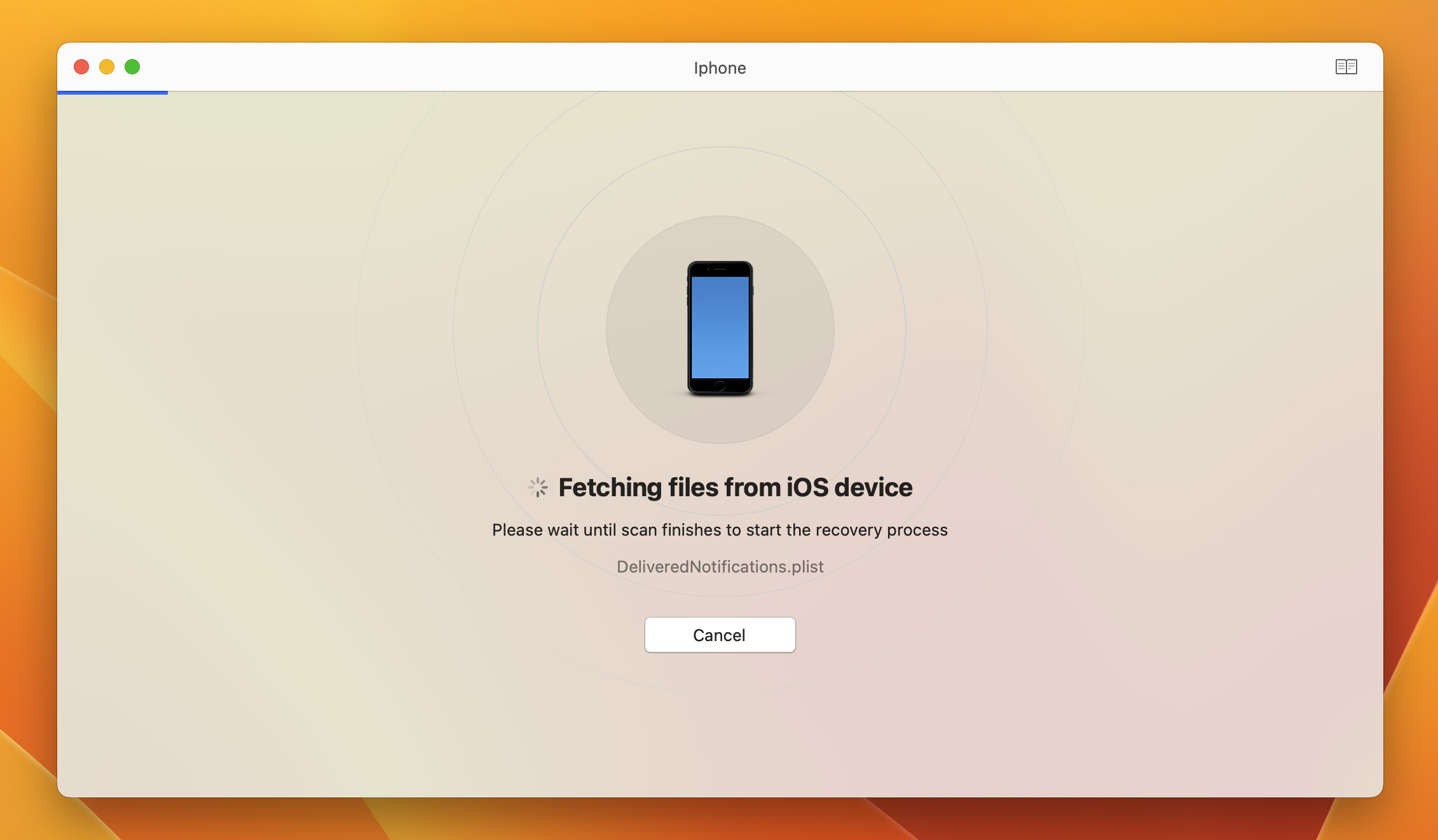 Step 4. After the scan has completed, you will be greeted by all of the found files on your iPhone. Click on the Photos icon to view the deleted photos that Disk Drill was able to recover.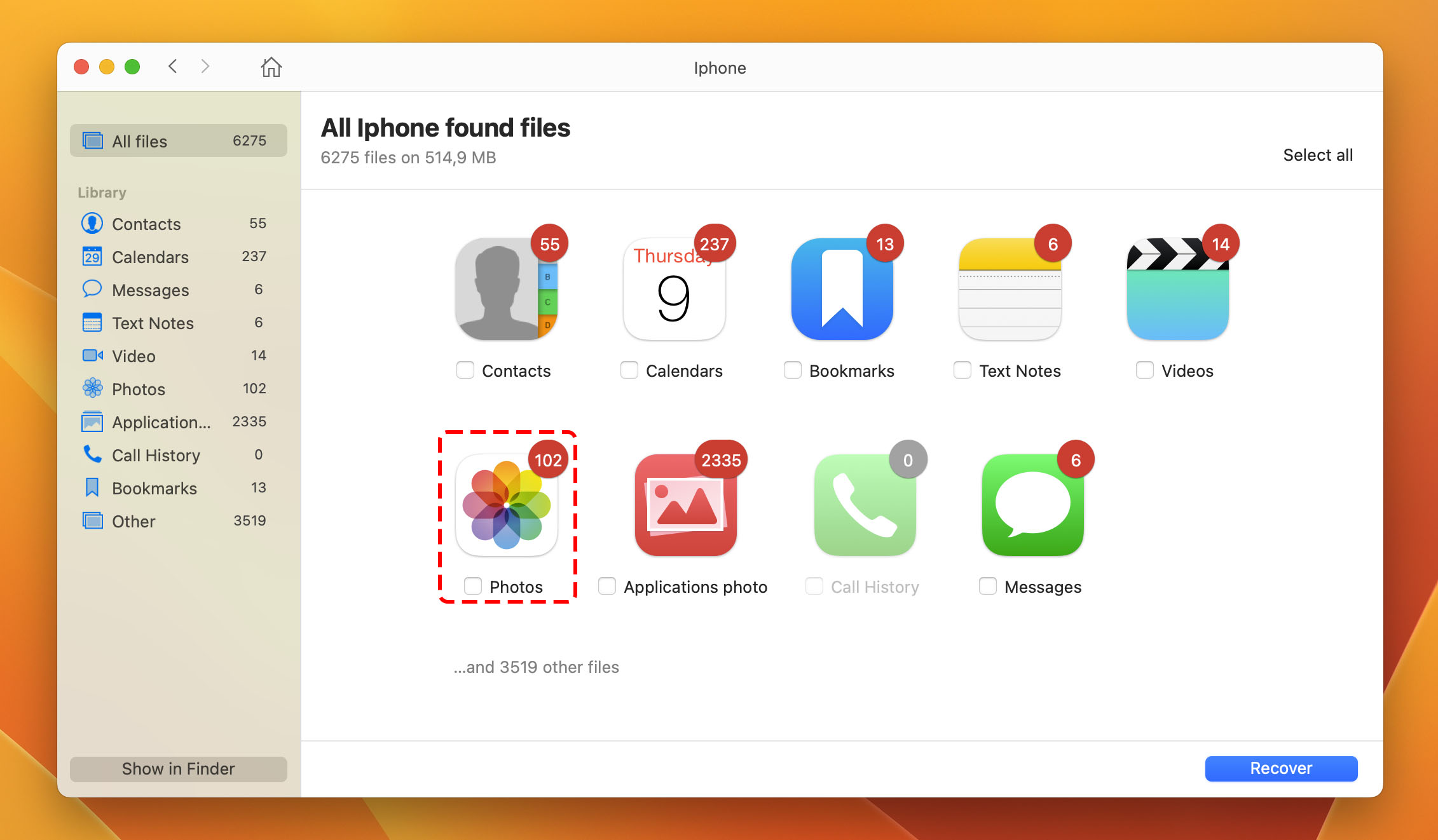 Step 5. Once on the recovered photos screen, we can find the deleted photos on iPhone. You can sort by name and date. Since all of my photos haven't been named and have the default file name, I am going to sort by the date that I want to recover my deleted photos from. You can search by photo name on your iPhone here if you do know the name of it.
Step 6. Select the photos that you would like to recover and then click the blue Recover button in the lower right-hand corner of the screen.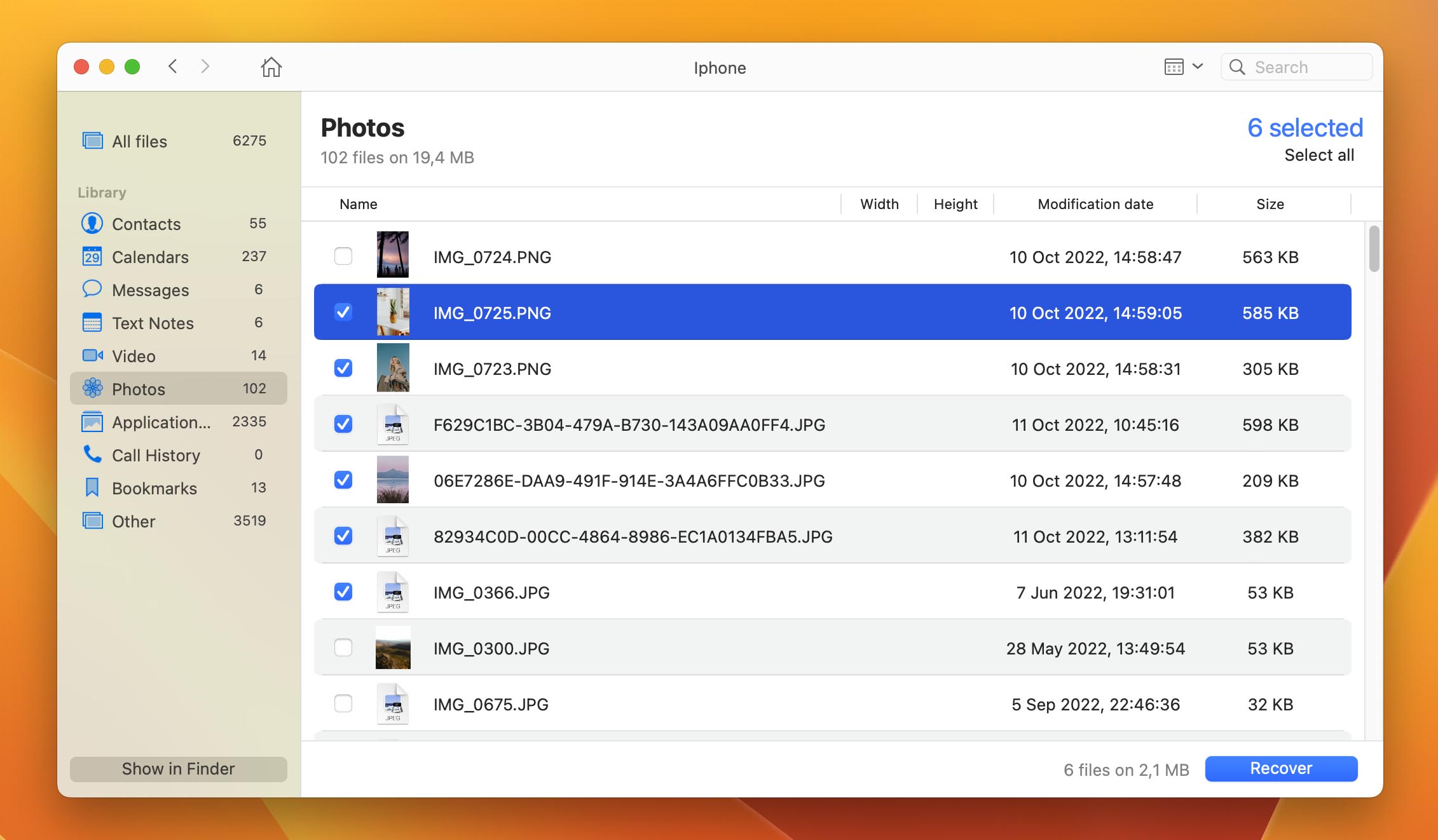 Step 7. Choose a path for Disk Drill to restore the deleted photos to and click OK.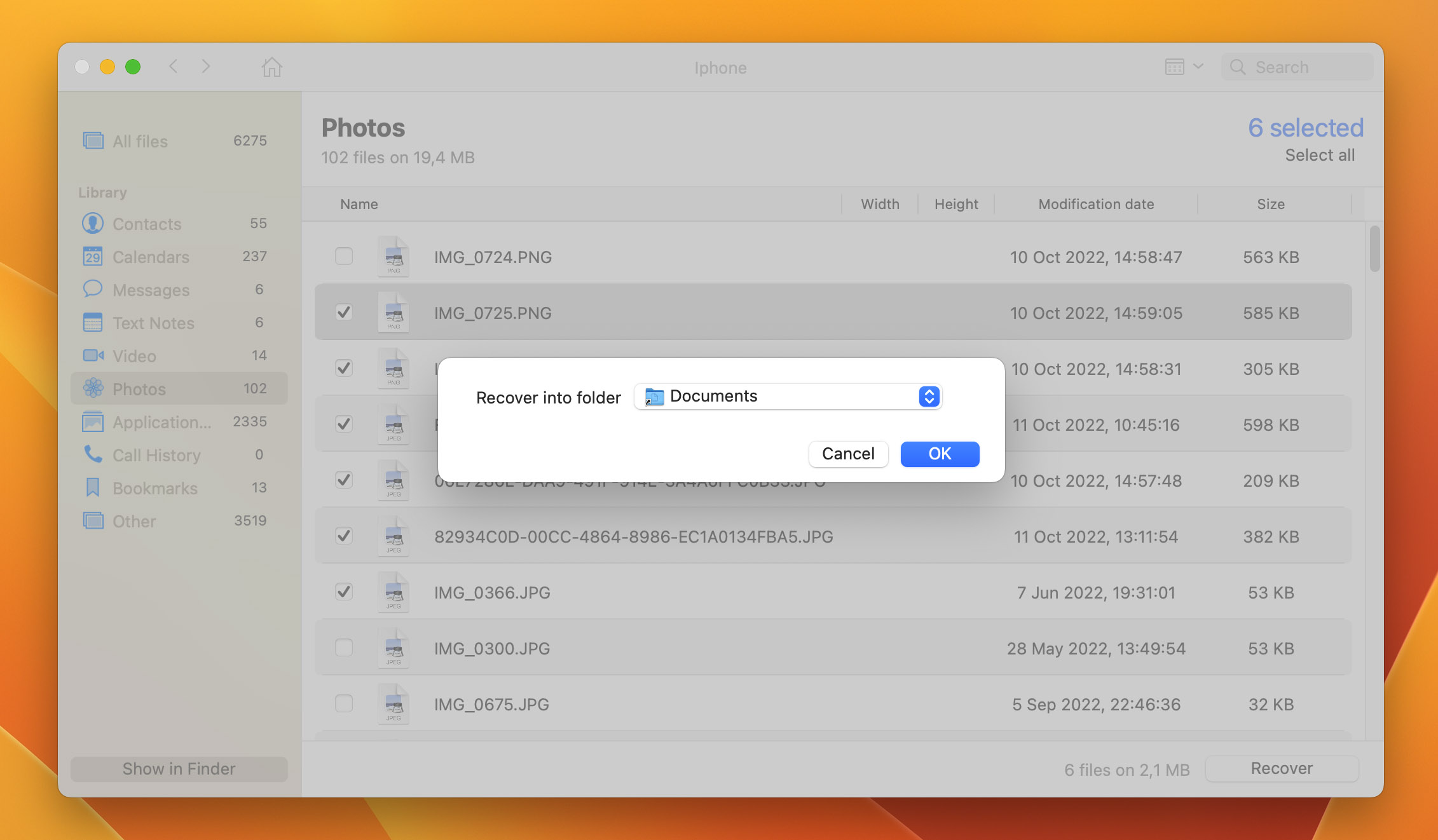 Step 8. After you have successfully recovered the deleted photos, you will receive a confirmation message that the recovery is complete and the deleted photos will be restored to the location you choose on your computer.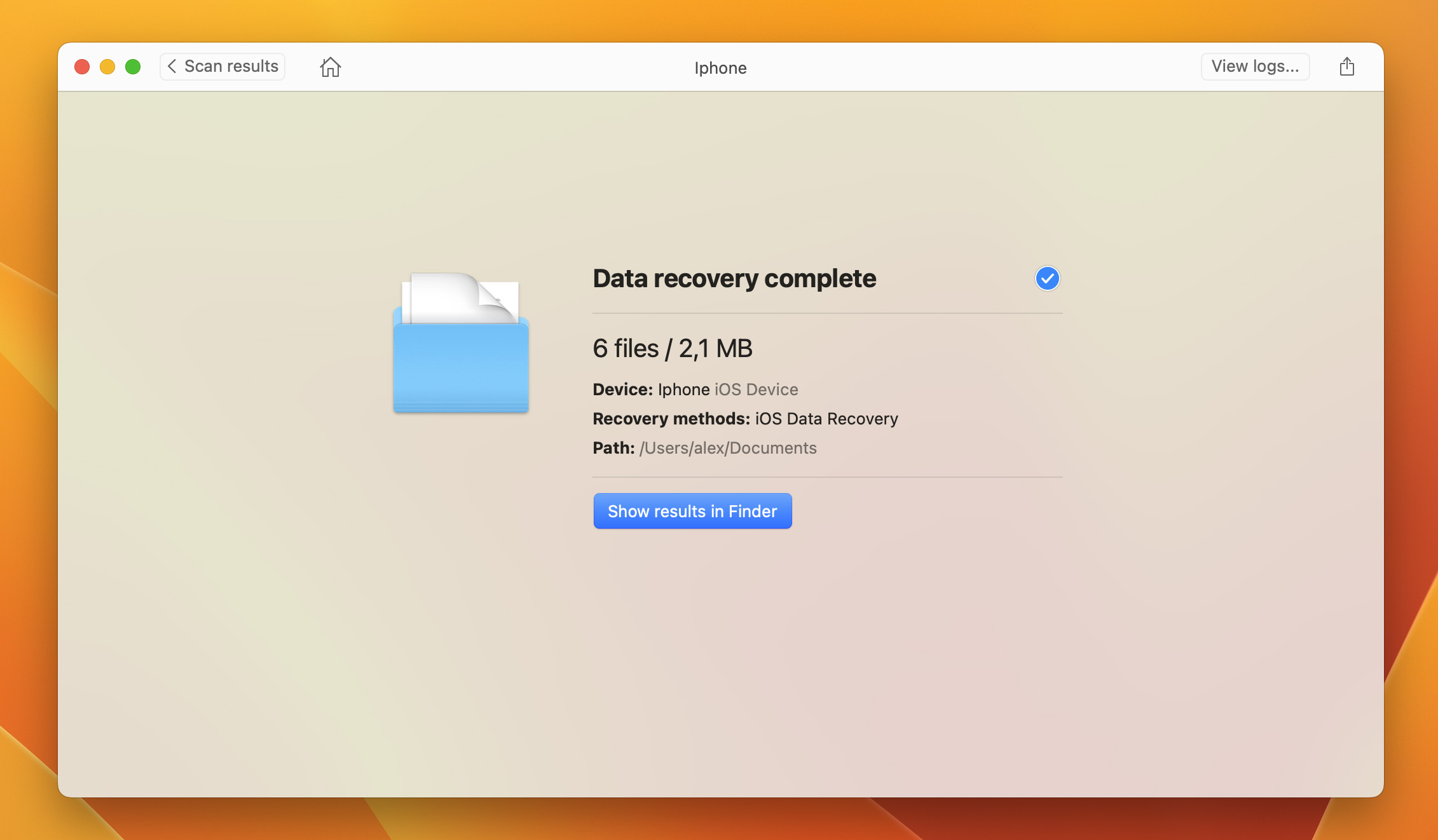 Method 3:

Retrieve Photos from a Music/iTunes App Backup

If you plug your iPhone into your Mac or Windows machine and have the Music app or iTunes on your computer, then there is a chance that you might have set up your phone to backup to your computer. A computer backup is another way of recovering old photos and getting them back onto your iPhone.

The backup process happens automatically each time you plug your iPhone into your computer to charge. When plugged in, it also will sync and backup. On a Mac, this app comes installed as part of the operating system and is called the Music app. On Windows, you can download iTunes for free by going to Apple's website.

You can recover deleted iPhone photos from a backup on your computer using the Music app which is more current but if you're using an older version of macOS or Windows then iTunes will be the app to look for. The steps are pretty much the same in both, so the steps below can be followed no matter which you're using.

Step 1. Plug your iPhone into your Mac or Windows computer.

Step 2. Select your iPhone from the drop-down menu on the left-hand side and then click on Sync Settings….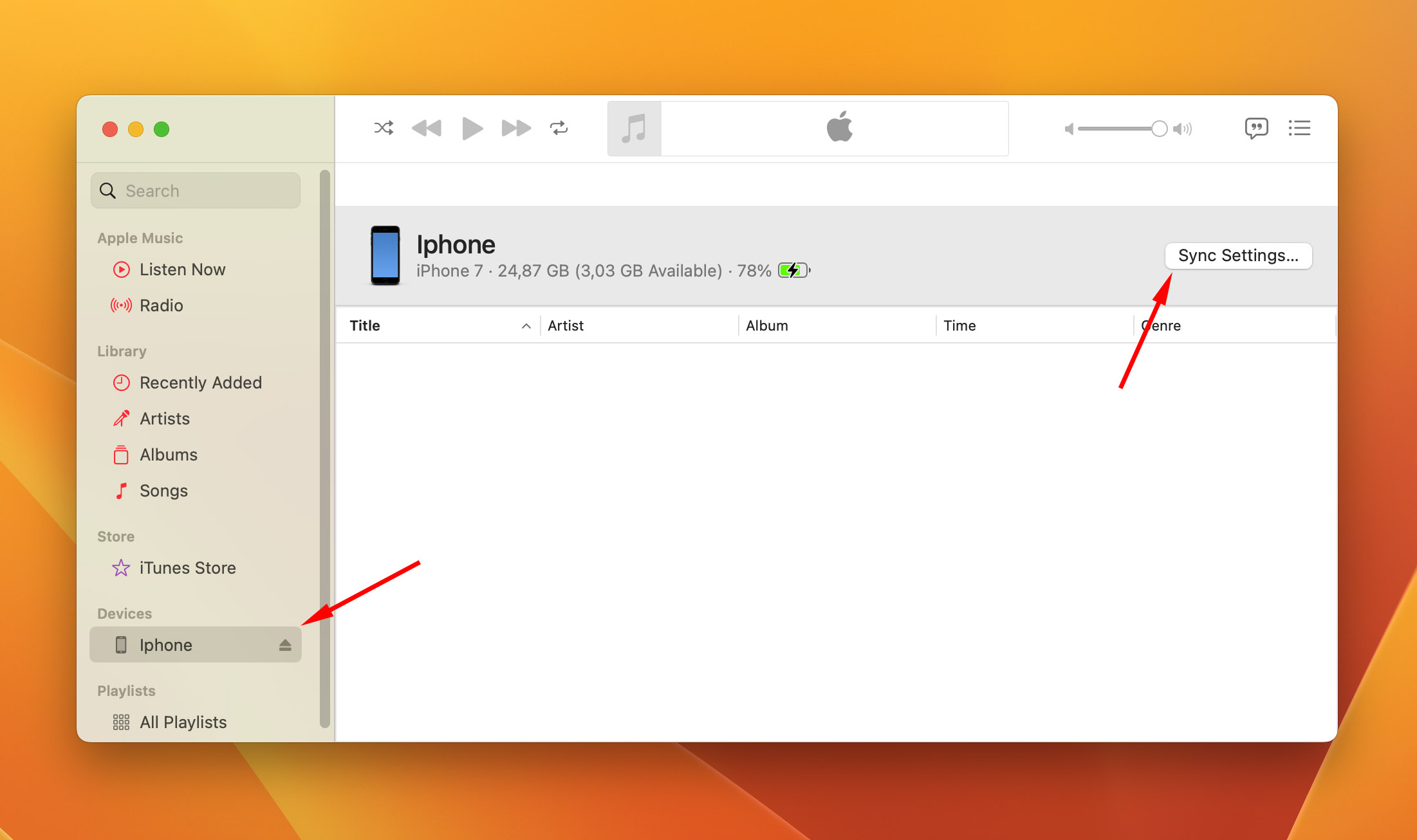 Step 3. Once on the Summary page, select Restore Backup…. This can be found from within the General tab. You can also manage backups and backup your iPhone from within this window as well.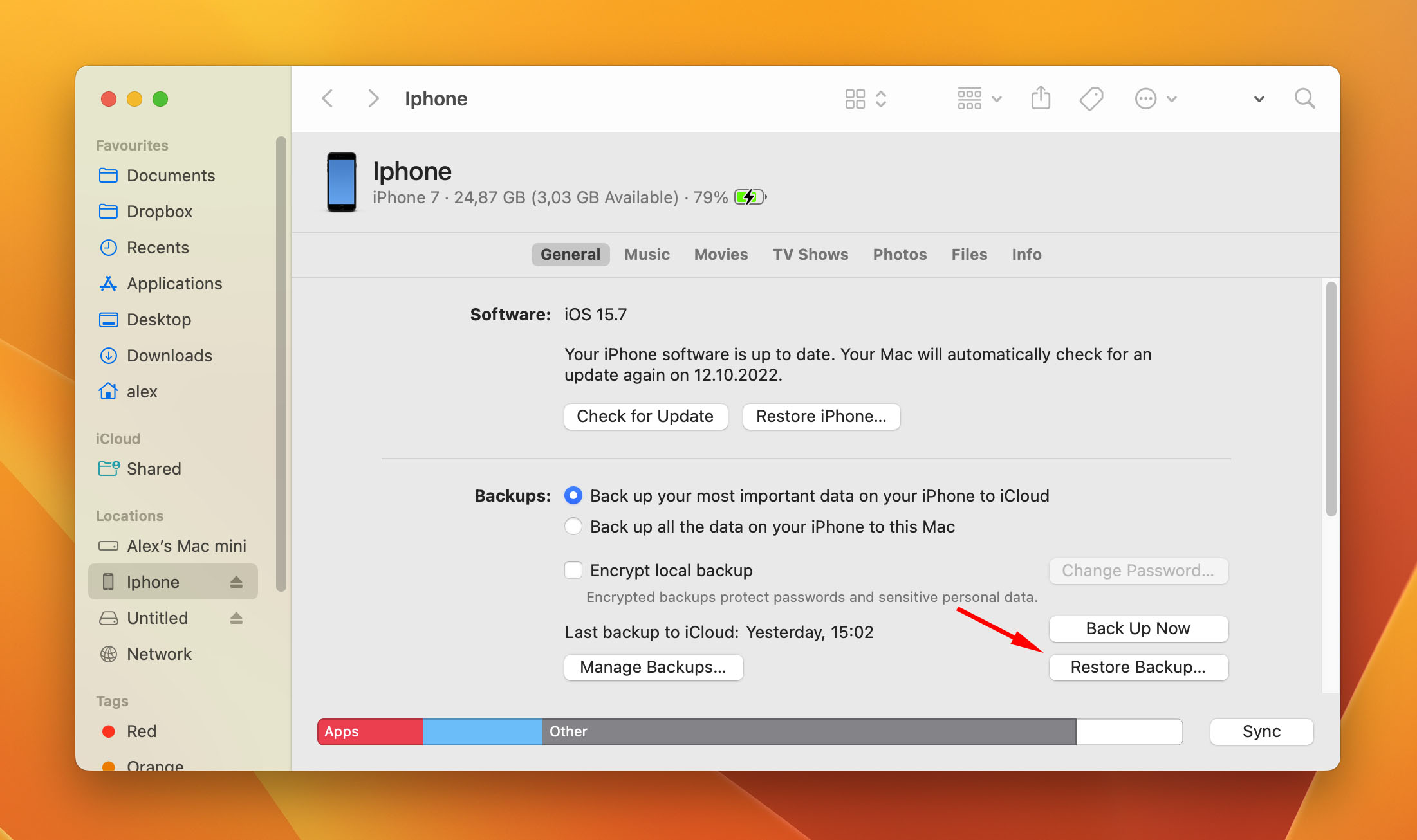 Step 4. After clicking the Restore Backup… option, your iPhone will restore back to the backup that you selected and your recently deleted photos will go back onto your iPhone. This will take some time depending on the size of the backup. Make sure your iPhone is plugged into your computer during this whole process as it can't be interrupted!
Method 4:

Recover Deleted Photos from an iCloud Backup

When you purchase an iPhone, it asks you to set up iCloud during the initial set up so the chances are you may have enabled this without even knowing what it was as iCloud is one of the most used cloud services in the world.

iCloud will sync your data between devices but it also will make a backup of your iPhone overnight when you plug it in to charge and it's on Wi-Fi. This is a backup of everything from text messages to contacts, and all of your pictures.

You can restore accidentally deleted photos from iCloud using one of the backups that have been created and put the data right back onto your phone.

Step 1. First, we want to back up our device should anything happen to it during the restoration process. To do that, plug your iPhone into a computer and back it up to the Music app if you're on a Mac or iTunes if you're on Windows.

Step 2. Once in the Music app or iTunes, choose Sync Settings….

Step 3. Choose Back Up Now… to start backing up your iPhone to your computer. This may take some time and the phone will need to be plugged for the entire process.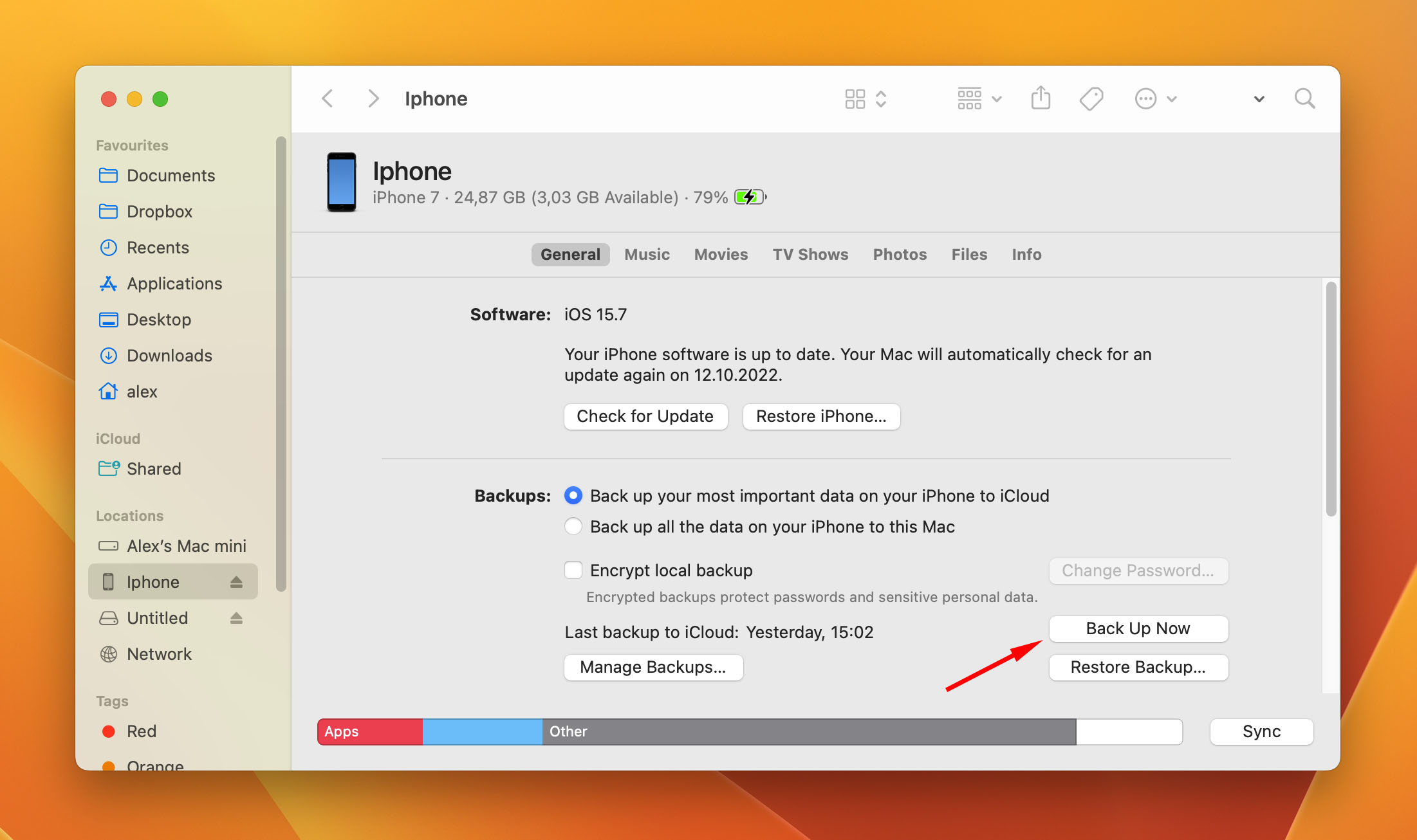 Step 4. Next, we need to perform a factory reset on our iPhone so that we can go through the setup process which allows us to recover photos from an iPhone backup. To initiate the reset, go to Settings > General > Reset > Erase All Content and Settings.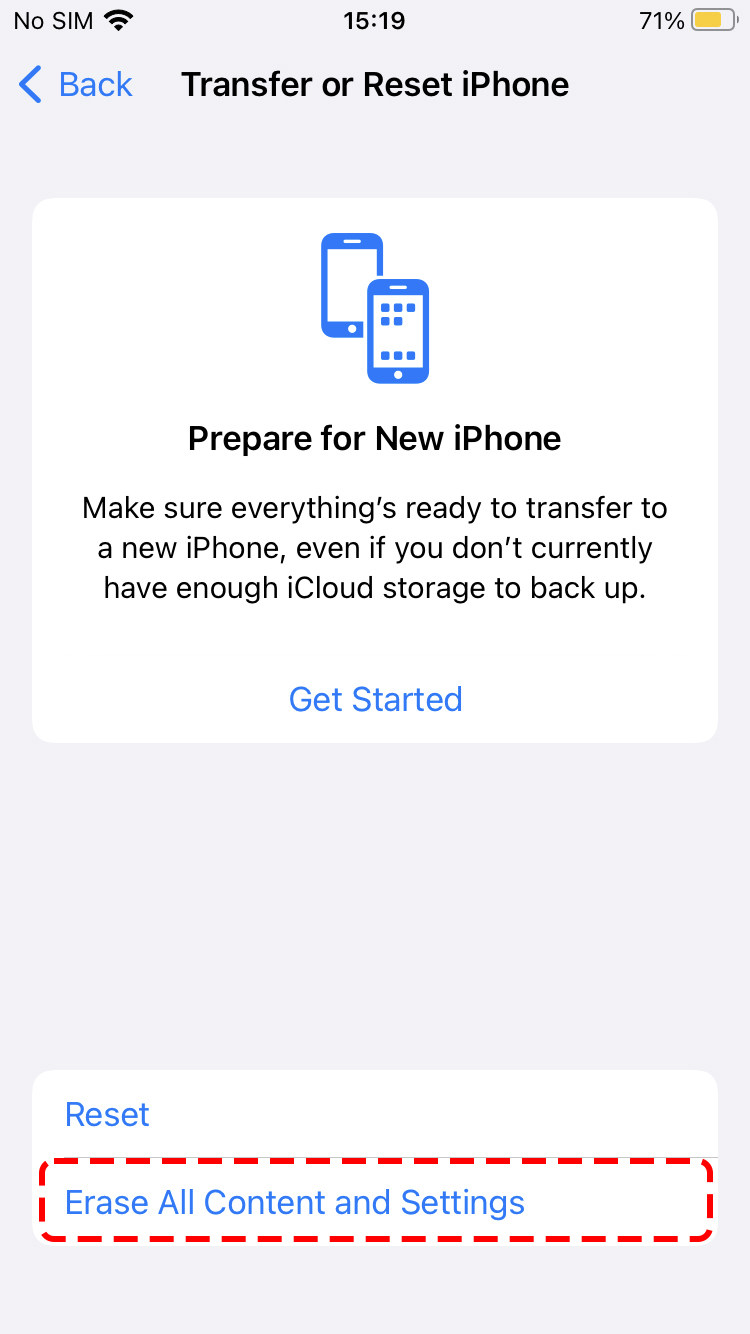 Step 5. When your iPhone restarts, go through the iPhone setup process and choose Restore from an iCloud backup and choose an older date from when you can last remember having the old photos on your iPhone. This will start the process of restoring photos from an iPhone backup.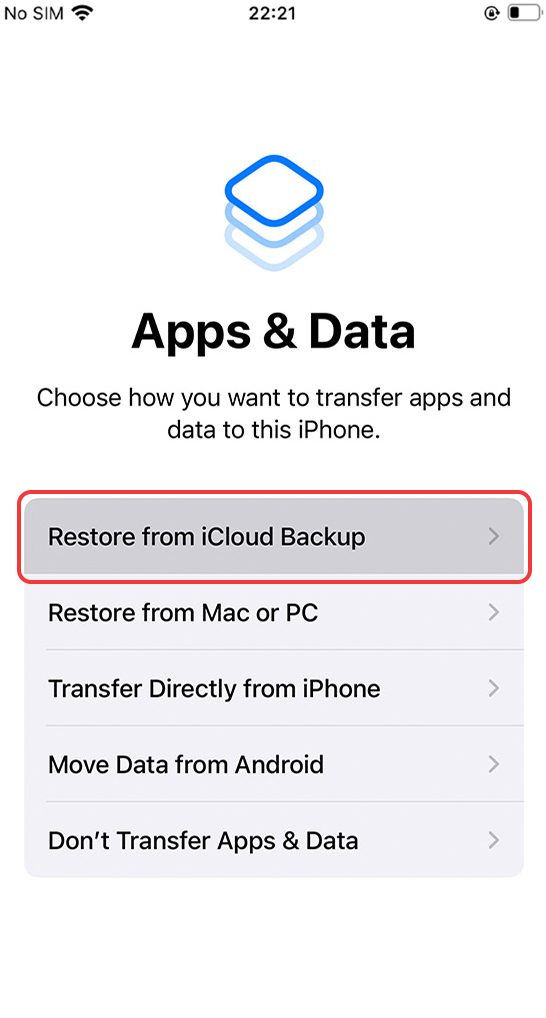 Step 6. Wait for the restore to finish and then check your Photos app to see if the deleted photos have been recovered.
Note:
if you have a lot of photos on your phone, then the restore can take a couple of hours depending on your internet speed so they may not show up right away. Give it some time to complete the backup and check and see if you can view the deleted photos in your Photos app.
Method 5:

Recover Photos Using Free iPhone Data Recovery Software

Gihosoft iPhone Data Recovery is a freemium macOS app that can restore photos (and other data) from your iPhone. Unlike Disk Drill, Gihosoft's app is focused only on the iPhone and has additional seamless iOS-only features like extracting data from iTunes and iCloud backups.

Unfortunately, that's all Gihosoft's free version can do, aside from scanning your device and showing you the local data it found. You'll have to buy the Pro version to actually recover photos directly from your device. In other words, you'll still need an iTunes or iCloud backup to use the free version – which is why we bumped it down to #5.

Step 1. Download and install Gihosoft iPhone Data Recovery.

Step 2. Make sure your iPhone is securely connected to your Mac, then launch Gihosoft iPhone Data Recovery (Finder > Applications).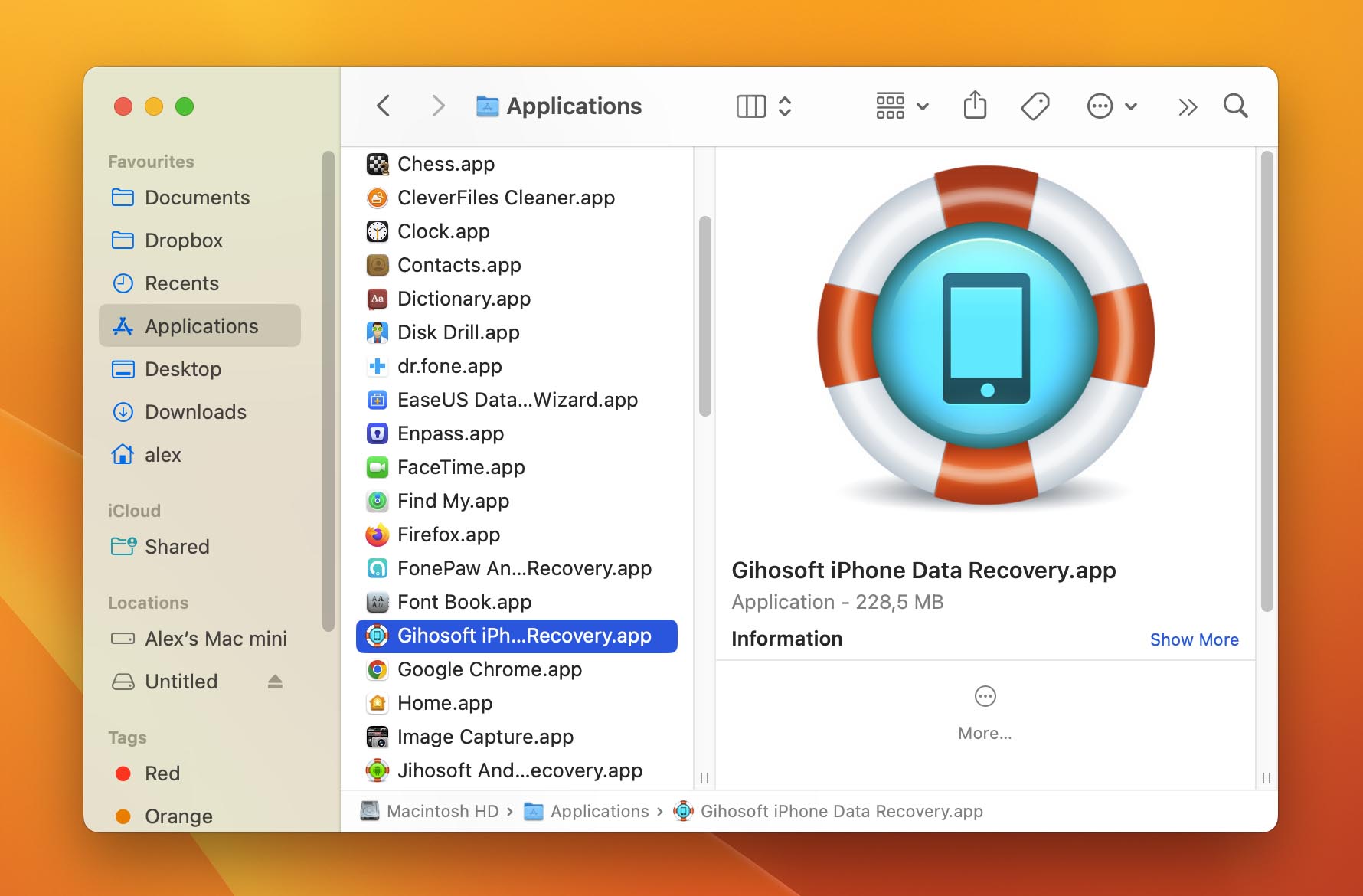 Step 3. Select "Photos & Videos" and all the subtypes underneath it, then click "Next."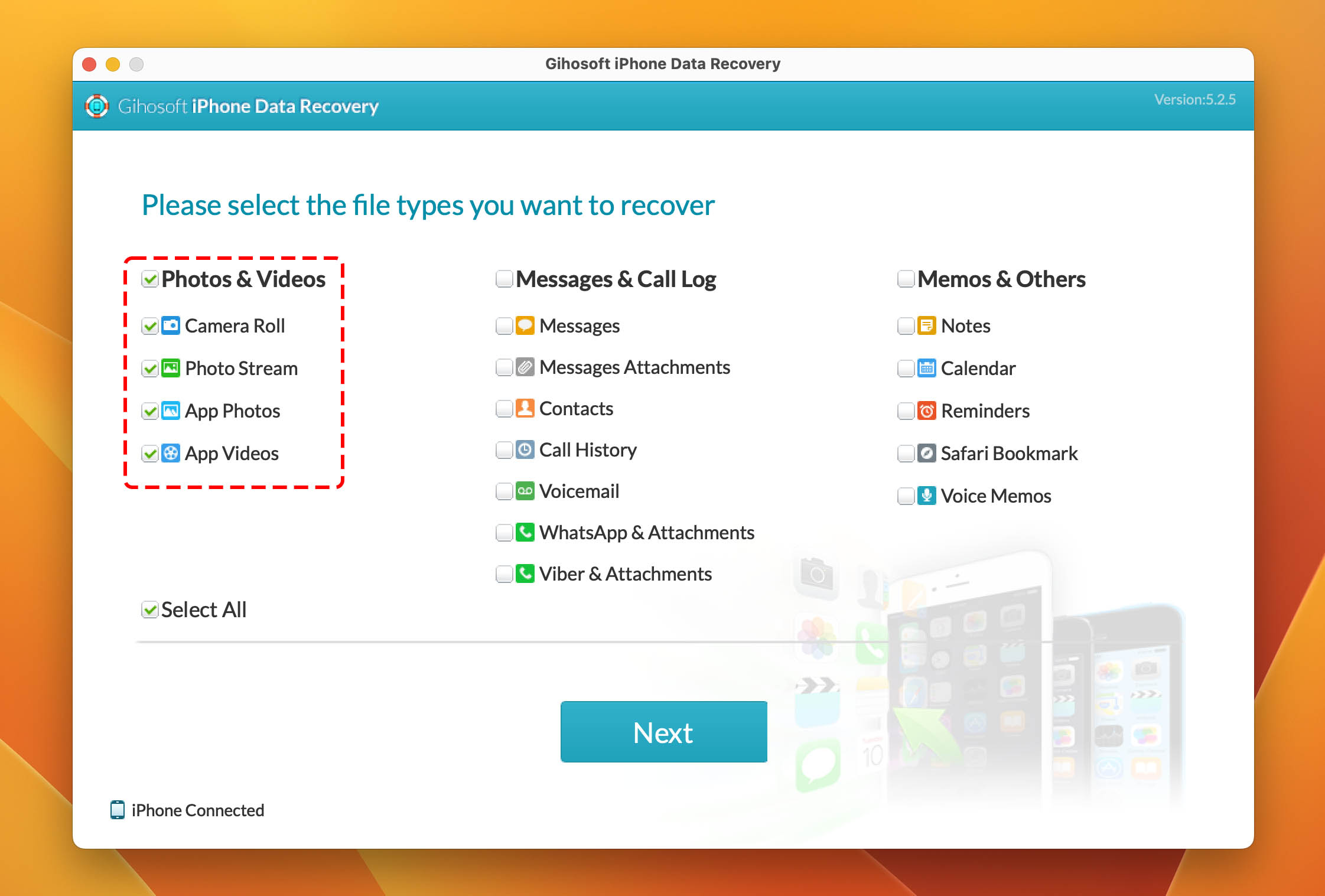 Step 4. Click "Next" again to begin the scanning process.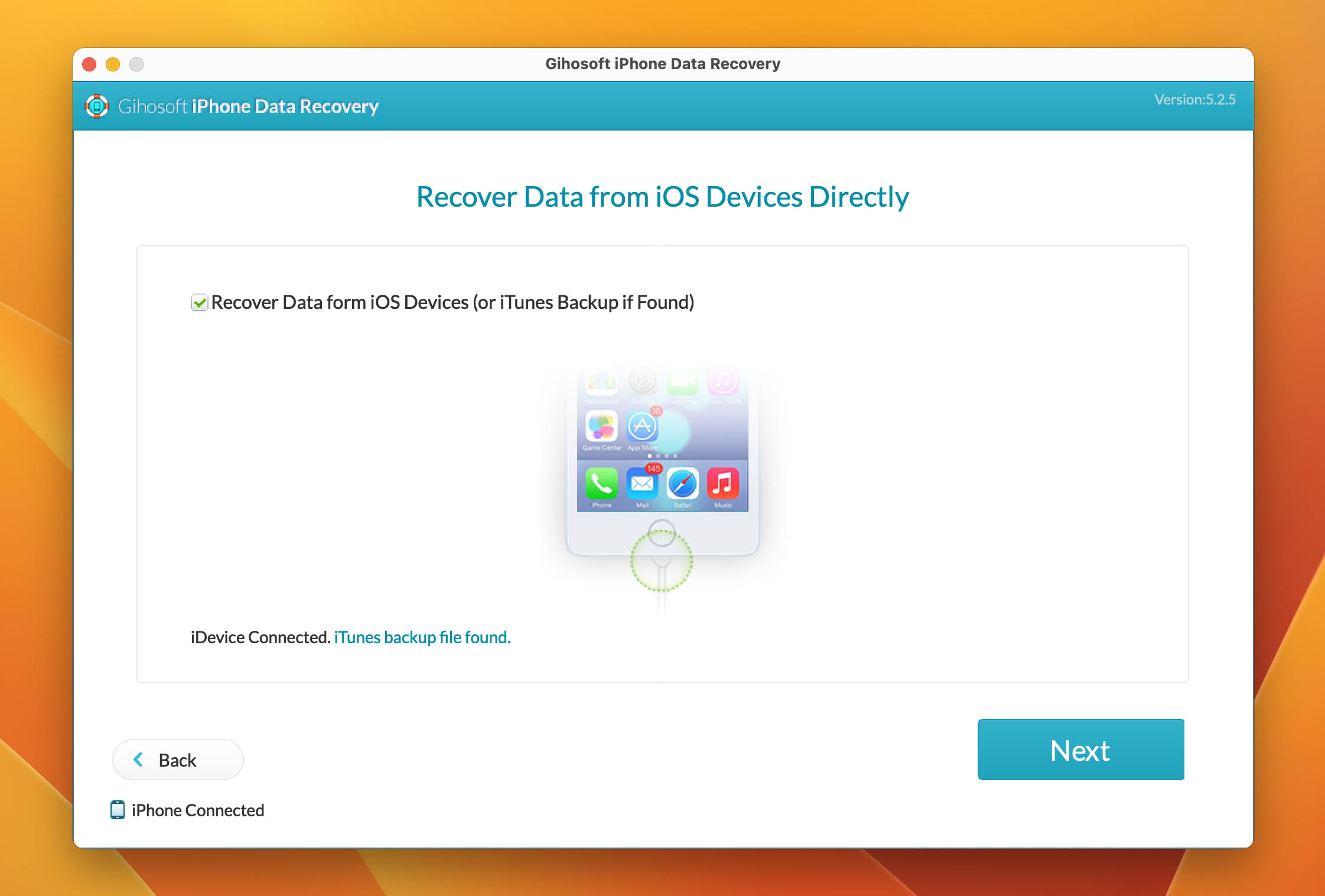 Step 5. Once the scan is complete, you can go ahead and click "Recover", or you can view your photos organized by location using the left sidebar and select them individually.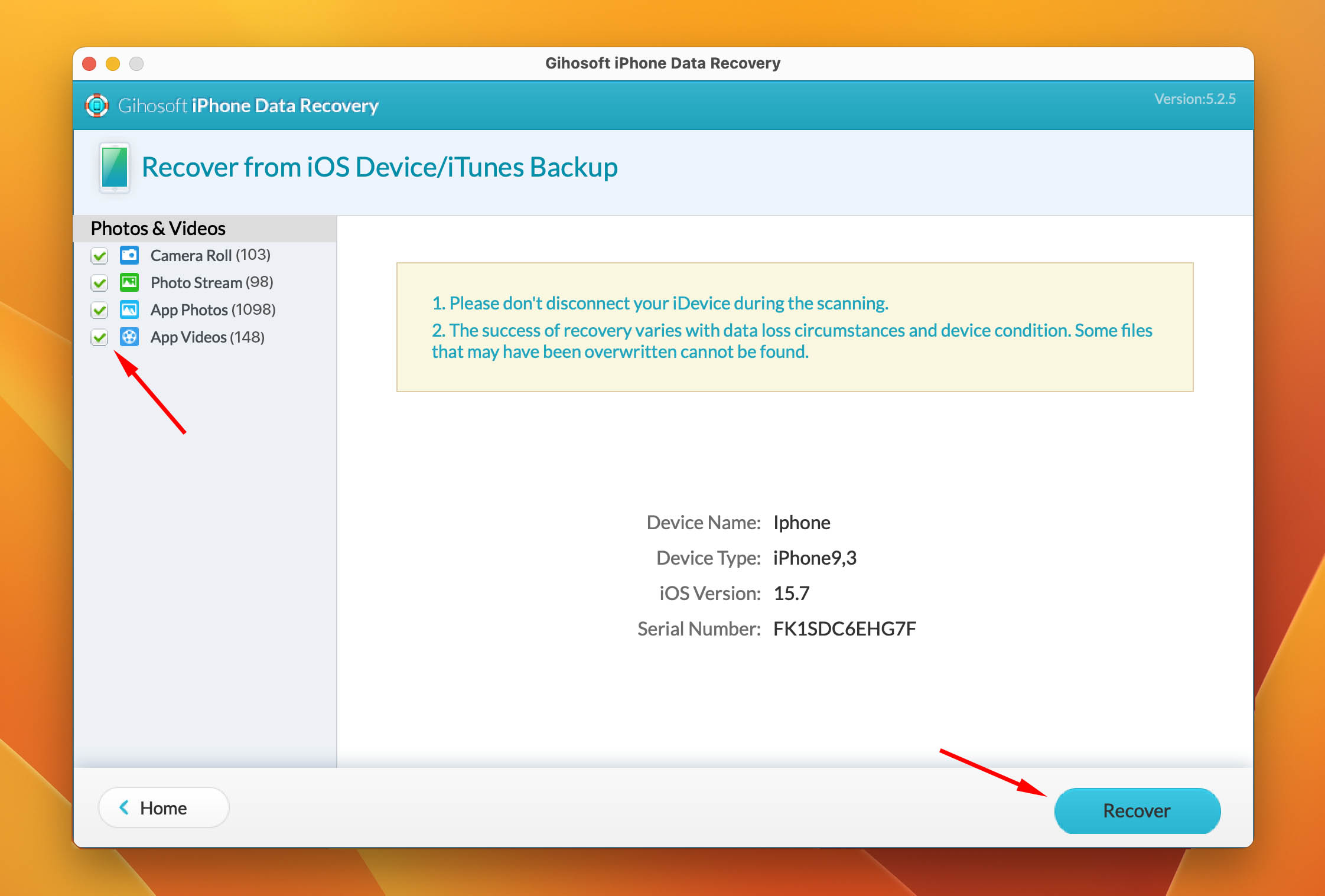 Method 6:

Restore Images From Google Photos Backup

For those who backed up their data using Google Photos (for ex. users who are switching from Android to iPhone), there is unfortunately no way to restore it directly to your iPhone the way we did with an iCloud/iTunes backup. Instead, you'll have to download them to your device. There are 2 ways to do this:

To download photos from Google Photos on a Mac:

Step 1. Log into photos.google.com and open the image you want to download.

Step 2. Click on the 3 dots on the top-right corner of the window (beside the delete button), then click "Download."
To download multiple photos, click the circle in the top-left corner of each photo's thumbnail.
To download photos From Google Photos directly on your iPhone:
Step 1. Download Google Photos from the App Store.
Step 2. Launch the Google Photos app and open the photo you want to download.
Step 3. Tap the 3 dots on the top-right corner of the screen to bring up a menu.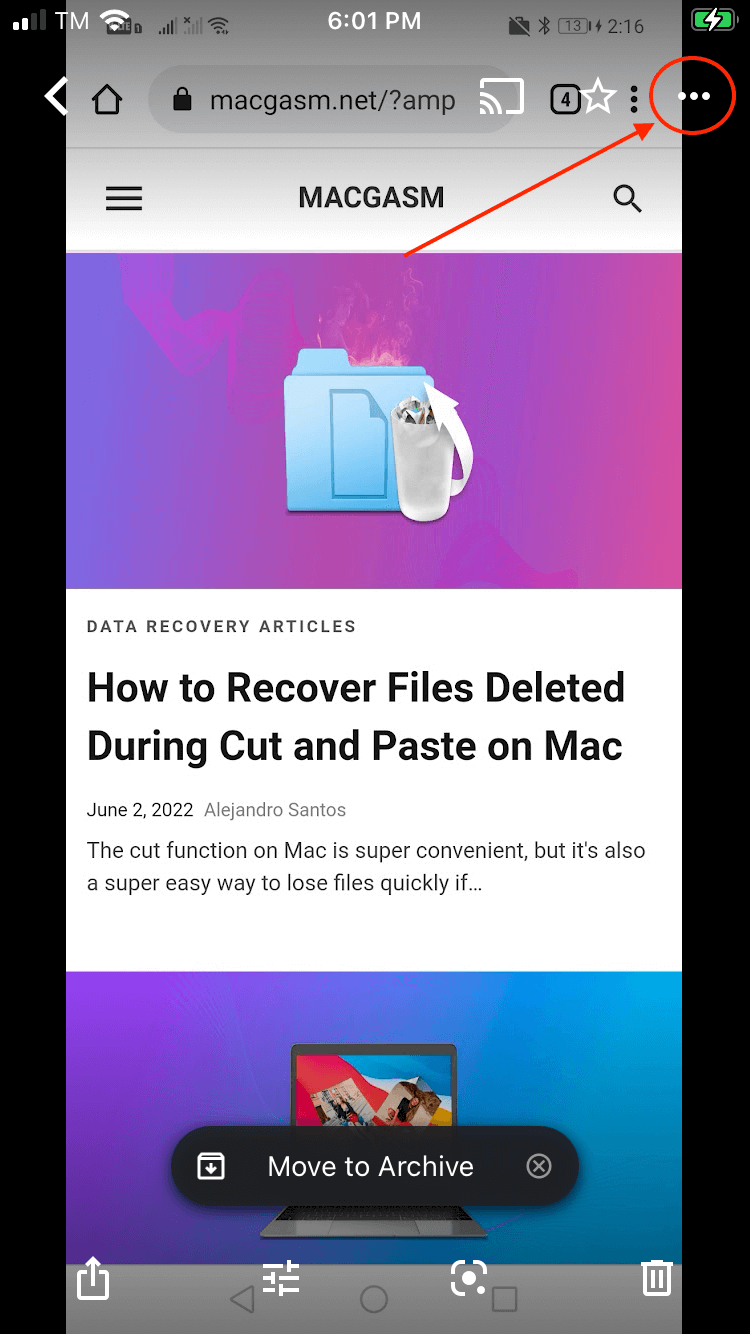 Step 4. Tap the "Download" button.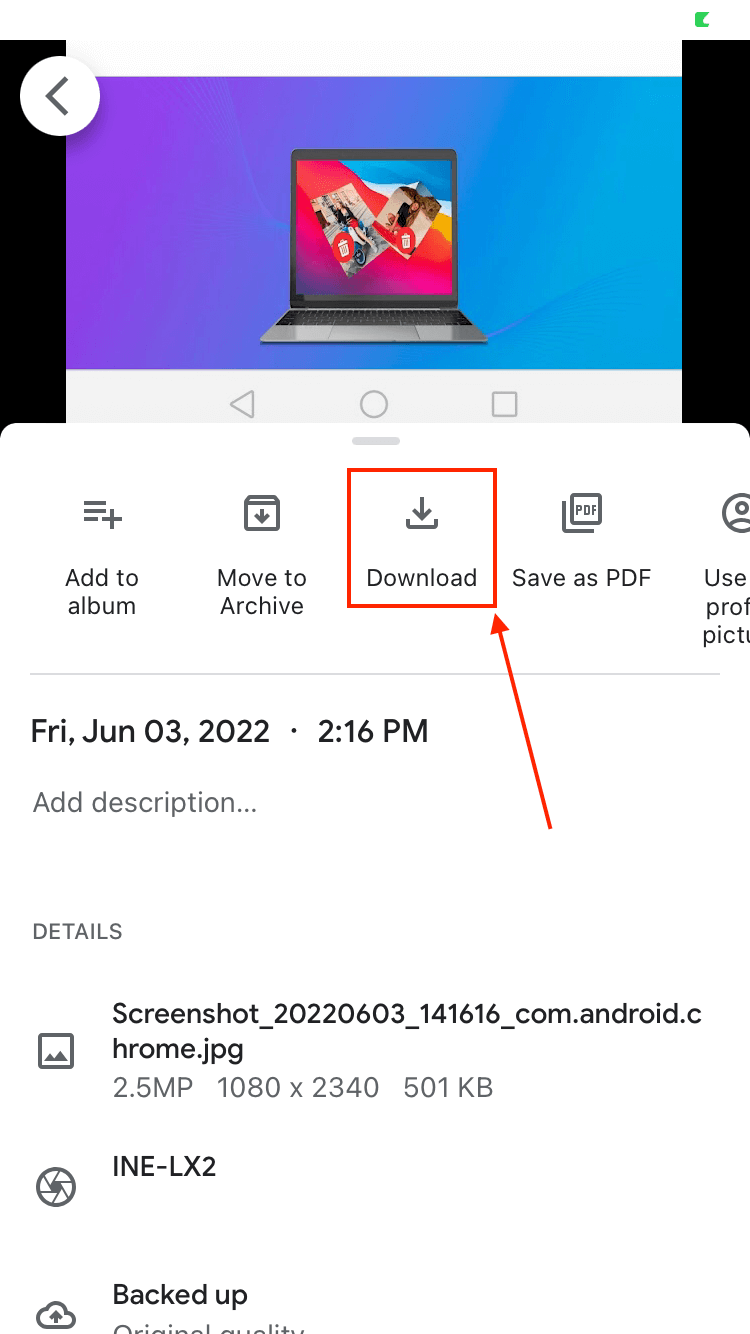 To download multiple photos, tap and hold one photo to enable multiple selection. Then, tap the "Save to device" button.
Method 7:

Use a Local Backup

Creating iPhone backups is a quick and easy way how you can prevent data loss in the event of an accidental deletion or even a physical device loss, and it's also a great way to recover deleted photos from iPhone should a data loss incident really occur. On Macs running macOS Catalina and newer, iPhone backups are created using Finder, and Finder is also used to recover from previously created backups:
Using a suitable USB cable, connect your iPhone to your Mac.
Launch Finder and select your iPhone from the list of available locations in the left pane.
Make sure that you're in the

General

tab and click the

Restore Backup

button under Backups.
Select the most recent backup that contains your photos.
Click

Restore

to begin the recovery process. You may be asked to enter your password.
Conclusion
In summary, losing photos on your iPhone is a common problem… But there are just as many ways to restore them, even if you have never created a backup of your device. However, let this scenario be the push you need to create a habit of backing up your data – it makes data recovery so much easier!
FAQ