Text messaging in the last 10 years has gone from something that only some of us used, to it being one of the most primary means of communication in the world. With unlimited text messaging plans being the norm for almost every cell phone carrier, it is more accessible to everyone.
While most of them are casual in conversation, some text message threads can hold significant value to us. They can show us how relationships formed, hold dear memories of someone who may not be with us anymore, contain conversations that we want to relive again, or have important information that we keep to reference at a later date.
When we lose these conversations that hold priceless value to us, getting them back is of the utmost importance. Luckily, there are many ways to bring back deleted messages on iPhone.
Why would my text messages no longer be on my iPhone in the first place?
There are a couple of reasons that your text messages on your iPhone could be lost or are no longer there.
Your iPhone was damaged by either water or it was broken due to physical damage making the text messages not accessible.
You accidentally deleted text messages on iPhone and then realized at a later date that you didn't want to delete them.
You have your messages set to automatically delete from within the Messages settings on your iPhone.
You purchased a new iPhone and didn't transfer over the existing messages that you had and then realized it after it was too late.
No matter what the above reason, your text messages can be retrieved. We will look at multiple ways on how to retrieve deleted text messages on iPhone below.
Restore from an iCloud Backup
Where are my Text Messages Stored?
Text messages are stored locally on our iPhones. This means that if they're not backed up and something happens to our phone, we will lose them. If you have an iCloud backup then they should be saved and recoverable. We will go over how to check for an iCloud back up later in the article.
What is iCloud?
iCloud is a backup and data synchronization service that backs up your iPhone and syncs your data to the other Apple devices that you own. You're prompted to set up iCloud during the initial setup of your iPhone and chances are, you did enable it as it's one of the most used services in the world, not to mention it's free.
iCloud allows us to be able to recover lost messages on iPhone. It's a wonderful service that allows us to recover deleted text messages on iPhone without a computer and it is free unless you need to purchase more storage.
How to Check and See if We Have an iCloud Backup
You can check if you have an iCloud backup by going to Settings > click your name at the top of the screen > iCloud > Manage Storage > Backups. If you have a backup created, this will allow us to get old text messages on iPhone.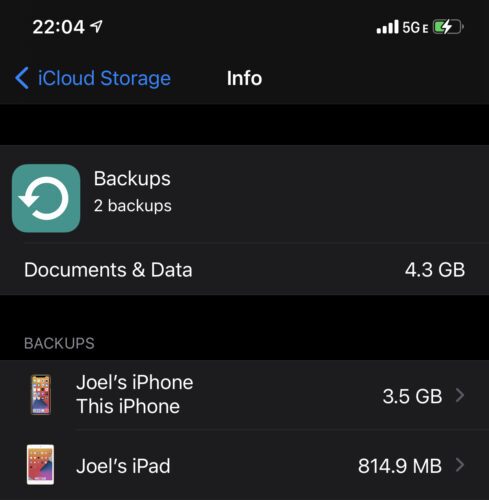 You can see here that I have an iCloud backup for both my iPhone and iPad. This screen will list every device that has a backup under the Apple ID that you're using.
Initial step: Backup your iPhone in Case you Restore to an Older Backup and the Messages aren't there
Chances are your iPhone has a recent backup already as it backs up every time you have it connected to Wi-Fi, plugged in to charge, and the screen is locked. It doesn't hurt to make a fresh backup right before though as that will ensure our data is saved in case there are any issues when restoring deleted text messages on iPhone.
Step 1. Go to your settings and then tap on your name at the top of the screen.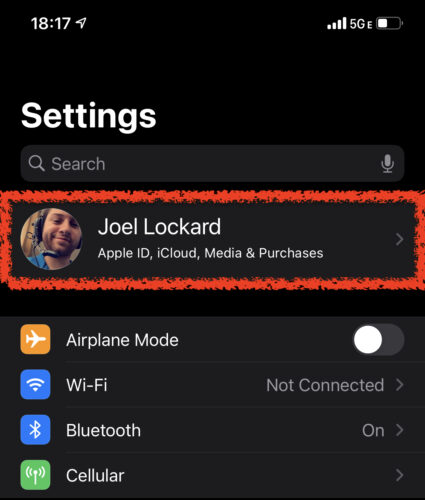 Step 2. Select iCloud from the list of options.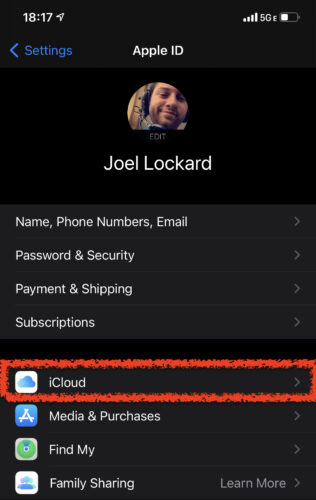 Step 3. Scroll down and click on iCloud Backup.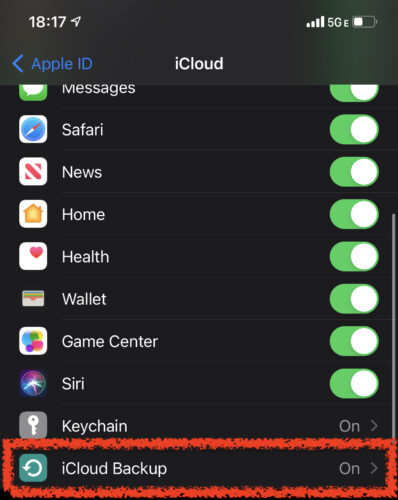 Step 4. If you don't have a recent backup, click on Back Up Now with your iPhone connected to Wi-Fi and plugged into power.
Depending on how long it has been since your last backup and your internet speeds, this can take some time. Once you start the backup, a Time Remaining progress bar will appear showing you how much time is left. Make sure your iPhone stays plugged in and connected to Wi-Fi during this process.
Second step: Factory reset your iPhone
Now that your iPhone is backed up, it is time to factory reset it and go through the setup process that will allow us to recover deleted iPhone messages from a backup. Make sure that you have backed up your iPhone in step 1 just in case we don't find the recently deleted text messages in the iCloud backup.
Step 1. To initiate the reset, go to Settings > General > Reset > Erase All Content and Settings. Your iPhone will then reset and you will be greeted by the setup screen once the process has finished.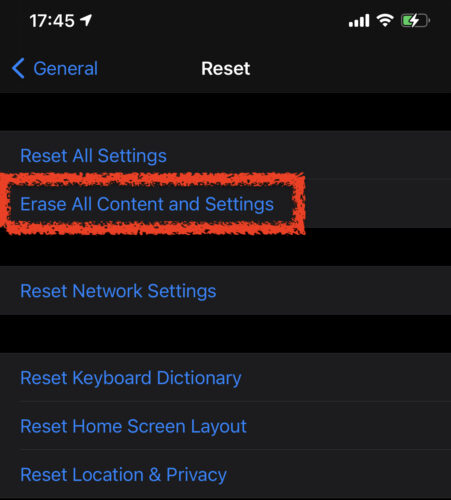 Third step: Restore from an iCloud backup
Now that we have restored our phone to factory settings, we can start the restore process from an iCloud backup.
Step 1. Go through the iPhone setup process and choose Restore from an iCloud backup. You might have more than one backup for your iPhone and that is fine. We want to look for the one that would be around the date that you last remember having the text messages. After selecting a backup, we can restore messages on iPhone from iCloud.
Step 2. After the restore process has completed, we should be able to get the old text messages on iPhone. This can take some time depending on how much data you have to restore. Make sure that the iPhone is connected to Wi-Fi or it can cause the restore process to fail.
Recover Deleted Text Messages from an iTunes Backup
If you plug your iPhone into your computer and have the Music app or iTunes on your computer, then your device should be syncing to it which would create a backup. A computer backup is another way of recovering old text messages and getting them back onto your iPhone.
On a Mac, iTunes or the Music app come installed as part of the operating system. If you're using an older version of macOS, then you will have iTunes. If it's a newer computer, then you will have the Music app. On Windows, you can download iTunes for free by going to Apple's website.
You can recover deleted iPhone text messages from a backup using the above-mentioned software programs. The steps in both are very similar, so you can follow the walkthrough below no matter what version you're using.
Step 1. Plug your iPhone into your Mac or Windows computer.
Step 2. Select your iPhone from the drop-down menu on the left-hand side and then click on "Sync Settings…".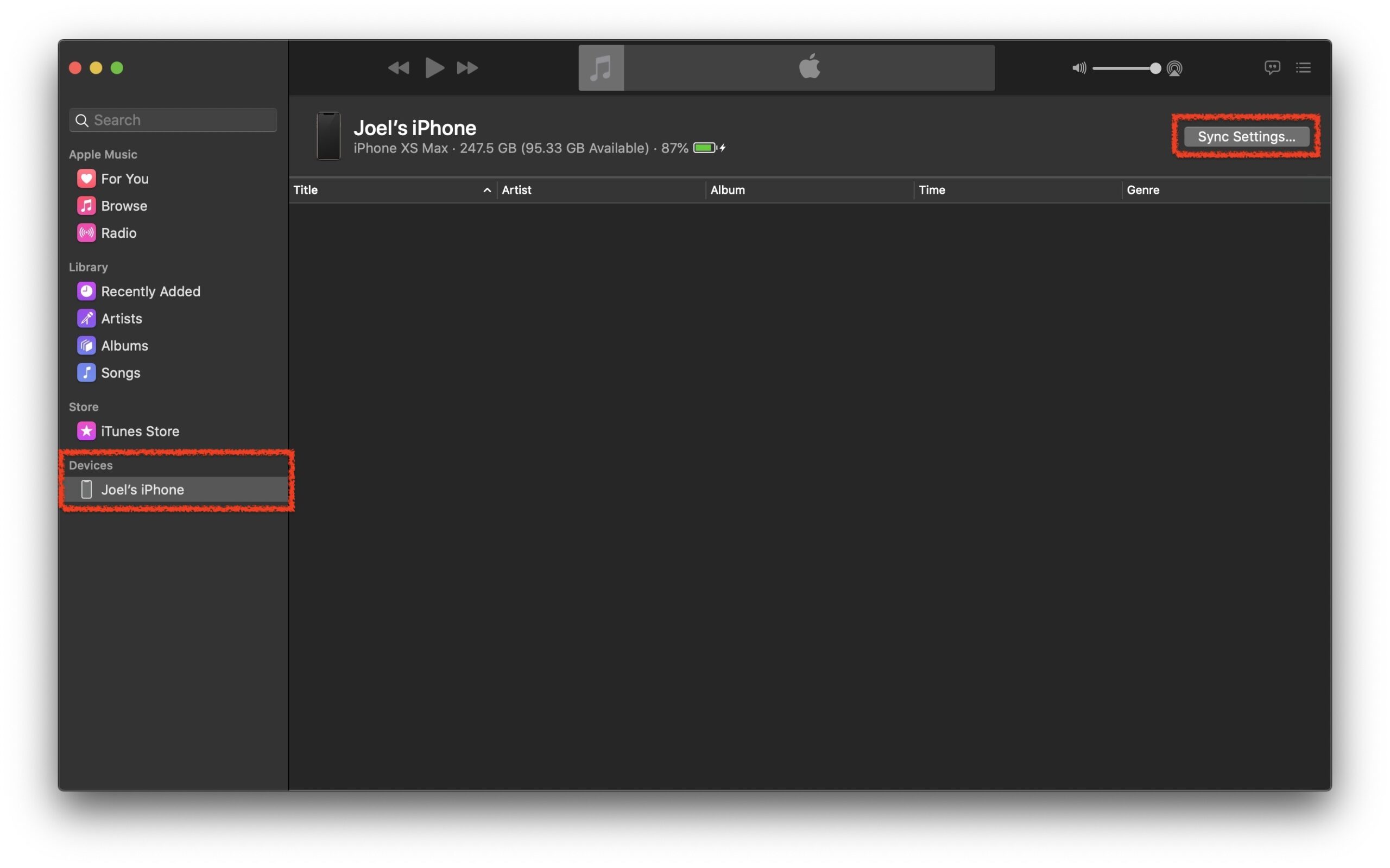 Step 3. Once on the Summary page, select "Restore Backup…". This can be found from within the General tab. You can also manage backups and backup your iPhone from within this window as well.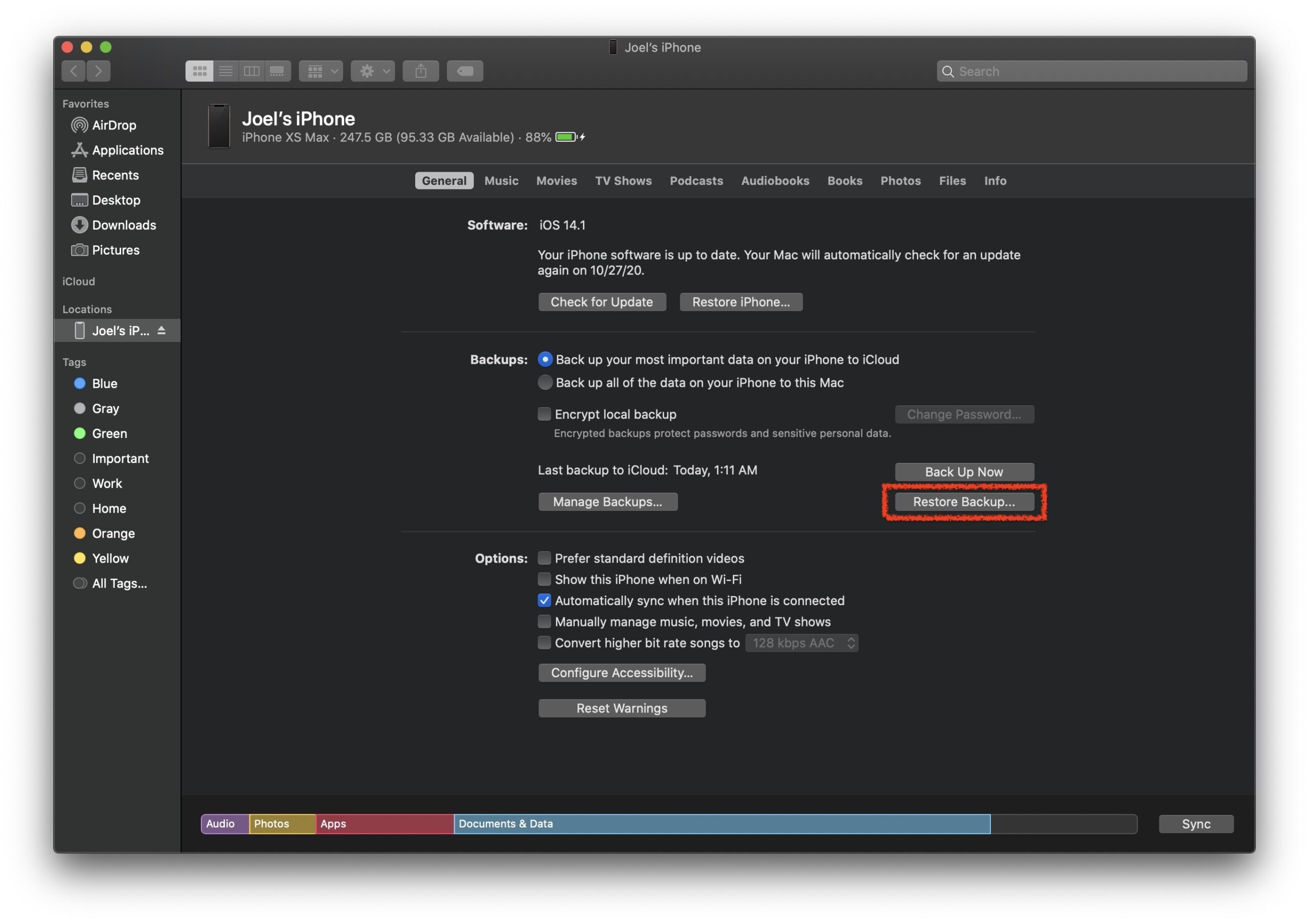 Step 4. After clicking the Restore Backup… option, your iPhone will restore back to the backup that you selected and your recently deleted text messages will go back onto your iPhone. This will take some time depending on the size of the backup. Make sure your iPhone is plugged into your computer during this whole process as it can't be interrupted!
Recover Deleted Messages on iPhone without Backup
If the above steps didn't work, we can use software to retrieve deleted text messages on iPhone. Data recovery software can search through iPhone messages and find them even if we have deleted them and it can recover deleted texts on iPhone without a backup.
Disk Drill is a data recovery software program that allows us to recover permanently deleted text messages even after they have been deleted from our iPhone or if we don't have a backup. The text messages are still there, but just not visible to you. Disk Drill can be downloaded on either Mac or Windows and will allow us to retrieve deleted texts on iPhone.
Step 1. Download and install Disk Drill for your computer.
Step 2. Initiate a scan by plugging your iPhone into your computer and selecting it as the device to search through.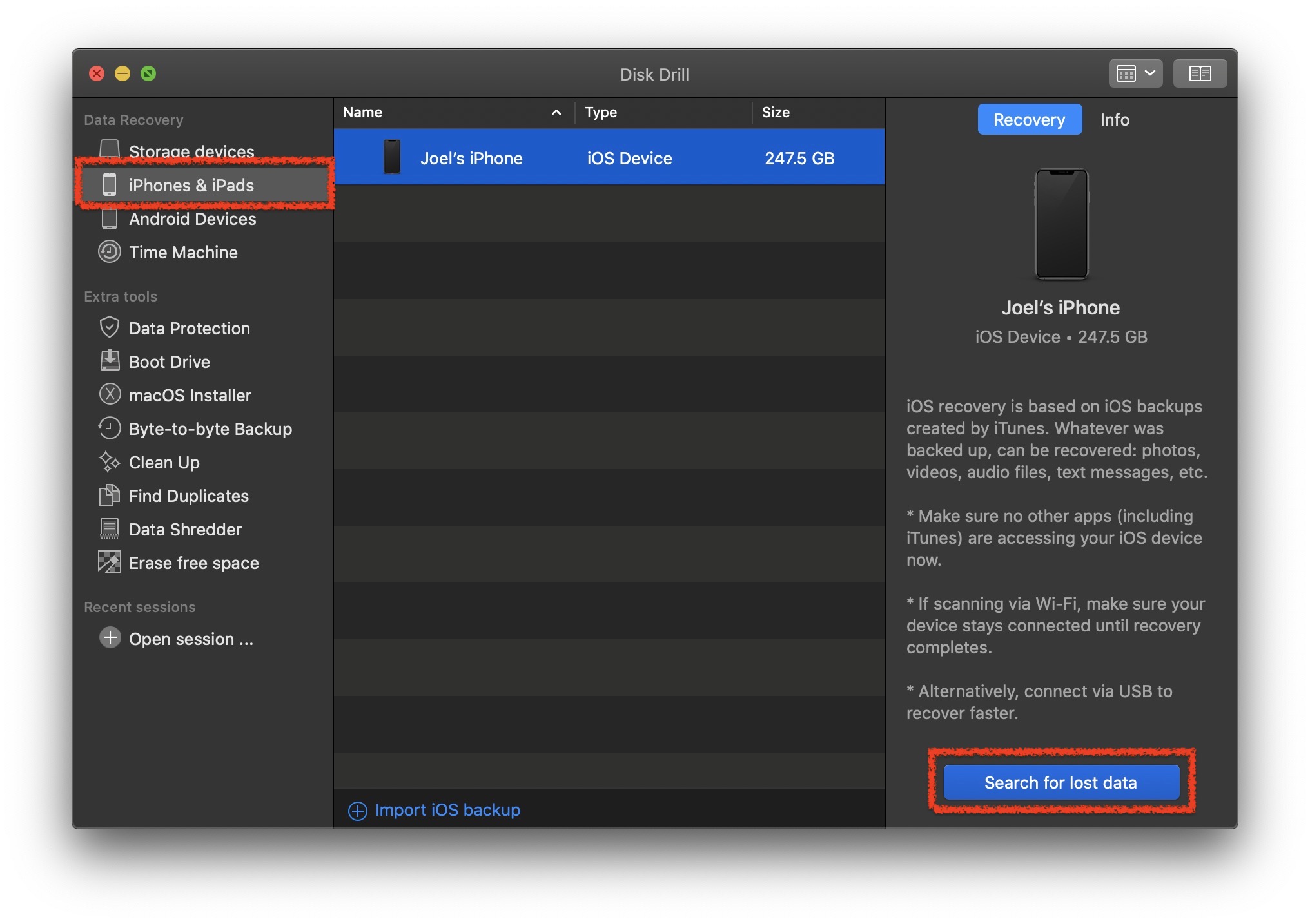 Step 3. Wait for the scanning process to complete. This shouldn't take long but will vary depending on how much data you have on your iPhone. Your iPhone will need to be plugged into your computer for this whole process.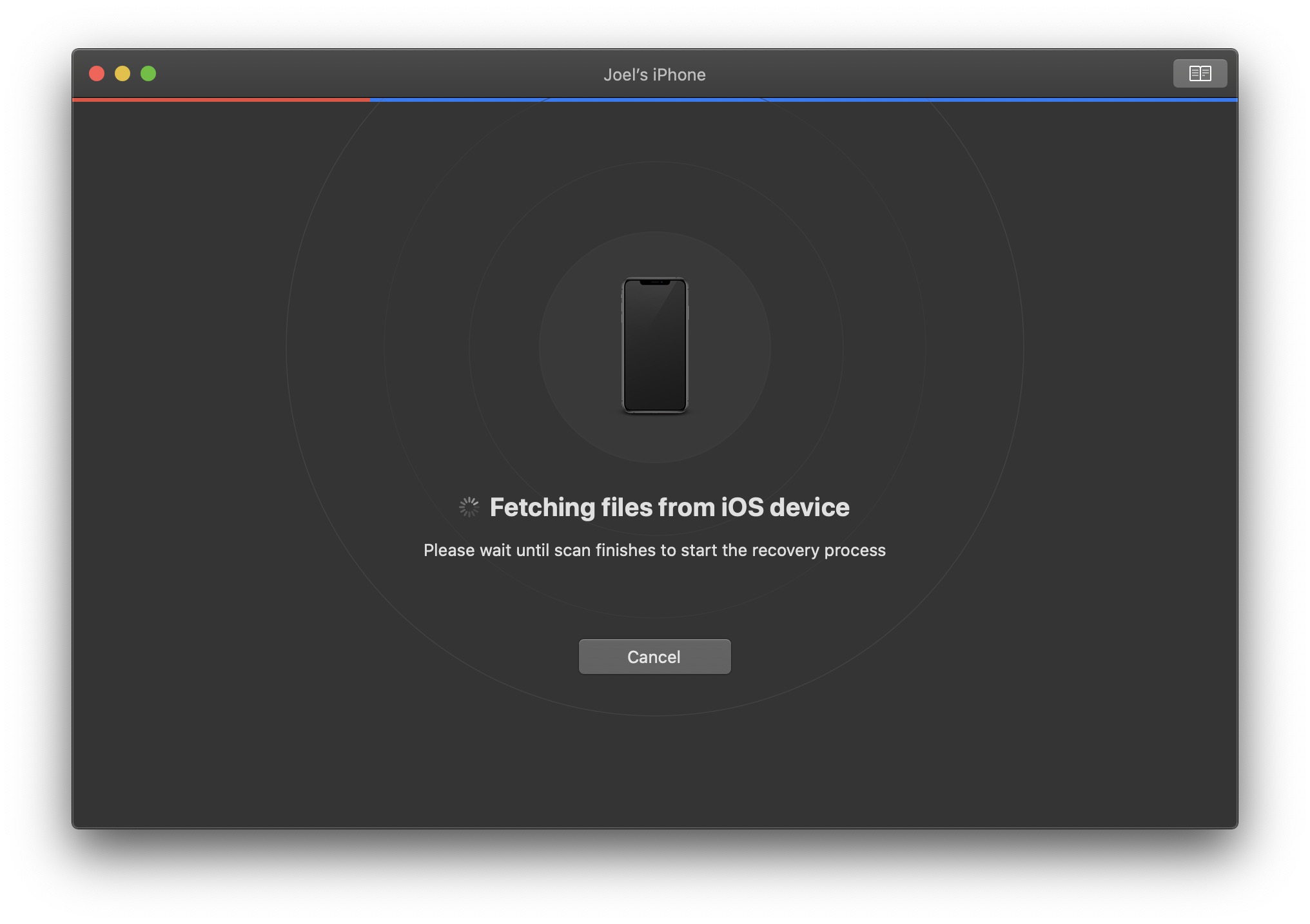 Step 4. After the scan has completed, you will be shown a screen that will display all of the data that Disk Drill was able to recover from your iPhone. Click on Messages to view the deleted text messages that Disk Drill was able to recover. We're only looking at deleted text messages in this example, but you can also retrieve lost contacts, calendar appointments, bookmarks, videos, and many other things.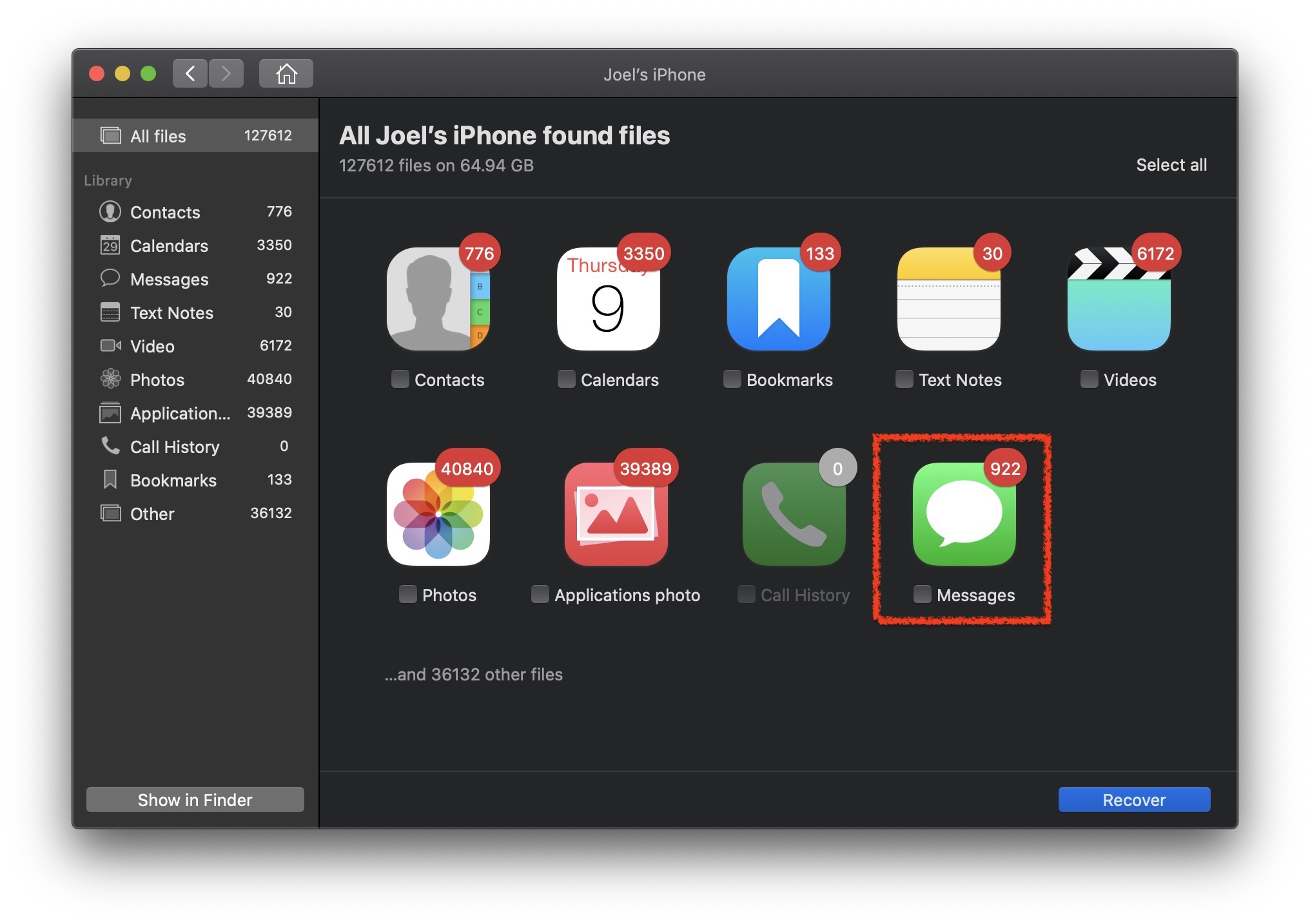 Step 5. Once on the recovered text messages screen, we can find deleted text messages on iPhone. I have my number blurred out for privacy, but you will be able to see the cell phone number associated with the text message thread. In the upper right-hand corner, you can search messages on iPhone.
Step 6. Select the text messages that you would like to recover and then click the blue Recover button in the lower right-hand corner of the screen. This will allow us to retrieve text messages from iPhone on computer.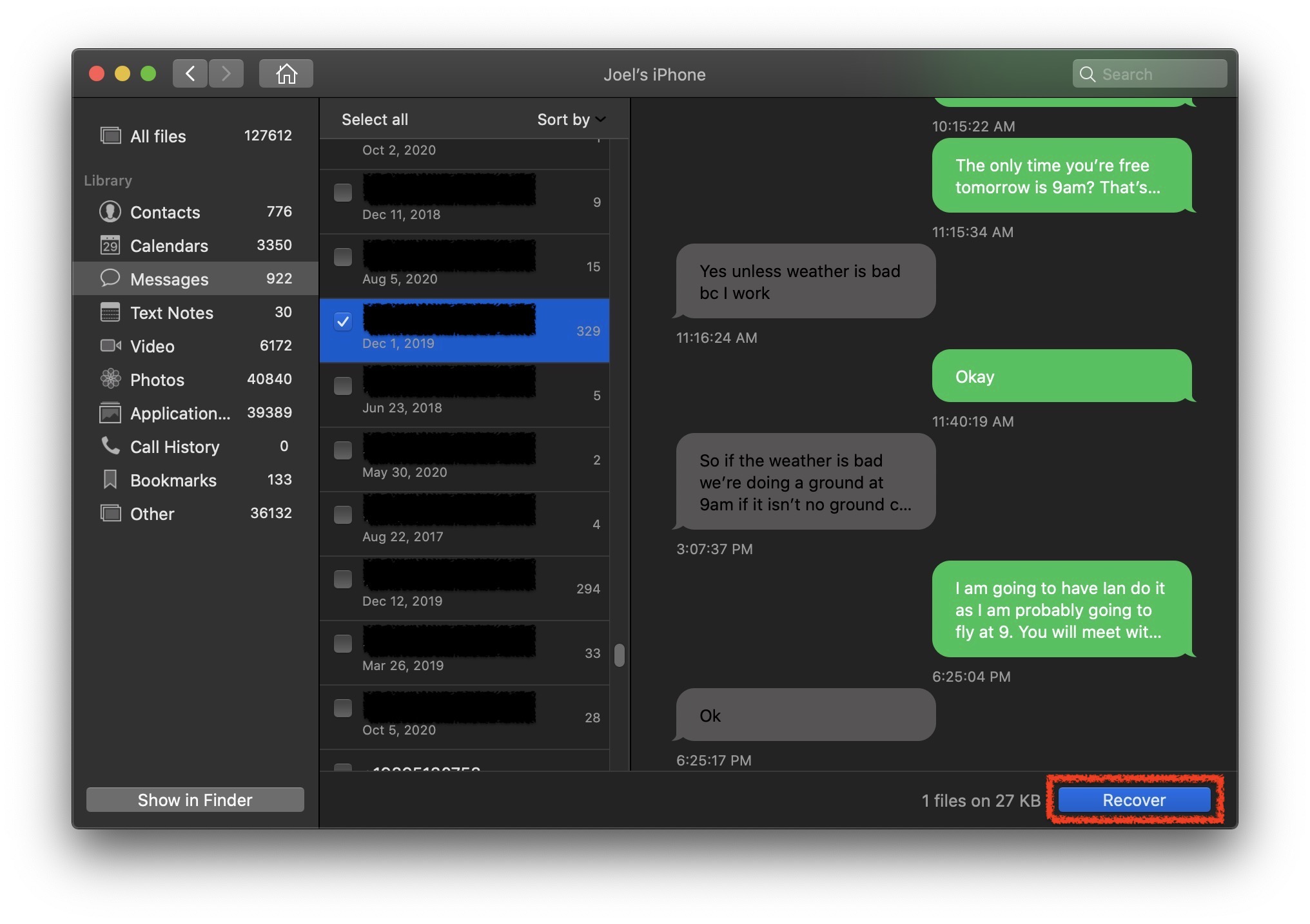 Step 7. Recover deleted text messages on iPhone by selecting a path for Disk Drill to recover them.

Step 8. After you have successfully recovered the deleted text messages, you will receive a confirmation message that the recovery is complete and you can view the text messages in Finder.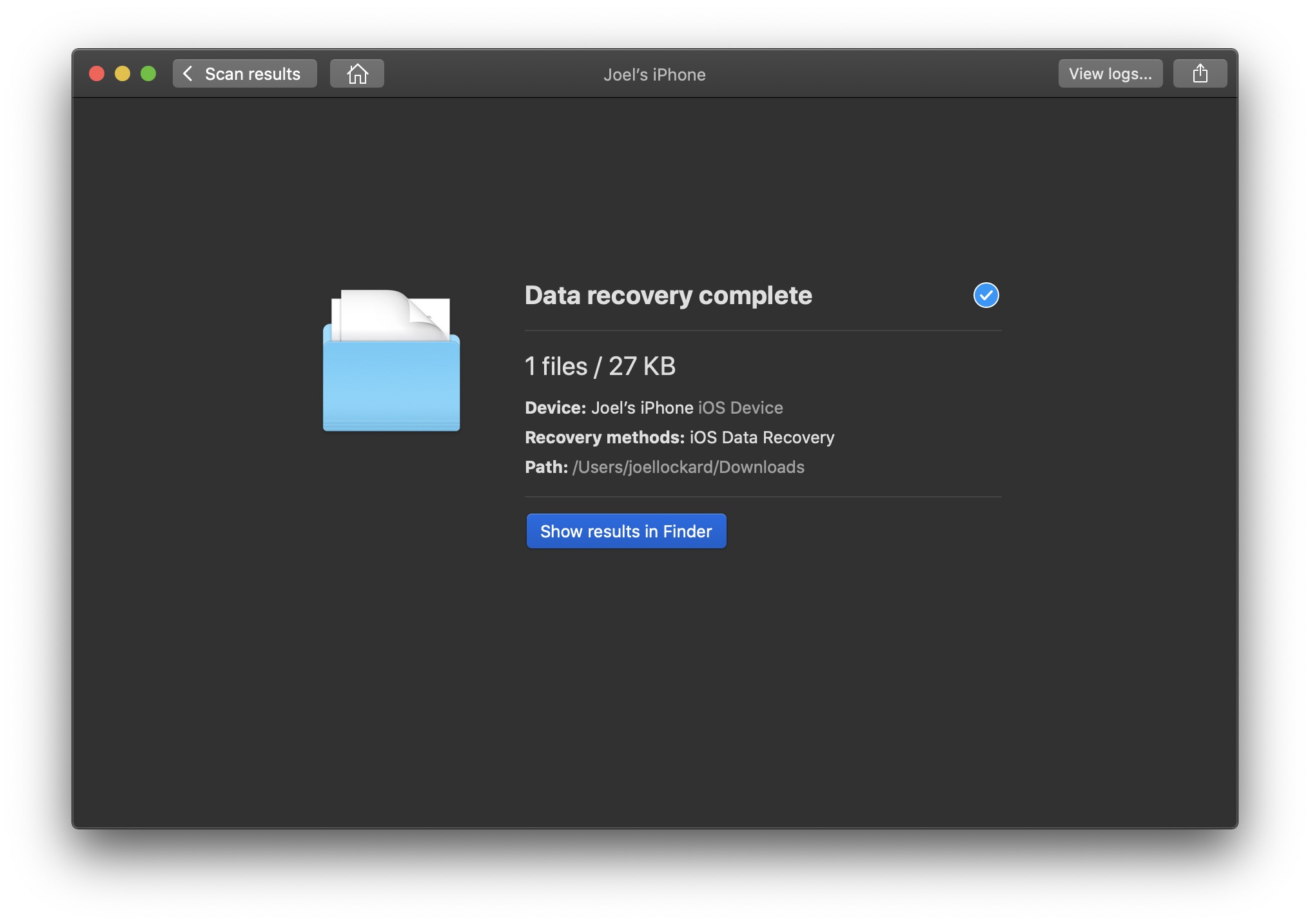 We use our iPhones to communicate with others every day. With services such as iCloud, iTunes, and data recovery software we can ensure that we're always in control of our data. Knowing how to recover deleted text messages on our iPhone enables us to have the conversations that matter the most to us, always on our iPhone. Even if they do end up getting deleted, we know how to retrieve deleted messages on iPhone.