Some text message threads can hold significant value to us. They can show us how relationships formed, hold dear memories of someone who may not be with us anymore, contain conversations that we want to relive again, or have important information that we keep to reference at a later date.
When we lose these conversations that hold priceless value to us, getting them back is of the utmost importance. Luckily, there are many ways to bring back deleted messages on iPhone.
Take me to the solution!
If you want to skip the small talk about why your messages disappeared and you don't want to scroll through various methods, use this navigation table to jump to the section of the article that is most relevant to you.
Why Would My Text Messages No Longer Be on My iPhone in the First Place?
There are a couple of reasons that your text messages on your iPhone could be lost or are no longer there.
Your iPhone was damaged by either water or it was broken due to physical damage making the text messages not accessible.
You accidentally deleted text messages on iPhone and then realized at a later date that you didn't want to delete them.
You have your messages set to automatically delete from within the Messages settings on your iPhone.
You purchased a new iPhone and didn't transfer over the existing messages that you had and then realized it after it was too late.
Where Can I see Deleted Messages on an iPhone
If you're using a device running at least iOS 16.0, you can find deleted messages in the Recently Deleted folder. They will remain stored there for 30 days, after which, they will be permanently erased. This new feature also comes with the ability to restore messages using the native app (more on this in the next section).
Unfortunately, for users running iOS 15 and earlier, you can't. iOS 15's Messages app displays your inbox where you can start, search, and delete conversations. Once you delete them, they're gone. You will no longer be able to see nor retrieve the message through the Messages app. However, it still exists as data on your iPhone's file system – it's just marked for deletion. We'll explore this more in the next section.
Be aware that the Messages app has a setting called that, when enabled, automatically deletes old conversations after 30 days. You can find this setting at Settings > Messages > Message History. Make sure to select "Forever" to make sure your old messages don't disappear.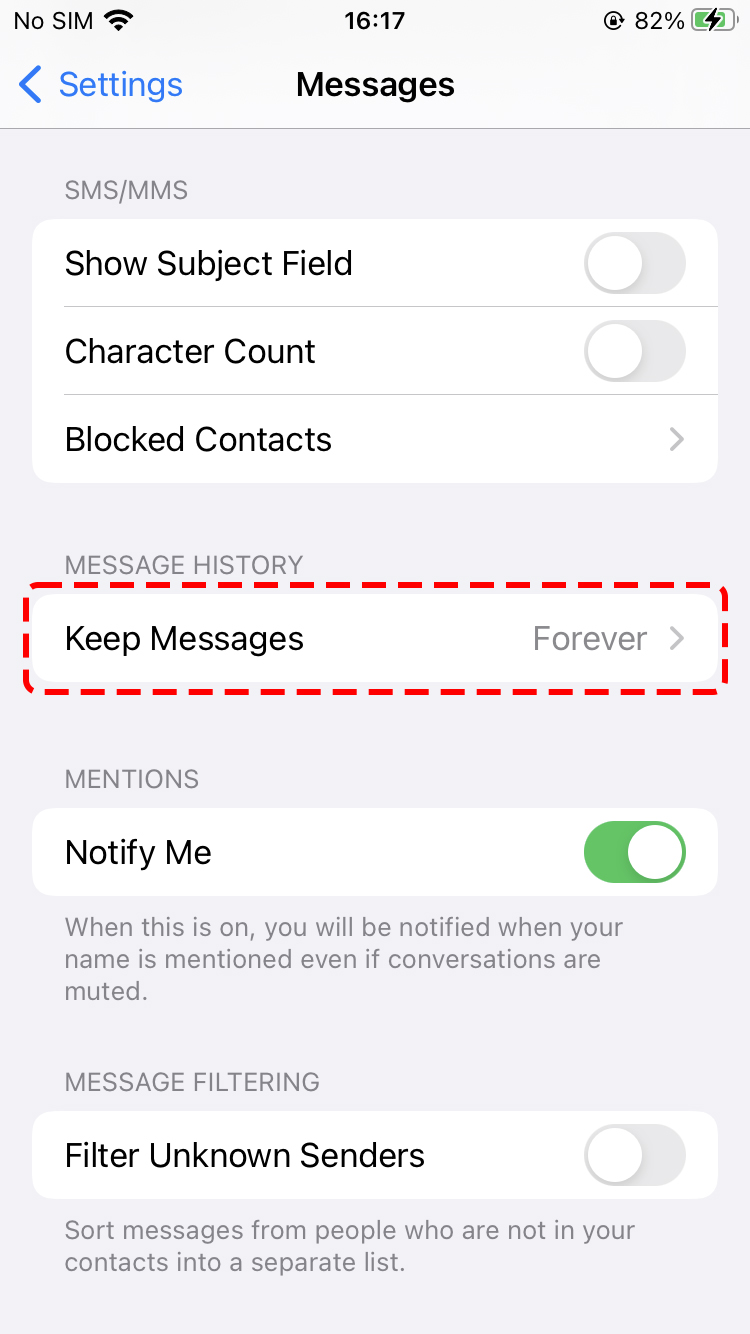 How to Recover Deleted Messages on an iPhone
No matter what the reason of loss, your text messages can be retrieved. We will look at multiple ways on how to retrieve deleted text messages on iPhone below.
Method 1:

Restore Messages from Recently Deleted Folder

If you have already updated your device to iOS 16, you should find a new Recently Deleted folder in the Messages app. From here, you can restore your messages or check how many days each conversation will remain in the folder.

To find the Recently Deleted folder, launch the Messages app and tap Edit (top left corner) > Show recently deleted.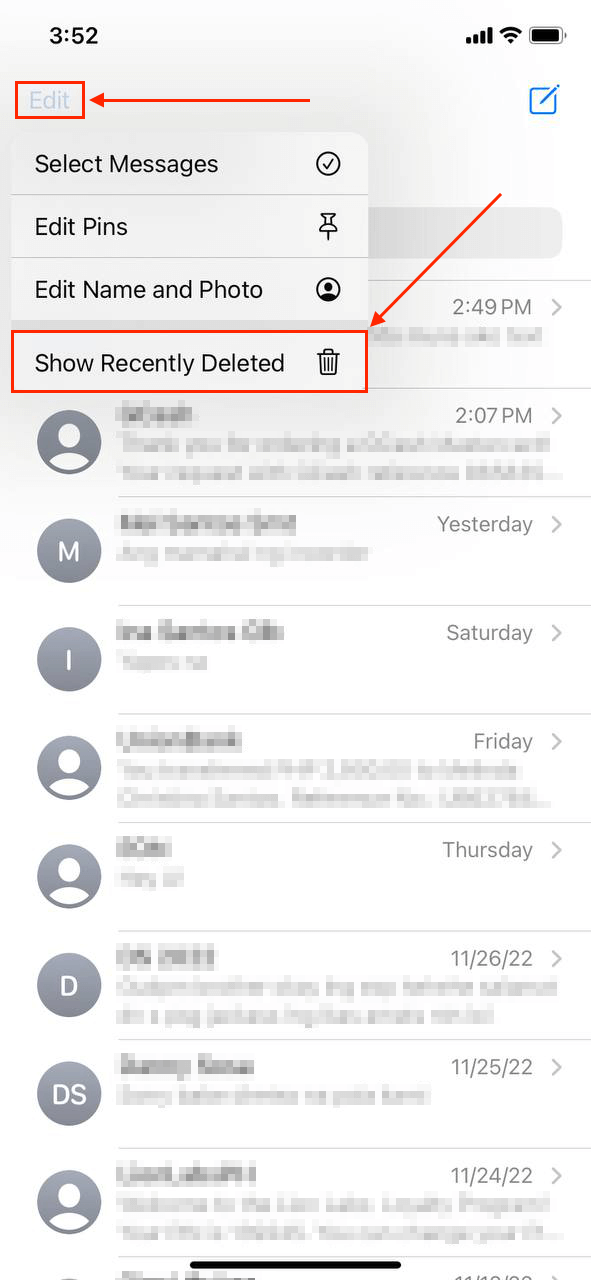 In this menu, you'll see all your recently deleted messages and how many days each one has left before getting permanently deleted. To restore your messages, tap the circles beside each conversation to select them. Then, tap Recover and confirm when prompted.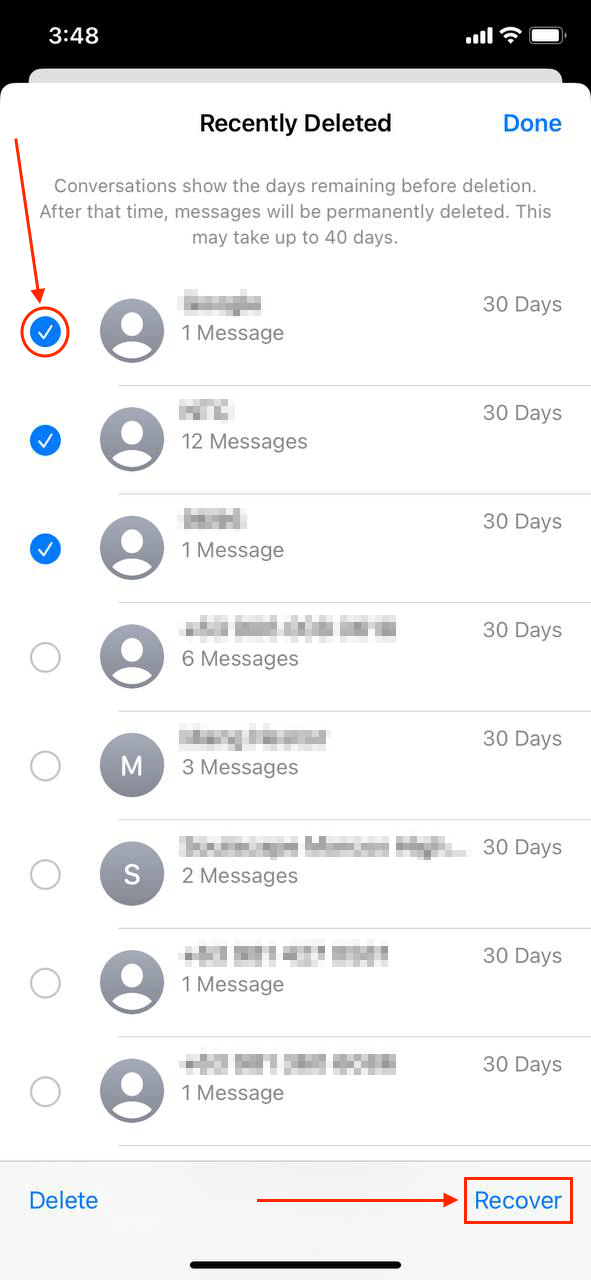 Method 2:

Restore From an iCloud Backup

iCloud allows us to be able to recover lost messages on iPhone. It's a wonderful service that allows us to recover deleted text messages on iPhone without a computer and it is free unless you need to purchase more storage.

It doesn't hurt to make a fresh backup right before though as that will ensure our data is saved in case there are any issues when restoring deleted text messages on iPhone.

Step 1. Go to your settings and then tap on your name at the top of the screen.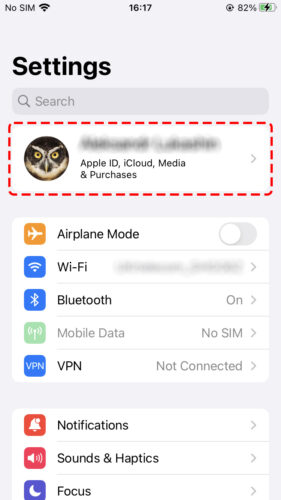 Step 2. Select iCloud from the list of options.
Step 3. Scroll down and click on iCloud Backup.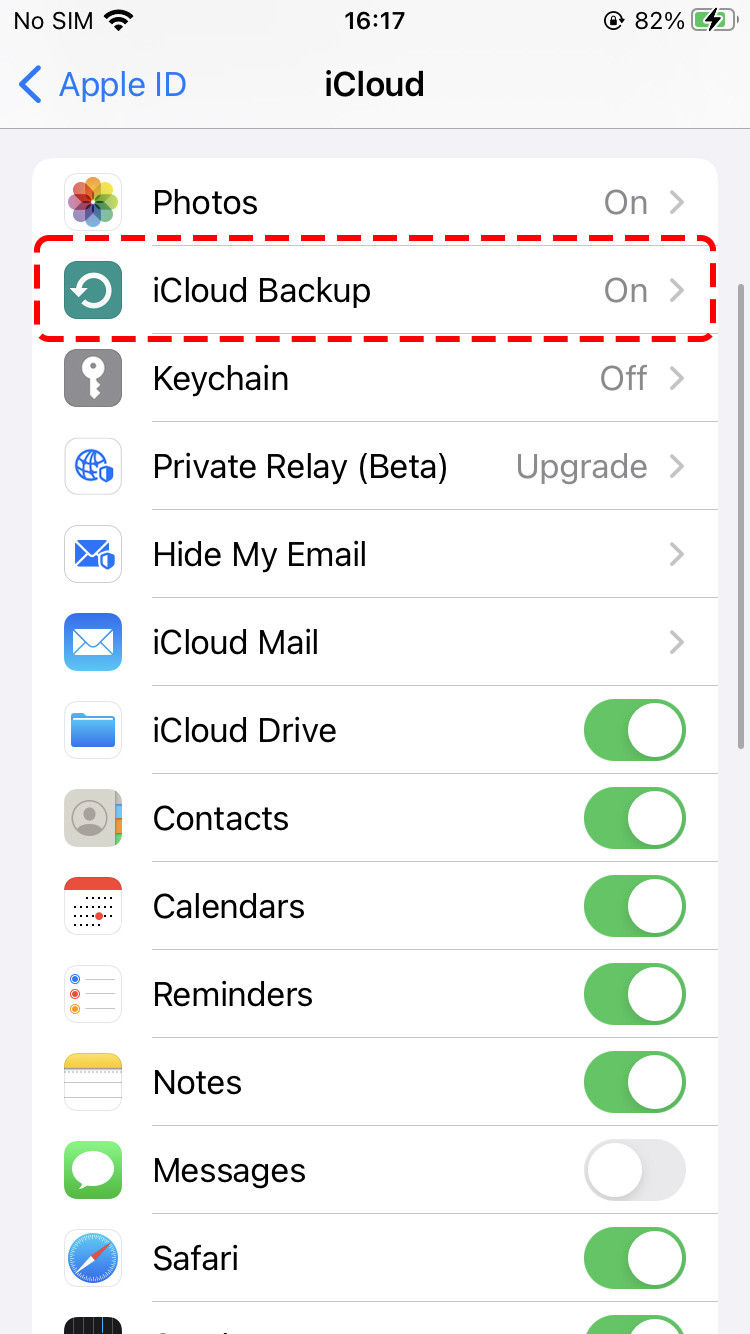 Step 4. Click on Back Up Now with your iPhone connected to Wi-Fi and plugged into power.
Depending on how long it has been since your last backup and your internet speeds, this can take some time. Once you start the backup, a time remaining progress bar will appear showing you how much time is left. Make sure your iPhone stays plugged in and connected to Wi-Fi during this process.
Step 5. Now that your iPhone is backed up, it is time to factory reset it and go through the setup process that will allow us to recover deleted iPhone messages from a backup. To initiate the reset, go to Settings > General > Reset > Erase All Content and Settings. Your iPhone will then reset and you will be greeted by the setup screen once the process has finished.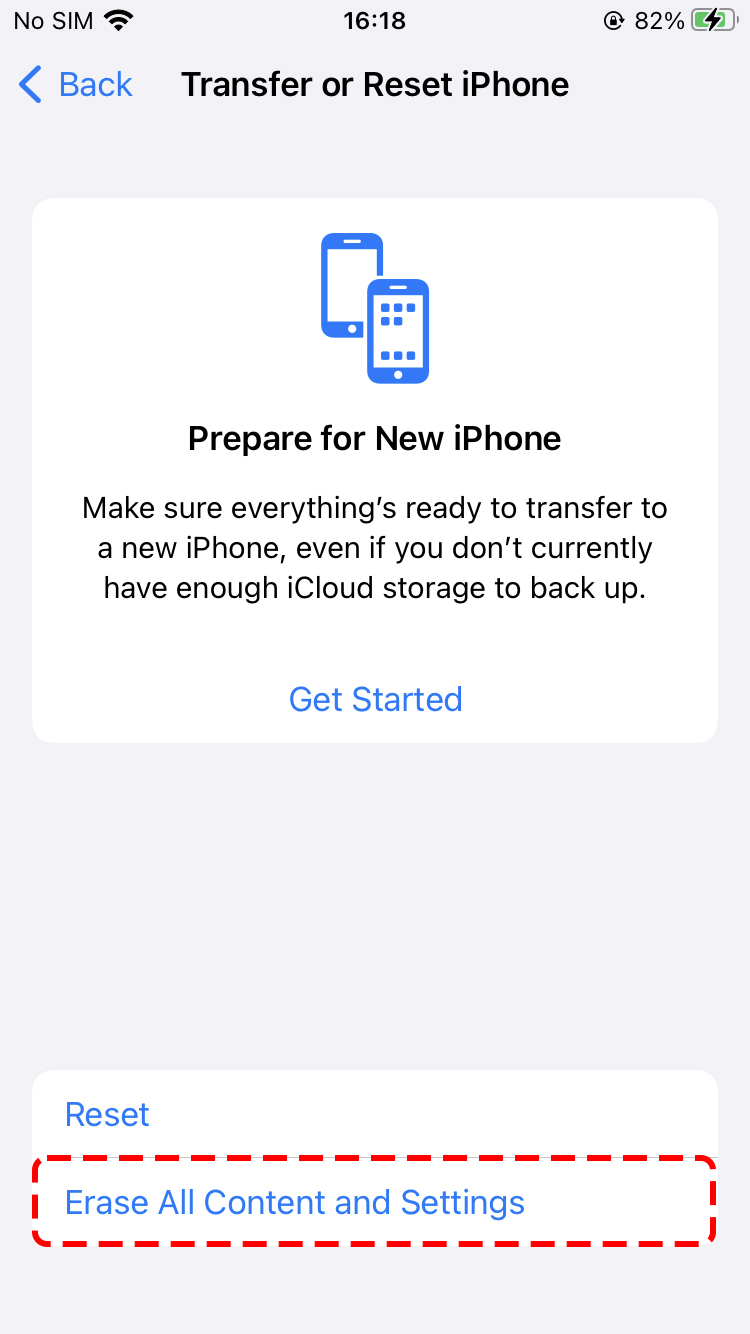 Step 6. Go through the iPhone setup process and choose Restore from an iCloud backup. You might have more than one backup for your iPhone and that is fine. We want to look for the one that would be around the date that you last remember having the text messages. After selecting a backup, we can restore messages on iPhone from iCloud.
Step 7. After the restore process has completed, we should be able to get the old text messages on iPhone. This can take some time depending on how much data you have to restore. Make sure that the iPhone is connected to Wi-Fi or it can cause the restore process to fail.
Method 3:

Recover Deleted Text Messages From an iTunes Backup

If you plug your iPhone into your Mac and have the Music app or iTunes on your computer, then your device should be syncing to it which would create a backup. A computer backup is another way of recovering old text messages and getting them back onto your iPhone.

On a Mac, iTunes or the Music app come installed as part of the operating system. If you're using an older version of macOS, then you will have iTunes. If it's a newer computer, then you will have the Music app.

You can recover deleted iPhone text messages from a backup using the above-mentioned software programs. The steps in both are very similar, so you can follow the walkthrough below no matter what version you're using.

Step 1. Plug your iPhone into your Mac.

Step 2. Select your iPhone from the drop-down menu on the left-hand side and then click on "Sync Settings…".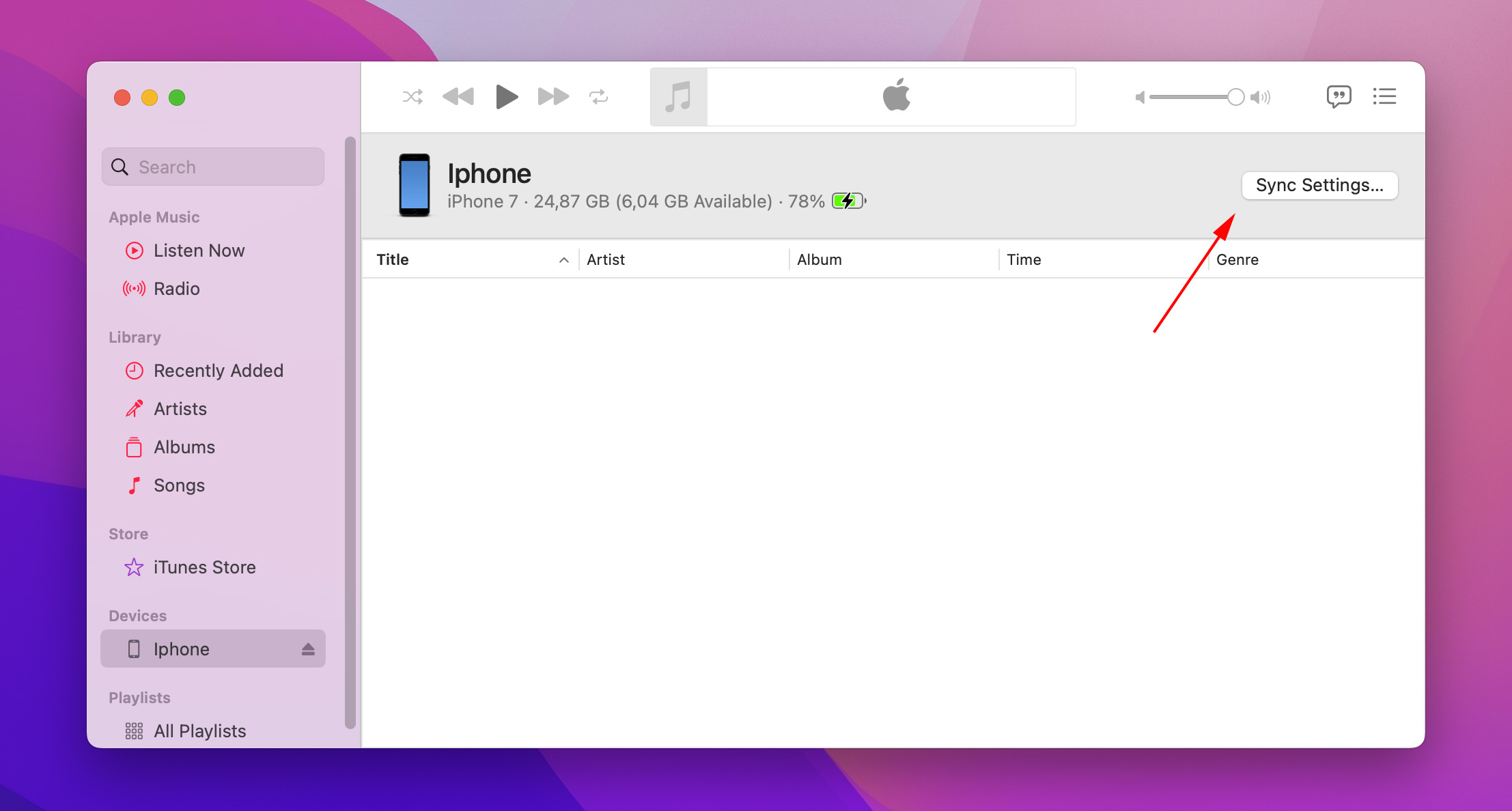 Step 3. Once on the Summary page, select "Restore Backup…". This can be found from within the General tab. You can also manage backups and backup your iPhone from within this window as well.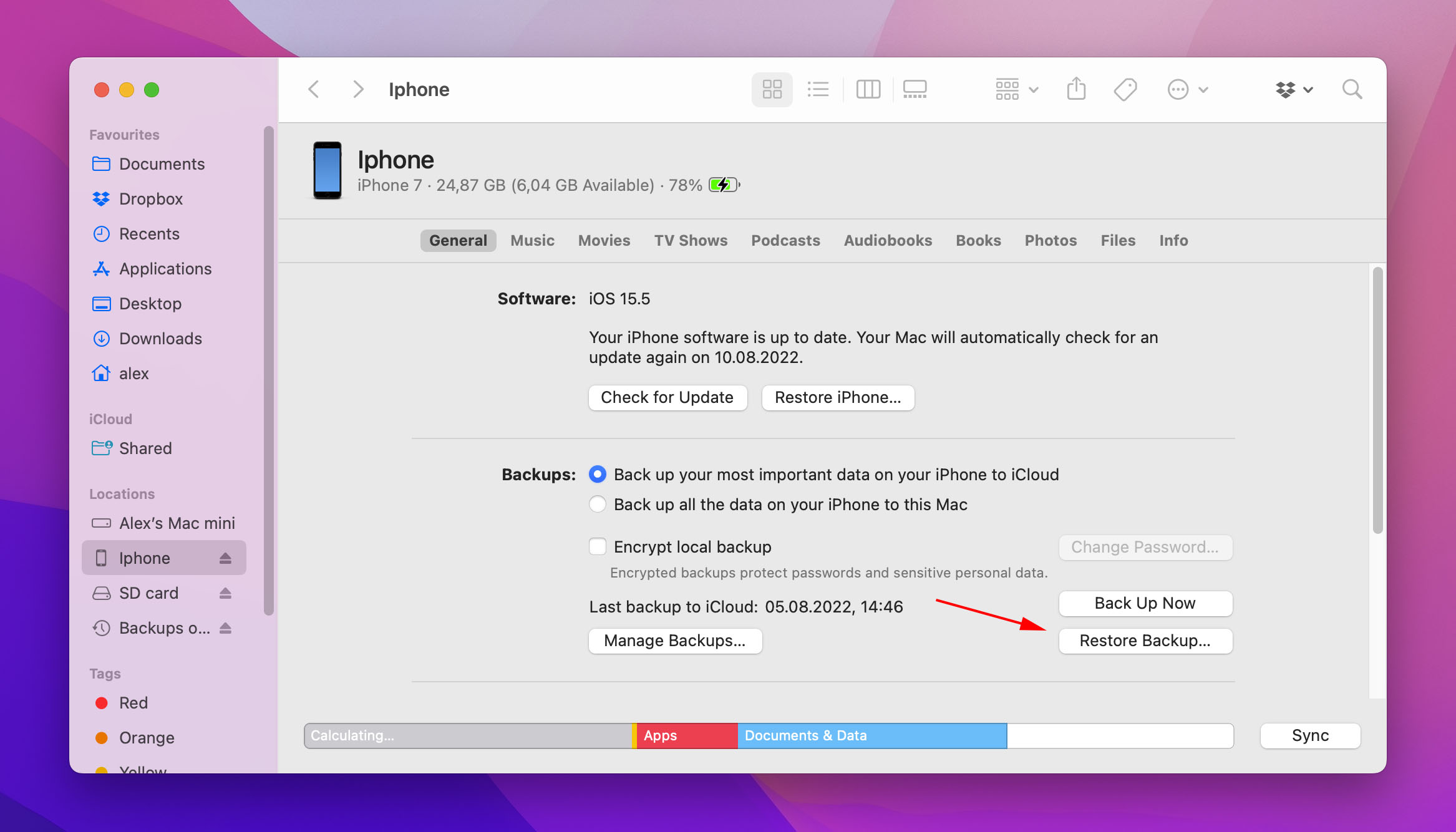 Step 4. After clicking the Restore Backup… option, your iPhone will restore back to the backup that you selected and your recently deleted text messages will go back onto your iPhone. This will take some time depending on the size of the backup. Make sure your iPhone is plugged into your computer during this whole process as it can't be interrupted!
Method 4:

Restore Deleted Text Messages Using Finder

If you backed up your iPhone on a Mac using macOS Catalina and above, you will be restoring it through Finder instead of iTunes. Don't worry, though – the process is similar if not more streamlined. Here's how to do it:

Step 1. Make sure your iPhone is securely connected to your Mac and open Finder.

Step 2. On the left sidebar, click your iPhone. Then, click "Restore…" under the "Backup and Restore" section.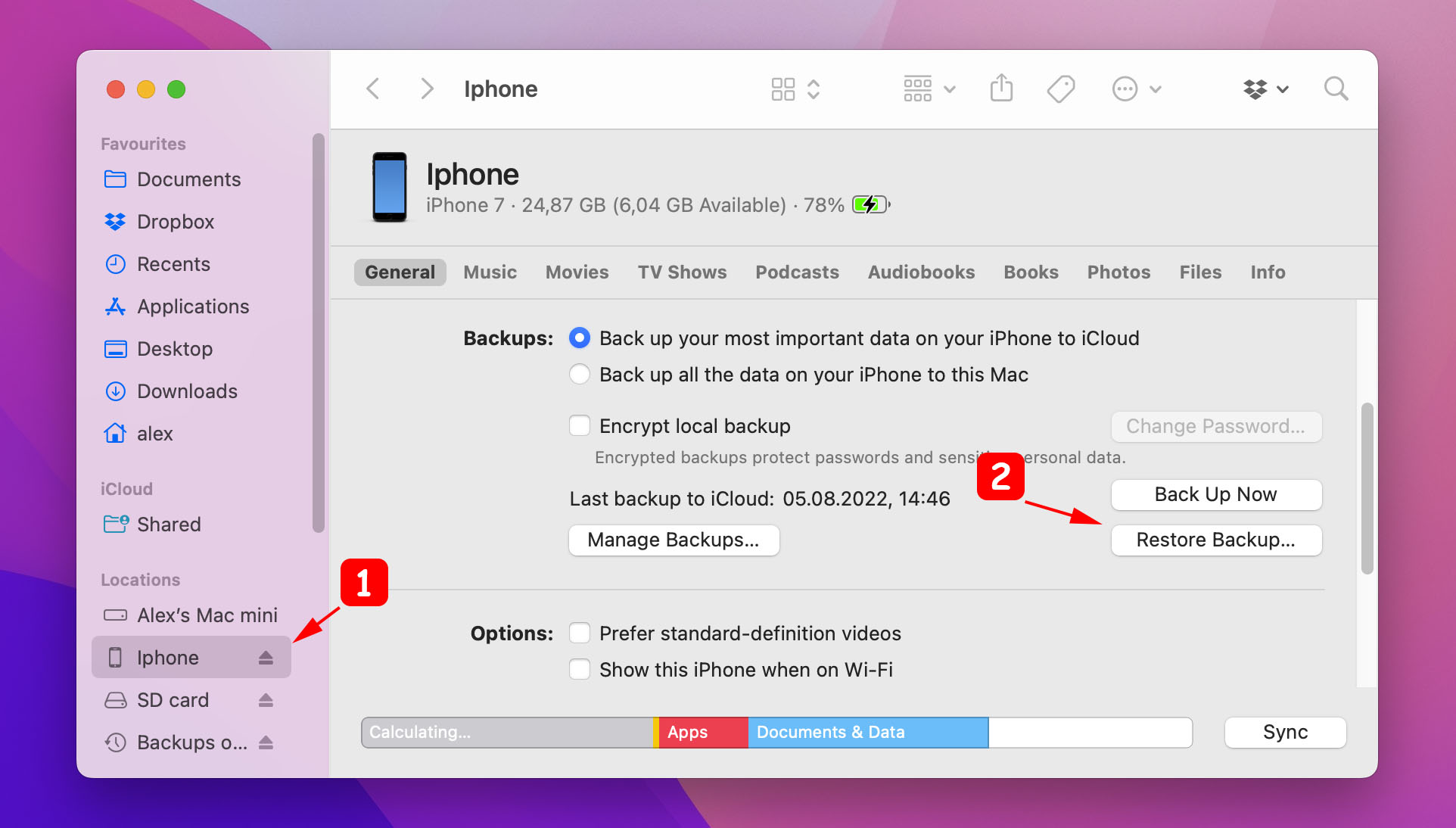 Step 3. Use the dropdown button to select the backup where your messages have not yet been deleted from your phone, then click "Restore."
This process will replace the existing data on your iPhone with the backup data you selected, including messages. If your current data is important, please create a backup before proceeding.
Method 5:

Recover Deleted Messages on iPhone Without a Backup

If the above steps didn't work, we can use software to retrieve deleted text messages on iPhone. iOS recovery software can search through iPhone messages and find them even if we have deleted them and it can recover deleted texts on iPhone without a backup.

Disk Drill iPhone Recovery is a data recovery software program that allows us to recover permanently deleted text messages even after they have been deleted from our iPhone or if we don't have a backup. In my opinion, it's the best app to recover deleted text messages on iPhone.

🎁 Apply a coupon "DD-MESSAGES" during the checkout process, and you'll get Disk Drill PRO Lifetime (Mac edition) with a 35% discount.

Step 1. Download and install Disk Drill for your computer.

Step 2. Initiate a scan by plugging your iPhone into your computer and selecting it as the device to search through.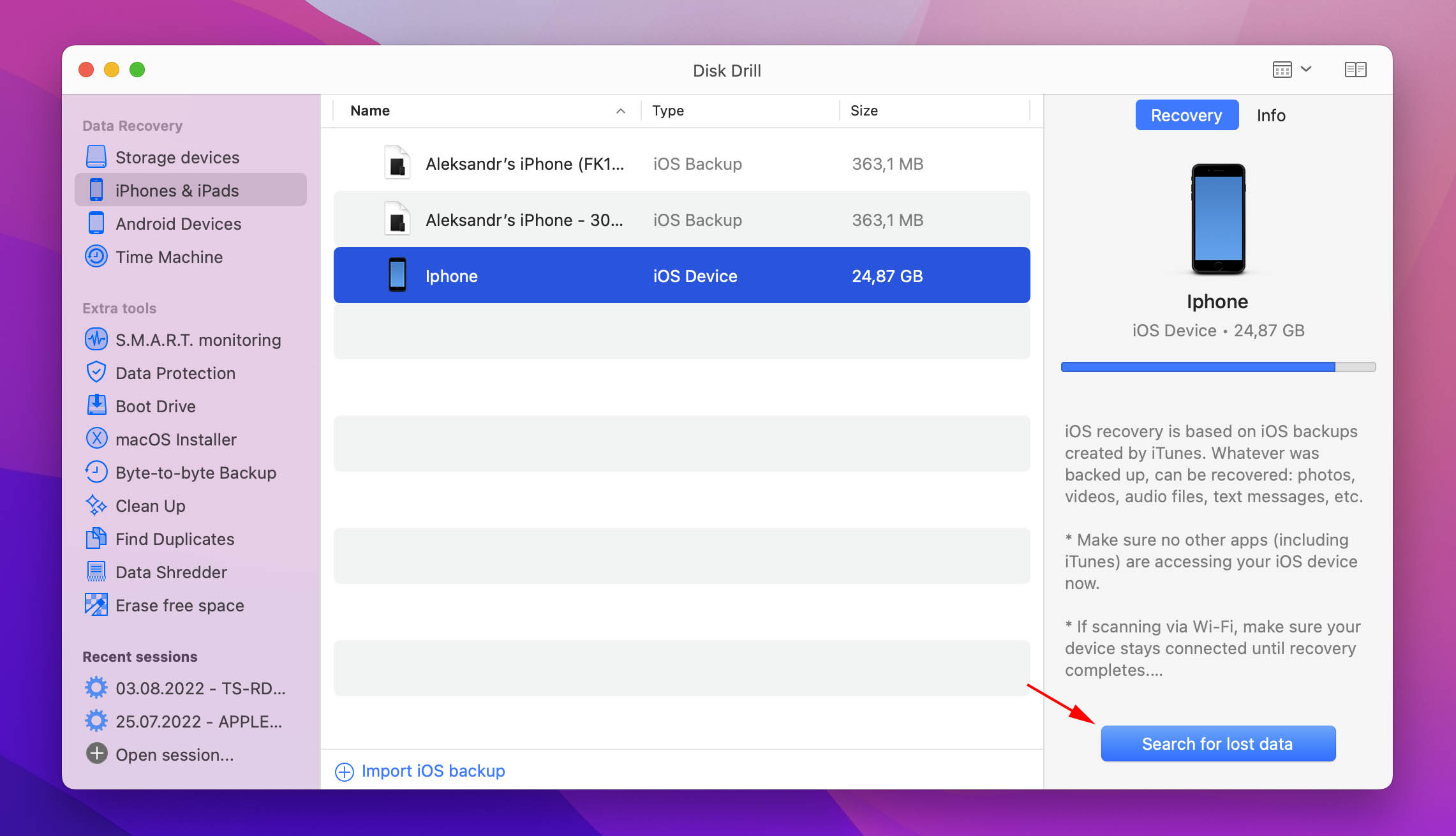 Step 3. Wait for the scanning process to complete. This shouldn't take long but will vary depending on how much data you have on your iPhone. Your iPhone will need to be plugged into your computer for this whole process.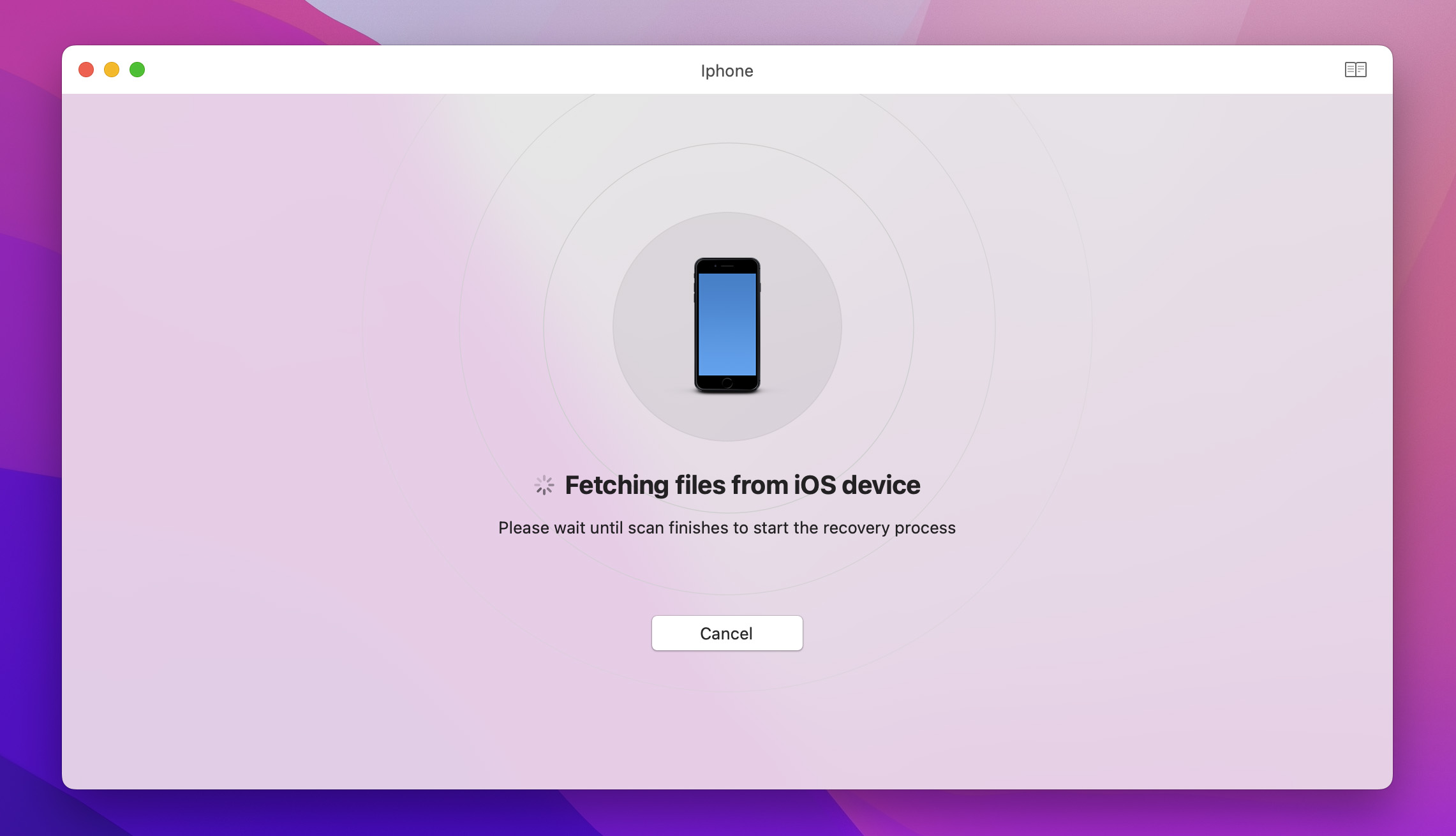 Step 4. After the scan has completed, you will be shown a screen that will display all of the data that Disk Drill was able to recover from your iPhone. Click on Messages to view the text messages that Disk Drill was able to recover. We're only looking at text messages in this example, but you can also retrieve lost contacts, calendar appointments, bookmarks, videos, and many other things.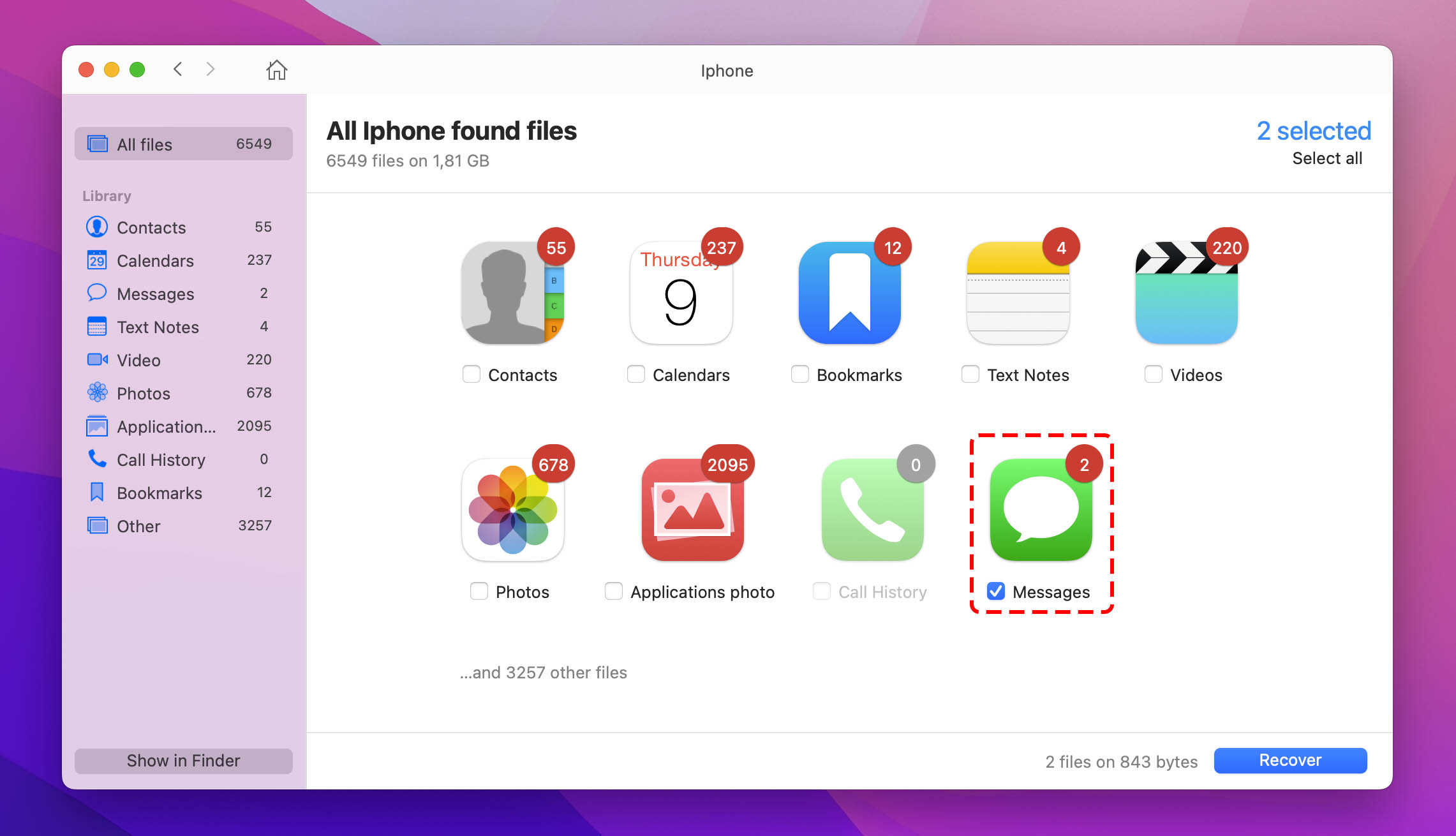 Step 5. Once on the recovered text messages screen, we can find deleted text messages on iPhone. I have my number blurred out for privacy, but you will be able to see the cell phone number associated with the text message thread. In the upper right-hand corner, you can search messages on iPhone.
Step 6. Select the text messages that you would like to recover and then click the blue Recover button in the lower right-hand corner of the screen. This will allow us to retrieve text messages from iPhone on computer.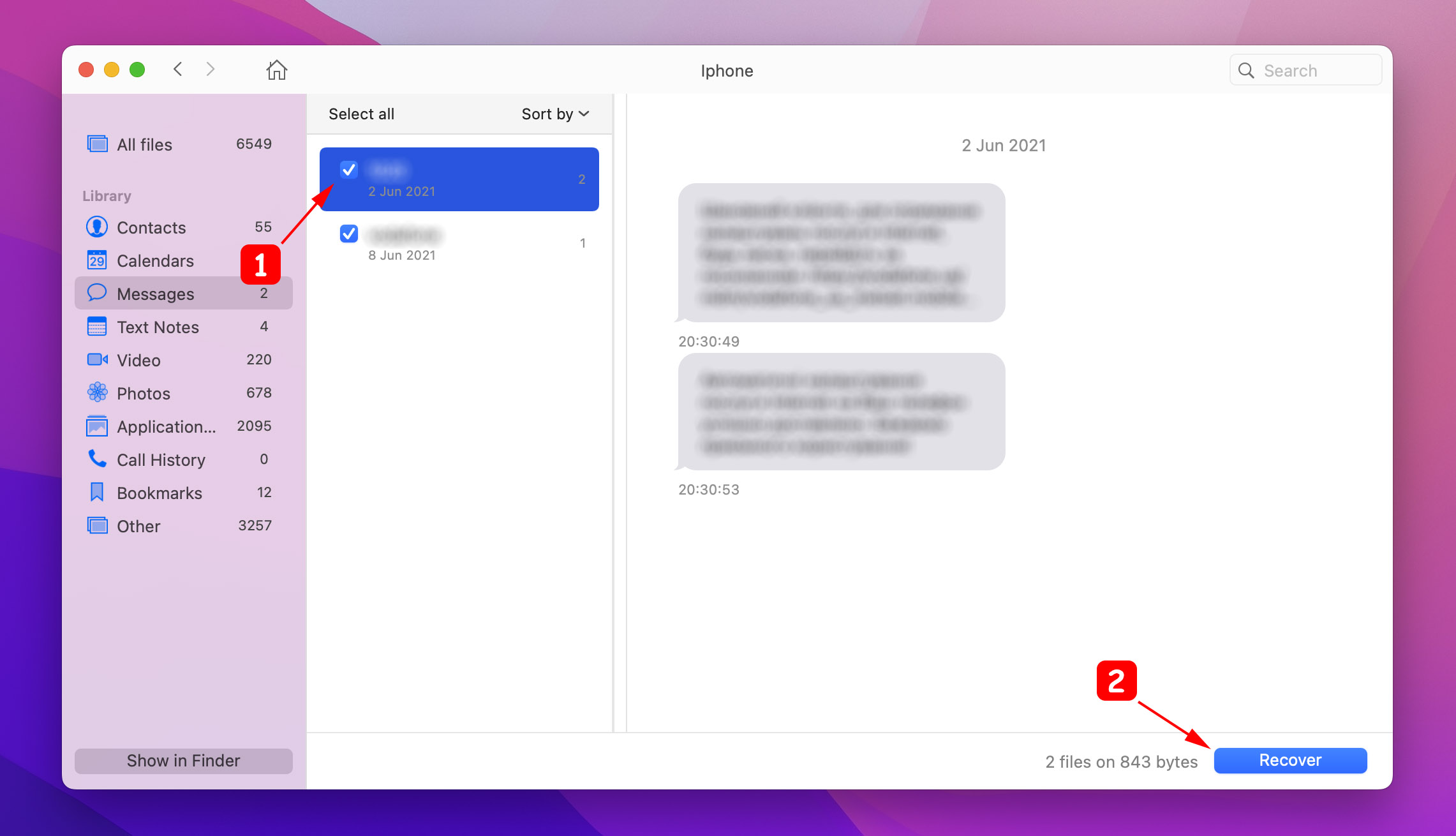 Step 7. Recover deleted text messages on iPhone by selecting a path for Disk Drill to recover them.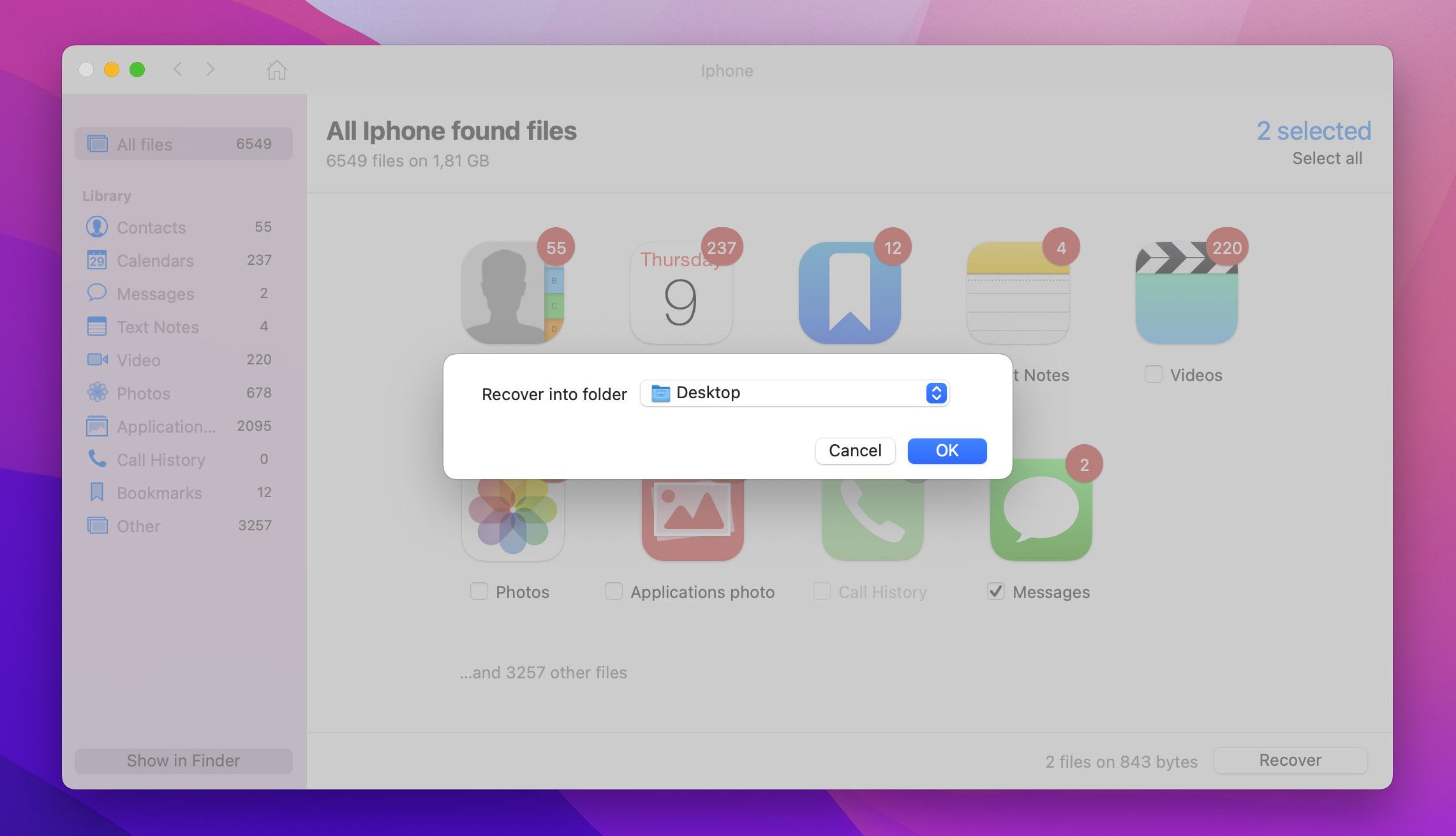 Step 8. After you have successfully recovered files, you will receive a confirmation message that the recovery is complete and you can view the text messages in Finder.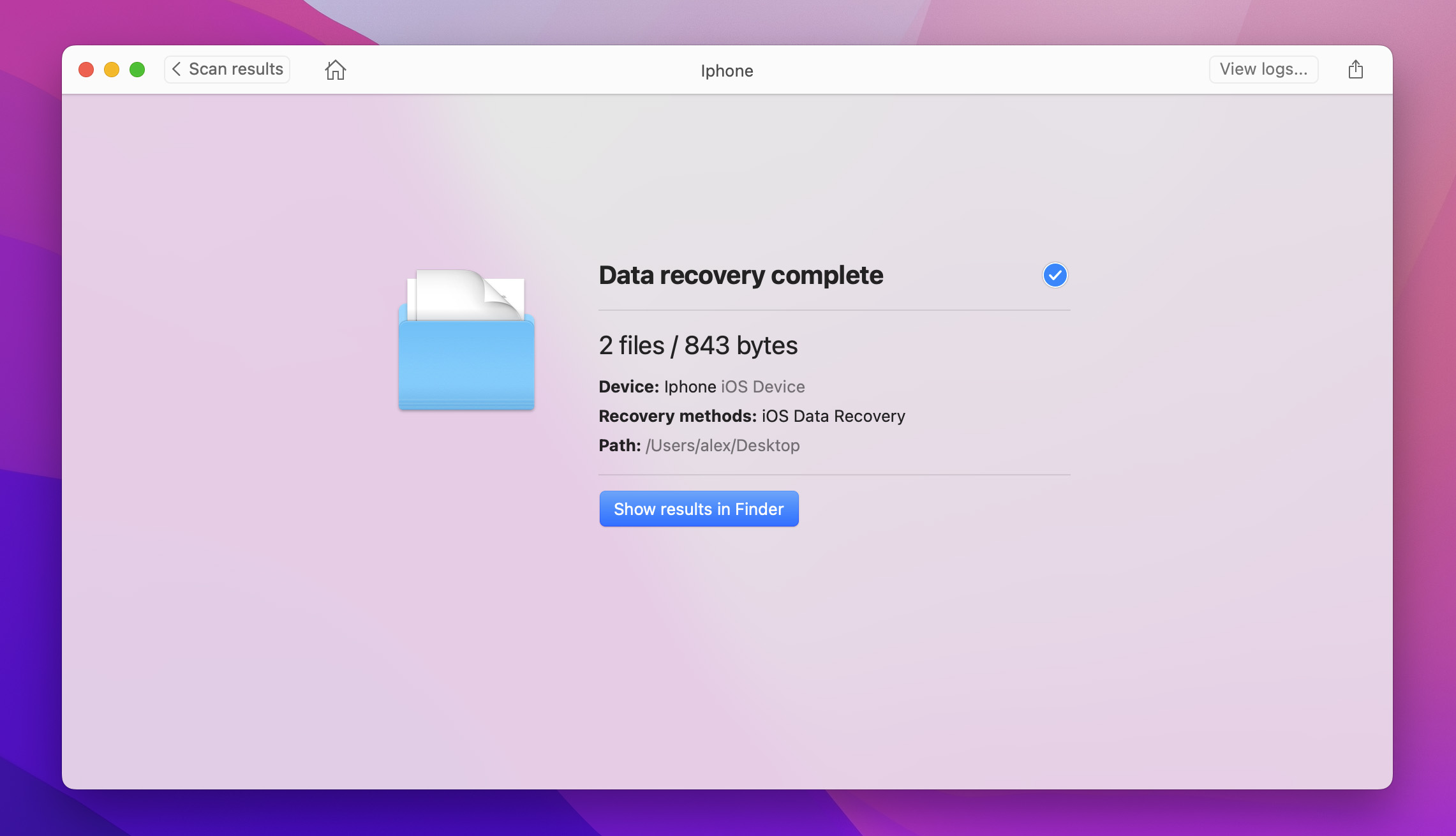 As you can see, Disk Drill is a great app to recover lost text messages on Mac and it only took us a couple of steps to do so! Let's say you don't have a computer though, what do you do?
Method 6:

Recover Messages Using a Windows PC

If you have a Windows PC, you can try using iMobie PhoneRescue for iOS. Like Disk Drill, it's a data recovery software – except that it specifically restores data from iPhone devices. It's also a freemium tool, so you can preview your files but you need to buy a license to actually recover them.

Along the way, PhoneRescue will prompt you to download iTunes if you don't have it installed. Allow it, as you can't proceed without iTunes. PhoneRescue will download and install it for you.

Step 1. Download and install PhoneRescue for iOS.

Step 2. Connect your iPhone to your computer and launch PhoneRescue for iOS.

Step 3. Click "I'm Ready to Start"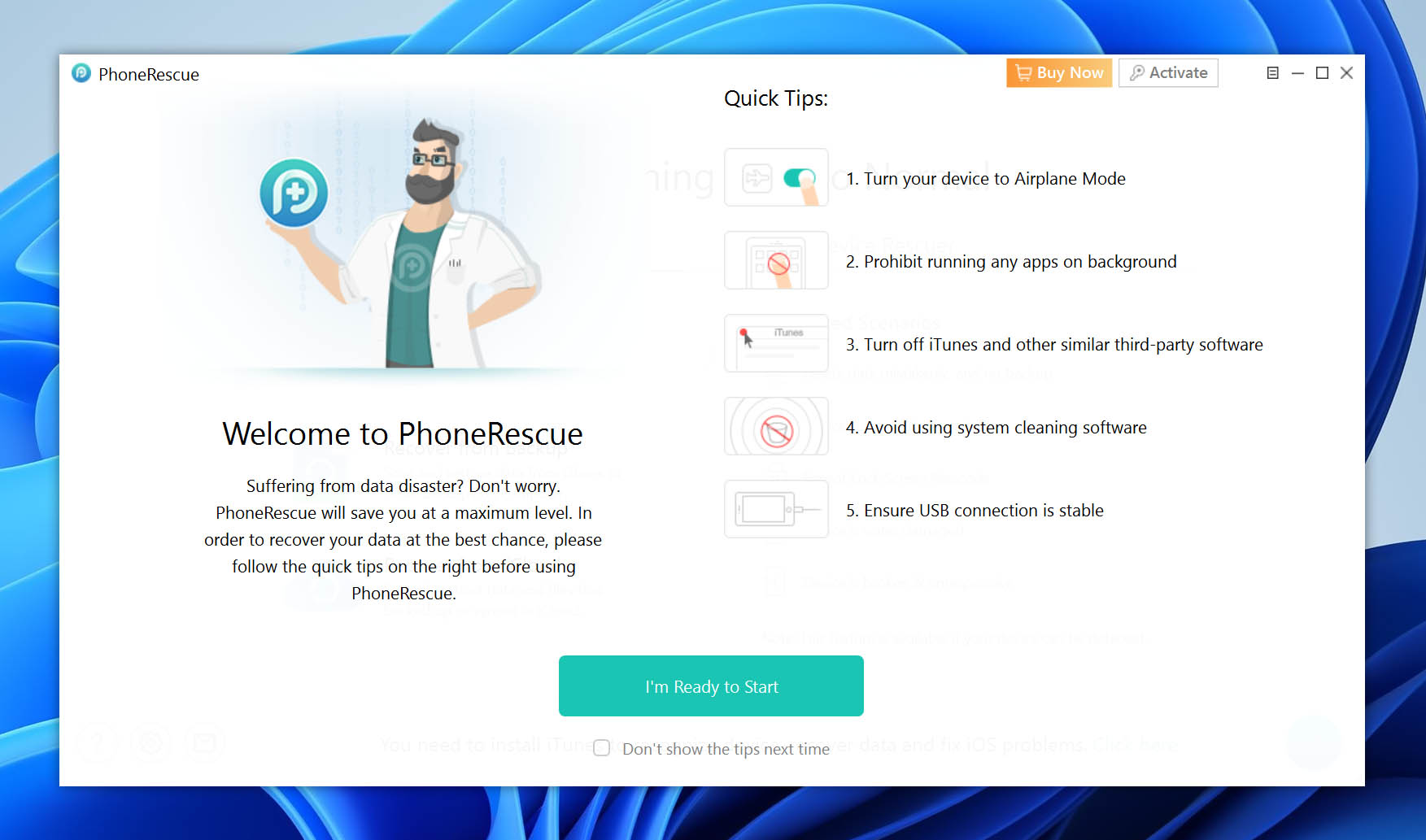 Step 4. Under "Data Recovery", and click the next (arrow) button in the bottom-right corner of the window.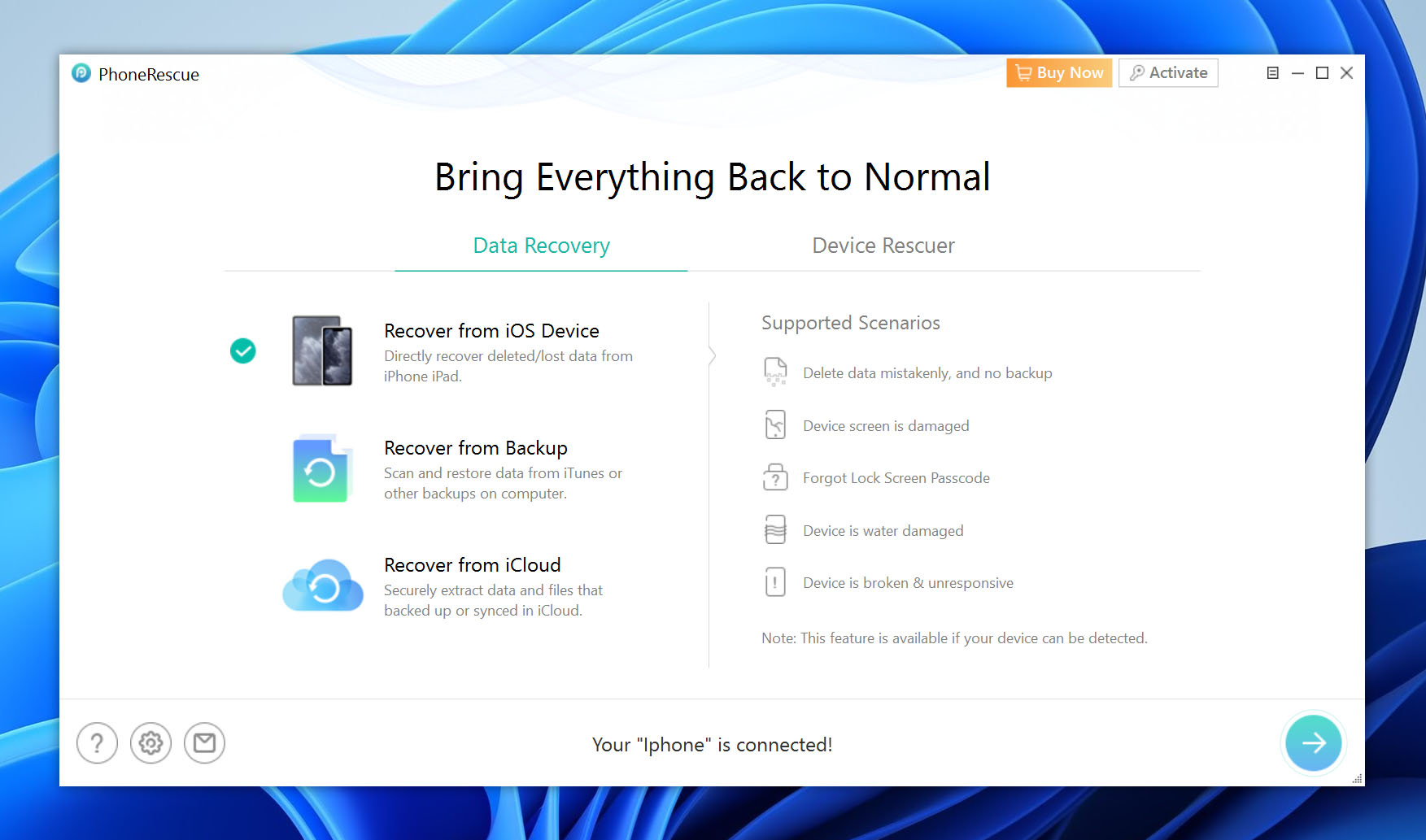 Step 5. Uncheck everything except "Messages" for a faster recovery. Then, click the next button again.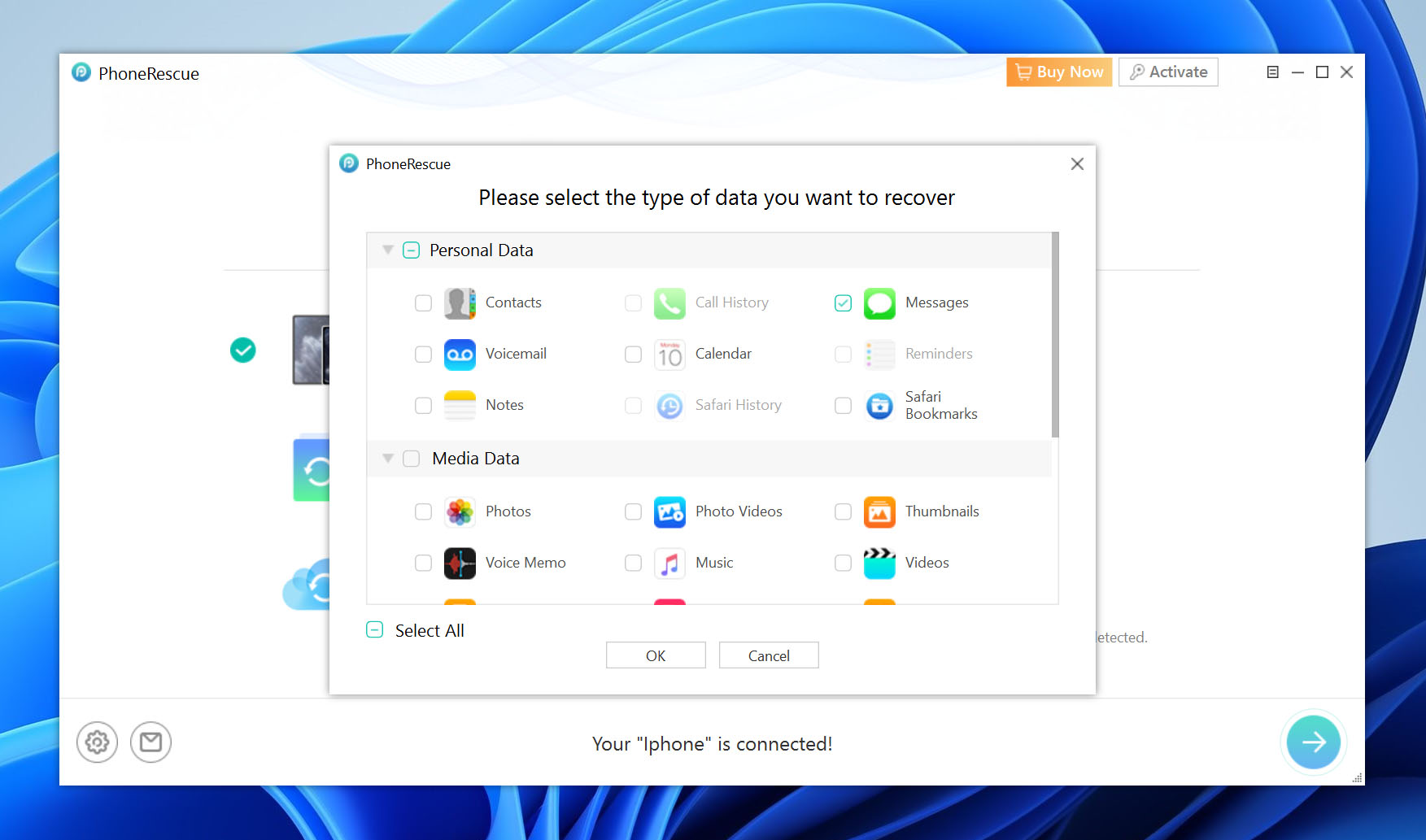 Step 6. Once the scan is complete, PhoneRescue will display all the messages it found. You can click on each message to preview its contents.
Step 7. Use the checkboxes to select the messages you want to restore, then click the phone recovery icon to restore it directly to your device or the computer recovery icon to restore the data to your computer.
Method 7:

Recover Deleted Text Messages on Your iPhone Without a Computer

What if you don't own a Mac or have access to a Windows PC? What do you do then? If you have other Apple devices such as an iPad or Apple Watch, you can login to those devices and if they still have your Apple ID signed into them, you should be able to recover the deleted text messages this way.

This is a free text message recovery method and with most of us owning more than one Apple device, is one that will help us. We have one more option when it comes to data recovery.
Method 8:

Recover Messages Through Mobile Providers in the US

As a last effort, you may be able to get deleted messages back on your iPhone by reaching out to your cellphone carrier. This will depend on the carrier, but some of them actually store your text messages and you can recover them by reaching out to them.

It will depend on your carrier, but I would recommend trying this option if none of the above ones were able to recover your deleted text messages on your iPhone.
How to Back up Text Messages on an iPhone?
There are two ways to back up your text messages on your iPhone. The first is by using iCloud, and the second is by synching your iPhone with a Mac.
Shown below are the steps to backup your messages on your iCloud:
Go to your

Settings

and tap on your Apple ID profile.
Next, tap on iCloud and turn on the toggle on

Messages

.
Your text messages will now be backed up to iCloud.
Here are the steps to synch your iPhone with a Mac:
First, turn on your Mac and open the Messages app.
Select Messages on the toolbar at the top of your screen, then click

Settings

from the dropdown.
On the pop-up window that will appear, select

iMessage

.
Once signed in, tap on the checkboxes Enable this account and

Enable Messages

in iCloud.
Go to the General tab and check the options from the

Keep messages

dropdown. You can choose to store your messages for 30 days, one year, or forever.
Then, go to the Settings app on your iPhone and tap

Messages

.
After that, tap

Text Message Forwarding

and click on the toggle button next to your Mac.
If your messages don't sync automatically, you can return to the Preferences page of the Messages app on your Mac computer, and select the iMessage tab, then click

Sync Now

.
Conclusion
We use our iPhones to communicate with others every day. With services such as iCloud, iTunes, and data recovery software we can ensure that we're always in control of our data. Knowing how to recover deleted text messages on our iPhone enables us to have the conversations that matter the most to us, always on our iPhone. Even if they do end up getting deleted, we know how to retrieve deleted messages on iPhone.
FAQ