If this is your first accidental deletion of important data from your MacBook Pro, then we have bad news for you: it probably won't be the last. But there's also good news: learning how to perform MacBook data recovery isn't difficult nor expensive.
In this article, we describe several effective methods and tools that can help you recover data from your MacBook Pro hard drive in no time. We also discuss the most common reasons for MacBook Pro data loss so that you know what to watch out for in the future.
Methods to Recover Deleted Files from MacBook Pro
As a MacBook Pro user, you can choose between several different data recovery methods, each capable of addressing different data loss scenarios. Let's go over the most useful methods and describe how they work and in which situations they should be used.
Method 1:

Time Machine

Time Machine is Apple's homegrown backup software application, and it's distributed as part of macOS. Time Machine keeps local snapshots as space permits, hourly backups for the past 24 hours, daily backups for the past month, and weekly backups for all previous months.
If Time Machine had backed up your data prior to their deletion, then you can painlessly recover them from your Time Machine backup:
Make sure your Time Machine backup drive is connected to your MacBook Pro.
Click the Time Machine icon located in the Menu Bar and choose Enter Time Machine.
Navigate to the folder that used to contain the deleted files.
Use the navigational arrows or timeline on the right to find a backup copy of the folder that contains the deleted files.
Select the files you want to recover and click Restore.
Method 2:

Data Recovery Software

Back what if you don't have a Time Machine backup from which you could recover your data, you ask? Simple! You can use a data recovery software tool, such as one of those described in the next section of this article.
Data recovery software lets you recover any data that hasn't been overwritten from a Mac hard drive or a different storage device. If you lost your data only a short while ago and immediately started googling MacBook Pro data recovery methods, then there's a good chance that your files are still physically present on the storage device and thus easily recoverable.
To demonstrate how data recovery software works, let's recover data from a hard drive using Disk Drill for Mac, our favorite MacBook data recovery tool:
Download and install Disk Drill for Mac on your MacBook Pro.
Launch the tool and scan your hard drive.
Go through the list of recoverable files and select each file you want to recover (use the preview feature to verify that the files are still intact).
Click the Recover button and select a suitable recovery location.
Confirm your decision wait for Disk Drill to tell you that all files have been successfully recovered.
Method 3:

Cloud Backup Solutions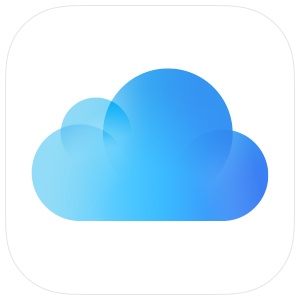 Many MacBook Pro users back up important data using cloud backup solutions like iCloud, Dropbox, or Google Drive. Such solutions help ensure recoverability by securely transferring backup copies to remote servers. If you're among their users, you should be able to restore your data even after a critical hard drive failure.
Click the links below to learn how to perform MacBook data recovery using popular cloud backup solutions:
Bonus:

Data Recovery Services

MacBooks are expensive computers, and the value of your lost data can be even higher. If DIY data recovery seems too risky to you, then you should consider shipping your entire MacBook to a professional data recovery center.
While the cost of professional data recovery can range wildly depending on the cause of data loss (more about common reasons for data loss in the last section of this article), the best data recovery centers offer a free evaluation, so you don't need to worry about receiving an unexpectedly high bill.
Unlike DIY data recovery methods, professionals can recover lost data even from physically damaged storage devices because they are equipped with specialized tools and have years of experience under their belt, making them ideal for data loss situations that seem nearly hopeless.
Best Tools to Recover Data from MacBook Pro
There are multiple MacBook hard drive recovery tools that you can use to restore permanently deleted data from your MacBook Pro. We've already provided step-by-step instructions on how to use one of them, but we have yet to discuss its features and provide suitable alternatives, so let's get to it.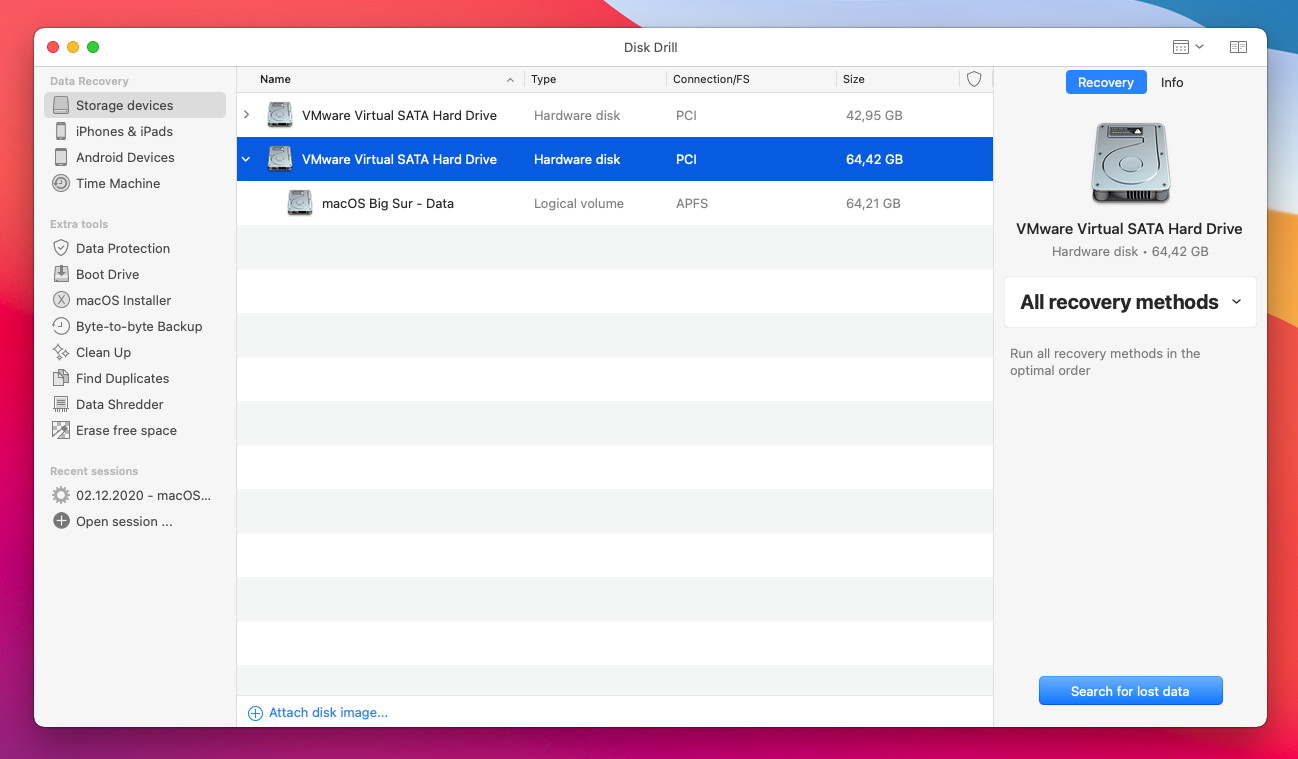 Pros:
Powerful
Easy to use
Automatically detects and recovers lost partitions
Comes with extra data protection and management tools
Cons:
The free version can only preview recoverable files
Disk Drill for Mac is our favorite MacBook data recovery tool because it's both powerful and easy to use. You can use it to recover over 400 file formats with a few clicks, and the tool can even automatically detect and restore lost partitions. Bundled with Disk Drill for Mac are several useful tools to help you keep your data protected and organized. The only downside is that the free version can only preview recoverable files.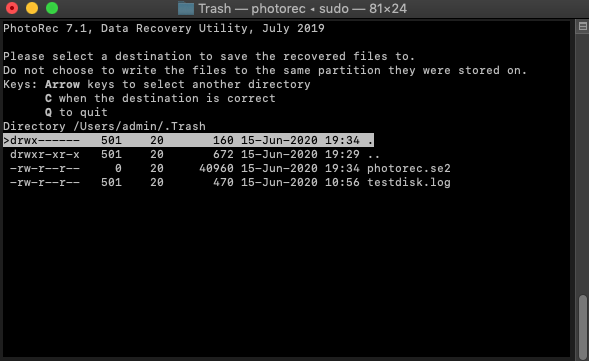 Pros:
Open-source
Completely free
Supports about 300 file families
Ships together with TestDisk
Cons:
Command-line user interface
Complicated installation
PhotoRec is the best open-source data recovery tool that runs on macOS. It's distributed together with TestDisk, which is a very similar tool whose purpose is to recover lost partitions and/or make non-booting disks bootable again. Both tools can be installed using Homebrew. Despite what its name suggests, PhotoRec can recover more than just photos. In fact, about 300 file families are supported, including ZIP, Office, PDF, HTML, and other commonly used file formats. PhotoRec's biggest downside is its command-line user interface.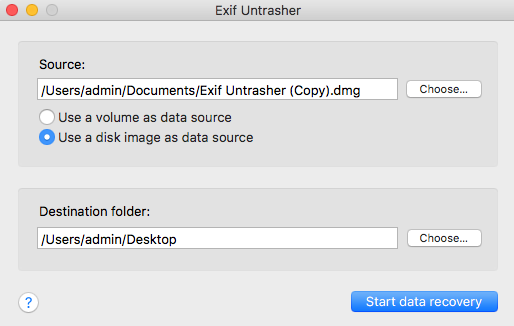 Pros:
Straightforward and intuitive
Completely free
Cons:
Can restore only JPEG images
Exif Untrasher is a straightforward data recovery tool created by Carsten Blüm, who's been developing software since the late nineties. With Exif Untrasher, you can quickly and painlessly locate all lost photos in JPEG format on any kind of storage device. The tool is compatible with macOS 10.10 or higher, and you can download it for free from the author's website. Unfortunately, not other file formats besides JPEG are supported.
Common Reasons for Data Loss on Macbook Pro
To avoid losing important files, you need to understand the most common reasons for MacBook Pro data loss and how they affect your data recovery chances:
Human error:

 We all make mistakes, and clicking the Delete button by accident is something most MacBook users have done at some point. Fortunately, recovering accidentally deleted data is typically fairly easy, as long as you begin the data recovery process soon enough.

Data corruption:

Buggy software applications, sudden power outages, and malware are just three possible causes of data corruption. But as long as the corruption isn't too extensive, data can usually be recovered using specialized software.

Hard drive failure:

Hard drives and other storage devices may fail for a number of different reasons. Some cases of data loss caused by hard drive failure can be recovered from at home using DIY tools, while others require the help of data recovery professionals.

Physical destruction:

You should never attempt to recover lost data from a physically destroyed MacBook Pro unless you know exactly what you're doing. Instead, we recommend you ship the laptop to a data recovery center and let experienced data recovery professionals recover your data for you.

Theft:

If your MacBook Pro gets stolen can still recover your data from a cloud storage service like iCloud, Dropbox, or Google Drive.