Few things are as unsettling as someone else having access to your data. That's why if you're getting rid of an old hard drive or selling it off, formatting your drive to permanently erase your data is essential.
But what happens when you accidentally format a drive and lose access to your files? Luckily, you can still recover formatted Mac hard drive data in some cases.
This guide explores how to restore your files while also covering what formatting is, when to format a drive, and available formatting options on Mac.
What Is Disk Formatting on Mac?
Formatting, reformatting, or unformatting your hard drive is basically changing the file system a drive uses to organize the files it's storing. Every storage device uses a file system. And if file systems are not compatible between two drives, you cannot transfer or even translate data between them.
The most popular file systems for Mac are:
| | |
| --- | --- |
| File System | Description |
| Apple File System (APFS) | This is the default file system for macOS High Sierra (version 10.13) or later. It offers improved efficiency and reliability. However, it is not compatible with Windows. Use this file format when working with Macs with a newer OS. |
| Mac OS Extended (HFS+) | This was the default Mac file system from 1998 to 2017. Use it for older Macs that you have not upgraded past macOS Sierra (version 10.12). It is not compatible with Windows. |
| MS-DOS (FAT & ExFAT) | This file system is compatible between Mac and Windows. The FAT file system works with the largest range of file types but is limited to 4 GB of storage. ExFAT works with larger files. Choose this option for drives you plan to use on both Mac and Windows. |
When you unformat a Mac hard drive to change the file system, you're not really deleting the data. Instead, you're earmarking it to be overwritten. More extensive formatting (covered later) typically involves overwriting your data with random information and then deleting that data again for added security.
Is It Possible to Recover Data From a Formatted Hard Drive?
It is indeed possible to recover files from a formatted hard drive on Mac. That being said, the more extensively you choose to format a drive, the less likely you'll be able to recover your files.
For Macs, you have four choices for formatting. These are found under "Security Options" in the window after clicking Erase in Disk Utility.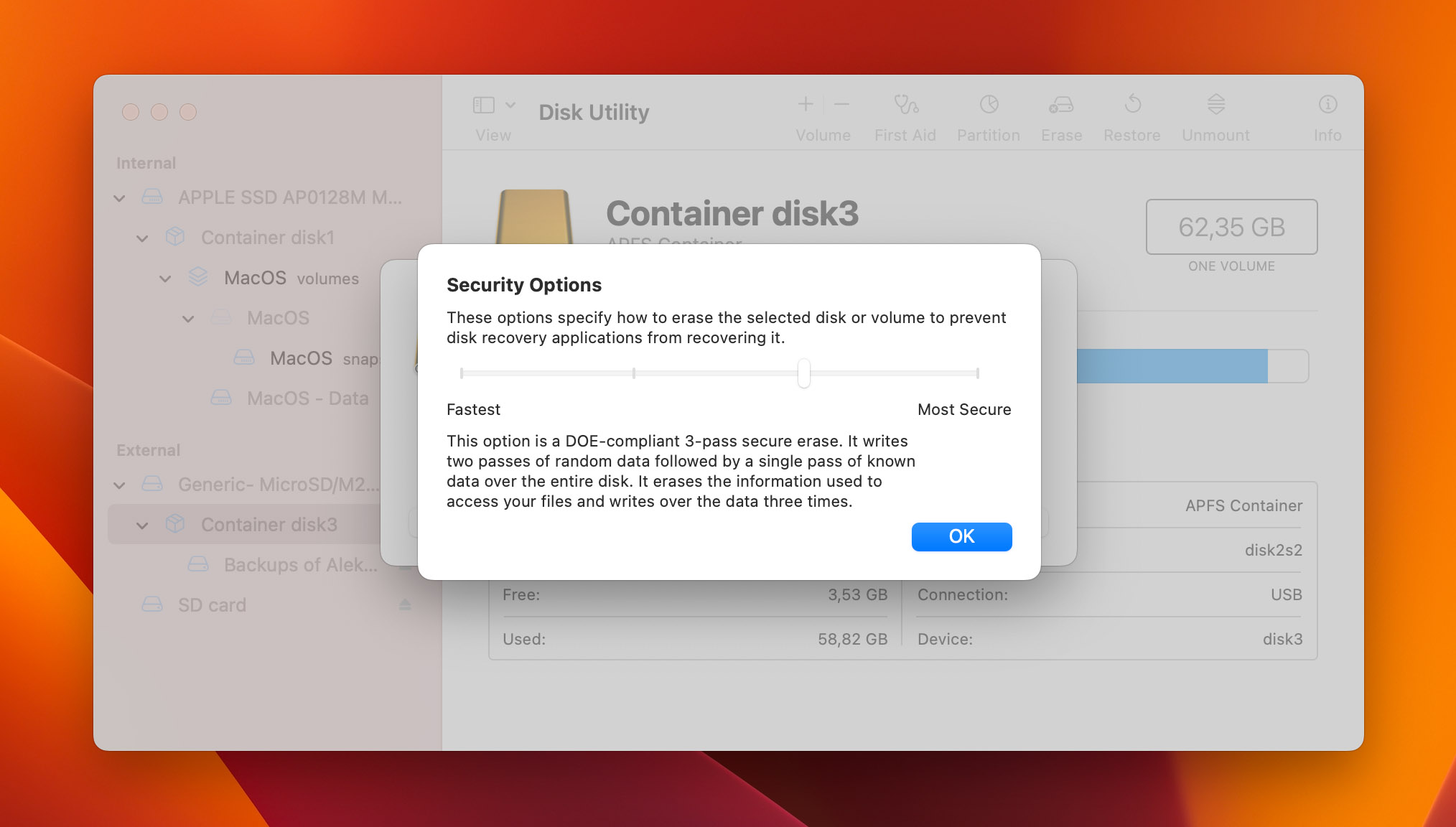 NOTE: With a solid-state drive (SSD), secure erase options are not available in Disk Utility.
Option 1 (Fastest)

– This option simply marks your data as okay to overwrite. It's the least secure option but also the fastest.

Option 2

– This option writes a pass of random data and then a single pass of zeros over the entire disk. It erases the information used to access your files and writes over the data 2 times.

Option 3

– This option is a DOE-compliant 3-pass secure erase. It writes two passes of random data followed by a single pass of known data over the entire disk. It erases the information used to access your files and writes over the data 3 times.

Option 4 (Most Secure)

– This option writes multiple passes of zeros, ones, and random data over the entire disk. It erases the information used to access your files and writes over the data 7 times.
How to Recover Data From a Formatted Hard Drive
Since the data still exists until you overwrite it on quick formatted hard drives, you may still be able to restore it using data recovery software.
Whether you're looking for a way to restore files from your startup disk or want to recover a formatted external hard drive, Disk Drill is a fantastic data recovery tool. Disk Drill combines powerful recovery capabilities, a user-friendly interface, and a host of other useful tools all into one program.
To recover files after quick format using Disk Drill:
Download Disk Drill and install the software.
Grant Disk Drill permission to access your disk. The program needs these permissions to recover your files.
Select the formatted hard drive you'd like to restore from and click

Search for lost data

.
Wait for the scan to finish (it may take several minutes, depending on how much data is on the drive).
Once the scan finishes, click

Review found items

.
Locate your missing files. You can preview each item by clicking the "eye" icon next to the file name.
Select the files you'd like to restore and click

Recover

.
Choose where to put the restored file. You'll see a warning message if you're restoring to the same hard drive (this can cause problems and potentially corrupt the file). Then click

Next

to restore your file.
How to Increase Your Chances of Successful Data Recovery
To ensure the best chances of successful recovery, follow the guidelines below.
🚫 Avoid writing any new information to the affected drive (including data recovery software). The more new data you write to the drive, the higher the chances your missing data will be overwritten.
⛔

Do not attempt to reformat your drive, rebuild partition tables, or defragment your device.

Every interaction runs the risk of making it harder to recover your data.
🔎

Find the right data recovery software and get to work quickly.

When it comes to using the software, be sure to download to and launch from another disk drive, not the affected one. Again, each interaction with the formatted drive makes data recovery less likely.
Wrapping Up
Formatting your hard drive is a handy way of dealing with multiple problems or permanently deleting your data. But doing so accidentally and losing your files can be a major scare.
Thankfully, the technique in this guide lets you recover formatted Mac hard drive data, restore your files, and get your life back to normal.