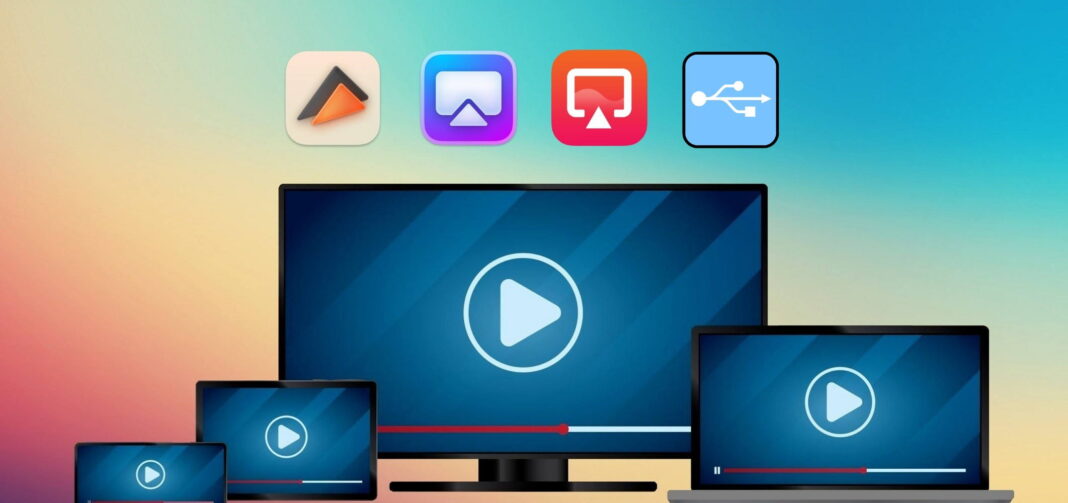 Are you wondering how to stream your favorite videos to your TV, so you can watch on a bigger screen? If you own an LG TV, you could stream to LG Smart TV to watch your favorite shows, movies, and videos on a larger screen.
Newer LG TV models support AirPlay 2, so it's easy to cast media content to your TV. You could also use a third-party app to share your screen wirelessly to your TV. Keep reading and we'll take you through some of the best ways to connect your devices to your LG TV.
Stream From Mac to LG
You could use JustStream to connect your Mac to your LG Smart TV and start mirroring videos instantly. JustStream is a lightweight, easy-to-use app that doesn't require any additional external hardware or wires. As well as being compatible with LG TVs, the app can be used with any AirPlay, DLNA, or Chromecast device for streaming to LG TV.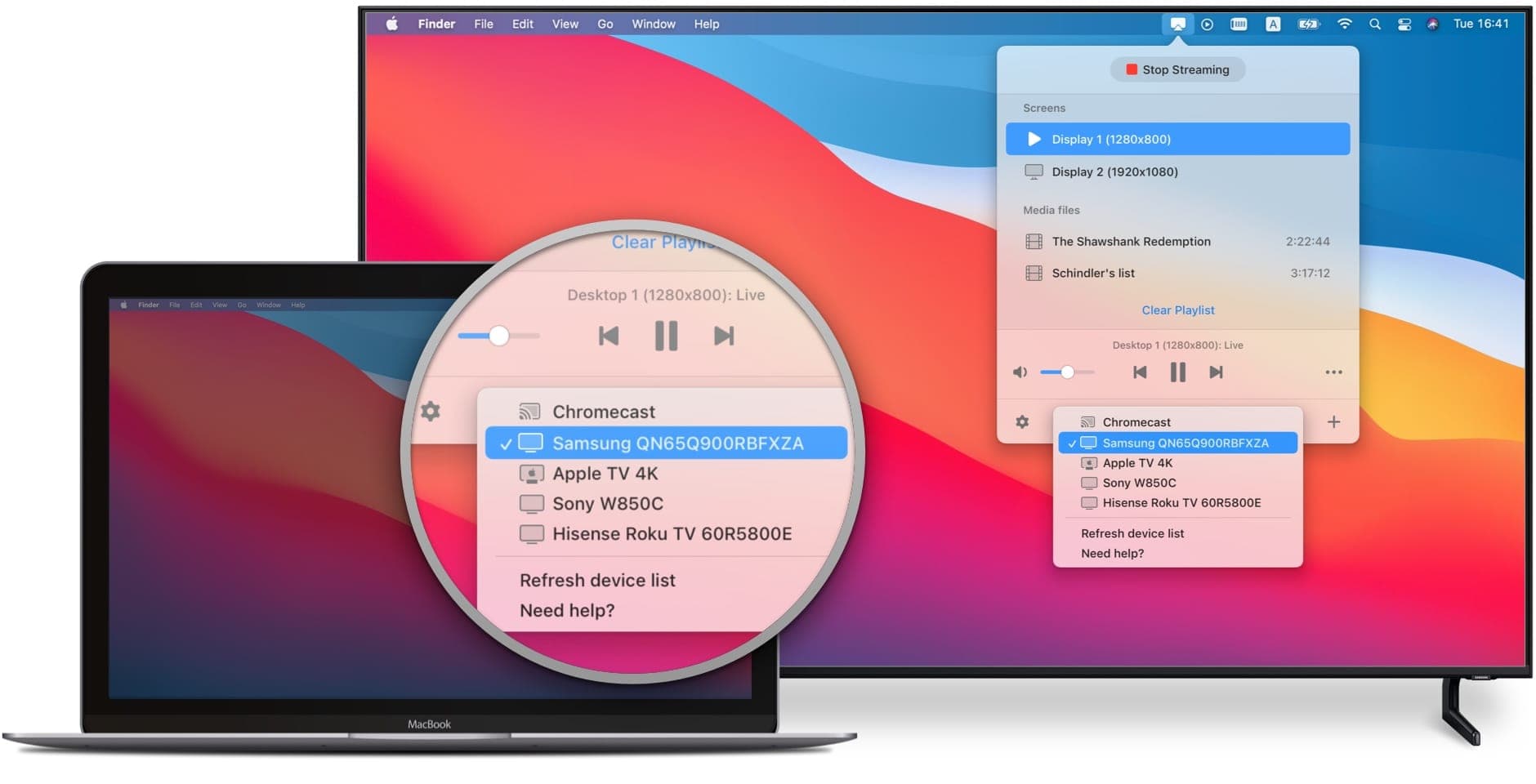 How to Stream From Mac to LG TV
It's easy to stream Mac to LG Smart TV using JustStream — just follow our handy step-by-step instructions below for how to stream to LG Smart TV:
Step 1:Download and install the JustStream app on your Mac.
Step 2:Switch on your Smart TV and ensure that it's connected to the same wireless network as your Mac.
Step 3:Launch JustStream on your Mac, then expand it from the Menu Bar.
Step 4:You should see a list of connected monitors. Choose the one you wish to mirror.
Step 5:Now, click the Wi-Fi icon (at the bottom) to open a list of available network devices. You should see your LG TV in the list, but if it isn't showing, just refresh the list.
Step 6:Choose your LG TV from the list, and then you can start mirroring!
Step 7:You can either click Start Streaming, then double-click your monitor, or choose Start Mirroring from your monitor's context menu.
Stream From PC to an LG Smart TV
If your PC is running Windows 8 or Windows 10, and has an Intel processor, it likely supports WiDi for streaming to LG TV. However, if you've upgraded from Windows 7, this may not be supported.
How to stream from PC to an LG Smart TV
To check if your computer supports WiDi, try mirroring your screen by following the below steps to see if it works for you.
Step 1:First, open the Screen Share app on your LG TV.
Step 2:On your PC, go to Settings > Devices.
Step 3:Select Bluetooth and Other Devices > Add Bluetooth or Other Device.
Step 4:A dialog box should appear. Select Add a Device (choose Wireless Display or Dock).
Step 5:Select LG TV, then wait for confirmation.
Step 6:Once the connection is confirmed, ensure projection mode is set to Duplicate. This means your PC screen will mirror exactly on your LG TV.
Step 7:To end mirroring, just select Disconnect (in the small black rectangular box at the very top of your PC screen), change to a different TV function, or turn your TV off.
Stream Smartphone Content to an LG Smart TV
There is another way to view content from your Android phone on your LG Smart TV, and that's with casting. LG Smart TVs support DIAL (Discovery and Launch), which allows you to cast select apps (right now, it's only YouTube and Netflix) directly from your Android phone or tablet to your LG Smart TV without the need to plug in an additional Chromecast device.
How to stream smartphone content to an LG Smart TV
Here are the steps to follow to stream on LG TV from your smartphone:
Step 1:Turn on your LG Smart TV.
Step 2:Open YouTube or Netflix on your Android phone. In order for casting using DIAL to work, you'll need to ensure the same app is also installed on your LG Smart TV.
Step 3:On your phone, tap the Cast icon at the top of the chosen app screen.
Step 4:Then select your LG Smart TV as the device you want to cast to.
Step 5:You can now watch content from the app on your smartphone on your LG Smart TV.
Streaming to LG With iPhones and iPads
Some 2019 LG TV models (OLED B9, C9, E9, W9, R9, Z9 series and NanoCell SM9X/SM8X, UHD UM7X series) support Apple AirPlay 2, so you can screen mirror directly from your iPhone or iPad. If your LG Smart TV is older (2018 and earlier), screen mirroring directly from your iPhone or iPad isn't supported. Don't worry though — you can use the AirBeam TV app to LG stream to TV and mirror your iPhone or iPad to your LG Smart TV.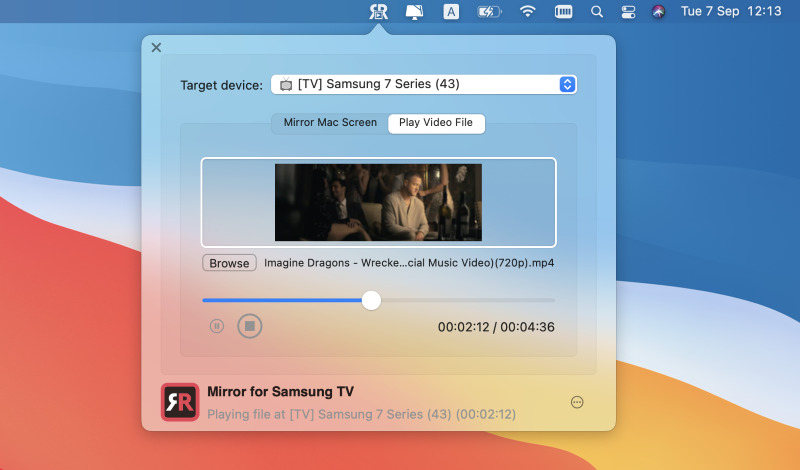 How to Mirror iPhone to LG TV
Step 1:Download the AirBeam TV app to your LG Smart TV and your iPhone or iPad.
Step 2:Launch the app on your iPhone/iPad and select your LG Smart TV from the dropdown menu.
Step 3:Click Start Broadcasting, and your iPhone or iPad screen should appear instantly on your TV.
Best Streaming Services on LG TV
You won't find an LG TV app for all streaming services, but many of the most popular streaming services do have apps on LG TV, making it easy to stream to LG Smart TV, including the below services:
Sling Orange
Sling Blue
Paramount+ Premium
Hulu
Starz
Showtime
FUNIMATION
Sling TV & AMC+ & Shudder & Sundance Now & IFC Films Bundle
As you can see, there are several different ways to stream from Mac, Android phone or tablet, or iPhone or iPad to your LG Smart TV (or any smart TV). The method you choose will depend on which you find easiest, but hopefully this article will help you get started streaming your favorite movies, shows, and videos to a larger screen.
FAQs
To ensure the best picture on your LG TV, check that it's in Home Mode. on the TV home screen, select Settings, scroll to the picture icon, and use the left and right buttons on your TV remote to switch between picture presets.
You can customize your LG TV's home screen by pressing and holding the Recent Apps key from the Touch Keys bars, then selecting Home Screen Settings. In this menu you can toggle the Smart Bulletin, change your TV's wallpaper, and more.
Try turning on your LG TV using the power button on the TV itself, rather than the remote. Check your HDMI cables and try plugging them into different ports. If this doesn't resolve the issue, unplug your TV and wait for 10-15 minutes before plugging it back in. Then, hold the power button on your TV for 10-15 seconds to turn it back on.