Playing files in varying formats is tricky on macOS, with most players only working with specific file types. We've rounded up some of the best, most functional Mac movie players we could find right here.
Keep reading for a handpicked list of top media players for Mac, with pros, cons, features, and links to download each player. From standalone installers to App Store apps, and even QuickTime (the default macOS player), there's something here for everyone. Many can play almost every file format you can imagine, while others make the cut for their reliability, wealth of features, or intuitive interface.
The Best Solutions for Mac Media Player
1.

Elmedia Player

Elmedia Player is a light, user-friendly player packed with features. One of the player's main attractions is the wide format support. The player can open anything from MP4 and AVI files to MKV, MP3, and more, so you can view almost any type of content.

There's also a PRO version packed with even more features, that costs $19.95 and includes wireless streaming on Chromecast, Smart TV, or DLNA-based device, as well as many other fantastic PRO features. There's also the ability to create your own playlists, customize playback, audio, and video features, and support for subtitles too.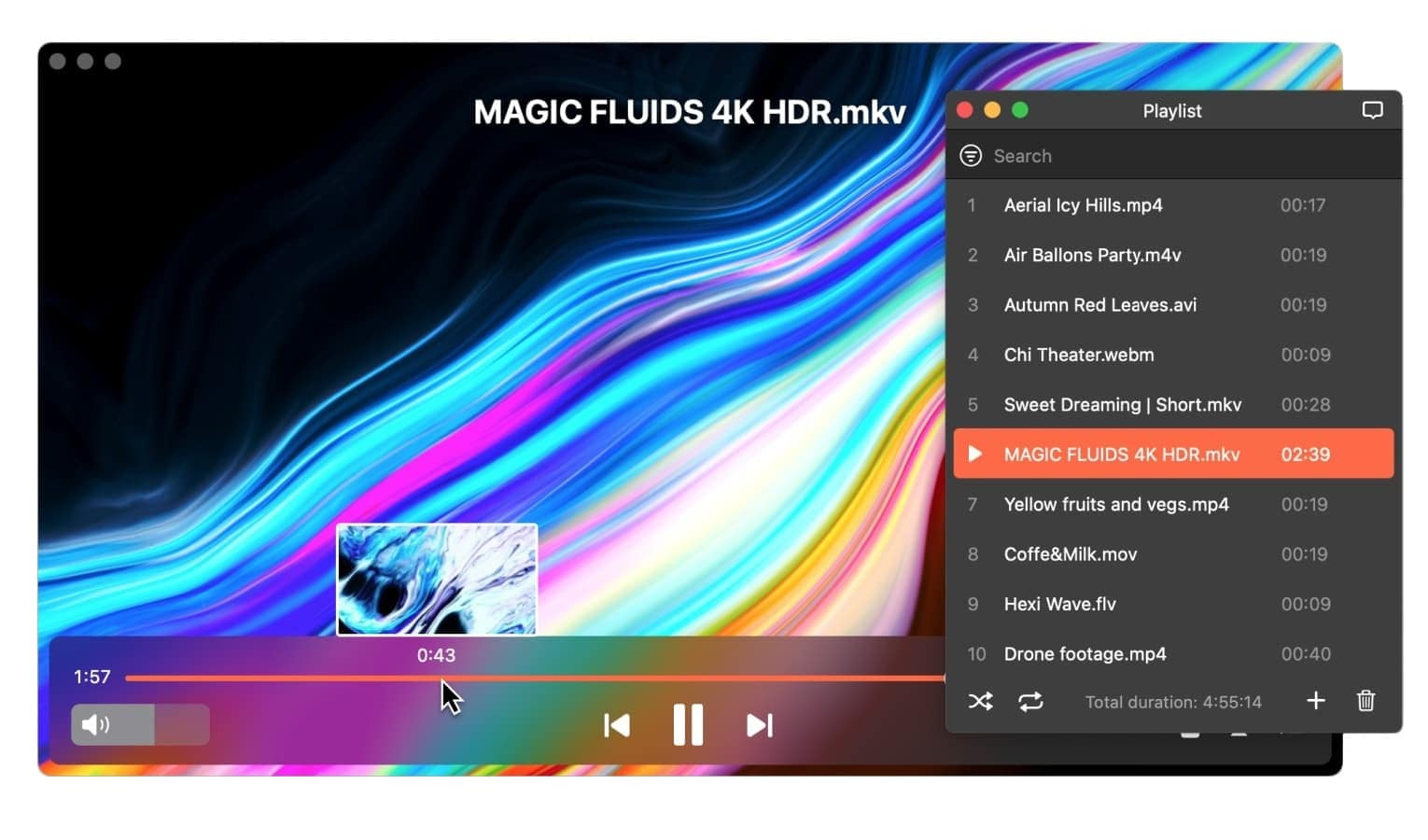 Pros:
Supports most formats
Wireless streaming to Chromecast, Smart TV, etc.
Subtitle support
Create playlists
Customizable audio, video, and playback features
Compatible with the latest macOS version.
Cons:
Mac only, no Windows version.
Supported formats: MP3, MP4, FLAC, AVI, M4A, APE, OGG, AC3, M4A, AAC, WMV, WMA, WAV, and many more.
2.

VLC Media Player

VLC Media Player is a great VLC alternative Mac media player. It's been around for a while and there's no wonder it's so popular as it supports almost any type of file format, even uncommon formats. VLC Media Player is free and has an intuitive interface, even if it looks a bit dated, so it's easy to use.

The player has plenty of playback options including an equalizer, synchronization, color correction, and more, as well as a wide range of video and audio effects. The sheer amount of settings makes the player a bit tricky if you try to do anything advanced, as you may not know where to look.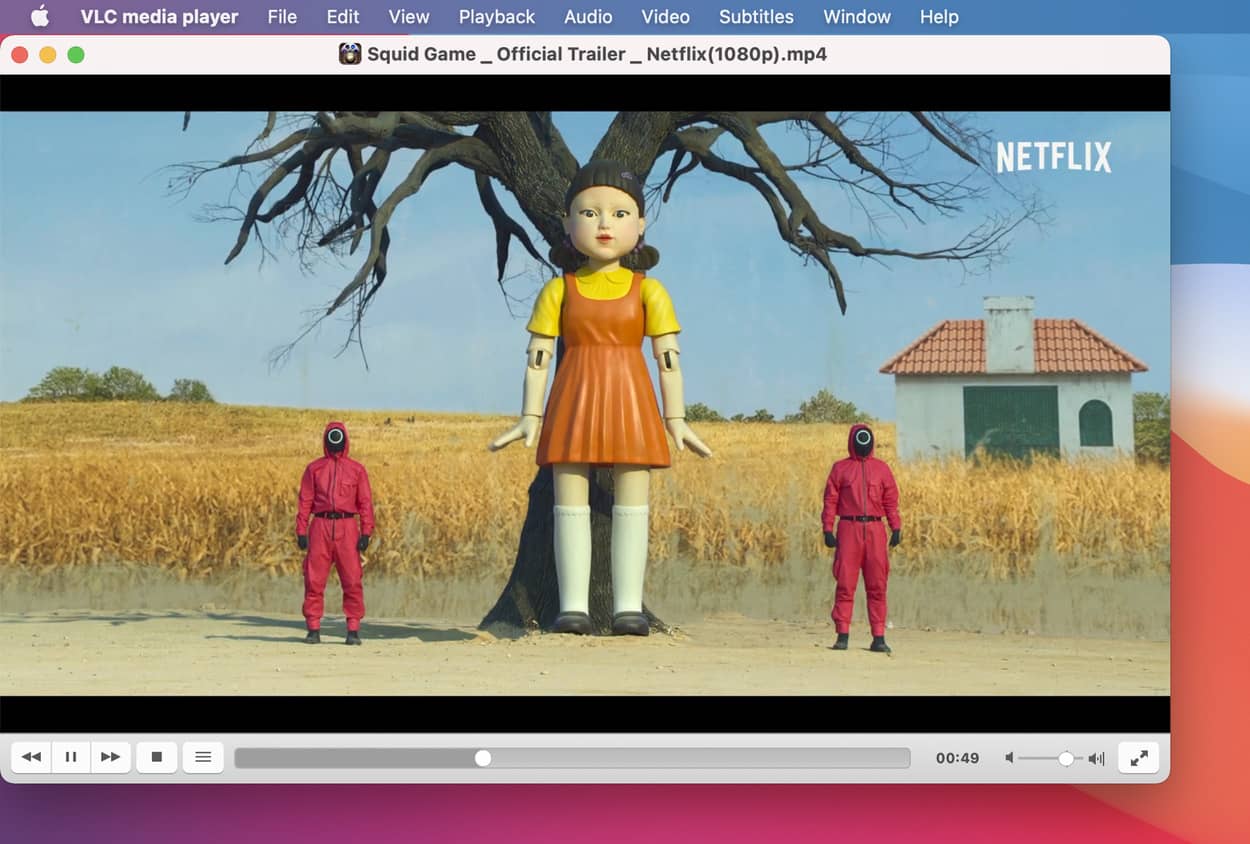 Pros:
Loads of settings to configure
Support for most formats
Advanced features including recording, conversion, etc.
Can stream media.
Cons:
Sheer amount of settings makes things difficult to find
Interface is a bit outdated.
Supported formats: MP4, MP3, MPEG, AVI, MOV, 3GP, WMV, WMA, ASF, OGG, OGM, DTS, AAC, WAV, MKV, FLAC, FLV, MXFf, NUT, MID.
3.

JustPlay

Next on our list of the best media player for Mac options is JustPlay. This compact, easy-to-use media player is packed with features and functionality. It supports a massive list of file formats with no need for plugins or codecs, even handling 4K and 8K videos. Other cool features include Touch Bar support, an audio equalizer with presets, a deinterlacing option, and Picture-in-Picture mode. JustPlay also integrates perfectly with macOS.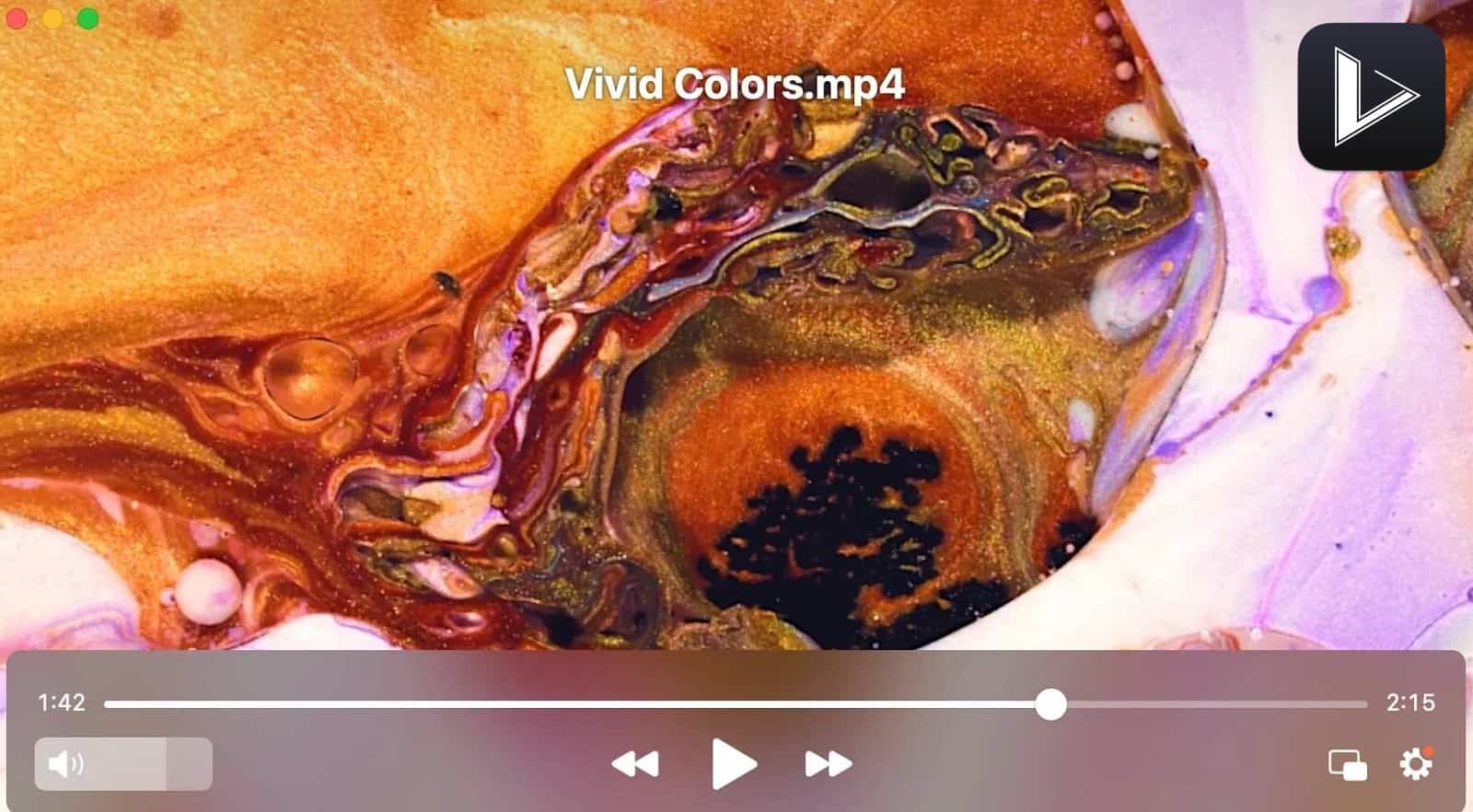 Pros:
Compact and simple to use
Support a wide range of file formats
Effortless 4K and 8K playback
Touch Bar integration and other Mac-specific controls
Various options for audio and video.
Cons:
No free version
Doesn't support video downloading or editing.
Supported formats: MP3, MP4, AVI, MOV, FLAC, M4A, OGG, APE, and more.
4.

IINA

IINA is a good option for those who are looking for a media player with a wide format support. It is written in the Swift programming language and includes Mac features: Force Touch, Touch Bar and Picture-in-Picture mode. IINA comes with Dark Mode and provides many application control options using Trackpad or Magic Mouse. The player is also capable of playing various online streams thanks to the support of youtube-dl and browser extensions.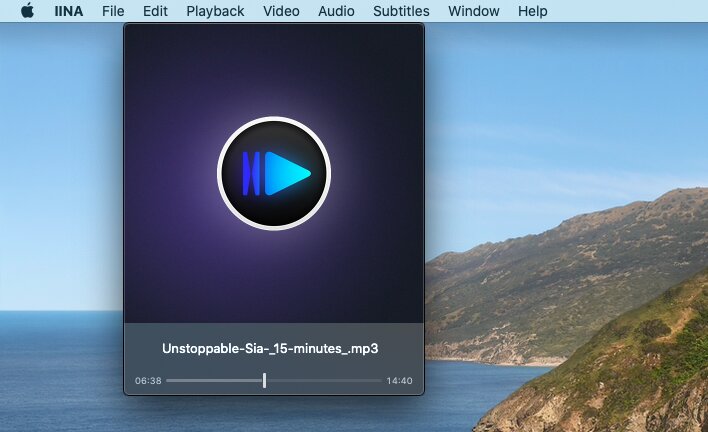 Pros:
Sleek interface
Free and open source
Fully customizable controls
Includes Force Touch, Touch Bar, and Picture-in-Picture.
Cons:
Works only on Mac computers.
Supported formats: MPV, AVI, MP4, FLV, SWF, WMV, MKV, M4V, etc.
5.

QuickTime Player

QuickTime is the default media player for Mac, released in 2009. Free to download, it's easy to use and supports a huge range of media formats. QuickTime Player boasts advanced video compression technology, so it can reduce bandwidth utilization and manage HD video storage space. Using QuickTime Player guarantees a smoother video viewing experience. However, it doesn't play some formats, so you may need a QuickTime Player alternative.
Pros:
Easy to use
Free
No additional installation needed
Offers advanced H.264 video compression technology.
Cons:
Doesn't support all formats.
Supported formats: MP3, MP4, M4A, M4B, M4V, M4R, AIFF, WAV, MOV.
6.

OmniPlayer

OmniPlayer is a popular media player Mac that supports many different file types. With OmniPlayer it's easy to play files or stream them to a Roku, Chromecast, or DLNA device. The app offers a wide range of video, audio, and subtitles settings to customize. The free version is packed with features, but to unlock the full range of functionality you'll need to upgrade to the PRO version for $8. This gets you recording, screenshot, and subtitle delay adjustment capabilities.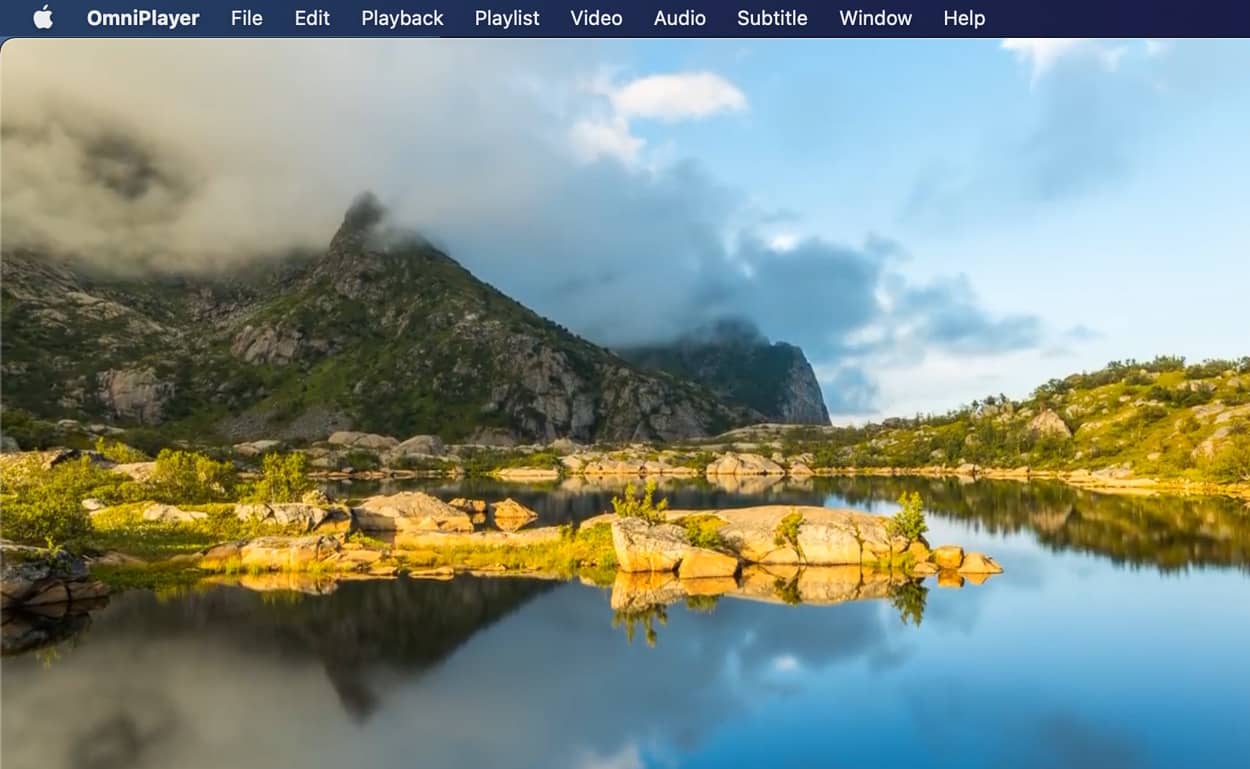 Pros:
Customizable video, audio, and subtitle settings
Works with most file types
Stream to Roku, Chromecast, or DLNA device
Free version isn't limited.
Cons:
To access all features you'll need to pay.
Supported formats: MKV, AVI, MOV, WMV, FLV, F4V, F4A, MPG, MPV, MP4, M4V, WEBM, MP3, M4A, WMA, WAV, and more.
7.

5KPlayer

If you're looking for the best media player Mac, 5KPlayer is well worth considering. Supporting an impressive number of file formats, 5KPlayer also packs in features like video downloading, streaming, cutting while you play a video, and a media organizer. However, the downside is that this app has ads, which can be rather intrusive, though you can get rid of them by using an older version. Despite this, it's still a worthy addition to our list.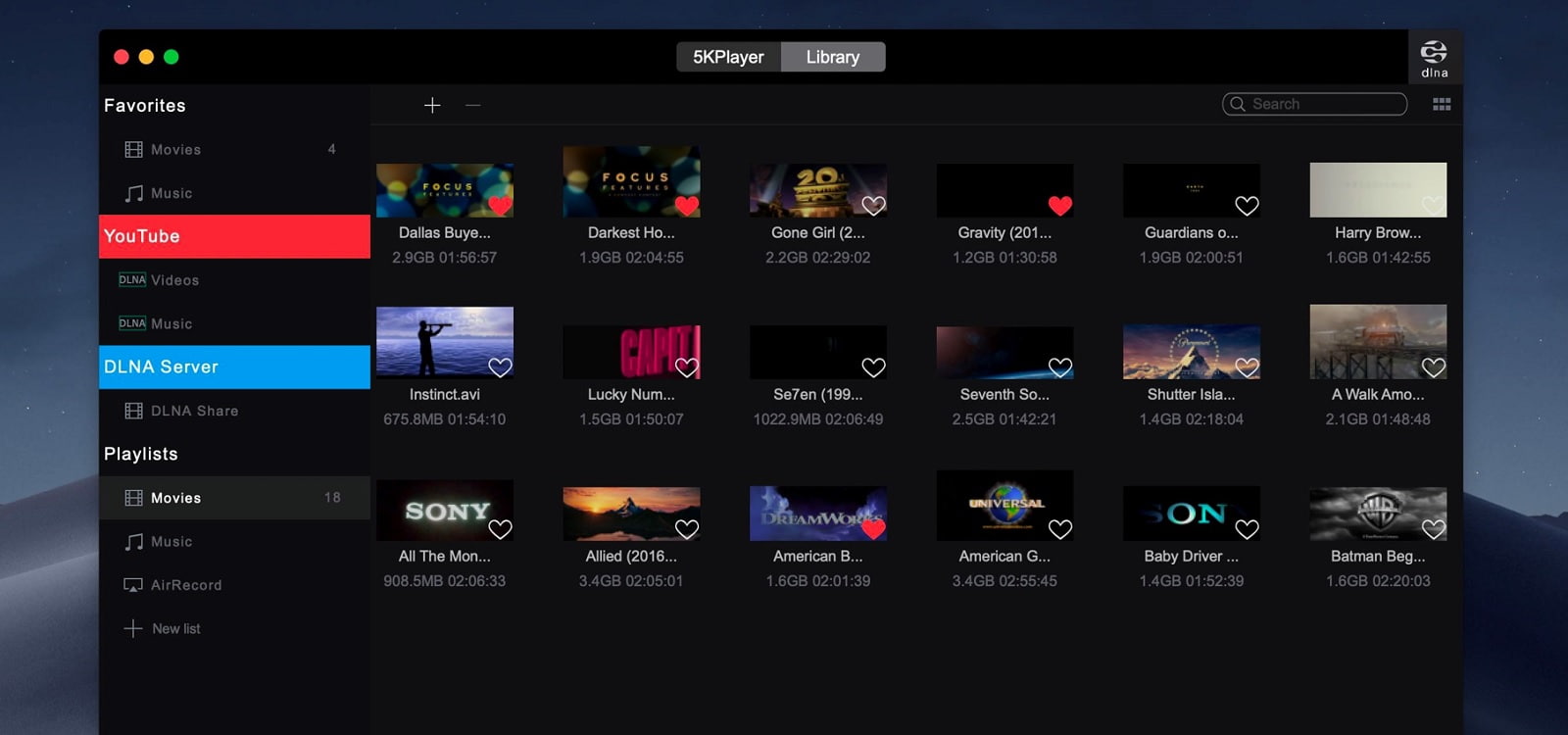 Pros:
Free
Supports many file types
Lightweight and easy to use
Feature-packed
Comes with TrueTheater technology.
Cons:
Audio settings limited
Ads in the free version.
Supported formats:AVI, M4V, MKV, MOV, MP4, MPG, WMV, M3U, M4A, MP3, WAV, and more.
8.

GOM Player

GOM Player is a minimalist media player Mac. The latest version of the software is packed with features and advanced functionality. Hidden behind the simple interface are features such as a YouTube player, codecs search, video editor, and more.

GOM Player is a free media player for Mac that has some really niche features, like attuning visual video settings like contrast and brightness in real-time or playing files that are still downloading, as well as playing damaged movies and audio files. The app can also show technical information about a file and the audio codecs used to play it, as well as displaying subtitles and playlists.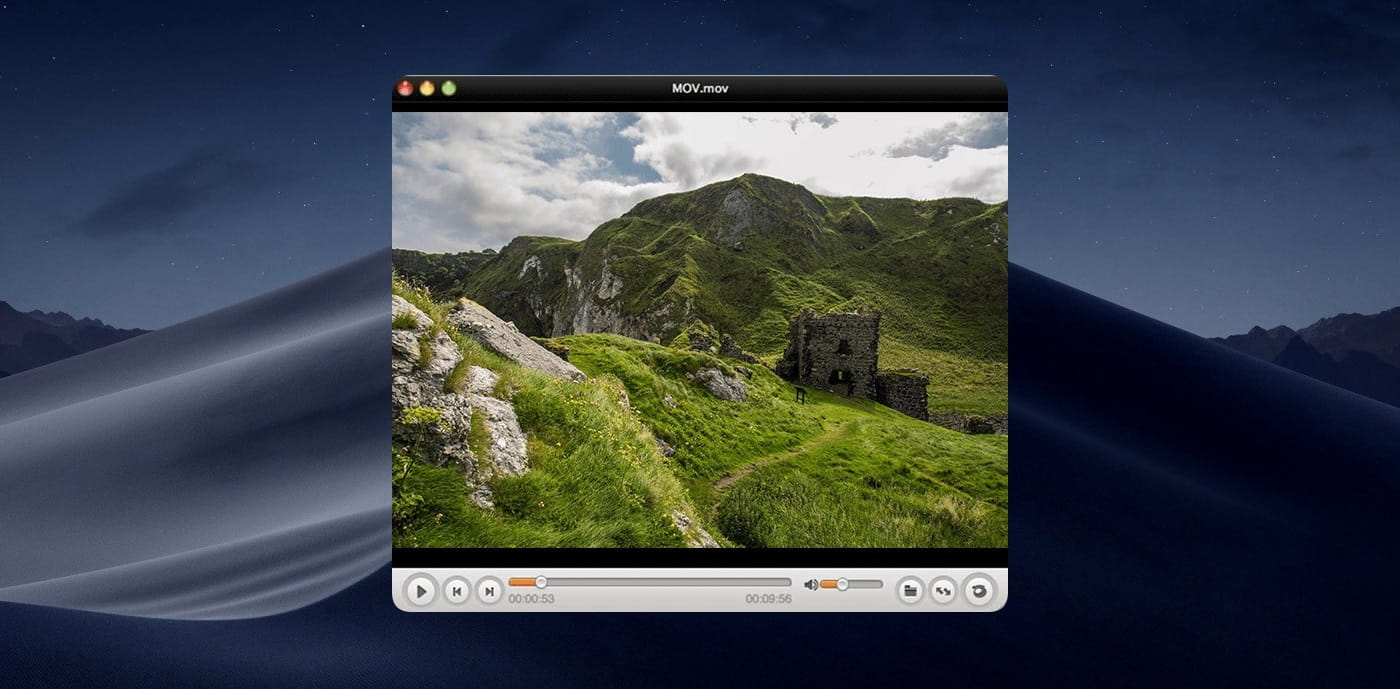 Pros:
Packed with features
Plays damaged files
Supports wide range of formats
Niche features and advanced functionality.
Cons:
Interface isn't intuitive
Installer comes bundled with unwanted programs.
Supported formats: It supports various file formats including AVI, MP4, MKV, FLV, WMV, MOV, etc. In Windows, it also allows you to find codecs, play damaged files, or a file being downloaded.
Top Features to Look for in a Mac Media Player
| | | | | | | | |
| --- | --- | --- | --- | --- | --- | --- | --- |
| Top Features | Elmedia Player | VLC | JustPlay | QuickTime | OmniPlayer | 5KPlayer | GOM Player |
| Multiple file formats supported | ✓ | ✓ | ✓ | ✓ (but a bit limited) | ✓ | ✓ | ✓ |
| File format conversion | – | ✓ | – | – | – | – | – |
| Subtitle support & integration | ✓ | – | – | – | ✓ | – | ✓ |
| Hardware-accelerated decoding | ✓ | ✓ | ✓ | ✓ | – | ✓ | ✓ |
| Screen recording & screenshot capturing | ✓ | ✓ | – | ✓ | ✓ | ✓ | – |
| Playlist integration, managing & customization | ✓ | – | – | – | – | – | ✓ |
| Supports local file streaming of several different formats to TVS/other streaming-enabled devices | ✓ | ✓ | – | – | ✓ | – | – |
| Supports Picture-in-Picture | ✓ | ✓ | ✓ | ✓ | – | ✓ | ✓ |
| No-cost version | ✓ | ✓ | – | ✓ | ✓ | ✓ | ✓ |
Conclusion
Hopefully this article has helped you to compare the best media player for Mac options. We highly recommend choosing a reliable, easy to use app like Elmedia Player, which is simple to use even for beginners yet packed with features and supports a wide range of formats.
When choosing the best Mac media player for your needs, don't forget to consider the pros and cons of each app, make sure it has the features you require, check out whether it is free or how much it costs, and take time to read user reviews before purchasing.
FAQ