To access any drive through a computer, it needs to be properly mounted. By default, this process should happen in the background. If you are unable to mount an external hard drive on your Mac automatically (and you didn't change any settings), something's up.
Things like corruption and faulty connectors could be preventing your Mac from properly recognizing the drive. Depending on the culprit, your data may be in danger. This article will help you secure your data and teach you how to fix a hard drive that's not mounting on a Mac.
Why is External Hard Drive Not Mounting on Mac
There are a few possible culprits why your external hard drive won't mount on Mac. Some of them are easy enough to resolve, while others need immediate action to secure your data.
| | |
| --- | --- |
| Reason | Description |
| 🖥️ You disabled the display settings. | macOS allows users to show or hide external drives on the desktop and in finder. Check Disk Utility if your drive has an "Unmount" button – this means that your hard drive has been successfully mounted and is just hidden. We'll show you how to enable the display settings later in the article. |
| 💽 Your drive is corrupted. | Virus attacks and faulty software can cause corruption, as well as interrupting a drive while it's reading or writing data (for example: yanking out your drive in the middle of transferring files). |
| 🗃️ macOS ran out of resources. | Your Mac could have run out of resources while mounting your hard drive. It also could have lagged while refreshing itself, preventing your hard drive from properly getting mounted. |
| 🔗 Connectors are damaged. | Dust and debris may be blocking your ports and connectors, preventing your Mac from properly recognizing your hard drive. Use a dry microfiber cloth to clean your equipment. Otherwise, try connecting your hard drive to another port or computer. |
| 🔨 Your drive is physically damaged. | Hard drives are vulnerable to extreme temperatures, waterlogging, and scratches – especially on its spinning disk. If you can't mount your external hard drive on Mac after dropping your drive or leaving it on a very hot surface, it's possibly physically damaged. |
If your drive is physically damaged, trying to recover or fix it yourself will only make things worse. We highly recommend sending your drive to a professional data recovery center. They have the facilities, equipment, and specialists needed to restore your files without ruining your data.
How to Recover Data From Drive That Isn't Mounting
To recover data from a hard drive that is not mounting on a Mac, we can use data recovery software to extract files directly from the file system. As long as your external hard drive shows up in Disk Utility but won't mount, this method will work – just make sure Disk Utility displays the correct size.
For this article, we'll be using Disk Drill. It's a well-known tool that's super easy-to-use, which is why we often feature it in our articles to demonstrate data recovery. Here's how to do it:
Step 1. Download and install Disk Drill.
Step 2. Launch Disk Drill (Finder > Applications > Disk Drill).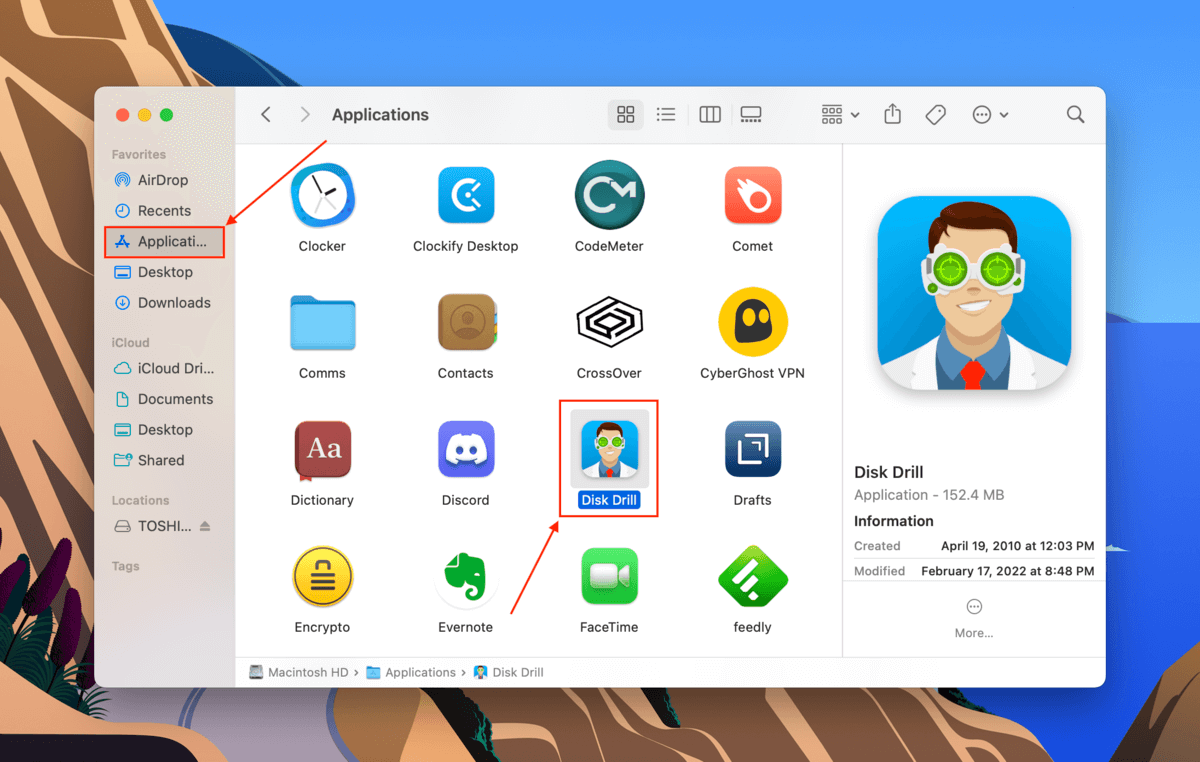 Step 3. Select your hard drive from the middle pane, then click "Search for lost data."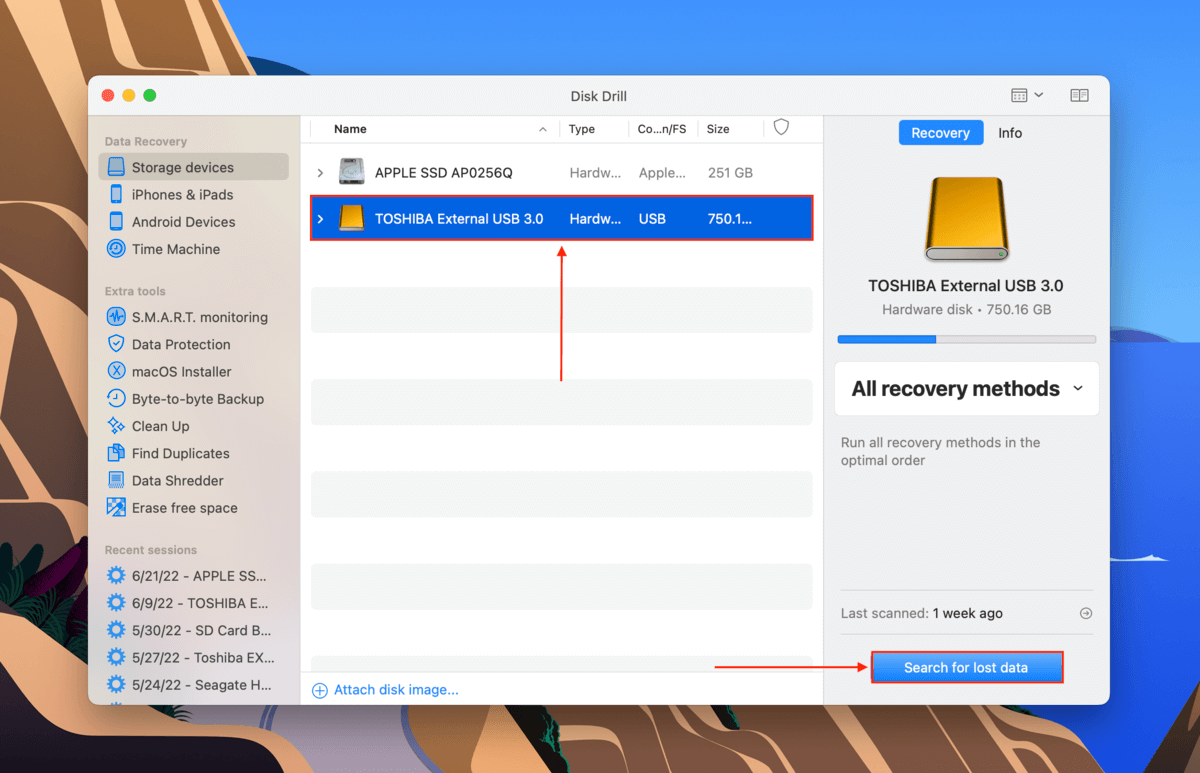 Step 4. Wait for Disk Drill to complete its scan. Once it's done, click "Review found items."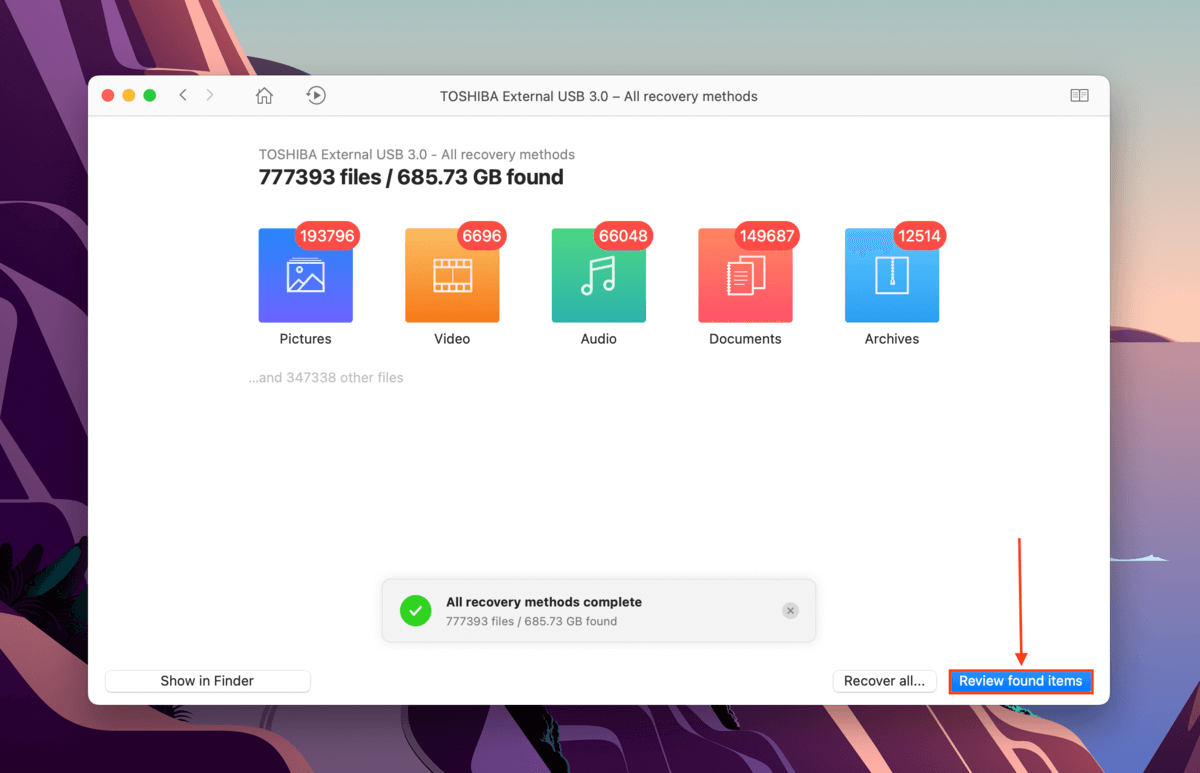 Step 5. In this screen, you can use the search bar to quickly find the files you need. Or, you can use the left sidebar to filter the results.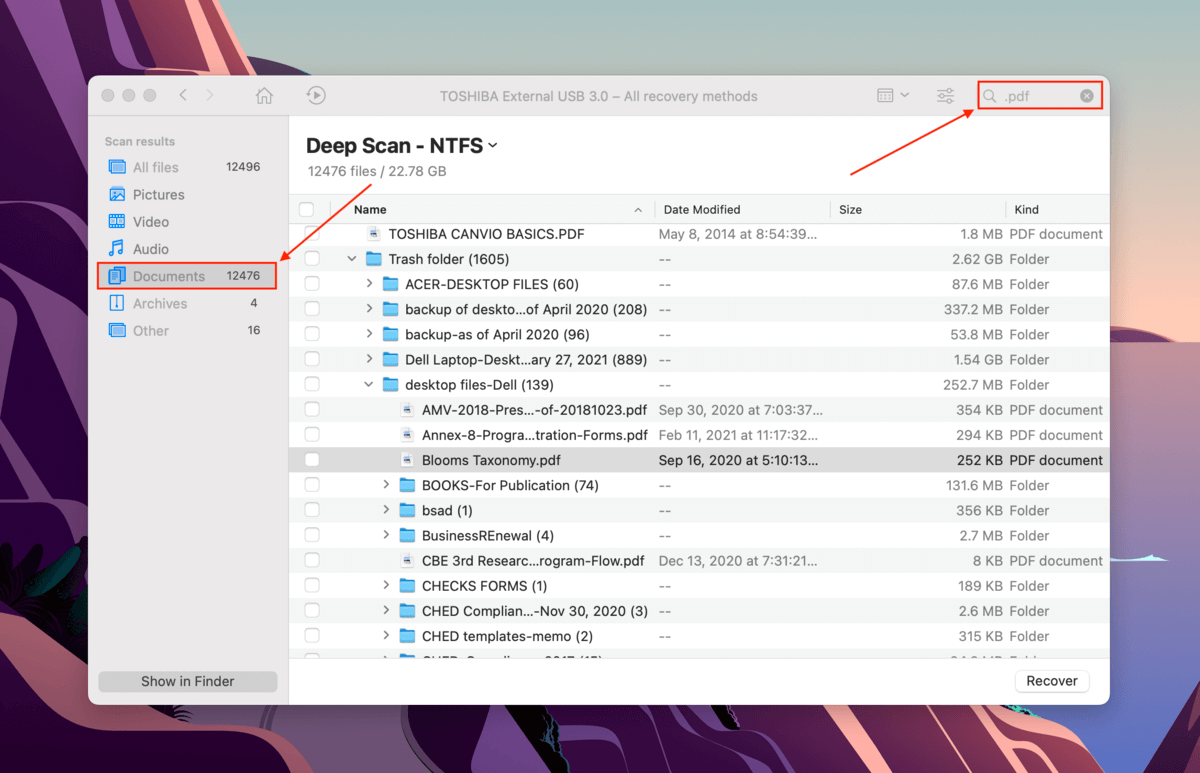 Step 6. To preview a file, hover your mouse beside its file name. An eye button should appear – click it.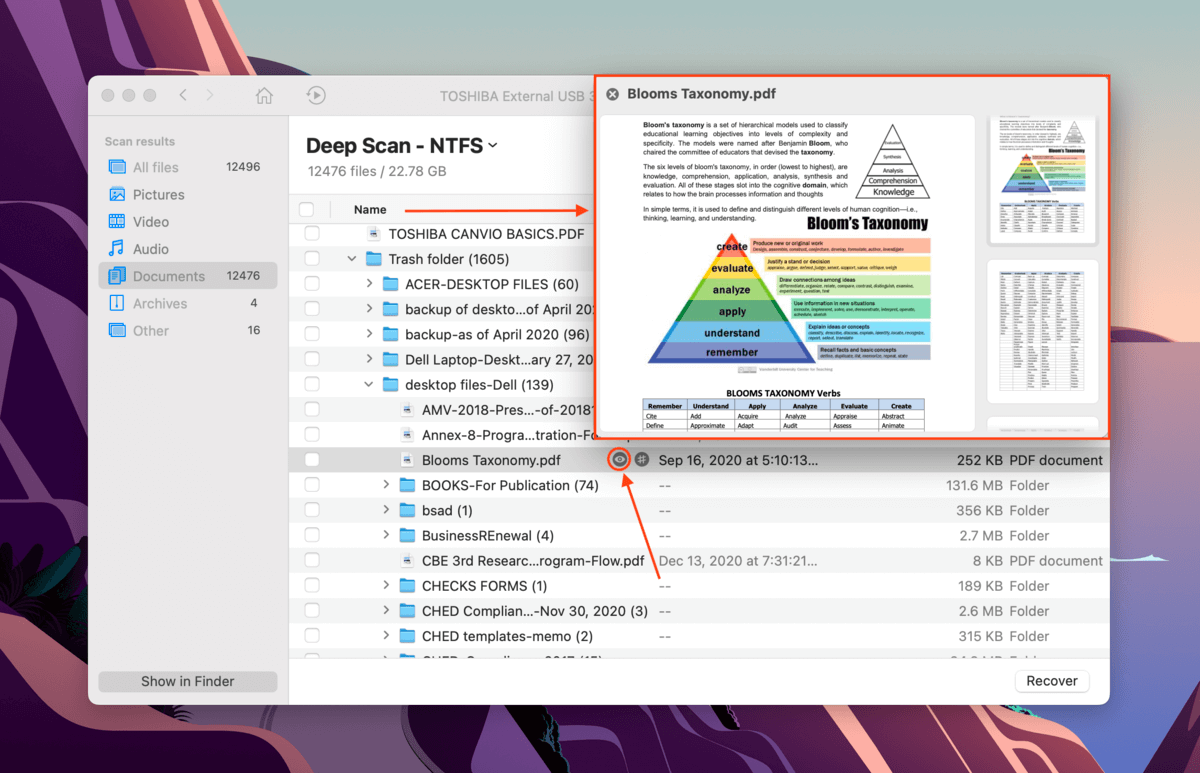 Step 7. Tick the boxes beside the files you want to restore, then click "Recover."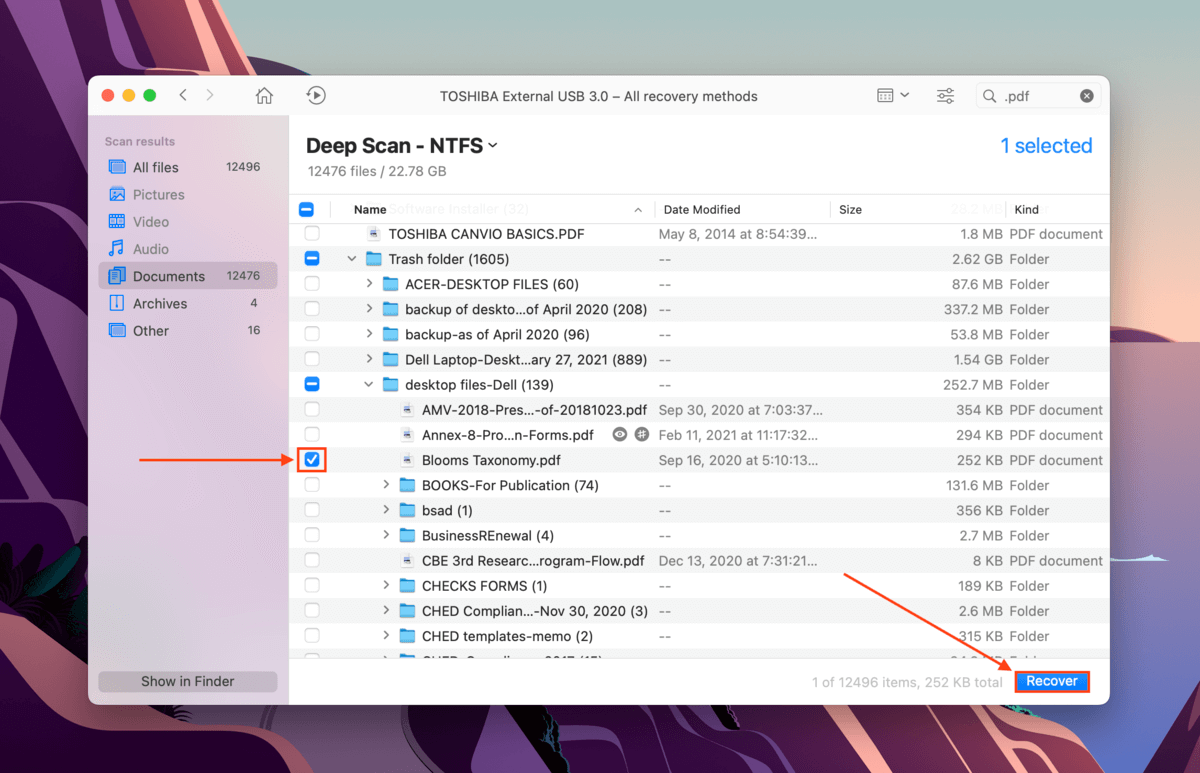 Step 8. Use the dropdown menu to select a location on your computer where Disk Drill will save the recovered files. Then, click "OK."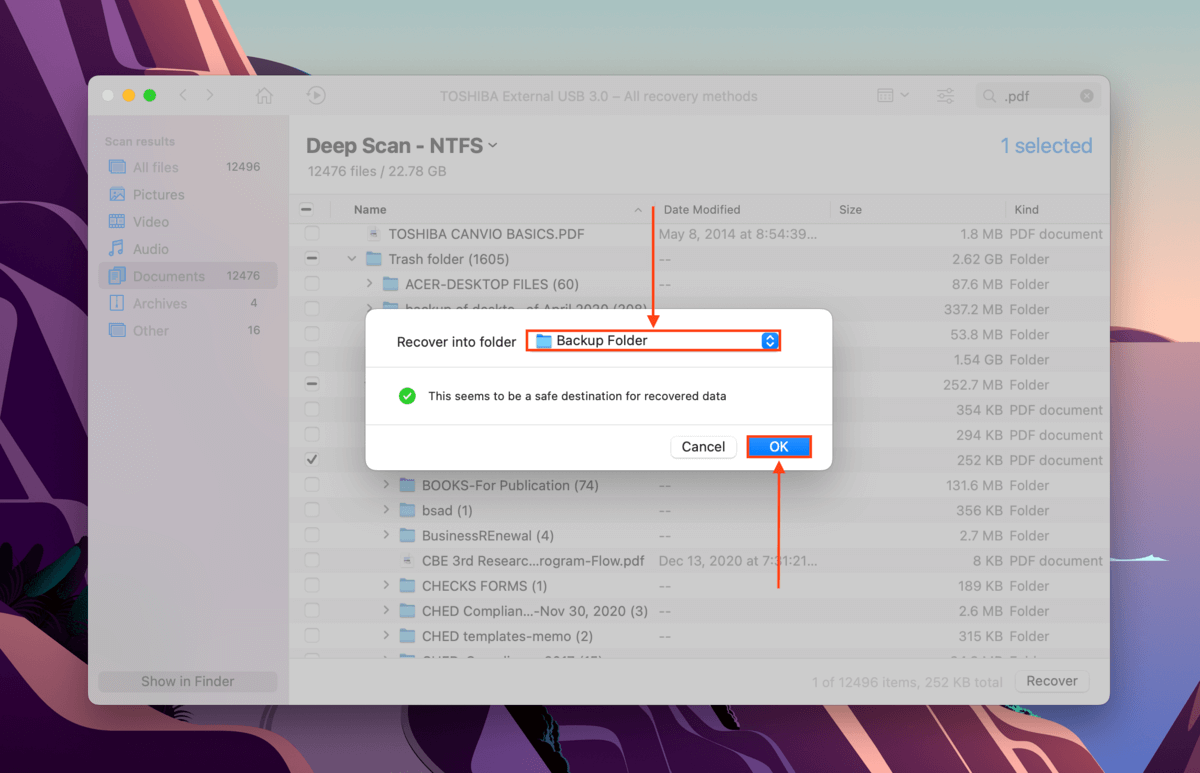 Disk Drill Basic for Mac does not offer free data recovery. However, it does offer free unlimited preview – this is super useful for determining if your data is recoverable. Free data recovery software does exist, but they all have their own limitations. Your mileage may vary.
How to Mount an External Hard Drive on Mac
Depending on what is preventing your external hard drive from being mounted on your Mac, there are different methods we can try to fix it.
Method 1:

Change macOS Drive Display Settings

macOS allows its users to hide or display external devices in the Finder sidebar and on the desktop. If Disk Utility shows that your drive is actually mounted, this may be the culprit. Here's how to access these settings:

Step 1. Open Finder. On the Apple menu bar, click Finder > Preferences.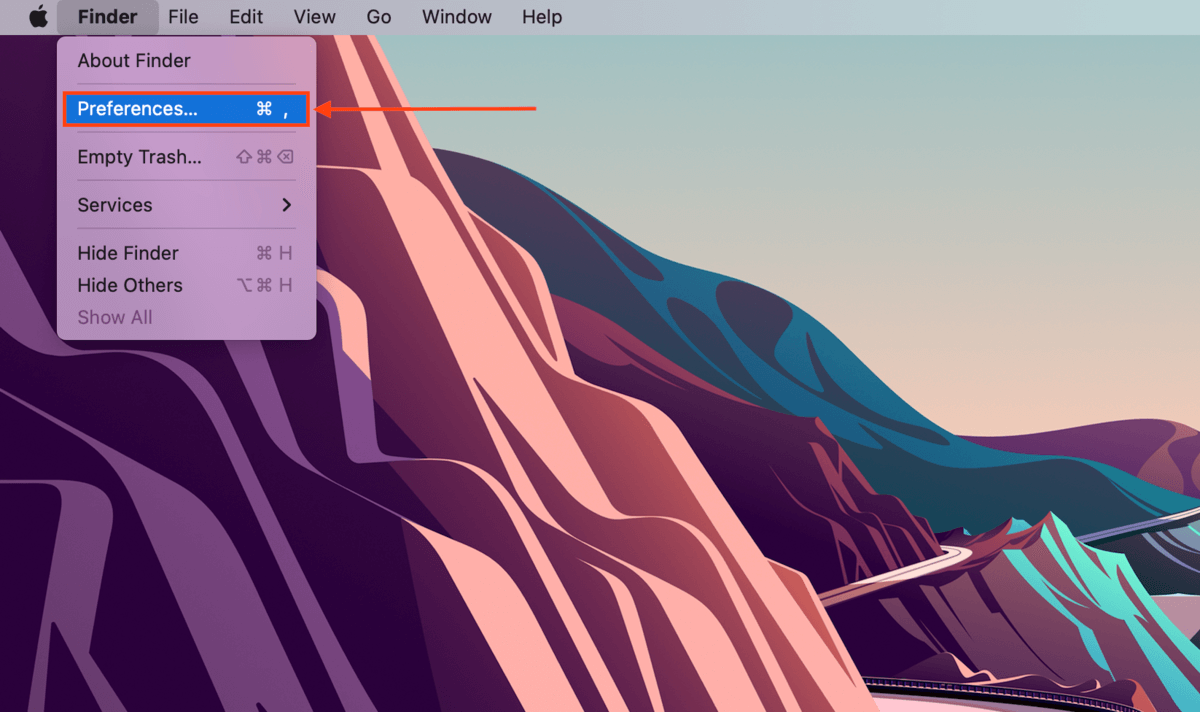 Step 2. In the "General" tab, tick the box beside "External disks."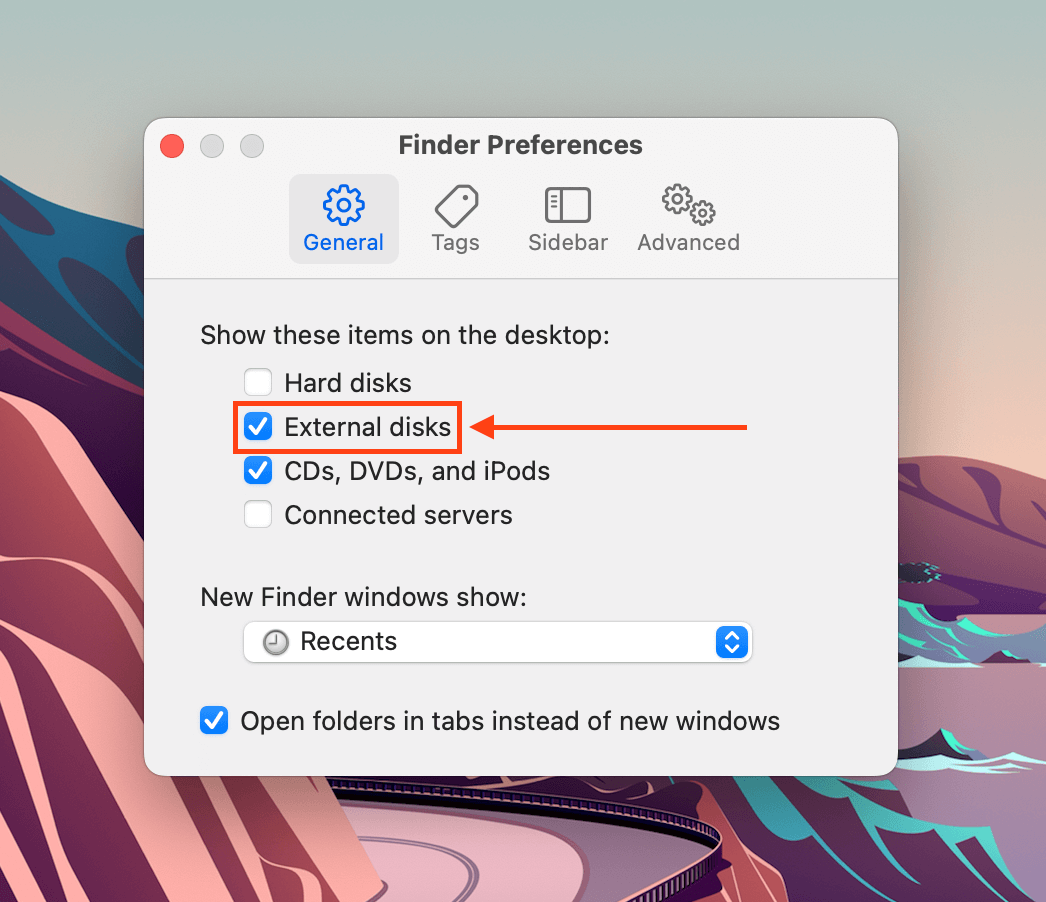 Step 3. In the "Sidebar" tab under the "Locations" section, tick the box beside "External disks."

Method 2:

Reconnect Your Drive

Maybe the connection just didn't bite. Try reconnecting your drive… And while you're at it, try different ports and cables too.
Method 3:

Restart Your Mac

If you have a lot of apps running as you connect your drive, macOS might have run out of the resources needed to mount and read it. macOS could also have gotten stuck while refreshing itself in the middle of mounting your drive.

Restart your Mac to "unstuck" it, and avoid opening too many apps while you use your hard drive.
Method 4:

 Force Mount Your Drive With Disk Utility

Through Disk Utility, you can manually force mount an external hard drive on your Mac. Launch Disk Utility (Finder > Applications > Utilities), select your drive or drive volume, and click "Mount."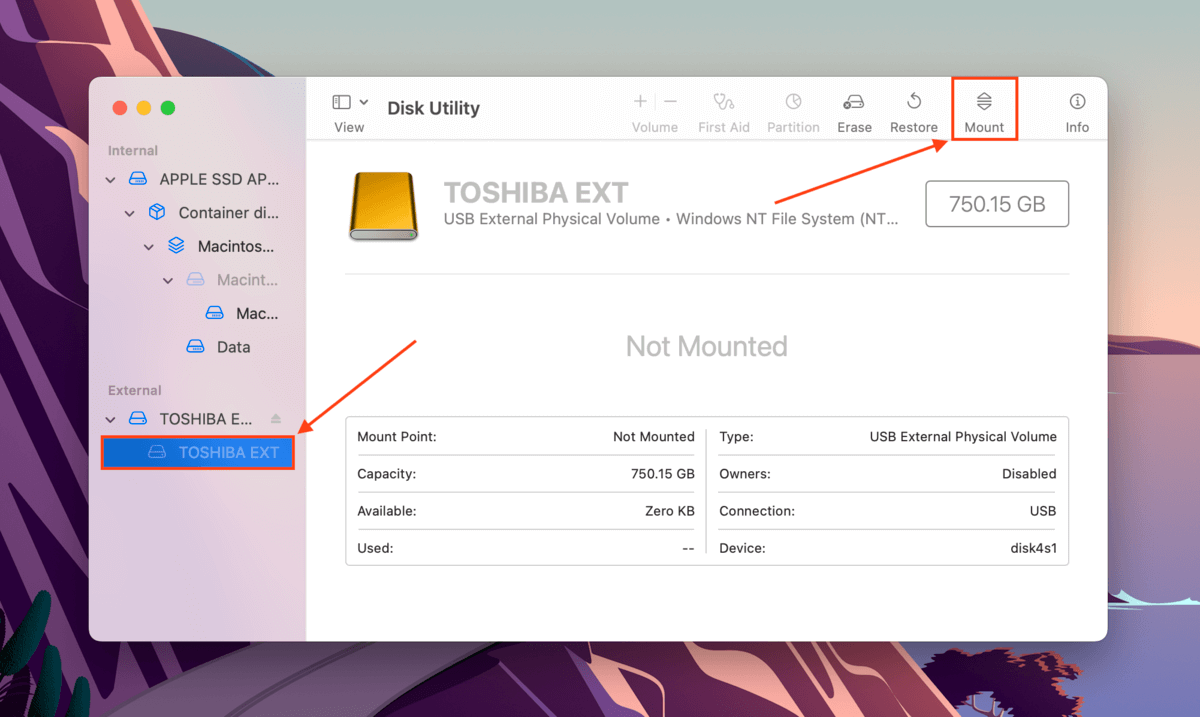 Method 5:

Use Disk Utility's First Aid Tool

The First Aid tool is also a Disk Utility function. It can find and automatically repair disk errors depending on the severity. Launch Disk Utility (Finder > Applications > Utilities), select your drive, and click "First Aid."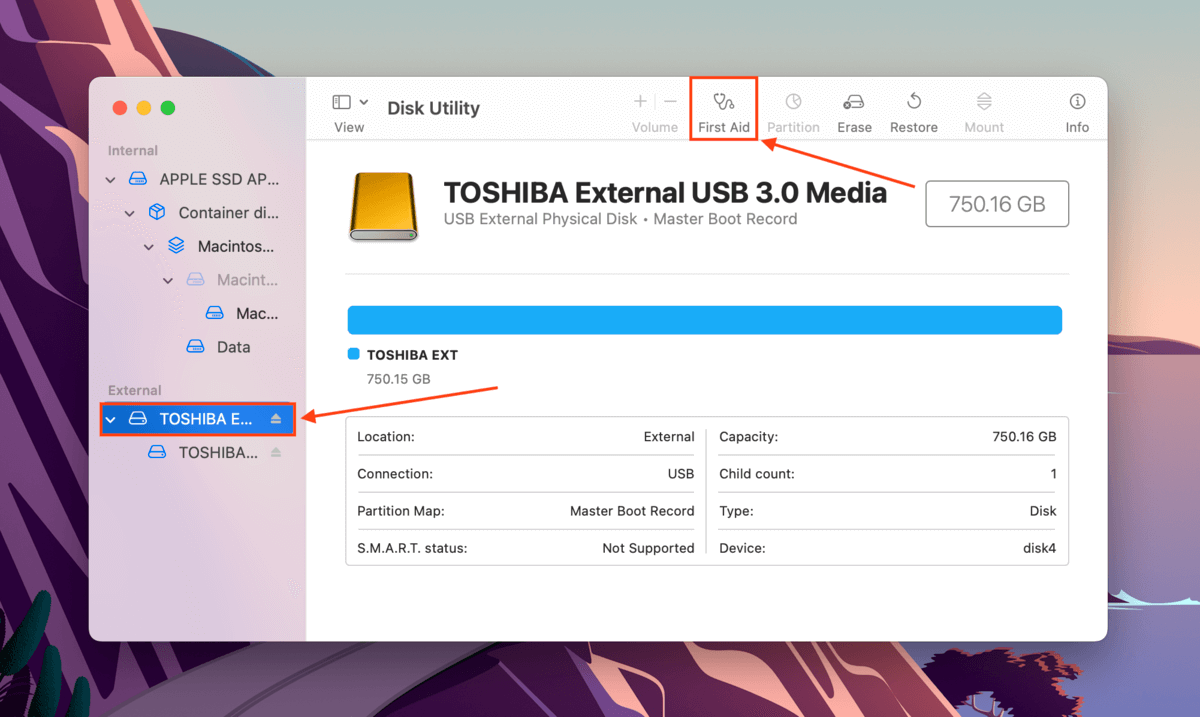 Method 6:

Reformat Your Drive

The most effective way to get rid of the mounting problem – especially if it was caused by viruses or corruption – is to reformat your drive. Note that this wipes everything on the disk, which is why it's effective at cleaning up drives. You need to use data recovery software after formatting to get your files back. But there's a better way.

Disk Drill offers a 100% free tool called "Byte-to-byte backup" which allows you to clone your hard drive. This clone can be mounted as a disk and can be used as the recovery target. This way, we have a higher chance of retrieving more data.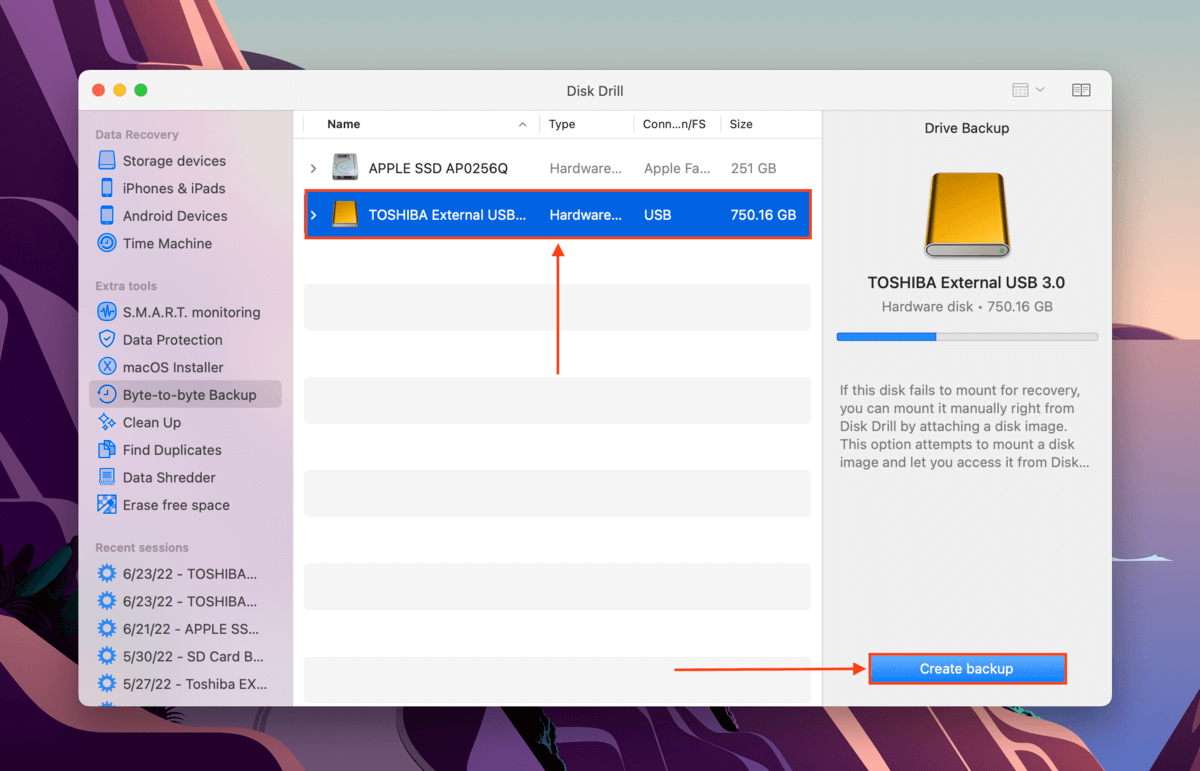 Once you've created the backup, use the "Attach image disk" button in the initial Disk Drill window to mount it directly using the app. Then, follow the same steps as the data recovery section of this article – just make sure to select your image disk in the initial window (instead of your drive).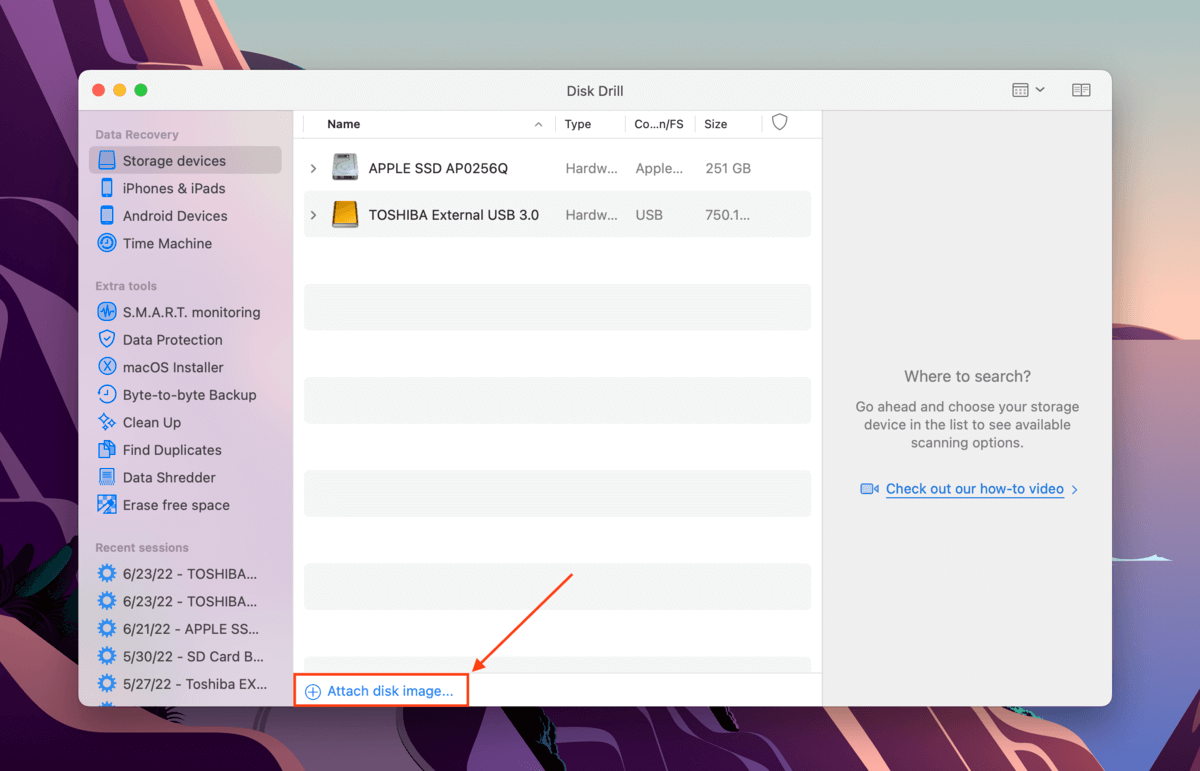 FAQ
If your LaCie drive is not mounting on your Mac, try these fixes:
Reconnect your drive.
Restart your Mac.
Force Mount your drive using Disk Utility's Mount tool.
Repair your drive using Disk Utility's First Aid tool.
Reformat your drive.
Warning: Reformatting your drive will wipe the data on it. We suggest cloning your drive and using that clone as the target for data recovery tools. Disk Drill has both backup and recovery functions built in, so we recommend using it for this task.
When you connect your hard drive to your Mac, macOS establishes a connection with the drive and makes it available for access. This process is called "mounting" a disk. To "unmount" a disk means to kill the connection and remove access. The terms "mount" and "unmount" were first used to describe this process back when computers were more analog.
Yes, a hard drive needs to be mounted in order to be properly recognized by your computer.