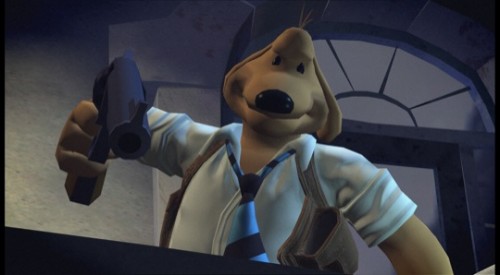 The third installment of the five-part series called Sam & Max: The Devil's Playhouse will be released for Mac OS X and Windows sometime tomorrow (June 22). This episode is called "They Stole Max's Brain," and the name gives away the concept of the episode. Instead of Sam & Max pairing up to hassle the baddies, Sam is all alone as he interrogates the scum of the earth to help find the brain of his little buddy.
This will be an exciting opportunity for the series to branch out a little bit from the regular formula. That is, if you can call anything in the world of Sam & Max "Normal." We'll get to see a new side of Sam, but I have to admit that I will miss the incessant rabbity interruptions.
If you haven't seen any of the screenshots or trailers for this upcoming episode, you can find them in my previous post on the subject.
Are you excited for the third episode in the Devil's Playhouse? Tell us what you're the most excited about by leaving a comment on this post, or you can hit me up on Twitter if you'd prefer.
Photo Credit: Telltale Games