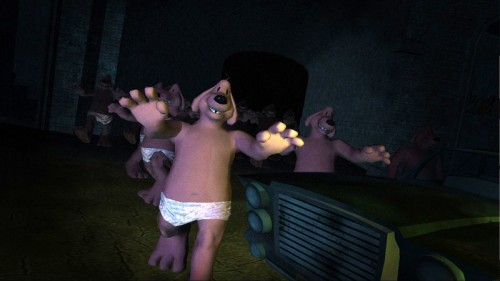 Telltale Games is reporting that "Beyond the Alley of the Dolls," the fourth episode of Sam & Max: The Devil's Playhouse, will be released on July 20th.
Here is what Tom, a Telltale representative, had to say in his blog post:
In this last episode before the epic season finale, the forces that have been pulling the Freelance Police's strings begin revealing themselves in…Beyond the Alley of the Dolls, a tale that will change the way you look at Sam & Max forever! An onslaught of oversized canine clones akin to a zombie apocalypse has our heroes running for cover in a barricaded ramshackle diner as the game kicks off. And it gets even stranger from there.
As the penultimate episode draws near, I am becoming very excited. If you're behind on the times, you can head on over to the Telltale Store, and pick up the whole season of Sam & Max: The Devil's Playhouse for $34.95 USD.
What do you think is going to happen? Are you loving the new gameplay and Mac support? I want to know about it. Please take a second to drop some science on us by commenting on this post, or hitting me up on Twitter.