Data security is an important topic that concerns all Mac users. As much as Apple tries to make its computers as secure as possible, users themselves are the ones who can improve or worsen their security posture the most.
One practice Mac users can easily adopt to greatly reduce the chance of having their most sensitive data exposed is the regular use of file shredding software. If you're not familiar with it, then this article is for you because it explains not only why it's important to shred files but also recommends the top 10 Mac file shredders currently available.
What Is a File Shredder?
Not all Mac users realize that deleted files can often be recovered even from an emptied Trash folder. That's because macOS simply marks the storage space occupied by them as available but doesn't actually bother to get rid of them because it knows that they'll be sooner or later overwritten by new data.
A file shredder is a software application whose purpose is to erase data in such a way that its recovery becomes impossible. To prevent data recovery, file shredders overwrite the deleted data with a stream of zeros or randomly generated data.
Many Mac file shredders are designed to comply with various standards for secure file deletion, such as the DoD 5220.22-M standard, which was published by the U.S. Department of Defense in the National Industrial Security Program Operating Manual.
According to this standard, data must be deleted in the following way:
Pass 1: All addressable locations are overwritten with binary zeroes.
Pass 2: All addressable locations are overwritten with binary ones.
Pass 3: All addressable locations are overwritten with a random bit pattern.
Secure file deletion standards like the DoD 5220.22-M are important when it comes to compliance, but regular Mac users don't need to worry about them. For such users, overwriting deleted files just once with a stream of zeros is more than enough to make their recovery impossible, and that's something even free file shredding tools can do.
Top 10 Best Free File Shredders for Mac
The last thing you want is to select a Mac file shredder that doesn't do what it's supposed to do, providing you with a false sense of security. The top 10 best file shredders listed below have received many positive reviews from Mac users who depend on them on a daily basis, and we've personally verified that the files deleted with them can't be recovered using any data recovery software.
There are many reasons why Permanent Eraser is the best file shredder for Mac, and its simplicity and performance are among them. Mac users can download this open source file shredder free of charge directly from its home website, Edenwaith. Permanent Eraser supports multiple secure deletion methods, including 3-pass DoE or 35-pass Gutmann algorithms, so it can be recommended even to organizations that are required to comply with various regulatory standards.
To securely shred a file using Permanent Eraser, you can simply drag the file onto the app's Dock icon or right-click on it and select Services > Erase (the bonus Automator Actions and Finder plug-in is required). Permanent Erase has been translated into eight languages, and it works with all recent versions of macOS.
Pros:
Open source
Multiple wiping methods available
Ease to use
Cons:
Some users may find it too simple
The latest version of Disk Drill, one of the most popular data recovery solutions for Mac and Windows, includes an enterprise-grade data shredder with support for different secure erasure methods. The shredder can delete both individual files as well as entire folders, including Trash folders located on all connected internal and external drives.
In addition to the data shredder, Disk Drill can also securely erase free space on any storage device to make files that have already been deleted unrecoverable. Both the data shredder and the free space eraser are remarkably intuitive and highly reliable. To verify that your files can't be recovered, you can tell Disk Drill to perform a deep scan of your Mac. If it doesn't find your files, it means that no other data recovery software will.
Pros:
Enterprise-grade data shredder
Multiple secure erasure methods
Remarkably intuitive
Can erase free space
Cons:
No direct shredding from Finder or Dock
CleanMyMac X is a popular all-in-one Mac cleaner that can be used to free up valuable storage space by deleting system junk, large & old files, mail attachments, and unused apps, among other things. Its built-in Mac file deleter can be used to erase unwanted files or folders quickly and without leaving a trace.
The file deleter shares the same polished user interface with all other features offered by CleanMyMac X, so even less experienced users shouldn't find it intimidating to use. Just keep in mind that the version of CleanMyMac X that's available in the App Store doesn't contain the file deleter—only the version distributed via the MacPaw Store does.
Pros:
Modern user interface
Offers many other features
Frequently updated
Cons:
The App Store version of the app can't shred files
VoidTech FileShredder is a no-frills eraser for Mac that's meant to quickly and securely delete all files that users drop onto its Dock icon. It supports four shredding algorithms: 1 pass (fastest), 3 passes, 7 passes (DoD standard), or 35 passes (Gutmann deletion, safest). As such, it's remarkably versatile and recommendable to all kinds of Mac users.
Unfortunately, VoidTech FileShredder is no longer available in the Mac App Store because Apple decided to take the app down due to minor compatibility issues with macOS Catalina. Since the app was taken down, Apple decided that apps that securely delete files wouldn't be viable for the Mac App Store anymore.
Pros:
Supports four shredding algorithms
Can delete files directly from the dock
Mature file shredder
Cons:
Last updated in 2016
No longer available in the Mac App Store
ShredIt X for Mac is one of only a few multi-platform file shredders that work on virtually every major operating system, including macOS, OS X, Mac OS X, Mac OS 9, Mac OS 8, Mac OS 7, Windows 95, Windows 98, Windows NT, Windows 200x, Windows ME, Windows XP, Vista and Windows 7, Windows 8, and Windows 10.
However, its multi-platform nature isn't the only aspect that makes it perfect for privacy-conscientious organizations and individual Mac users alike. ShredIt X for Mac supports commonly used file shredding standards, and offers several options to erase files, including drag and drop. You can try it for free or purchase the full version for $24.95.
Pros:
Multi-platform
Compliance with many shredding standards
Progress bar
DoYourData Super Eraser for Mac supports three distinct data shredding modes. First, it can selectively erase files and folders from any storage device. Second, it can permanently wipe an entire storage device to erase all data that was stored on it. Third, it can securely overwrite free storage space to make it impossible to recover files that have already been deleted.
All this functionality can be accessed from a polished user interface, which also provides access to a disk manager, app uninstaller, and internet cleanup tool. To unlock everything DoYourData Super Eraser for Mac has to offer, you need to purchase a license for $19.00 (one year) or $39.00 (lifetime).
Pros:
Modern user interface
Three distinct data shredding modes
Great customer support
There's no denying that Magoshare AweEraser is a capable file shredding software application that can be recommended to all Mac users who enjoy a well-designed user interface. It supports all modern data erasure standards and offers a straightforward erasure process that barely requires an explanation.
In addition to files and folders, Magoshare AweEraser can also erase entire storage devices and free storage space. The app looks like a clone of DoYourData Super Eraser for Mac, but we don't want to come to any conclusions because it's also possible that both Magoshare AweEraser and DoYourData Super Eraser for Mac are based on the same whitelabel software app.
Pros:
Supports macOS and Windows
Compatible with modern data erasure standards
Creates detailed erasure reports
Lifetime free updates
Cons:
Eerily similar to several other file shredders for Mac
Mac Optimizer Pro is one of the most popular apps for making a slow Mac run like new again. Since its release, it has received countless satisfied reviews from users around the world, who use it to uninstall performance-draining apps, remove unwanted cache files, and clean up after messy apps.
Included with Mac Optimizer Pro is a military-grade data shredder that makes secure file deletion a matter of a simple click. To try it out, you can download the free version of Mac Optimizer Pro, which does a good job of showcasing what the full version can do.
Pros:
Straightforward file shedder
Built-in chat support
Clear user interface layout
Cons:
Too simplistic for enterprise users
TuneupMyMac is a one-click system optimizer that includes a permanent eraser Mac users can use to securely delete sensitive data so that it can't be retrieved again. Because the eraser is just one of many tools included in TuneupMyMac, it doesn't provide any advanced options, which some users may actually find appealing.
Indeed, simplicity is one of the biggest pros of TuneupMyMac Permanent Eraser Mac. When you launch it, you're encouraged to drag and drop files and folders into its window to add them to your shredding queue. You can then simply click the Shred Items button and watch them permanently disappear from your Mac.
Pros:
One-click data shredding
Intuitive user interface
Cons:
Lacks advanced configuration options
Using this file deleter, Mac users can efficiently delete both individual files and entire folders. Stellar BitRaser File Eraser supports 17 international data erasure standards, such as DoD 5220.22-M (3 passes/7 passes), NATO, Russian Standard GOST-R, British HMG IS5, and Guttmann (35 passes).
Regardless of which standard you choose, the file shredder always generates an erasure report that organizations can share with their customers and partners to prove that their data has been securely erased. Stellar BitRaser File Eraser can also erase sensitive hidden app data and get rid of traces of internet activities, including online banking, shopping, and so on.
Pros:
Supports 17 international data erasure standards
Generates an erasure report
Can erase sensitive hidden app data
File Shredders Review Summary
| | |
| --- | --- |
| 🔢 Number of tested tools | 22 |
| ⌛ How long we tested | 5 weeks |
| 💻 Our macOS version | 11.5 Big Sur |
| 💸 Minimum cost | Free |
How to Use File Shredding Software?
Using file shredding software is simple since all you typically need to do is to select the file or folder you want to delete and let the software do its job. The following step-by-step instructions explain how to shred files using Disk Drill's free file shredder:
Step 1.

Download and Install Disk Drill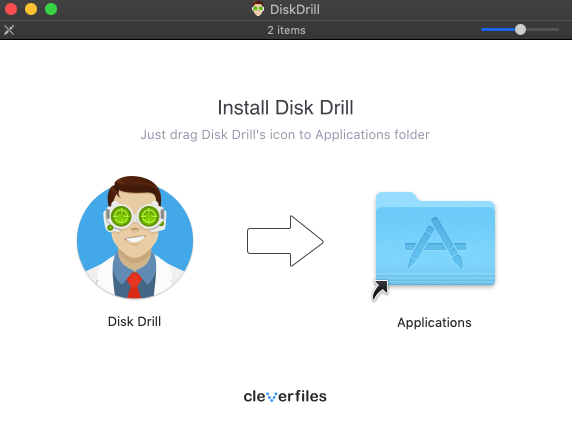 Disk Drill for Mac is a freemium data recovery app that includes a bunch of useful disk tools, including a free data shredder. You can download it from its official website and install it just like any other third-party Mac software.
Step 2.

Add Items to Shred
Launch Disk Drill and select its Data Shredder from the left pane. Click the "Add items to shred" option at the bottom and select the files or folders you want to securely delete. You can also add all available Trash locations, including those located on external hard drives.
Step 3.

Choose Your Preferred Shredding Method

By default, Disk Drill overwrites your data with zeros, but you can also choose to overwrite them with random data or perform 3/7-pass secure erasure, as described in the DoD 5220.22-M standard. When you're ready to say goodbye to your files, simply click the "Shred this now" button.