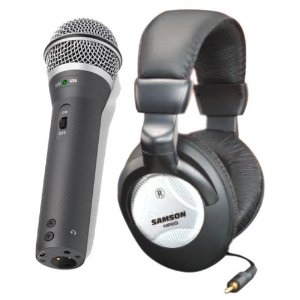 We do a lot of podcasting around here. Grant and I record daily audio podcasts, and Brennan, Erin, and I do weekly video podcasts. Having a good mic is hard to come by, but having a mic that is both an XLR mic and a USB mic is a rarity for us. It's usually one or the other. And that's where the Samson Q2U Recording Pak
comes in, because it comes with a cardioid microphone that supports both USB and XLR.
The other really cool feature about this recording pack is that it comes with over the ears headphones that plug directly into the microphone so that you have the ability to monitor your audio without a delay. Great in theory, but not so great in reality. The headphones gave us quite a bit of difficulty.
Initially we thought that the headphones were broken, but when we plugged them into the computer they worked fine. While plugged into the microphone directly, the headphones were muted and so faint that it was virtually impossible to hear ourselves. There's a good chance we got unlucky and were sent a slightly defective model.
If the headphones typically work as advertised, this setup would be ideal for the novice podcaster. The audio quality of the Samson Q2U Recording Pak
microphone is top notch (you can hear it in the video below), and and it's on par with our Audio Technica AT2020 microphone
($117.35) that I use for the audio podcast. Coming in at 89.95 on Amazon, the Samson Q2U Recording Pak is a steal of a deal, and we highly recommend it, despite the problems we had with the headphones.  Oh yeah, they also ship it with all the cables you'll need to get started.  That's a huge bonus for us.  There's nothing worse than getting a toy home, and then having to run out and buy cables.
The video below shows us unboxing the Samson Q2U Recording Pak and trying it out. We also share some of our first impressions.