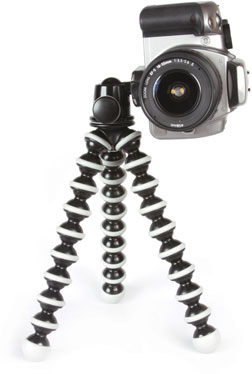 I've mostly fiddled around with knockoff Joby products, and I've been quite underwhelmed by them. Clearly, I was mistaken, because once I got my hands on a legit Joby Gorillapod my opinion changed.
By now, most of you have probably heard of the Joby Gorillapod line, but if you haven't, these tripods are designed to get you out of a bind. Essentially, you can bend the legs so that you can place your camera into the most awkward of positions.
For instance, if you need to snap a picture, and the only thing available to use is a tree? No problem, wrap the legs of the Gorillapod around a branch and snap your pics.
Up until recently the Gorillapods weren't that effective at holding the weight of an SLR camera, but the Gorillapod SLR-Zoom fixes that. This thing held up all of the cameras we tested (It's rated to hold up to 3 KG, or 6.6 LBS).
It comes in at 49.95, and it's worth every penny.