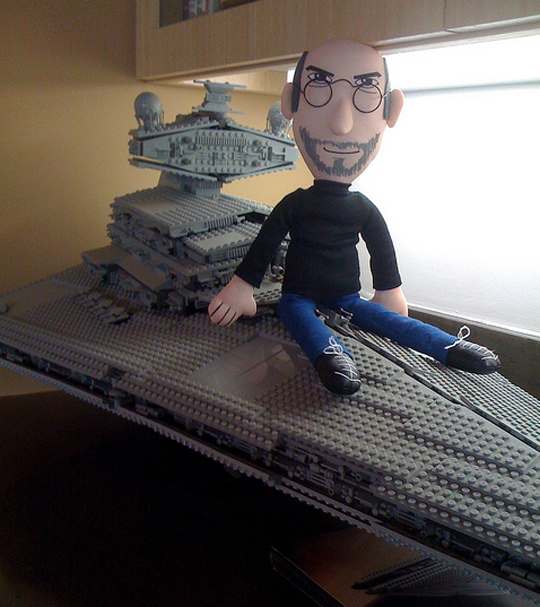 I'm always on the look out for glorious little Apple themed items. Occasionally on my journey I come across a whole lot of WTF. In the end, one person's glorious could be someone else's WTF and vice versa. Or it's just a nice showcase of how crazy us Mac people really are. Whether you roll your eyes or make a purchase, I hope you will enjoy my finds.
I'm sure you've seen this little guy before. This doll was made by Podbrix in a limited edition run of 500. These are pretty much impossible to get now. I think they occasionally pop up on eBay but considering that their Steve and Woz Lego scene is going for $1,500 right now, I don't know how affordable it would be.
I found this little guy on Etsy. He's hand made out of felt wool and stands almost 12-inch tall. He's made with love by Ava Mosaic out of the Netherlands. For $52, he can be yours.
I stumbled upon this one yesterday which initially really creeped me out. Now that I've looked into it further it's actually a hand painted art piece by Pucherito that is part of a series of famous people painted onto the wooden poser figurines. The series is Art Duritos and each figure comes in a sweet action figure like box and will run you about $98, which they claim is much reduced from how much you would pay if you were to buy it from one of their gallery showings.
If you're hot to own your own Steve Jobs doll but all these have been a bit too pricey, Paper Pal on Etsy has an 11-inch paper doll version of Steve that she claims is equally qualified for framing or hanging it on the fridge. Best part, it's all for the low price of $8.
If you like the idea of having your own little Steve but you don't want to spend any money, you could always head over to Toy-A-Day and download your printable Steve Jobs. He comes complete with a little iPhone and iPod classic.
Hope you like my finds. If you come across anything that makes you say WTF and think it is worthy of being considered for this "Odd Apple Stuff" series, shoot me an email at [email protected] and we'll feature it!