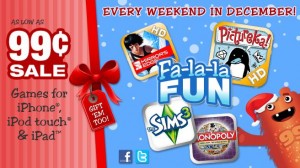 Another weekend, and another sale on games is upon us. EA games is getting into the holiday spirit with more games added to their Fa-La-La Fun Sales Event. Jared Nelson has the complete list over at Toucharcade. Once again proving the old axiom that good things come to those who wait, there's a long list of games from EA that normally are at least a few dollars, now on sale for 99 cents. In some cases you could save $12 on a game. That's 12 more games you could buy at $0.99!
Popular titles such as Mirror's Edge, Battlefield: Bad Company, the various Need for Speed games, the Sims 3 series, R-Type (!) and even Madden NFL 11 are on sale for iPhone and iPad for $0.99. The iPad games in particular are a steal.
I appreciate a sale as much as anyone else, but you might want to take a deep breath before you buy too many. Some of these games have been $0.99 for a while, but EA has included them in the list of sale games, which is a little bit sneaky. Use something like AppShopper.com to check the price changes on an app if you want to see how much you're actually saving with this sale. Mind you, at $0.99 it's not much of an outlay if you want one of these games.
If paying 99 cents is still too much for you, I noticed that the game Auditorium is now free, as in free. This game is a unique music/physics/puzzle game, and if that isn't enough to intrigue you, did I mention it's free? (Full disclosure, this game has been free since April. Thanks, AppShopper!)
I just picked up three for my iPhone without even thinking about it. I've got a long plane ride with two children coming up and Snood, Pictureka! and Sudoku should help keep either myself or them from going insane. Snood!
Article Via Toucharcade