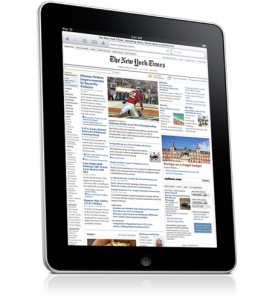 Rumours are starting to roll in about the SDK for the iPad and a couple "trusted" sources have begun spilling the beans on some of the API hooks found in the code. Apparently there's support for a webcamera, sms, as well as file downloads and storage on the device. There has also been some suggestions that the device may do multi-tasking.
Whether or not these changes will ship with version 1.0 of the iPad is not known yet, but simply put, we know very little about what the software will do on the iPad. I've been saying all along, since the iPad announcement, that we need to wait for more information on the OS in particular, as well as what will be supported before we really start complaining about the device. Apple had not made any mention of what will be running on the device, nor have they announced what features will be present at shipping time. A lot of the public discourse on the device has been focused on the fact that the device may be missing features like multi-tasking, but the last time I checked multi-tasking is implemented at the software level.  So, whether or not multi-tasking is present in the device is not something we'll have any really insights into until Apple either announces it or ships the iPad without it.
We might not see all of this stuff in version 1.0, but we certainly might see them in versions down the line. If even half of these things make their way to the iPad the device might be a bigger success than everyone has speculated.
Hopefully the haters can tone it down a little until we actually find out what's being shipped in 60 days.
[via Engadget]