Bento for iPad is officially available. If you've managed your data with FileMaker's Bento for Mac OS X, you'll definitely want to grab the brand new $4.99 iPad version.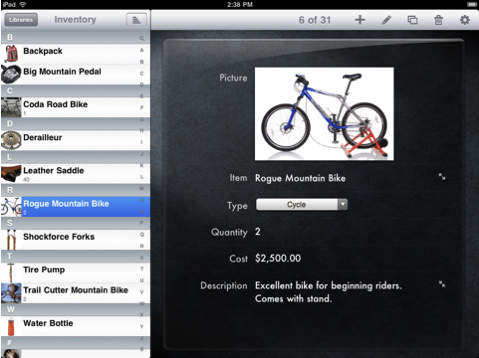 If you're not quite ready to jump on the iPad bandwagon, you can also check out their iPhone version of Bento. You'll get a scaled down version of the same wonderful interface.
I've been on the fence about trying out Bento for a while, and this might just be what pushes me over. They are clearly dedicated to pushing out cutting edge applications that satisfies the needs of many people. I like FileMaker's moxy.

If you'd like some more information, here are some key points:
Syncs with Bento for OS X, but can be used solo
Includes brand new snazzy themes
Includes templates "ranging from event planning, time billing, recipes, classes, dieting and more…"
Supports fifteen types of fields "including text, numbers, choice, checkbox, media, time, date, durations, currency, rating, address, phone number, email, URL and IM Account."
Only $4.99
So, are you excited about using Bento on your iPad? Do you have a unique itch that this is scratching? Comment on this post or hit me up on Twitter.
Photo Credit: sflovestory