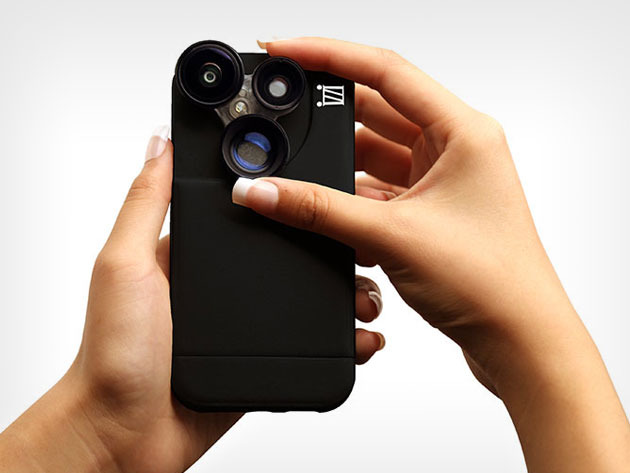 The iZZi Slim ($95.00 — 38% off, originally $155) gives your iPhone 5/5s all the lens power you need to capture the scene and more. Now swap and shoot quickly with 4 different lenses to take in every detail of your adventure.
The award winning iZZi Slim gives every shooter instant access to 4 pro-grade lenses in a convenient, all-in-one package. The patented lens switching technology allows you to switch between a Fisheye lens, 2x Telephoto Lens, Macro Lens and Wide-Angle Lens.
The lightweight and durable polycarbonate case will keep your iPhone protected from those tough drops and bumps while you capture the beautiful scenes around you.
WHY YOU'LL LOVE IT
The iZZi Slims patented technology allows you to switch lenses instantly with the turn of the spindle. Now moving from one lens to the next is easier than ever so you can take pictures with the lens you want faster then ever.
As an added bonus, this photography kit also comes with a Deluxe Carrying Case and Bluetooth Shutter so you can really bring your iPhone photography skills to that next level.
WHAT YOU'LL NEED
Only works with the iPhone 5/5s
PRODUCT SPECS
0.14 lbs,
4.8"x1.33"x2.62"
IN THE BOX
One (1) Black iZZi Slim
One (1) Deluxe Carrying Case
One (1) 3.0 Bluetooth Shutter
Lens Cloth
Lens Caps
You can pick up the iZZi Slim for $95.00 (38% off, originally $155)