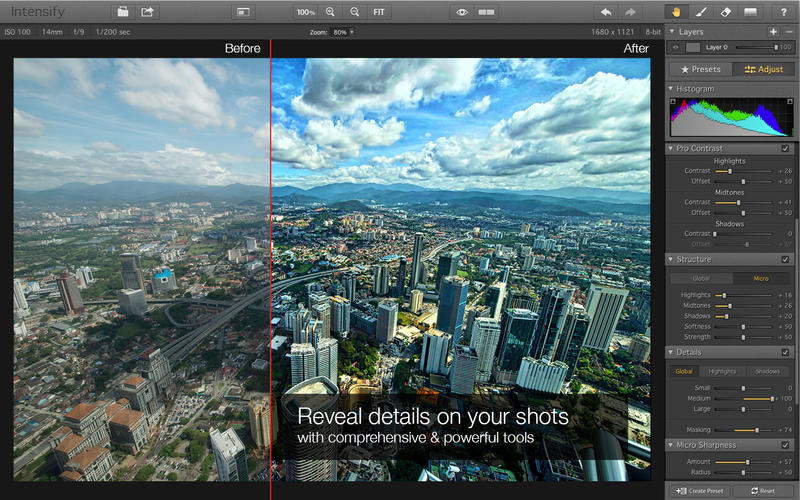 The Happy Mac Bundle includes 10 top Mac apps discounted at over 80% of their regular prices. Normally these apps would cost you $289 but for a limited time you can get all 10 for just $39.99. You can grab the bundle here.
Here are the 10 apps included in the Happy Mac Bundle:
Drive Genius 3 – A highly-rated, award-winning Mac app to clean, organize, and speed up your hard drive by cleaning up large files and creating more storage space.
Intensify Pro – A discerning detail-driven image editing suite for photographs, letting you control every spec of your image with microsharpness, super contrast, and structure features.
BackupLoupe – Your repair shop, information booth, and toolbox for Time Machine, the ubiquitous Mac backup app.
Cookie – Tired of targeted ads that mysteriously know what products you've been shopping for online? Eliminate them with Cookie.
Spotdox – 1 Year License for Spotdox, an add-on for Dropbox and your Mac that lets you access everything, anywhere.
Vortex – Vortex performs an assortment of tasks with a simple hotkey to increase productivity.
ClipBuddy – ClipBuddy helps optimize your Mac's Clipboard. Move pictures, text or files with ease as it gives you multiple ways to view, edit, and paste items copied to Clipboard.
ImageSmith – Your all-in-one tool to resize, retouch, convert, and flatten all web-friendly image files.
RedHand – The ultimate intuitive computer-locking tool. Manually or automatically secure your Mac from wherever you may (or may not) be, and stay informed of intrusions and enact scripts to totally lock-it-down.
ScreenCapture – The most powerful and professional screen capture app for Mac.