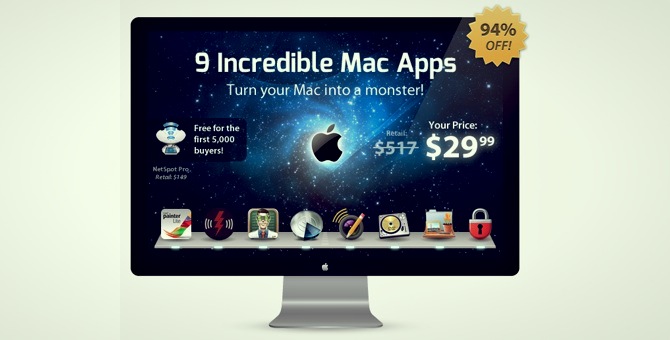 The iStack Mac Bundle 3.0 has 9 top Mac apps that will seriously improve your computer and everything you do on it. From cleaning up iTunes to recovering lost data to organizing your desktop, this bundle has you covered. Here are the 9 apps that you'll find in this bundle:
Painter Lite – Ease into the world of digital art
TuneUp – Organize your iTunes music collection in just a few clicks
Disk Drill Pro – Protect and recover data like a pro
MoneyWiz – Personal finance for your Mac
Voila – The best all-in-one Mac screencapture tool
DVDRemaster 8 – The ultimate DVD re-encoding solution
DesktopShelves – Fight clutter on your desktop by organizing files on shelves
MacScan – The premier Macintosh security program
NetSpot Pro – The only app for wireless site survey, Wi-Fi analysis and troubleshooting on Mac OS X
Normally these apps would cost you $517, but with the iStack Mac Bundle 3.0, you can get them all for only $29.99. You can grab the bundle here.